Get over 35 patterns for heart perler beads, perfect for Valentine's Day or just every day! These patterns are fun and easy for kids or adults.
Who remembers the first time they ever made a heart? By folding paper in half and cutting with a pair of scissors? Because I do.
I'm sure it was when I made my first heart for Valentine's Day. But all I remember is being "wowed" by the fact that you could create a shape by folding paper in half and cutting it.
Basically, I was amazed by symmetry. Geometry? Whatever. I thought it was cool.
The thing is, hearts are awesome for another reason – not just because they're symmetrical. And it's not because they represent love, or are used in Valentine's Day crafts.
It's because they are so simple.
So simple, so recognizable, and the perfect "gateway shape" for any sort of creative endeavor. When you're looking for something basic that is not a circle – the heart comes in really handy.
When you combine a simple shape with a simple craft – perler beading – you get a really cool combination. Heart perler beads!
I've put together a collection of over 35 heart perler bead patterns of all sizes. If your child (or you) are just getting started with perler beads (or crafts in general) there are some tiny designs.
Then there are progressively larger hearts, with rainbows, florals, and other beautiful prints. There's a pattern for everyone here!
If you've never tried perler beads, they're so fun and relaxing.
They are recommended for ages six and up, so this is a very fun craft to try with your elementary age kids. If you're ready to use perler beads (also known as hama beads, fuse beads, or melty beads), you're going to love this collection of patterns.
Tips for Using Perler Beads
Before we get into the patterns, I want to review a few basics of using hama beads to make sure you get the best results. If you don't want the tips, scroll down to the bottom to get the heart perler bead patterns.
Remember that the overall goal is to melt the beads together on both sides while still leaving the holes open. Here's how you get the best results (with a rainbow as an example).
Use Ironing or Parchment Paper
Place ironing paper or parchment paper over the beads on the pegboard. Be gentle so you don't disturb the beads underneath.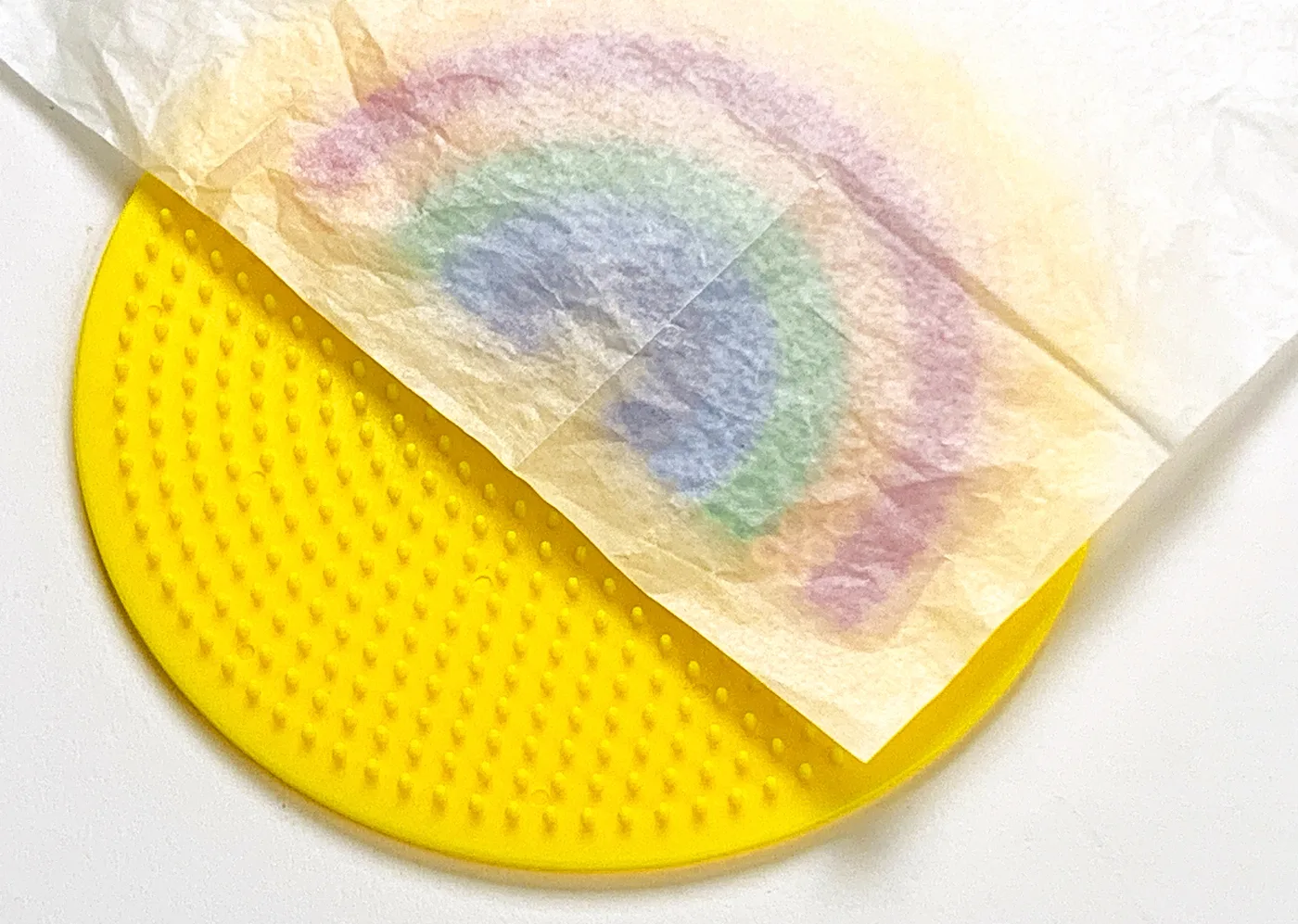 Heat your iron to the medium setting (no steam). In a circular motion, begin to iron the project. Don't press down too hard with the iron. Use small circles and keep the iron moving the whole time.
When ironed properly, the beads will still have an open center. Check and make sure your edges are melted. Let the design cool on the pegboard.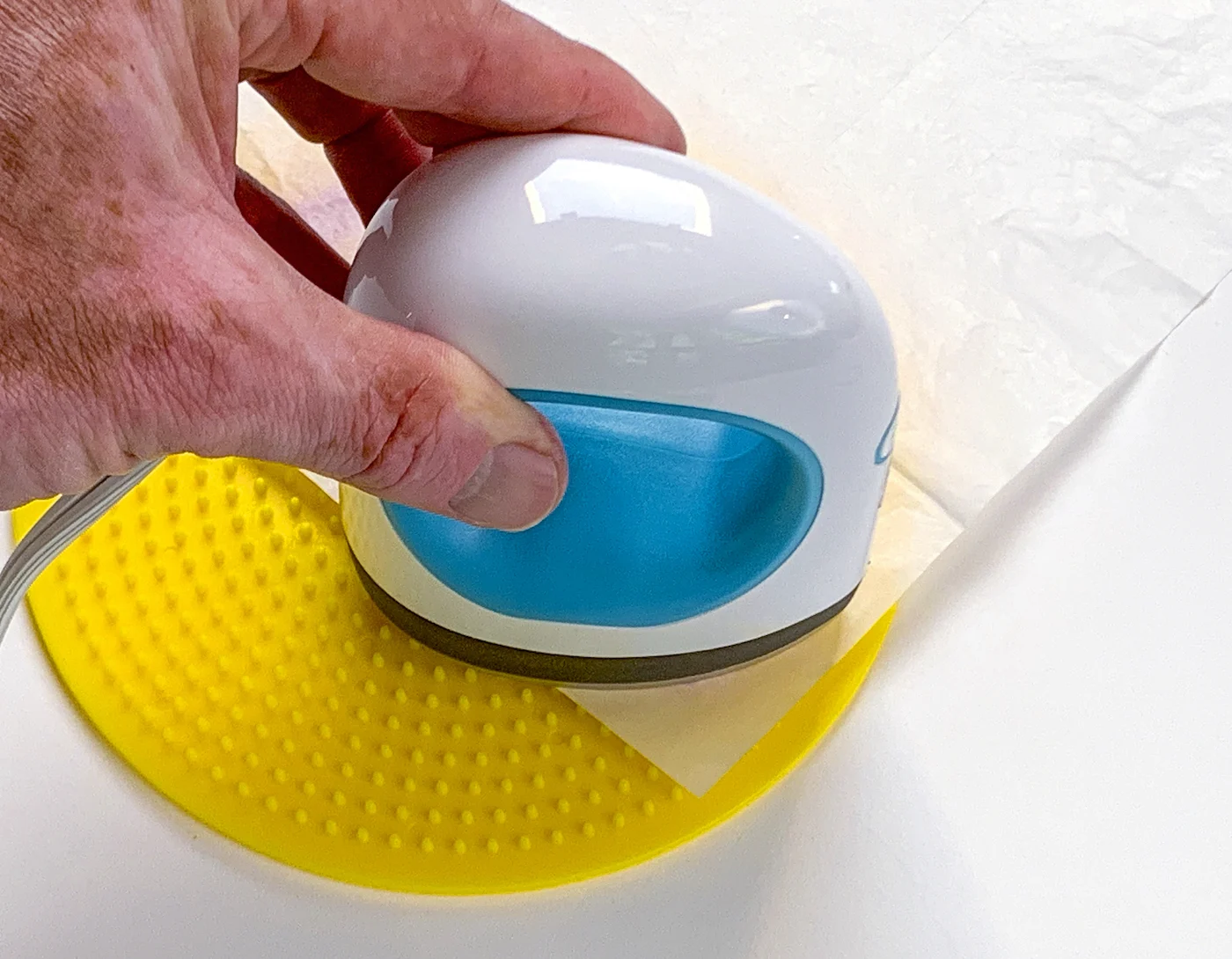 Note: BE CAREFUL about lifting up the paper while you're ironing! If you want to check, carefully peel back paper around the edge of your design and see if all the beads are melted.
If you lift the paper up quickly and there are a lot of unmelted beads, they will easily fall off or go flying and you may be forced to start over. Sometimes the edges need more time so when you check, just check the edges and peel paper back slowly.
Another Note: some beads melt faster than others (clear melts faster than white, for example). So some holes might be larger than others. It's okay! That's part of the look of the project.
Iron the Other Side
Remove the bead design from the pegboard. Flip it over to the non-melted side and repeat the fusing process.
Remove the Paper
Let cool completely and remove the paper again (which is reusable). Some people pull the paper off after they iron the first side, but I just wait until the end and peel off both pieces. It's up to you!
Are you ready for the patterns? Get them below!
---
Heart Perler Bead Patterns
Make sure to check out these notes:
A few of these patterns are larger than a 29 x 29 pegboard, so you'll either need a extra large pegboard (49 x 69 tall) or to put multiple square peg boards together to form a larger "canvas."
Some of these patterns also use either heart pegboards or hexagon pegboards, which you'll definitely want in your arsenal just generally speaking.
You'll see a couple of the pattern backgrounds below aren't white – that's simply to give contrast so you can see where all the white beads should go. You don't need to add the background (but you can if you want to).
Use any bead colors you like. Mine are just suggestions. I'm always inclined to use what I have on hand!
Mini Pink Hearts
These tinies use 227 fruit punch and 79 pink beads.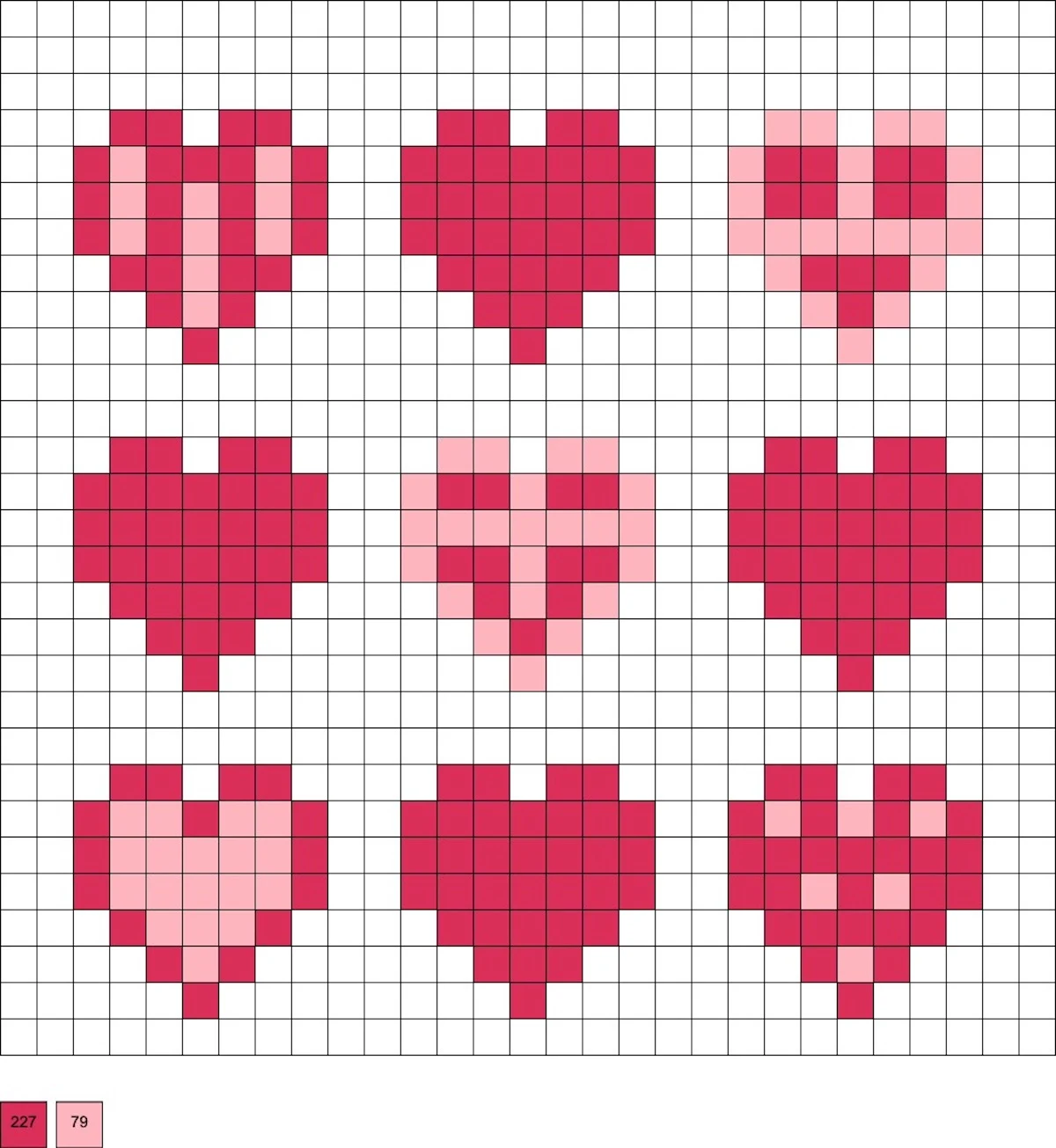 ---
Smiling Kawaii Heart
This pattern uses 211 red, 21 black, and 2 white beads.
---
Colorful Hearts
These patterns are made using the small heart shaped pegboards, which hold 121 beads each. These are great for using up extra beads!
---
Sweetness and Love
The gray beads in the pattern on the left below are meant to be clear.
---
Melting Rainbow Heart
This pretty pattern uses 13 magenta, 12 cheddar, 14 green, 16 turquoise, 14 yellow, 6 purple, and 76 black beads.
---
Heart with Wings
This pattern uses 81 black, 74 white, and 43 red beads.
---
Ombre Hearts
Each design is done on a large heart pegboard and uses nine colors.
---
Leopard and Tetris Shaped Hearts
The leopard heart uses 61 honey, 30 black, and 13 brown. The Tetris heart uses 32 aqua, 12 teal, 24 light green, 12 white, 12 hot coral, and 12 salmon beads.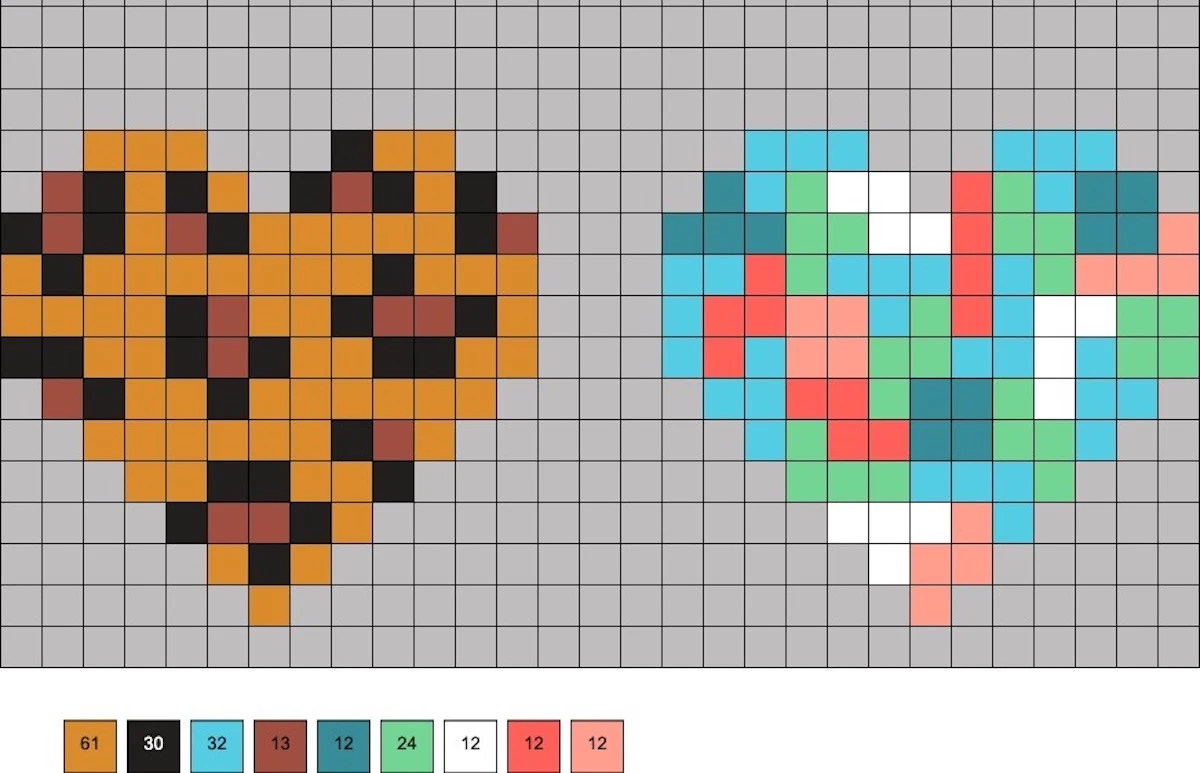 ---
Small Flag Heart and Large Intertwined Heart
The pattern on the left is done on a small heart pegboard. On the right is a red, white, and blue intertwined heart. The gray are either clear beads or just leave them empty. These are part of our 4th of July perler beads.
---
Red, Pink, and Brown Hearts
These patterns use 193 red, 87 pink, 44 white, and 54 brown beads.
---
Heart with Pet Paws
This pattern uses 121 pink and 74 black beads. If you love pets, check out our dog and cat patterns too!
---
Basic Rainbow Stripes
This pattern uses 64 dark gray, 22 cherry, 36 red, 7 tangerine, 62 orange, 6 cheddar, 63 yellow, 6 bright green, 55 kiwi lime, 6 dark blue, 45 cobalt, 6 grape, 27 purple, 7 plum, and 9 fuchsia beads.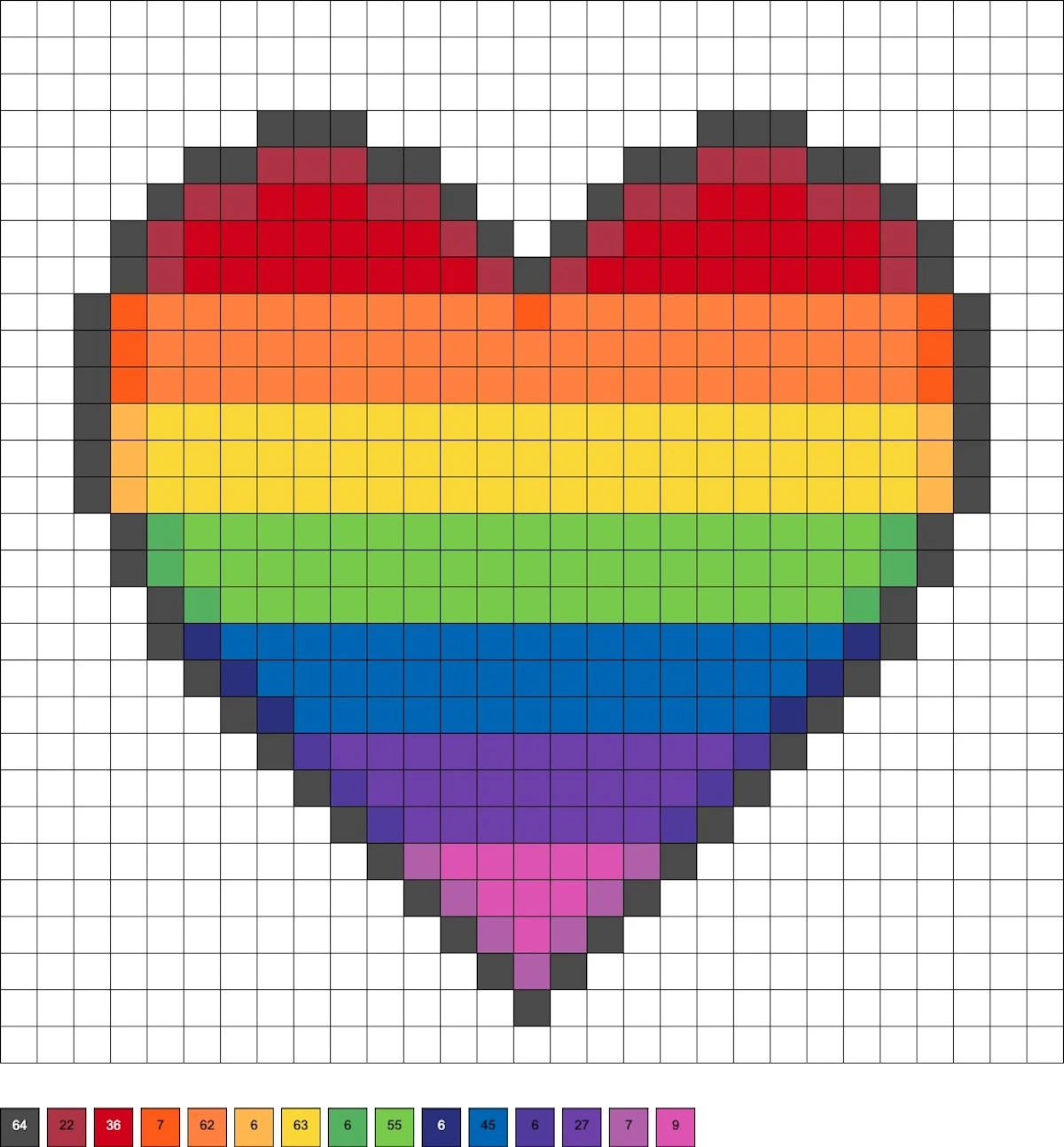 ---
Rainbow TV Screen
This pattern uses 64 dark gray, 6 sherbert, 6 cherry, 15 light gray, 45 yellow, 6 turquoise, 6 twilight plum, 45 red, 15 dark blue, 28 white, 50 sky, 50 fuchsia, 28 cobalt, 6 bright green, and 51 kiwi lime beads.
---
Horizontal Stripes
This pattern uses 64 dark gray, 182 parrot green, and 175 white beads.
---
Union Jack
This pattern uses 64 black (or midnight), 34 cobalt, 16 cherry, 94 white, 88 light blue, 119 red, and 6 light gray beads.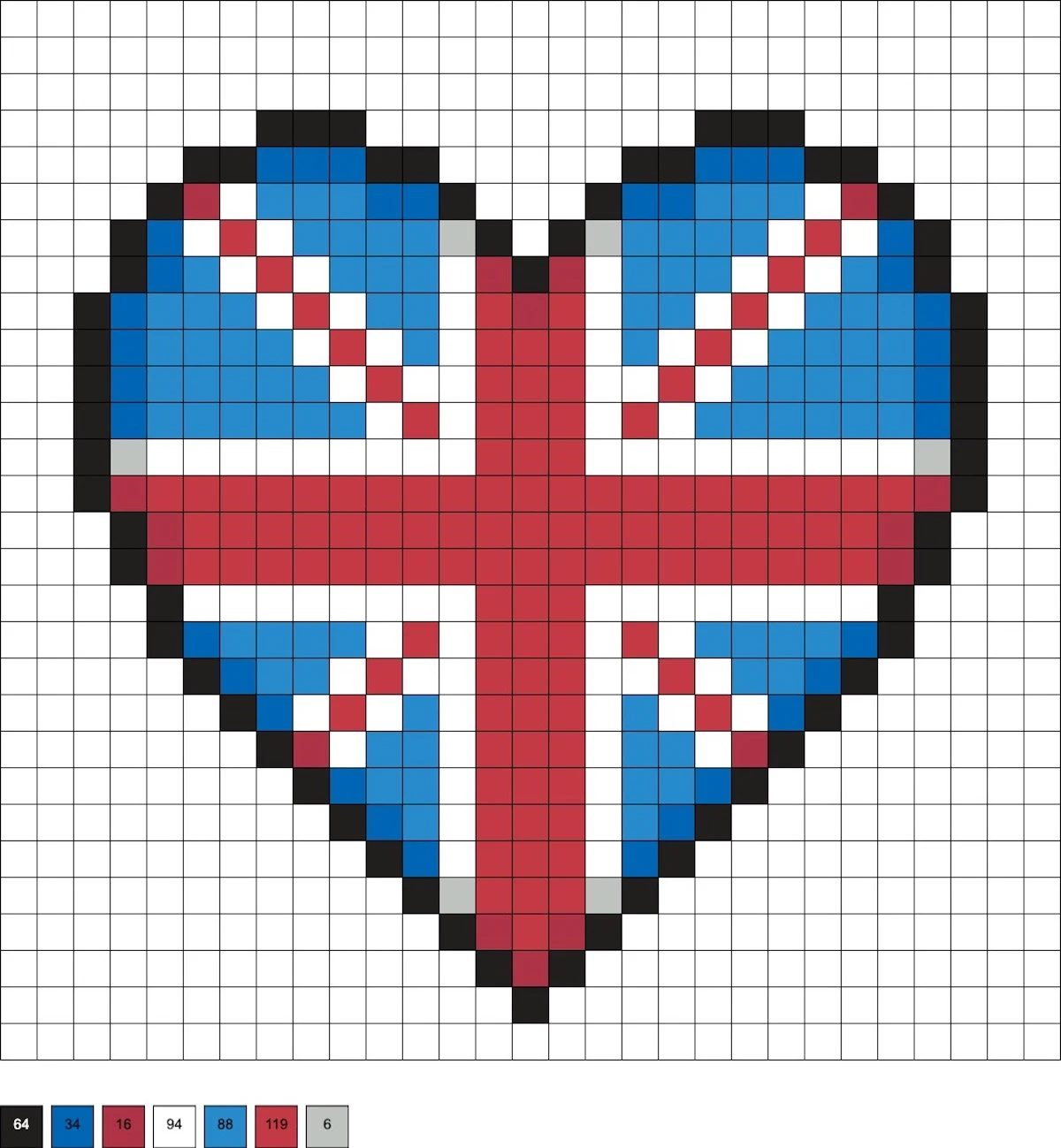 ---
Glowing Moon
This pattern uses 64 dark gray, 123 gray, and 234 glow in the dark beads.
---
Blue Chevron
This pattern uses 64 midnight, 177 turquoise, and 180 sky beads.
---
Pizza Slice
This pattern uses 87 butterscotch, 33 red, 238 yellow, and 35 cranapple beads.
---
Floral Checkerboard
This pattern uses 166 teal, 150 mint, 220 turquoise, 230 sky, 45 kiwi lime, 42 flamingo, 27 dark green, 5 pastel yellow, 32 pastel lavender, and 39 cheddar beads.
---
Cascading Hearts
This pattern uses 304 salmon, 429 dark blue, and 224 peach beads.
---
Love Word Heart
This pattern uses 115 white, 132 cheddar, 111 light blue, 208 fruit punch, and 83 plum beads.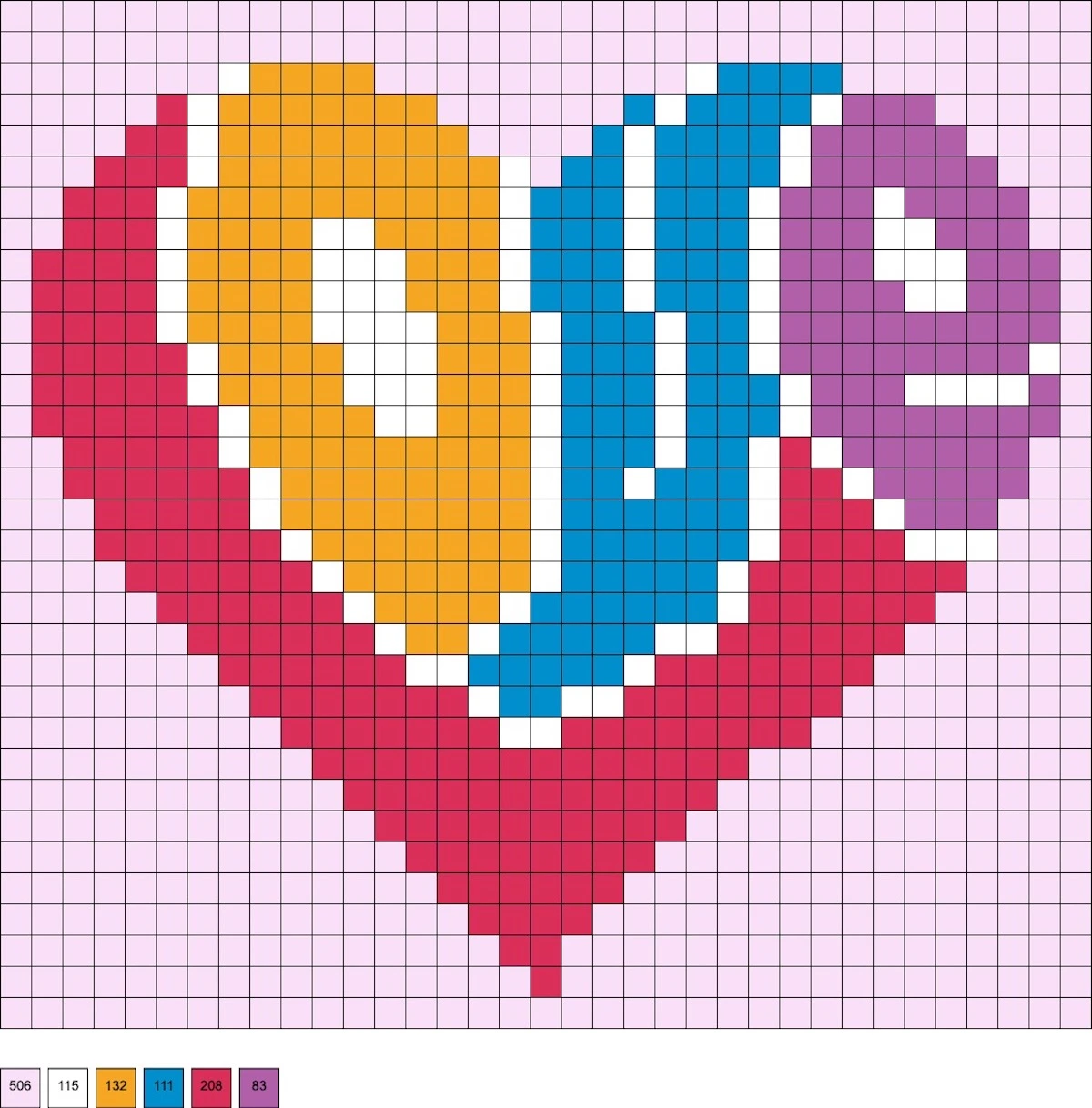 ---
Floral Heart
This pretty flower uses a large hexagon board! Each small flower takes 7 beads, and there are 28 flowers for a total of 196 beads of different colors.
---
It's a Small World Heart
The next few patterns are made on large heart pegboards. Each large heart holds 560 beads.
---
Large Floral Heart
---
Pastel Rainbow Heart
---
Stars and Stripes on a Large Heart Pegboard
---
Valentine's Day Wreath
This pattern uses 66 white, 113 red, 50 shamrock, and 24 pink beads.
---
Wonder Woman Heart
This pattern uses 199 dark blue, 93 white, 104 red, and 102 gold beads (or butterscotch as a substitution).
---
Heart Frame with Stand
This frame uses 138 white, 74 salmon, 38 hot coral, 36 blush, and 165 turquoise beads. The pink background is just for contrast – you won't fill in the center of the heart. Once the pieces are done, the two stand pieces insert at both bottom sides of the frame. Tape the picture to the back!
---
Heart Flower with a Stand
This pattern uses 134 black, 12 white, 86 magenta, 20 fruit punch, 109 shamrock, 21 kiwi green, 8 plum, and 2 honey beads. Once you assemble both pieces, you can insert the heart flower directly into the stand (no glue required).
---
If you've enjoyed these heart perler beads, let me know in the comments! I'd also love for you to check out these other posts:
Among Us • Animal • Baby Yoda • Batman • Birds • Bluey • Bob Ross • Butterflies • Care Bears • Christmas • Christmas Trees • Coasters • Dinosaur • Dragon • Easter • Emoji • Fairy & Gnome • FNAF • Food • Frog • Halloween • Harry Potter • Hello Kitty • Kuromi • Letters • Mickey Mouse • Minecraft • Minions • Mother's Day • Mushrooms • Panda • Penguin • Pokemon • Pumpkins • St. Patrick's Day • Sanrio • Santa • Skulls • Sonic • Spiders • Spider Man • Stars • Star Wars • Star Wars Hello Kitty • Stitch • Summer • Super Mario • Superhero • Thanksgiving • Unicorn