Get over 15 patterns for Hello Kitty perler beads! There are a variety of options perfect for anyone who loves this iconic Sanrio cat.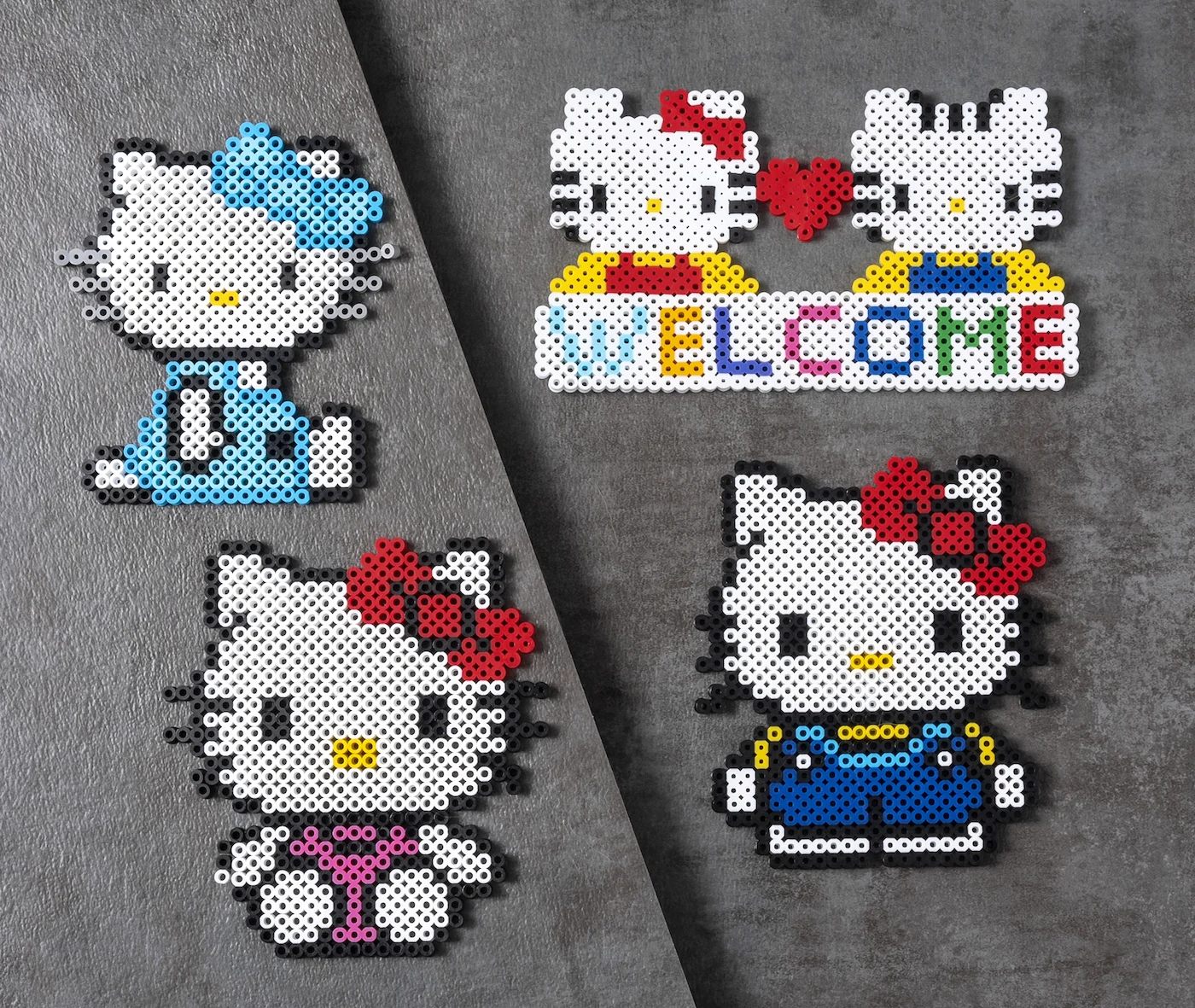 Did you know that Hello Kitty's full name is "Kitty White?" I was today years old when I learned this! I knew she lived in London, knew that she had a boyfriend named Daniel . . but I guess I never knew her real name.
She was originally created in 1975, but Hello Kitty has been a staple for me since my arrival in 1977. For a long time she was only marketed to kids, but in the 90s they started making gear for teen and adult appreciators.
Which would be me!
I've always been a fan. I love all the Sanrio characters in general. They're all so cute and remind me of my childhood. And I decided I wanted to bring that nostalgia back recently by doing a little crafting with my nieces!
So what did we try? A bunch of Hello Kitty perler bead patterns, and I'm excited to share them with you today! There are several on my list, and they're all free for you to try.
Perler beads are recommended for ages six and up, so this is a very fun craft to try with kids. They love perler beads (also known as hama beads, fuse beads, or melty beads). But don't be shy – adults love them too!
Tips for Using Perler Beads
Before we get into the patterns, I want to review a few basics of using fuse beads to make sure you get the best results. If you don't want the tips, scroll down to the bottom to get the Hello Kitty perler bead patterns.
Remember that the overall goal is to melt the beads together on both sides while still leaving the holes open. Here's how you get the best results.
Use Ironing or Parchment Paper
Place ironing paper or parchment paper over the beads on the pegboard. Be gentle so you don't disturb the beads underneath.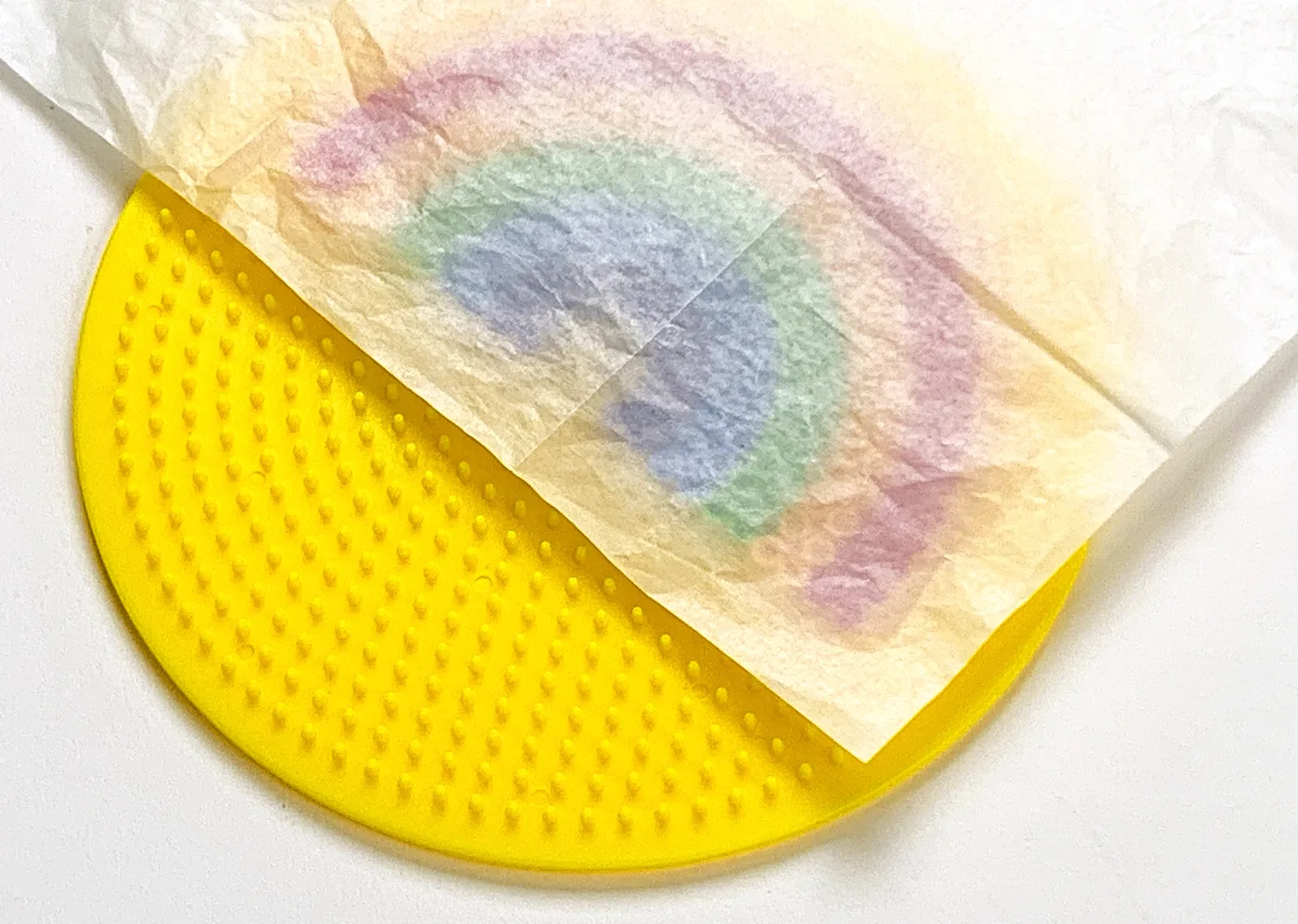 Heat your iron to the medium setting (no steam). In a circular motion, begin to iron the project. Don't press down too hard with the iron. When ironed properly, the beads will still have an open center. Check and make sure your edges are melted. Let the design cool on the pegboard.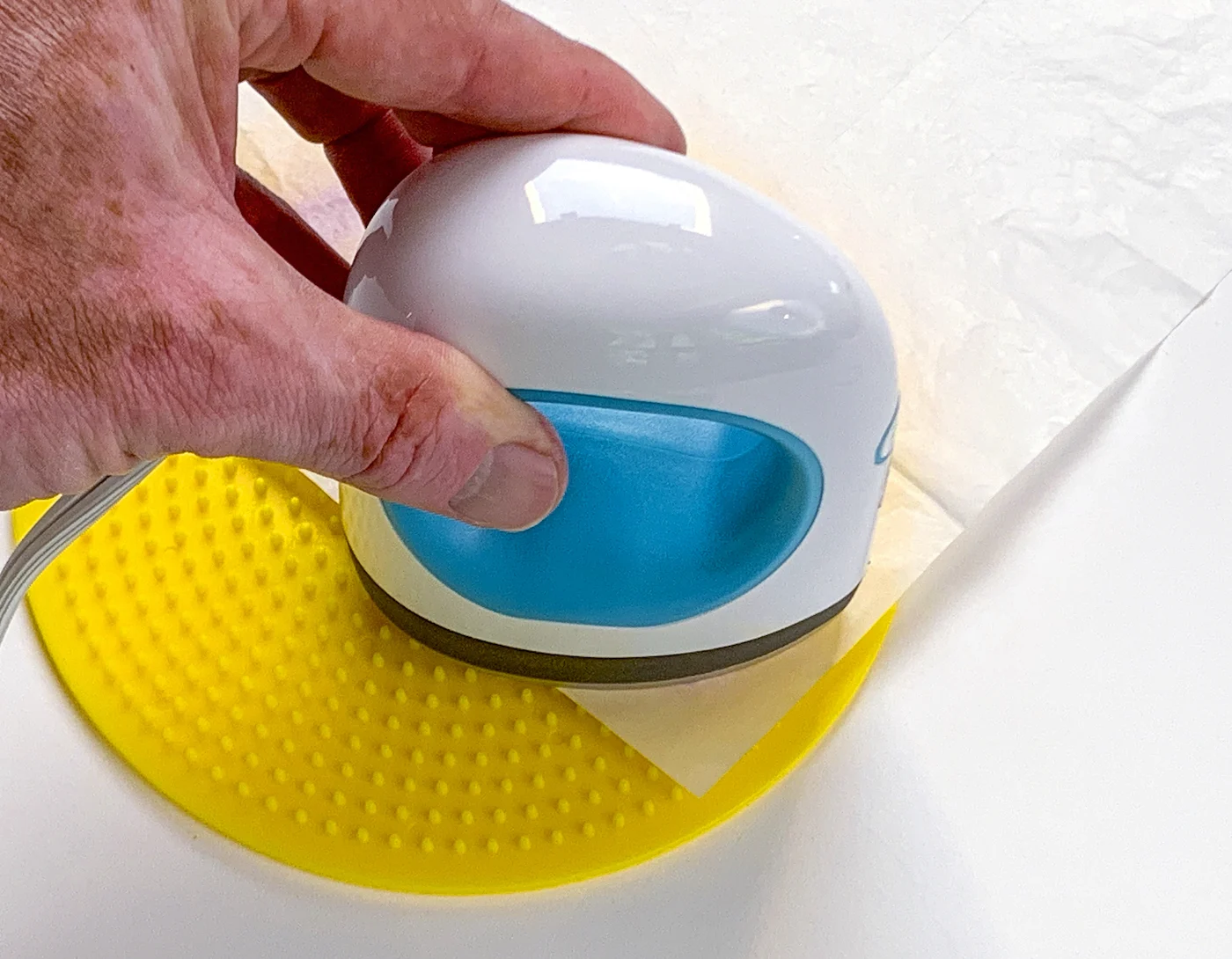 Note: BE CAREFUL about lifting up the paper while you're ironing! If you want to check, carefully peel back paper around the edge of your design and see if all the beads are melted.
If you lift the paper up quickly and there are a lot of unmelted beads, they will easily fall off or go flying and you may be forced to start over. Sometimes the edges need more time so when you check, just check the edges and peel paper back slowly.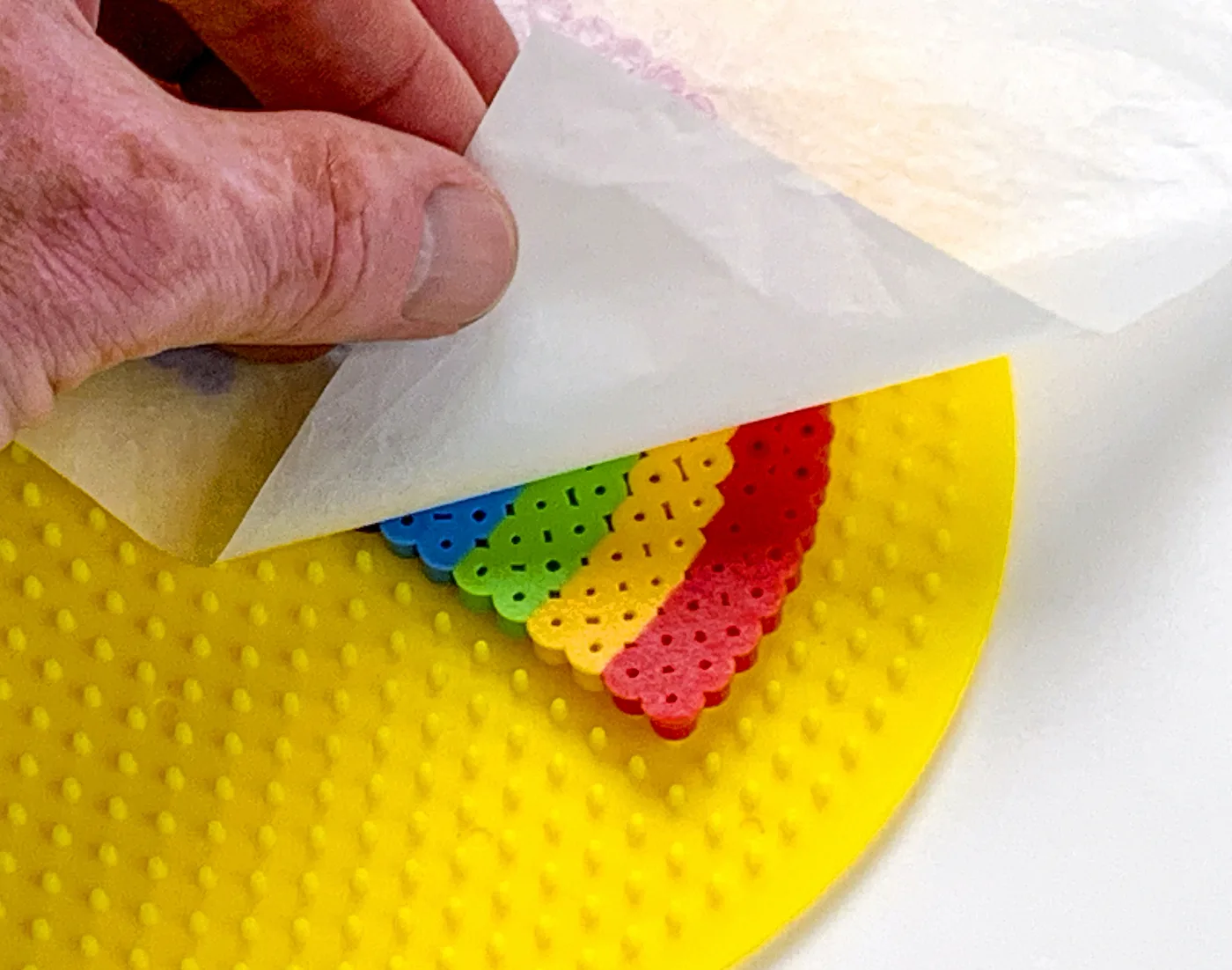 Another Note: some beads melt faster than others (clear melts faster than white, for example). So some holes might be larger than others. It's okay! That's part of the look of the project.
Iron the Other Side
Remove the bead design from the pegboard. Flip it over to the non-melted side and repeat the fusing process.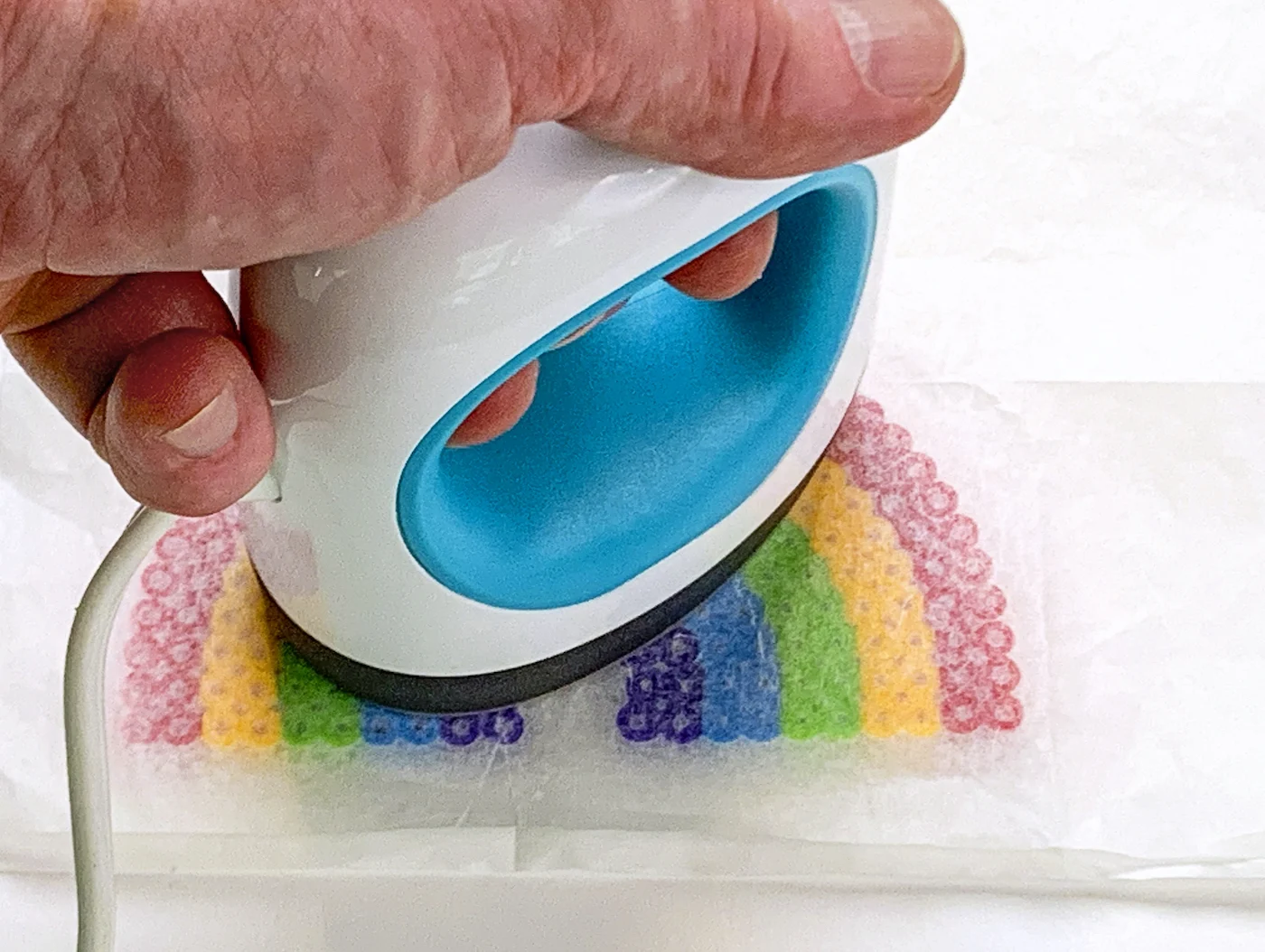 Remove the Paper
Let cool completely and remove the paper again (which is reusable). Some people pull the paper off after they iron the first side, but I just wait until the end and peel off both pieces. It's up to you!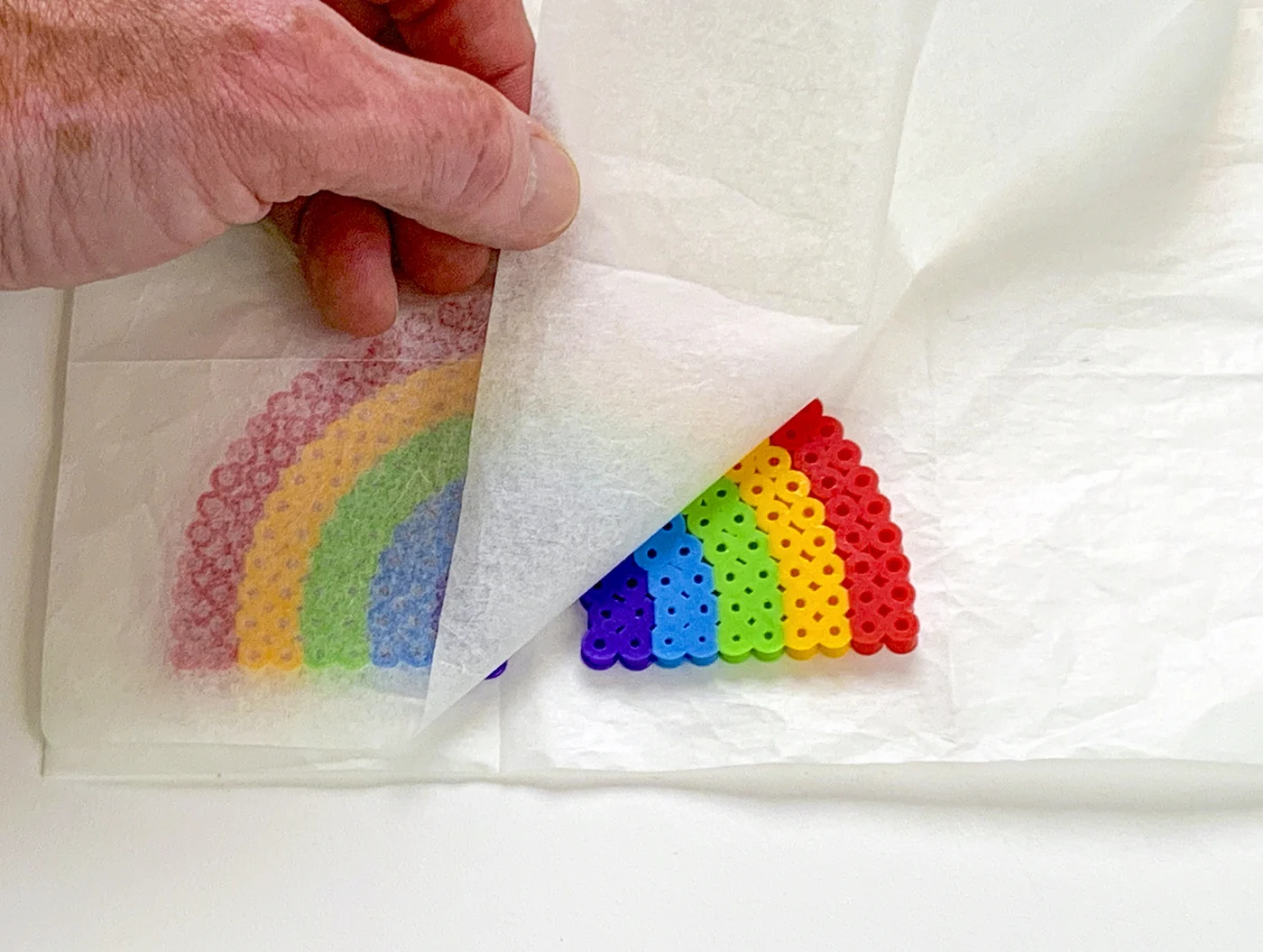 Now if you're ready for the Hello Kitty perler beads, here are the patterns.
---
Hello Kitty Hama Beads
Note: A few of these patterns are larger than a 29 x 29 pegboard, so you'll either need a extra large pegboard (49 x 69 tall) or to put four square pegboards together (or two depending on how wide the pattern is).
Don't forget to check out our Hello Kitty organizer made from perler beads too.
The patterns below use a regular 5.7″, 29 x 29 pegboard.
Hello Kitty Sitting with Pink Overalls and a Red Bow
This classic kitty uses 167 black, 51 red, 321 white, 6 yellow, and 22 pink beads.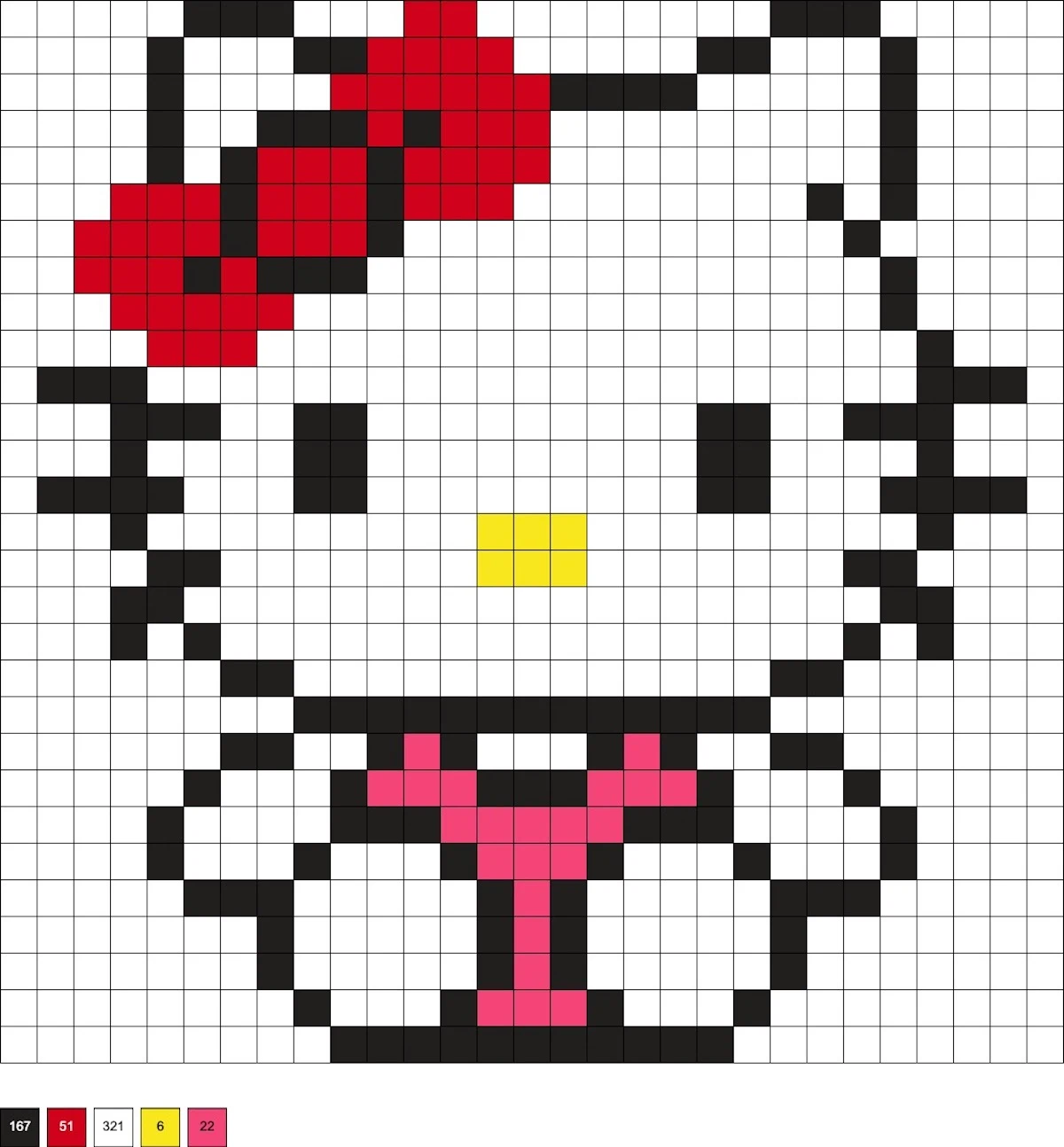 ---
Hello Kitty Standing with Blue Overalls, Yellow Shirt, and a Red Bow
Uses 188 black, 51 red, 270 white, 14 yellow, 11 denim blue, and 58 navy beads.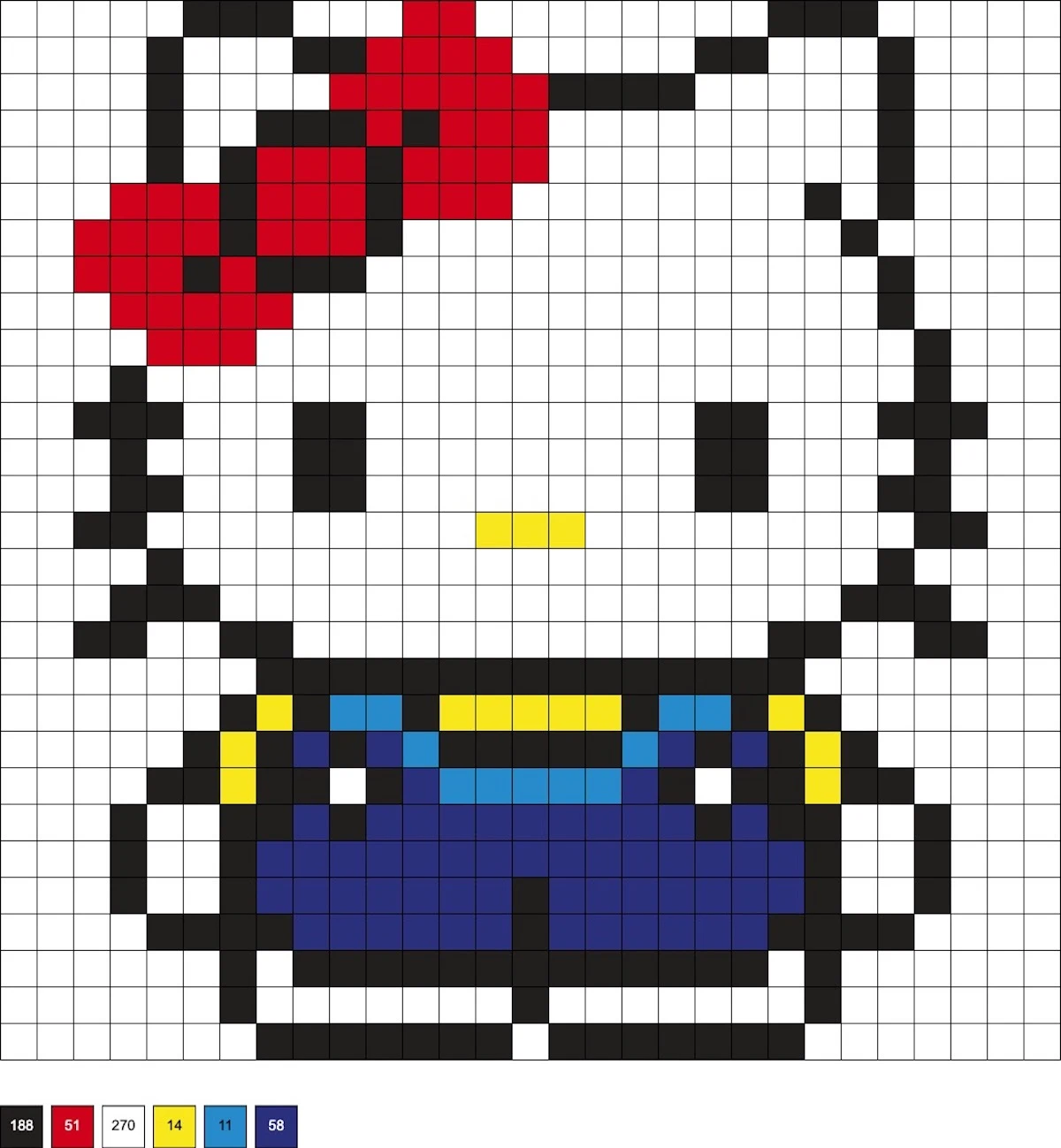 ---
Hello Kitty Head in Front of a Pink Heart
Uses 152 black, 110 pink, 40 red, 303 white, and 3 yellow beads.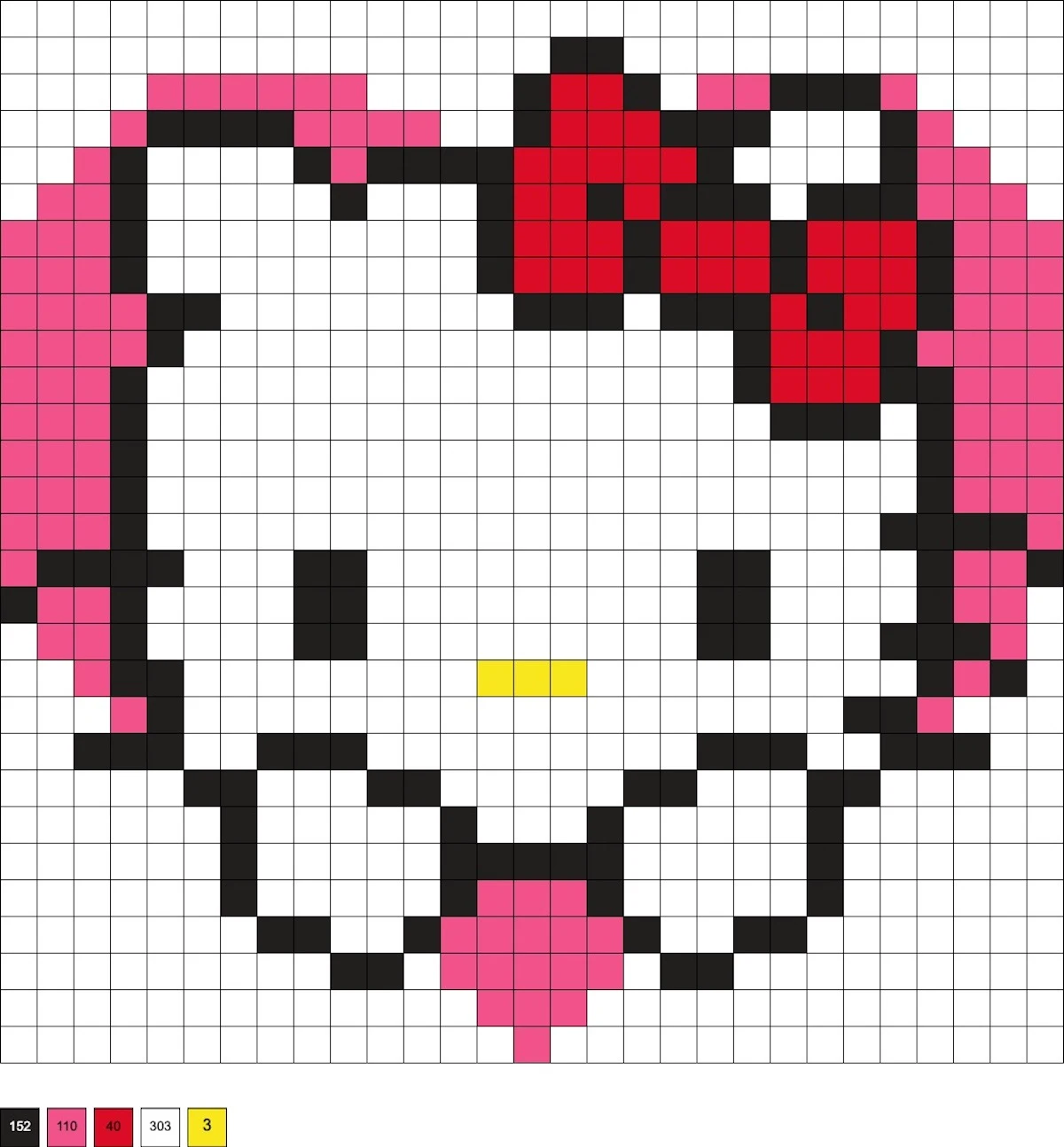 ---
Hello Kitty Angel with a Blue Dress and Bow
Uses 198 black, 302 white, 84 blue, and 2 yellow beads.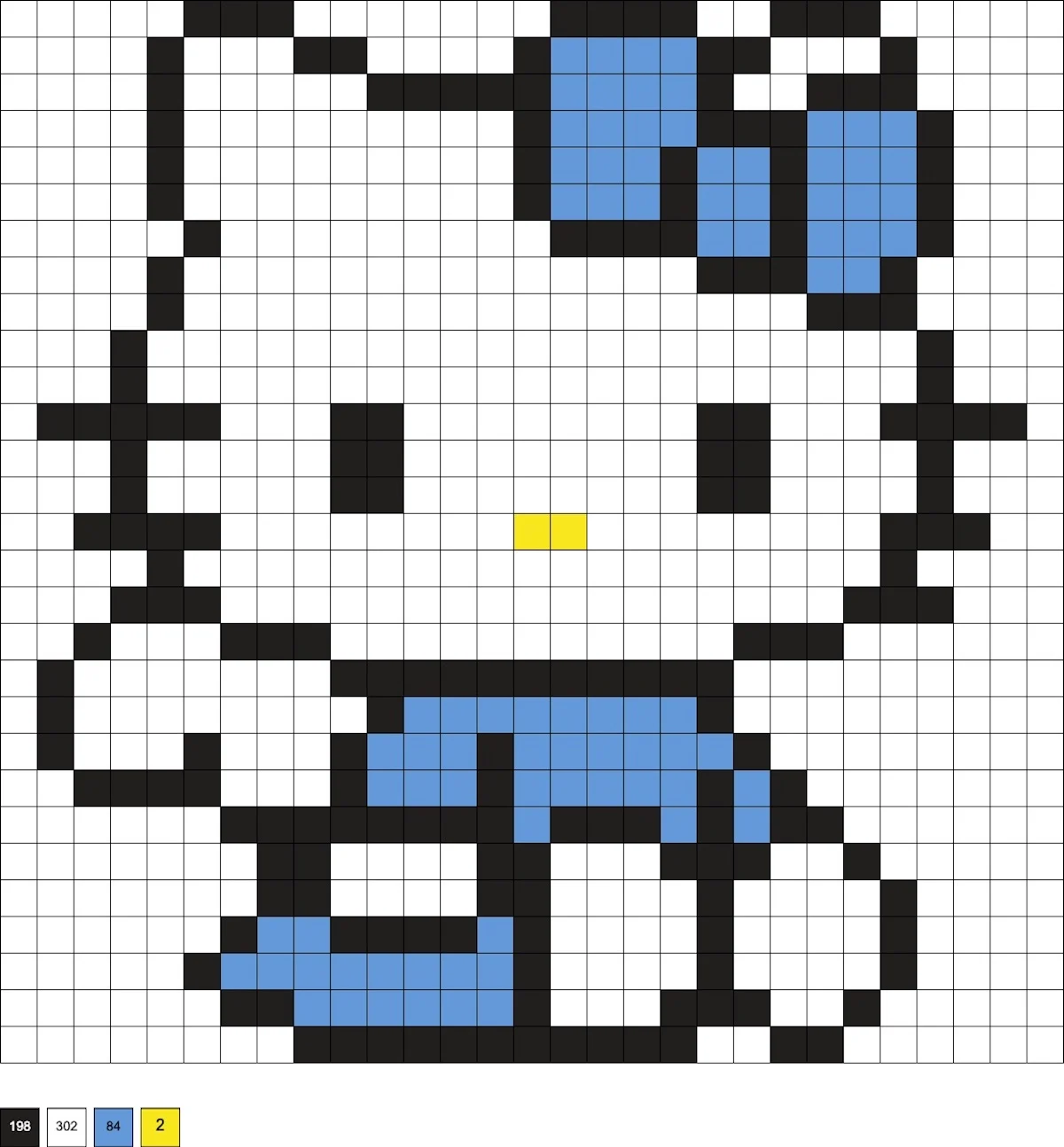 ---
Hello Kitty Seated with Turquoise Overalls and a Bow
Uses 63 parrot green, 83 black, 67 light green, 200 white, 20 gray, and 2 yellow beads.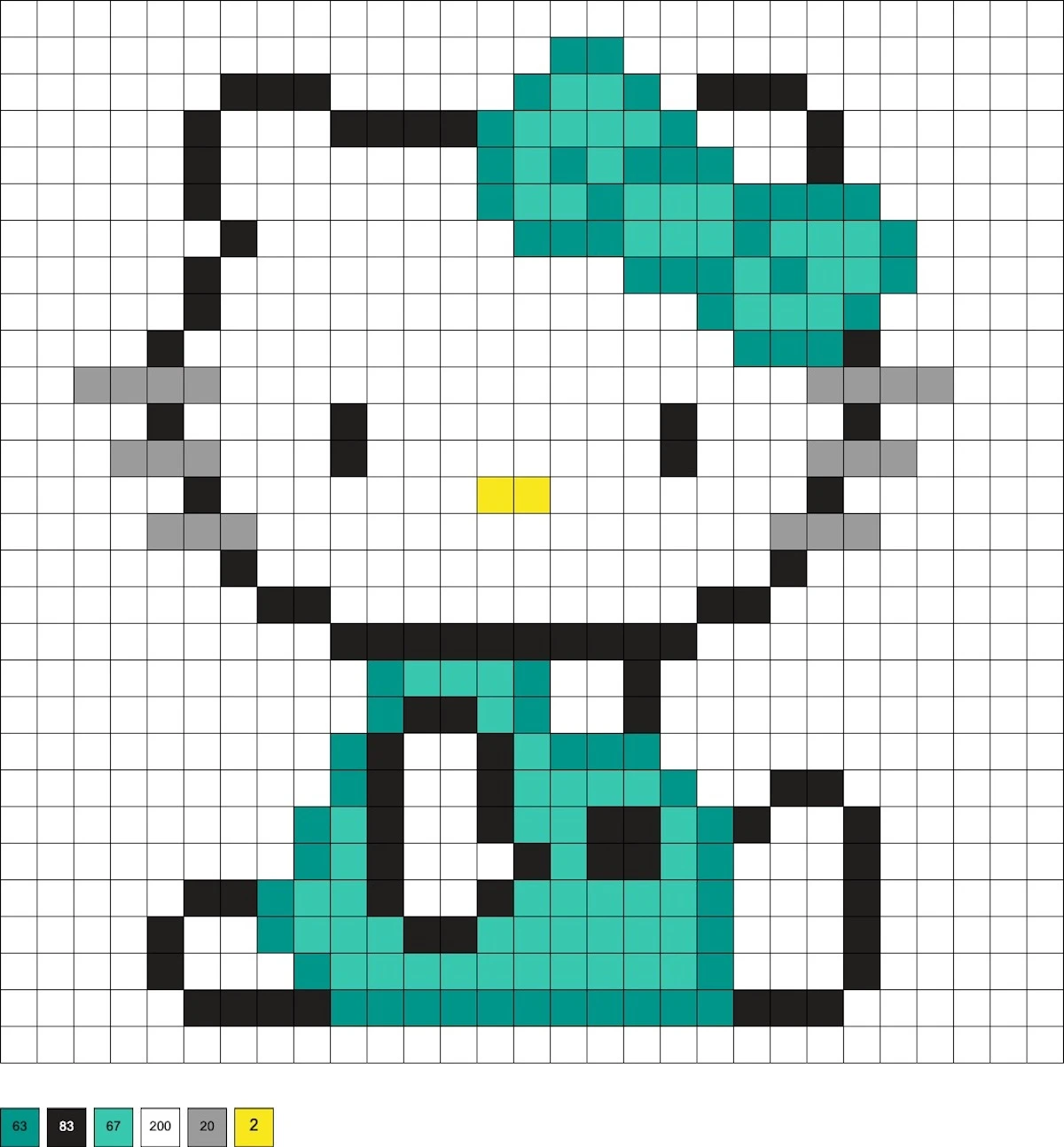 ---
Hello Kitty Pirate Head
Uses 122 black, 24 dark gray, 121 white, 16 red, and 2 yellow beads.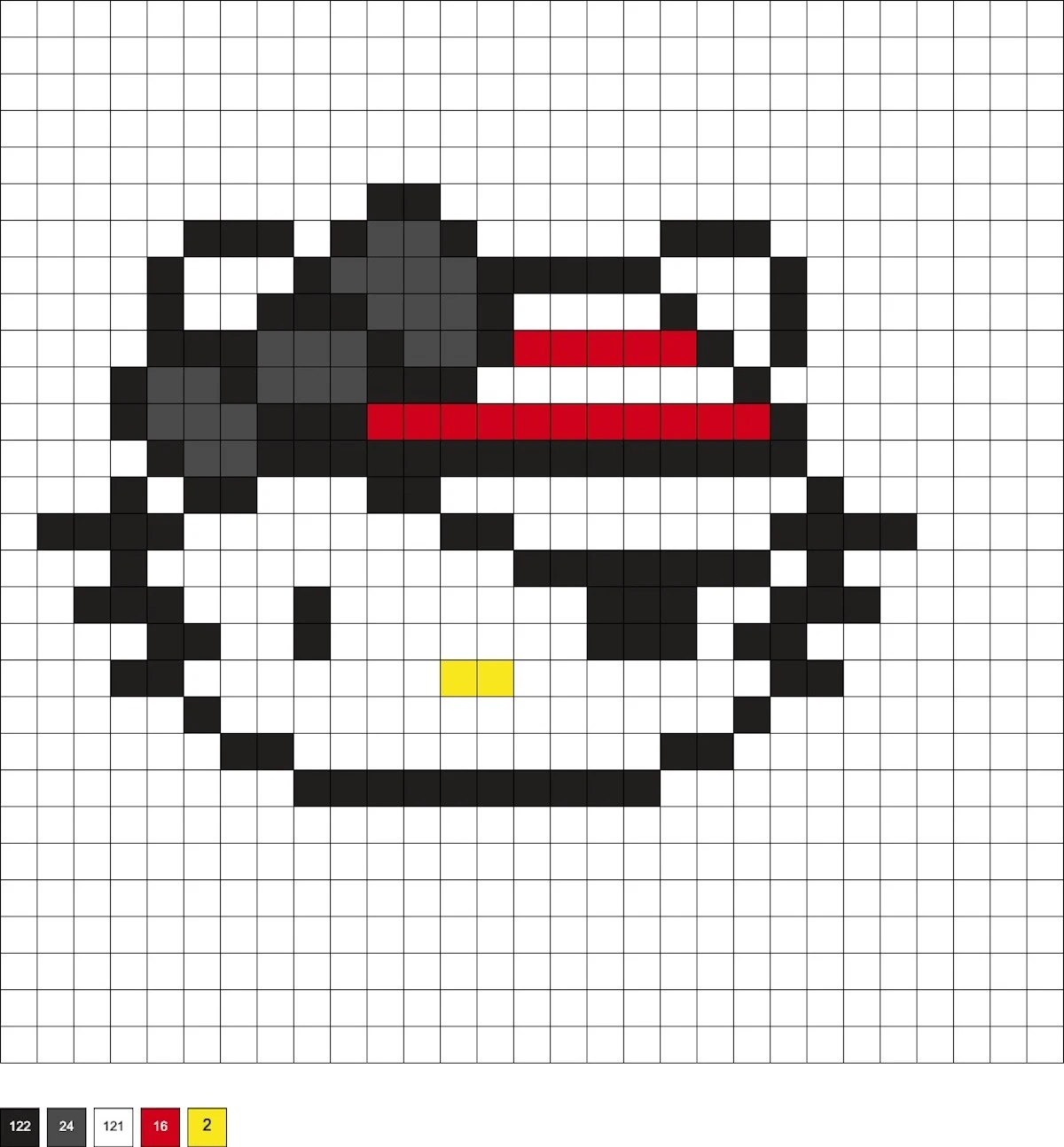 ---
Hello Kitty Head Wearing Green Glasses and a Blue Bow
Uses 93 black, 24 blue, 155 white, 36 green, and 2 yellow beads.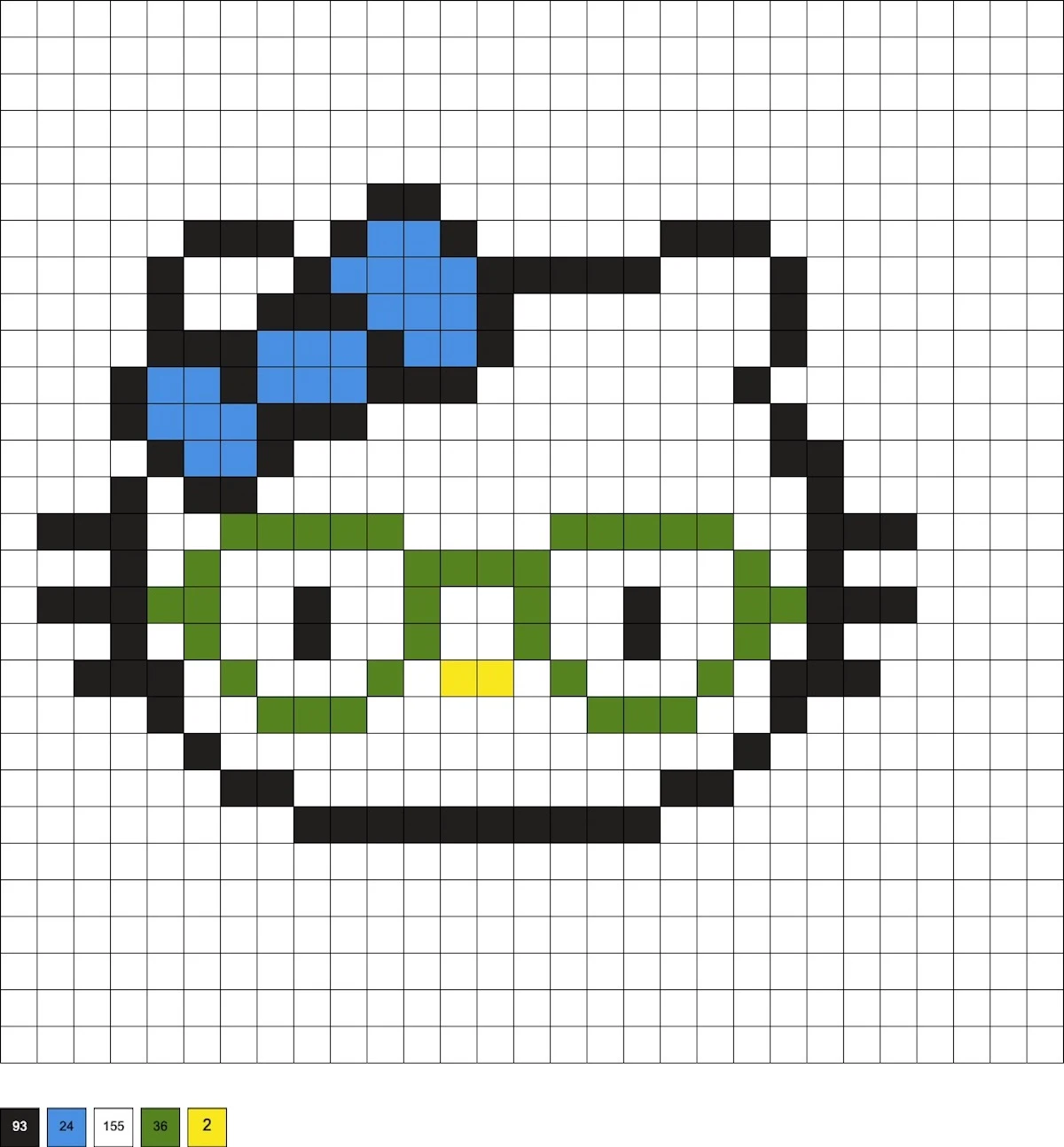 ---
Batman Hello Kitty
Uses 157 black, 82 light gray, 51 white, 147 medium or dark gray, and 10 yellow beads.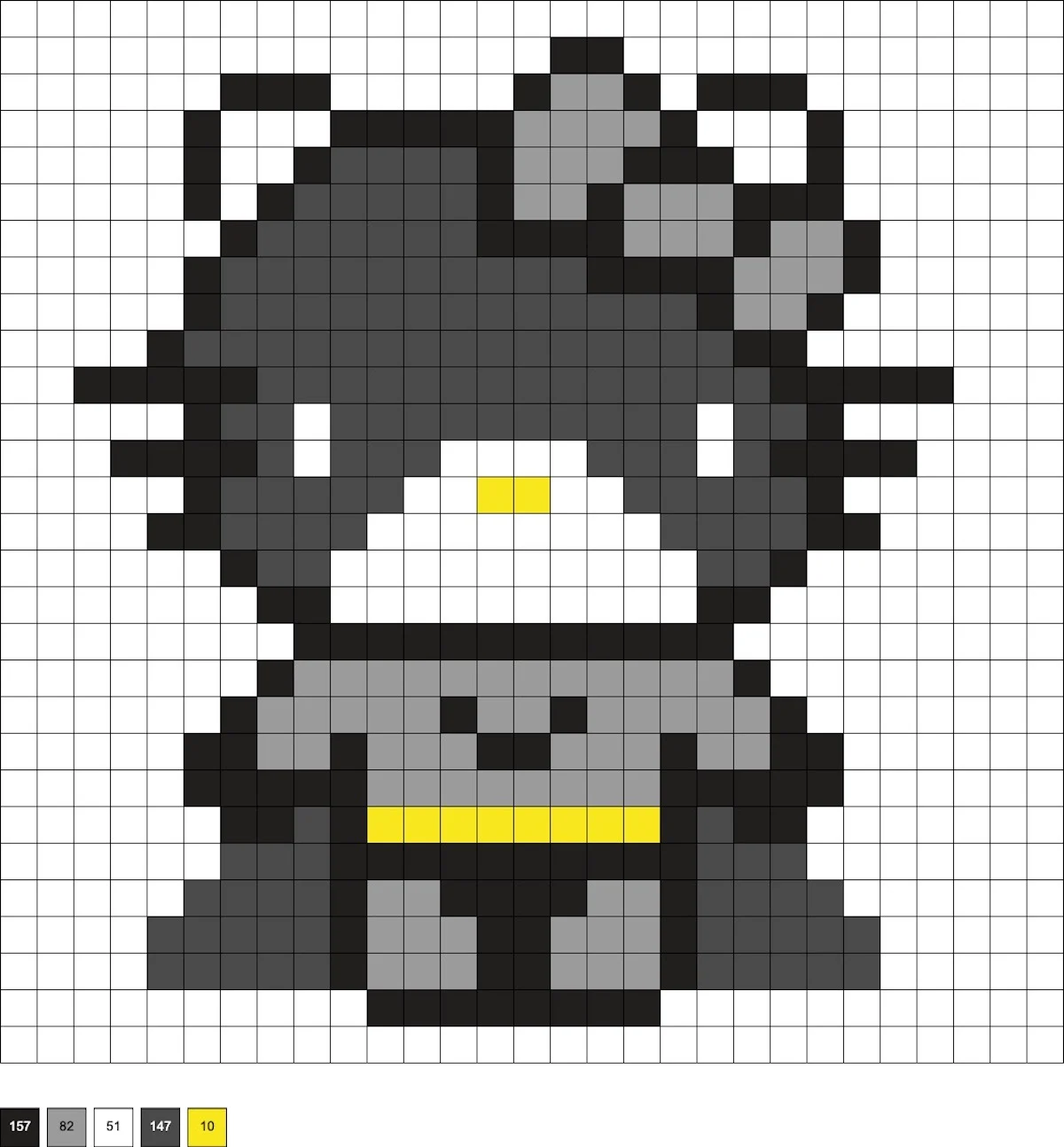 ---
Wonder Woman Hello Kitty
Uses 137 black, 49 red, 168 white, 45 yellow, and 12 bright blue beads.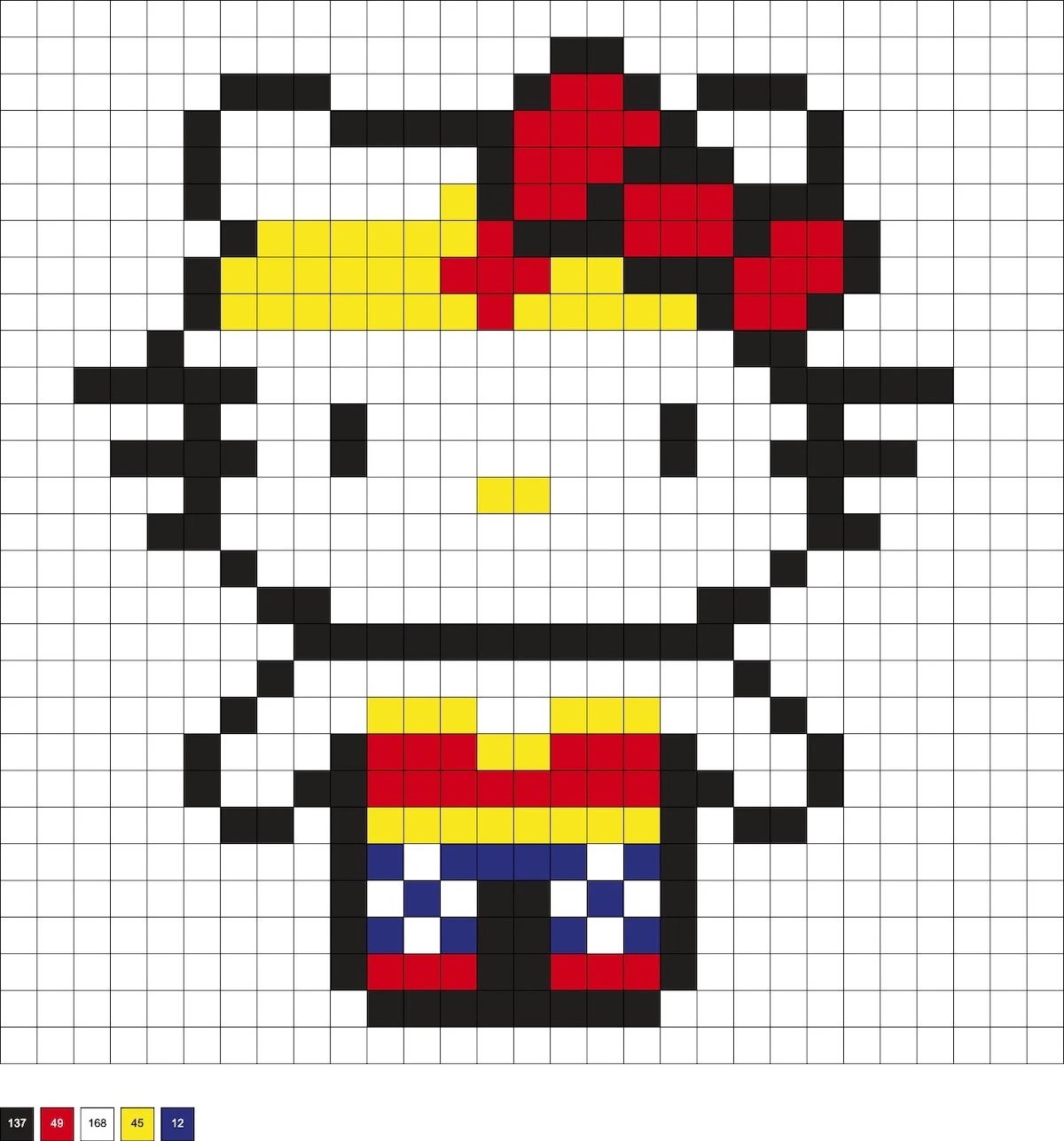 ---
The patterns below use an extra large 10.5 x 14″, 49 x 69 pegboard.
Hello Kitty and a Large Polka Dot Bow
Uses 59 parrot green, 265 black, 347 light green, 474 white, and 6 yellow beads.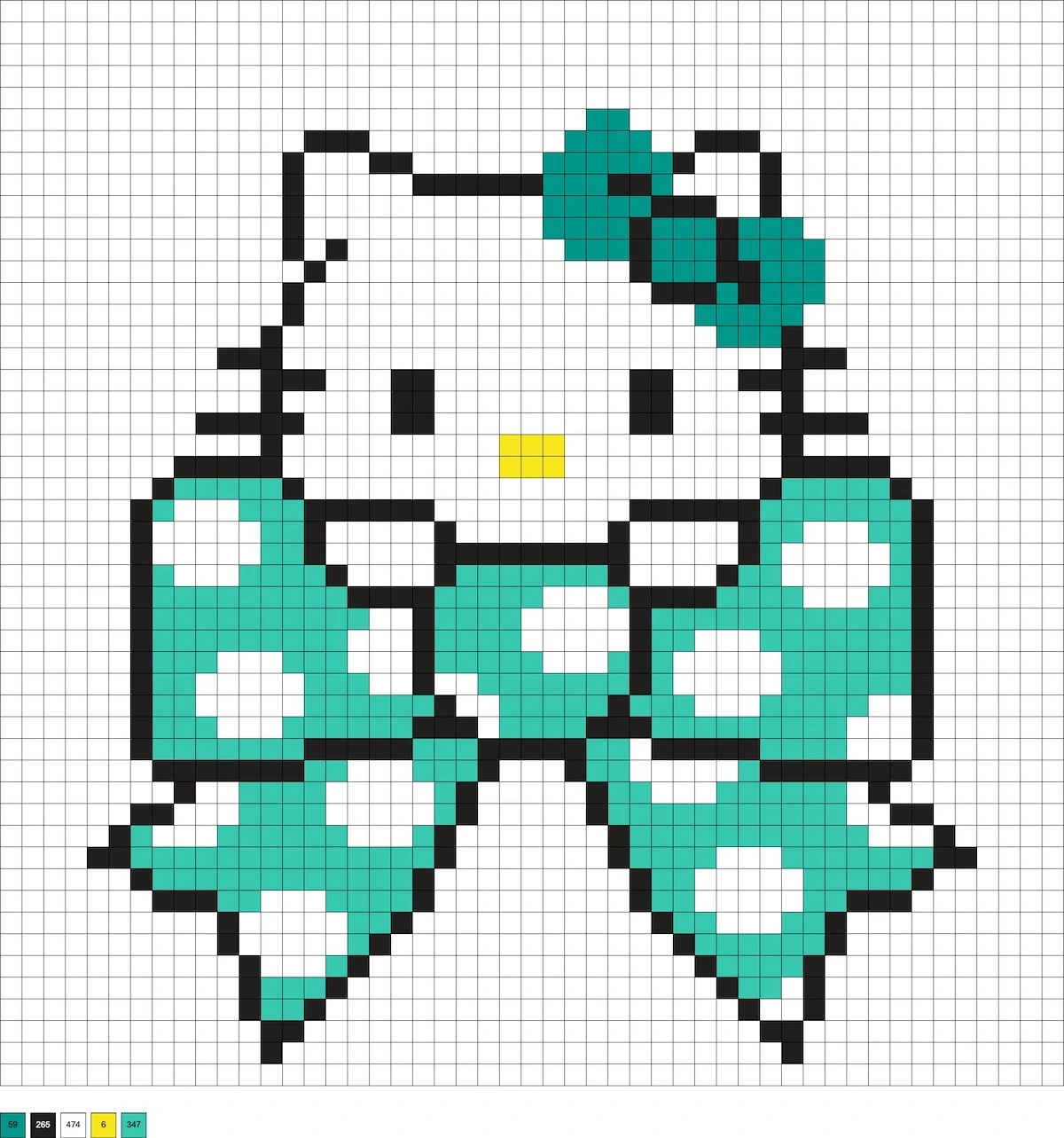 ---
Hello Kitty and Daniel Welcome Sign
Uses 457 white, 36 black, 57 red, 48 yellow, 28 bright blue, 13 aqua, 11 orange, 8 purple, 9 pink, 13 green, and 11 dark red beads.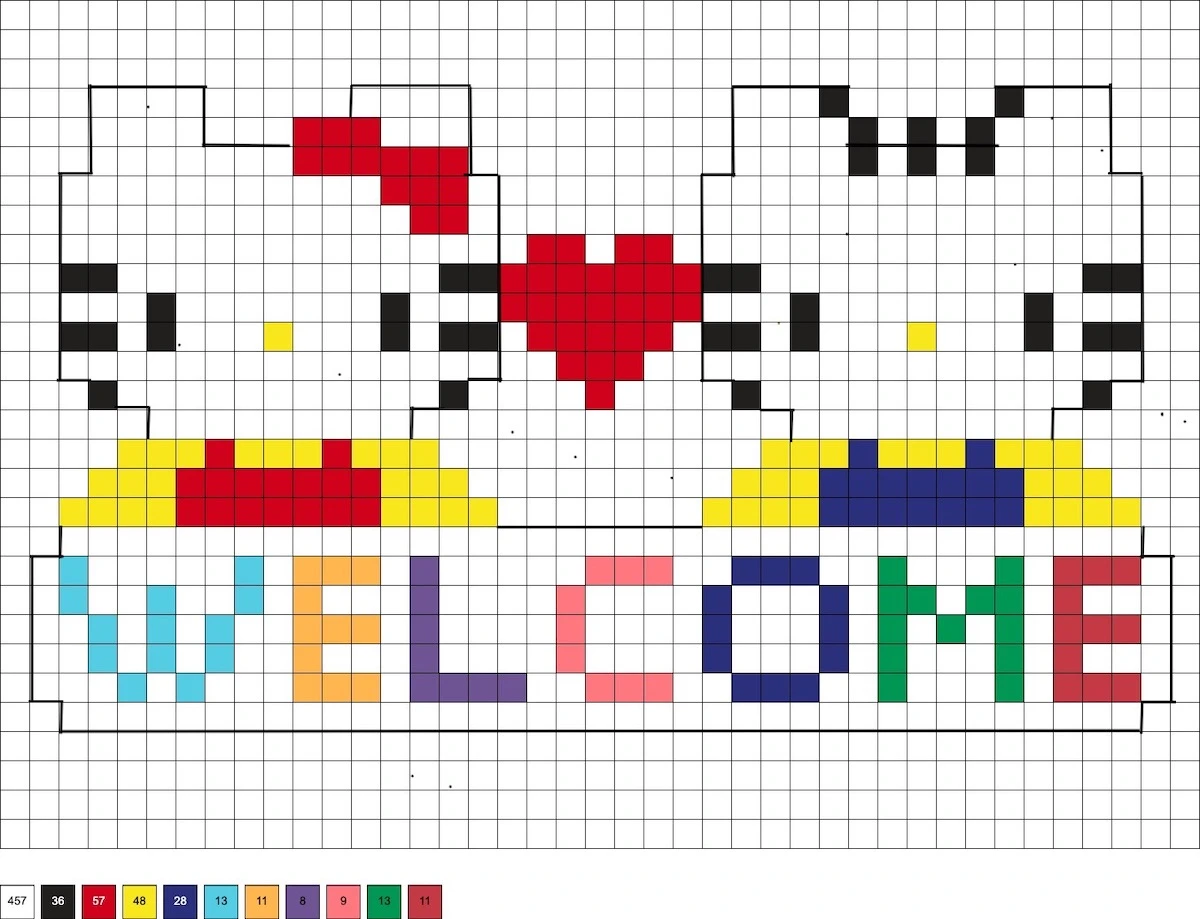 ---
Hello Kitty with a Jack O' Lantern
Uses 59 forest, 127 black, 269 white, 43 cheddar, 86 mulberry, 267 orange, and 30 pastel yellow.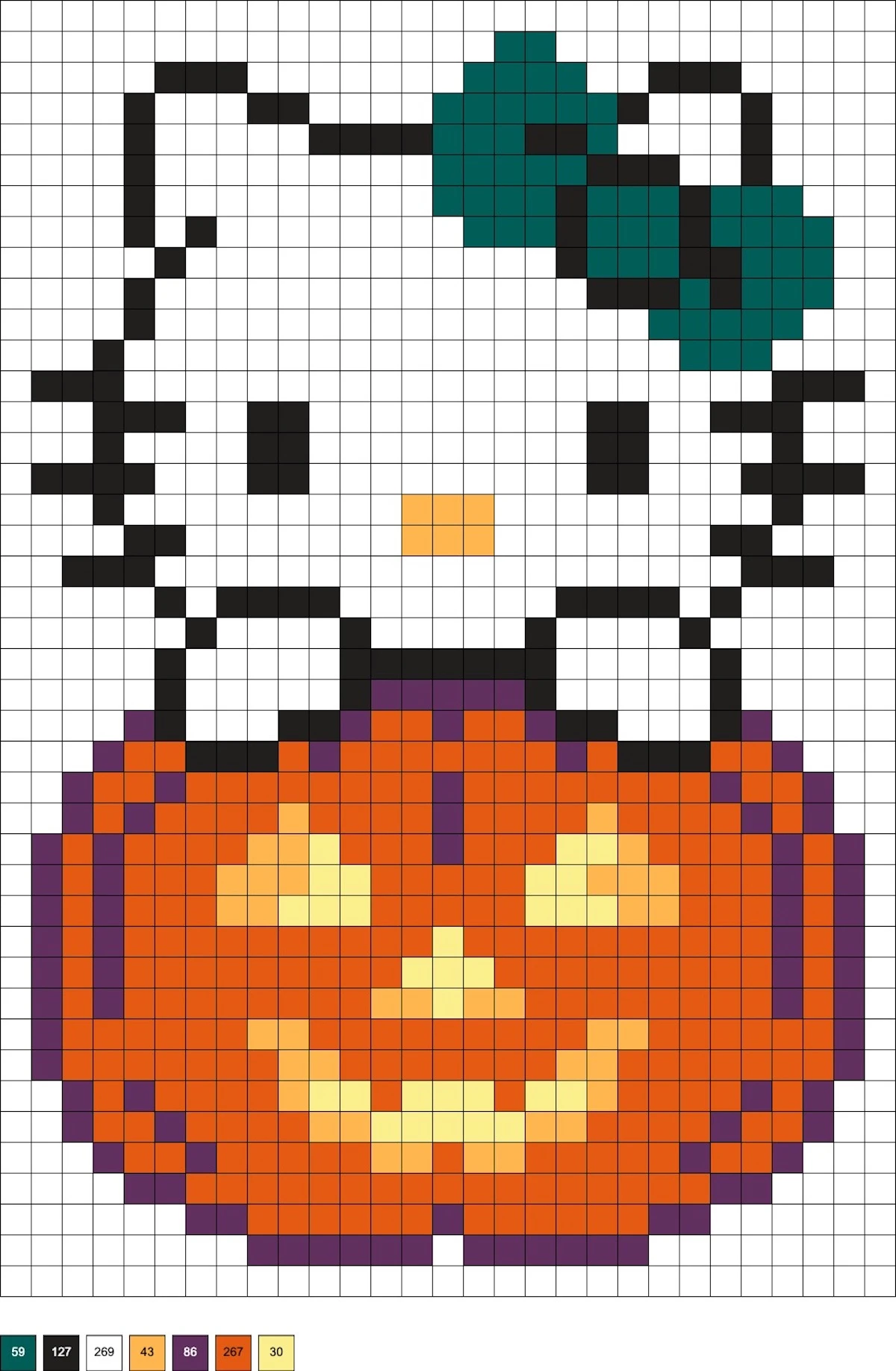 ---
Hello Kitty Dracula
Uses 92 red, 242 black, 114 light gray, 200 white, and 22 orange beads.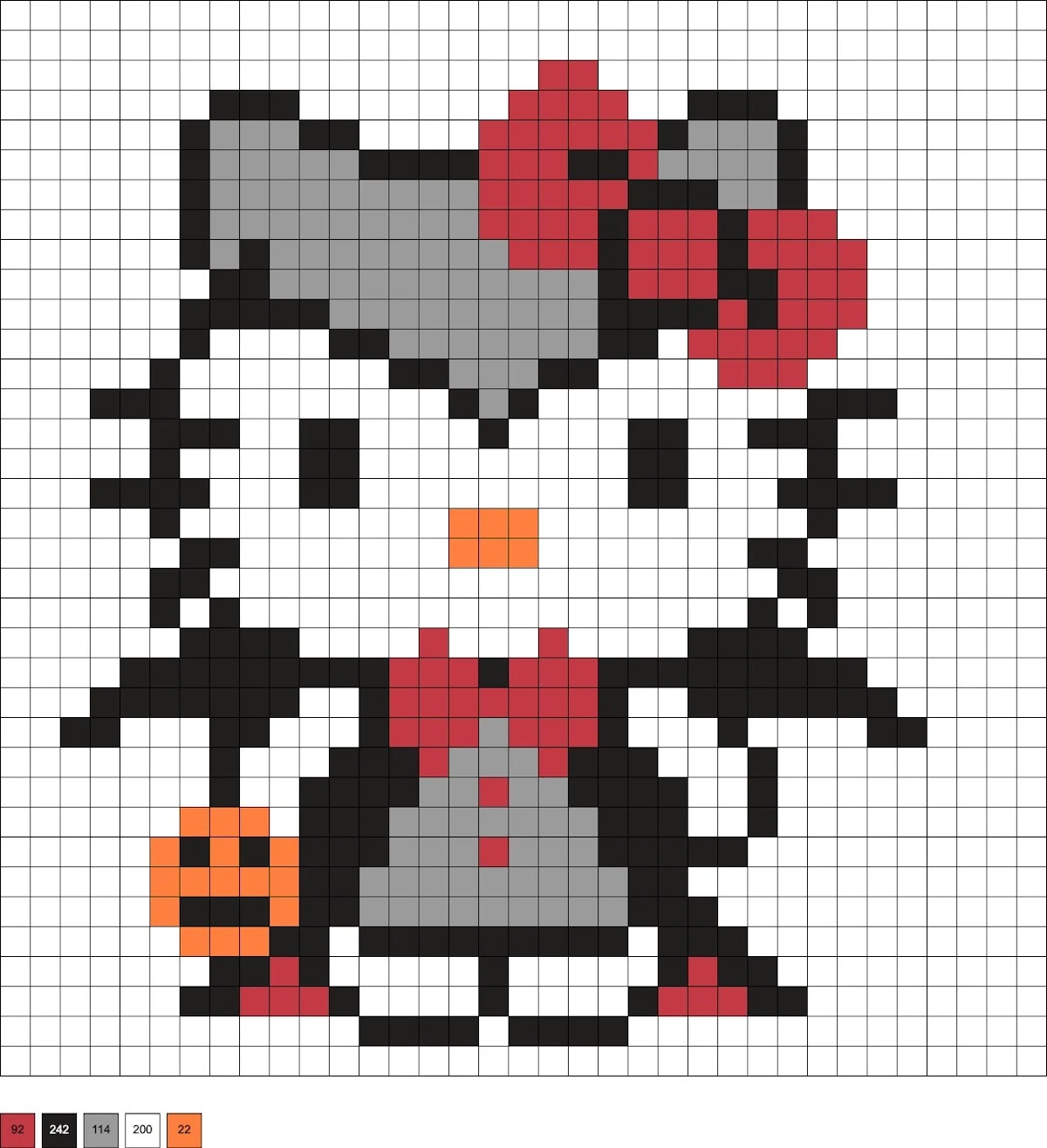 ---
Hello Kitty Skeleton
Uses 255 black, 53 pink, and 280 white beads.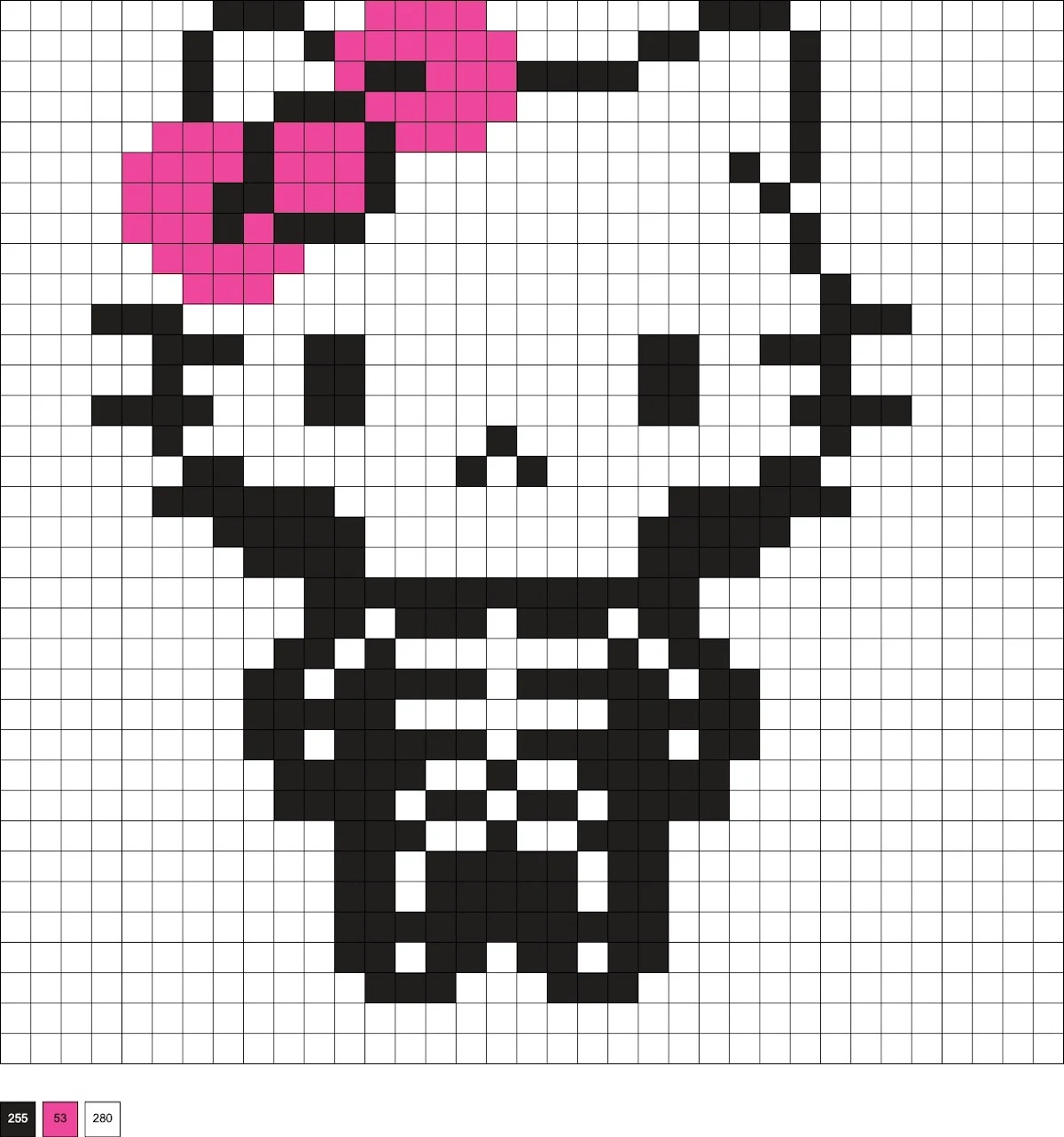 ---
Hello Kitty Zombie
Uses 123 light lavender, 158 black, 209 pastel green, 64 shamrock, 13 pink, 15 magenta, 11 red, and 12 yellow beads.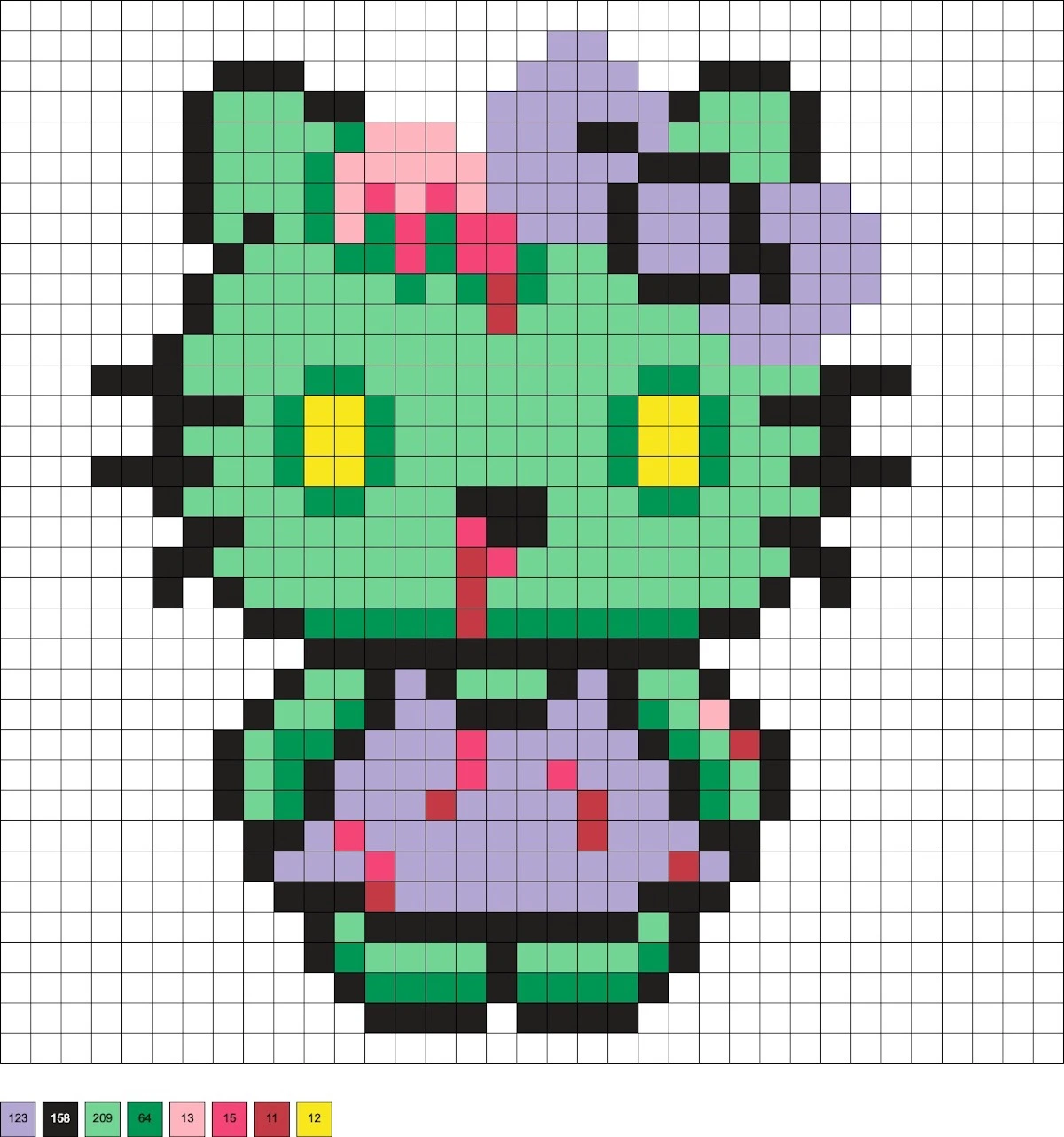 ---
Did you enjoy these Hello Kitty hama bead patterns? Let me know in the comments! I'd love for you to check out these other posts: