Get over 40 patterns for Minecraft perler beads! There are a variety of characters and symbols from this best selling sandbox video game.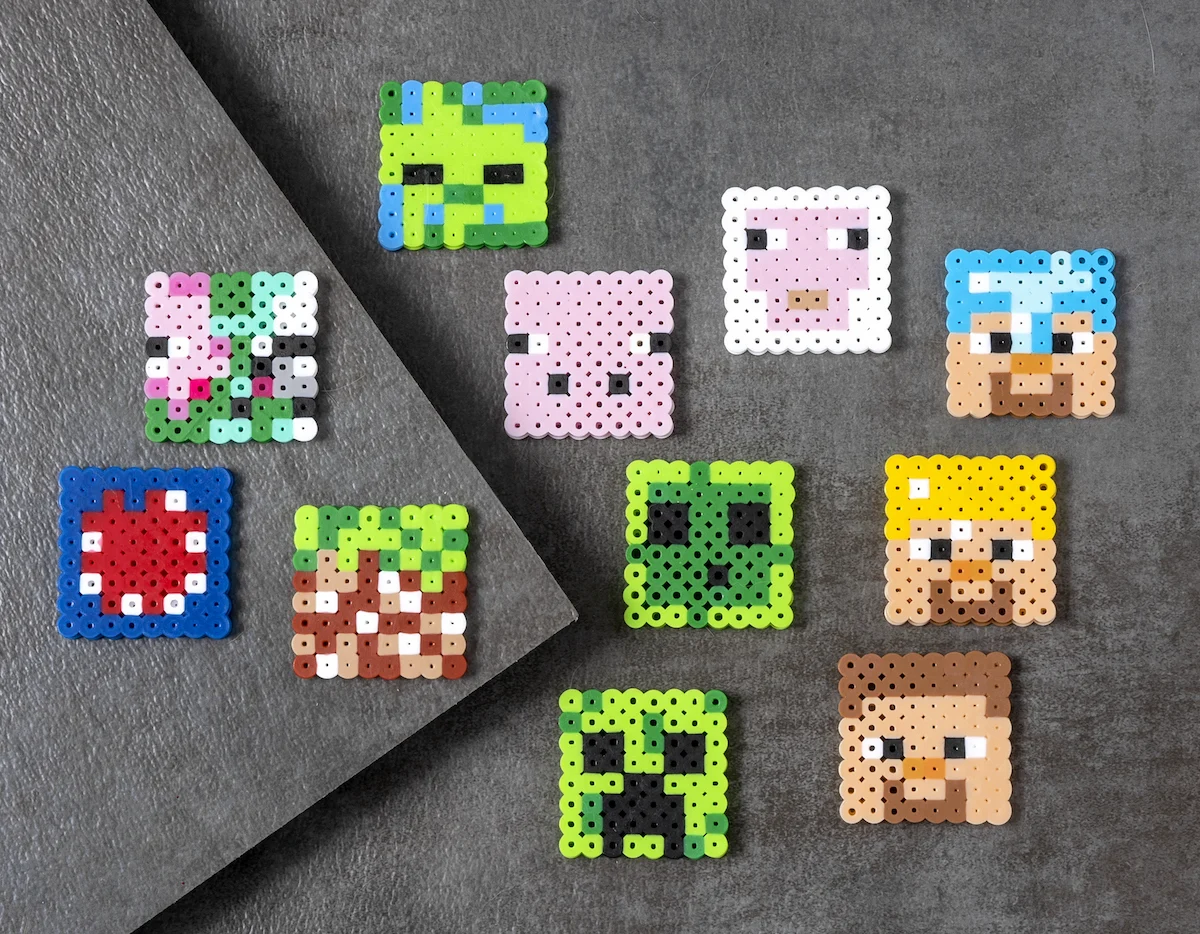 Did you know that Minecraft is the best selling video game in history? Yes. Released in November 2011, it's currently at 238 million copies sold. Yes, that's million (insert Dr. Evil).
The next best selling video game is Grand Theft Auto V at 175 million copies. Guys! This is crazy. I had no idea.
That means that technically, just looking at statistics, the equivalent of approximately 72% of the country owns Minecraft.
And while I don't personally own the game, I can verify the statistic to a certain extent given that all the children around me play it! Including my niece, who is obsessed.
And if you're here, that means either you love the game or you have kids that do. Either way, I'm excited to share these Minecraft perler beads with you. My niece and I had great fun putting these together!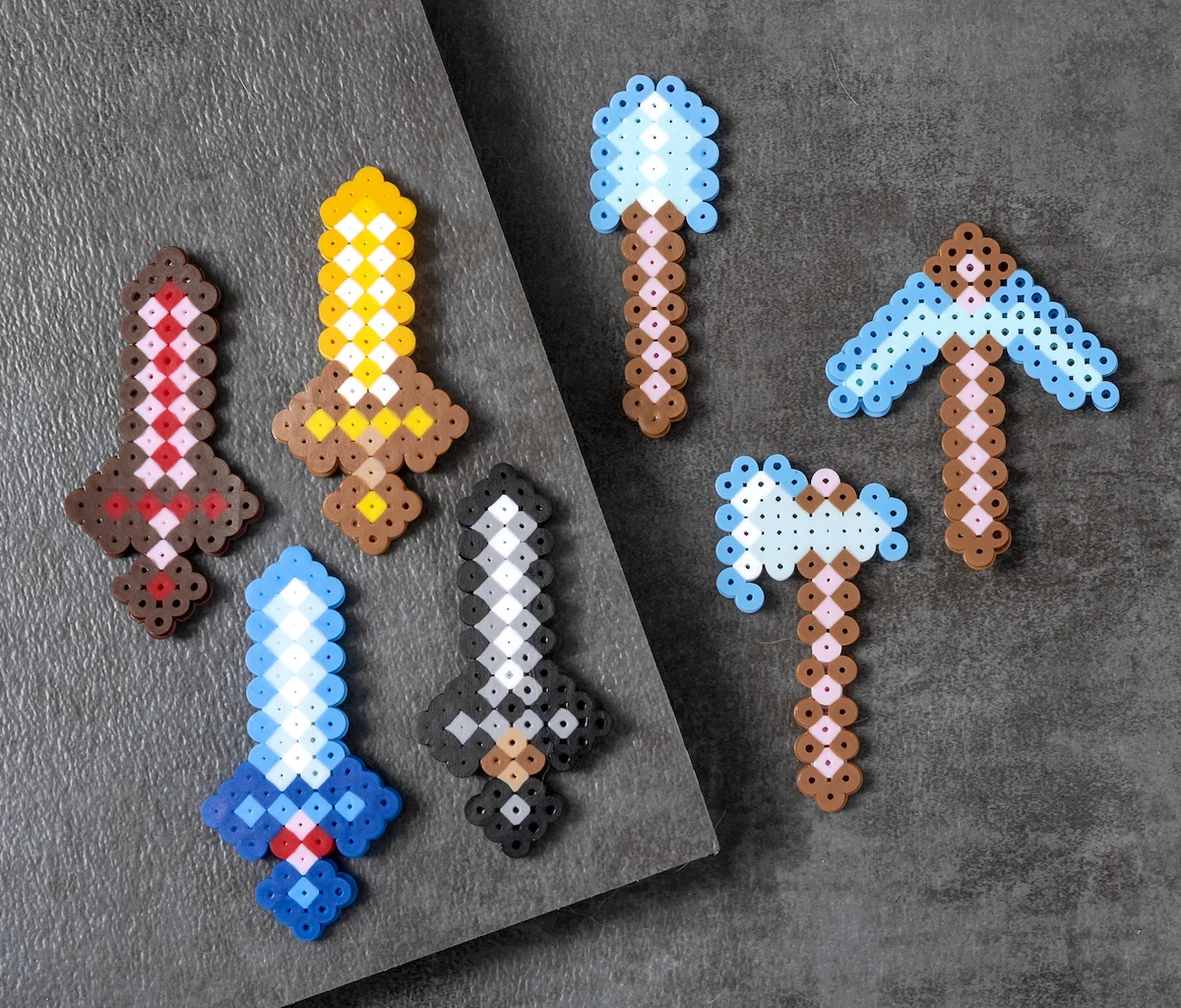 While we were crafting, she was telling me everything she loves about the game. She likes "playing with different people, being able to create her own cities, and talking about the game with friends."
At one point she loved the merch too, but she's kind of outgrown that.
I find it interesting that it's not just a game for my niece. It's a creative outlet! And of course, so are the perler beads.
We made patterns for Steve, creepers, tools, resources, animals, and some other aspects of the game. There are so many elements in Minecraft that we couldn't get them all. If you have a request we'd love to hear in the comments. We're always making new patterns!
Perler beads are recommended for ages six and up, so this is a very fun craft to try with children. They love perler beads (also known as hama beads, fuse beads, or melty beads). But don't be shy – adults love them too!
Tips for Using Perler Beads
Before we get into the patterns, I want to review a few basics of using fuse beads to make sure you get the best results (using Baby Yoda as an example). If you don't want the tips, scroll down to the bottom to get the Minecraft hama bead patterns.
Remember that the overall goal is to melt the beads together on both sides while still leaving the holes open. Here's how it's done.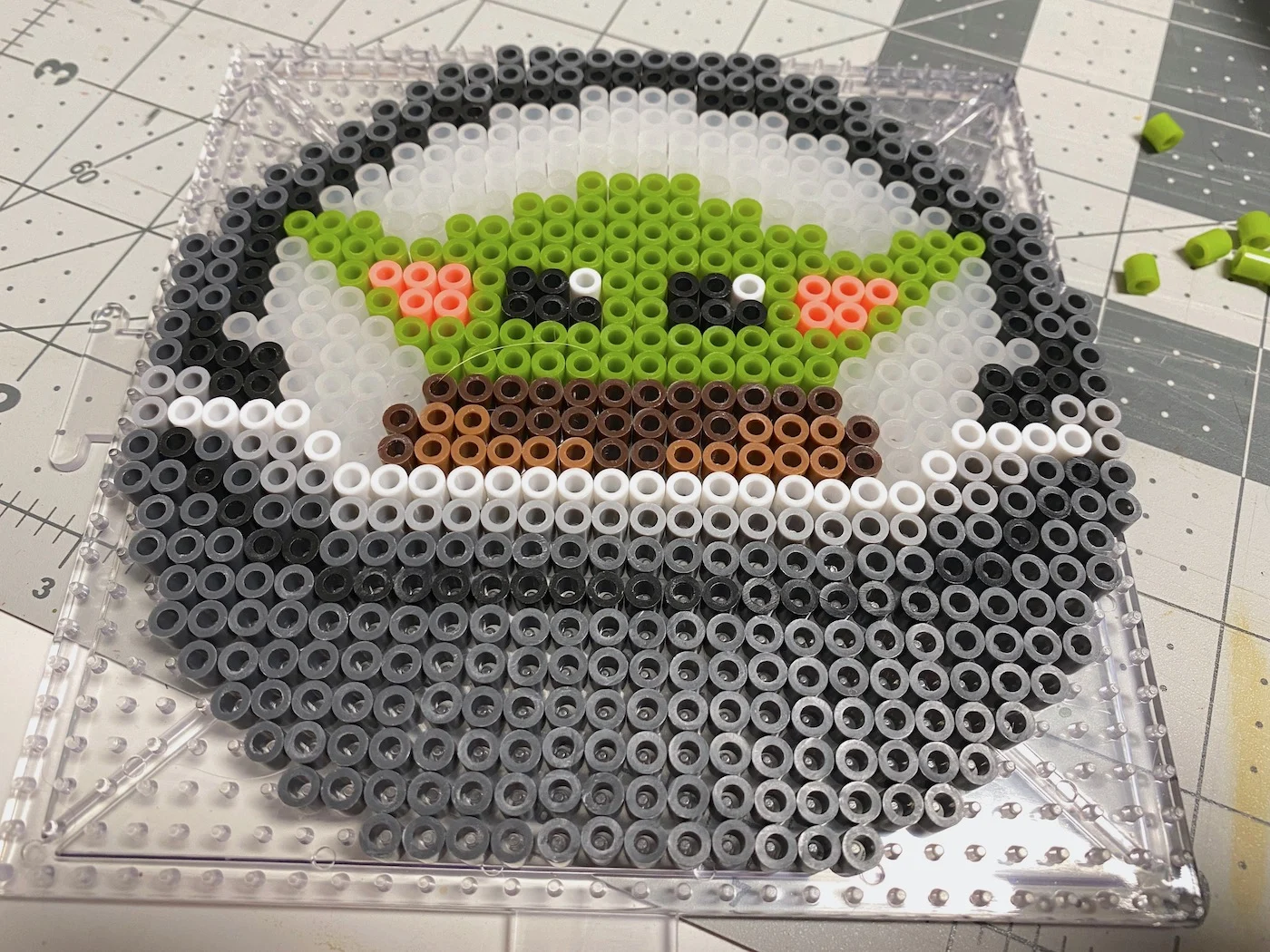 Use Ironing or Parchment Paper
Place ironing paper or parchment paper over the beads on the pegboard. Be gentle so you don't disturb the beads underneath.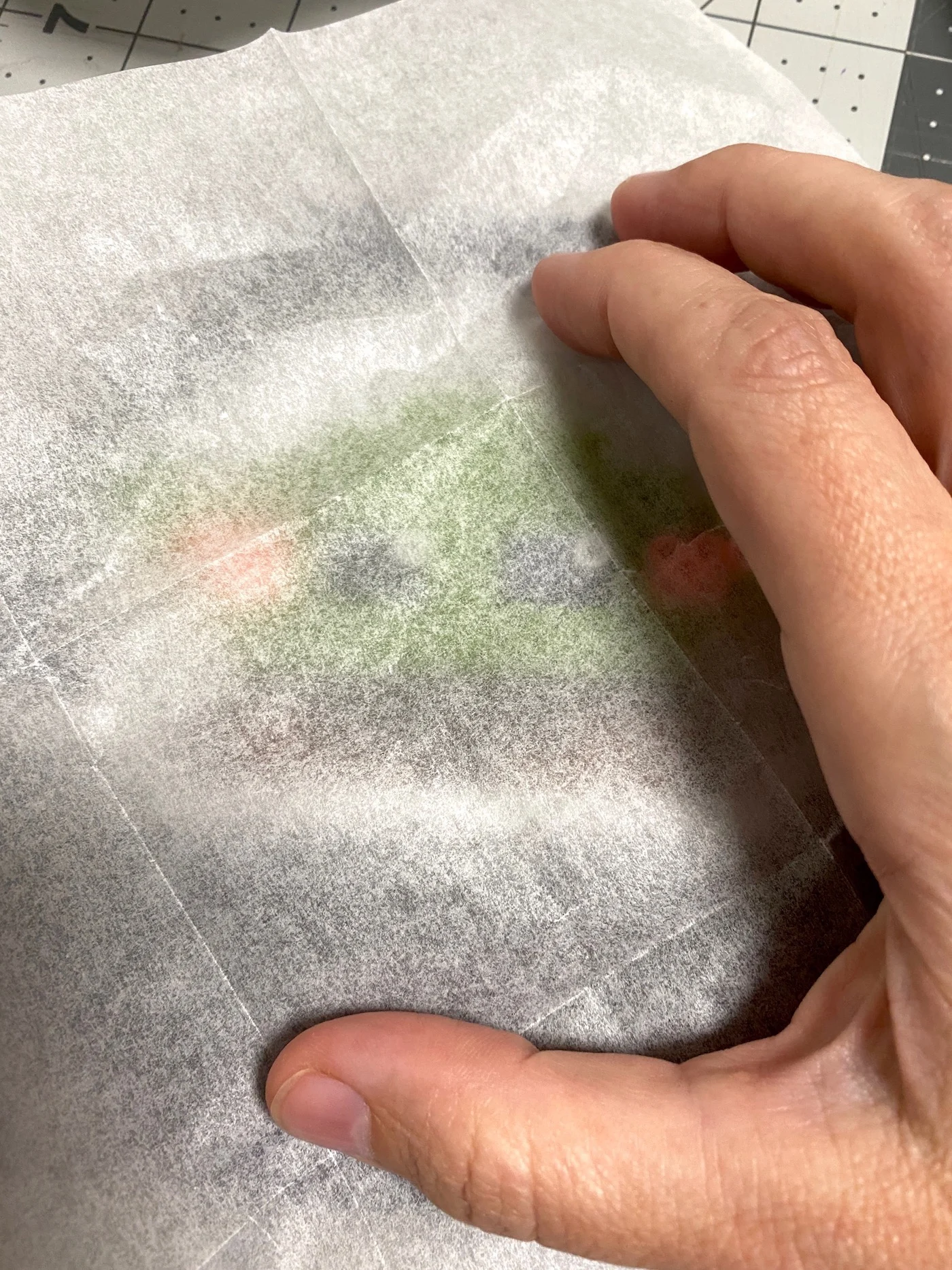 Heat your iron to the medium setting (no steam). In a circular motion, begin to iron the project. Don't press down too hard with the iron. When ironed properly, the beads will still have an open center. Check and make sure your edges are melted. Let the design cool on the pegboard.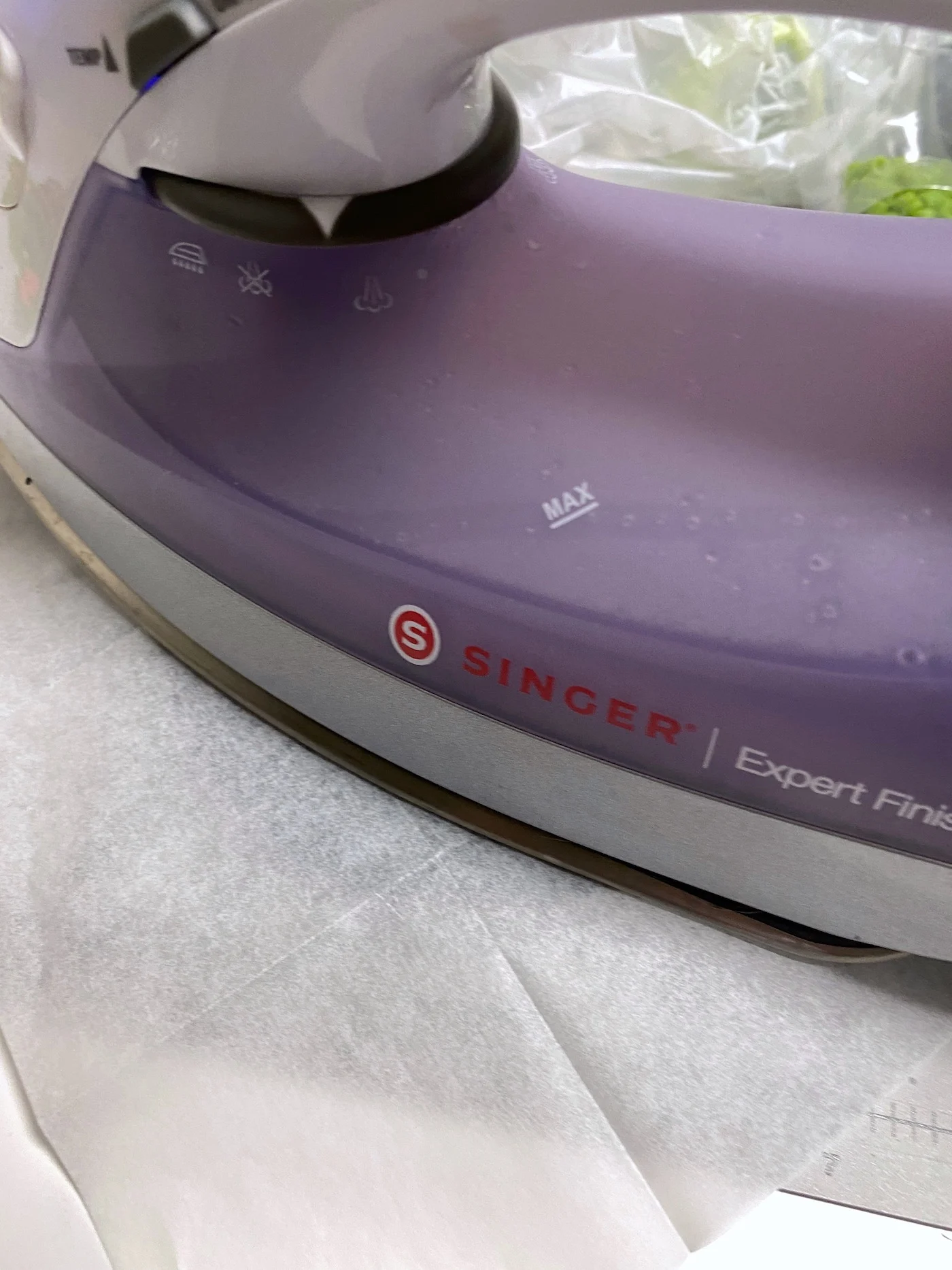 Note: BE CAREFUL about lifting up the paper while you're ironing! If you want to check, carefully peel back paper around the edge of your design and see if all the beads are melted.
If you lift the paper up quickly and there are a lot of unmelted beads, they will easily fall off or go flying and you may be forced to start over. Sometimes the edges need more time so when you check, just check the edges and peel paper back slowly.
Another Note: some beads melt faster than others (clear melts faster than white, for example). So some holes might be larger than others. It's okay! That's part of the look of the project.
Iron the Other Side
Remove the bead design from the pegboard. Flip it over to the non-melted side and repeat the fusing process.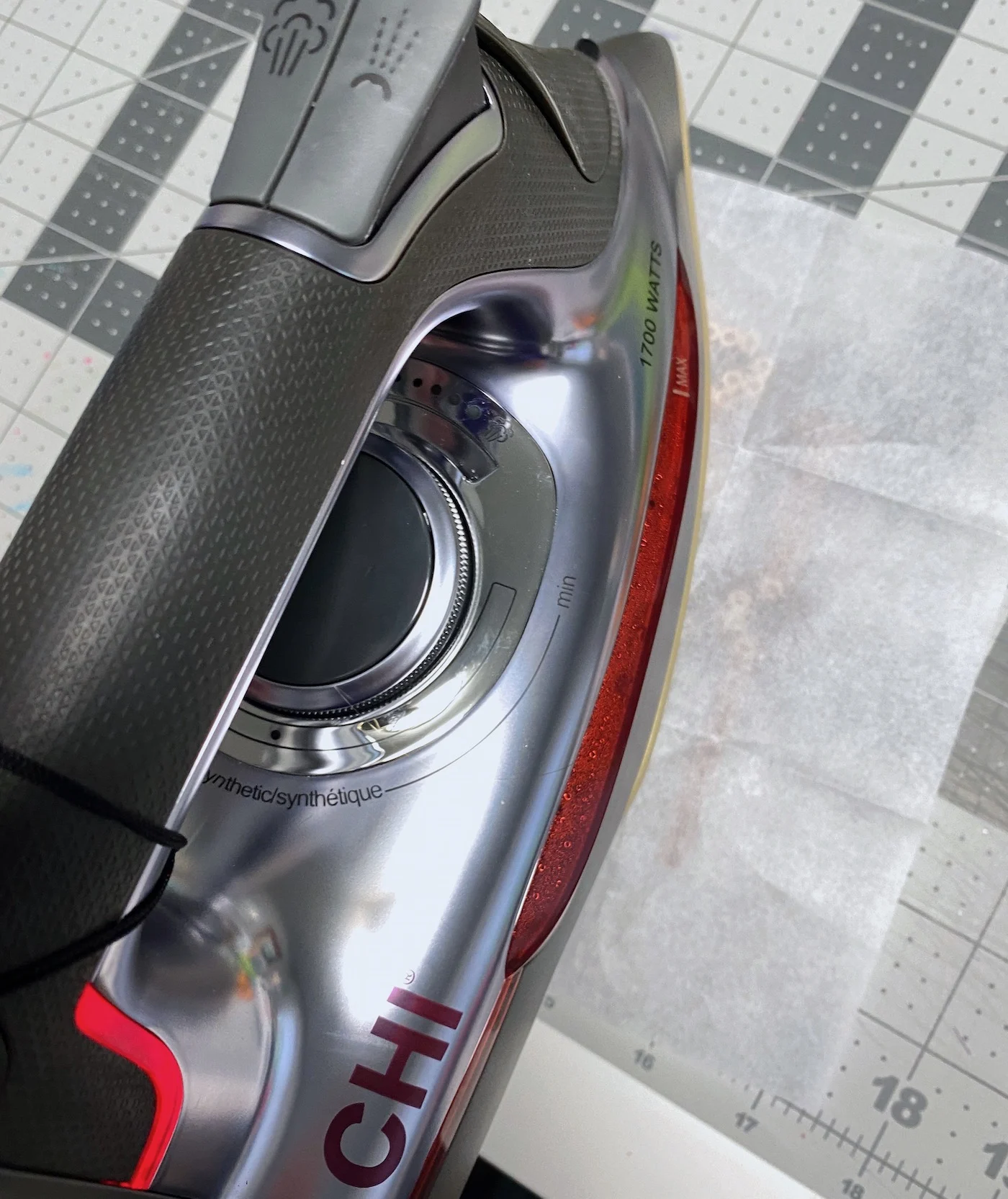 Remove the Paper
Let cool completely and remove the paper again (which is reusable). Some people pull the paper off after they iron the first side, but I just wait until the end and peel off both pieces. It's up to you!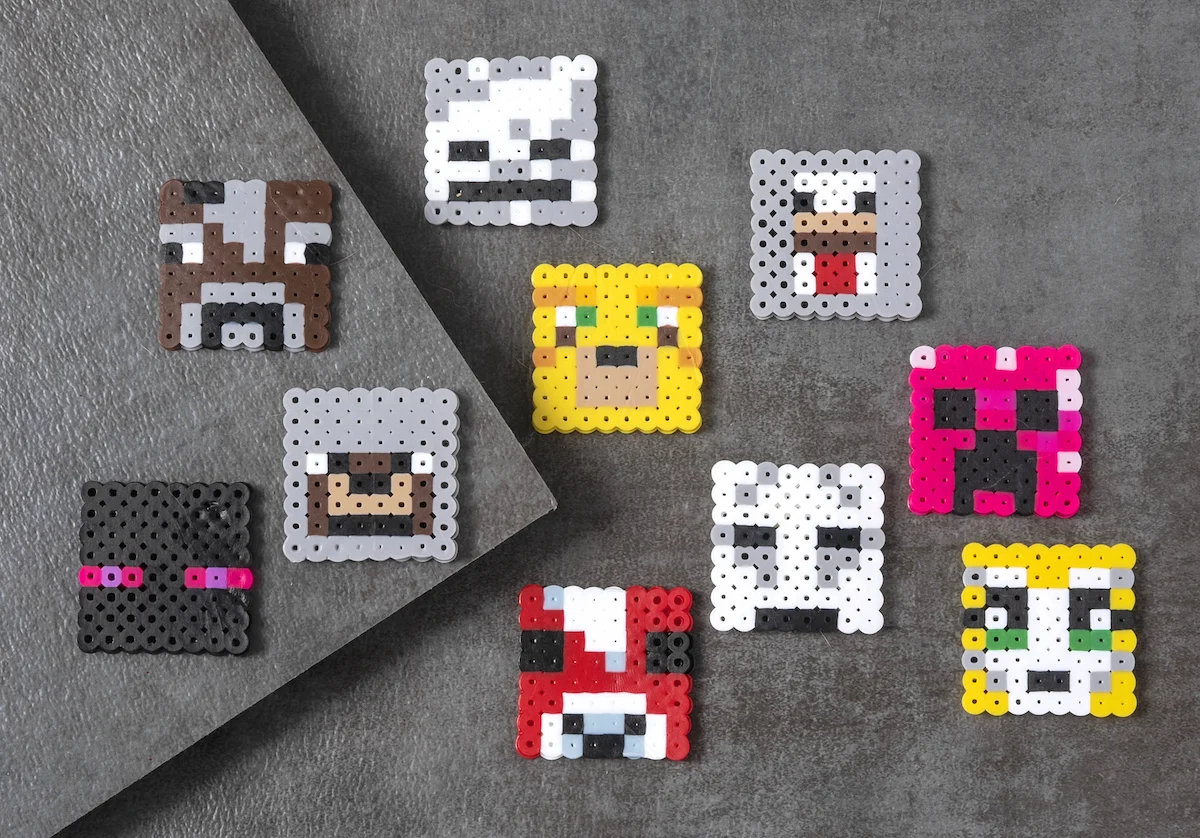 ---
Now if you're ready for the Minecraft perler beads, here are the patterns.
Hama Beads Minecraft
A few of these patterns are larger than a 29 x 29 pegboard, so you'll either need a extra large pegboard (49 x 69 tall) or to put multiple square peg boards together to form a larger "canvas."
You'll see a couple of the pattern backgrounds below aren't white – that's simply to give contrast so you can see where all the white beads should go. You don't need to add the background (but you can if you want to).
Don't stick to my colors necessarily. Customize with your favorite color beads.
I typically start with easier, smaller patterns in my list and then move on to the more difficult ones. If you're looking for something a bit more advanced, just keep scrolling!
---
Steve (Gold Steve and Diamond Steve too), Dirt Block
Each of these square blocks uses 64 beads (8 x 8).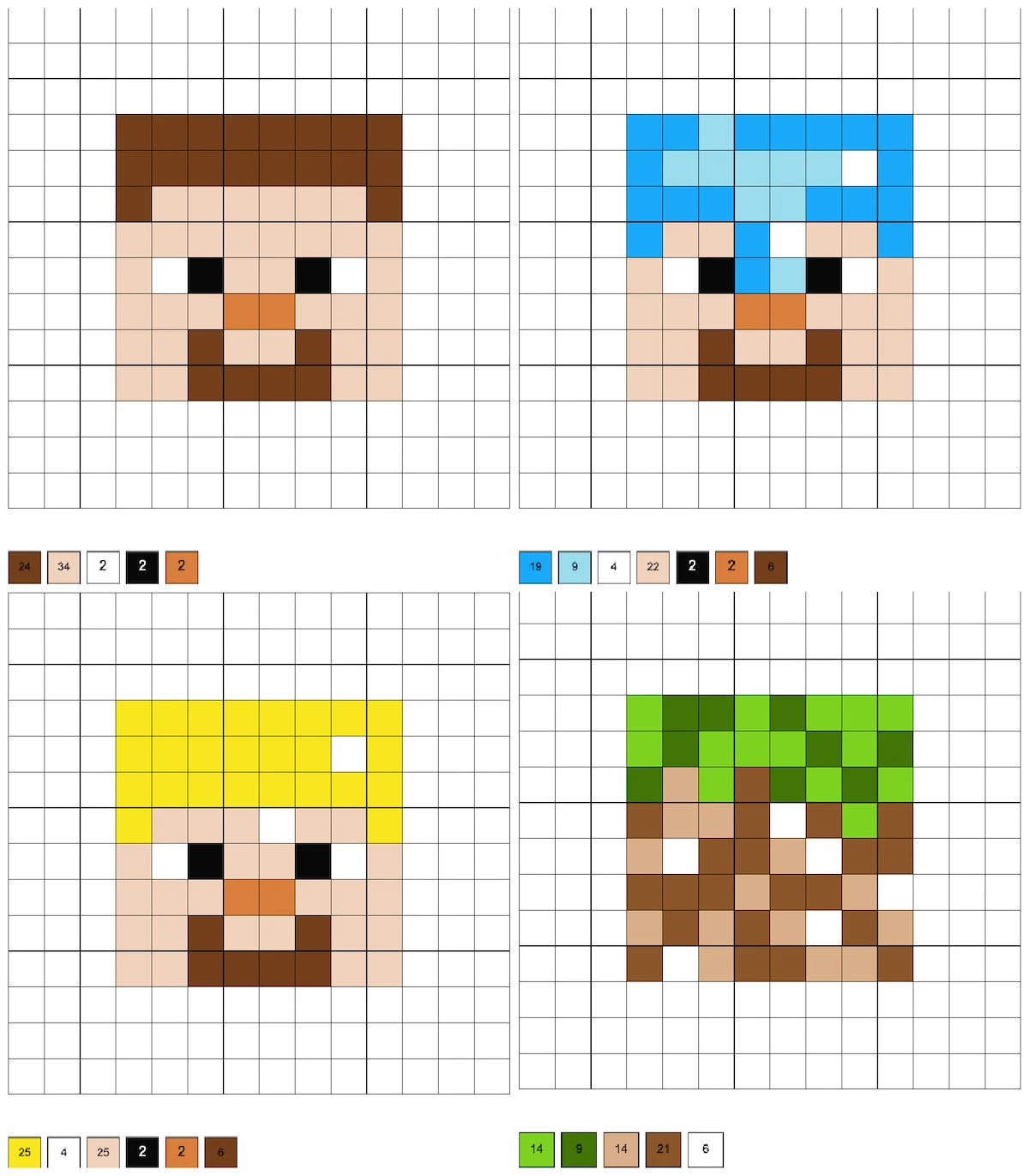 ---
Creeper, Pink Creeper, Slime, and Zombie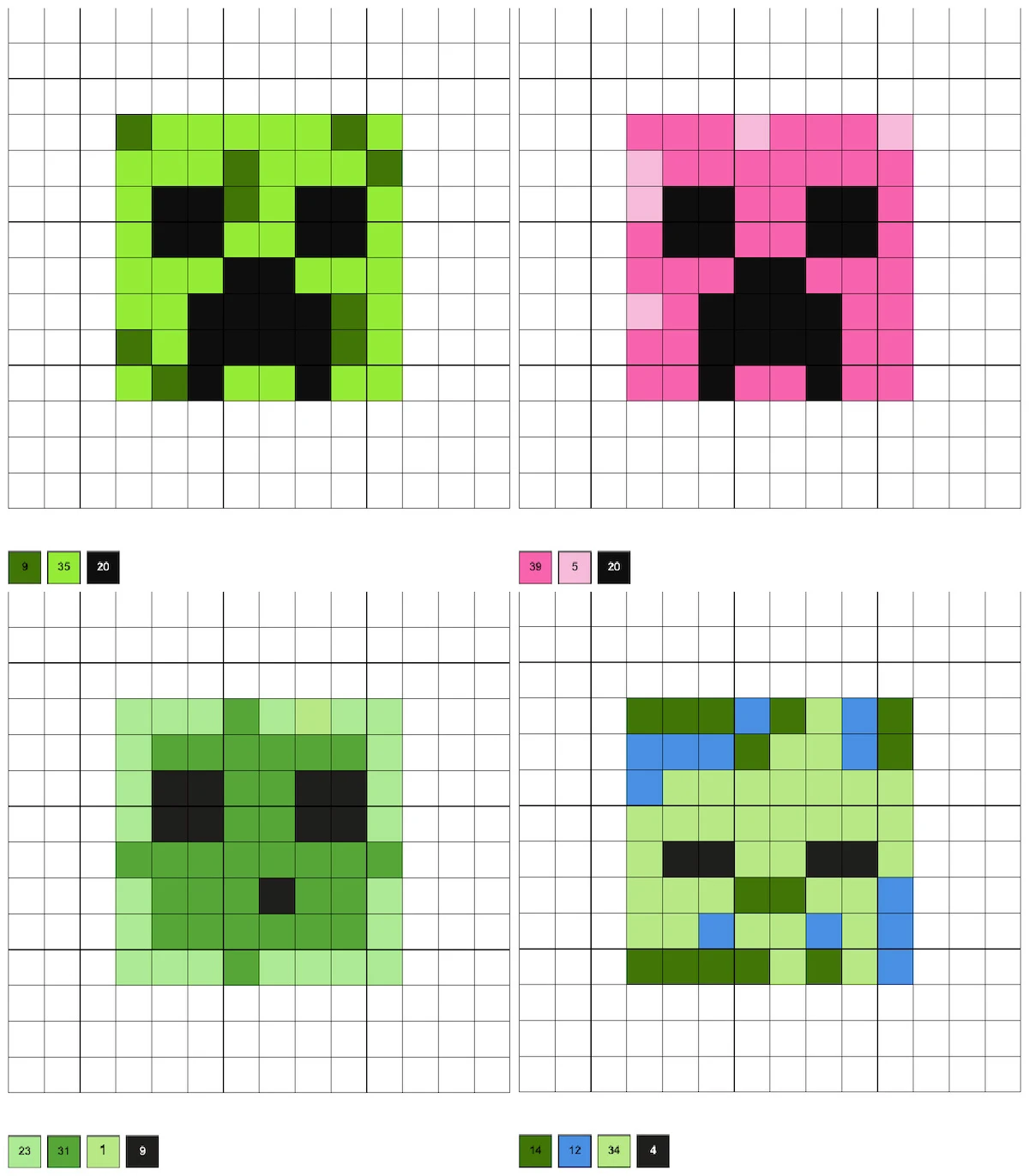 ---
Wood Sword, Gold Sword, Stone Sword, Diamond Sword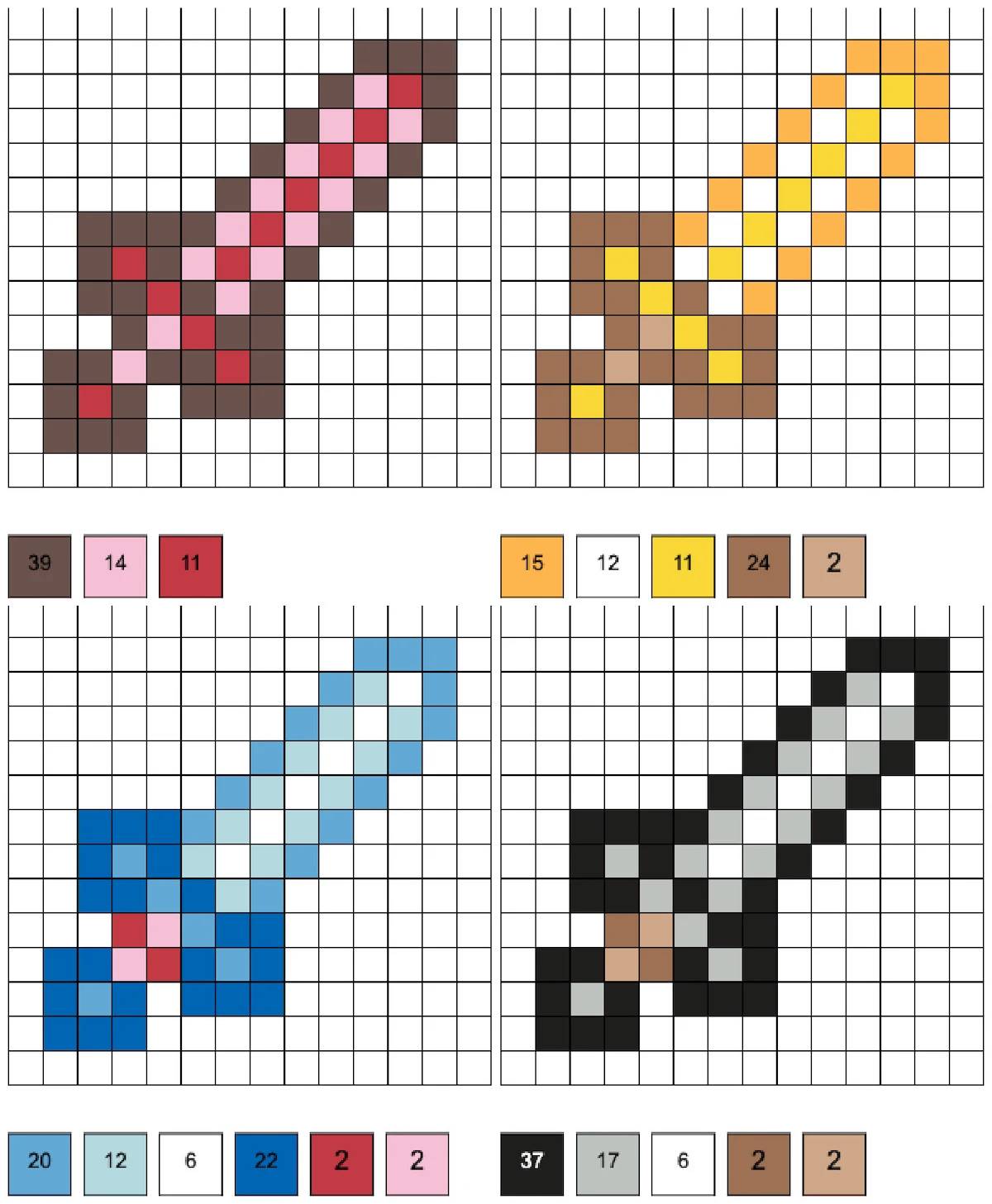 ---
Axe, Pick Axe, Shovel, and Hoe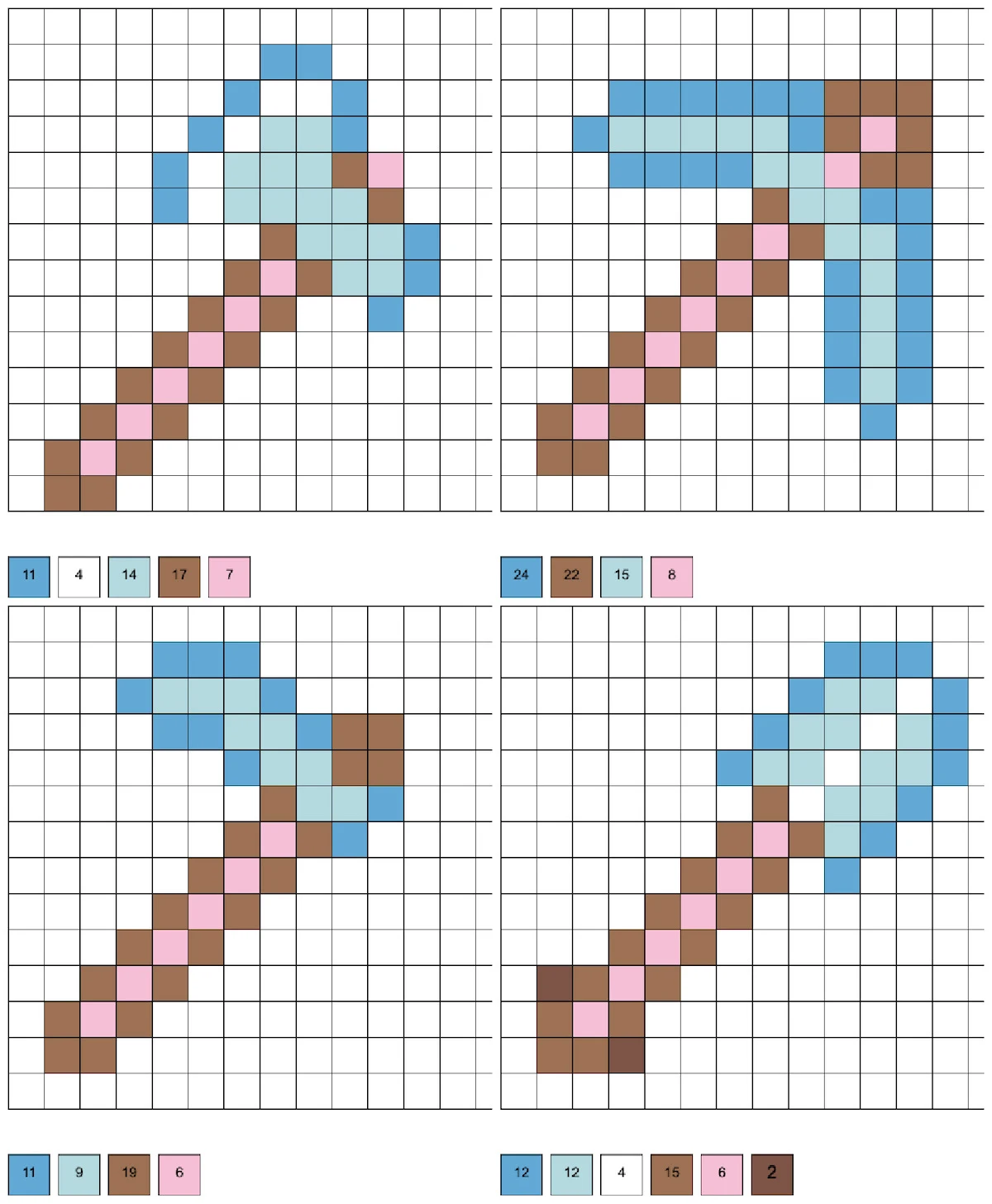 ---
Chicken, Pig, Cow, and Sheep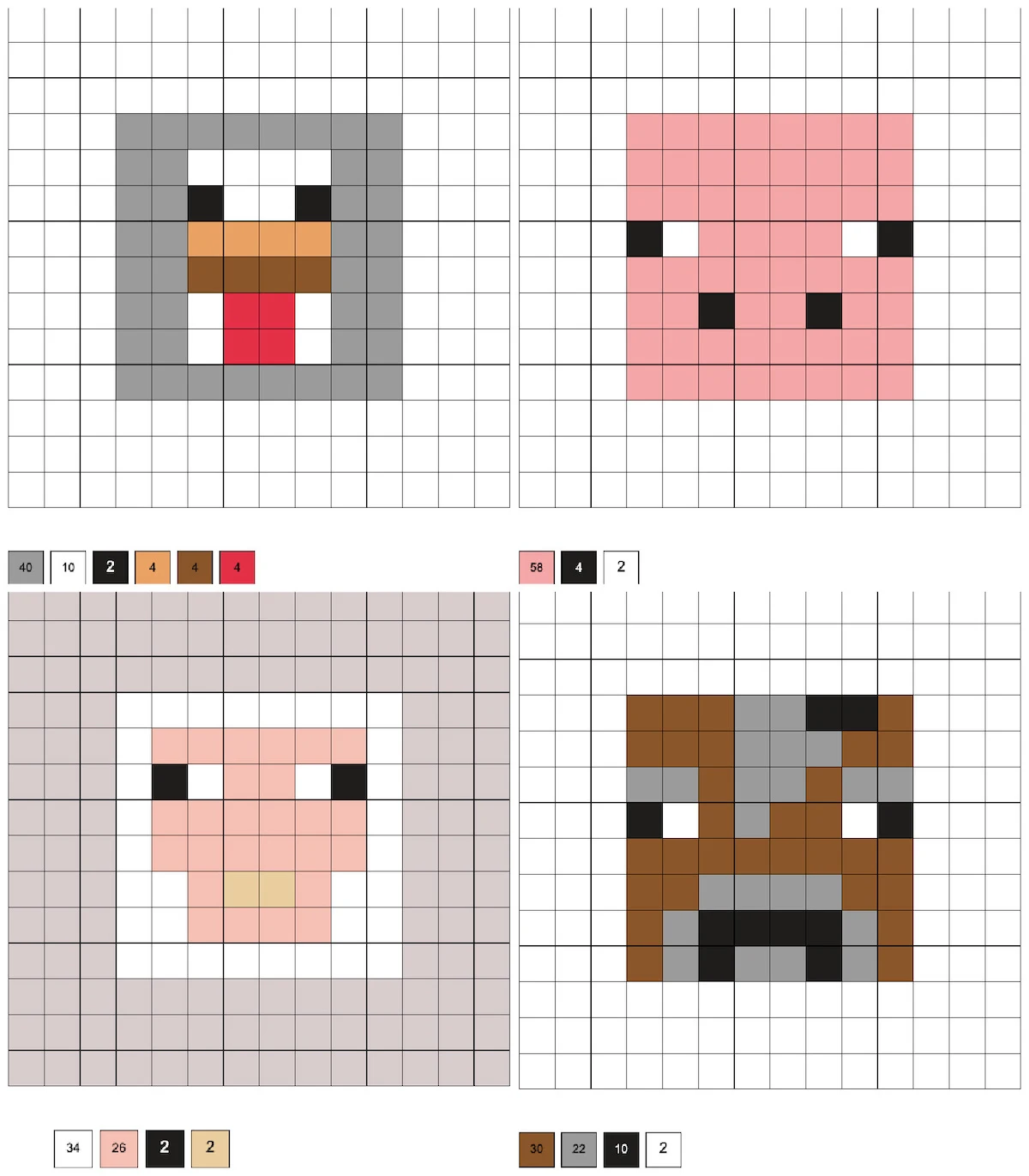 ---
Enderman, Skeleton, Zombie Pigman, and Ghast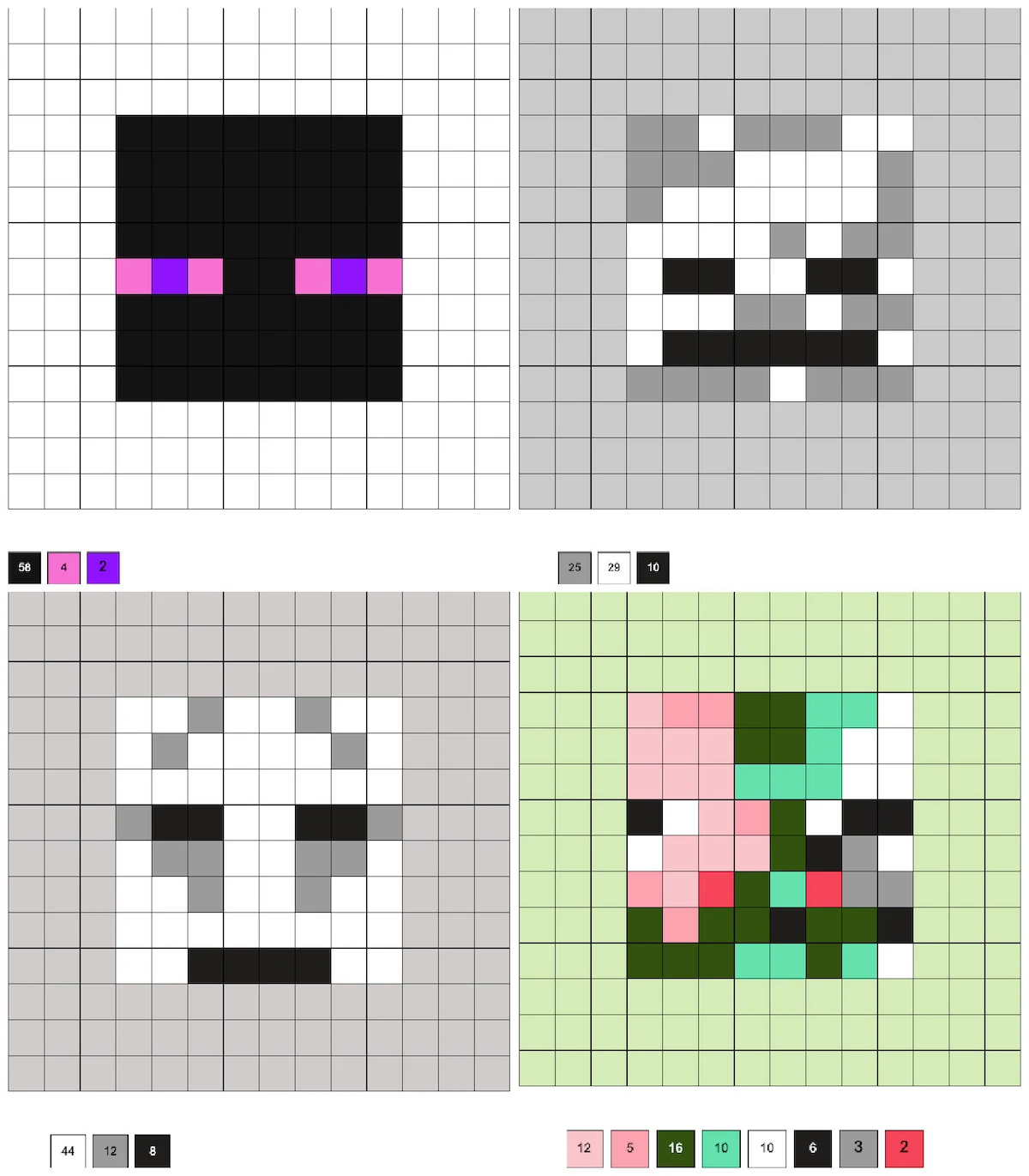 ---
Stampy Cat, Guardian, Wolf, and Ocelot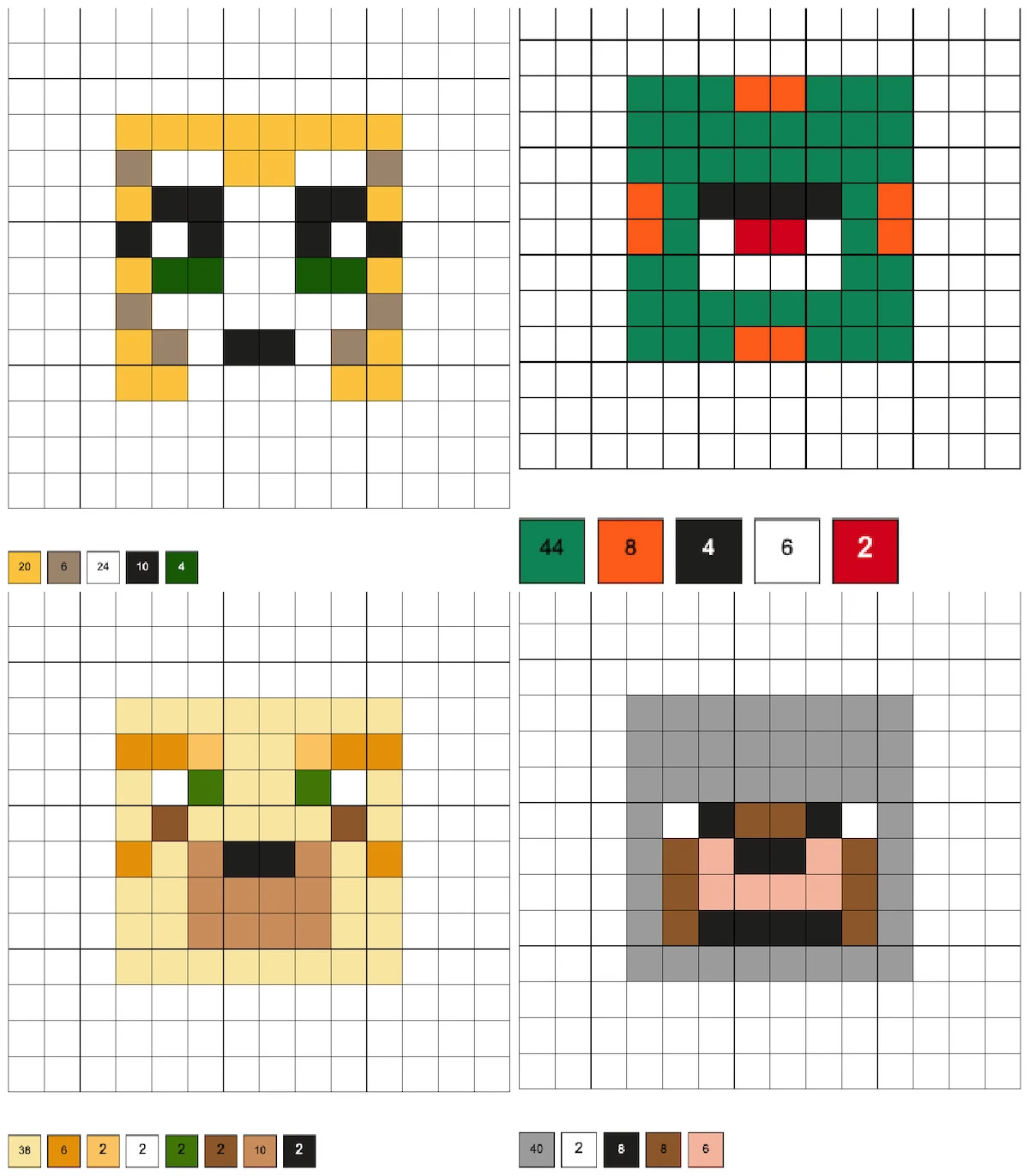 ---
iBallisticSquid, Mooshroom, and Wither

---
Decorative Easter Eggs
The creeper is larger than the version above and uses 196 beads (14 x 14 grid). The diamond ore and pumpkin use 256 beads (16 x 16 grids).

---
3D Dirt Block
This pattern makes a tiny dimensional dirt block that is easily assembled. It uses 63 tan, 185 brown, 80 bright green, 52 kiwi lime, and 16 light gray beads.
Once all the pieces are done, you'll use the top left brown piece as the bottom. The green piece is the top and the other four pieces are the sides. Simply insert the tabs together and push to form the block.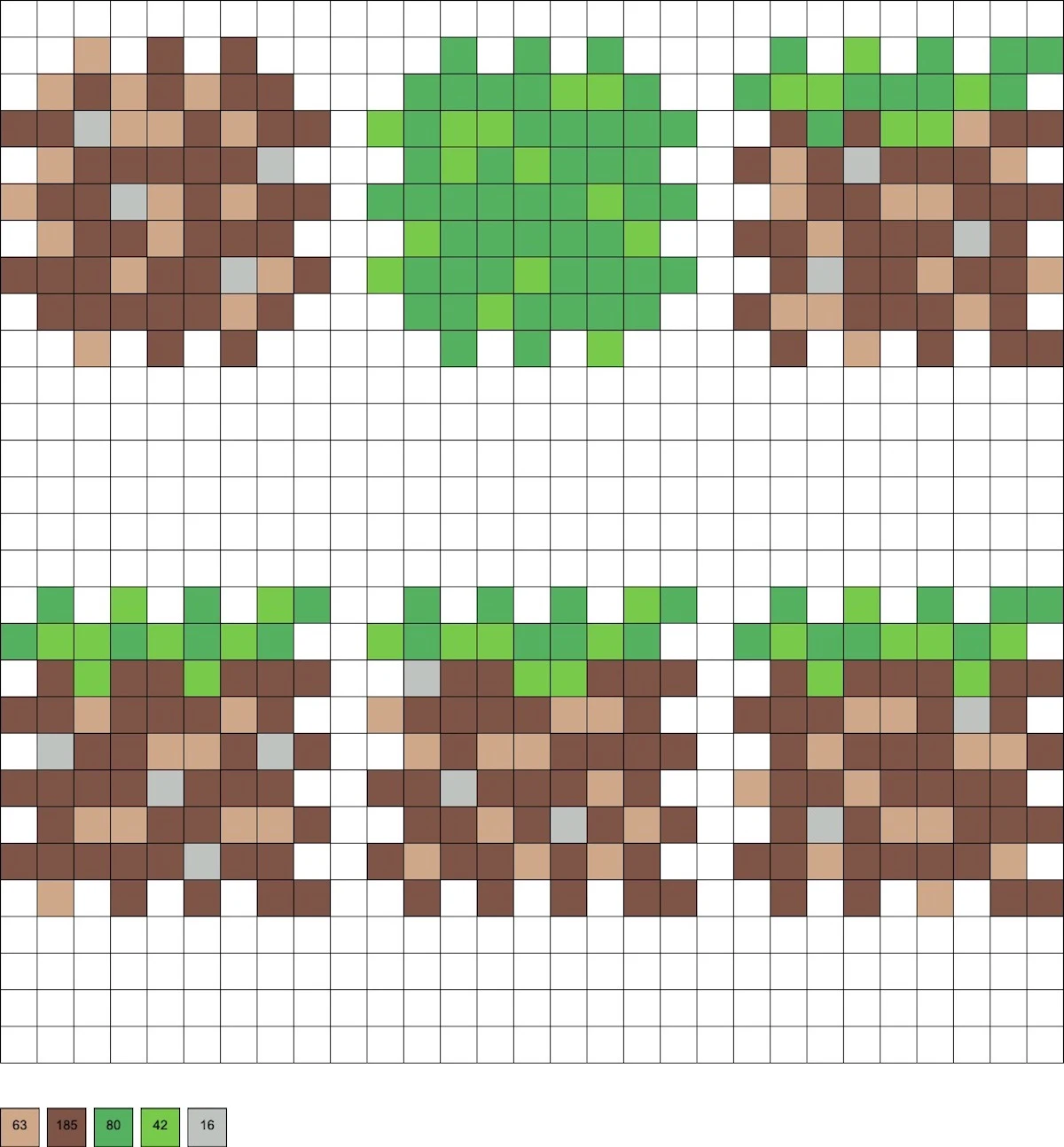 ---
Minecraft Supplies and Consumables
You'll get suspicious stew, an apple, diamond, splash potion, milk bucket, lava bucket, water bucket, Dragon's breath, meat health bar, clock, and cake.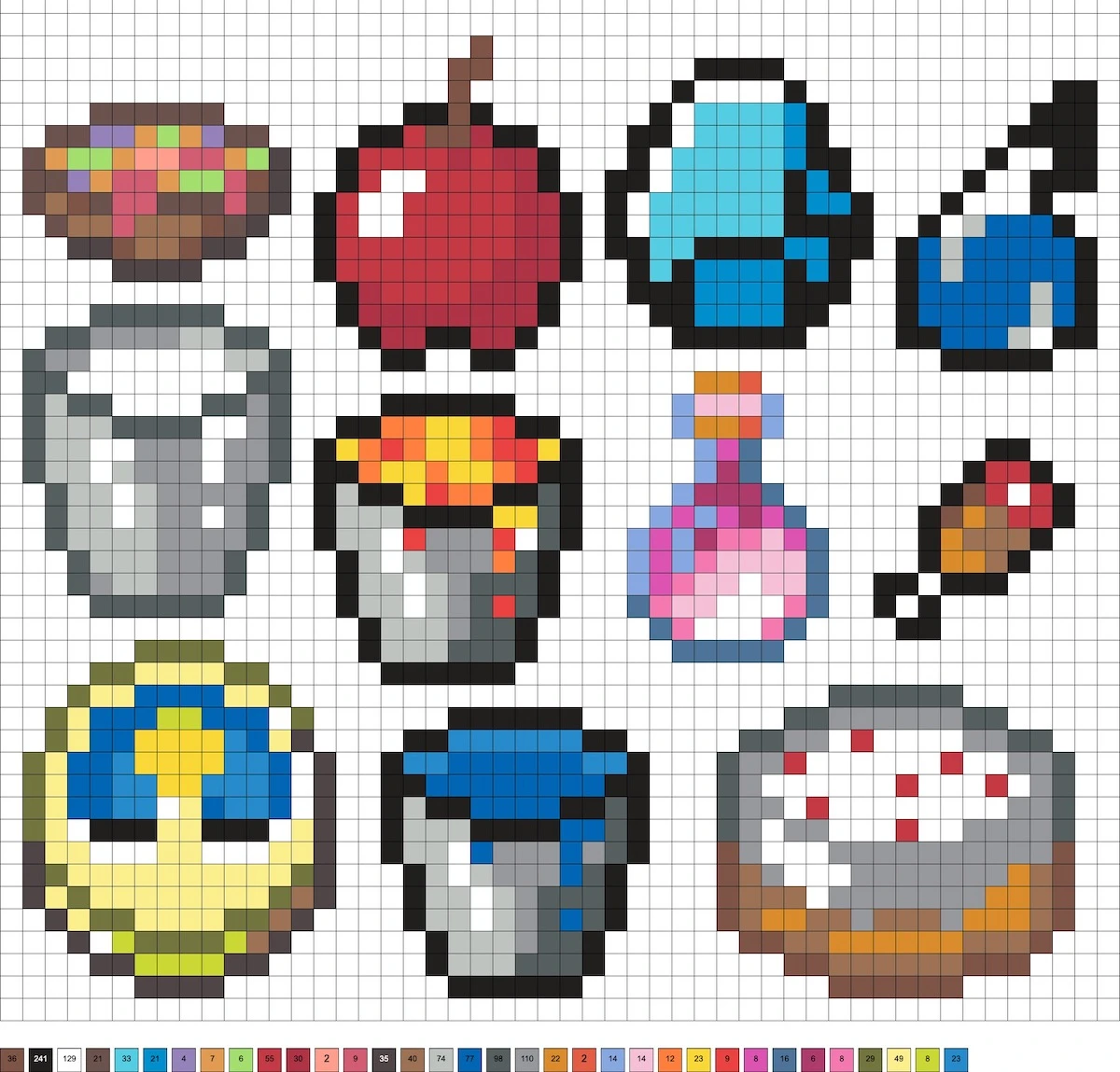 ---
Standing Steve
This pattern uses 18 brown, 106 sand, 2 white, 8 purple, 2 tan, 4 light brown, 109 sky, 63 pastel lavender, and 16 gray beads.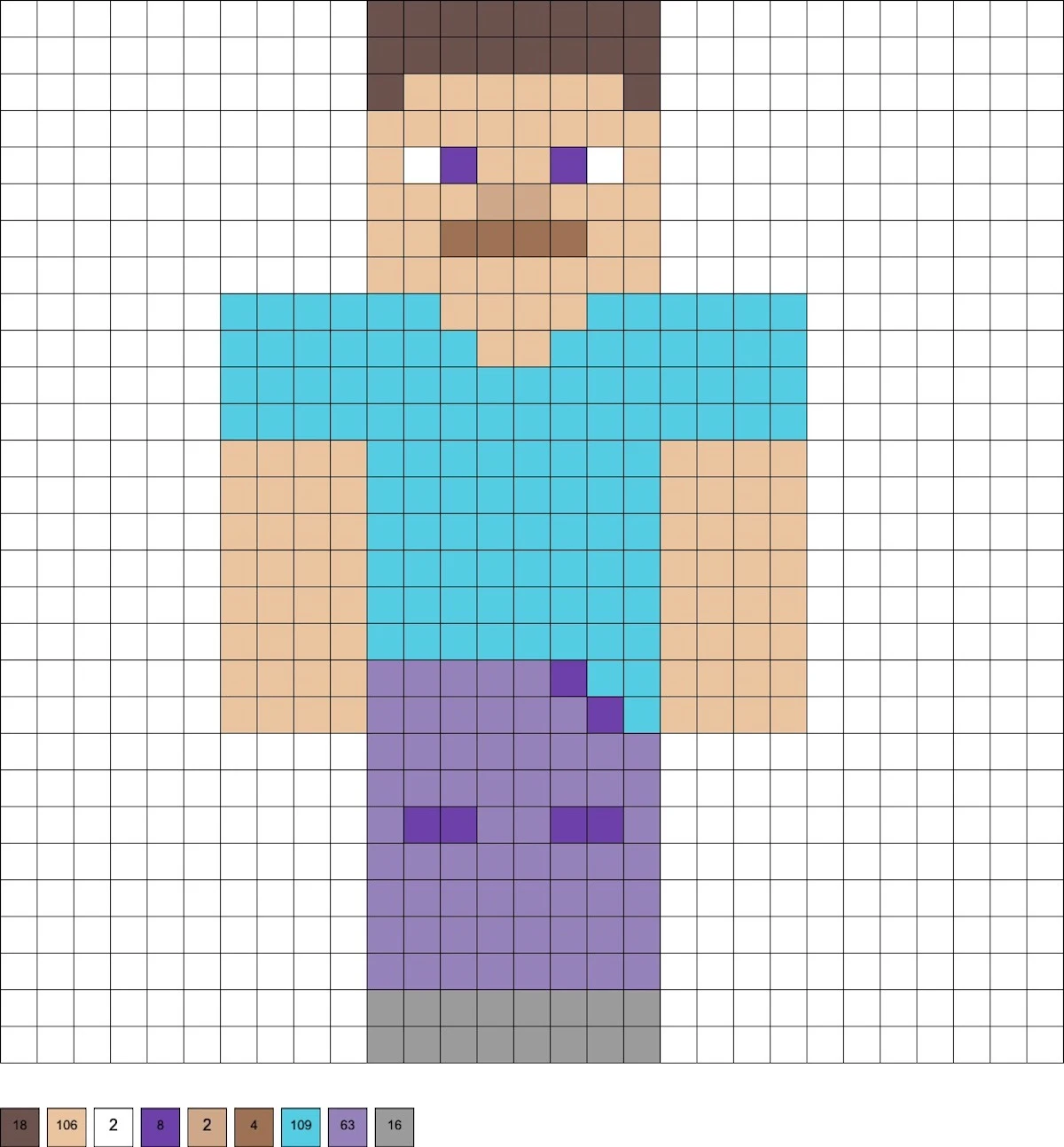 ---
Standing Creeper
This pattern uses 128 black, 43 dark green, 15 white, and 140 kiwi lime beads.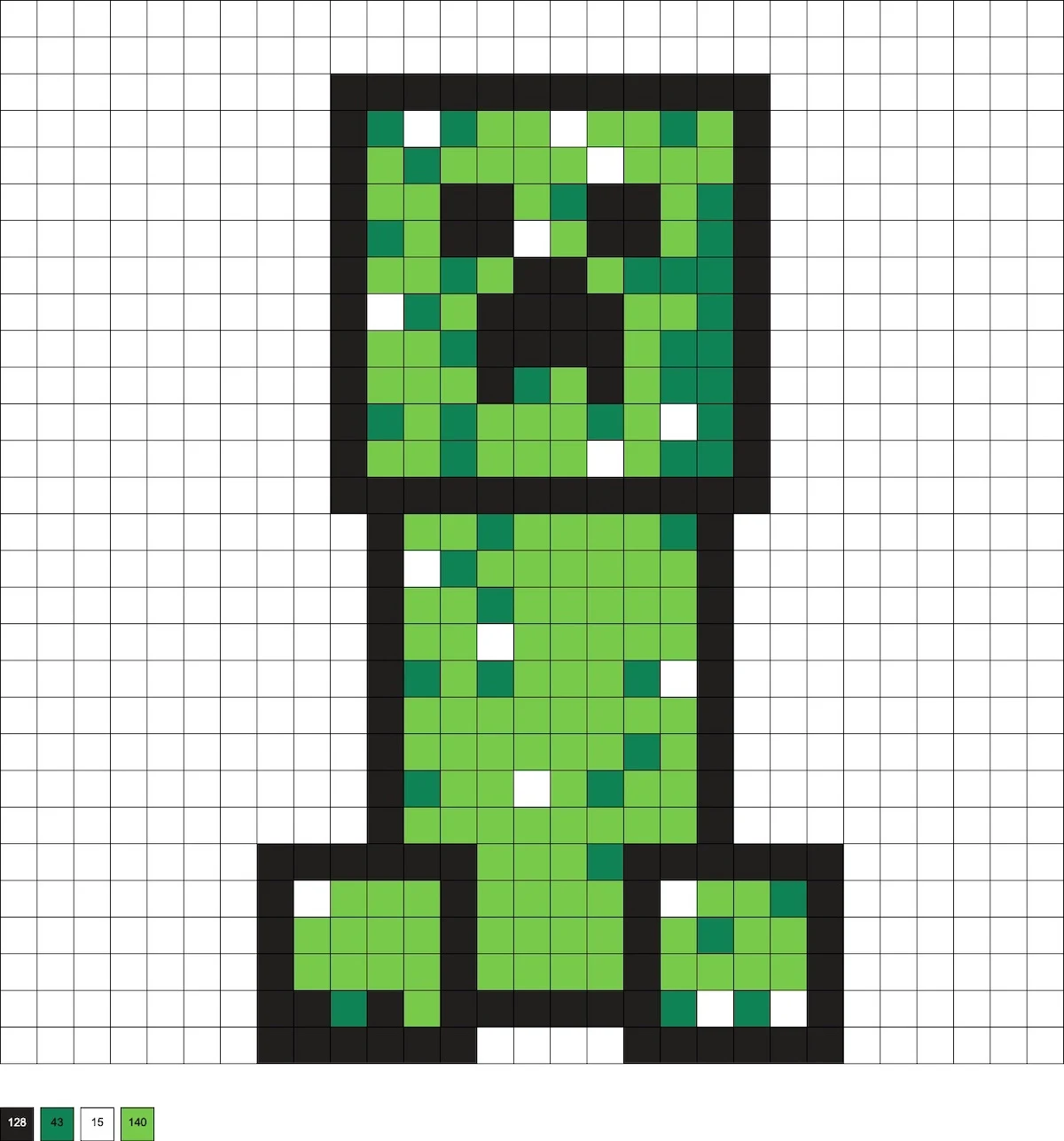 ---
Minecraft Hearts
This pattern uses 96 black, 152 red, and 32 white beads.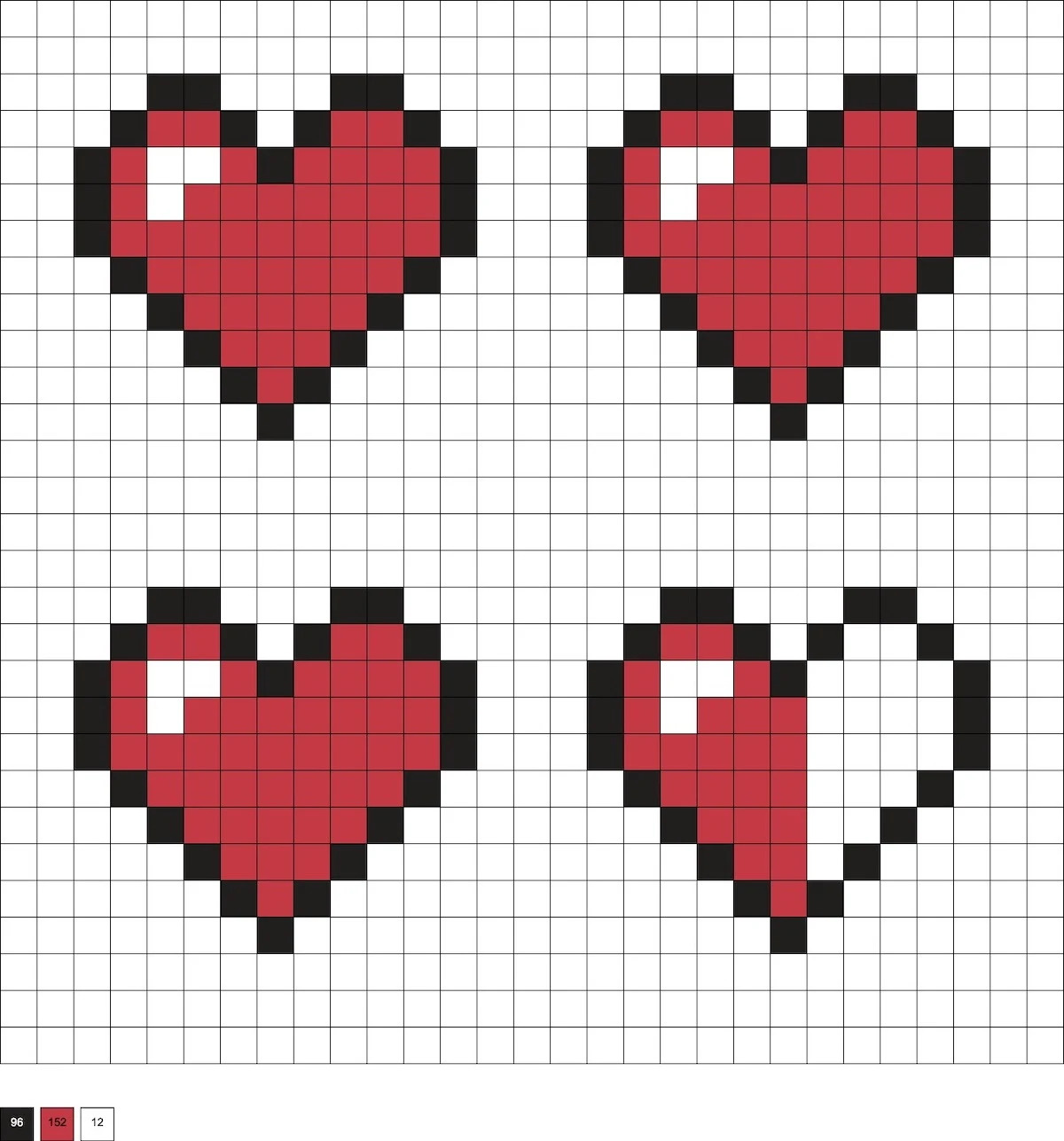 ---
Set of Armor
This pattern uses 178 black, 121 sky, 93 lagoon, and 12 white beads.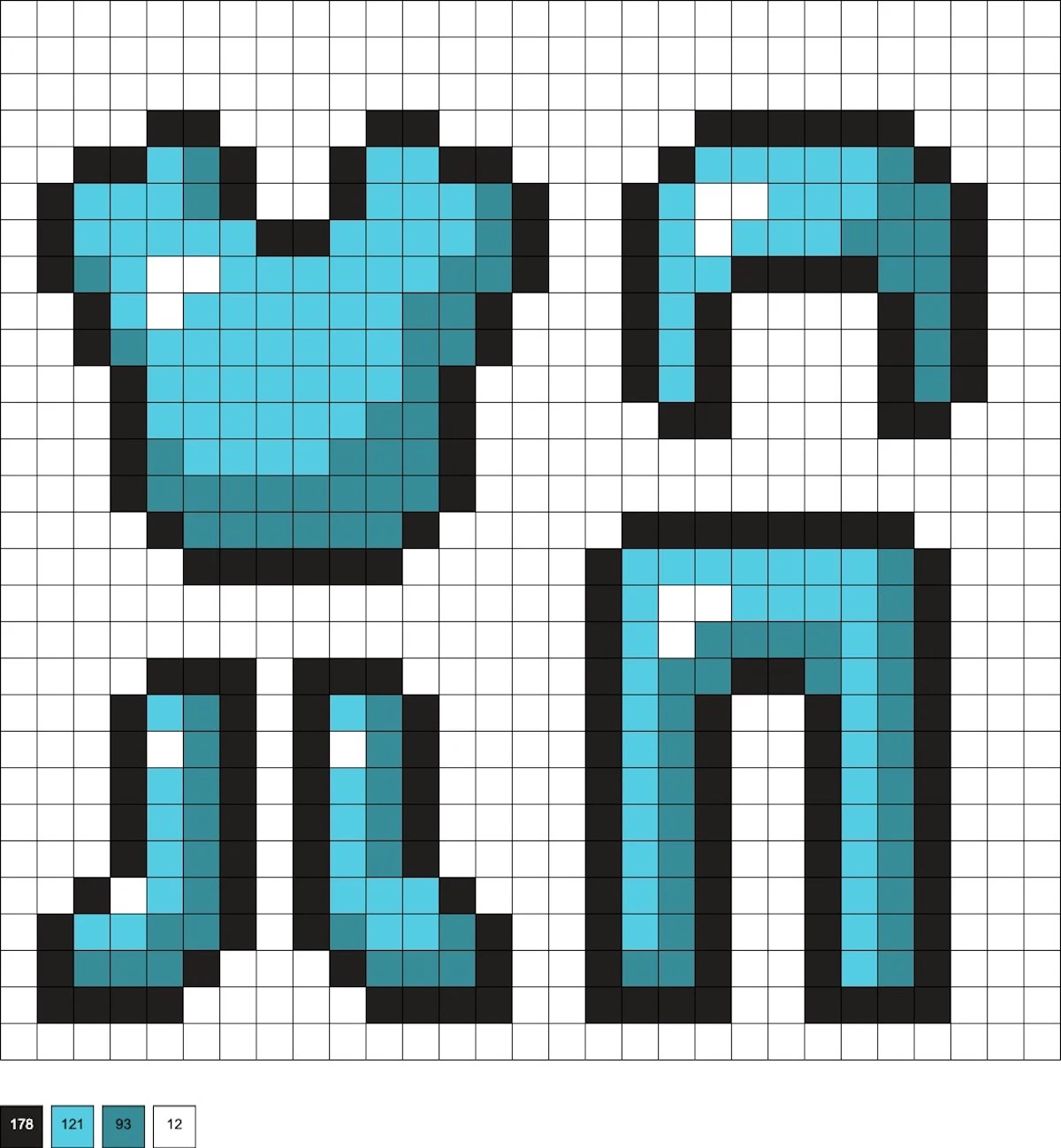 ---
Standing Cow
This pattern uses 56 light gray, 194 gingerbread, 36 white, and 22 black beads.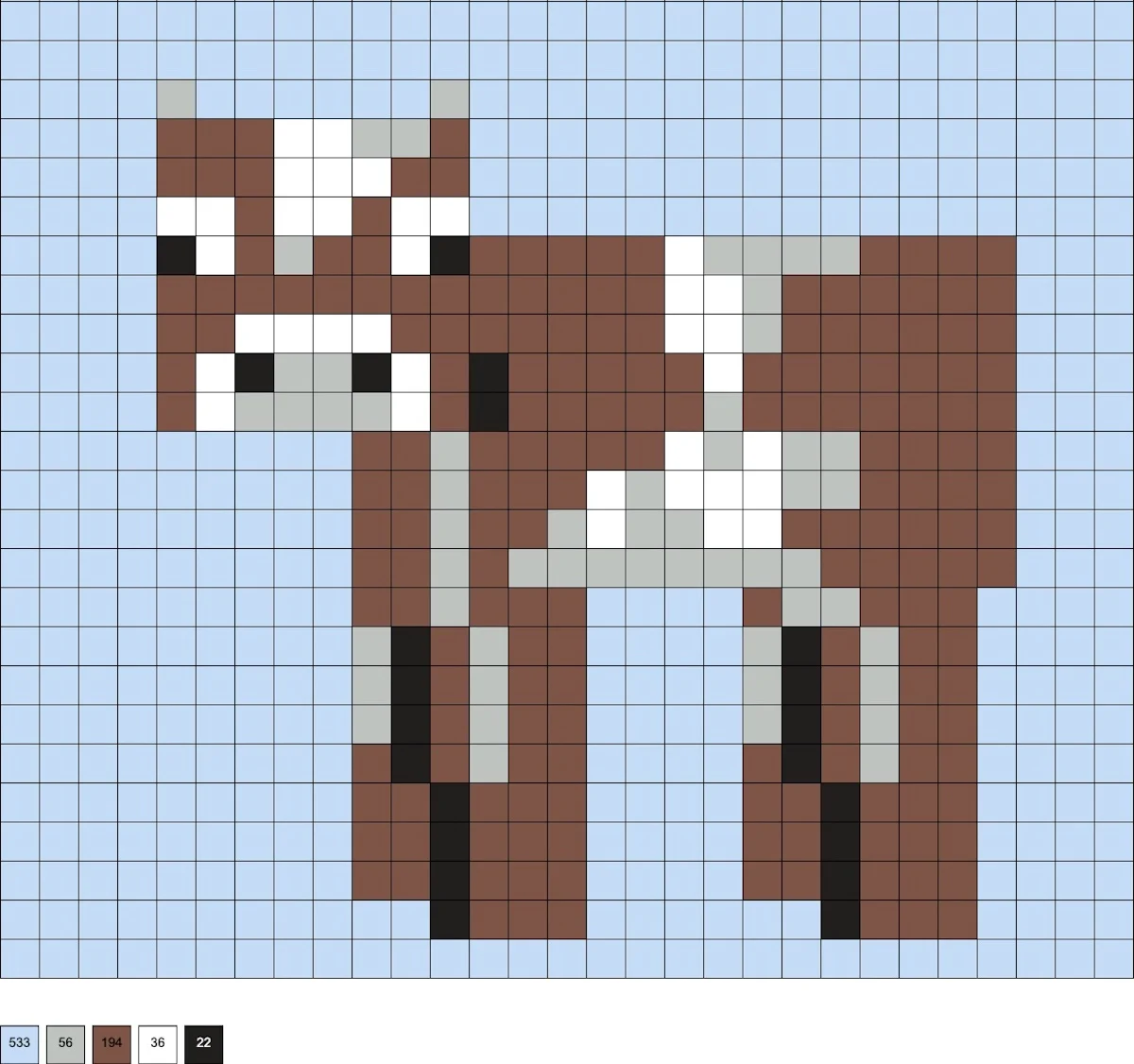 ---
Standing Sheep
This pattern uses 179 toasted marshmallow, 12 white, 42 honey, 2 black, 8 gray, and 4 flamingo beads.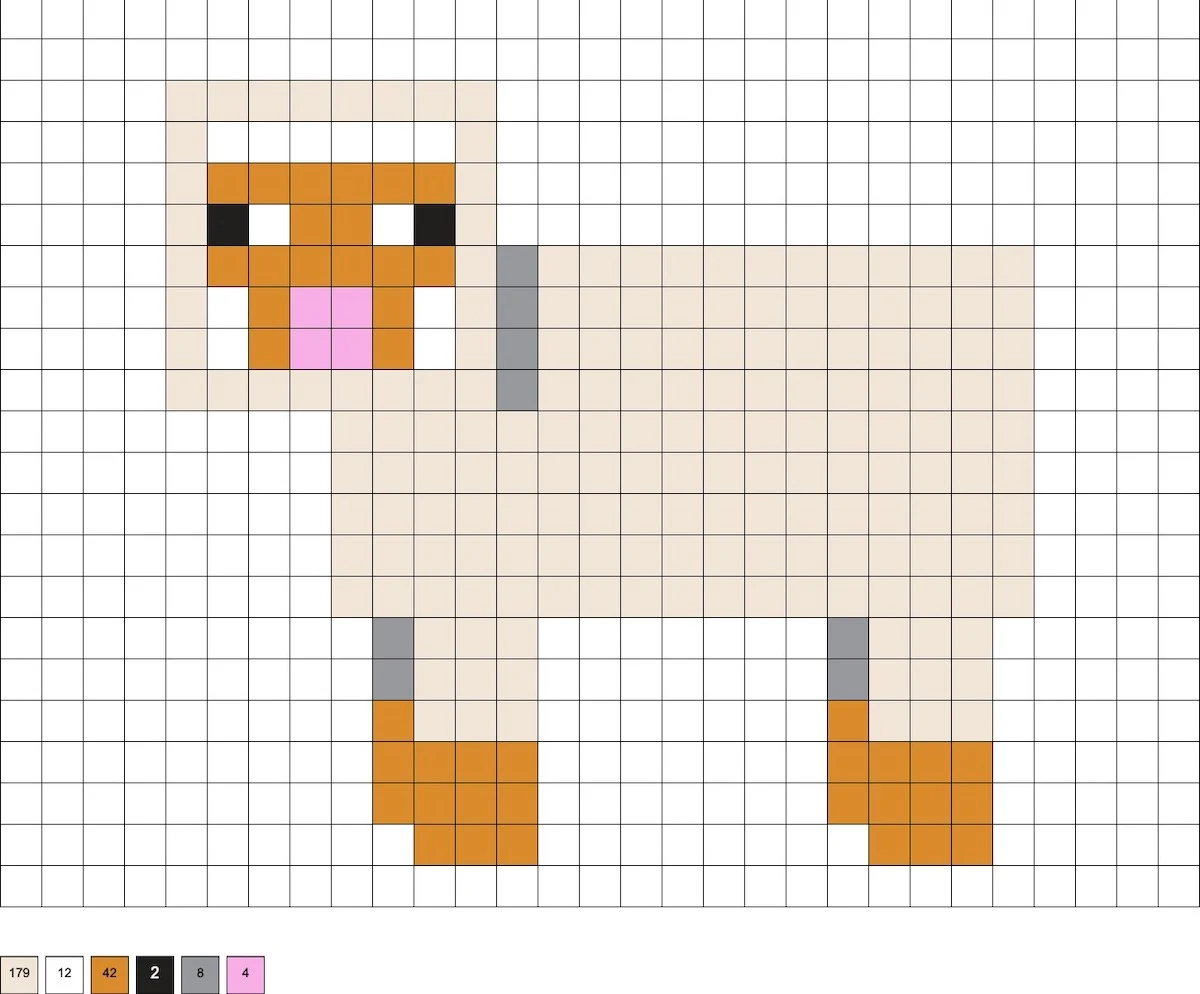 ---
Ender Dragon
This pattern uses 101 gray, 337 black, and 4 purple beads.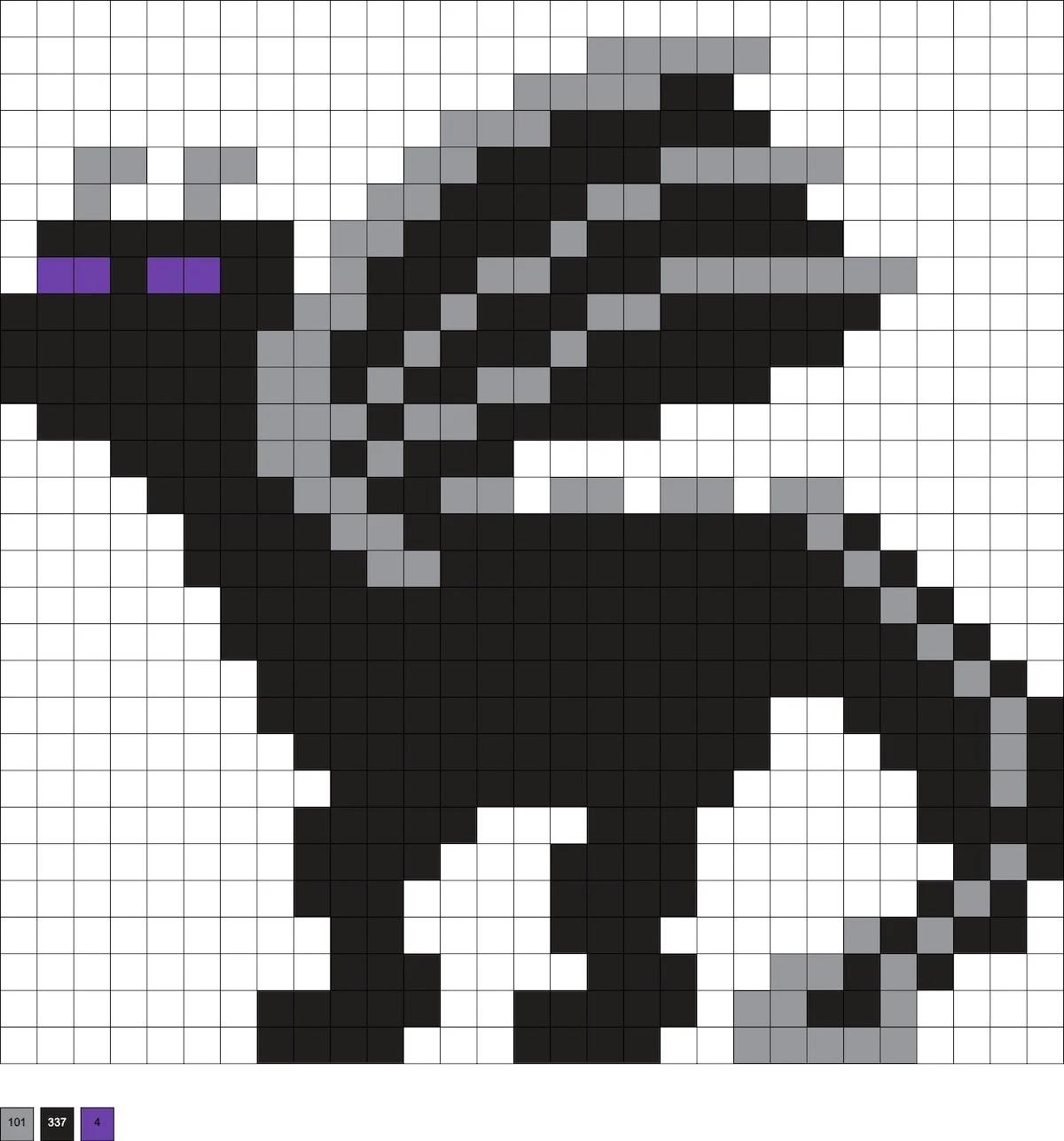 ---
Steve with a Stand
This pattern uses 184 black, 47 brown, 92 kiwi lime, 40 dark green, 59 bright green, 78 sand, 36 dark gray, 2 white, 44 cobalt, 37 gray, 7 light brown, 2 tan, and 69 carribean sea beads.
After the beads have cooled, insert Steve into the grass stand.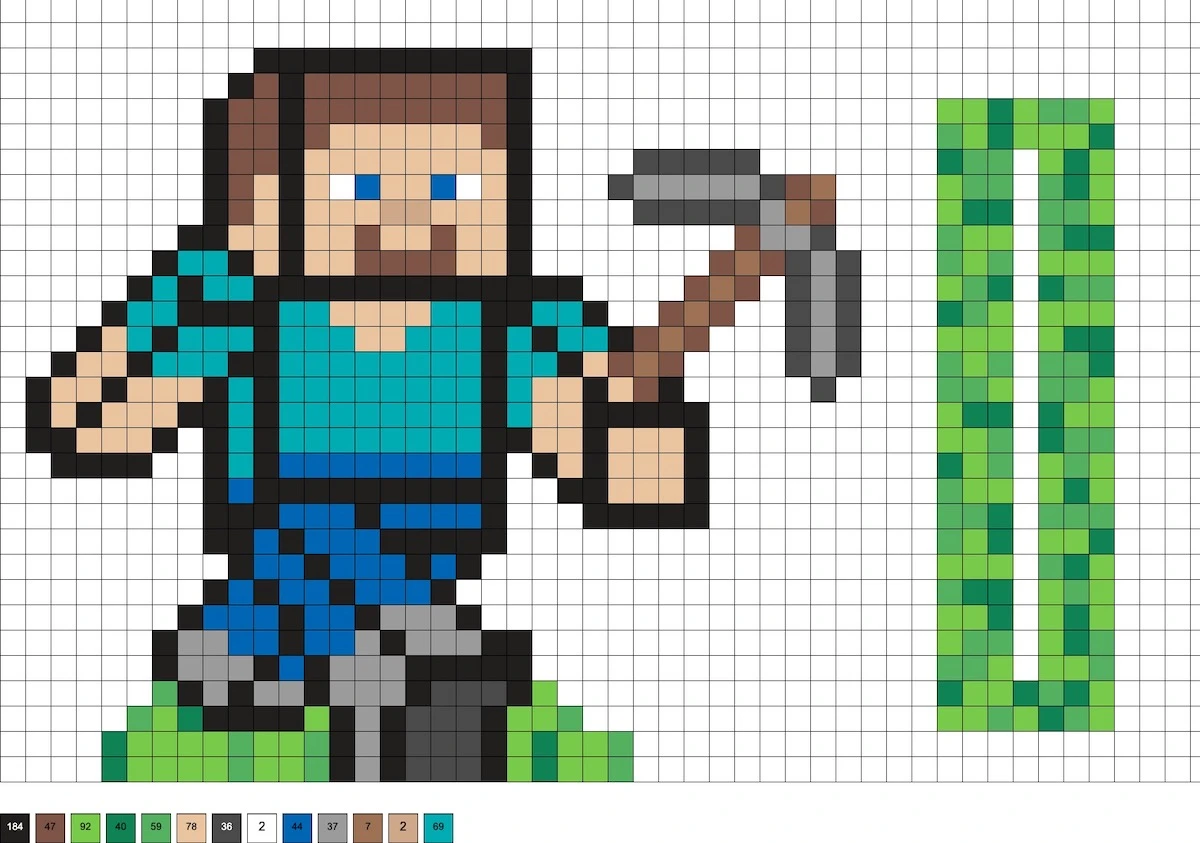 ---
What did you think of these Minecraft perler beads? Let me know in the comments! I'd also love for you to check out these other patterns: