One of my favorite things to do in spring is decorate Easter eggs! Here are 13 unique and fun ideas for decorating eggs, real or fake.
I love decorating Easter eggs! It's one of the first Easter crafts you typically do as a kid, so I think that's why I love it – good childhood memories. Who doesn't remember the little PAAS kits with the tablets you put in water?
I've matured a bit since then (well, I guess that's up for debate) and so have my crafting tastes. I want to try something a little bit more than the colored tablets with my Easter eggs. I've got 13 great ways to decorate Easter eggs in the collection below.
If you are looking for something different this year, you'll love these ideas. From Mod Podge to Sharpies, there are so many ways to decorate eggs! Just scroll down to see the ideas.
Ways to Decorate Easter Eggs
French Script
Heather printed her own French script and decoupaged the cutouts to eggs.
Get the how-to at Setting For Four
Confetti Sprinkled
These "eggs" have surprise treats inside – and are made with Mod Podge.
Find the step-by-step at Hello Glow
Gold Bullion
Real gold? Nope, but they sure look like it, thanks to metallic paint.
Find out how at Go Make Me
Rainbow Sprinkles
Not just for desserts anymore! Use sprinkles and glue to cover your eggs.
Get the instructions at Studio DIY
Cement Eggs
Use real eggs and cement to make this Easter decor that lasts for years.
Learn how to do it at Camille Styles
Black & White
Beth used two thicknesses of Sharpies to decorate these eggs.
Get the step-by-step at Obviously Sweet
Silk Dyed
There's an endless supply of ties at the thrift store – perfect for this project.
Monogram Scroll
Use your Silhouette or any alphabet stickers to create the personalized monogram eggs of your choice.
Find the instructions at Lil' Luna
Moss Covered
All you need is a bag of moss and a hot glue gun (oh, and some eggs).
Find out how at Love Grows Wild
Hand Drawn
Make some cute eggs with markers and the sketches of your choice.
Note: the original tutorial is not available – however, you'll just grab Sharpies and/or markers and eggs using the photo as inspiration!
Rubber Band Dyed
Use rubber bands to make cool patterns as you dye your Easter eggs.
Note the original tutorial is not available – you can get a similar one here.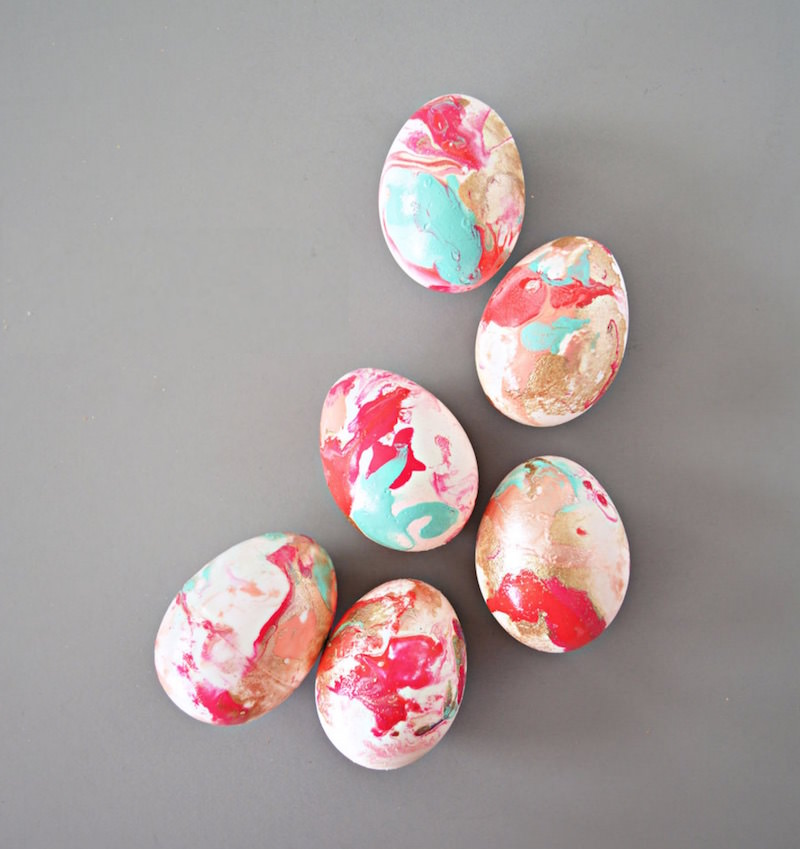 Nail Polish
You can marbleize eggs with nail polish – real or plastic. All you need is a cup of water and dollar store nail polish.
In a small deep cup or bowl add enough water to cover an egg.
Add a few drops of your favorite nail polish color.
Dip the egg just enough to cover the egg.
Let the eggs dry on a plastic plate. To speed up the process: freeze the eggs until the nail polish is dry.
Temporary Tattoos
You can get temporary tattoos from the dollar store – and then you have instant egg decor.