A handmade blanket from neckties is one of my most prized possessions! Here are 20 more unique necktie crafts that I'd love to try.
One of my most treasured possessions is a blanket that has been in my family forever – a blanket made from men's neckties! I believe my great-grandmother sewed it with my great-grandfather's old ties when he retired from working.
I absolutely love that blanket, and it's always been special to me as a handmade item that we treasure in our family. As a result, I've always loved necktie crafts!
I've been thinking about going to the thrift store and buying a few and making something, so I pulled together a collection of 20 unique projects that you can make with them.
Recycled Necktie Crafts
If you are thinking along the same lines as me, you're going to like these ideas. Just scroll down to see them . . . which one would you make first?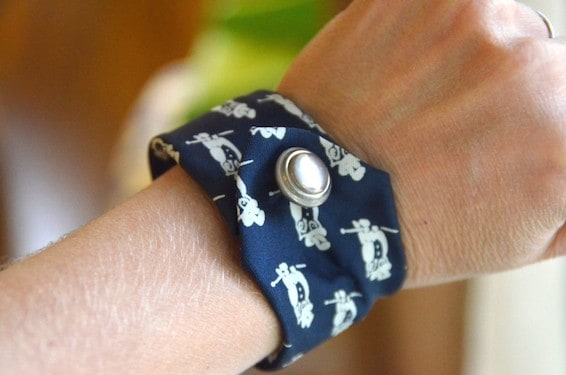 Charlotte used one of her grandfather's old neckties to make this unique snap bracelet.
Making a memory at Ciburbanity
This is probably one of the most unique necktie crafts you'll ever see – a wall clock.
Necktie sunburst clock at Dear Emmeline
Ashley turned her dad's ties into beautiful mini memory albums.
Recycled tie photo album at Lil' Blue Boo
This ruffled tie necklace would make a perfect accent with a solid color sweater.
Ruffled tie necklace at Julie is Coco and Cocoa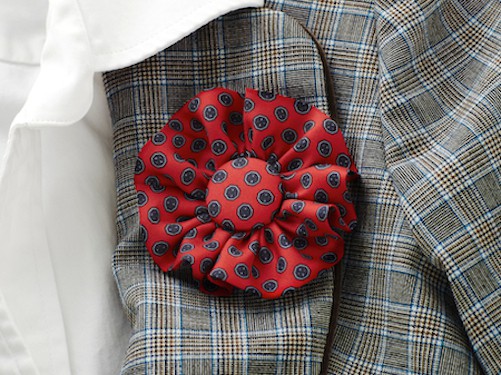 This fabric boutonniere can be worn by a gentleman, or as a brooch by a lady!
DIY necktie fabric boutonniere at Craft Foxes
You can customize a wreath with your favorite colors of neckties – what about a red and green one for the holidays?
Eco-friendly Christmas wreath ideas at Good Housekeeping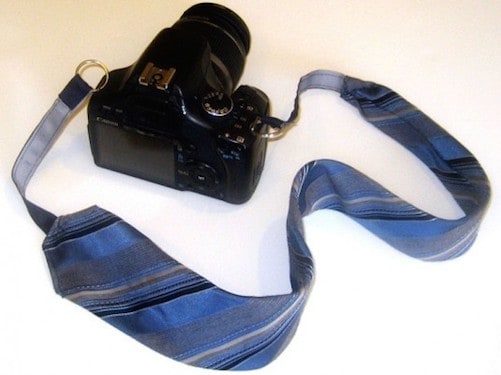 Did your camera strap break or wear out? Mine too. This is a brilliant solution for replacing it.
Tie camera strap at Ecouterre
This simple necktie scarf is sure to make a bold fashion statement.
How to make a recycled necktie scarf at CraftStylish
Pull last summer's fedora out of the closet and turn it into something new for this year.
Personalize your hat at Stuff Steph Does
I need of a cool belt? I love how this tie looks with jeans and a white t-shirt.
Vintage tie belt at Jenny and Pearl
Turn those ties into necklaces with the help of some large beads. This is one of my favorites!
Upcycled tie necklace tutorial from ArtStar
Use those leftover pieces of tie (after you've done some other projects) to make unique wall art.
Up-cycled ties at Hey Now, Whoa Now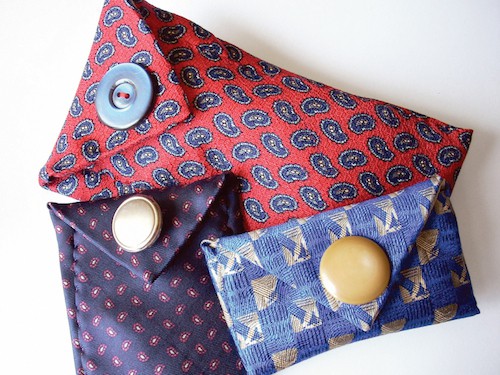 Neckties are perfect because they come with their own padding – great for a glasses case.
Necktie glasses case at Make
I'm loving this headband, and think it would be super cute in a variety of patterns.
Tie headband at Craft Envy
I'm loving these zippered tie pouches – especially when two patterns are combined.
DIY necktie zip pouch at Polka Dot Chair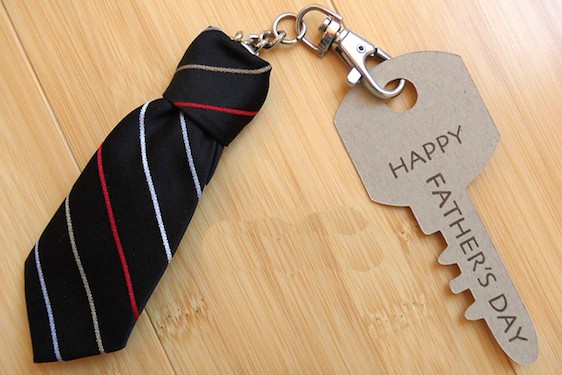 This bittie keychain is super cute, and you can make several of them from one tie.
Tie key chain at PBS Parents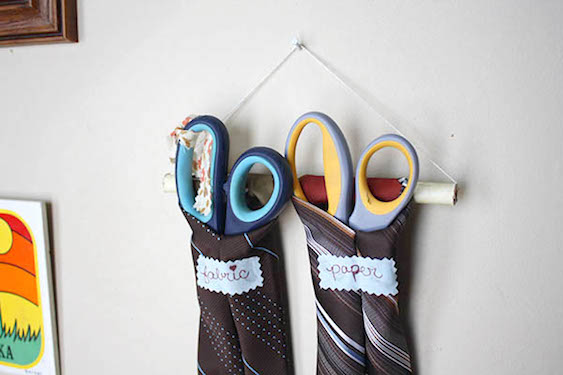 Old neckties make the perfect pouches to store scissors and other craft supplies.
Craft a hanging scissors organizer from recycled neckties at Craft Test Dummies
This awesome skirt is perfect for children or adults.
How to make a necktie skirt at Rick Rack Ruby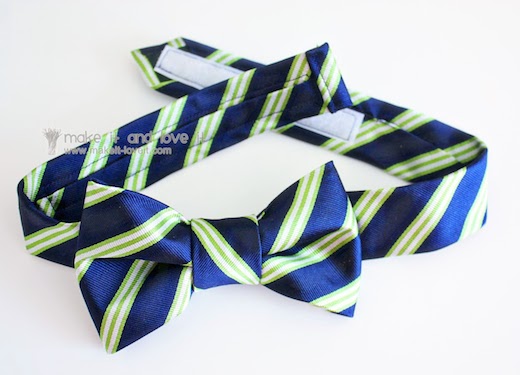 Old neckties makes the most dapper of new bow ties. I love this!
Repurposing: neck tie into a bow tie at Make It and Love It
Ties make great stuffed animals, especially snakes! These are pretty cute.
Necktie snakes at The Crafty Mummy
---
If you enjoyed these necktie crafts, I'd love for you to check out these other ideas I think you're also going to like: