Learn how to make unique DIY play dough with only three ingredients. This version glows in the dark and is so inexpensive to make! Kids will love it.
Skills Required: None. Kids of any age without crafting experience can make this. It's a very simple recipe.
Once the dreary days of January and February hit, I'm always looking for fun and easy indoor activities for kids. I've seen DIY play dough around Pinterest, and thought it would be fun to try my hand at making a glow-in-the-dark version!
This isn't just for winter of course; it also makes a great summer craft for kids, Halloween craft for kids, or winter activity for preschoolers. And glows SO brightly when the sun charges it, no matter what time of year!
Homemade Play Dough
The base playdough recipe only requires two ingredients – conditioner and cornstarch. The third ingredient is the glow in the dark paint.
If you want to make the recipe, it's simply 2:1 cornstarch to conditioner. You can add food coloring to make it any color you like.
To kick it up a notch, I decided to take the standard recipe and make it glow. To do that, you only have to add one more ingredient: glow in the dark paint!
I'm still impressed that this homemade play dough only requires three ingredients and is virtually mess free! Woohoo! This is a craft idea that is going into the regular rotation for us.
If you are a mom to small kiddos, you won't want to pass up this fun and easy glow in the dark playdough recipe. Hopefully it will relieve the winter blues for an afternoon!
Here's how you're going to make it.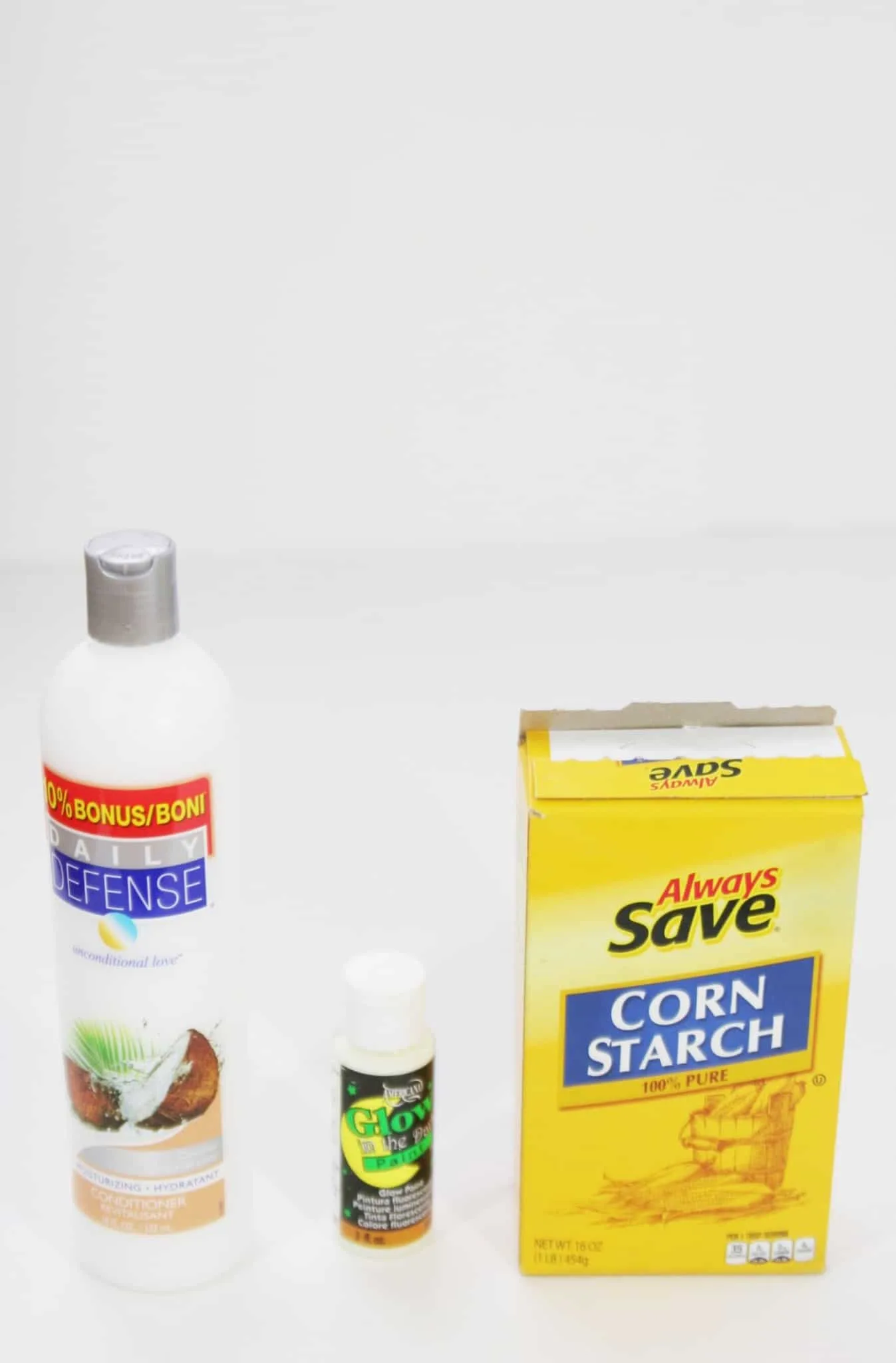 Gather These Supplies
1 cup conditioner
2 cups cornstarch
1 2-oz. bottle glow in the dark paint (non-toxic)
Tips and Tricks for This Craft
We used coconut conditioner from the Dollar Store and it made our play dough smell extra yummy. Just get the cheap-y stuff; there is no need for anything high quality.
Charge the dough near a light bulb, flashlight, or sun if it's available. This will make it extra "glowy" when it's time to play with it in the dark.
The acrylic paint section of the craft store has glowing paint, if you're wondering where to find it. Plaid makes a great brand here.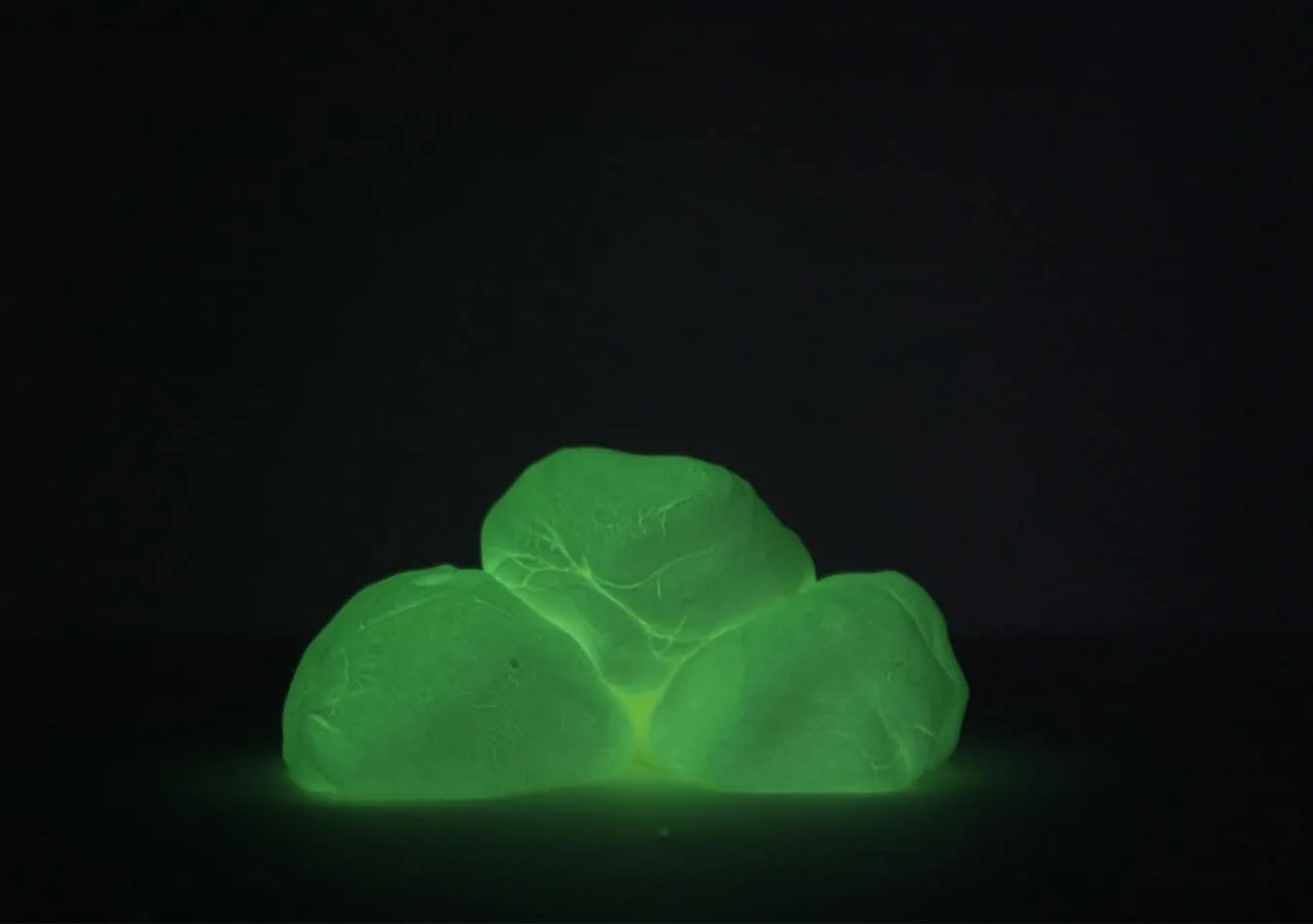 Have fun! If the glow starts to fade, just hold it up to a light for a few minutes to charge and keep playing. You are allowed to play with your glowing playdough with the lights on, too!
Get the printable how to card below.
Yield: 2 cups dough
Glow in the Dark Playdough
Learn how to make this simple homemade play dough recipe with three ingredients! Add a fun twist with some glow in the dark paint.
Materials
1 cup conditioner
2 cups cornstarch
1 2-oz. bottle Glow In The Dark Paint (non-toxic)
Tools
Large mixing bowl
Spatula
Instructions
Mix the conditioner and cornstarch together in a bowl. If the dough seems sticky, add a bit more cornstarch.
Add the bottle of glow in the dark paint and mix with a spatula until fully incorporated.
Once the dough forms a ball, start mixing with your hands.
When you want the dough to glow, "charge" it near a light bulb or in the sunlight.
This dough can be reused time and time again! Store in an airtight, sealed container in a cool area between uses.
Notes
The conditioner you choose can influence the scent of your play dough!
---
Let me know what you think of this homemade play dough in the comments. I'd also love for you to check out the following simple activities for kids here on the blog: