This kids' outer space jewelry craft is out-of-this-world fun! This strand of planets is made with clay – it's really easy to do.
Are you looking for a kids jewelry project that's out-of-this-world fun? Hi! It's Leslie from Pink Stripey Socks! Today I'm going to share a really easy clay craft for kids that's cute AND teaches kids about space too. It's also a perfect summer craft for kids or boredom buster when the littles have nothing else to do.
My son and I recently played around with a whole bunch of Sculpey clay and had a blast making some spacey clay kids jewelry! It started with this moon shirt and some additional moon crafts – then we decided it would be fun to tackle the entire solar system. We came up with this necklace!
Want to make your own planet and galaxy inspired clay necklaces? Well, here are the materials we used:
Sculpey Clay in assorted colors (Red, Yellow, Gold, White, Black, Purple, Blue, Green)
Skewer
Baking Pan
Aluminum Foil
Cord
Optional: Extra Star Beads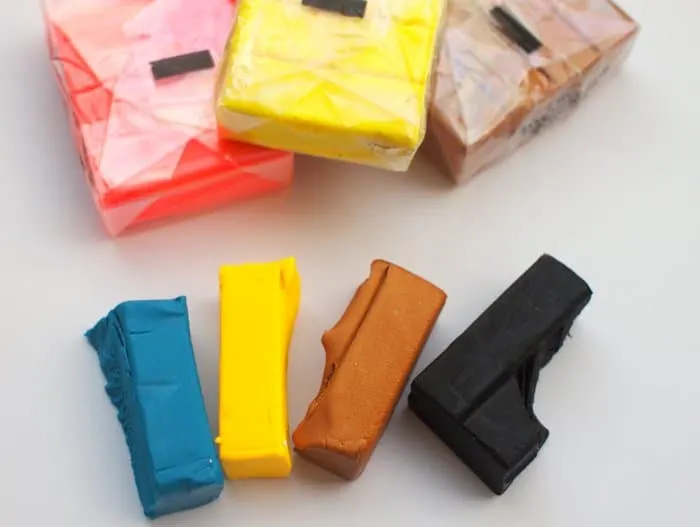 Step 1:
To make these space clay necklaces, you need to first make your Sculpey clay pliable and soft. When you first pull it out of the package it's slightly hard and rectangular.
Just roll the clay around in your hands for it to become pliable and soft. (This was a bit difficult for my preschooler to do, so I did this part.)
Step 2:
Whenever you look at photos of the various planets in our solar system or of the galaxy, you'll probably notice all the beautiful, swirling colors. To recreate this effect, roll various colors of clay together to create your beads.
After a couple of twists you'll get beautiful, mixed clay. Don't the colors look amazing?
Step 3:
Once you get the colors and effect that you want, roll the clay into balls and push a skewer through them.
Step 4:
Cover a baking dish with aluminum foil. Then, bake the beads (and other Sculpey creations) according to the directions on the package.
When you pull your beads out, they'll be hot. But they'll soon cool down and you'll end up with clay beads that are really quite solid. (Love that I fit the whole solar system in my hands here. Can you name all the planets?)
Step 5:
String your planet beads according to the order of the planets around the sun and your galaxy-inspired beads into whatever fun design you'd like. You can also mix in other beads too. (I added in the star beads because I thought they were so cute.)
Tie the two ends together and you've got some groovy spacey jewelry. You can necklaces or bracelets using the same planet or multiple . . . there are so many options for customizing this project. Plus you definitely need to quiz your kids on the solar system as you are crafting. See what they learn while you do this project!
I really hope you have fun making these clay space necklaces with the kiddos. I love my outer space jewelry so much and can't wait to wear it around town.
---
Check out my blog, Pink Stripey Socks for more easy, kid-friendly crafts. I'd also love for you to check out these other ideas made with polymer clay. Happy making, friends!