Get over 20 ideas for star perler beads! If a star is one of your favorite symbols, you'll love these fun and colorful patterns for all skill levels.
My obsession with stars started when I was ten years old. For Christmas that year I received – in my stocking no less – a sterling silver bracelet of linked stars. It was completely unexpected, but one of the best presents that I ever received.
Think about that. All the gifts you've ever gotten in your life . . . which is your favorite? It might not necessarily be the Barbie Dream House or the Hot Wheels Supreme Ultimate Garage (I'm dating myself).
The point is that sometimes the smallest gifts that you never expected are the ones that are the most important.
That bracelet, while small, started a long time love of stars. Stars are a symbol of happiness, renewal, and positivity. We get gold stars on our school papers (well, hopefully) and we see majestic ones in the sky at night.
I've even gone so far as to have stars tattooed on my body! I have six tattoos and half of them are stars. I'm passionate!
Lately my niece and I have been doing a lot of perler beads, and I'm sure you can imagine I was more than thrilled to make a bunch of star perler beads together!
Maybe you need a perler bead project for a birthday, Christmas, graduation, or some other celebration – or maybe you just love stars. No matter why you're here, we have over 20 cute patterns below.
And just so you know, perler beads are recommended for ages six and up. Children love perler beads (also known as hama beads, fuse beads, or melty beads). But don't be shy – adults love them too!
Tips for Using Perler Beads
Before we get into the patterns, I want to review a few basics of using fuse beads to make sure you get the best results. If you don't want the tips, scroll down to the bottom to get the star perler bead patterns.
Remember that the overall goal is to melt the beads together on both sides while still leaving the holes open. Here's how you get the best results.
Use Ironing or Parchment Paper
Place ironing paper or parchment paper over the beads on the pegboard. Be gentle so you don't disturb the beads underneath.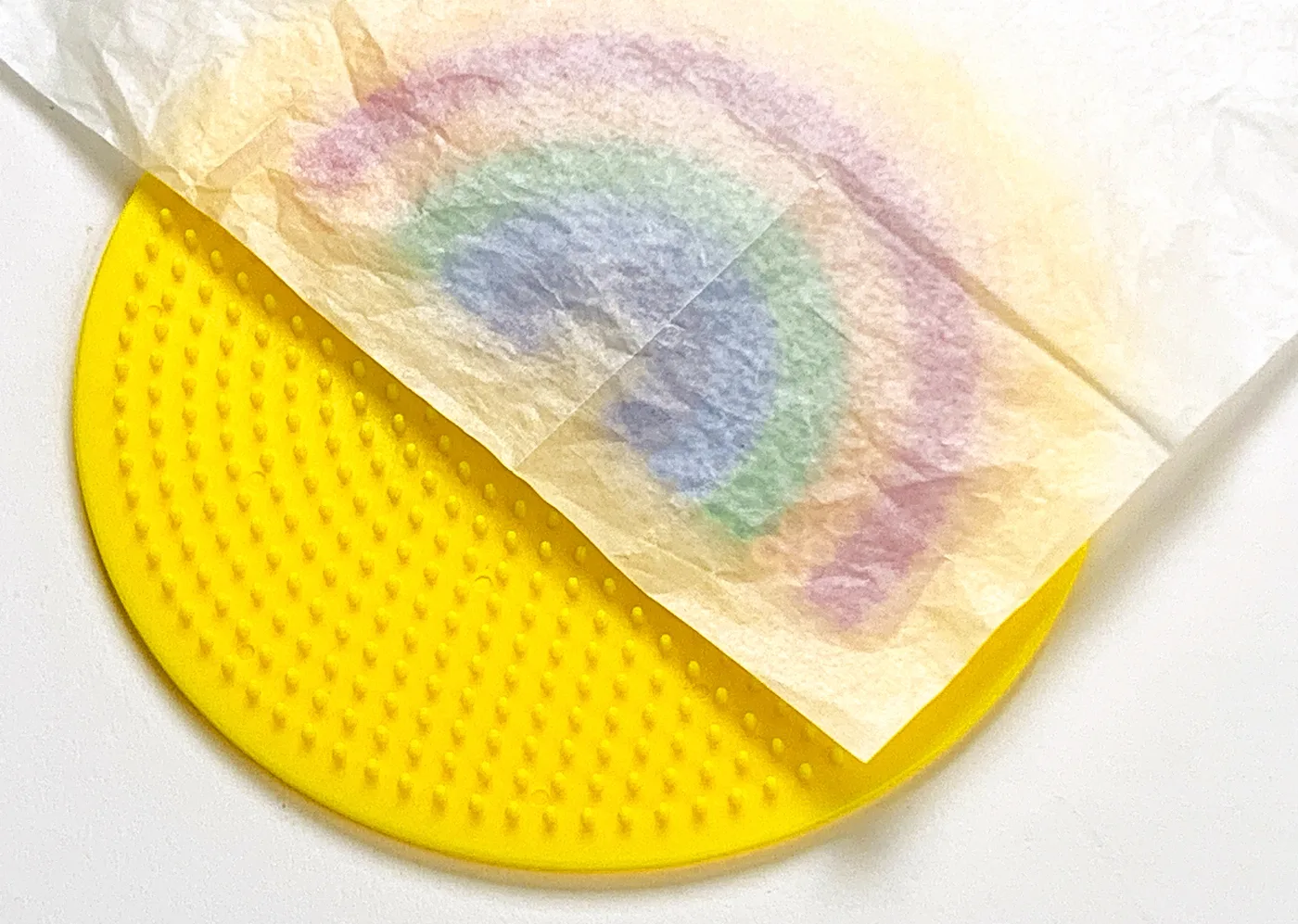 Heat your iron to the medium setting (no steam). In a circular motion, begin to iron the project. Don't press down too hard with the iron. When ironed properly, the beads will still have an open center. Check and make sure your edges are melted. Let the design cool on the pegboard.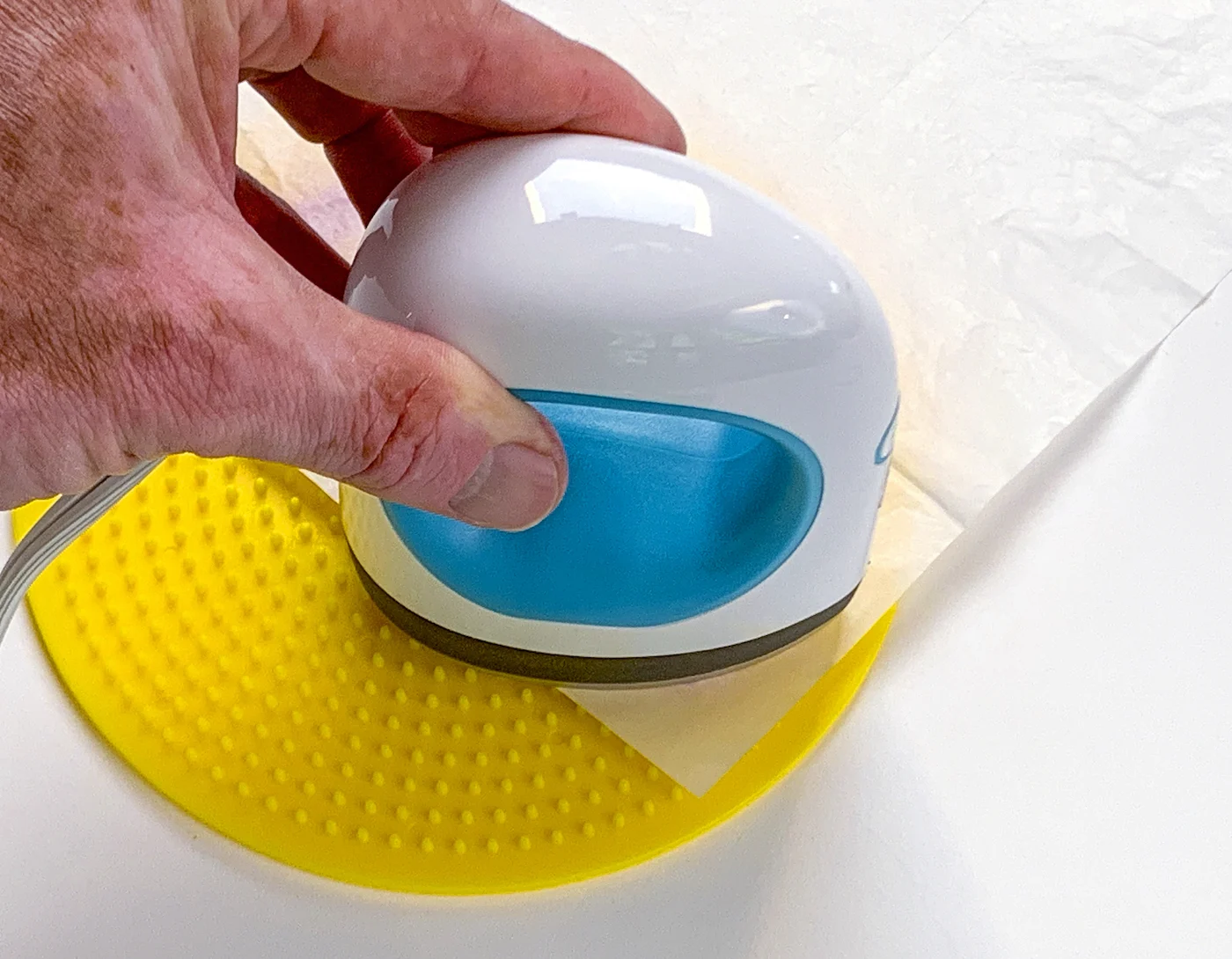 Note: BE CAREFUL about lifting up the paper while you're ironing! If you want to check, carefully peel back paper around the edge of your design and see if all the beads are melted.
If you lift the paper up quickly and there are a lot of unmelted beads, they will easily fall off or go flying and you may be forced to start over. Sometimes the edges need more time so when you check, just check the edges and peel paper back slowly.
Another Note: some beads melt faster than others (clear melts faster than white, for example). So some holes might be larger than others. It's okay! That's part of the look of the project.
Iron the Other Side
Remove the bead design from the pegboard. Flip it over to the non-melted side and repeat the fusing process.
Remove the Paper
Let cool completely and remove the paper again (which is reusable). Some people pull the paper off after they iron the first side, but I just wait until the end and peel off both pieces. It's up to you!
Now if you're ready for the star perler beads, here are the patterns.
---
Star Perler Bead Patterns
Make sure to check out these notes:
A few of these patterns are larger than a 29 x 29 pegboard, so you'll either need a extra large pegboard (49 x 69 tall) or to put multiple square peg boards together to form a larger "canvas."
In addition to square pegboards, you'll see star pegboards below. These are fun to have in your arsenal if you plan to do a lot of perler-ing.
You'll see a couple of the pattern backgrounds below aren't white – that's simply to give contrast so you can see where all the white beads should go. You don't need to add the background (but you can if you want to).
Don't stick to my colors necessarily. Customize with your favorite color beads! Stars are great for using up extra beads.
I typically start with easier or smaller patterns in my list and then move on to the larger ones. Just keep scrolling to see everything.
Small Shooting Star
This pattern uses 30 magenta, 63 yellow, 18 orange, 15 kiwi lime, 6 black, and 15 light blue beads.
---
Rainbow Star
This pattern uses 64 black, 11 red, 21 orange, 20 yellow, 27 bright green, 22 sky, 12 cobalt, 5 purple, and 3 fuchsia beads.
---
Super Mario Star and Bow with Star
These patterns use 124 black, 22 purple, 42 pastel lavender, 146 yellow, and 6 salmon beads.
---
Big Yellow Star
This pattern uses 221 yellow and 6 black beads.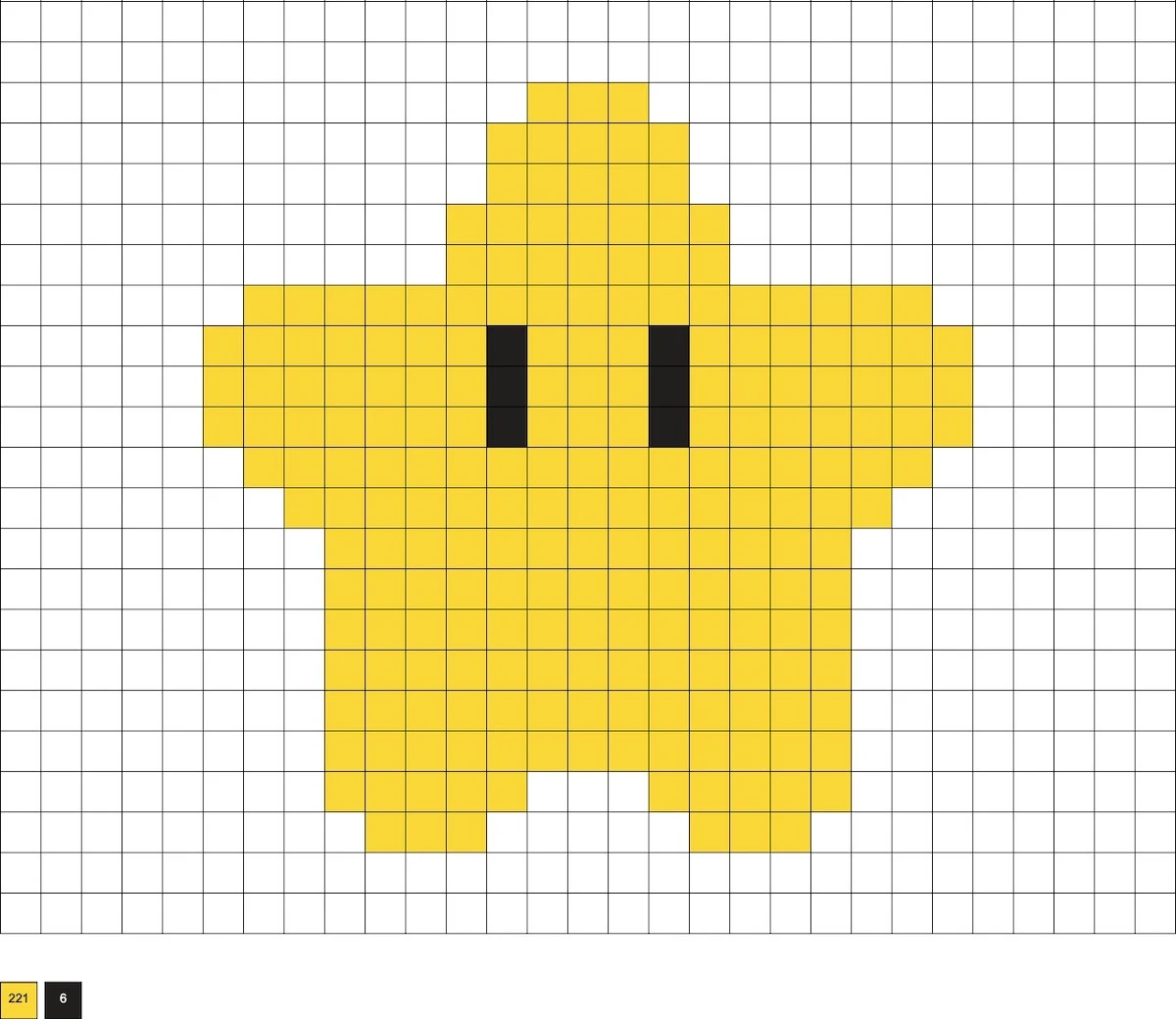 ---
Galaxy Style
This pattern uses 31 robin's egg, 27 blueberry creme, 28 pastel lavender, 58 plum, 8 white, 59 pink, and 15 salmon beads.
---
Big Eyes
This pattern uses 70 black, 59 cheddar, 117 yellow, 29 honey, and 2 white beads.
---
Star Styles
A small star-shaped pegboard typically holds around 250 to 300 beads. Here are some cute ideas for various designs!

---
Florals and an Owl
There are two floral patterns for you as well as an owl on small star boards. In the middle pattern, the gray marks where clear beads should go.
---
Waving Star
This pattern uses 40 brown, 27 rust, 19 cheddar, 24 orange, 111 pastel yellow, 36 yellow, 7 cream, 3 pastel yellow, 2 robin's egg, 8 black, 2 dark gray, and 6 magenta beads.
---
Kirby with a Star
Do you love Pokemon? So do we! This pattern uses 97 black, 66 flamingo, 178 pastel yellow, 1 cotton candy, 7 pink, and 10 yellow beads.
---
Shooting Star with Rainbow
This pattern uses 40 salmon, 37 cheddar, 39 pastel lavender, 22 pastel blue, 34 kiwi lime, 26 purple, 49 white, and 57 yellow beads.
---
Large Star with Black Border
This pattern uses 189 black, 325 yellow, 2 white, and 12 blush beads.
---
3-D Stars
Each star uses 134 beads. Slide the top piece down onto the bottom piece to create the star. Get more 4th of July perler beads.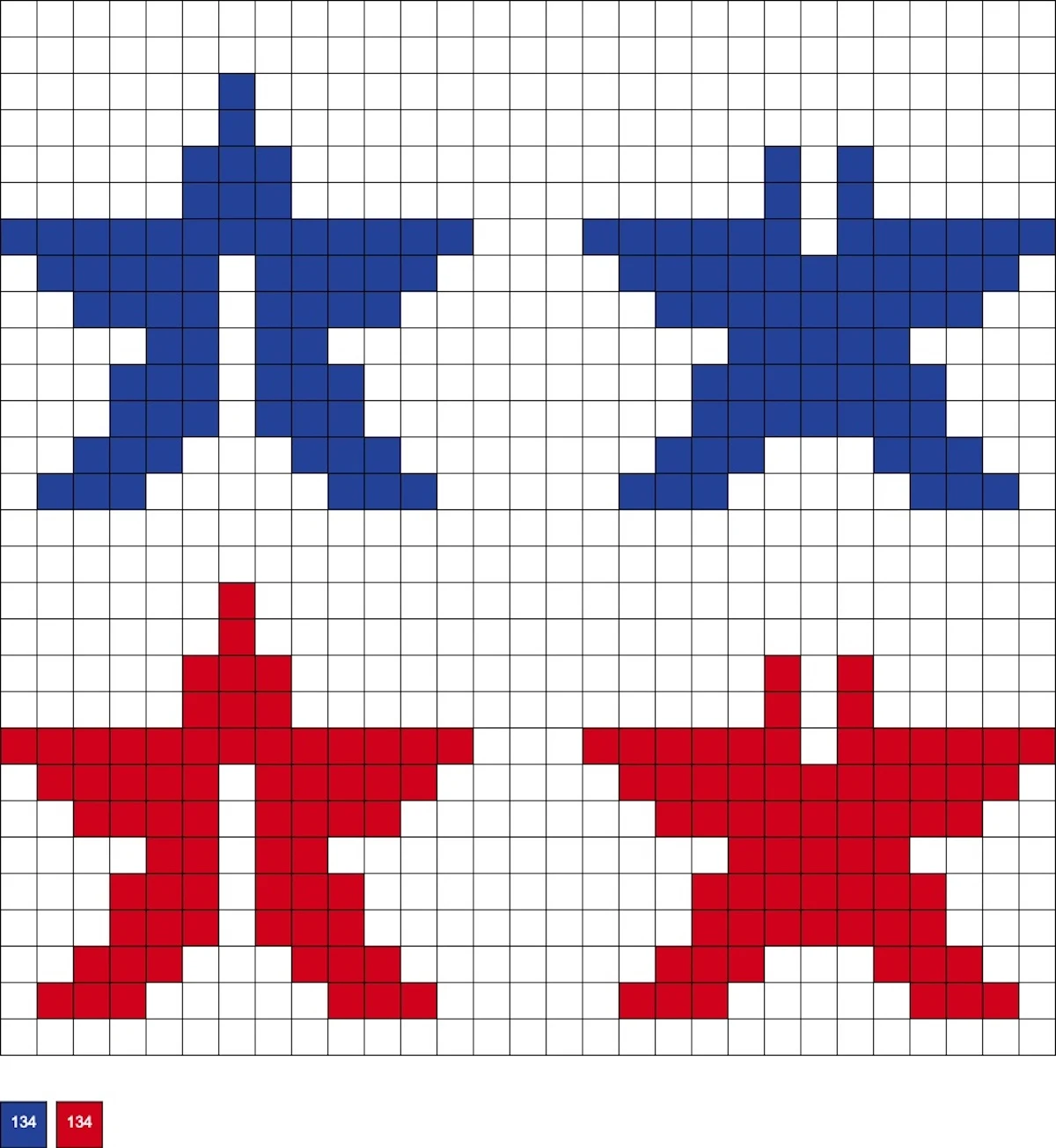 ---
Excited Star
This pattern uses 79 tan, 321 mint, 32 gingerbread, and 16 blush beads.
---
Bashful Star
This pattern uses 79 tan, 287 mint, 42 gingerbread, 32 white, and 8 blush beads.
---
Large Galaxy Star
This pattern uses 170 eggplant, 58 cotton candy, 3 light pink, 29 white, 254 light lavender, 15 light gray (or silver), 142 sky, and 7 toothpaste beads.
---
Color Wheel Star
This pattern uses 20 purple, 20 cobalt, 20 magenta, 12 white, 20 shamrock, 20 red, 20 carribean sea, 20 orange, and 20 yellow beads.
---
Patriotic Stars
Here are three versions of 4th of July stars on small star boars using patriotic colorways.
---
Did you enjoy these star hama beads? Let me know in the comments! I'd love for you to check out these other posts:
Among Us • Animal • Baby Yoda • Batman • Birds • Bluey • Bob Ross • Butterflies • Care Bears • Cat • Christmas Trees • Coasters • Dinosaur • Dog • Dragon • Easter • Emoji • Fairy & Gnome • Flowers • FNAF • Food • Frog • Halloween • Harry Potter • Hearts • Hello Kitty • Kuromi • Letters • Mickey Mouse • Minecraft • Minions • Mother's Day • Mushrooms • Panda • Penguin • Pumpkins • St. Patrick's Day • Sanrio • Santa • Skulls • Sonic • Spiders • Spider Man • Star Wars • Star Wars Hello Kitty • Stitch • Summer • Superhero • Thanksgiving • Unicorn • Valentine's Day