DIY graduation gifts are a great idea because they are so personal! Get 12 unique ideas, including options for friends/best friends. I guarantee they'll love these picks!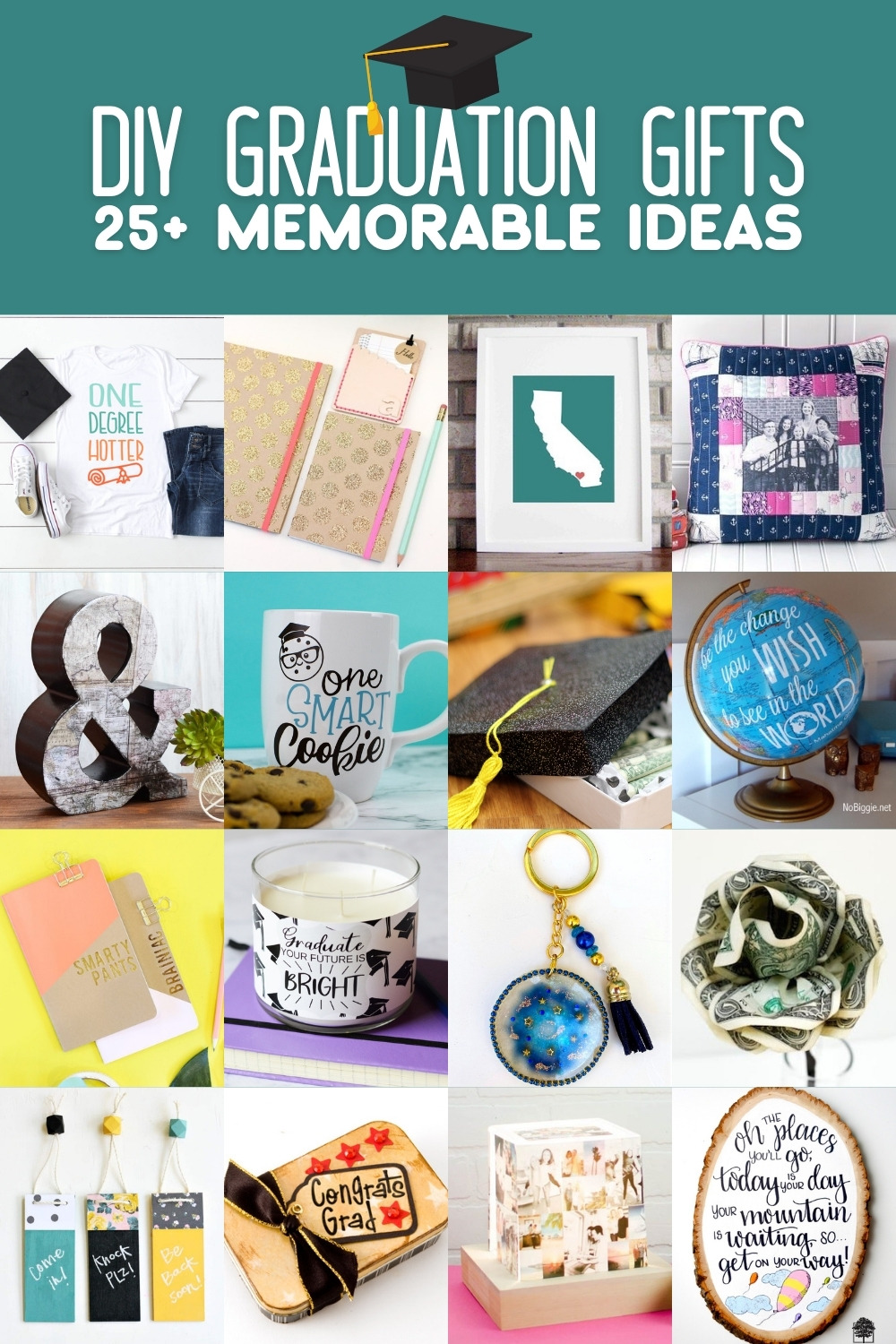 I didn't go to my undergrad graduation from the University of Washington. I actually went camping in Yellowstone – I have a forestry degree, so that makes it kind of funny. Instead of wearing a cap and gown, I was camping in bear poop!
Or something like that. For my master's degree, I did go to my graduation, and I'm glad I did. The graduation ceremony makes it feel final, and you get to celebrate with your friends and family.
And what goes along with graduation? Well, typically you get graduation gifts for that special person who has just accomplished something big.
DIY Graduation Gifts
I think coming up with graduation gift ideas is potentially difficult, so I'm thinking handmade is the way to go. Then you can personalize the presents just for your grad!
Here are are 12 DIY graduation gift ideas to make – everything from money to dorm room decor. I've broken them up into three sections: unique graduation gifts, graduation gifts for friends, and best friend graduation gifts.
If you're looking for graduation gifts for her or graduation gifts for him, I would say all of these ideas are good for either gender. They're pretty neutral, so I think you've got a lot of options here.
Unique Graduation Gifts
Let's start with the really unique handmade graduation presents. These unique graduation gifts are for the person who doesn't like standard issue!
Maybe you choose to present money in a unique way – or go the sentimental route. I love these four ideas since they are unexpected.
1. Paper Money Bouquet
Many times grads just want cold, hard cash – you can make it fun with a cool money bouquet. I recommend making them with $100 bills if you are doing a bouquet for me 😀 (Source: Easy Paper Crafts)
2. I Heart My State Painting
No matter where I move, my heart will always be where I'm from. This is perfect art for a dorm room and one of my favorite DIY graduation gifts. You just need a little paint! (Source: Welcome to Heardmont)
3. Freshman Year Survival Kit
Give the grad everything he or she needs with this perfect freshman year survival kit! There are so many things I didn't think of when I first went to college – this unique graduation gift would come in handy. (source: Our Lives Are An Open Blog)
4. Travel the World Globe
Graduation is a time for many to go explore the world. Give him or her a quote on a globe to remind to take advantage of being an adult. You can actually get the free printable in the blog post! (Source: No Biggie)
Graduation Gifts for Friends
Maybe you're in high school or college and looking for graduation gifts for friends – well, that's our next category! These are fun ideas that work for a dorm room, or just a little something to say "remember me."
5. Decorate a Laundry Bag
Doing laundry can be new for first time college students – make it a bit more fun with this decorative laundry bag. (Source: Design Love Fest)
6. Decoupage Table or Mirror
Use Mod Podge and fabric to decorate either a table or mirror frame for your friend's dorm room – or first apartment. Either of these are very easy to make! Source: (Table revamp and DIY mirror both at Mod Podge Rocks)
7. Graduation Hat Gift Box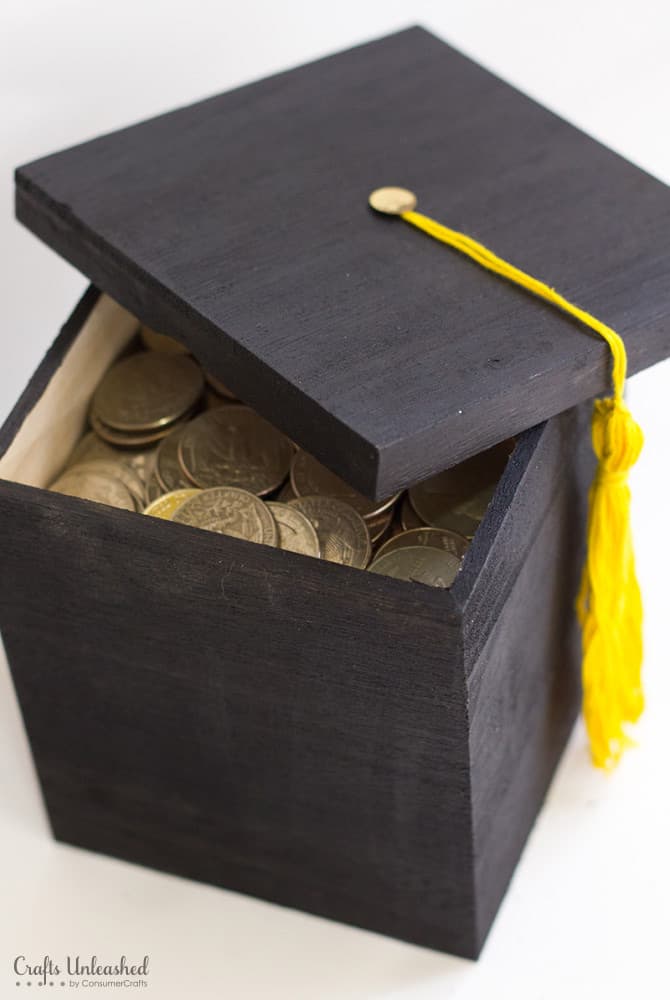 This graduation hat wood box is so easy to make – and it can be customized with any school colors! Add memories (like photos or trinkets), a small gift, or cash to the inside of the box (maybe all three?). (Source: Crafts Unleashed)
8. Gift Card Container
Let's face it – a lot of our friends need/want money or gift cards for gifts, especially when graduating. If you're going to give a gift card, may I suggest this fine container to deliver it in? This takes a seemingly impersonal graduation gift and adds that personal touch. (Source: Plaid)
Best Friend Graduation Gifts
There are regular DIY graduation gifts – and then there are best friend graduation gifts. These are the type of gifts that are highly personal for your favorite people in the world.
9. Social Media Photo Notebook
This is a fun gift for the best friend that has everything – make a notebook with his or her favorites photos from senior year as a special memoir for college. (Source: A Beautiful Mess)
10. DIY T-Shirt Quilt
This is the perfect graduation gift for an athlete or avid concert goer – a quilt made from t-shirts. If you have any sewing skills whatsoever, your bestie is going to love this! If a quilt seems like too much to tackle, try something smaller like a pillowcase or wall hanging. (Source: Stars for Streetlights)
11. DIY Photo Collage Wall Initial
Here's another photo idea: a personalized letter that would be perfect for dorm or first apartment decor. Don't forget to use tons of pictures of you and your best friend together! (Source: Dreams to Do)
12. Hand Lettered Plaque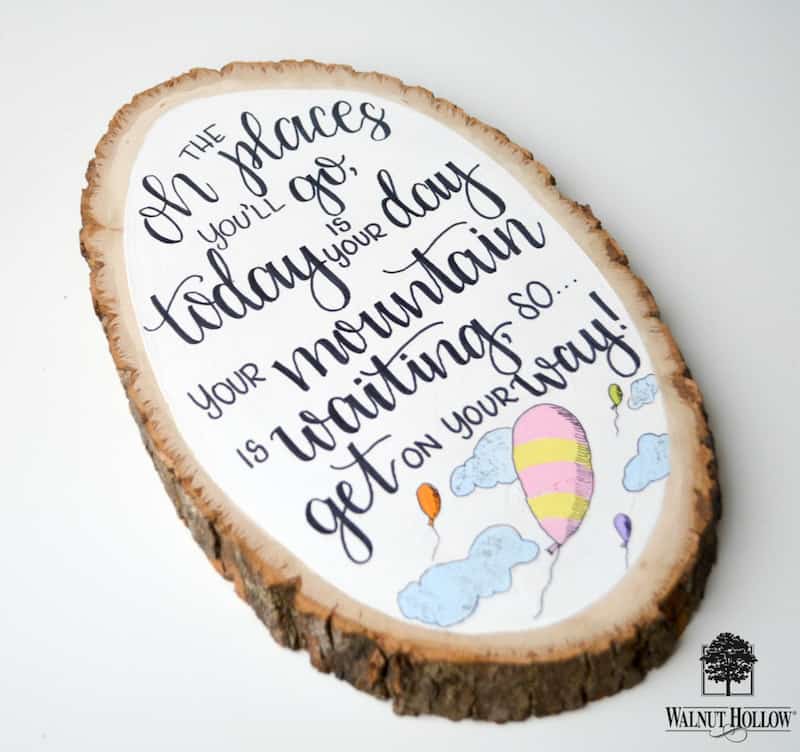 Hand lettering is huge, and your best friend will love this plaque with one of his/her favorite quotes and graphics. "Oh the places you'll go" is always popular, but you can choose anything you like. (Source: Walnut Hollow)
These DIY graduation presents will thrill your grad – and you'll have fun during the process! If you choose to make one of these projects, let me know in the comments.
Did you enjoy these 12 DIY graduation gift ideas but still want more? Check out our other article, 20 unique ideas for a DIY graduation gift!
---