If you want to add a special touch to your presents this year, check out these 20 fun and inspirational gift wrapping ideas. Make them unique!
I remember once in fifth grade when I wrapped a present for a birthday party of a classmate – and I used newspaper. My mom was completely grossed out by my present wrapping job and told me to go re-wrap it with real paper.
My guess is that it was lacking something special and it probably looked like it should be thrown in the recycle bin. I was young and didn't have the internet to research any fancy ideas!
I'm glad that times have changed and now if I need gift wrapping inspiration, I can easily find it online. Turns out there are a ton of gift wrapping ideas, including newspaper (just sayin', mom). To get an idea of what I'm talking about, scroll down!
DIY Gift Wrapping Ideas
Easy Gift Bags
For items of an unusual size or shape, these bags can be made out of large sheets of decorative paper.
Learn how to make them at Gathering Beauty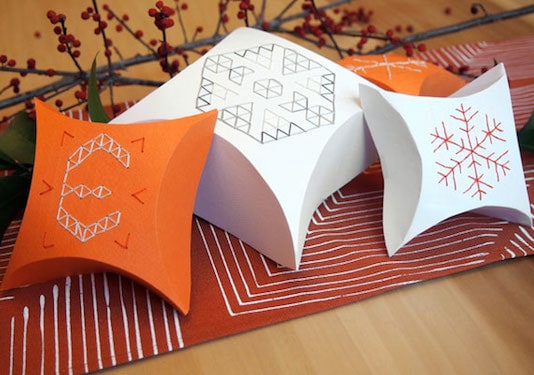 Embroidered Boxes
Add a special touch to take out gift boxes with yarn and these templates.
Tartan Plaid
Use wool tartan fabric and bow ties for a more masculine gift wrap style.
Find out more at Sweet Paul Magazine
Photo Booth
Give your presents some personality with glasses, lips, bow ties and mustaches – aka, the photo booth present!
Cheese Box
If you eat the Laughing Cow cheese like I do, turn the containers into small gift boxes with wrapping paper and glue.
Find out how it was done at Empress of Creativity
Gift Boxes
Decorate paper mache boxes with paint and decoupage medium – perfect for smaller gifts.
Find out how to do it at Sand and Sisal
Sparkly Confetti
Shannon has the perfect solution for a budget gift bag – just add Mod Podge and confetti.
Get the instructions at Mod Podge Rocks
Washi Tape
Regular gift wrap gets an upgrade with washi tape and a pom pom yarn tie.
Learn more at A Day With Lil Mama Stuart
Paint By Number
Color copy old paint by numbers onto paper and use for original wrapping.
Learn more about the project at Just Something I Made
Spiro Wrap
Remember the spirograph? Use it to make interesting paper, in any colors you like.
Learn more about it at MiniEco
Children's Art
Let your kids help making wrapping paper by letting them paint and create gift tags.
See how it was made at Mod Podge Rocks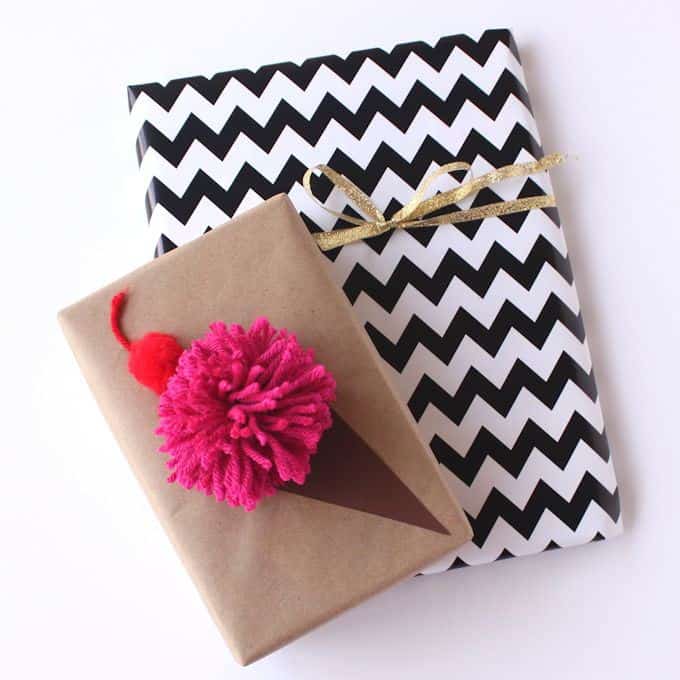 Ice Cream Cone
To add a bit of dimension and fun to your paper, how about a pom pom ice cream cone?
Learn how to do it at Let's Wrap Stuff
Newspaper Bags
Jess shows you how to make these simple gift bags, by folding and adding just a little bit of glue.
Find the tutorial at How About Orange
Photo Gift Wrap
Create a collage of your recipient's favorite photos to make a gift feel even more special.
Learn how to do it at Googly Eyes and Glitter
Merry Diamonds
This pretty paper brings a modern touch to the holidays.
Download the printable wrap at Lia Griffith
Puff Paint
Spice up regular brown paper with puffy paint and stick on rhinestones.
Learn how to do it at Home Heart Craft
Vintage Maps
Make your wrapping more personalized with vintage maps (you can get color copies if you want to preserve the originals). This is one of my favorite gift wrapping ideas!
Learn more about the project at The Chic Party
Winter Woodland
This perfect woodland inspired paper is cute as can be – I especially love the woodgrain!
Download the paper at Lia Griffith
Word Search
Let your gift recipient have a little bit of fun before opening their present.
Find out how to do it at MiniEco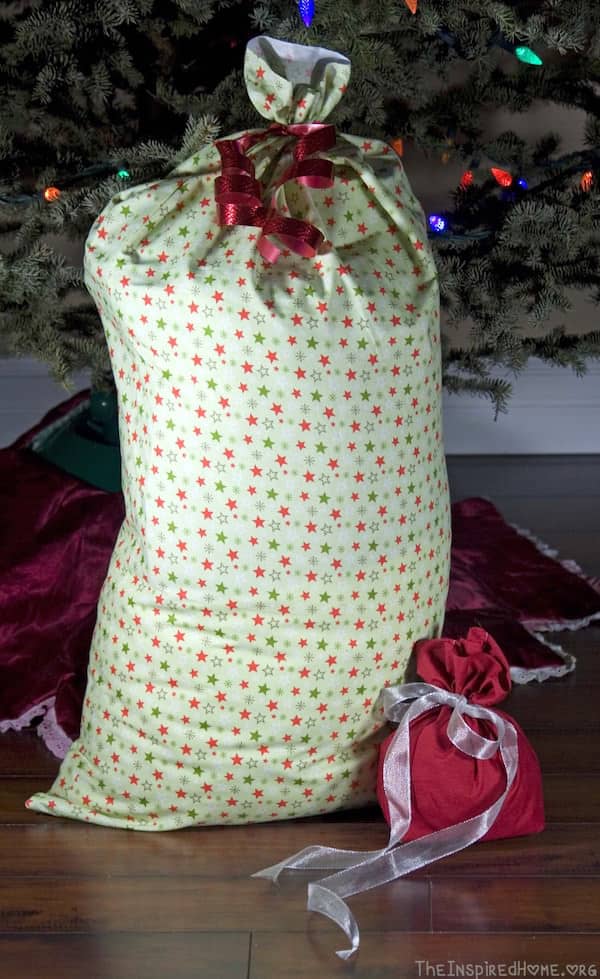 Sew and No Sew Sacks
If you need gift wrapping ideas for larger gifts, Holly gives you two options for Santa sacks – one sew and one no-sew.