Learn how to make delicious green tea matcha cupcakes with vanilla frosting! You'll love the natural flavor of these baked goods combined with sweet icing.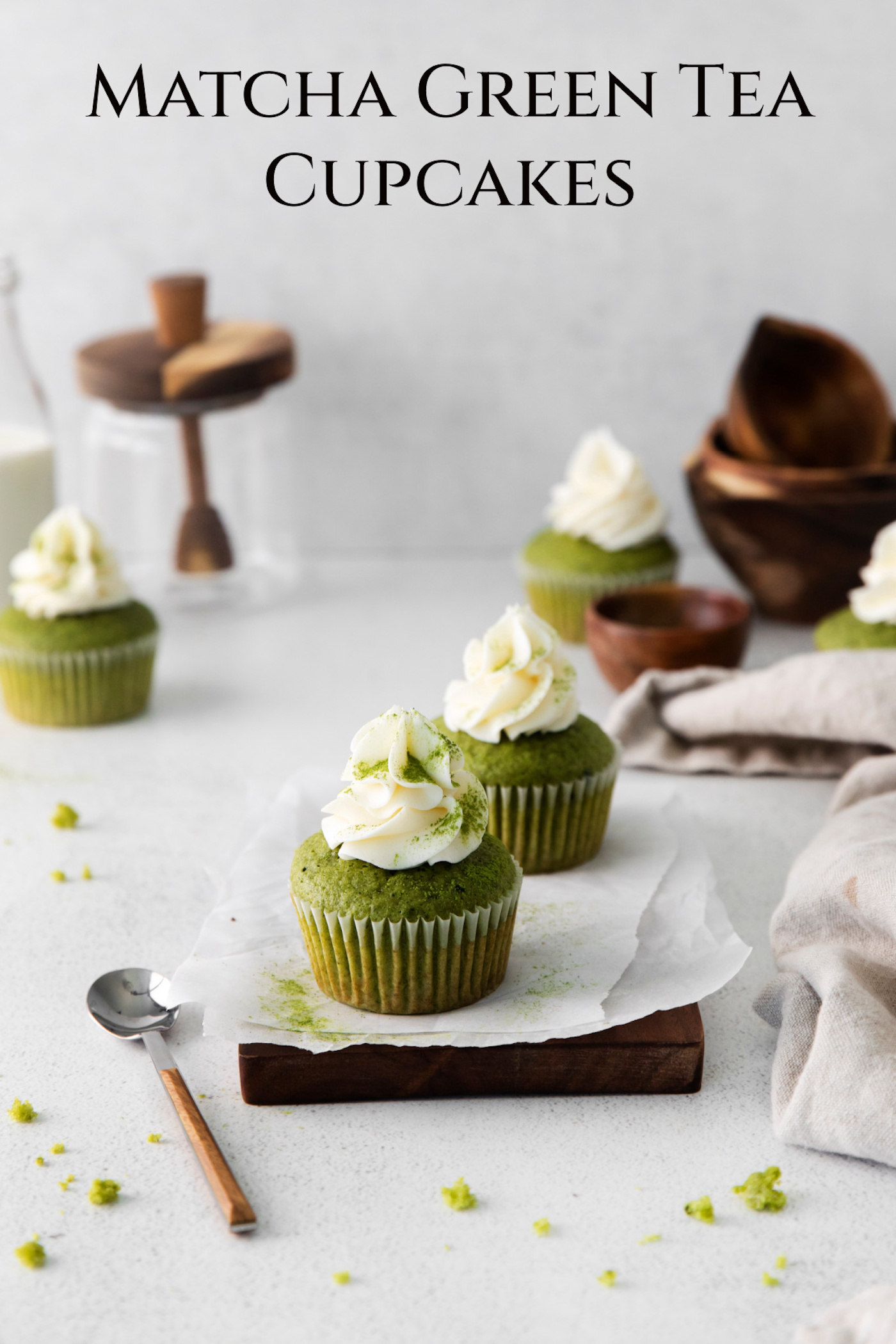 Remember the days of cupcake vending machines? They were a weird trend that was around for awhile (I have zero idea if they still are).
I remember being in the mall in Atlanta several years ago and seeing one. I was shocked at first, then I realized that yes, this is really a cupcake machine! It was like I'd died and gone to heaven.
Cupcakes had their moment back then, and I remember a lot of bakeries got in on it with unique flavors. And I was always willing to try something new and interesting! It was around this time that I first tried matcha cupcakes!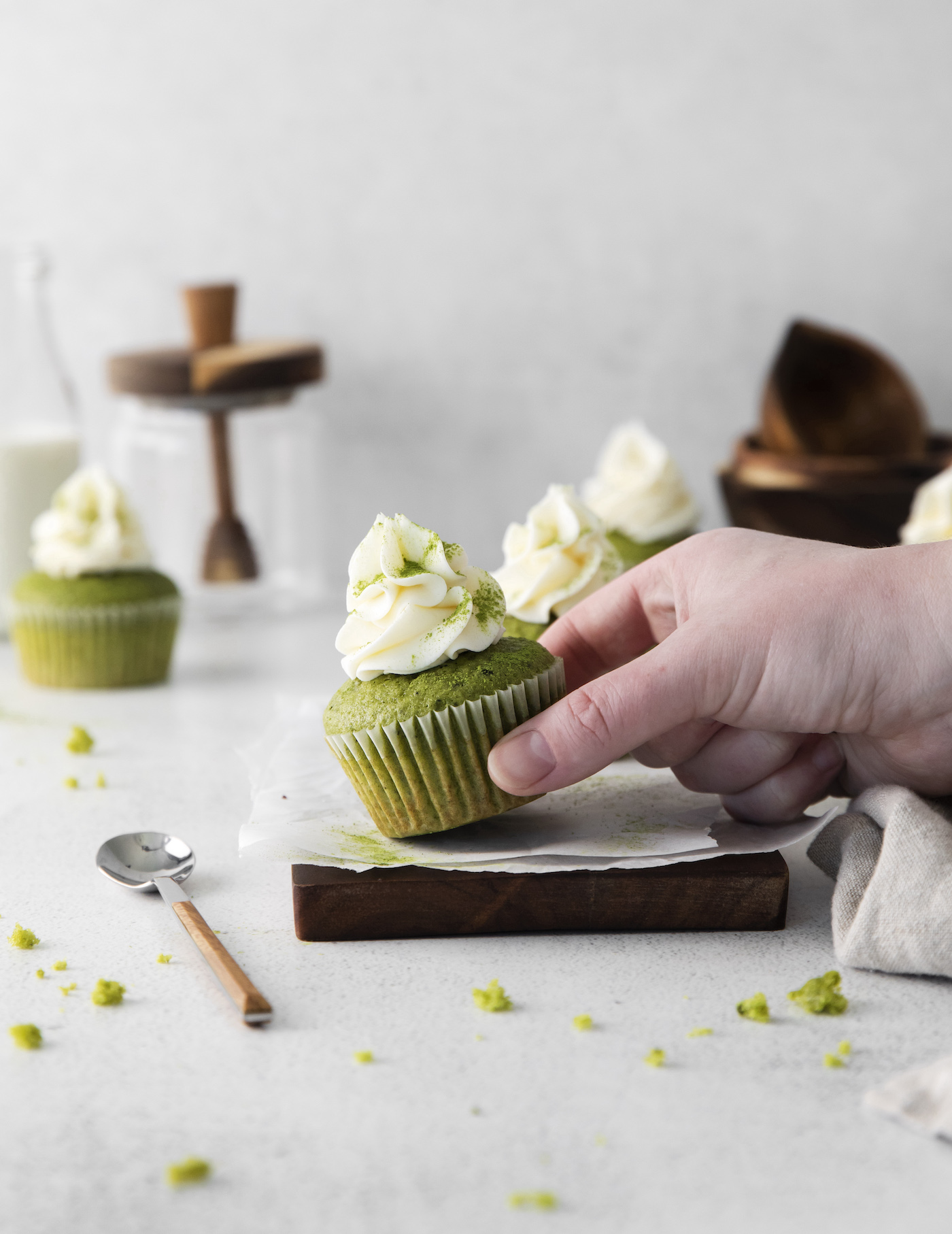 If you've never had matcha before, it's high quality green tea ground in powder form. Instead of steeping it like regular tea, you'll typically use a whisk to mix it into hot water. The result is a hot, frothy tea beverage.
Matcha in Baking
Matcha is used in a lot of recipes these days, not just drinks. There's a lot of baking done with it! These matcha green tea cupcakes are the perfect combination of flavors and you're definitely going to want to try them. Plus who doesn't love the green color? It's just kind of fun.
What does matcha taste like?
It tastes grassy and kind of bitter, as well as sweet and nutty. The flavor profile is definitely complex, but also tasty. Matcha is very unique!
I personally like roasted green tea, but not all green tea, and I don't love matcha just on its own as a frothy drink. But I DO like it in baked goods! So my point is, no matter what you think you like, give this cupcake recipe a try. I promise it's worth it (just for the icing at least).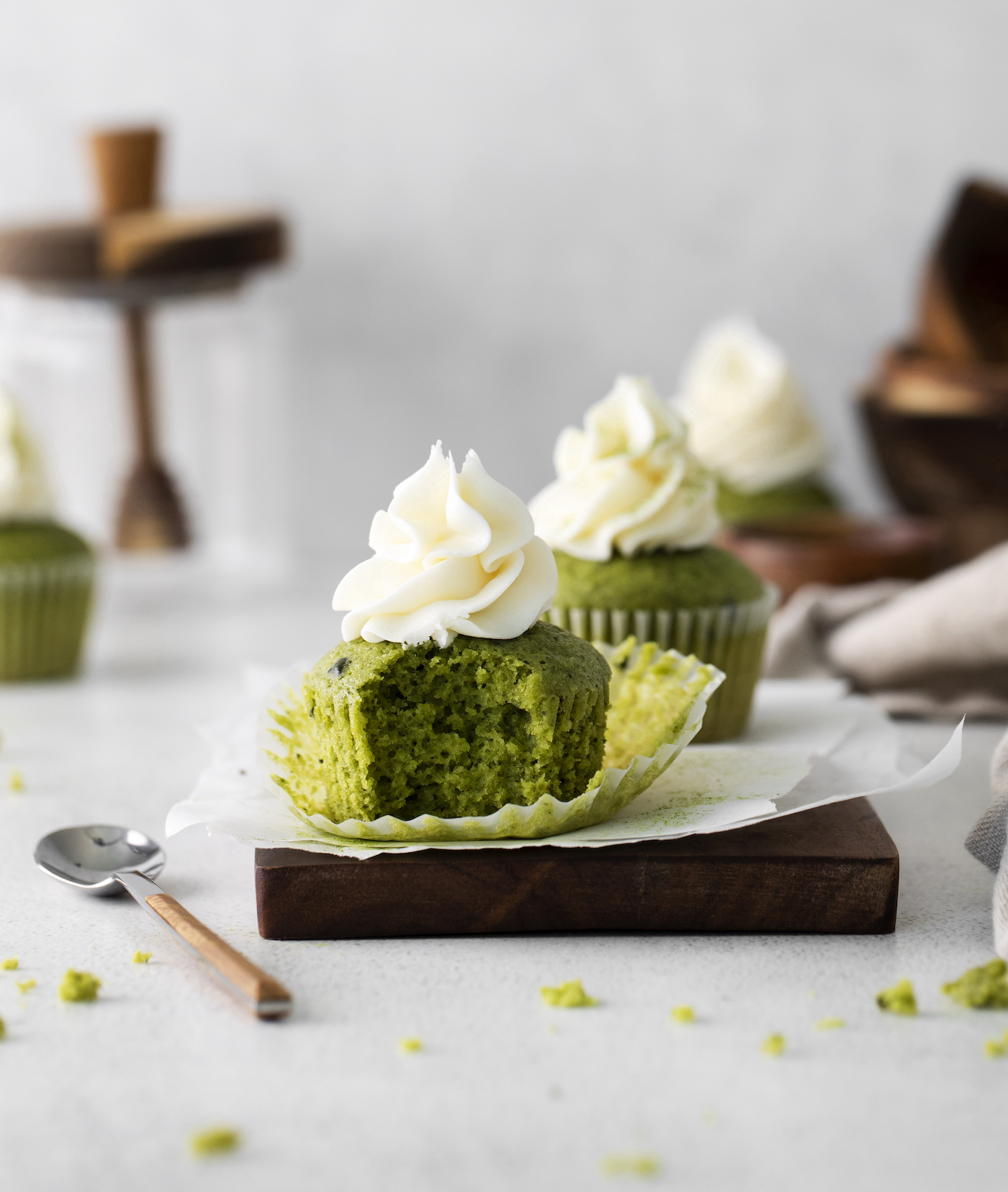 How does matcha affect baking?
It's definitely a very robust flavor so don't go overboard! You'll want to use a culinary grade matcha versus ceremonial grade. The reason is because the culinary allows the matcha flavor to come through even when mixed with baking ingredients. It's also cheaper than ceremonial.
How do you make matcha taste better in a cake?
With the savory nature of matcha, it's nice to have a frosting like the vanilla cream cheese recipe we've provided. It's a nice addition for those cakes or cupcakes to balance the green tea flavor.
If you're even hesitating making this cupcake recipe, let the decision to add this frosting take you over the edge (towards yes, of course).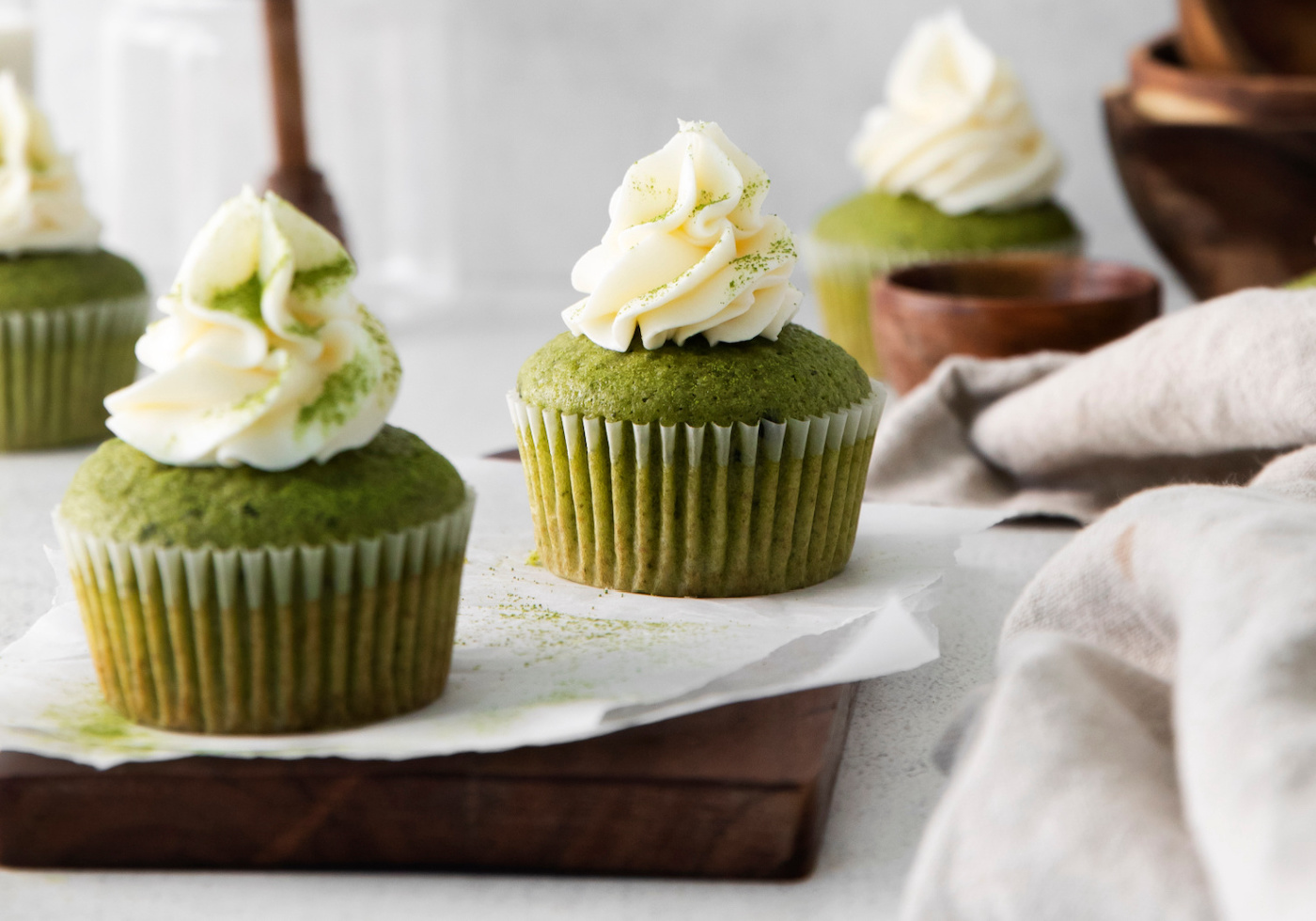 Tools You'll Need for This Recipe
These matcha cupcakes use a stand mixer, two medium to large bowls, a muffin tin, a wire rack, and a piping bag with a tip. Choose whatever tip you like – these were piped with Wilton tip #1M.
Recipe Notes You Might be Interested In
Flour is the main dry ingredient in these cupcakes. Make sure to measure using the scoop-and-level method, as adding too much flour can result in dry cupcakes.
Vanilla enhances the flavor of the matcha and the sweetness of the sugar.
The combination of butter and cream cheese in the frosting adds the perfect amount of tang without making the frosting too soft – I highly recommend using both!
Powdered sugar gives the icing structure. If your icing is too soft or runny, add more powdered sugar. If it's too stiff, feel free to add a tablespoon of milk.
---
If you're ready to dive into the matcha cupcake recipe, check it out below!
Yield: 12 cupcakes
Matcha Cupcakes
Learn how to make a matcha cupcake recipe. These green tea cupcakes are topped with a delicious vanilla frosting.
Total Time
1 hour
12 minutes
Ingredients
Cupcakes
1 ½ cups all purpose flour
1 cup granulated sugar
2 tablespoons matcha powder
1 teaspoon baking powder
½ cup whole milk
½ cup vegetable oil
2 large eggs
1 teaspoon pure vanilla extract
Cream Cheese Frosting
4 tablespoons butter, softened
4 ounces cream cheese, softened
2 ¼ cups powdered sugar
1 teaspoon pure vanilla extract
Instructions
For the Matcha Cupcakes
Preheat the oven to 350F and line tin with liners.
In a large bowl, whisk together the flour, sugar, matcha powder, and baking powder until combined.
In a separate bowl, add the milk, vegetable oil, eggs, and vanilla. Whisk just until combined.
Combine the wet ingredients into the dry ingredients, mixing until just combined.
Divide the cupcake batter evenly between the muffin cups, filling each one with approximately ¼ cup of batter (or ⅔ of the way full).
Bake for 15 - 17 minutes or until a toothpick inserted into the center comes out clean.
Remove the cupcakes to a wire rack and allow them to cool completely before frosting.
For the Vanilla Cream Cheese Frosting
Add the softened butter and cream cheese to the bowl of a stand mixer fitted with the paddle attachment. Beat on medium speed until combined - about 1 minute.
With the mixer on low speed, slowly add the powdered sugar. Once all of the powdered sugar has been incorporated, add the vanilla extract.
Turn the mixer to high speed and beat until the frosting is light and fluffy-- about 1 minute. Make sure to scrape down the sides of the bowl as needed.
Transfer the frosting to a piping bag fitted with your choice of tip.
Frost the cupcakes and garnish with a sprinkle of matcha powder.
Store any leftover cupcakes in an airtight container in the fridge for up to three days.
Nutrition Information:
Yield:
12
Serving Size:
1 cupcake
Amount Per Serving:
Calories:

369
Total Fat:

17g
Saturated Fat:

5g
Trans Fat:

0g
Unsaturated Fat:

11g
Cholesterol:

52mg
Sodium:

118mg
Carbohydrates:

50g
Fiber:

0g
Sugar:

38g
Protein:

4g
---
Did you enjoy this matcha cupcake recipe? Then I hope you'll check out these other cupcake recipes!