Decorate a DIY door knob hanger using chalkboard paint and Mod Podge! Make them in any pattern and color palette to match your decor.
Skills Required: Beginner. You're going to be painting on wood, then adding paper with Mod Podge. You'll be applying chalkboard paint and stringing it all together. It helps to have crafting experience in the mediums listed to be successful.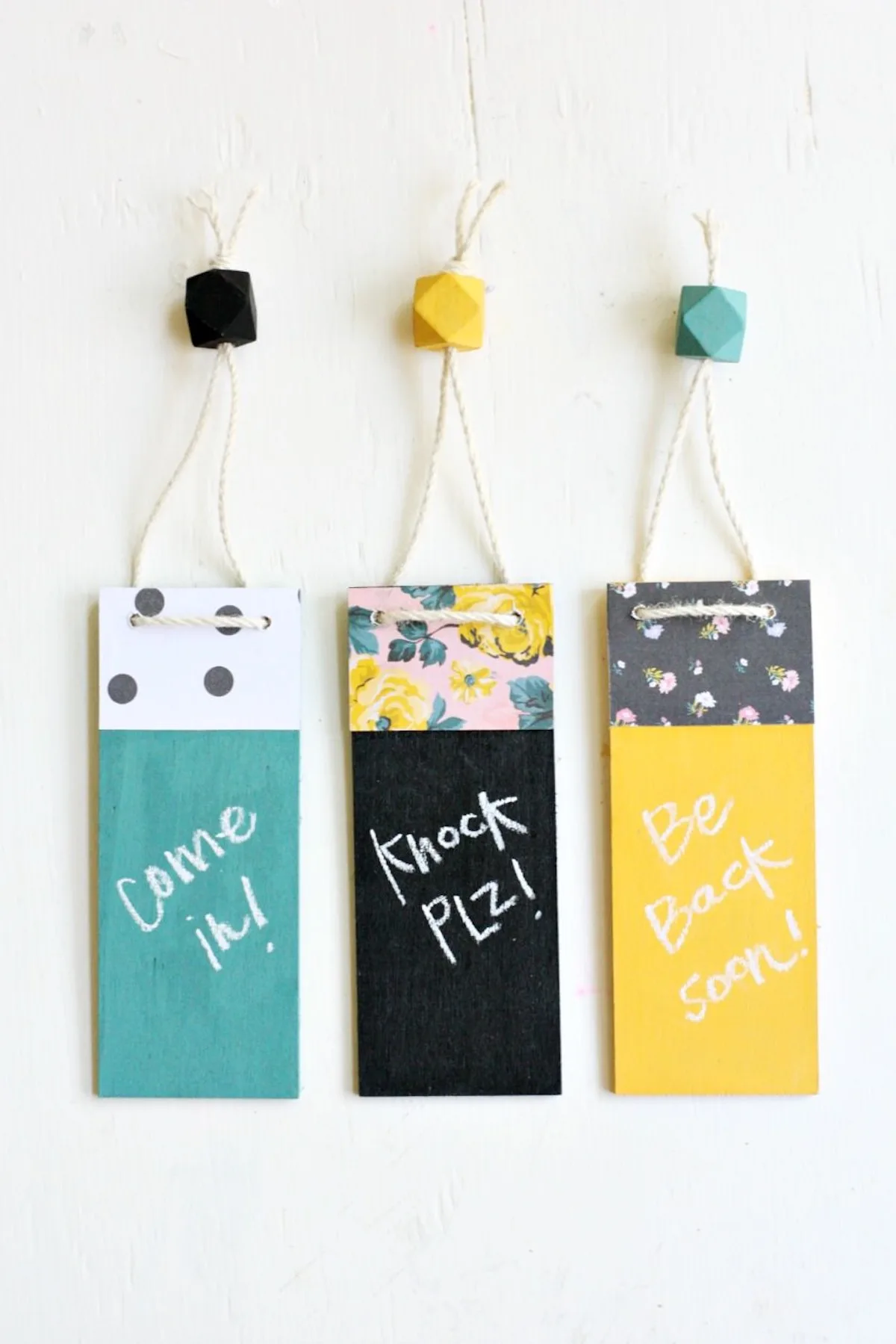 Picture this: It's been a reeeeally long morning. The kids spilled the cereal, colored on the walls, you're on a Diet Coke IV. Finally, the clock strikes nap time and the heavens part.
You get the rascals their sippy cups, their binkies, their favorite blankie, and put them in their beds. After a million stories and kisses and back rubs, they are out. You collapse on the couch. You've done it.
Then from nowhere the horrific "ding dong" of the doorbell pierces the quiet you've waited SO long for. It's the UPS guy. The post it note you put over the doorbell telling him to knock has failed you. The kids hear it. They start to wail. ALL IS LOST.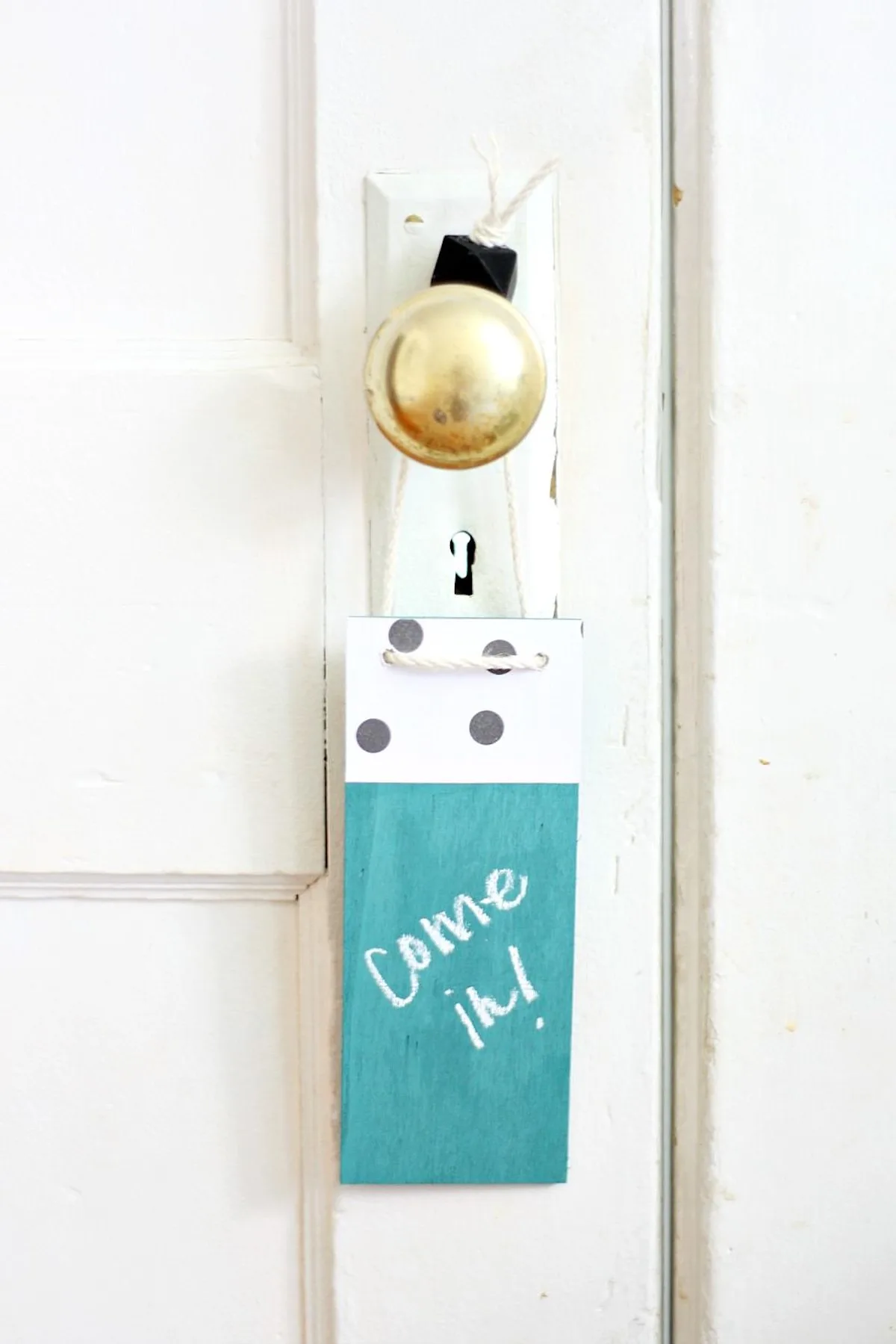 That, my friends, is mom life at its most desperate. Today I have the perfect DIY project to help avoid this scenario, and keep nap time the "parenting haven" it should be.
We're making decorative chalkboard door knob hangers! You can use these little cuties to deter that UPS guy, let your boss know you'll be right back, or welcome your friends.
It's not just an adult craft project though – this would be a fun back to school craft for college students. I'm thinking dorm decor!
Plus, they are a piece of cake to make. Here's how you do this easy craft.
DIY Door Knob Hanger
Gather These Supplies
Unfinished wood planks (you can find these at any craft store in the wood section)
Milk or chalk paint (I used the new FolkArt Milk Paint line because the colors are delish, and I love how they let the natural grain of the wood come through)
Scrapbook paper
Rope or string
Unfinished wooden beads
Paintbrushes
Drill
Painter's tape
Craft knife and mat
Ruler
Pencil
Sandpaper (optional)
Some Notes for the Project
I used a Mod Podge clear chalkboard topcoat for this project (you'll see in the images). This formula is no longer available, so I've linked (above in the supply list) to clear chalkboard paint brands. You'll still need regular Mod Podge to attach the paper!
Don't feel like you have to use a wood rectangle . . . you can also use a circle, square, or anything else you like for your hanger. You can drill into the top of any wood piece.
It's optional for you to sand the wood. The reason you'd do this is make sure it's smooth and no rough edges. Wipe away any sanding dust.
Paint the Wood
The best part about using clear chalkboard paint is that it lets you turn anything underneath into a chalkboard, so you aren't restricted to just having traditional black!
Use any paint you like (milk, chalk, acrylic) and give a few coats until fully covered. Allow paint to dry completely.
Apply the Chalkboard Paint
Apply the clear chalkboard coating of your choice over the top of the paint, according to bottle directions. Particularly you'll want to note the instructions about prepping the paint with chalk once dry.
Typically you'll use a paintbrush and apply two to three coats, letting dry between coats. I find that what works best with chalkboard paint is to use thinner layers and build up.
Brushstrokes may form (which is why the thinner layers), but usually those dissipate somewhat as the paint dries. Once you're done painting on the clear, let dry completely.
Apply the Paper
DO NOT Mod Podge over the chalkboard paint (the portion you are going to write on – if it's under the paper it's fine)! This will render it useless. Just paint up to the edge. Once you're done, let dry completely.
Drill and String
I *highly* recommend using painter's tape over the area you'd like to drill the hole (both sides). This keeps the paper from shredding and the wood from splintering as you drill through.
If you don't have a drill you can staple or use your favorite craft adhesive to attach the twine to the planks.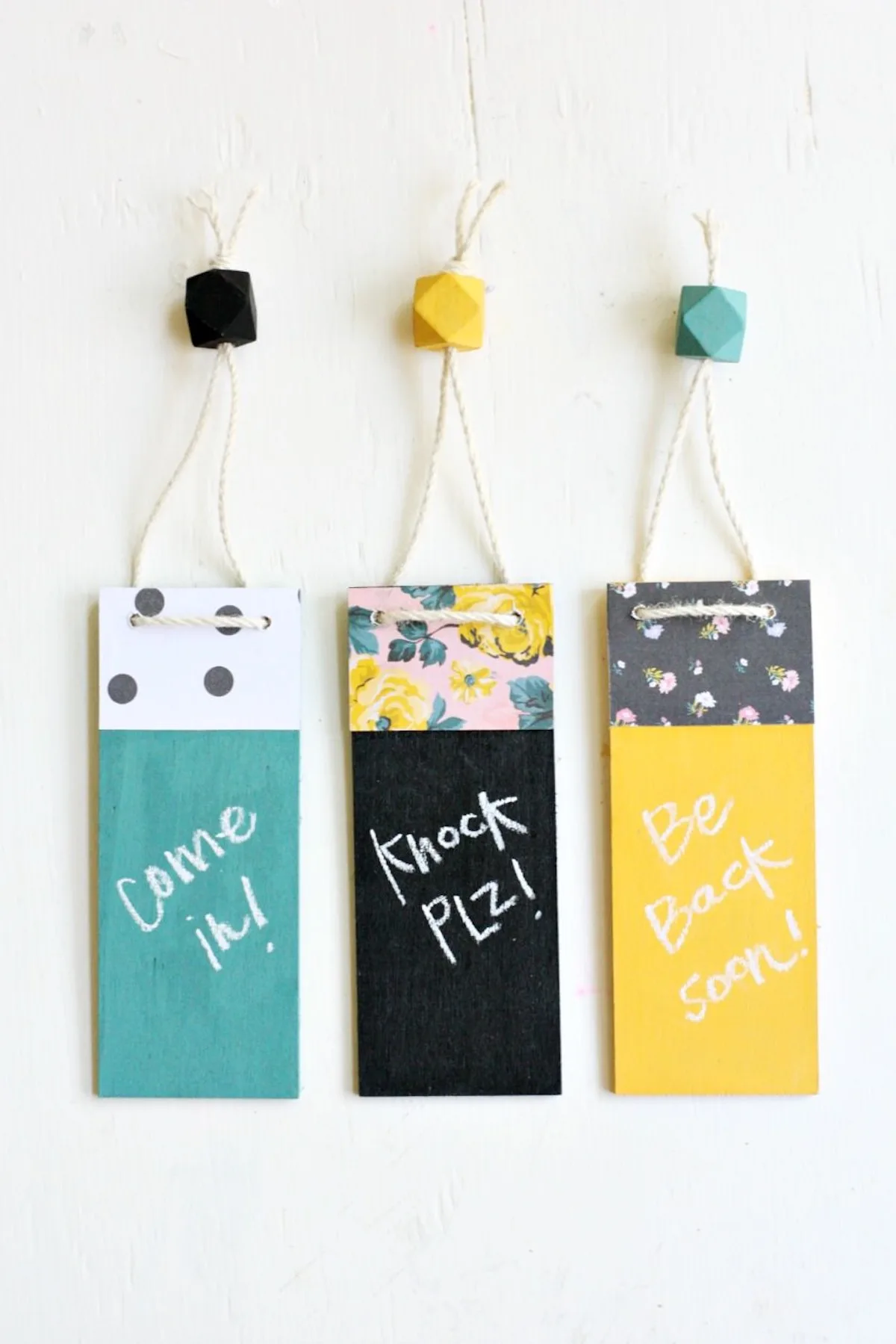 That's it! Now just get out your chalk and send your message on your DIY door knob hangers! I can't think of a cuter way to let someone know you want them to leave you alone. 🙂
So cute, right? How would you use your chalkboard door hangers? I'd love to know in the comments!
I think these would make great gifts for recent grads headed to college. Wouldn't these be fun on a dorm room door to let people know if you are in or out?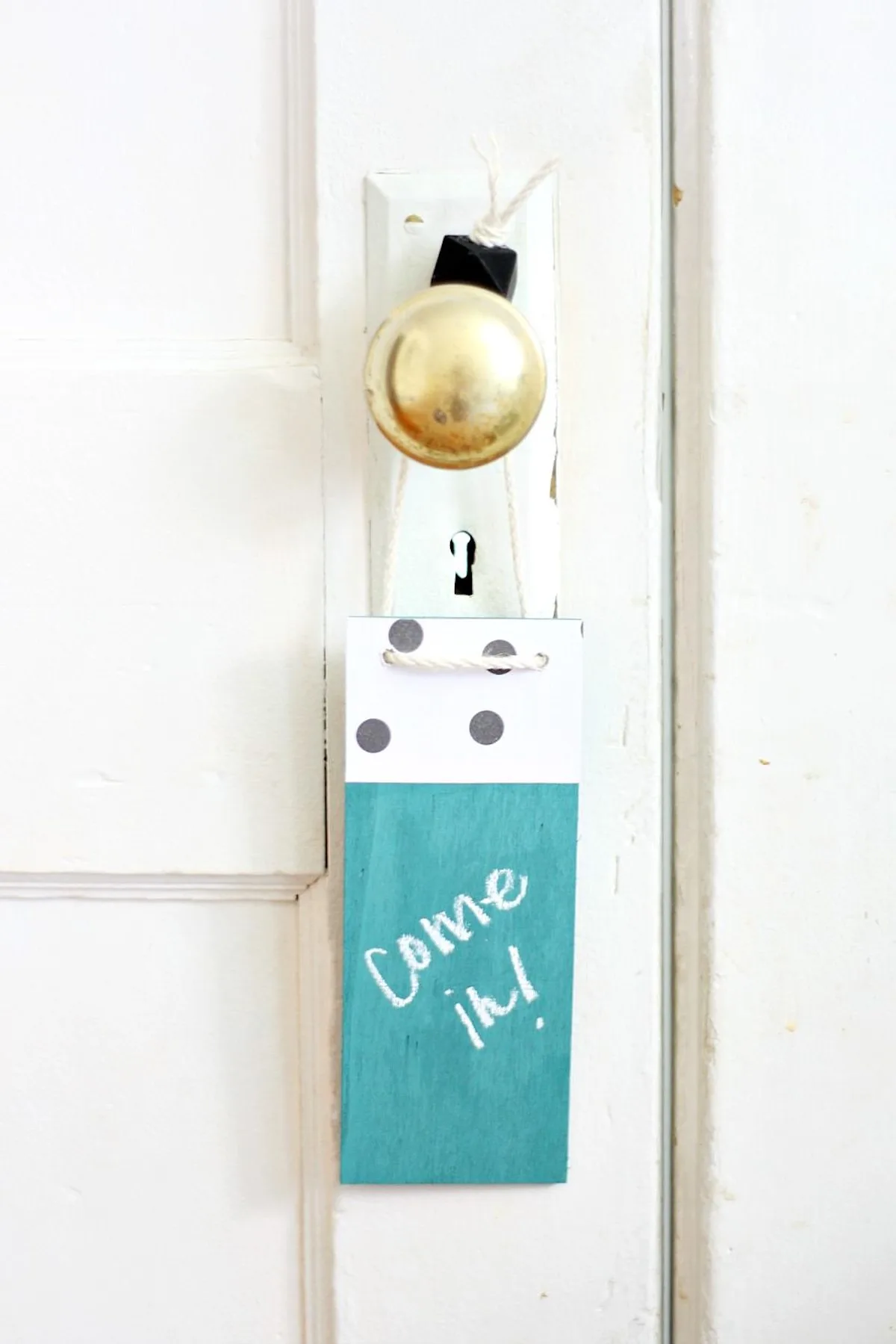 And be sure to visit us as we blog about style, food, and the things we love over at the Pretty Life Girls where you can find other fun DIY projects like these DIY Flamingo Mirrors!
ox. Liz
Yield: 1 door hanger
DIY Door Hanger
Learn how to make a wood door knob hanger with a chalkboard writing surface on the front!
Total Time
1 hour
10 minutes
Materials
Unfinished wood plank
Craft paint
Clear chalkboard paint
Classic Mod Podge
Scrapbook paper
Rope or string
Unfinished wooden beads
Painter's tape
Tools
Paintbrushes
Drill
Craft knife and mat
Ruler
Pencil
Sandpaper (optional)
Instructions
Sand the wood plank to remove rough areas and edges. Wipe away the sanding dust.
Apply craft paint to the wood plank (both sides). Also paint the wood beads. Use enough coats to fully cover and let dry.
Apply the clear chalkboard paint over the top of the paint, using 2 - 3 coats (follow bottle instructions). Let dry.
Measure and cut scrapbook paper to fit the top of the hanger. Apply Mod Podge to the hanger, smooth down the paper and let dry. Apply a top coat of Mod Podge and let dry.
Drill two holes into the top of your planks (you can use painter's tape to avoid splintering).
String the twine through both holes and tie at the top, stringing on a bead between knots. Hang.
---
Did you enjoy making a DIY door hanger? I'd love for you to check out these similar projects that also use chalkboard: