Get over 15 patterns for superhero perler beads! There are a variety of easy character patterns including both Marvel and DC Comics.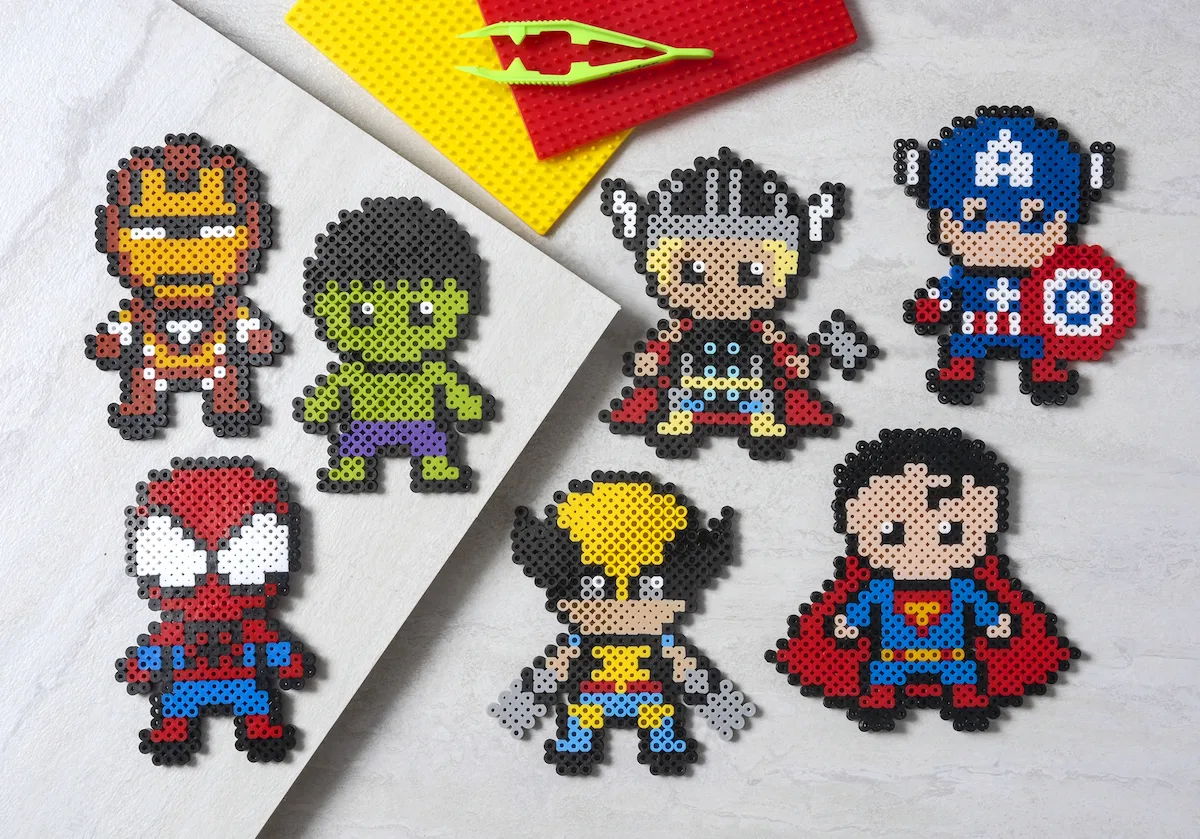 Any superhero or comic book lovers in your house? Of course there are. Doesn't matter boys or girls, young or old . . . there's always one fan in a household. Or more!
In my home growing up, everyone was a fan. I have four brothers, and all of us (including mom and dad) liked them in one form or another.
I didn't read comic books, though I love the art. However, I watched the movies! I saw Christopher Reeve's 1978 Superman at some point when I was young. Many times, and all the sequels.
When the Michael Keaton Batman came out in 1989? I saw it. Same with Batman Returns, of course.
It feels like the 90s really propelled the comic book movie into our everyday reality, and now it's The Avengers and Marvel all over the place. Not to mention all the hero themed series out there!
The funny thing is that now there's a new generation of superhero appreciators, and my niece is one of them! We decided to tackle superhero perler beads, and we're excited to share the patterns we pulled together.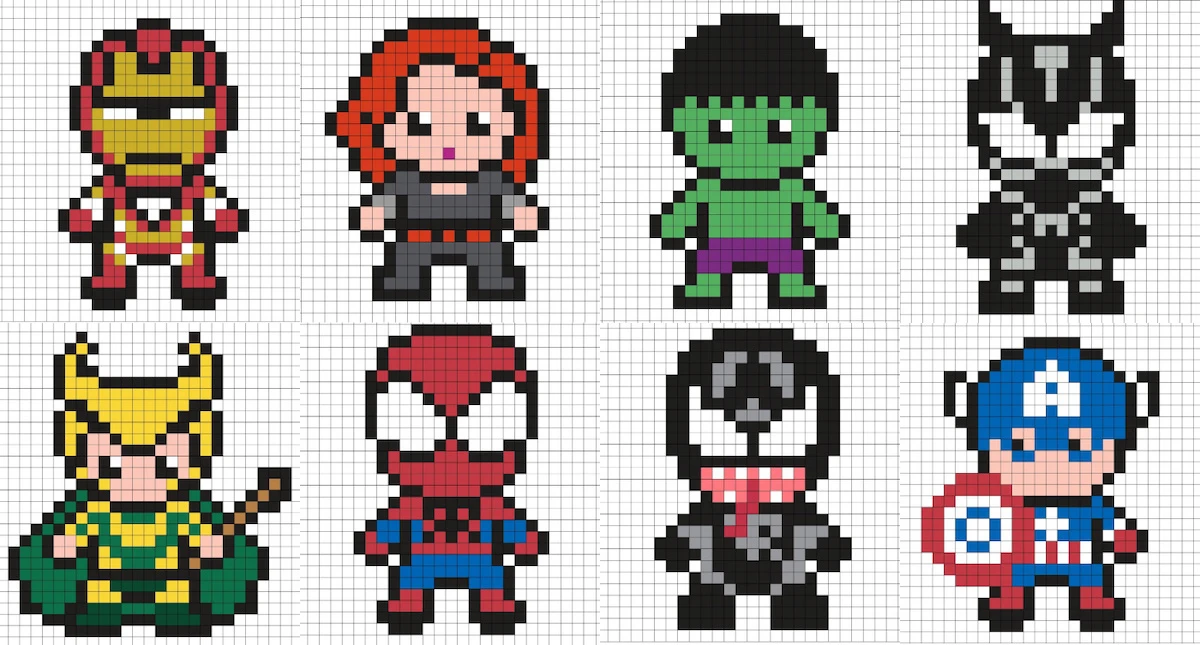 Turns out she prefers Marvel perler beads, but she likes some DC characters too. Which is good because I'm a Green Lantern girl! I like a variety of characters, but you can't leave out Hal Jordan.
Anyhoo, my niece and I made a bunch of superhero perler beads, and we're excited for you to check out the patterns. If you have a request we'd love to hear in the comments. We're always making new patterns!
Perler beads are recommended for ages six and up, so this is a very fun craft to try with children. They love perler beads (also known as hama beads, fuse beads, or melty beads). But don't be shy – adults love them too!
Tips for Using Perler Beads
Before we get into the patterns, I want to review a few basics of using fuse beads to make sure you get the best results (using Baby Yoda as an example). If you don't want the tips, scroll down to the bottom to get the superhero hama bead patterns.
Remember that the overall goal is to melt the beads together on both sides while still leaving the holes open. Here's how it's done.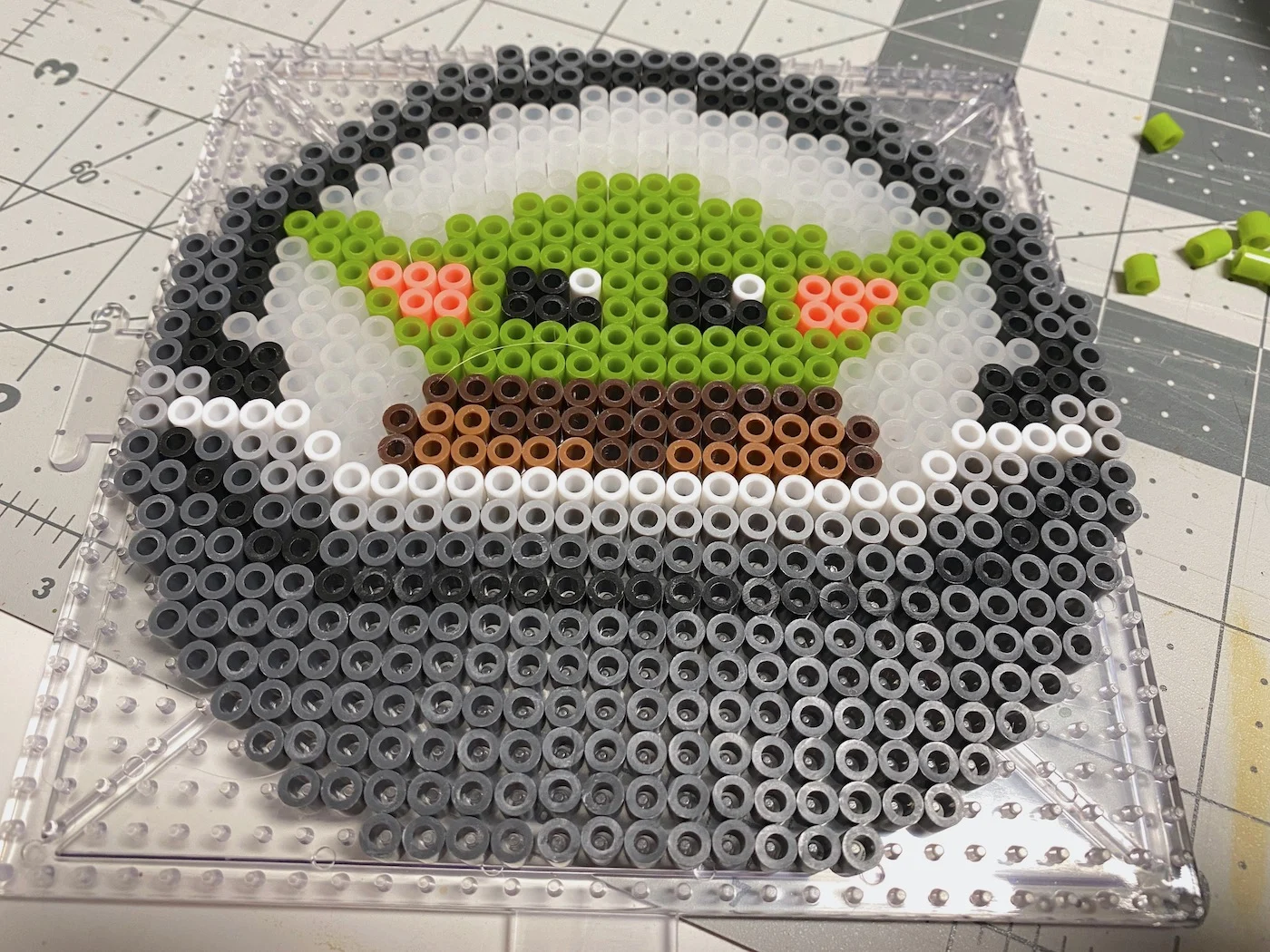 Use Ironing or Parchment Paper
Place ironing paper or parchment paper over the beads on the pegboard. Be gentle so you don't disturb the beads underneath.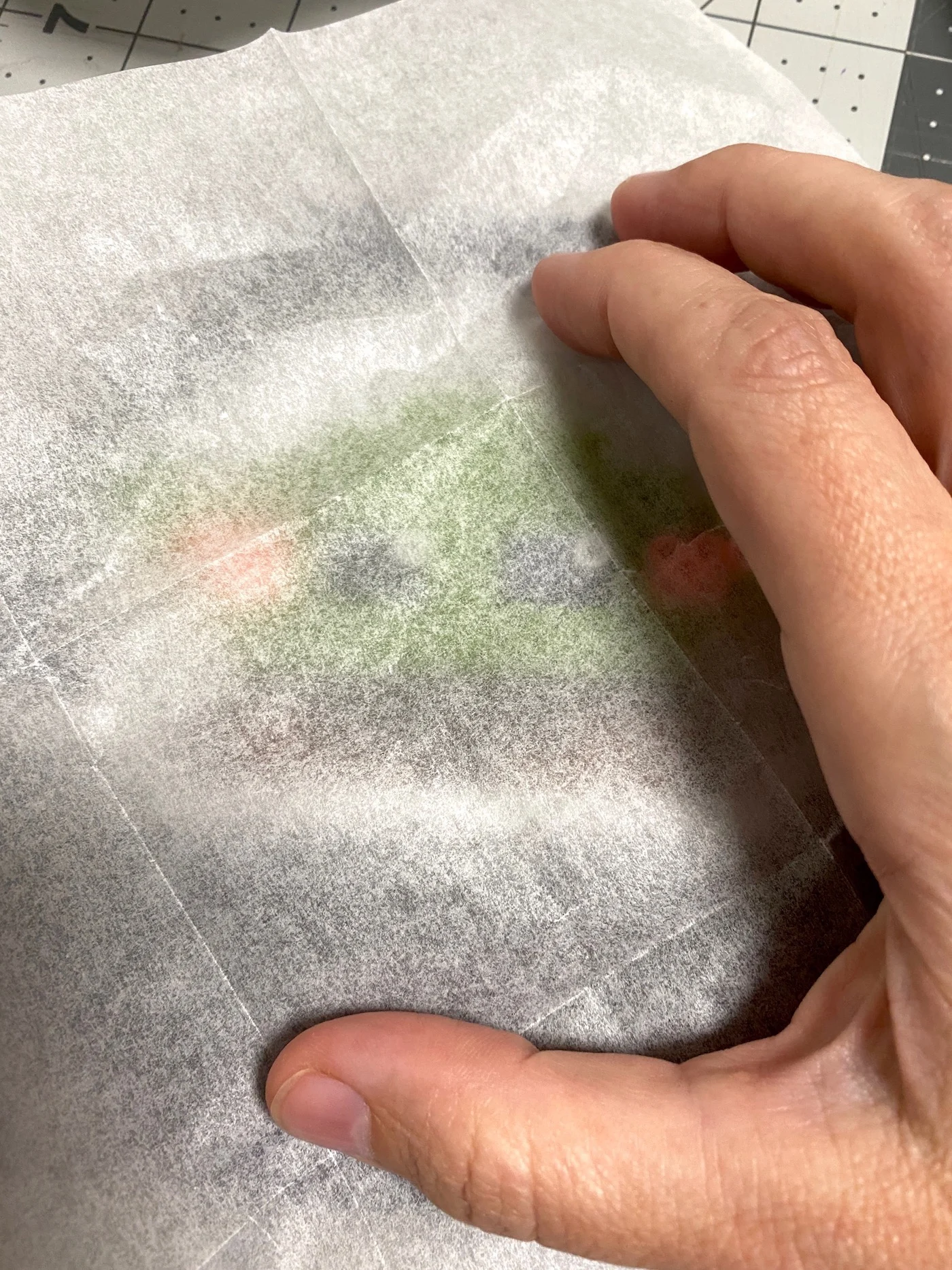 Heat your iron to the medium setting (no steam). In a circular motion, begin to iron the project. Don't press down too hard with the iron. When ironed properly, the beads will still have an open center. Check and make sure your edges are melted. Let the design cool on the pegboard.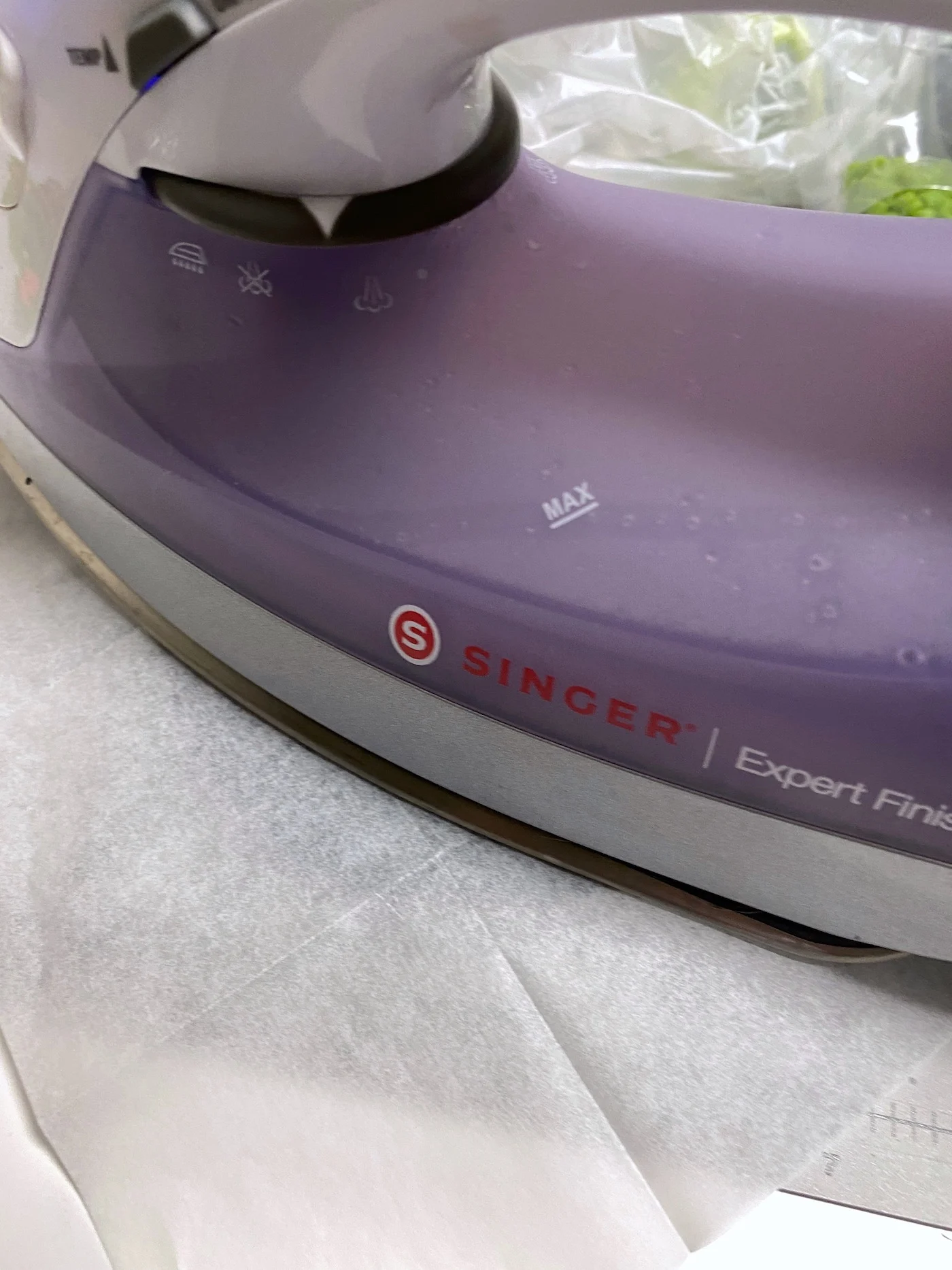 Note: BE CAREFUL about lifting up the paper while you're ironing! If you want to check, carefully peel back paper around the edge of your design and see if all the beads are melted.
If you lift the paper up quickly and there are a lot of unmelted beads, they will easily fall off or go flying and you may be forced to start over. Sometimes the edges need more time so when you check, just check the edges and peel paper back slowly.
Another Note: some beads melt faster than others (clear melts faster than white, for example). So some holes might be larger than others. It's okay! That's part of the look of the project.
Iron the Other Side
Remove the bead design from the pegboard. Flip it over to the non-melted side and repeat the fusing process.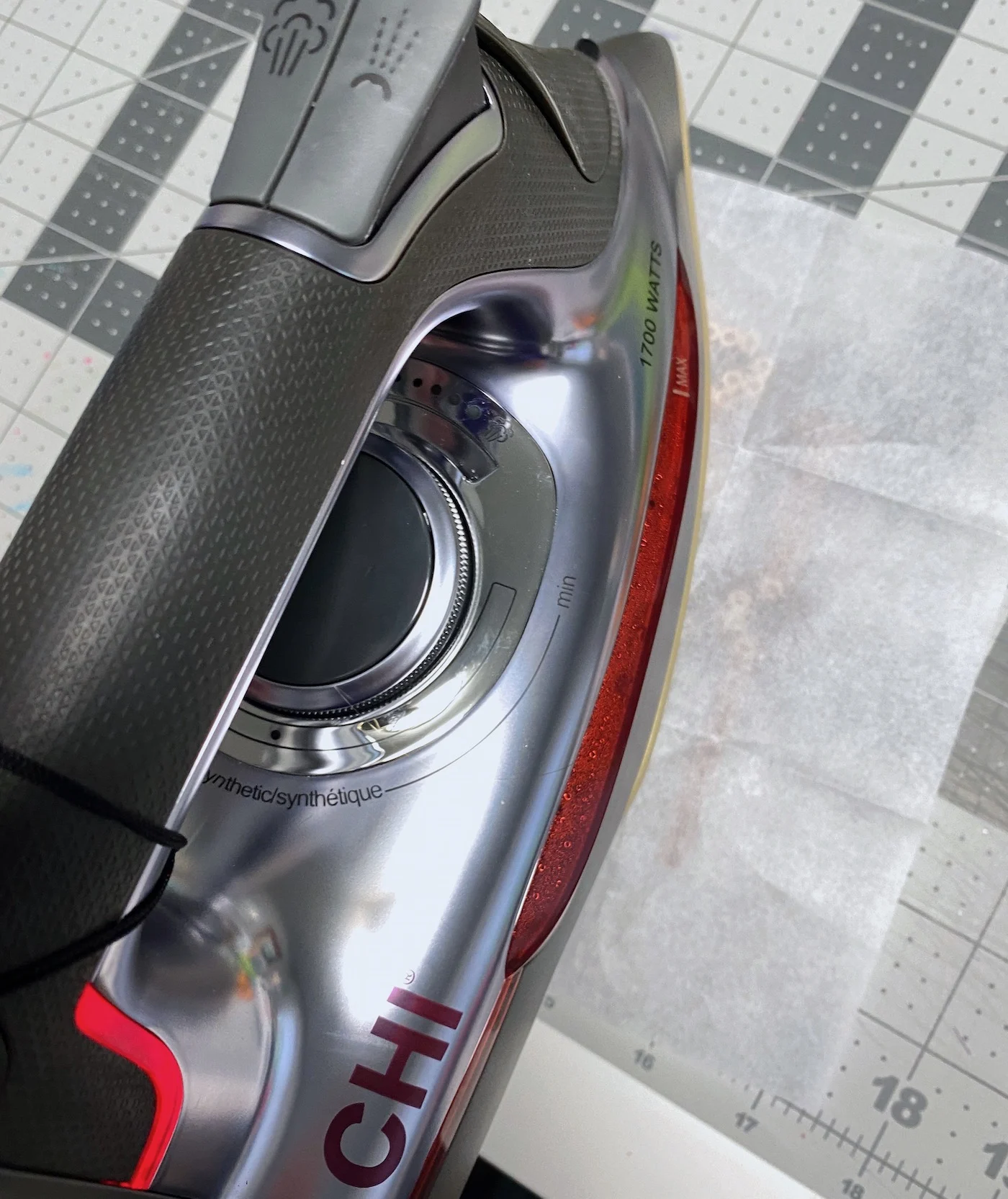 Remove the Paper
Let cool completely and remove the paper again (which is reusable). Some people pull the paper off after they iron the first side, but I just wait until the end and peel off both pieces. It's up to you!
---
Superhero Hama Beads
Now if you're ready for the superhero perler beads, here are the patterns. Just a few things to keep in mind!
When patterns are larger than a 29 x 29 pegboard, you'll either need a extra large pegboard (49 x 69 tall) or to put multiple square peg boards together to form a larger "canvas."
Don't stick to my colors necessarily. Customize with your favorite color beads or what you have on hand.
Marvel Logo Perler Beads
This is a large logo that uses 988 white beads and 955 red beads. The results are pretty impressive so take your time and be patient while ironing!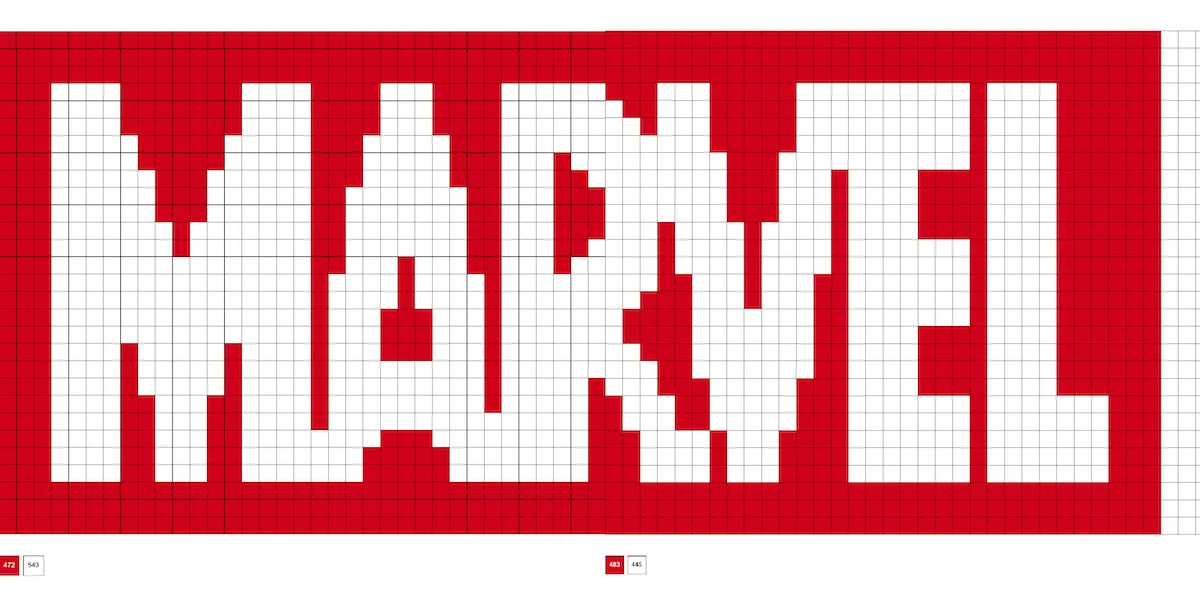 ---
Hulk
This pattern uses 164 black, 120 bright green, 2 white, and 22 purple beads.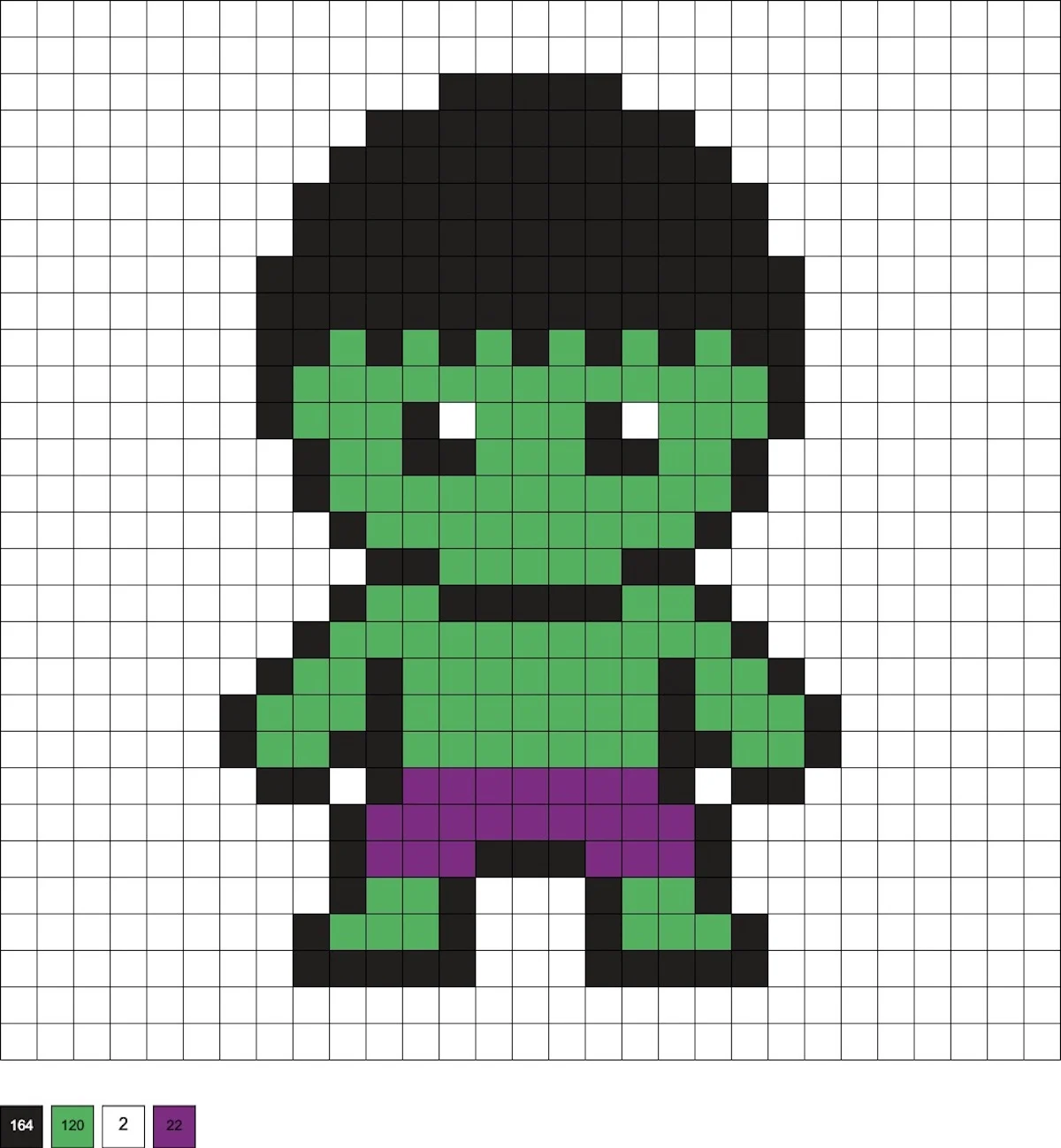 ---
Captain America
This pattern uses 93 black, 113 cobalt, 60 white, 42 peach, and 64 red beads.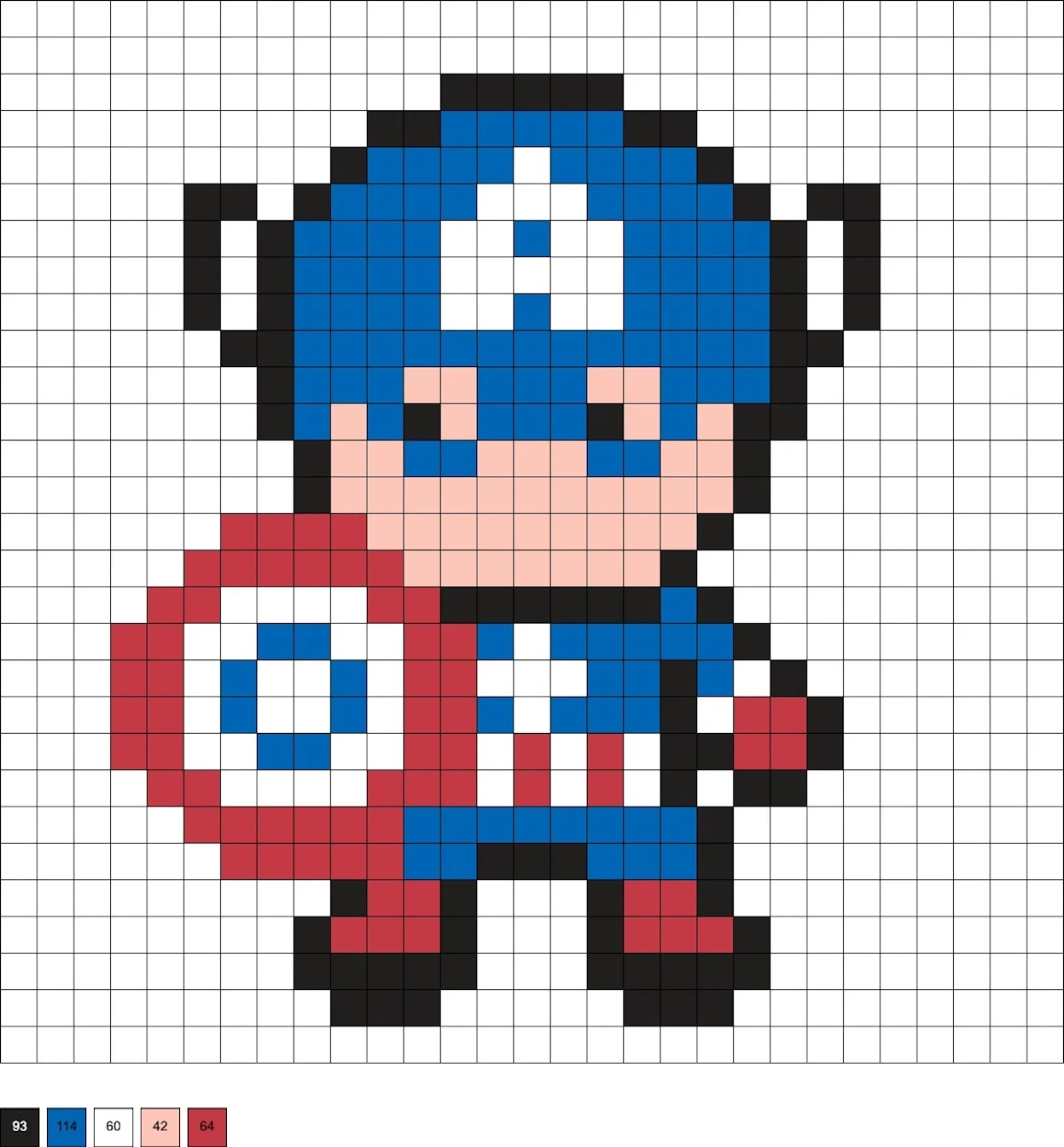 ---
Black Panther
This pattern uses 247 black, 57 light gray, and 34 white beads.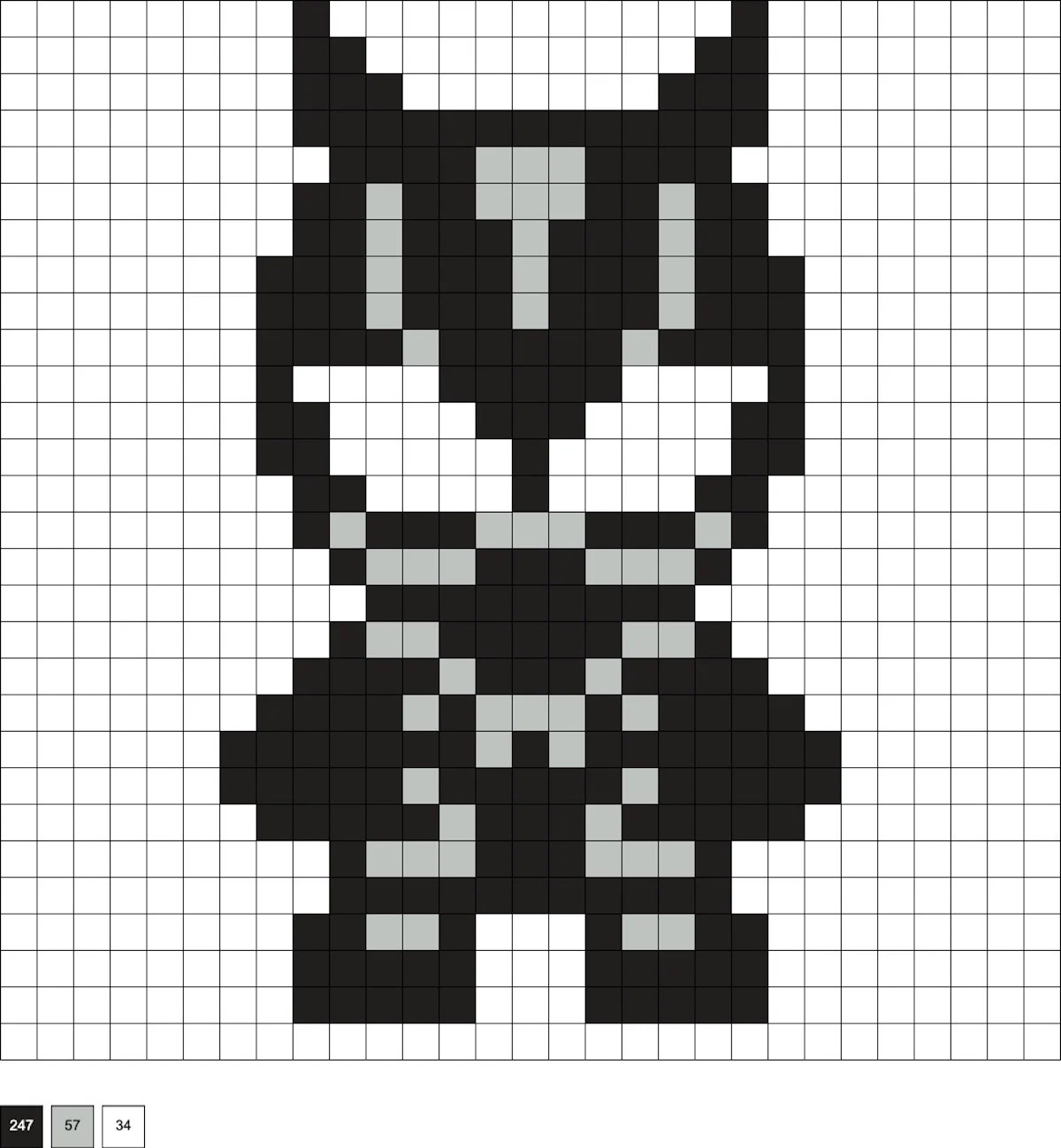 ---
Venom
This pattern uses 217 black, 50 gray, 42 white, 17 salmon, and 7 red beads.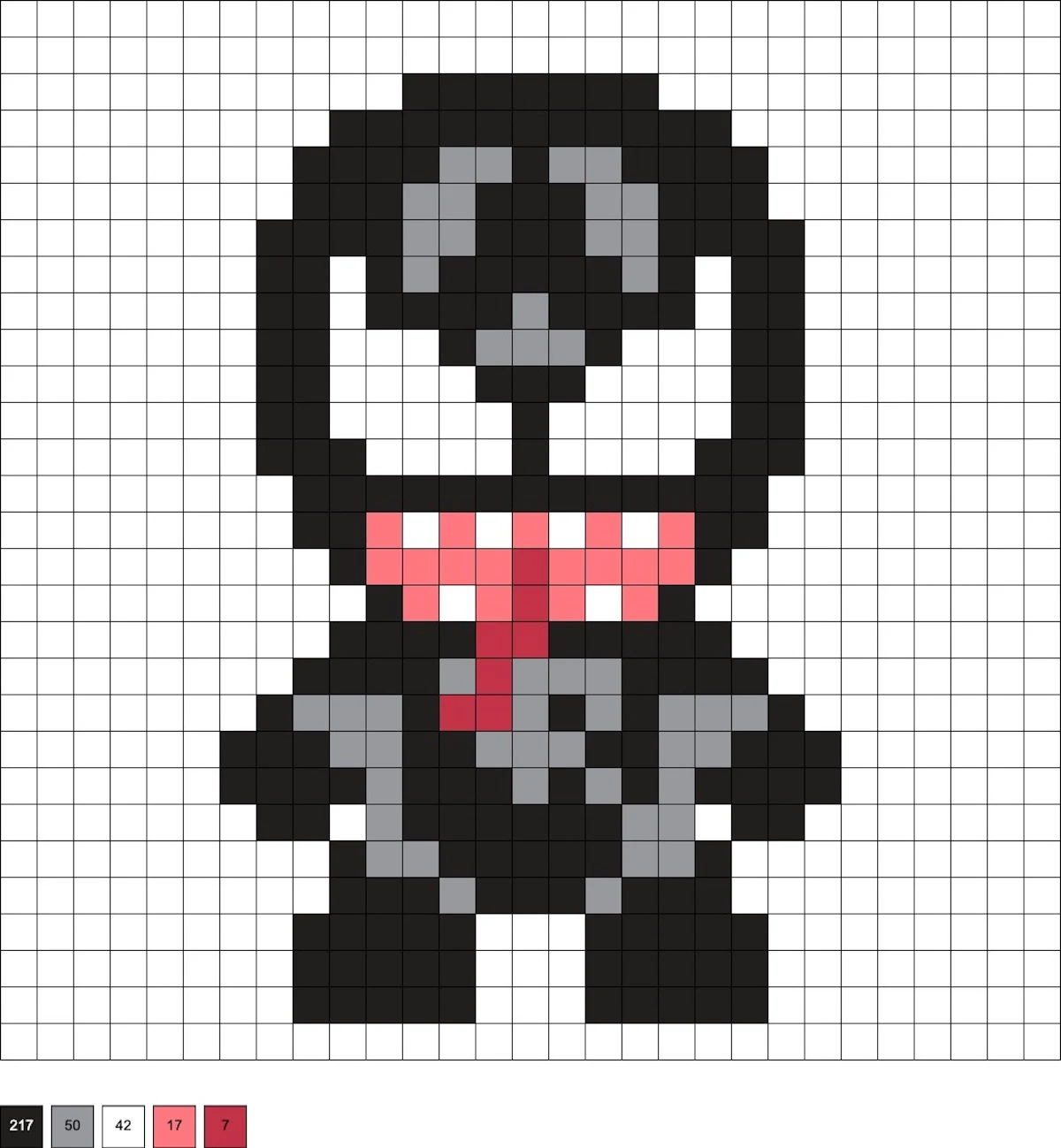 ---
Black Widow
This pattern uses 133 black, 77 spice, 72 peach, 2 white, 1 fuschia, 51 dark gray, and 6 gray beads.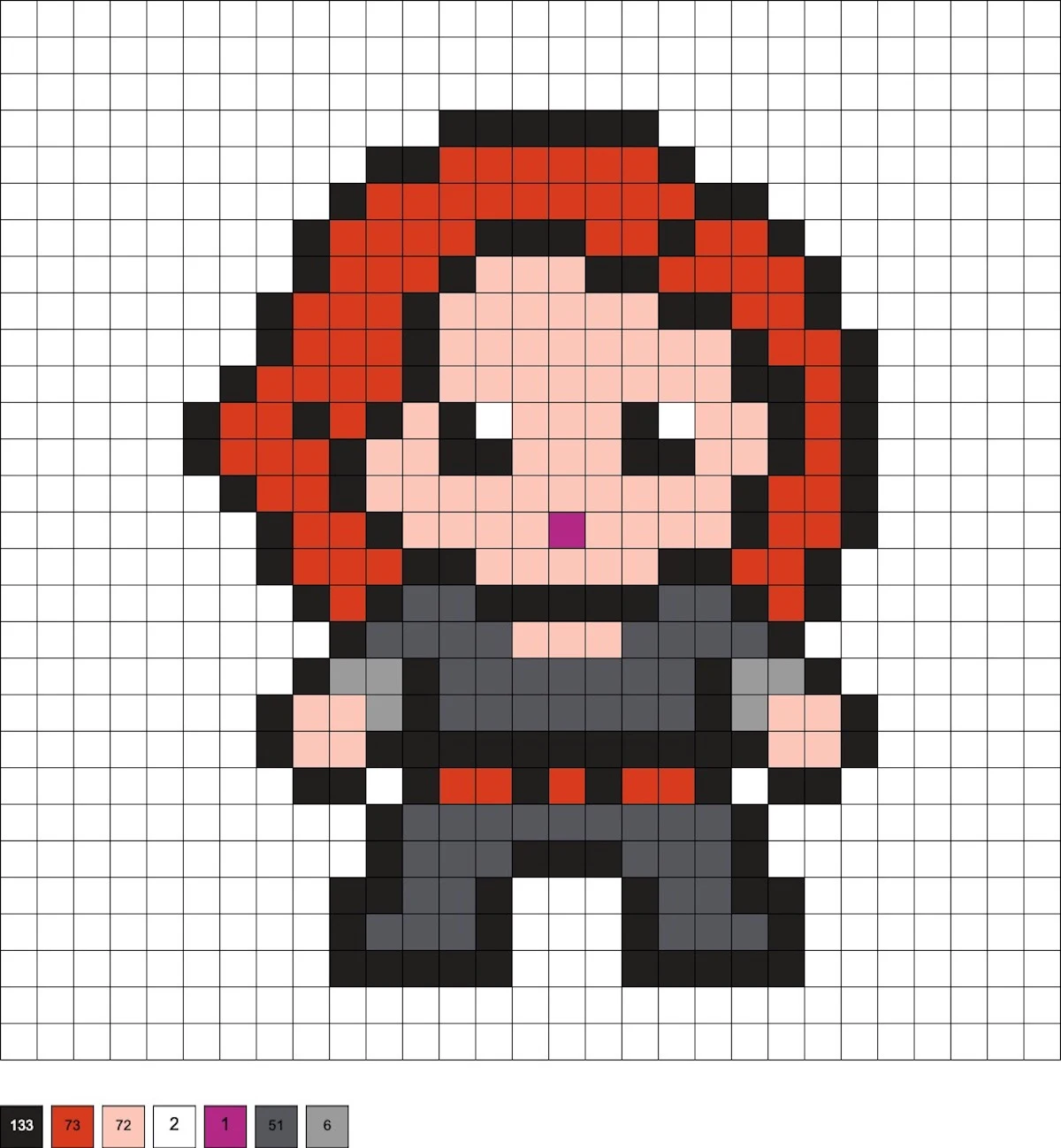 ---
Spiderman
This pattern uses 132 black, 117 red, 52 white, and 34 cobalt beads.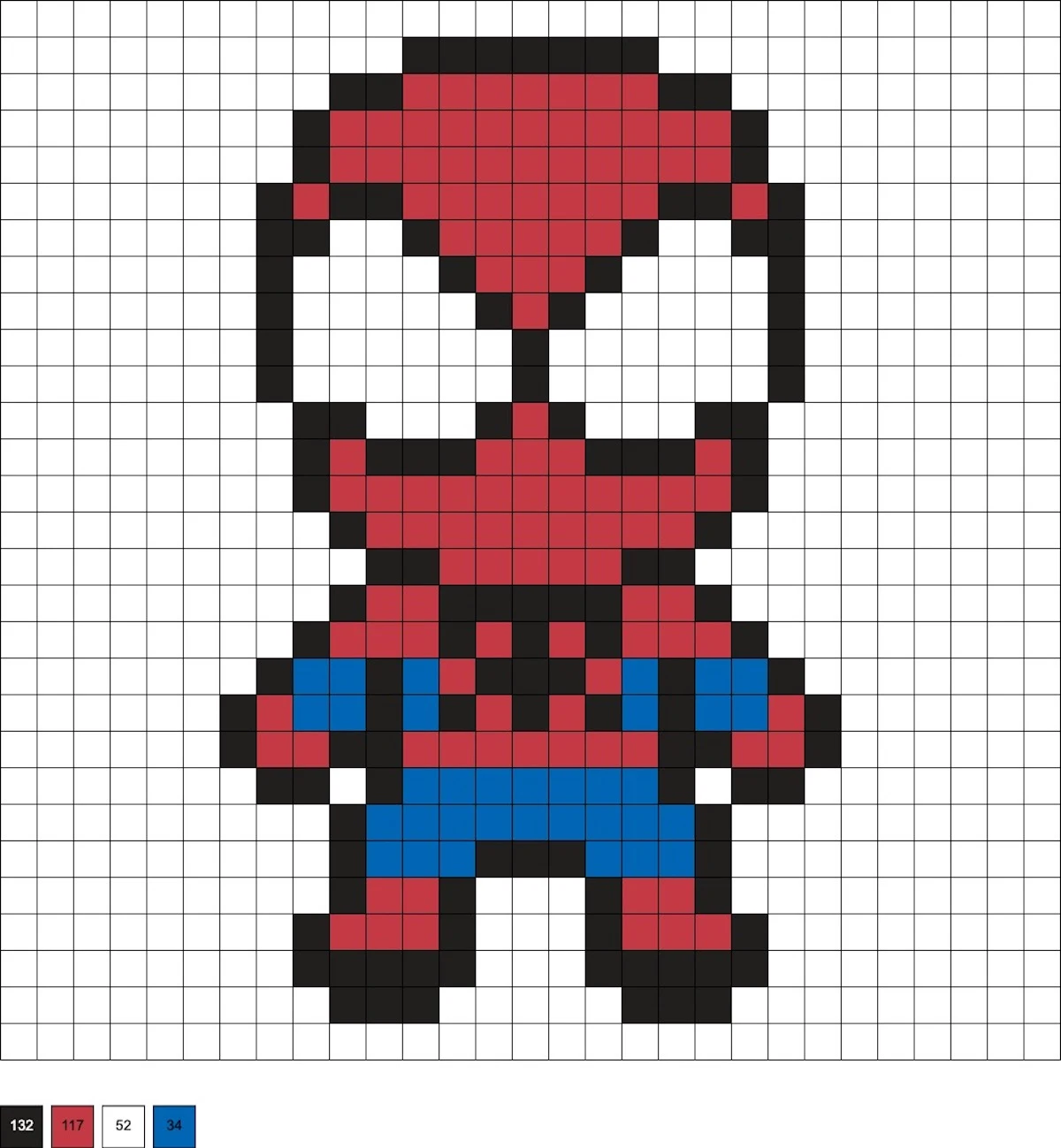 ---
Ironman
This pattern uses 138 black, 75 red, 77 gold, and and 22 white beads.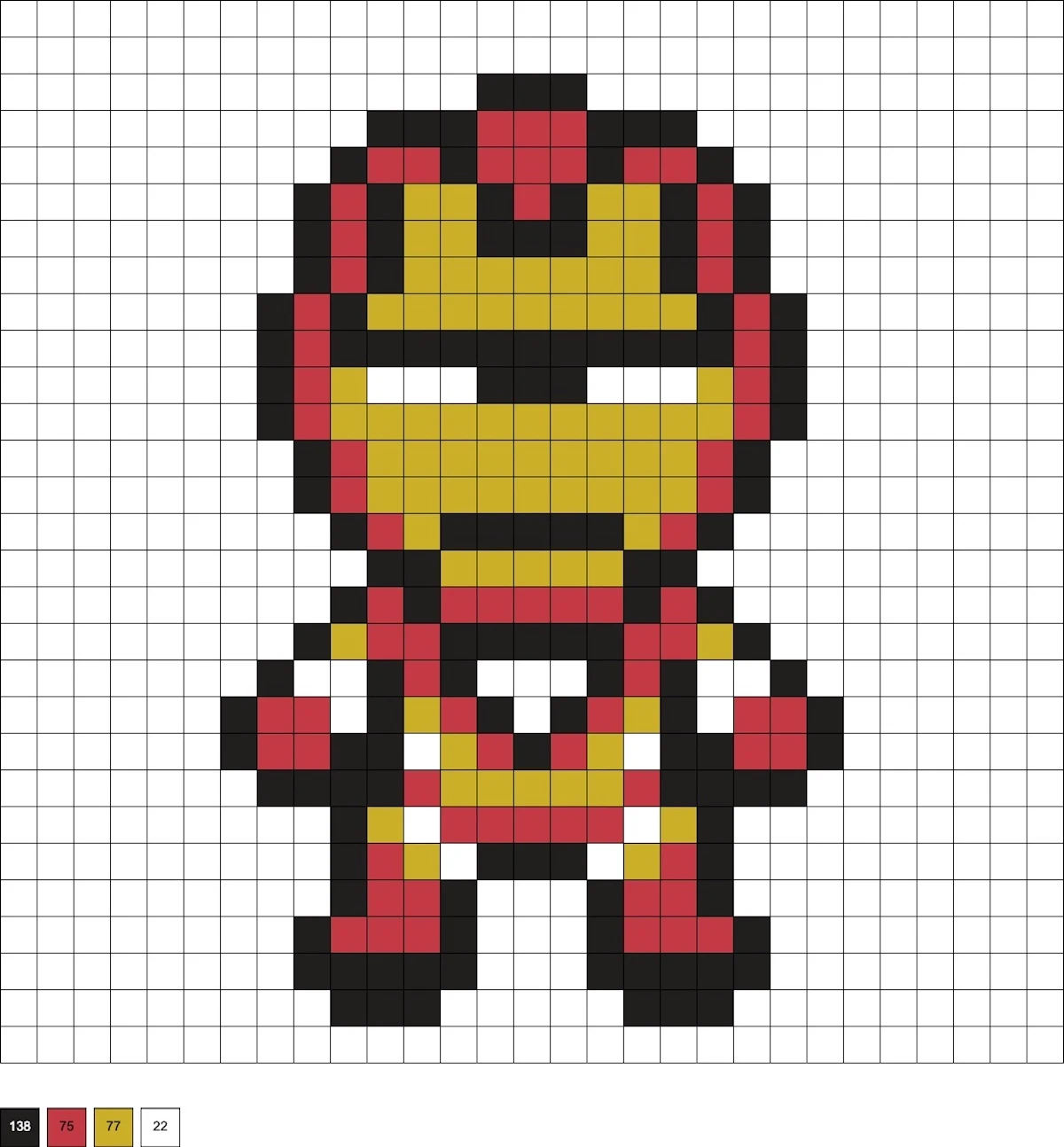 ---
Wolverine
This pattern uses 162 black, 88 yellow, 2 white, 32 gray, 37 peach, 24 cobalt, 6 red, and 8 clear beads.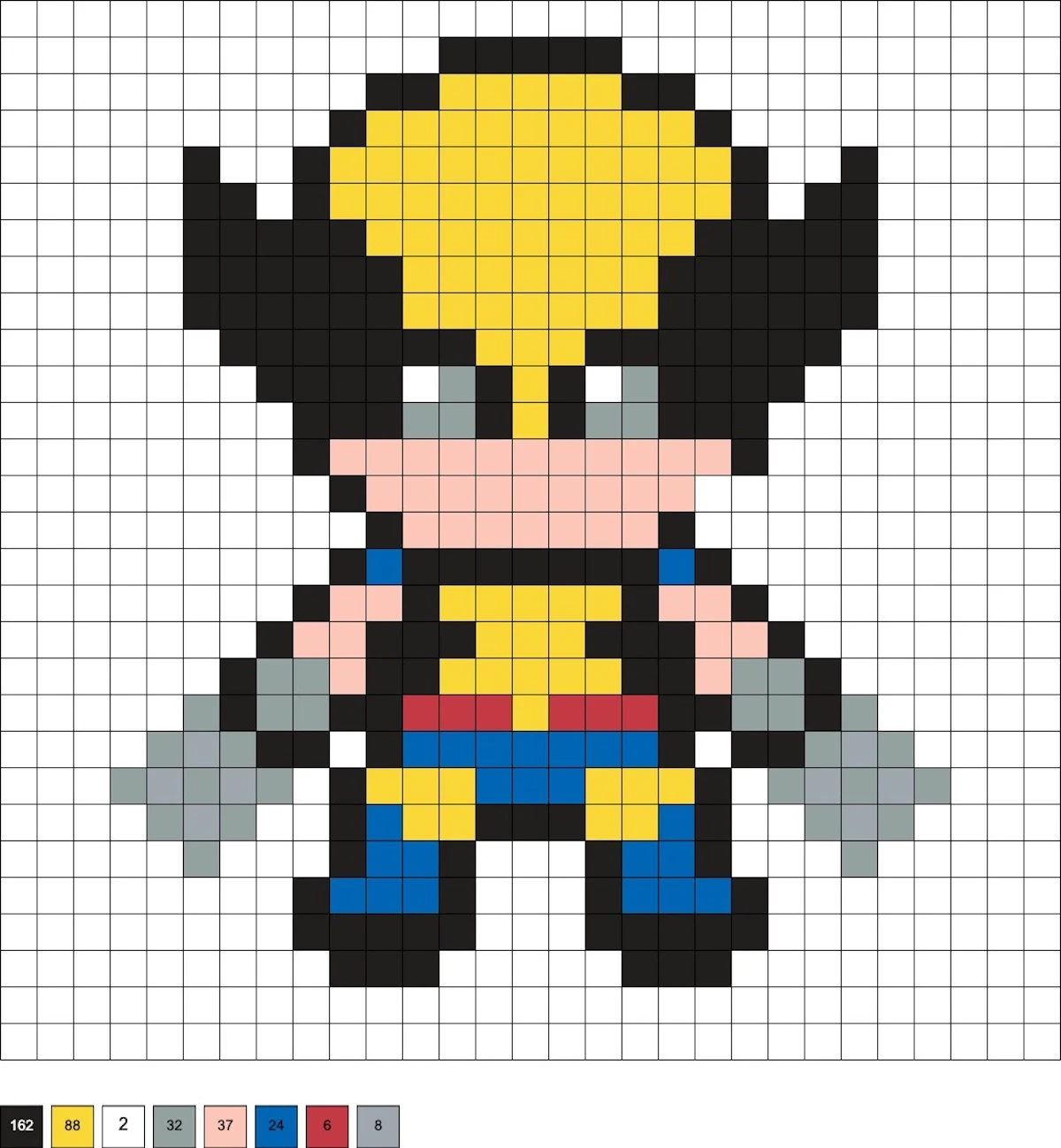 ---
Thor
This pattern uses 190 black, 60 gray, 12 white, 31 pale yellow, 64 peach, 33 red, 6 sky, and 4 cobalt beads.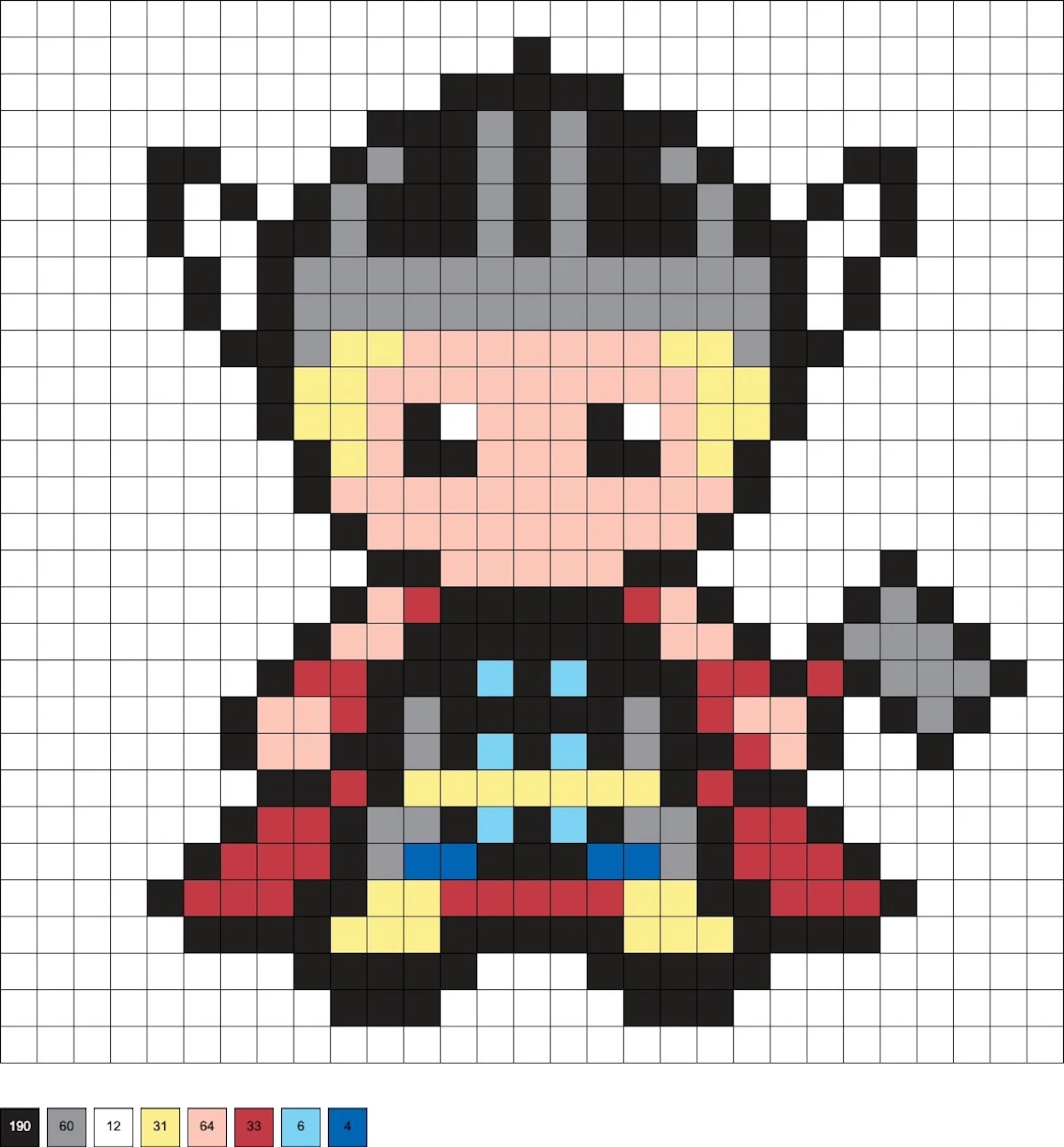 ---
Loki
This pattern uses 179 black, 101 yellow, 38 peach, 2 white, 6 gold, 77 dark green, and 19 forest beads.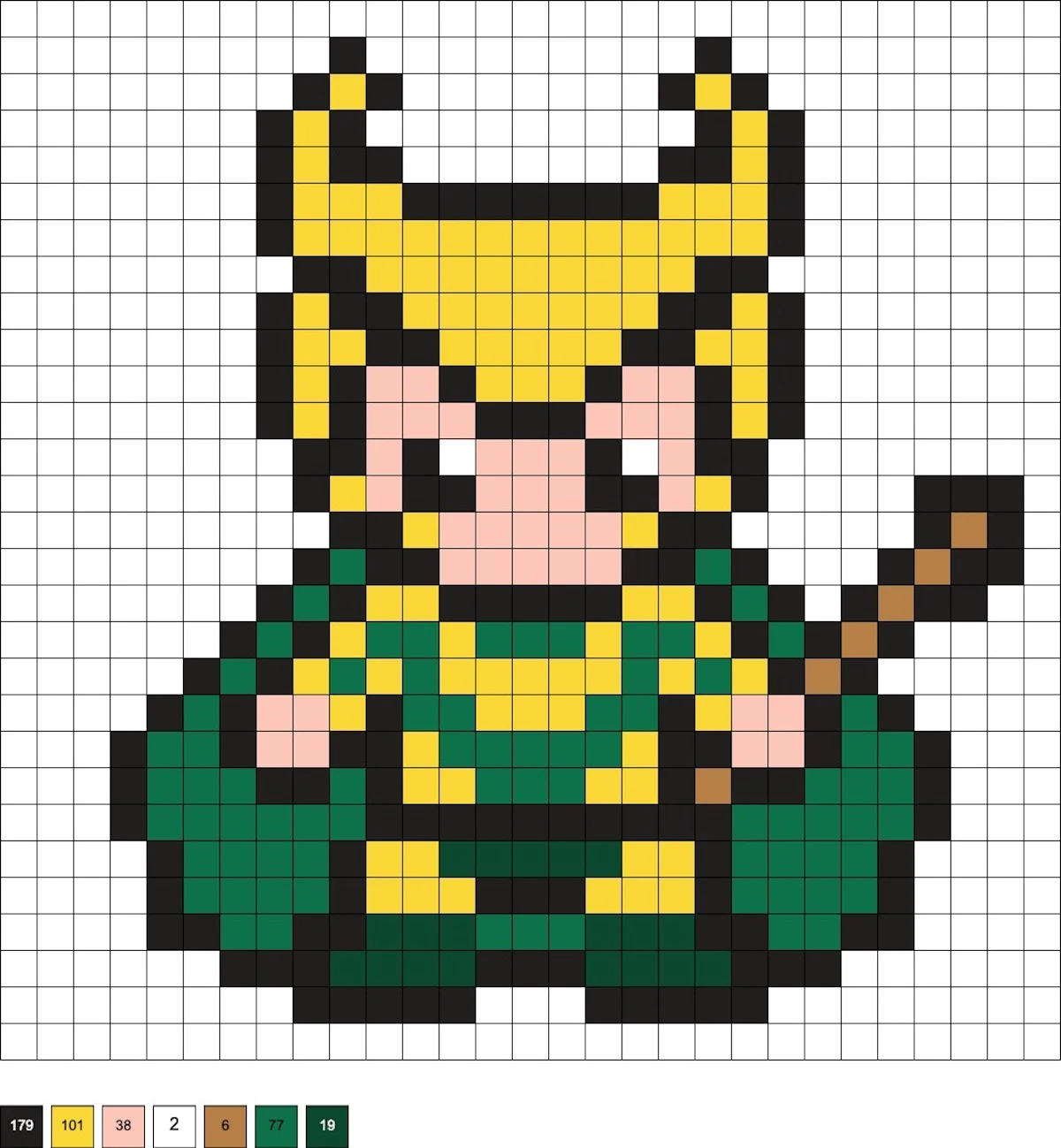 ---
Hawkeye
This pattern uses 121 black, 38 light brown, 21 brown, 71 flesh, 2 white, 7 pewter, 7 gray, 50 dark gray, 9 purple, and 11 light gray beads.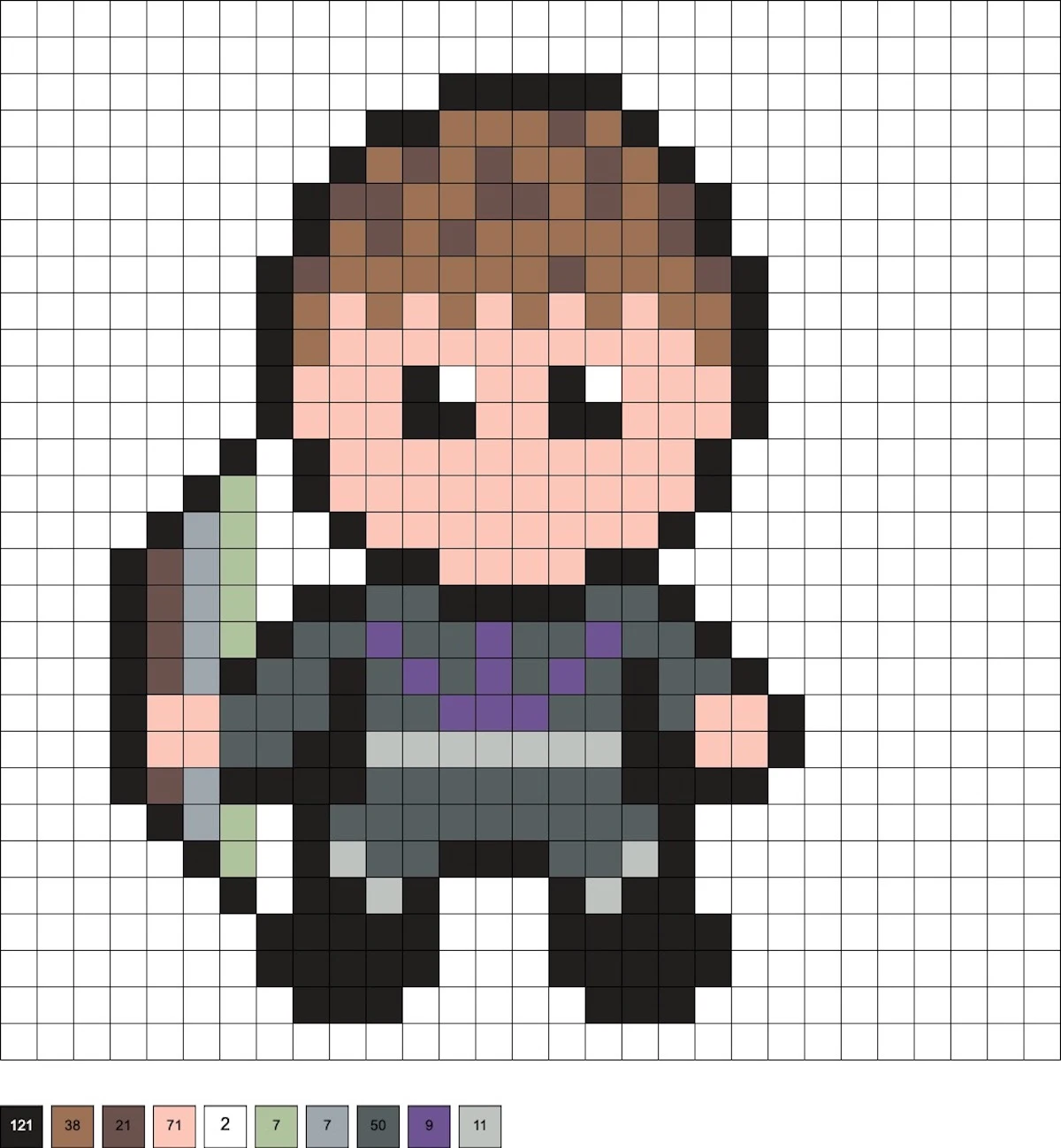 ---
Superman
This pattern uses 190 black, 91 flesh, 2 white, 105 red, 52 cobalt, and 9 gold beads.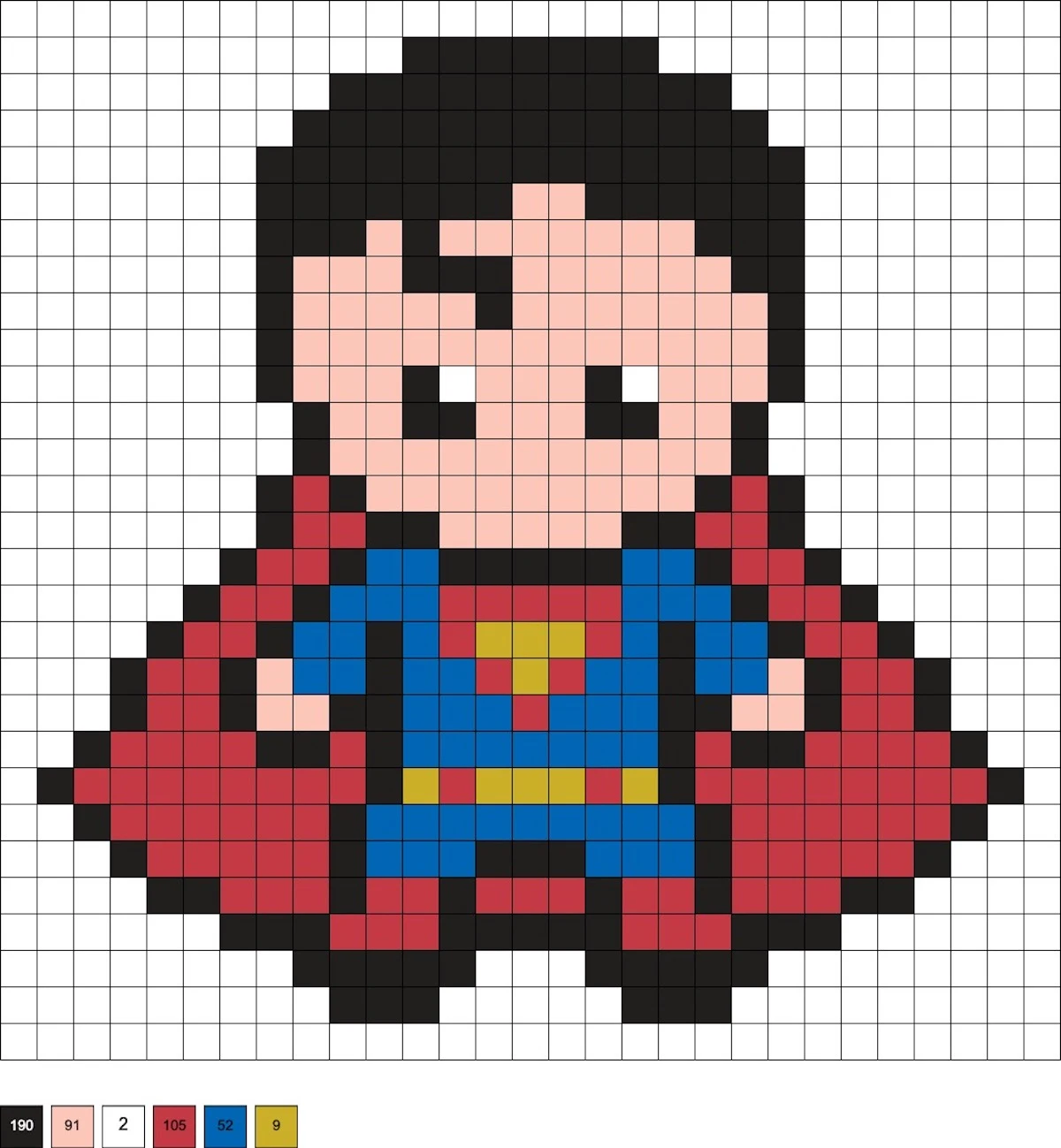 ---
Batman
This pattern uses 181 black, 144 dark gray, 12 white, 12 flesh, and 57 charcoal beads.
---
Green Lantern
This pattern uses 109 black, 56 brown, 48 flesh, 51 shamrock, 14 white, 45 dark green, 4 mint, and 3 gray beads.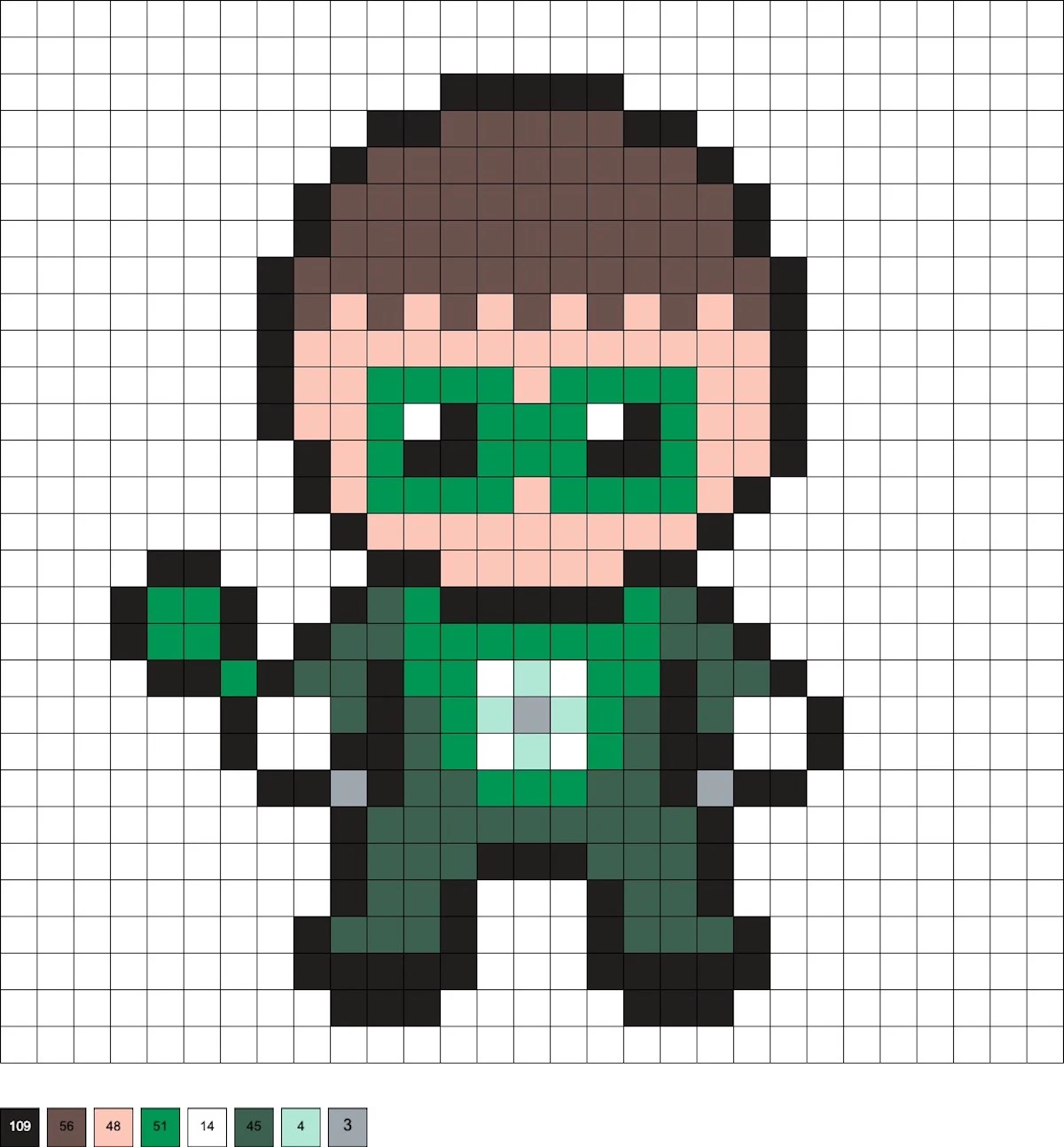 ---
Cyborg
This pattern uses 150 black, 131 light gray, 11 red, 23 cherry, 3 pewter, 5 white, and 12 gray beads.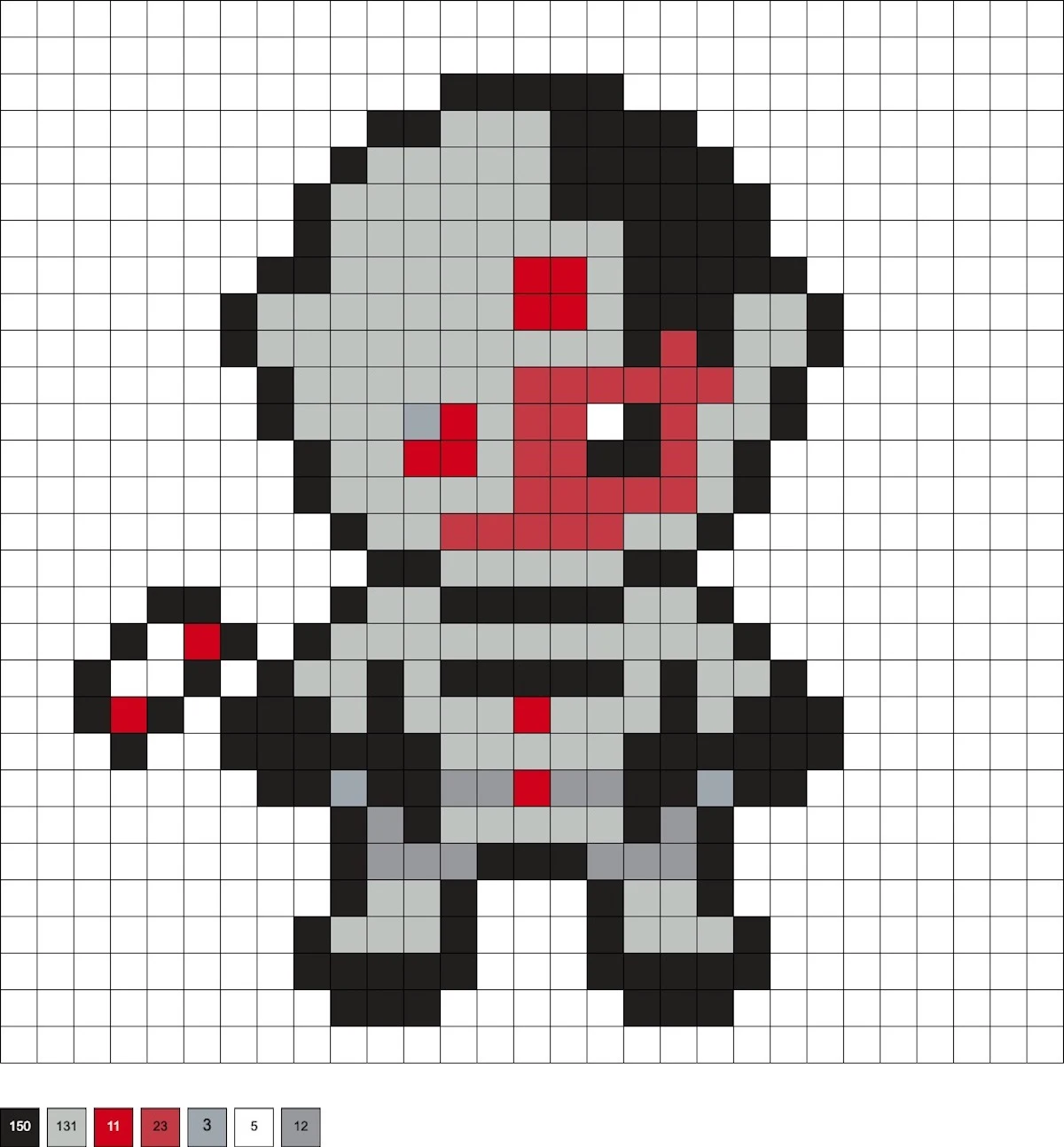 ---
What did you think of these superhero perler beads? Let me know in the comments! I'd also love for you to check out these other patterns: