If you're a fan of the Despicable Me movies, you'll love these Minion perler beads! Get over 30 patterns that are fun for both kids and adults.
If you have elementary to teenage age children right now, then you are probably very familiar with Minions. You know . . . those small yellow creatures with one or two big eyes.
They're also know for crazy energy, a unique language, and a love of bananas.
They were first introduced to the world in 2010's "Despicable Me." Since then they have become iconic characters with their own spin-off movie, "Minions," which was released in 2015, and a sequel "Minions: The Rise of Gru," released last year.
Minions are weird and silly, but completely endearing! Despite their tendency to cause mayhem, they are ultimately good-natured and dedicated to Gru, their master.
Honestly I'd like a few minions around here. Who doesn't need a little help along with some humor? And I'm fine to have tons of bananas on hand. If only it were that easy!
For fans of our portly yellow friends, I'm excited to share over 30 patterns for minion perler beads. These patterns are cute as can be, and range from smaller to larger.
No matter what minion you'd like to make or your skill level, there's something you're going to love below, I promise! What you're going to need for sure – a bunch of yellow and blue beads.
Perler beads are recommended for six and up, so this is a very fun craft to try with your elementary age kids. All children seem to love perler beads (also known as hama beads, fuse beads, or melty beads). But don't be shy – adults love them too!
Tips for Using Perler Beads
Before we get into the Minions hama beads, I want to review a few basics of using fuse beads to make sure you get the best results. If you don't want the tips, scroll down to the bottom to get the patterns and tutorial.
Remember that the overall goal is to melt the beads together on both sides while still leaving the holes open. Here's how you achieve success (with a rainbow as an example).
Use Ironing or Parchment Paper
Place ironing paper or parchment paper over the beads on the pegboard. Be gentle so you don't disturb the beads underneath.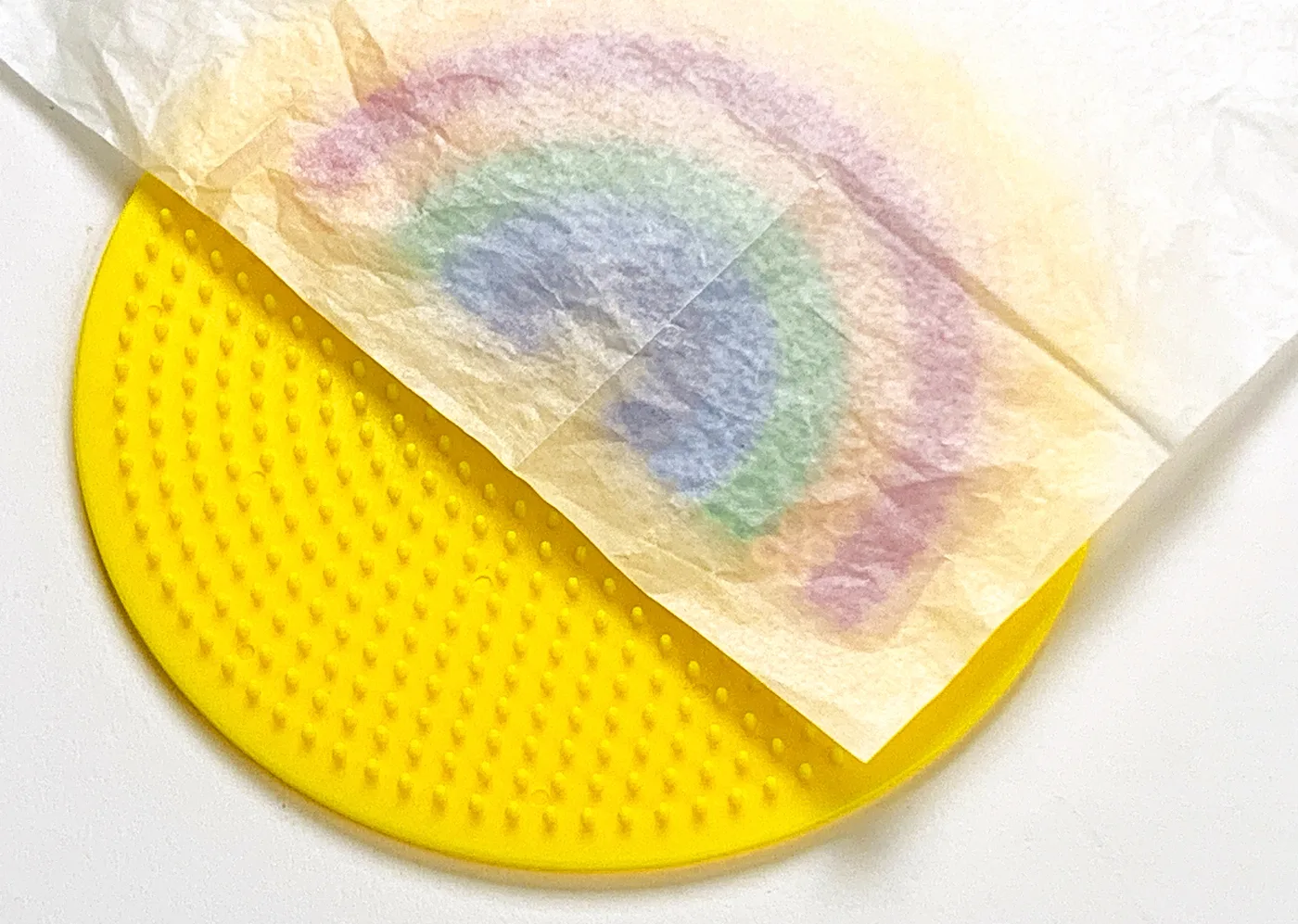 Heat your iron to the medium setting (no steam). In a circular motion, begin to iron the project. Don't press down too hard with the iron. Move the iron around in small circles.
When ironed properly, the beads will still have an open center. Check and make sure your edges are melted. Let the design cool on the pegboard.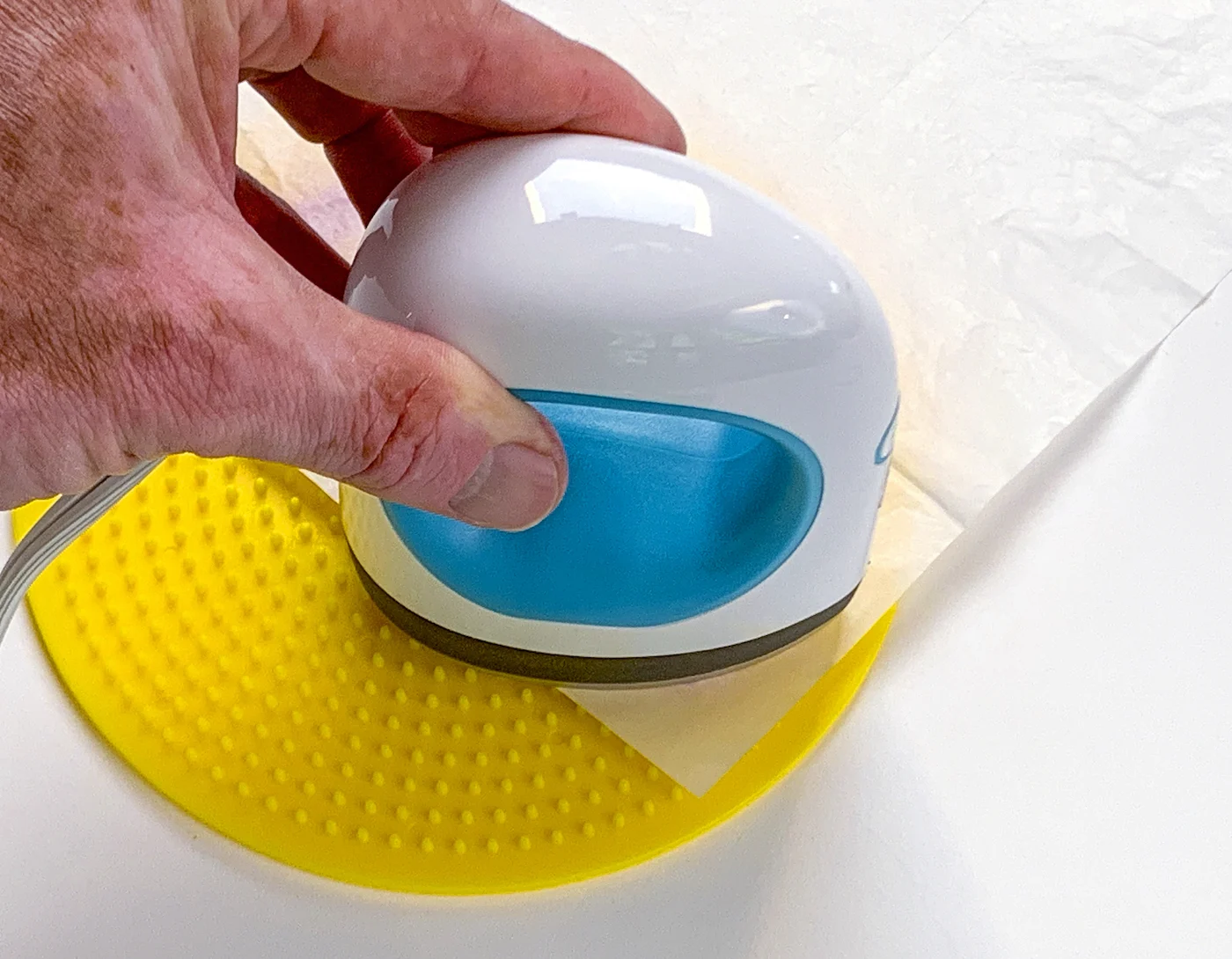 Note: BE CAREFUL about lifting up the paper while you're ironing! If you want to check, carefully peel back paper around the edge of your design and see if all the beads are melted.
If you lift the paper up quickly and there are a lot of unmelted beads, they will easily fall off or go flying and you may be forced to start over. Sometimes the edges need more time so when you check, just check the edges and peel paper back slowly.
Another Note: some beads melt faster than others (clear melts faster than white, for example). So some holes might be larger than others. It's okay! That's part of the look of the project.
Iron the Other Side
Remove the bead design from the pegboard. Flip it over to the non-melted side and repeat the fusing process.
Remove the Paper
Let cool completely and remove the paper again (which is reusable). Some people pull the paper off after they iron the first side, but I just wait until the end and peel off both pieces. It's up to you!
Now that you've had a refresher on how to melt the beads, you can get the patterns! Keep on reading.
---
Minions Perler Beads
A few of these patterns are larger than a 29 x 29 pegboard, so you'll either need a extra large pegboard (49 x 69 tall) or to put multiple square peg boards together to form a larger "canvas."
You'll see a couple of the pattern backgrounds below aren't white – that's simply to give contrast so you can see where all the white beads should go. You don't need to add the background (but you can if you want to).
In addition to square, you'll see a round pegboard. These are fun to have in your arsenal if you plan to do a lot of perler-ing.
You don't have to stick to my color choices. A lot of times I just use what I have on hand, so feel free to customize.
I typically start with easier, smaller patterns in my list and then move on to the more difficult ones. If you're looking for something a bit more advanced, just keep scrolling!
Small Minions
Get both a single eye and double eyed Minion pattern.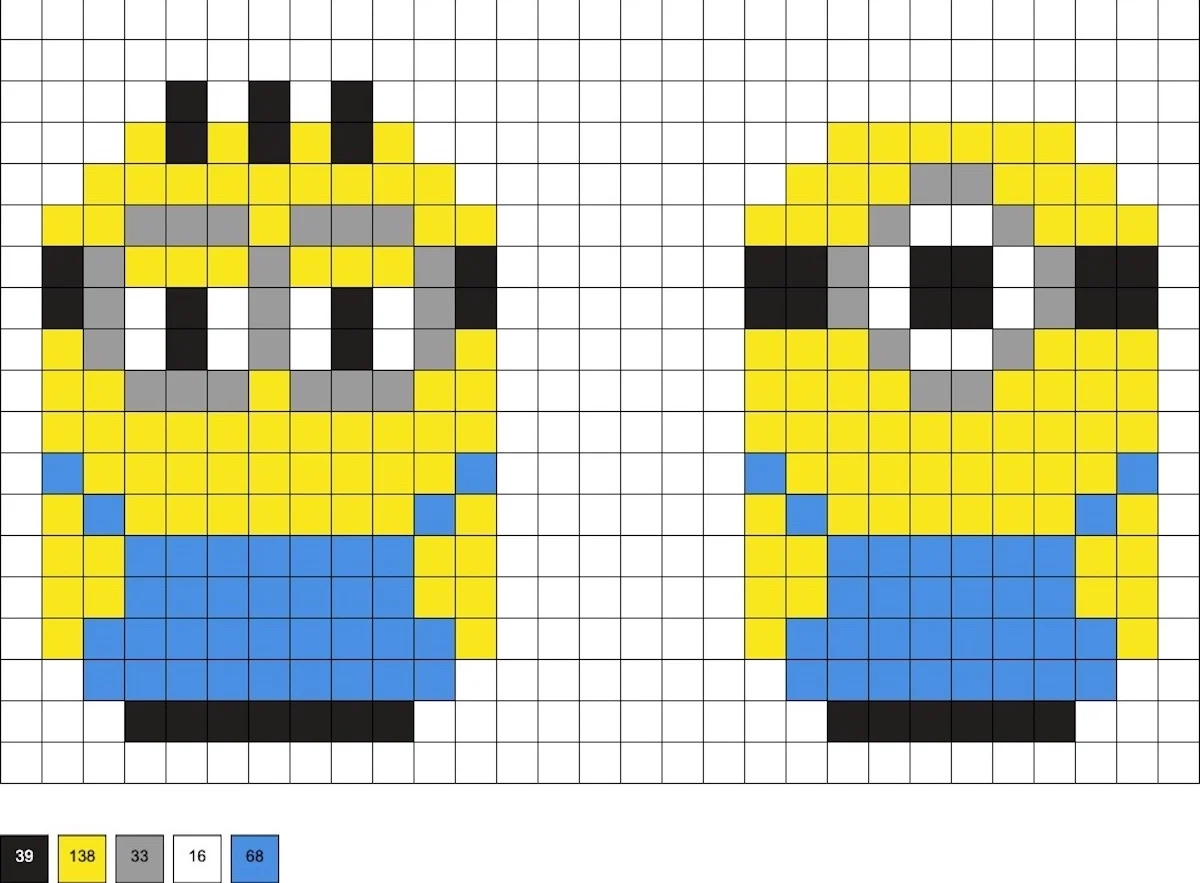 ---
Set of Minions
---
Standing Minions
These patterns use 138 yellow, 26 gray, 14 white, 60 black, and 80 cobalt beads.
---
Four Heads
These are great for magnets! They use 299 yellow, 137 gray, 111 black, and 86 cheddar beads.
---
Tall and Short
These patterns use 7 dark gray, 2 clear, 193 yellow, 39 gray, 54 black, 20 white, 71 light blue, 4 cobalt, and 12 pastel blue beads.
---
Carl
This pattern uses 82 yellow, 14 gray, 4 light gray, 34 black, 6 white, 55 light blue, 2 cobalt, and 6 pastel blue beads.
---
Evil Minion
This pattern uses 126 pastel lavender, 20 gray, 20 white, and 78 black beads.
---
Phil
This pattern uses 32 black, 134 yellow, 18 gray, 16 white, 6 pink, and 75 cobalt beads.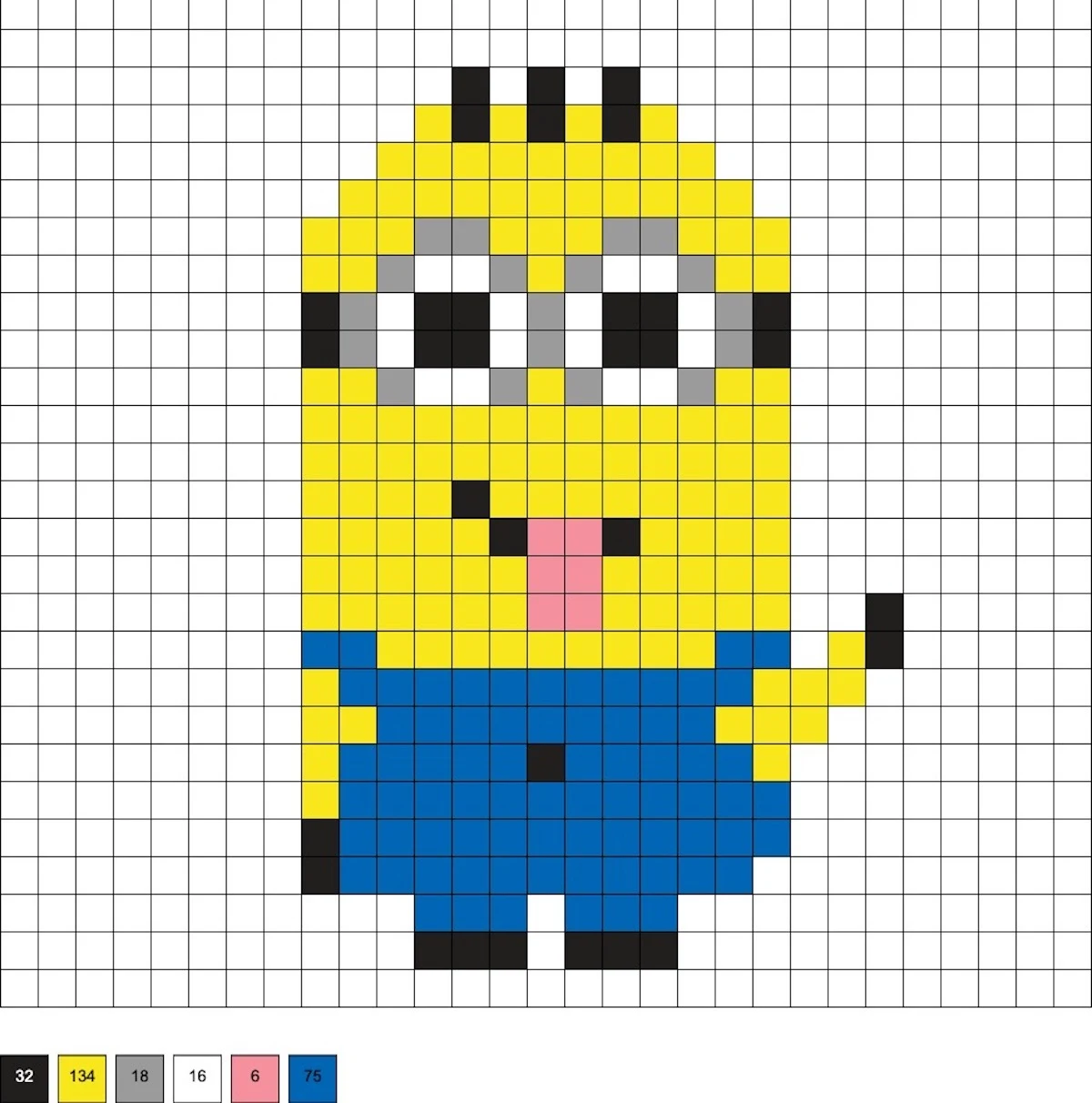 ---
Kicking Ninja
This pattern uses 48 black, 39 cheddar, 48 yellow, 12 gray, 8 white, 70 light blue, and 6 cobalt beads.
---
Maid Phil and Baby
These patterns use 118 white, 102 yellow, 28 gray, 73 black, 9 red, and 1 orange bead.
---
Hula Minion and Santa Minion
These patterns use 5 purple, 5 orange, 5 cobalt, 5 pink, 5 red, 59 cherry, 133 yellow, 41 white, 28 gray, 58 black, 28 brown, 2 fawn, 19 bright green, and 9 kiwi lime beads.
---
Large Maid Phil
This pattern uses 110 white, 108 yellow, 36 gray, and 126 black beads.
---
Large Evil Minion
This pattern uses 208 purple, 20 gray, 28 white, and 134 black beads.
---
Baby Phil
This pattern uses 23 cobalt, 179 white, 24 gray, 25 black, 57 yellow, and 24 red beads.
---
Stuart Dressed Like a Girl
This pattern uses 70 orange, 123 yellow, 20 gray, 57 white, 41 black, and 91 lagoon beads.
---
Carl with a Megaphone
This pattern uses 55 red, 155 yellow, 90 gray, 20 white, 30 black, 29 light gray, 92 light blue, and 8 pastel blue beads.
---
Tim Dressed as Dad
This pattern uses 58 brown, 24 gingerbread, 88 yellow, 24 gray, 38 black, 16 white, 104 dark blue, 9 pastel blue, and 9 plum beads.
---
Minion Bow and Round Head
The pattern on the left is a fancy Minion-themed bow tie! The pattern on the right uses a large circle pegboard.
---
Rocket Launcher
This pattern uses 172 yellow, 41 gray, 24 white, 92 black, 12 red, 89 cobalt, and 3 dark gray beads.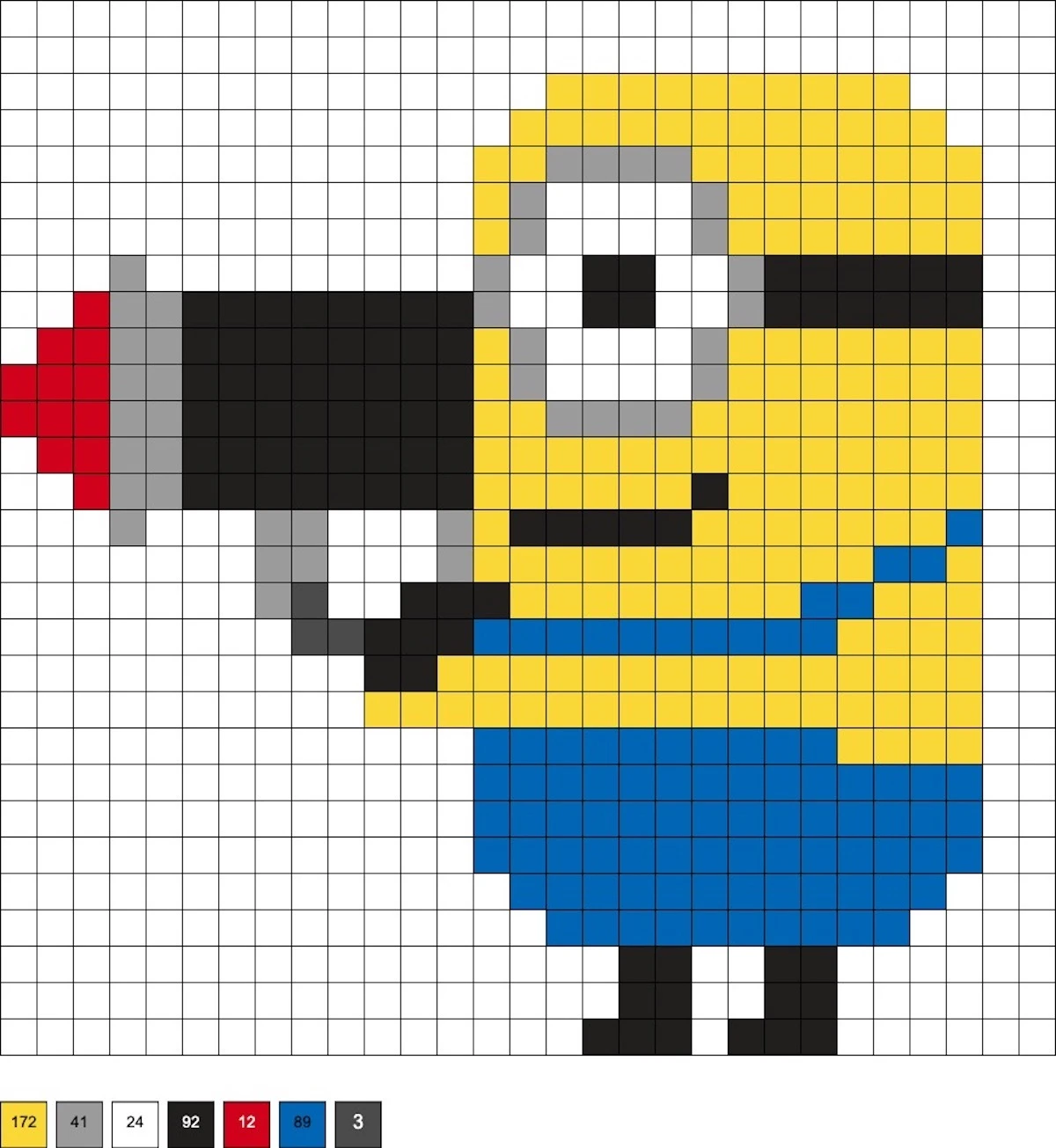 ---
Grass Skirt Minion
This pattern uses 153 white, 5 shamrock, 5 red, 5 dark blue, 5 cheddar, 5 fuchsia, 24 gray, 39 dark gray, 16 white, 30 brown, and 98 bright green beads.
---
Large Evil Minion
This pattern uses 196 purple, 130 pastel lavender, 92 dark gray, 20 white, 34 black, and 4 red beads.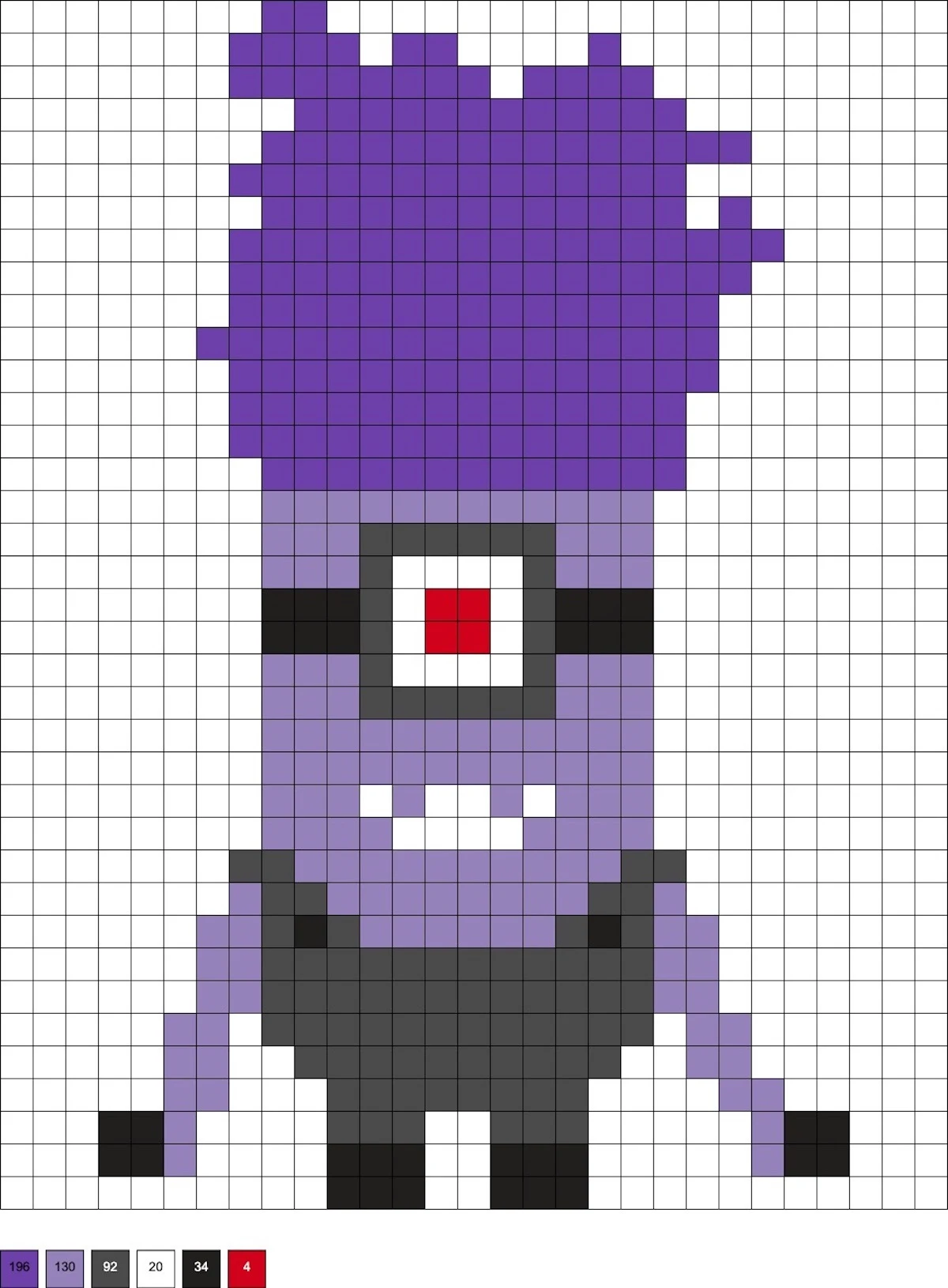 ---
(Almost) Square Minion Face
This pattern uses 594 yellow, 88 gray, 82 white, 61 black, and 16 gingerbread beads.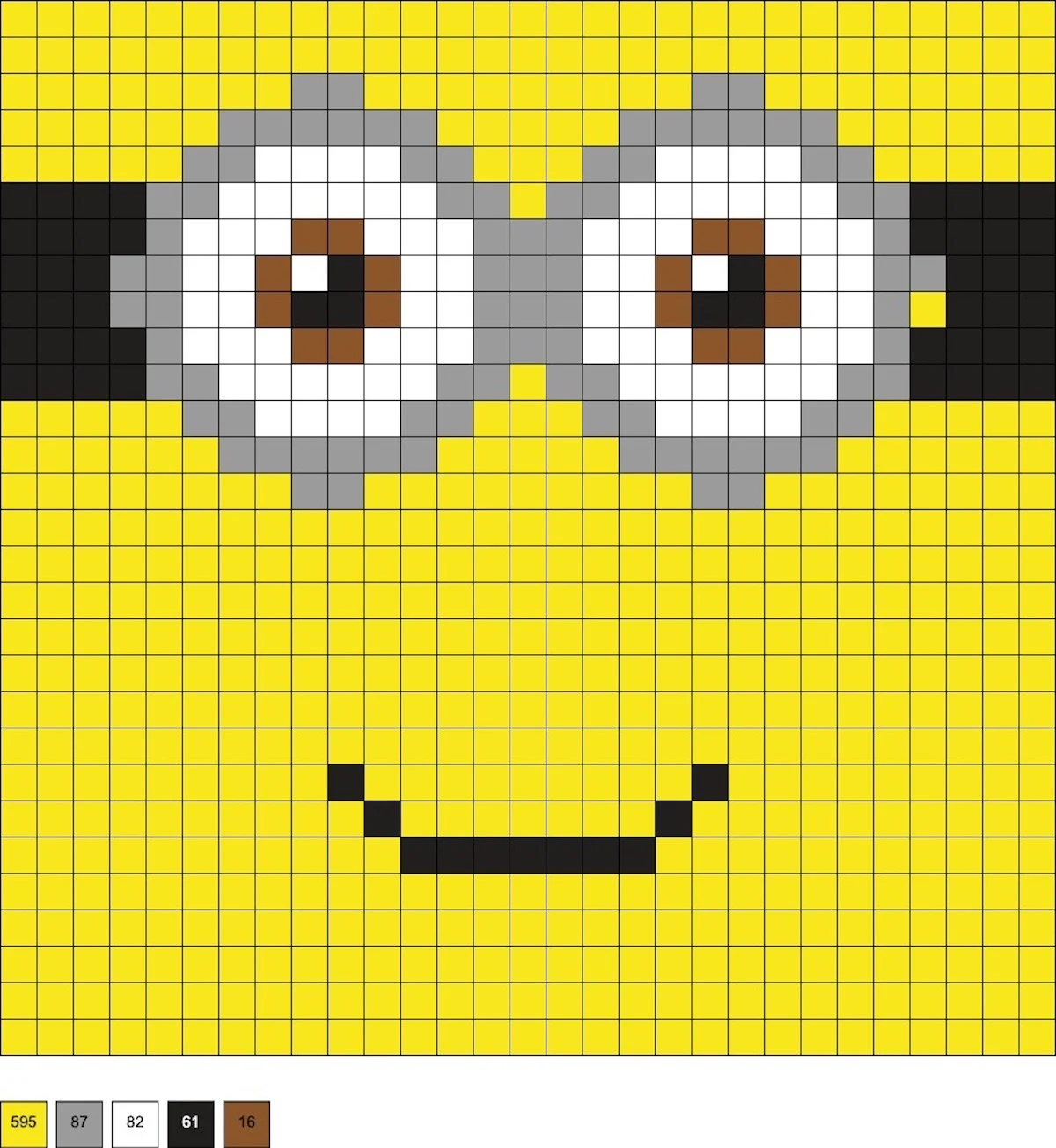 ---
All Eyes on Bob
This pattern uses 154 yellow, 82 gray, 44 white, 8 shamrock, 8 rust, 94 black, 152 cobalt, and 8 pastel blue beads.
---
Large Minion
This pattern uses 161 black, 91 pastel yellow, 254 yellow, 48 gray, 8 sherbert, 14 dark brown, 36 white, 9 red, 148 light blue, 75 cobalt, 4 honey, and 2 light gray beads.
---
Large Stuart
This pattern uses 152 black, 227 yellow, 103 cheddar, 40 light gray, 34 gray, 70 white, 8 gingerbread, 218 light blue, 44 cobalt, 8 dark blue, and 4 dark gray beads.
---
If you liked these Minions perler beads, let me know in the comments! I'd also love for you to check out these other posts:
4th of July • Among Us • Animal • Baby Yoda • Batman • Birds • Bluey • Bob Ross • Butterflies • Care Bears • Cat • Christmas • Christmas Trees • Coasters • Dinosaur • Dog • Dragon • Easter • Emoji • Fairy & Gnome • Flowers • FNAF • Food • Frog • Halloween • Harry Potter • Hearts • Hello Kitty • Kuromi • Letters • Mickey Mouse • Minecraft • Mother's Day • Mushrooms • Panda • Penguin • Pokemon • Pumpkins • St. Patrick's Day • Sanrio • Santa • Skulls • Sonic • Spiders • Spider Man • Stars • Star Wars • Star Wars Hello Kitty • Stitch • Summer • Super Mario • Superhero • Thanksgiving • Unicorn • Valentine's Day