Get 14 patterns for Among Us perler beads! There are a variety of options perfect for anyone who loves this multiplayer video game.
Have you ever played Among Us? If you're here I'm assuming the answer is yes. But if you're trying to learn more about it, Among Us is "a party game of teamwork and betrayal."
It's a game for 4 – 15 players, and up to three players are chosen to be "Imposter(s)." The goal is for the Crewmates to find and get rid of the Imposters before they kill all the crew members.
You get assigned tasks in the form of minigames and minipuzzles. Yes it's safe for kids, and honestly it reminds me of growing up in a house as the oldest sister of four boys.
None of us were ever trying to kill the other, but there was always someone trying to . . . undermine another sibling. Especially during "minigames" (ie., chores) assigned by my parents. While wearing fancy hats. Okay, not really.
Anyway, Among Us is a game for ages 10+ and my niece loves it! Since we've been trying ALL the perler bead patterns lately, we decided to add these to our repertoire.
Perler beads are recommended for ages six and up, so this is a very fun craft to try with kids. They love perler beads (also known as hama beads, fuse beads, or melty beads). But don't be shy – adults love them too!
Tips for Using Perler Beads
Before we get into the patterns, I want to review a few basics of using fuse beads to make sure you get the best results. If you don't want the tips, scroll down to the bottom to get the Among Us perler bead patterns.
Remember that the overall goal is to melt the beads together on both sides while still leaving the holes open. Here's how you get the best results (with a rainbow as an example).
Use Ironing or Parchment Paper
Place ironing paper or parchment paper over the beads on the pegboard. Be gentle so you don't disturb the beads underneath.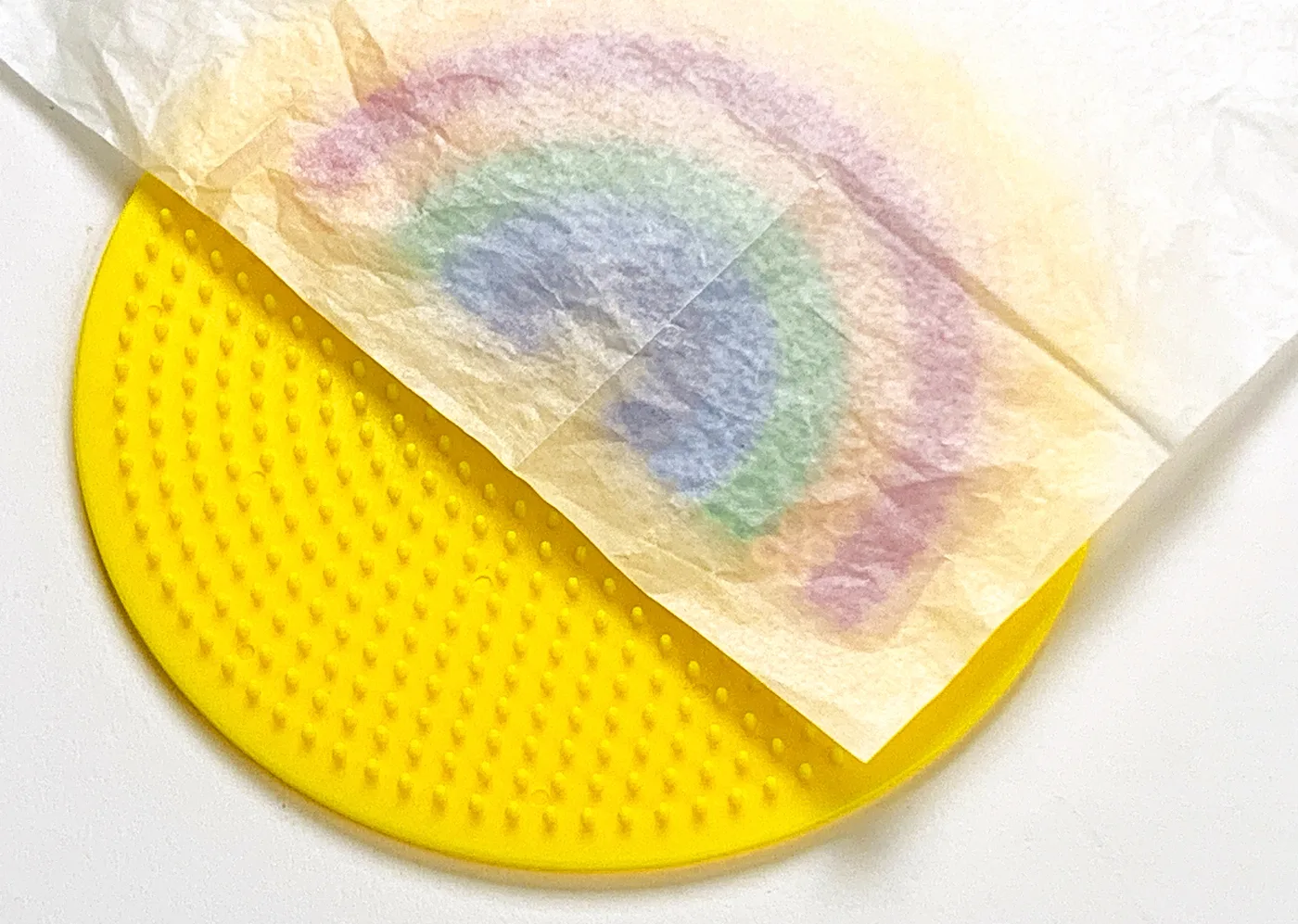 Heat your iron to the medium setting (no steam). In a circular motion, begin to iron the project. Don't press down too hard with the iron. When ironed properly, the beads will still have an open center. Check and make sure your edges are melted. Let the design cool on the pegboard.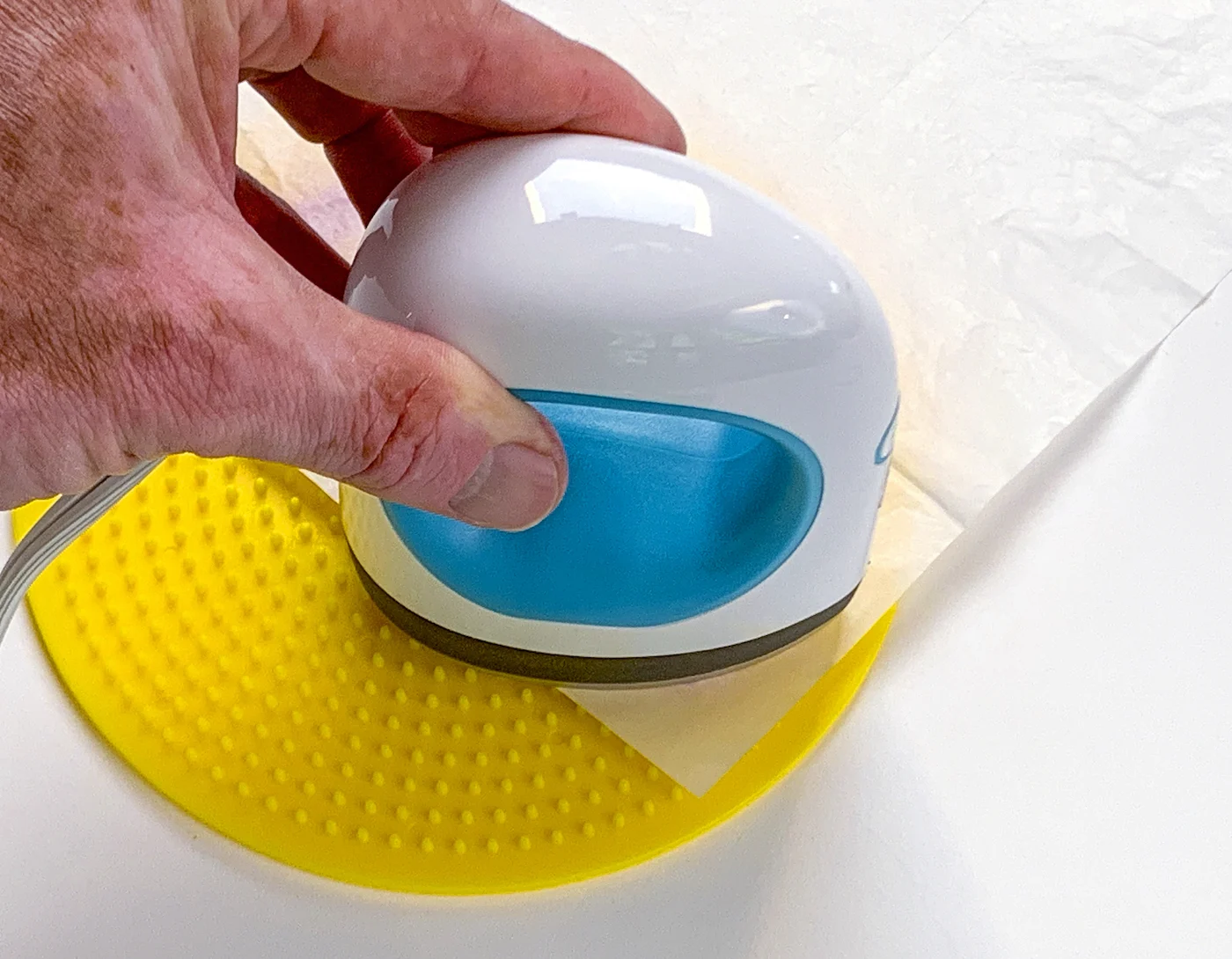 Note: BE CAREFUL about lifting up the paper while you're ironing! If you want to check, carefully peel back paper around the edge of your design and see if all the beads are melted.
If you lift the paper up quickly and there are a lot of unmelted beads, they will easily fall off or go flying and you may be forced to start over. Sometimes the edges need more time so when you check, just check the edges and peel paper back slowly.
Another Note: some beads melt faster than others (clear melts faster than white, for example). So some holes might be larger than others. It's okay! That's part of the look of the project.
Iron the Other Side
Remove the bead design from the pegboard. Flip it over to the non-melted side and repeat the fusing process.
Remove the Paper
Let cool completely and remove the paper again (which is reusable). Some people pull the paper off after they iron the first side, but I just wait until the end and peel off both pieces. It's up to you!
Now if you're ready for the Among Us perler beads, here are the patterns.
Among Us Hama Beads
The patterns below use a regular 5.7″, 29 x 29 pegboard.
Pink with Flower Hat
This pattern uses 106 black, 25 blue, 4 cheddar, 5 lime, 55 pink, 7 gray, 5 mist, 3 white, and 47 light pink beads.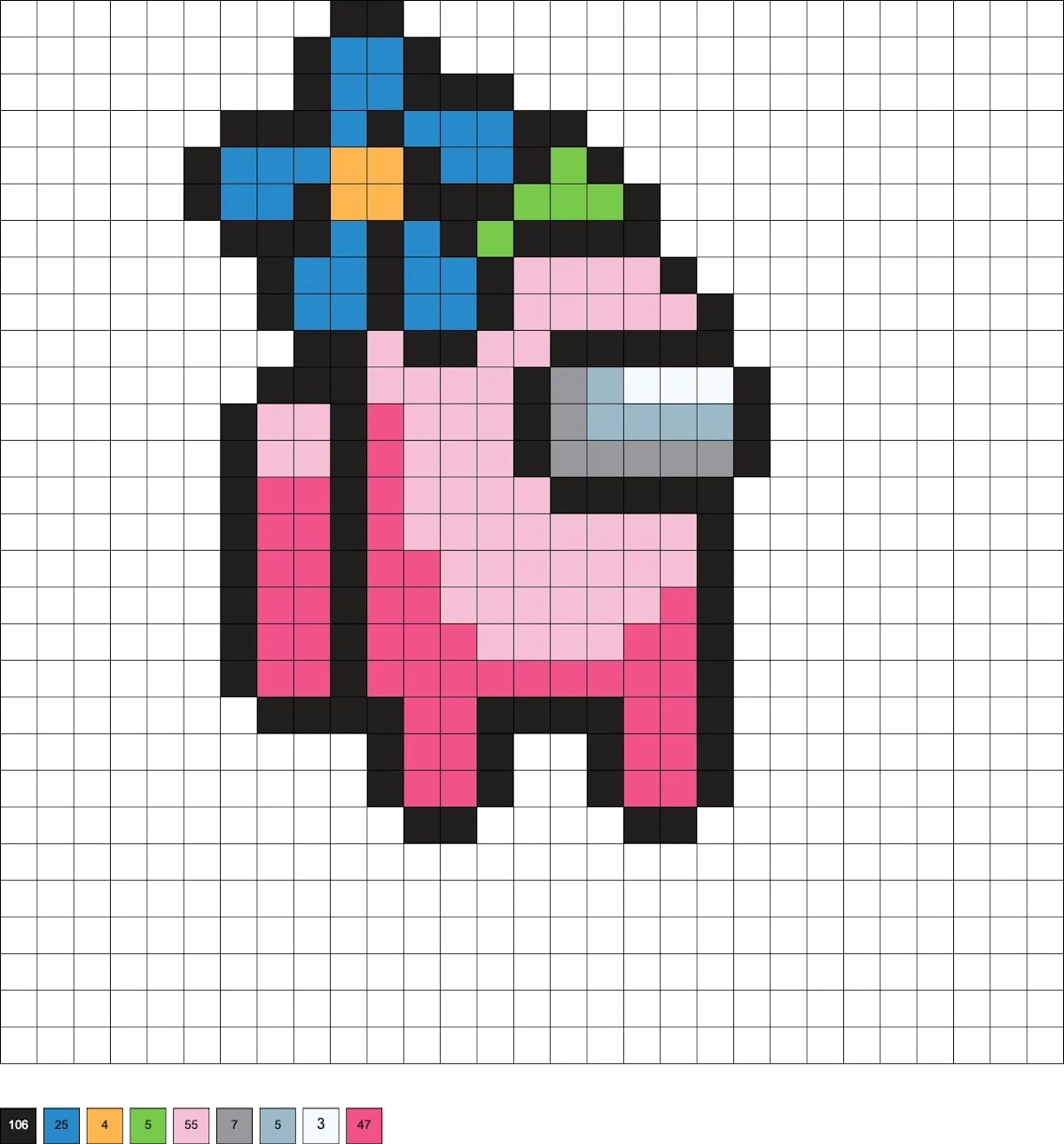 ---
Among Us on Top of Among Us
This pattern uses 116 black, 81 bubble gum, 9 mist, 5 white, 64 raspberry, and 7 gray beads.
---
Red with Viking Hat
This pattern uses 106 black, 15 white, 16 brown, 10 honey, 62 hot coral, 7 gray, 5 mist, and 47 red beads.
---
Orange with Toilet Paper Roll
This pattern uses 115 black, 39 white, 21 gray, 58 orange, 5 mist, and 47 tangerine beads.
---
Yellow with a Heart Headband
This pattern uses 26 magenta, 86 black, prickly pear, 7 gray, 5 mist, 3 white, and 47 yellow beads.
---
Lime Green with Banana Peel Hat
This pattern uses 104 black, 43 yellow, 47 sour apple, 7 gray, 5 mist, 3 white, and 47 kiwi lime beads.
---
Green with Plunger Hat
This pattern uses 101 black, 12 flesh, 18 rust, 8 red, 64 kiwi lime, 7 gray, 5 mist, 3 white, and 45 shamrock beads.
---
Cyan with Party Hat
This pattern uses 97 black, 13 orange, 12 yellow, 10 white, 58 light green, 7 gray, 5 mist, and 47 parrot green beads.
---
Blue with Flamingo Pool Float Hat
This pattern uses 106 black, 25 magenta, 4 flamingo, 10 gray, 58 robin's egg, 5 mist, 3 white, and 47 pastel blue.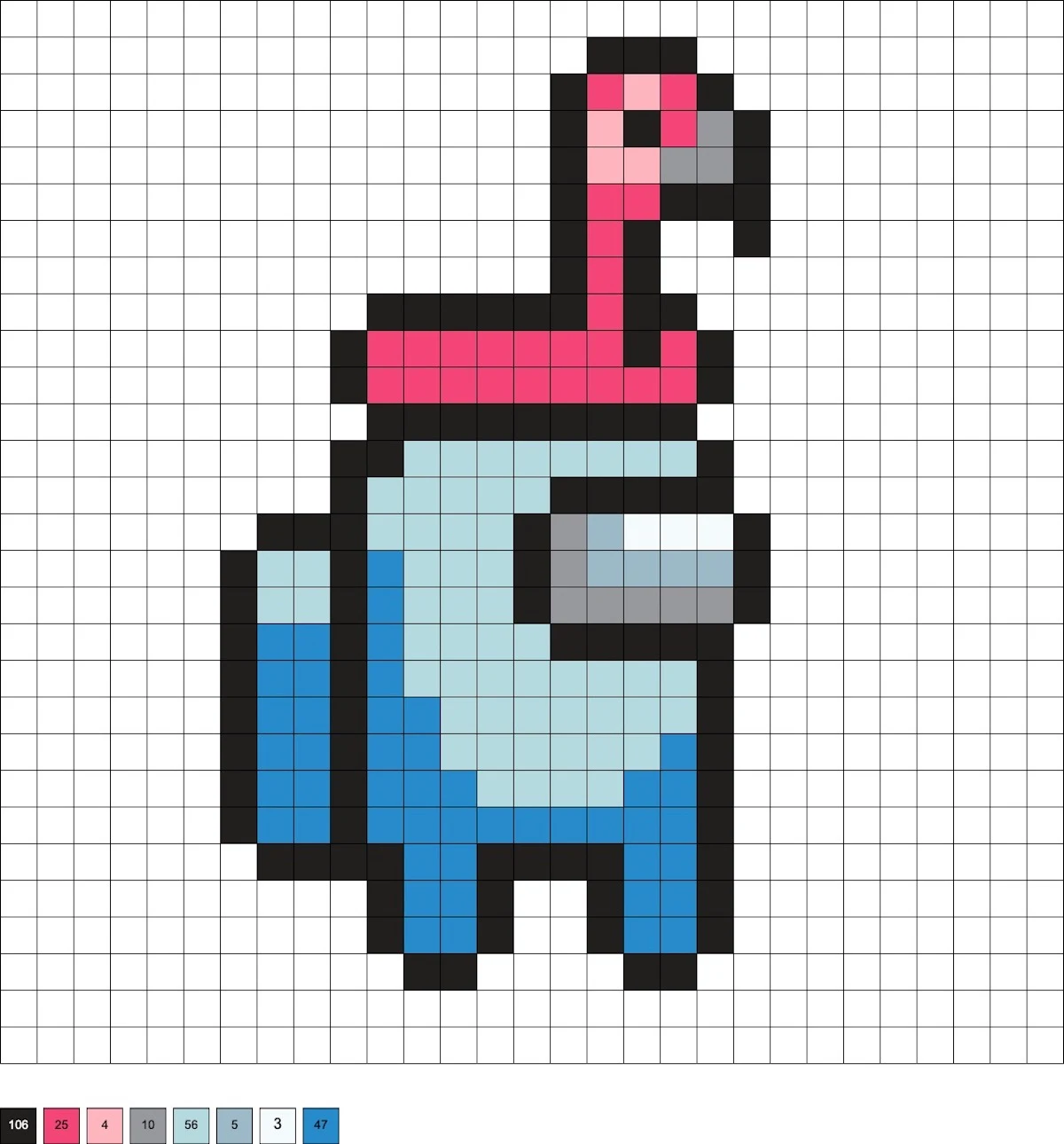 ---
Blue with Egg Hat
This pattern uses 6 cheddar, 23 white, 48 light blue, 7 gray, 5 mist, and 47 cobalt beads.
---
Purple with Green Slime Hat
This pattern uses 101 black, 36 green, 14 white, 55 light lavender, 7 gray, 5 mist, and 47 purple beads.
---
Brown Teddy Bear
This pattern uses 93 black, 57 brown, 68 light brown, 7 gray, 5 mist, and 3 white beads.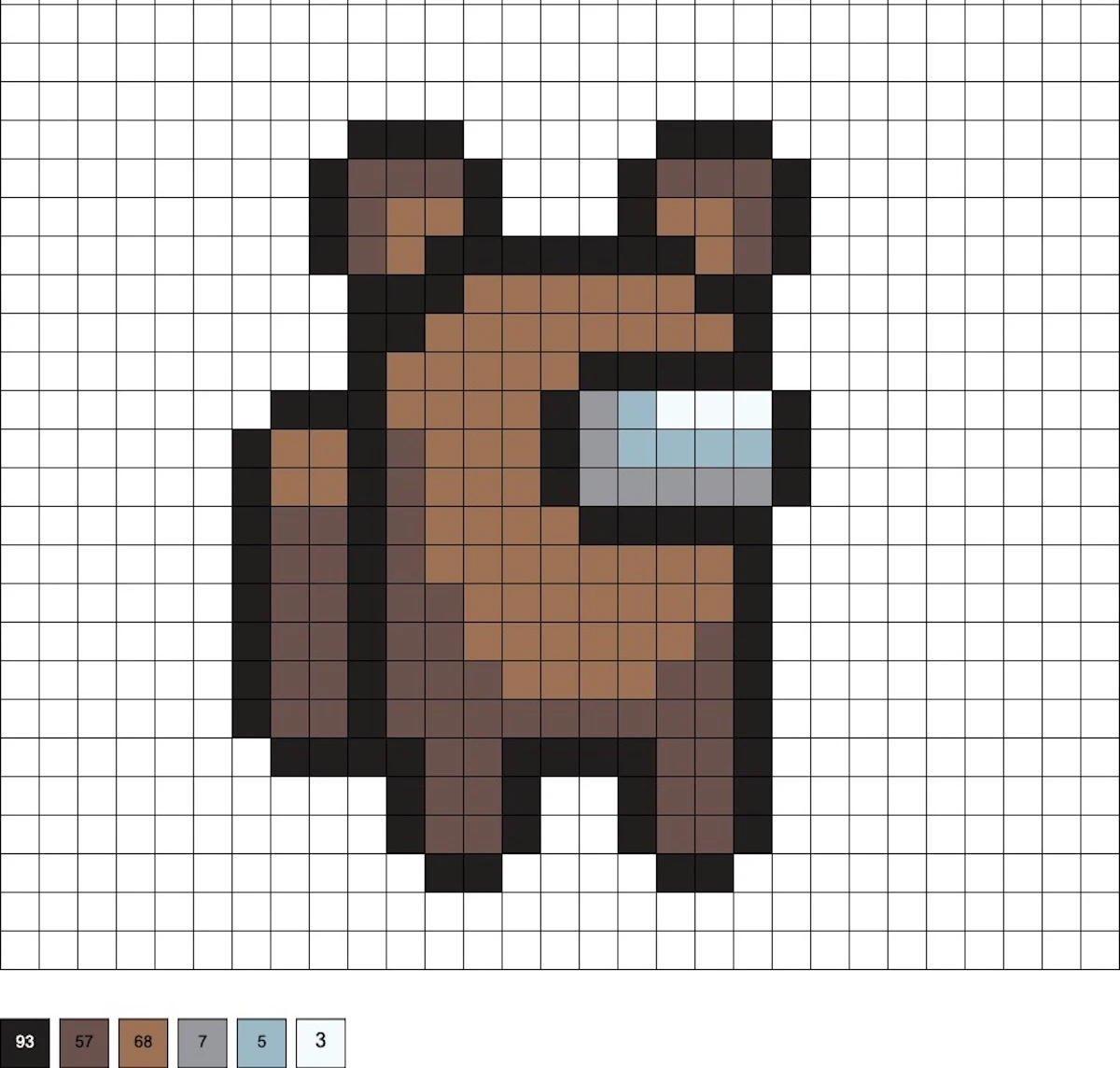 ---
Gray with Jason Mask
This pattern uses 109 black, 9 light gray, 28 gray, 27 white, and 43 dark gray beads.
---
White with Cherry Hat
This pattern uses 88 black, 64 white, 15 red, 54 gray, 5 mist, and 3 light gray (for the visor).
---
If you enjoyed these Among Us hama beads, I'd love for you to check out these other patterns:
4th of July • Animal • Baby Yoda • Batman • Birds • Bluey • Bob Ross • Butterflies • Care Bears • Cat • Christmas • Christmas Trees • Coasters • Dinosaur • Dog • Dragon • Easter • Emoji • Fairy & Gnome • Flowers • FNAF • Food • Frog • Halloween • Harry Potter • Hearts • Hello Kitty • Kuromi • Letters • Mickey Mouse • Minecraft • Minions • Mother's Day • Mushrooms • Panda • Penguin • Pokemon • Pumpkins • Rainbow • St. Patrick's Day • Sanrio • Santa • Skulls • Sonic • Spiders • Spider Man • Stars • Star Wars • Star Wars Hello Kitty • Stitch • Summer • Super Mario • Superhero • Thanksgiving • Unicorn • Valentine's Day