Get over 30 patterns for Mickey Mouse perler beads (and friends)! There are a variety of Disney characters along with the classic mouse.
Oh Mickey, you're so fine, you're so fine you blow my mind . . oh Mickey! Sorry I couldn't help it. Did I annoy you with my Toni Basil?
Because I annoyed my niece with it when we did these Mickey Mouse perler beads together, and I kept singing it in her face.
AND boring her with stories of how myself, her grandparents, and my brothers (including her father) went to Disney World in the 80s and wore Goofy hats.
But are you even really someone's niece if you don't have to listen to their boring family stories?
The point was, I absolutely have fond memories of Disney, so it was really fun to do these fuse beads with her!
My niece enjoys Disney, though she hasn't been to any theme parks yet. Another niece of mine got to go for her fifth birthday, and she absolutely loved it.
Because who doesn't love Disney? And frankly . . . who doesn't love perler beads!
The day that we made these, we tried a bunch of patterns together. We love Mickey Mouse hama beads, and I'm excited to share them with you today! There are several patterns on my list, and they're all free for you to try.
Of course you've got Mickey, but then you've also got Minnie, Pluto, Goofy, Donald, and Daisy. You can't forget his friends! I hope you like them. PS – check out our Mickey Mouse tray too!
Perler beads are recommended for ages six and up, so this is a very fun craft to try with your kids. They love perler beads (also known as hama beads, fuse beads, or melty beads). But don't be shy – adults love them too!
Tips for Using Perler Beads
Before we get into the patterns, I want to review a few basics of using fuse beads to make sure you get the best results. If you don't want the tips, scroll down to the bottom to get the Disney perler bead patterns.
Remember that the overall goal is to melt the beads together on both sides while still leaving the holes open. Here's how you get the best results (with a rainbow as an example).
Use Ironing or Parchment Paper
Place ironing paper or parchment paper over the beads on the pegboard. Be gentle so you don't disturb the beads underneath.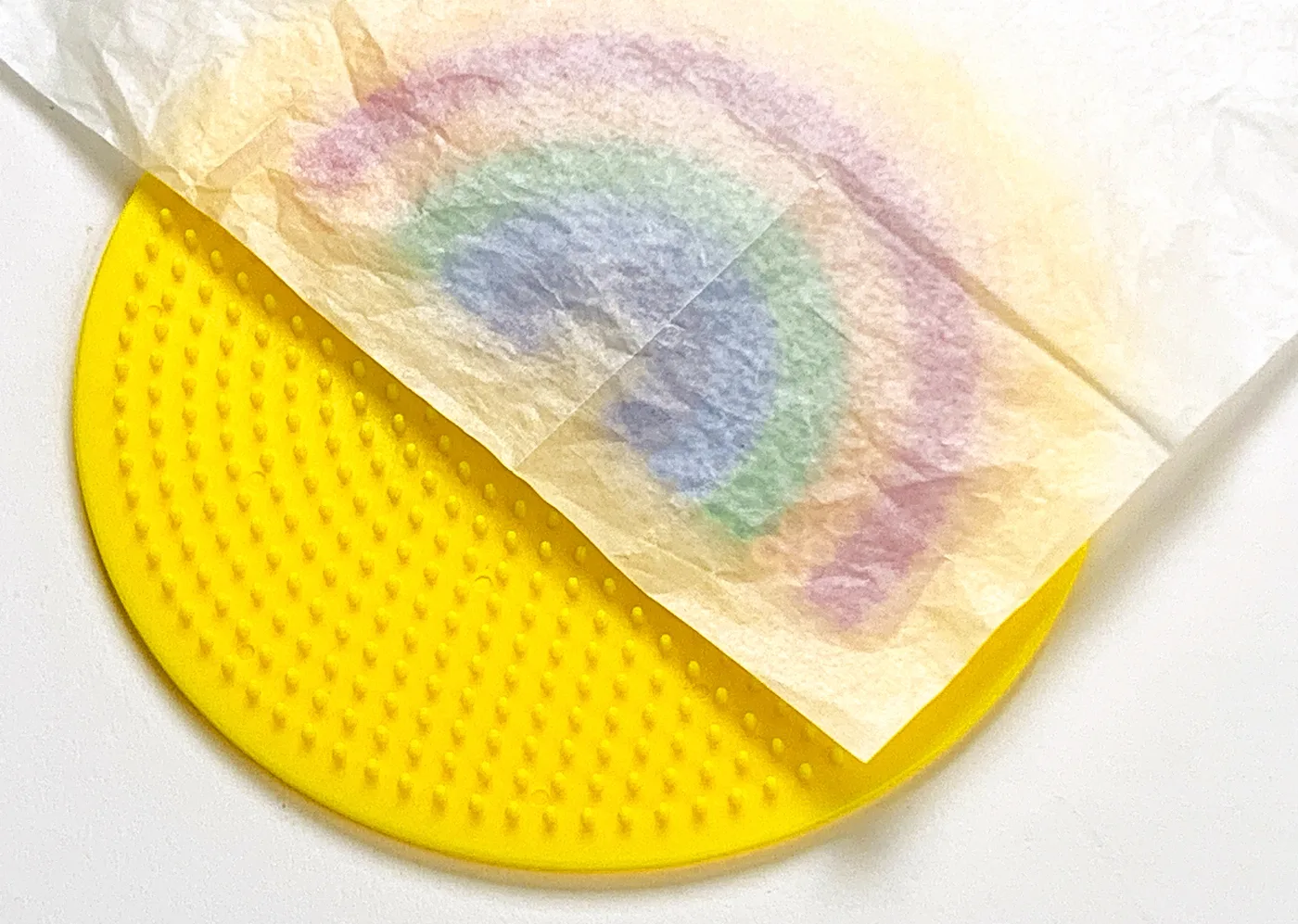 Heat your iron to the medium setting (no steam). In a circular motion, begin to iron the project. Don't press down too hard with the iron.
When ironed properly, the beads will still have an open center. Check and make sure your edges are melted. Let the design cool on the pegboard.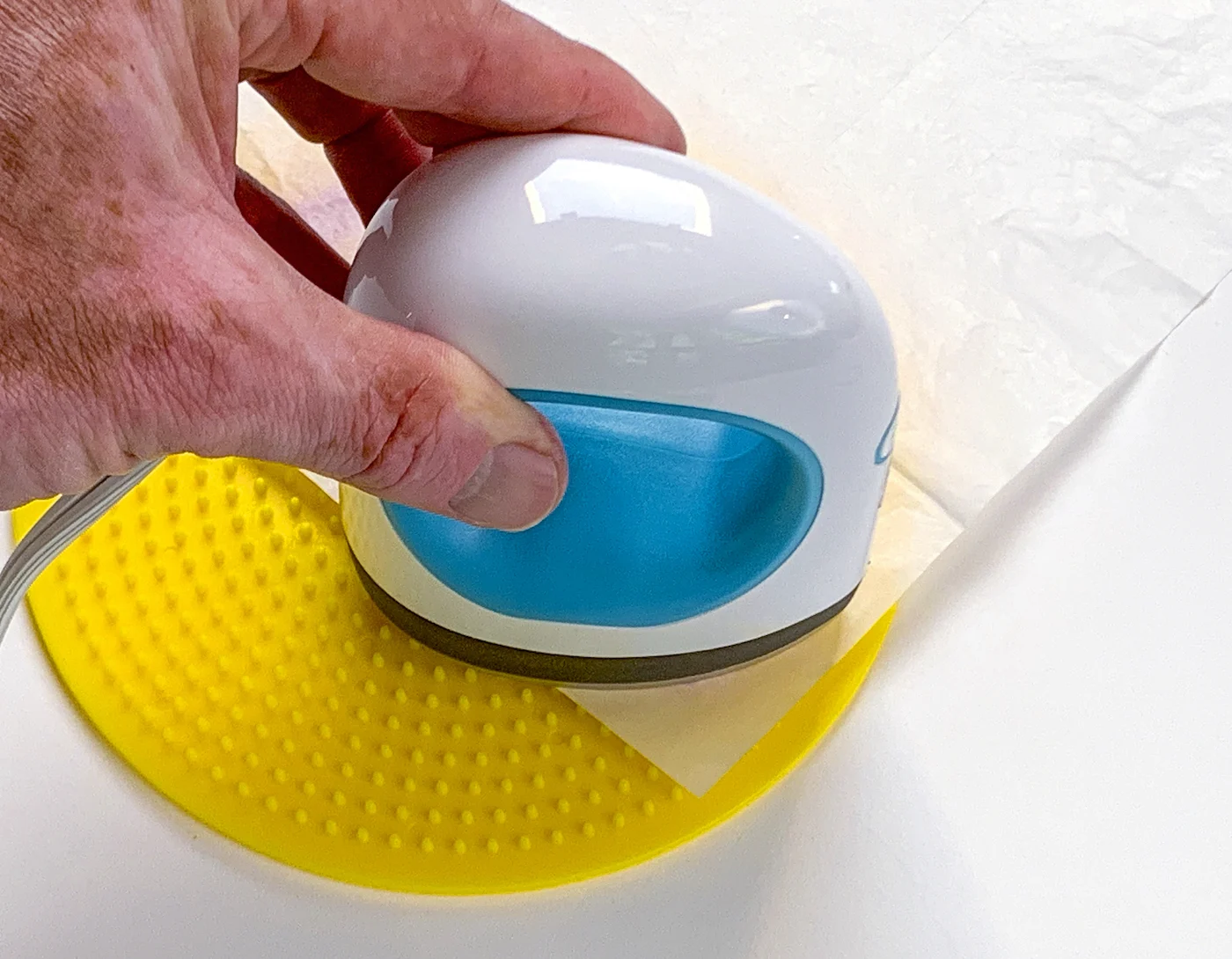 Note: BE CAREFUL about lifting up the paper while you're ironing! If you want to check, carefully peel back paper around the edge of your design and see if all the beads are melted.
If you lift the paper up quickly and there are a lot of unmelted beads, they will easily fall off or go flying and you may be forced to start over.
Sometimes the edges need more time so when you check, just check the edges and peel paper back slowly.
Another Note: some beads melt faster than others (clear melts faster than white, for example). So some holes might be larger than others. It's okay! That's part of the look of the project.
Iron the Other Side
Remove the bead design from the pegboard. Flip it over to the non-melted side and repeat the fusing process.
Remove the Paper
Let cool completely and remove the paper again (which is reusable). Some people pull the paper off after they iron the first side, but I just wait until the end and peel off both pieces. It's up to you!
Now if you're ready for the Mickey Mouse perler beads, here are the patterns.
---
Mickey Mouse Hama Beads
Note: A few of these patterns are larger than a 29 x 29 pegboard, so you'll either need a extra large pegboard (49 x 69 tall) or to put four square pegboards together (or two depending on how wide the pattern is).
Mickey and Minnie Mouse Heads
These heads use 223 black, 67 pink, 60 red, and 29 white beads.
---
Mini Disney Perler Heads
Uses 161 black, 16 red, 38 yellow, 72 flesh, 14 blue, 19 pink, 46 white, 16 gray, 37 honey, and 7 lime green beads.
---
Mickey Mouse Head
Uses 159 black, 86 flesh, and 8 white beads.
---
Minnie Mouse Head
Uses 173 black, 16 white, 17 pink, and 73 flesh beads.
---
Mickey Mouse Front Facing
Uses 265 black, 116 flesh, 13 white, and 3 red beads.
---
Minnie Mouse Front Facing
Uses 210 black, 67 red, 58 white, and 112 flesh beads.
---
Standing Mickey Mouse
Uses 134 black, 42 flesh, 60 white, 30 red, and 74 yellow beads.
---
Mini Disney Characters
Uses 17 pink, 169 black, 24 blue, 90 orange, 112 white, 48 red, 17 purple, 14 green, 21 yellow, 70 flesh, and 3 dark pink beads.
---
Steamboat Mickey
Uses 461 transparent turquoise, 351 midnight, 167 toasted marshmallow, 55 mint, and 22 denim beads.
---
Steamboat Minnie
Uses 364 transparent turquoise, 388 midnight, 197 toasted marshmallow, 99 mint, and 8 denim beads.
---
Frame with Ears
This is a 3.5″ x 5″ frame. Uses 192 black, 48 white, 226 red, and 24 yellow beads.
---
Frame with Ears and Bow
This is a 3.5″ x 5″ frame. Uses 164 black, 240 pink, and 82 white beads.
---
Round Mickey and Minnie Mouse
The next six patterns use large round boards, with the straight row oriented vertically. These are great for using as coasters.
---
Round Donald and Daisy Duck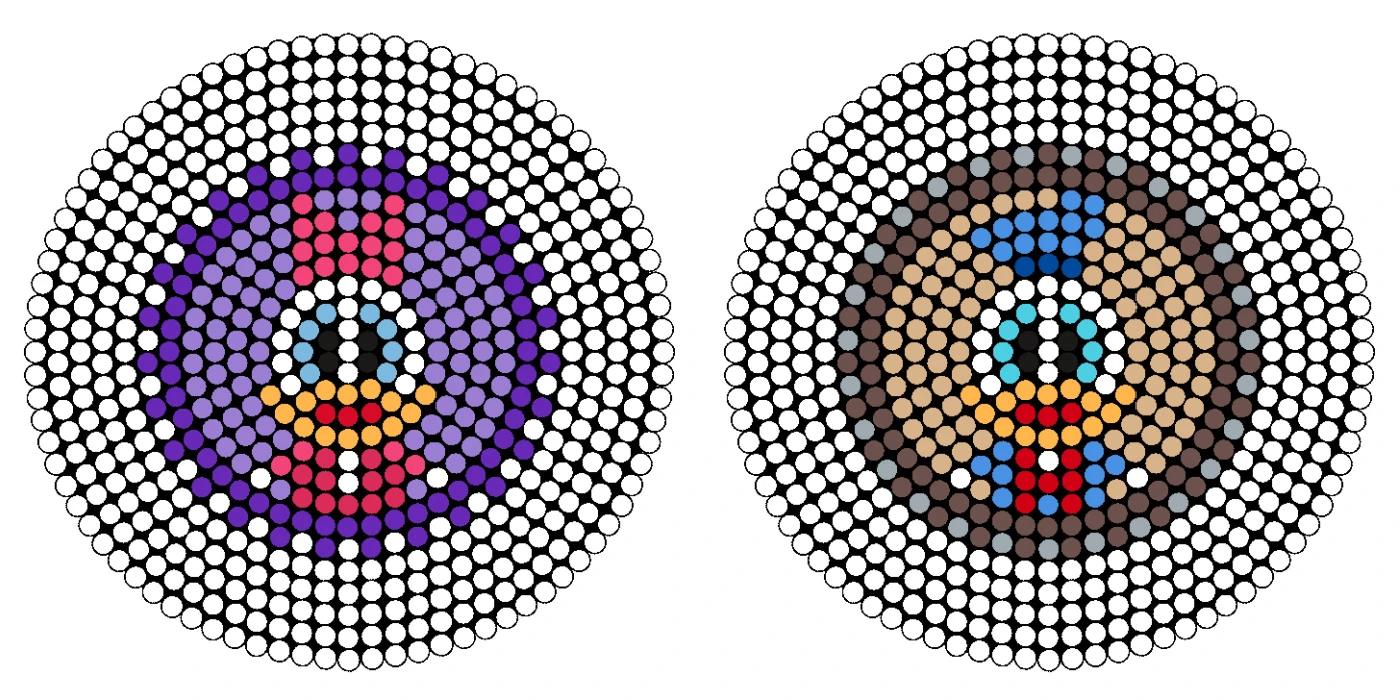 ---
Round Pluto and Goofy
---
Did you enjoy these Mickey Mouse hama beads? Let me know in the comments! I'd love for you to check out these other posts:
4th of July • Among Us • Animal • Baby Yoda • Batman • Birds • Bluey • Bob Ross • Butterflies • Care Bears • Cat • Christmas • Christmas Trees • Dinosaur • Dog • Dragon • Easter • Emoji • Fairy & Gnome • Flowers • FNAF • Food • Frog • Halloween • Harry Potter • Hearts • Hello Kitty • Kuromi • Letters • Minecraft • Minions • Mother's Day • Mushrooms • Panda • Penguin • Pokemon • Pumpkins • St. Patrick's Day • Sanrio • Santa • Skulls • Sonic • Spiders • Spider Man • Stars • Star Wars • Star Wars Hello Kitty • Stitch • Summer • Super Mario • Superhero • Thanksgiving • Unicorn • Valentine's Day