Get over 50 patterns for cute cat perler beads! There are a variety of options perfect for anyone who loves felines, including kids.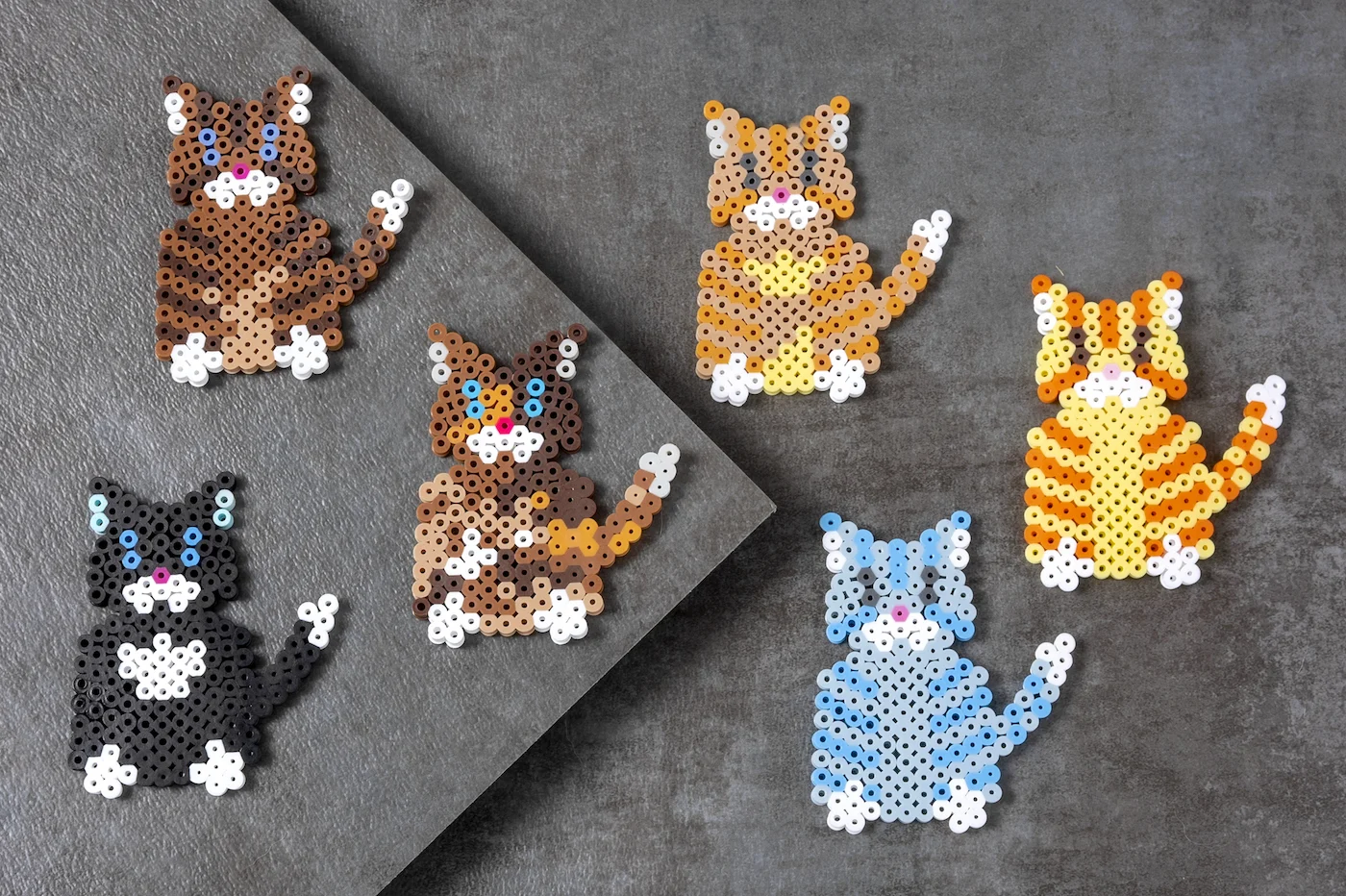 Growing up we didn't have any cats. We had dogs here and there, and hamsters. At one point there was even a hedgehog.
But never a cat, because my youngest brother and dad were really allergic.
SO by default I was always a dog person, just because that's what I grew up with. And then something funny happened when we (myself and my four brothers) were all moved out.
TWO of my brothers are cat people!
I never expected that to happen. But felines are their thing, and I respect it. And as a tribute to my brothers, I wanted to share some cute cat perler bead patterns here with you today!
We've been obsessed with perler beads lately, so we've been trying ALL sorts of animal patterns around here. Cats have just been part of the fun!
I asked my brother with three cats what his top three favorite things about them are. As someone who never has owned a cat, I wanted to know . . . and then share with you:
The cuddling time
They are low maintenance
They have unique personalities
What do you think of his top three things? Are they yours too?
Whatever you love about kitties, I know you're going to love these cat hama bead patterns.
There are a TON of them for a variety of skill levels or child ages. There are cats in all sorts of positions, and kittens, and all the colors you could imagine!
Before the patterns, I wanted to share my perler bead tips for success. If you know how to use them, scroll down past this section.
Tips for Using Perler Beads
Perler beads are recommended for ages six and up, so it's a very fun craft to try with your kids.
They love perler beads (also known as hama beads, fuse beads, or melty beads). But don't be shy – adults love them too!
Before we get into the patterns, I want to review a few basics of using fuse beads to make sure you get the best results.
If you don't want the tips, scroll down to the bottom to get the cat perler bead patterns.
Remember that the overall goal is to melt the beads together on both sides while still leaving the holes open. Here's how you get the best results (with a rainbow as an example).
Use Ironing or Parchment Paper
Place ironing paper or parchment paper over the beads on the pegboard. Be gentle so you don't disturb the beads underneath.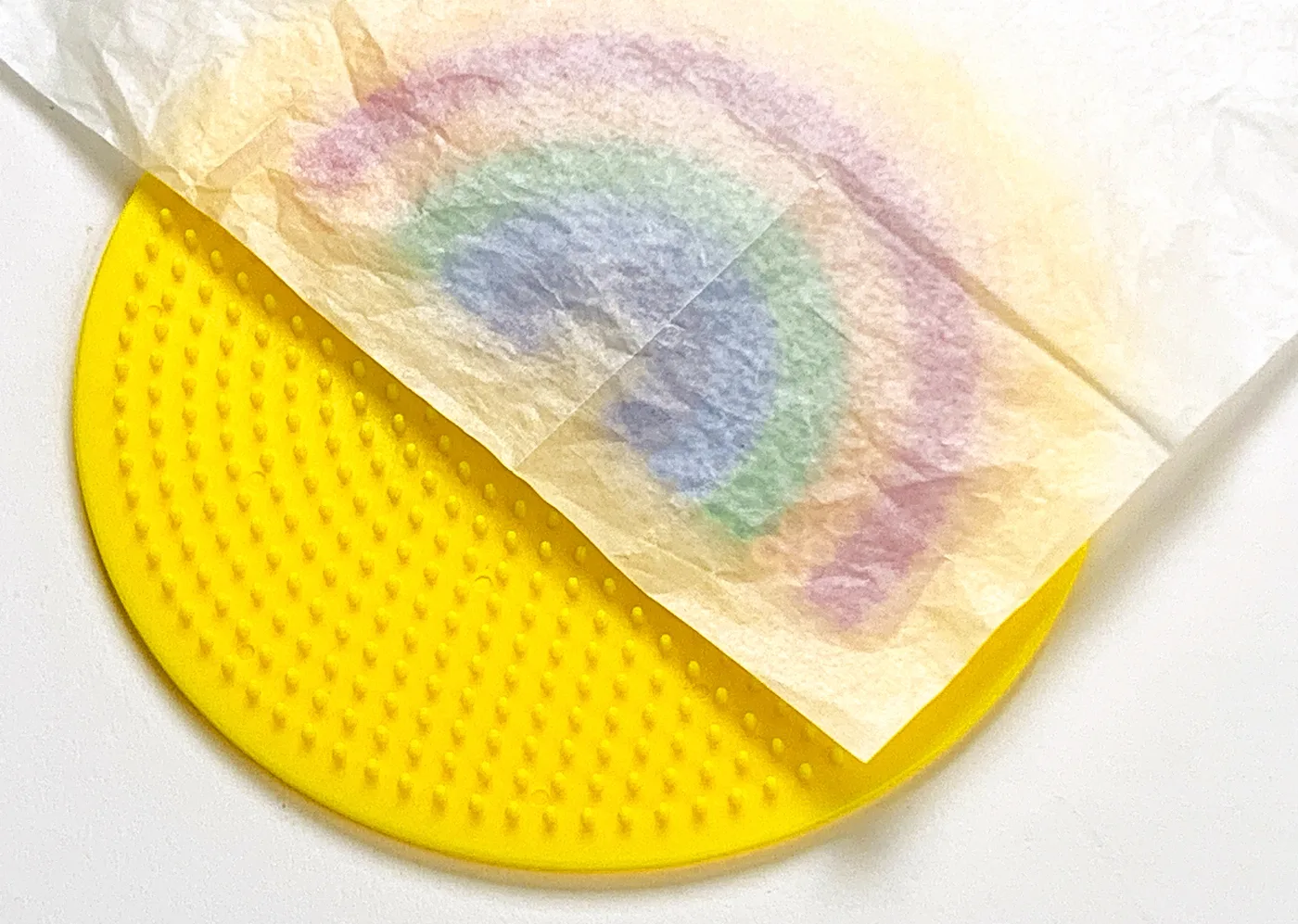 Heat your iron to the medium setting (no steam). In a circular motion, begin to iron the project. Don't press down too hard with the iron.
When ironed properly, the beads will still have an open center. Check and make sure your edges are melted. Let the design cool on the pegboard.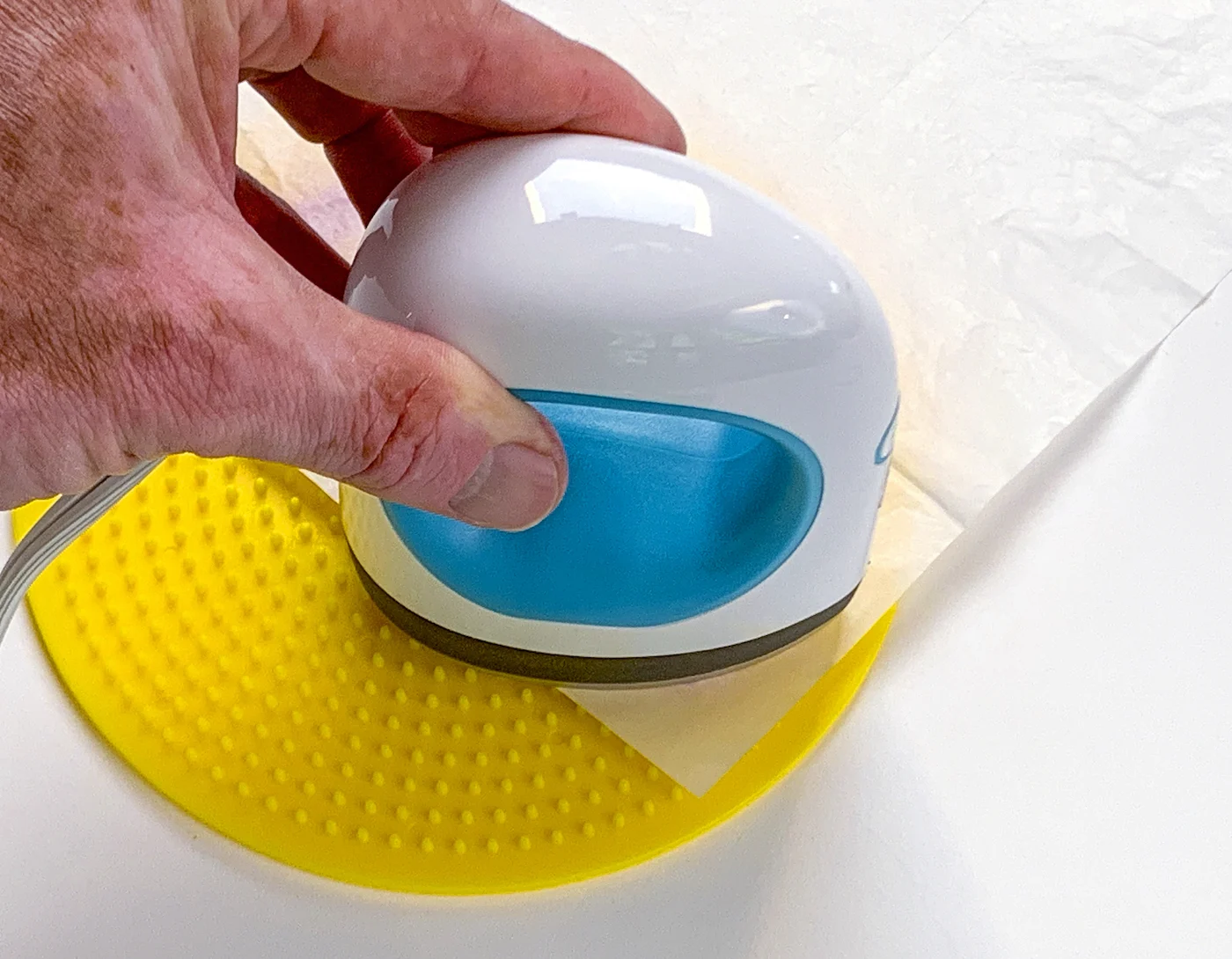 Note: BE CAREFUL about lifting up the paper while you're ironing! If you want to check, carefully peel back paper around the edge of your design and see if all the beads are melted.
If you lift the paper up quickly and there are a lot of unmelted beads, they will easily fall off or go flying and you may be forced to start over. Sometimes the edges need more time so when you check, just check the edges and peel paper back slowly.
Another Note: some beads melt faster than others (clear melts faster than white, for example). So some holes might be larger than others. It's okay! That's part of the look of the project.
Iron the Other Side
Remove the bead design from the pegboard. Flip it over to the non-melted side and repeat the fusing process.
Remove the Paper
Let cool completely and remove the paper again (which is reusable). Some people pull the paper off after they iron the first side, but I just wait until the end and peel off both pieces. It's up to you!
Now if you're ready for the cat perler beads, here are the patterns.
---
Cat Hama Beads
Note: A few of these patterns are larger than a 29 x 29 pegboard, so you'll either need a extra large pegboard (49 x 69 tall) or to put four square pegboards together (or two depending on how wide the pattern is).
Four Seated Cats
These felines use 38 dark gray, 17 gingerbread, 78 white, 24 medium gray, 15 sand, 2 pink, 2 flamingo, 38 black, and 38 orange beads.
---
Four Tiny Kitty Heads
Uses 134 black, 68 toasted marshmallow, 27 honey, 15 orange, 30 gingerbread, 4 blue, 38 dark brown, 4 medium gray, 50 dark gray, 4 yellow, and 22 white beads.
---
Black Cat Head with Yellow Eyes
Uses 263 black, 83 dark gray, 8 white, and 16 yellow beads.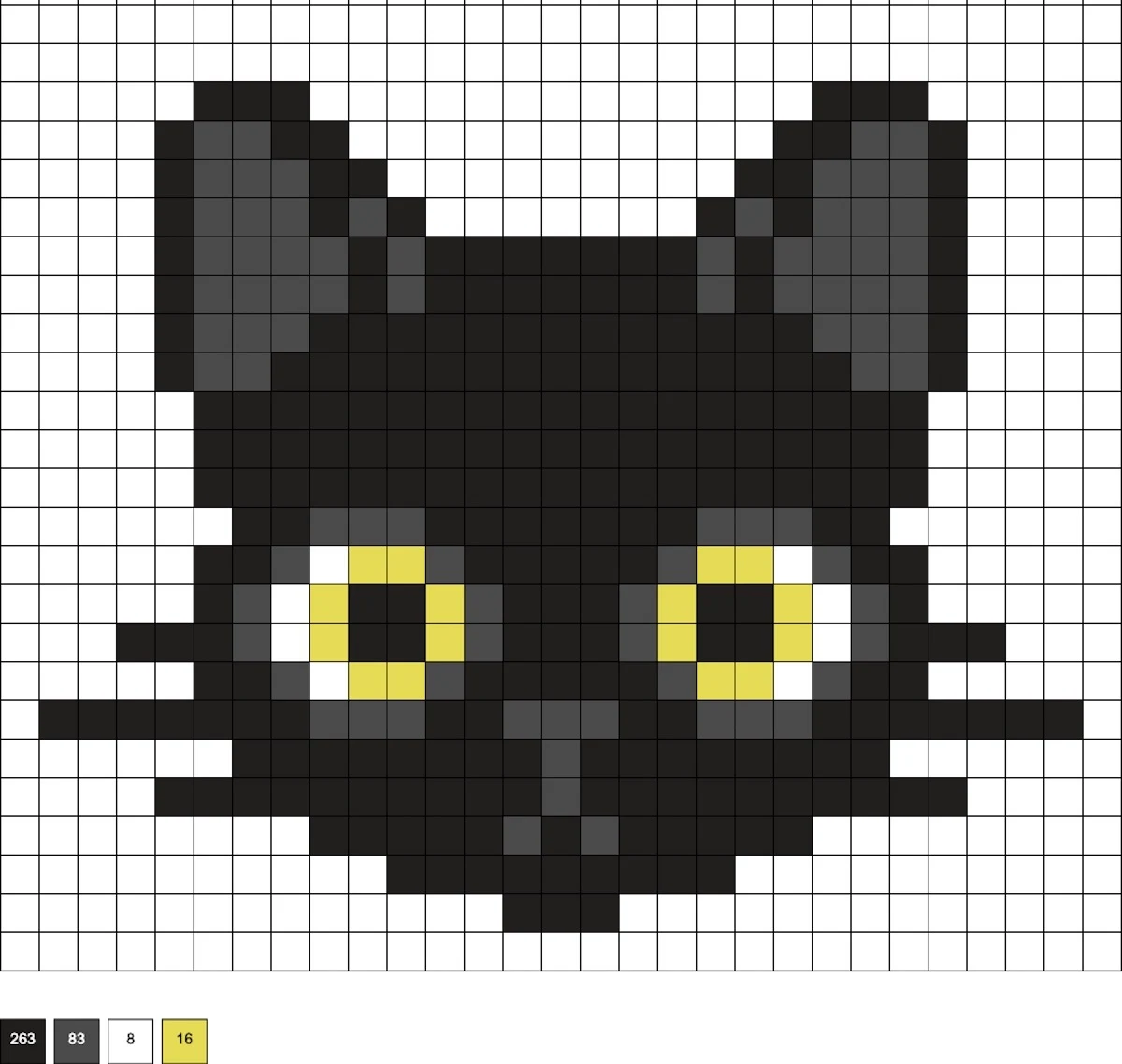 ---
Orange and Brown Sitting Calico
Uses 105 cheddar, 29 pink, 74 dark gray, 180 white, 18 toasted marshmallow, 30 gingerbread, 20 black, 16 pastel yellow, 4 pink, and 37 tan beads.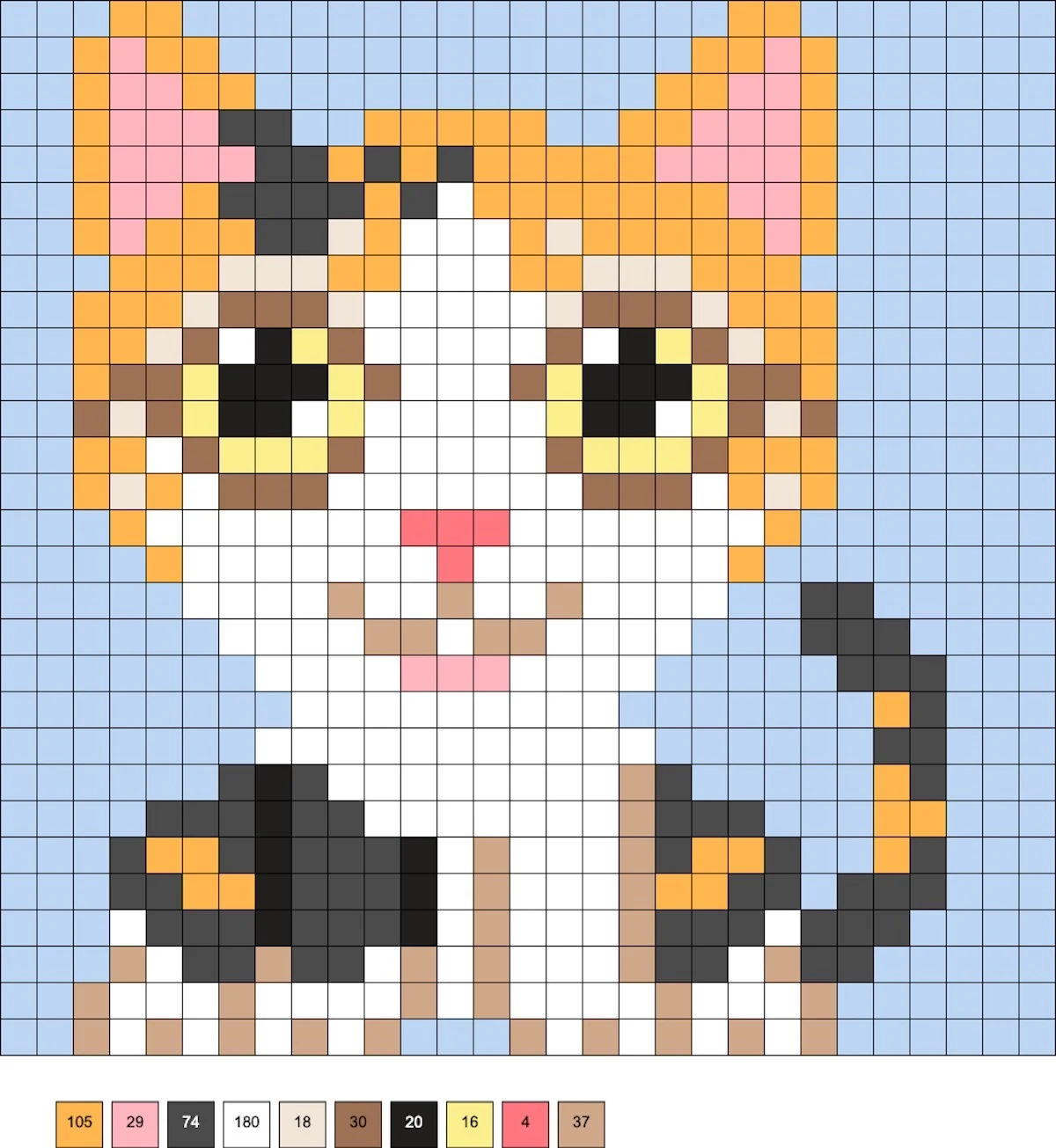 ---
Four Small Cats
All four use 307 black, 22 brown, 42 dark gray, 86 slate blue, 7 gingerbread, 40 white, 86 tan, 8 blue, 4 green, 2 pink, 2 magenta, and 58 toasted marshmallow beads.
---
Pusheen Perler Beads
Uses 94 black, 41 dark gray, 153 gray, 7 charcoal, 2 pink, and 21 light gray beads.
---
Running Kitten
Uses 222 black, 141 dark gray, 208 light gray, 10 bubblegum, 4 pink, and 110 white beads.
---
Sitting Black Cat Perler Beads
Uses 359 dark gray, 52 gray, 93 black, 4 white, and 12 yellow beads.
---
Orange and Black Calico Cat Head
Uses 46 orange, 62 black, 70 white, 8 cheddar, 6 cotton candy, 10 gray, and 5 pink beads.
---
Four Sitting Kitties
All four use 38 dark gray, 48 orange, 37 medium gray, 79 white, 3 purple, 3 green, 13 tan, 76 black, 12 brown, 3 pink, and 3 blue beads.
---
Back End of a Gray and White Cat
Uses 144 black, 254 gray, 37 dark gray, and 149 white beads.
---
Brown Calico
Uses 103 black, 60 brown, 120 tan, and 39 toasted marshmallow beads.
---
Sitting Orange Kitty
Uses 258 cheddar, 66 honey, 30 pink, 69 toasted marshmallow, 37 brown, 16 yellow, 59 white, 14 black, and 14 gray beads.
---
Standing Siamese
Uses 148 black, 130 medium gray, 201 toasted marshmallow, 8 blue, and 4 pink beads.
---
Four Small Kitty Heads
These heads use 20 cheddar, 78 black, 16 pink, 60 yellow, 62 white, 20 tan, 8 dark gray, 4 blue, 72 brown, 30 gingerbread, and 17 tan beads.
---
Easy Orange Cat
Uses 74 black, 65 orange, 10 pink, 109 cheddar, 20 tangerine, and 4 blue beads.
---
Calico Cat Head with Green Eyes
Uses 191 dark brown, 55 tan, 44 brown, 49 white, 16 green, 11 black, and 4 pink beads.
---
Small Black Cute Kitty
Uses 85 black, 173 dark gray, 8 pink, and 21 aqua beads.
---
Walking Orange Calico
Uses 88 black, 20 light brown, 60 cream, 11 tan, 50 cheddar, 1 white, and 1 yellow bead.
---
Curious Kitty
Uses 139 black, 56 white, 17 pink, 60 gray, 85 blueberry creme, 2 white, and 1 fuschia bead.
---
Cute Kawaii Cat
Uses 112 black, 89 cheddar, 4 gray, 137 white, and 8 pink beads.
---
Cat Paw Foursome
Uses 97 black, 52 slate blue, 28 dark gray, 64 salmon, 64 flamingo, 14 light brown, and 129 white beads.
---
Pouncing Calico Kitten
Uses 93 dark brown, 25 sand, 58 tan, 30 brown, 27 gingerbread, and 2 white beads.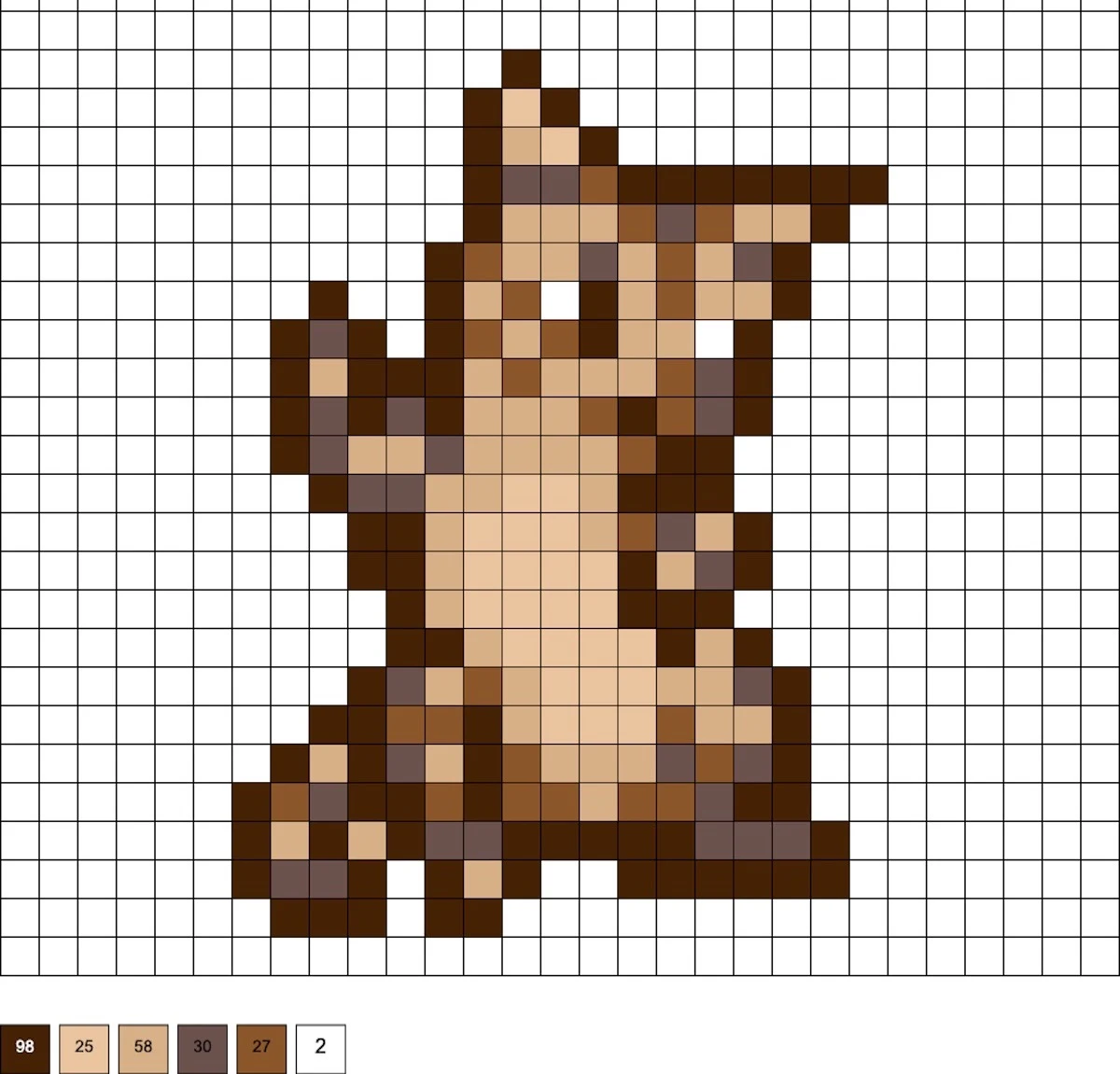 ---
Orange and Brown Striped Easy Cat Hama Beads
Uses 145 black, 163 cheddar, 54 brown, 188 white, and 4 pink beads.
---
Black and White Cat
Uses 274 black, 52 dark gray, 223 white, 14 green, and 22 gray beads.
---
Black Kitten
Uses 77 black, 110 dark gray, and 2 yellow(ish) beads.
---
Crouching Kitty
Uses 83 brown, 8 rust, 68 honey, 23 light brown, 1 white, and 3 black beads.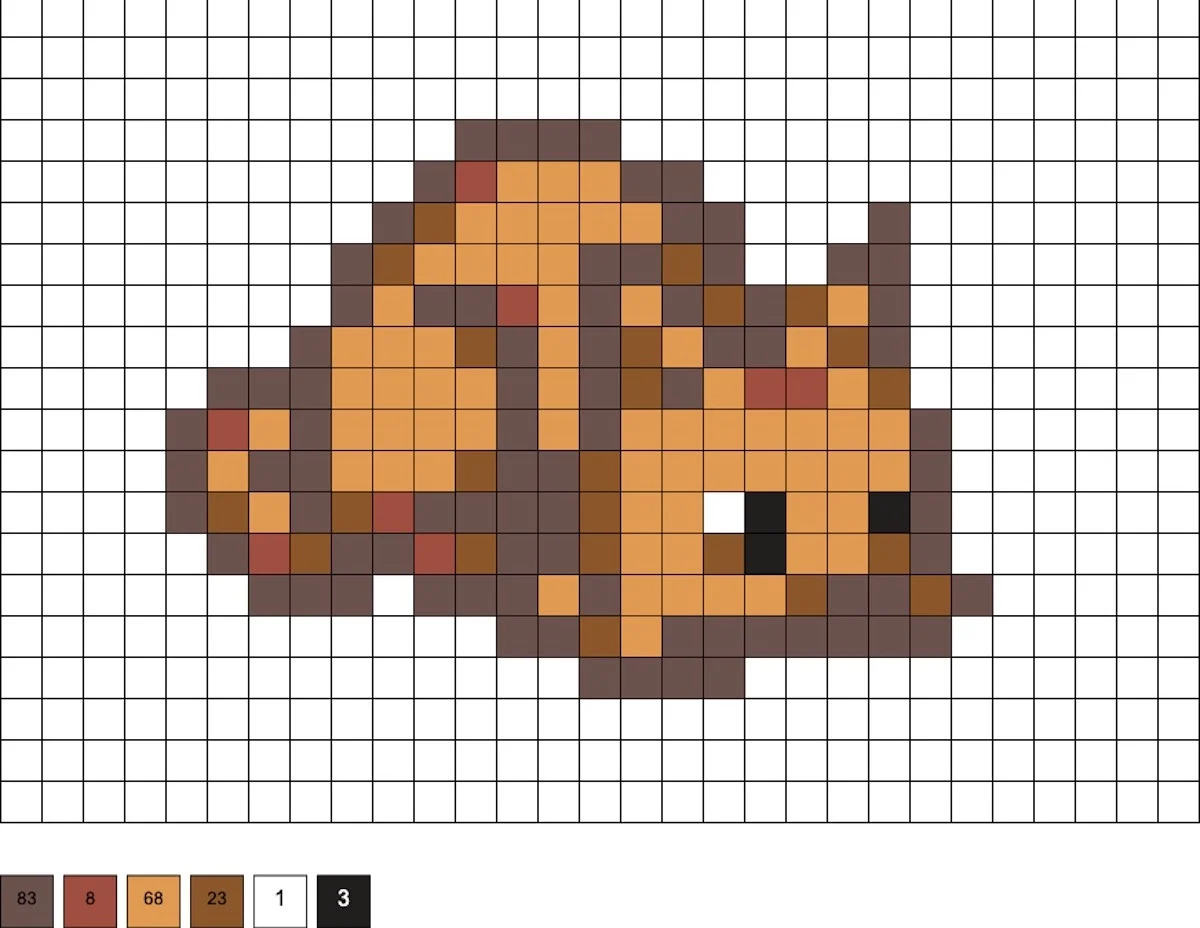 ---
Tiny Black Kitty
Uses 100 gray, 169 black, 8 pink, and 1 dark gray bead.
---
Mini Siamese
Uses 77 black, 61 tan, 34 brown, 4 blue, 4 pink, and 21 gingerbread beads.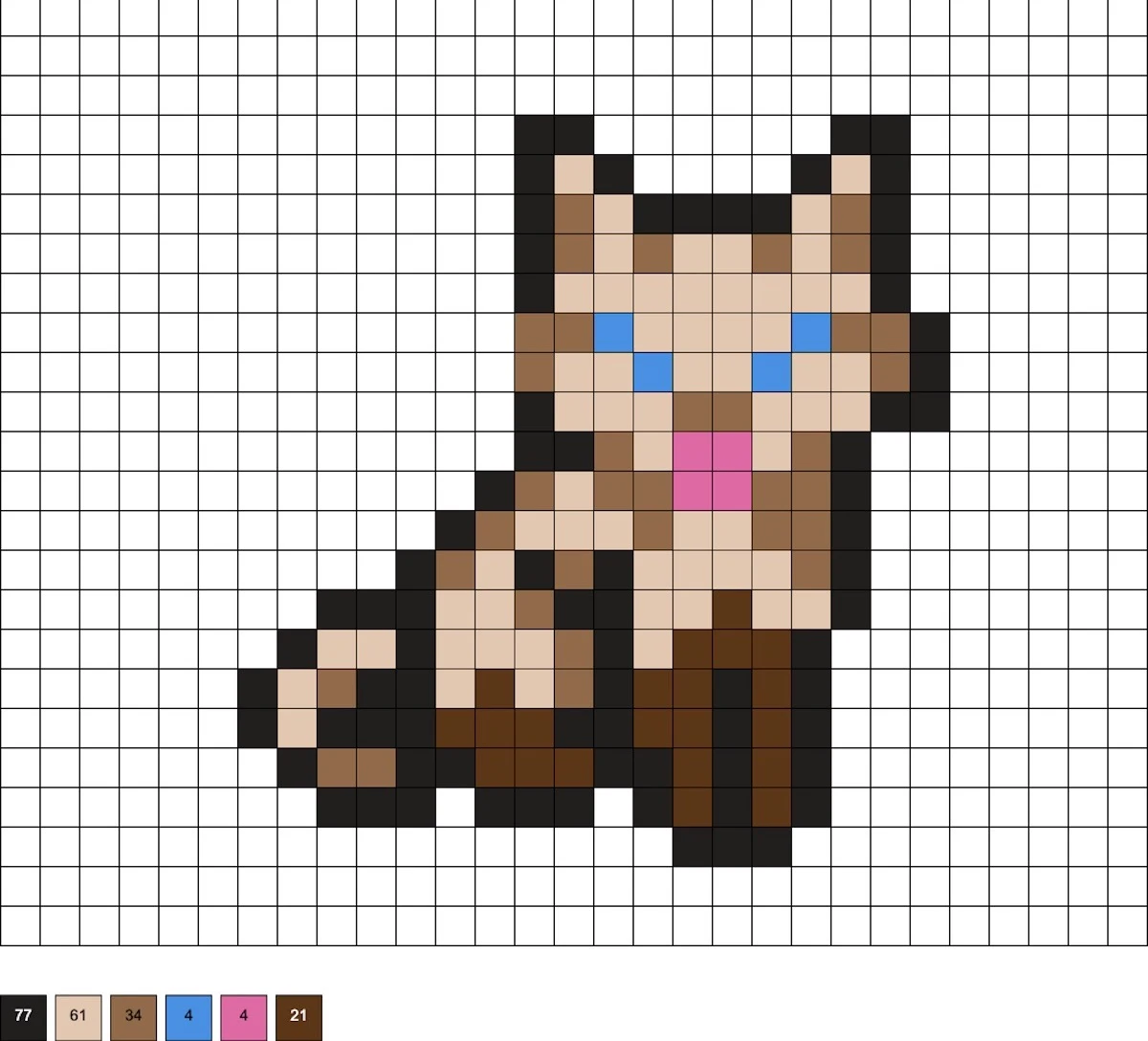 ---
Small Cute Gray Cat
Uses 70 black, 55 dark gray, 7 pink, 114 gray, 24 white, and 4 yellow beads.
---
Black and Gray Striped Kitten
Uses 75 black, 65 dark gray, 39 gray, 2 white, and 1 yellow bead.
---
Small White Kitten
Uses 80 black, 27 medium gray, 19 dark gray, 52 white, 1 light green, and 1 green bead.
---
Calico and Black
The next six patterns use large round boards, with the straight row oriented vertically. They all use 156 beads.
---
Brown and Blue
---
Orange Striped and Orange Calico
---
Did you enjoy these cat hama beads? Let me know in the comments! I'd love for you to check out these other posts:
4th of July • Among Us • Baby Yoda • Batman • Birds • Bluey • Bob Ross • Butterflies • Care Bears • Christmas • Christmas Trees • Coasters • Dinosaur • Dragon • Easter • Emoji • Fairy & Gnome • Flowers • FNAF • Food • Frog • Halloween • Harry Potter • Hearts • Hello Kitty • Kuromi • Letters • Mickey Mouse • Minecraft • Minions • Mother's Day • Mushrooms • Panda • Penguin • Pokemon • Pumpkins • St. Patrick's Day • Sanrio • Santa • Skulls • Sonic • Spiders • Spider Man • Stars • Star Wars • Star Wars Hello Kitty • Stitch • Summer • Super Mario • Superhero • Thanksgiving • Unicorn • Valentine's Day