Customize your pets' collars with these fun and easy DIY dog collar accessories! Change them out depending on the season or holiday.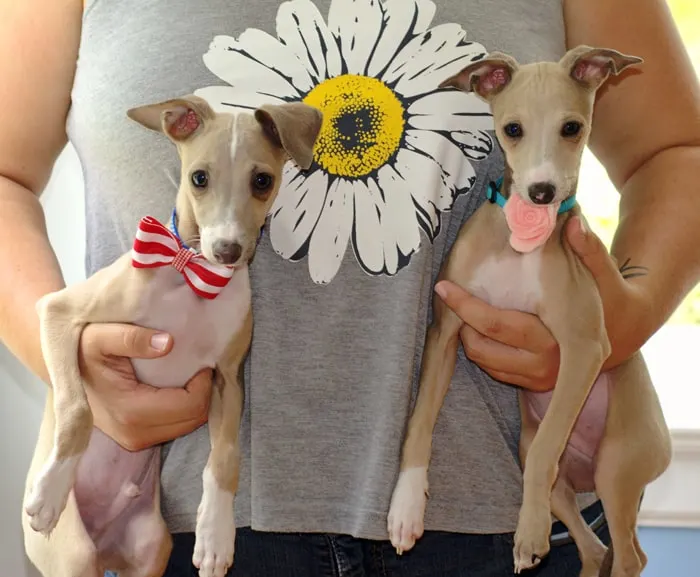 Hi everyone! This is Ashlee from My So Called Crafty Life, and I'm here to share a fun and easy little project with you all today.
One thing is for sure, we all love our pets! They become our little four-legged family, and we just adore getting to spoil them, don't we? Some of my favorite project to make are for my dogs and kitties.
I have made a few collars in the past for my pups. I love customizing collars for them, to add a little personalized style for them to display.
Our puppies are so tiny, and their tiny little necks demand tiny little collars, so I thought it would be fun to make some accessories that could slip on their collars to spruce them up a bit. Of course I had to make a few for the big girl too!
DIY Dog Collar Accessories
Gather These Supplies
Pet Collar
Glue (I used hot glue)
Embellishments (felt flowers, fabric flowers, bows, etc.)
1/4″ Elastic
Instructions: Grab your supplies. You will need your hot glue gun and glue sticks, elastic, felt, and embellishments. I used felt flowers and bows that were ready made.
You can find lots of different adornments for your dog collar accessories in the supplies section on Etsy. You can also make your own, as there are tons of DIYs on Pinterest for bows and fabric flowers.
Measure the width of your collar. You want the elastic to be a tiny bit smaller than the width-times-two so it will fit nicely. Cut your elastic to length.
For example: if my collar was 1/2″ wide, my elastic I cut to be 7/8″ (1/2″ x 2 = 1″ – a hair = 7/8″).
Place a dab of glue onto the back side of your flower or bow. Let it dry.
Place a dab of glue onto the top of the elastic that your glued down on the edge and some on the flower next to it.
Bend the other end of the elastic around and press it down into the glue forming a loop. Let the glue dry.
Cut a thin piece of felt. Apply a little glue to the back of the felt, then carefully slip the felt through the loop and press down onto the back of the flower, covering the elastic ends.
After the glue dries you can slip one onto your pups collar and celebrate with a walk around the neighborhood to show off their new style.
I really love how my little accessories turned out! They are so easy to make. I whipped up a lot of them in about a half an hour.
My sister's little fella looks so darn cute in his little bow, and my little gal is so precious with her felt flowers. I love the polka dot flower on the ribbon collar too!
There are so many things you could use for embellishments. You can customize your collars easily just by changing up the color flowers or the print of the bows.
If you have a pet that is rough and tumble or an avid chewer, you will definitely need to supervise them when they have their collar embellishments on.
They are not meant to be eaten, of course. I know some dogs that (unsupervised) would make like Houdini getting them off and then have them for a snack. But, they wouldn't even notice them if they were on a walk.
I do hope you all will give these fun DIY pet collar accessories a try sometime for your four legged friends.
---
If you all would like to see more of my work you can find me on my blog, My So Called Crafty Life, here. I'd also love for you to check out the following projects:
Delicious Dog Treat Recipes Your Pups Will Go Wild For