Animal lovers, you're going to love these 60+ perler bead patterns! These animal perler beads include mammals, fish, reptiles, amphibians, birds, and more.
Growing up in the Pacific Northwest of the US, there were always a lot of totem poles around. They're a type of art made by carving large wood poles with faces, symbols, and figures.
Native and indigenous peoples used totem poles for historical significance, spiritual reverence, and for artistic expression. Here's a great quote from my alma mater on their origins:
"The figures carved on Northwest Coast poles generally represent ancestors and supernatural beings that were once encountered by the ancestors of the lineage, who thereby acquired the right to represent them as crests, symbols of their identity, and records of their history."

–Robin K. Wright, University of Washington
So now you know what a totem pole is . . . and now you have to identify your totem animal! What animal would represent YOU if carved onto a wood pole?
For me personally? It's the platypus. As one of the world's few venomous mammals, the platypus represents individuality and uniqueness. Two things I value greatly.
But the truth is, there are so many animals I love for their characteristics (or perceptions!). What about playful dolphins? Courageous lions? Reliable horses?
No matter what your totem animal (or your favorite animal), I'm excited to share some cute animal perler beads with you today.
Whether you're feeling a reptile, a bird, a mammal . . . there are over 60 patterns on this list for you to create. I tried to cover everyone's favorite animals, but let me know if there's something you'd like for me to add in the comments.
Perler beads are recommended for ages six and up, so this is a very fun craft to try with your elementary age kids. All children seem to love perler beads (also known as hama beads, fuse beads, or melty beads). But don't be shy – adults love them too!
Tips for Using Perler Beads
Before we get into the animal perler bead patterns, I want to review a few basics of using fuse beads to make sure you get the best results. If you don't want the tips, scroll down to the bottom to get the patterns and tutorial.
Remember that the overall goal is to melt the beads together on both sides while still leaving the holes open. Here's how you achieve success (with a rainbow as an example).
Use Ironing or Parchment Paper
Place ironing paper or parchment paper over the beads on the pegboard. Be gentle so you don't disturb the beads underneath.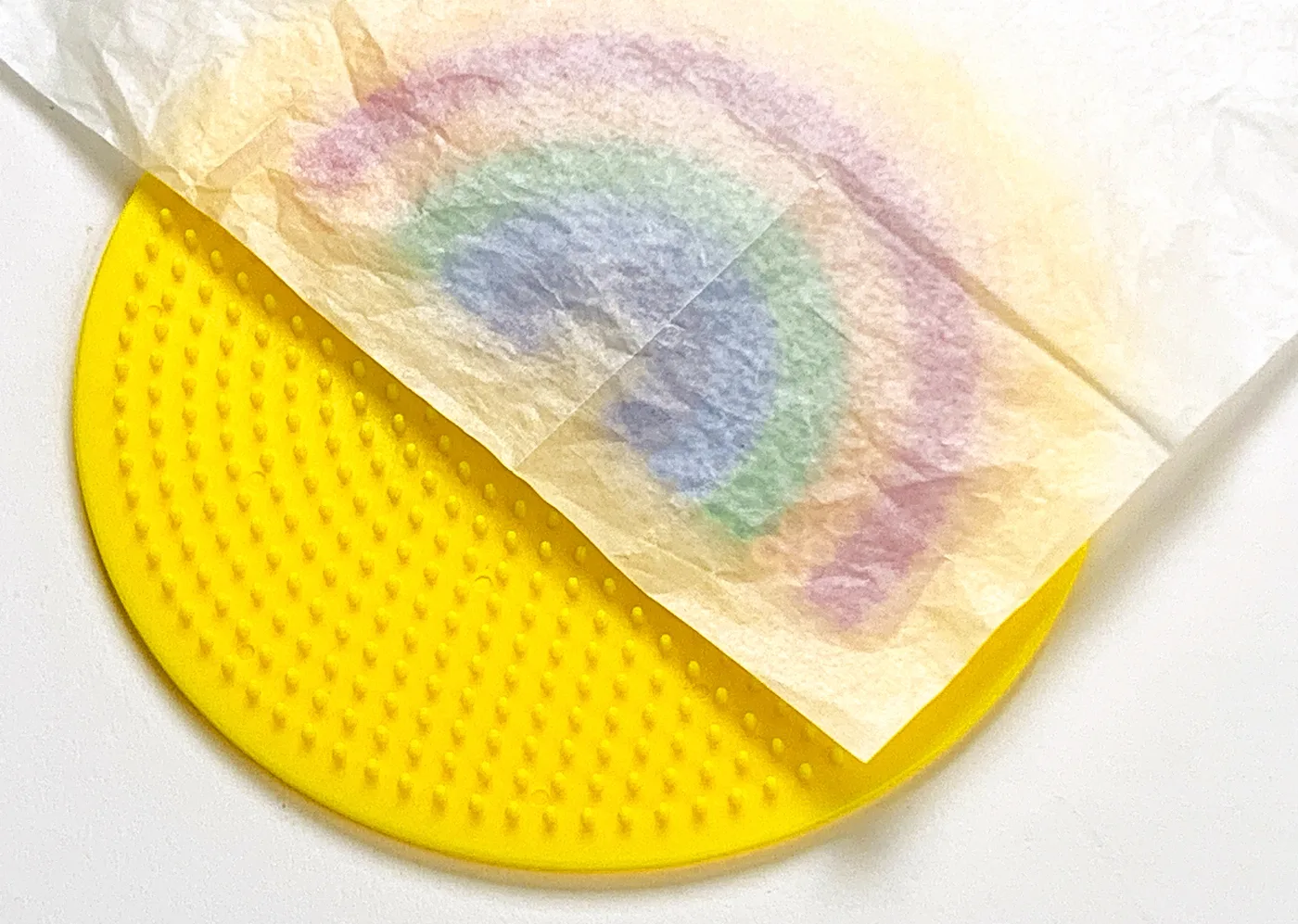 Heat your iron to the medium setting (no steam). In a circular motion, begin to iron the project. Don't press down too hard with the iron. When ironed properly, the beads will still have an open center. Check and make sure your edges are melted. Let the design cool on the pegboard.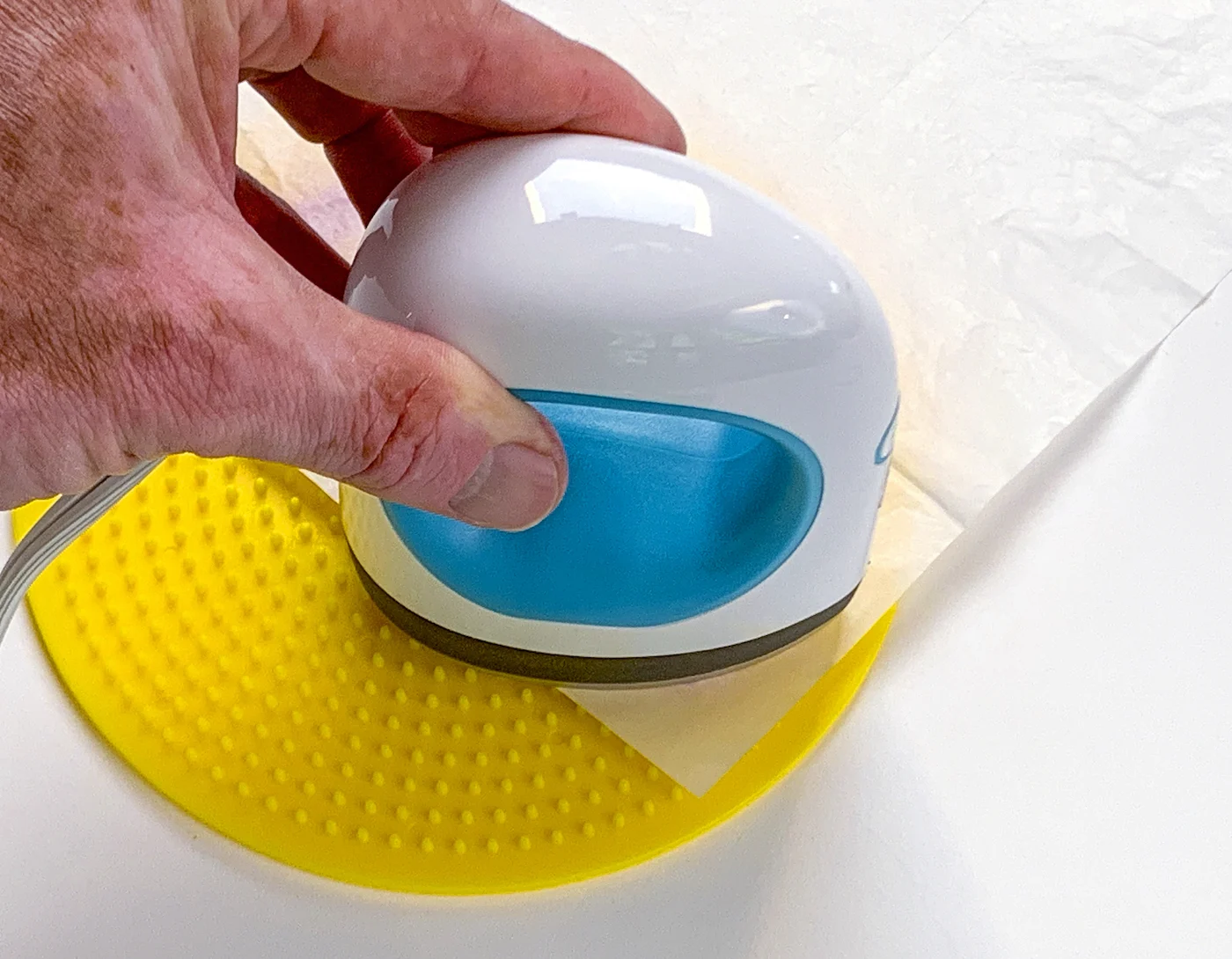 Note: BE CAREFUL about lifting up the paper while you're ironing! If you want to check, carefully peel back paper around the edge of your design and see if all the beads are melted.
If you lift the paper up quickly and there are a lot of unmelted beads, they will easily fall off or go flying and you may be forced to start over. Sometimes the edges need more time so when you check, just check the edges and peel paper back slowly.
Another Note: some beads melt faster than others (clear melts faster than white, for example). So some holes might be larger than others. It's okay! That's part of the look of the project.
Iron the Other Side
Remove the bead design from the pegboard. Flip it over to the non-melted side and repeat the fusing process.
Remove the Paper
Let cool completely and remove the paper again (which is reusable). Some people pull the paper off after they iron the first side, but I just wait until the end and peel off both pieces. It's up to you!
Now that you've had a refresher on how to melt the beads, you can get the patterns! Keep on reading.
---
Easy Animal Perler Bead Patterns
Make sure to check out these notes:
A few of these patterns are larger than a 29 x 29 pegboard, so you'll either need a extra large pegboard (49 x 69 tall) or to put multiple square peg boards together to form a larger "canvas."
In addition to square pegboards, you'll see round, heart, and hexagon pegboards. These are fun to have in your arsenal if you plan to do a lot of perler-ing.
You'll see a couple of the pattern backgrounds below aren't white – that's simply to give contrast so you can see where all the white beads should go. You don't need to add the background (but you can if you want to).
Don't stick to my colors necessarily. Customize with your favorite color beads! Stars are great for using up extra beads.
The animal perlers below are in alphabetical order, minus the first pattern of small animals.
---
Mini Animals
To get yourself started try one of these cute (and small!) animal perler bead patterns. There's a monkey, panda, otter, fish, giraffe, elephant, hedgehog, and a crocodile.
---
Bear Head
This pattern uses 192 brown, 188 light brown, 24 black, 2 white, and 2 dark gray beads.
---
Clowder of Cats
Each cat uses 63 beads. Check out more cat perler bead patterns.
---
Cartoon Cow
This pattern uses 175 black, 200 white, and 23 flamingo beads.
---
Crocodile
This pattern uses 154 kiwi lime, 2 black, and 7 fern beads.
---
Deer Head
This pattern uses 76 light brown, 115 brown, 66 fawn, 53 white, and 30 dark gray beads.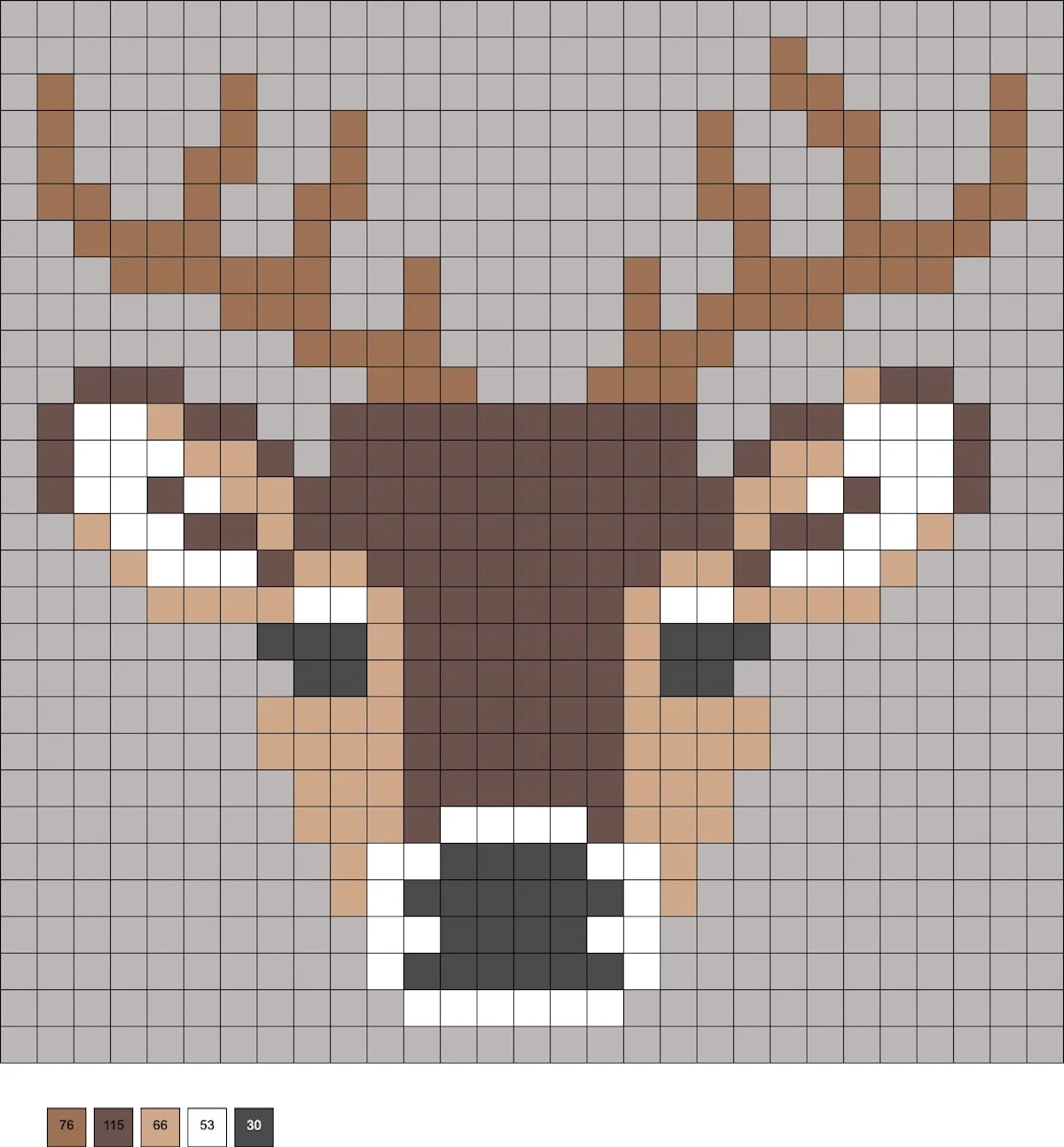 ---
Standing Deer
This pattern uses 44 charcoal, 45 light gray, 227 honey, 76 sand, 23 black, and 16 white beads.
---
Dogs and a Bone
These dog patterns use 83 cream, 7 light blue, 54 cheddar, 46 gingerbread, 53 black, 19 white, 2 light gray, 5 red, and 24 brown beads.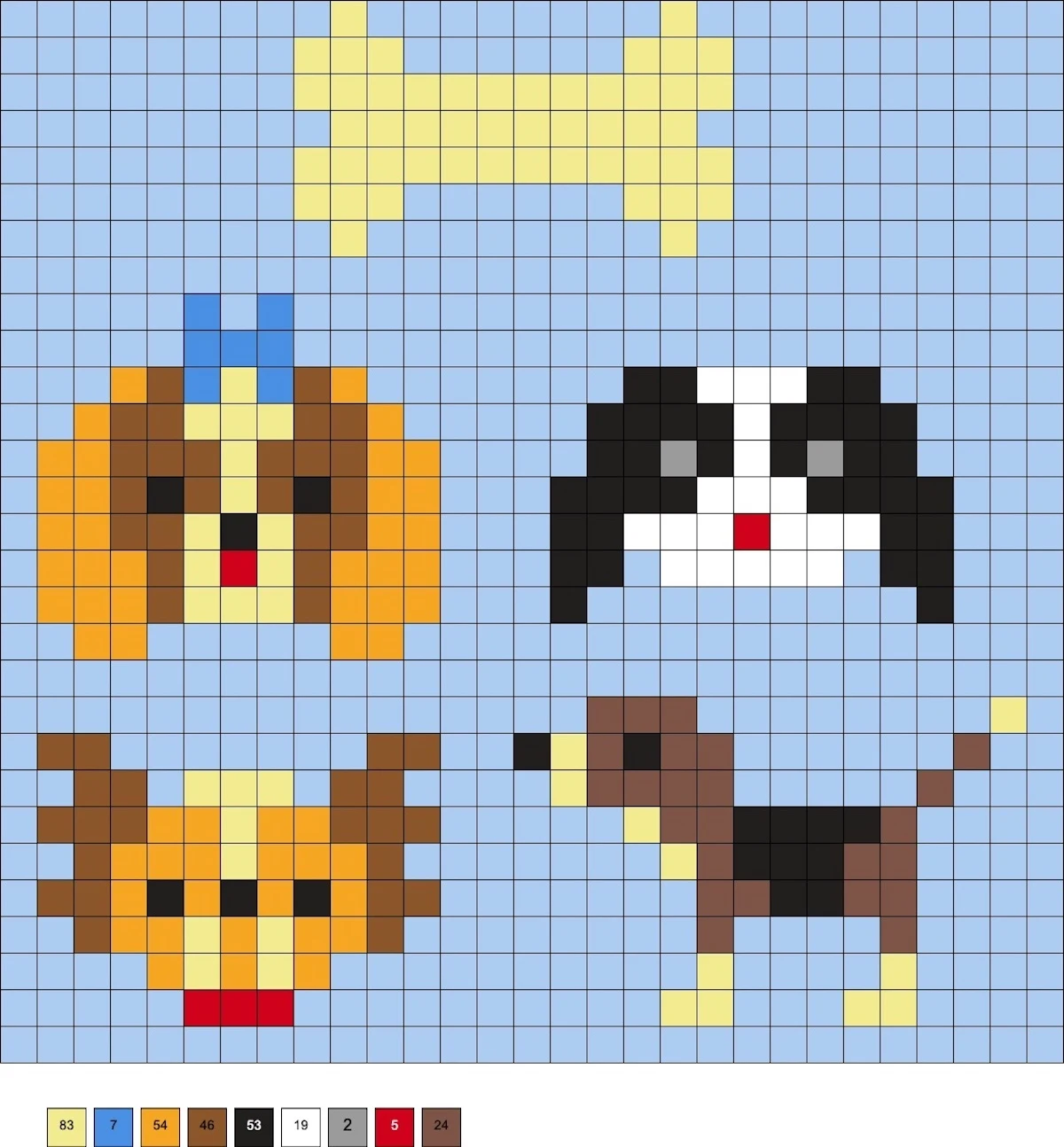 ---
Dolphin (and a Shark)
The dolphin uses 67 gray, 11 robin's egg, and 1 black bead. The shark uses 18 robin's egg, 111 pastel blue, 29 dark blue, 2 red, and 1 black bead.
---
Large Dolphin
This pattern uses 122 black, 95 robin's egg, and 276 pastel blue beads.
---
Cute Elephant
This pattern uses 111 black, 171 gray, 2 blush, and 4 white beads.
---
Large Elephant
This pattern uses 101 purple, 17 sky, 29 black, 39 kiwi lime, 32 caribbean sea, 544 gray, and 44 white beads.
---
Tropical Fish
The fish on the left uses 53 salmon, 116 fern, 77 cream, 1 dark blue, and 6 hot coral beads. The fish on the right uses 207 apricot, 58 spice, and 1 black bead.
---
Fish in a Fishbowl
This pattern uses 148 neon blue, 310 clear, 82 neon green, 39 neon orange, 2 black, 19 neon yellow, 9 grape or glow purple, 11 neon pink, 6 cocoa, 4 rust, 10 light brown, and 4 sand beads.
---
Goldfish in a Bag
The pattern below is done on a hexagon board. You'll use clear blue beads for the water and clear beads for the bag.
---
School of Fish (and an Octopus)
Make three small fish, a rainbow fish, and an octopus!
---
Goldfish and Two Turtles
Goldie uses a small heart board while the turtles use a hexagon board and a few shades of green beads.
---
Cute Fox
This pattern uses 127 black, 31 spice, 17 salmon, 52 tangerine, 100 orange, and 90 white beads.
---
Sitting Fox
This pattern uses 177 orange, 78 white, and 9 black beads.
---
Green Frog
This pattern uses 72 shamrock, 2 white, 125 kiwi lime, 30 slime, 4 black, 26 toasted marshmallow, 8 honey, 6 brown, 10 pastel blue, and 4 blueberry creme beads.
---
Giraffe Head
This pattern uses 86 mint, 16 black, 22 toasted marshmallow, 24 cocoa, 22 fawn, 117 light brown, 88 white, and 44 brown beads.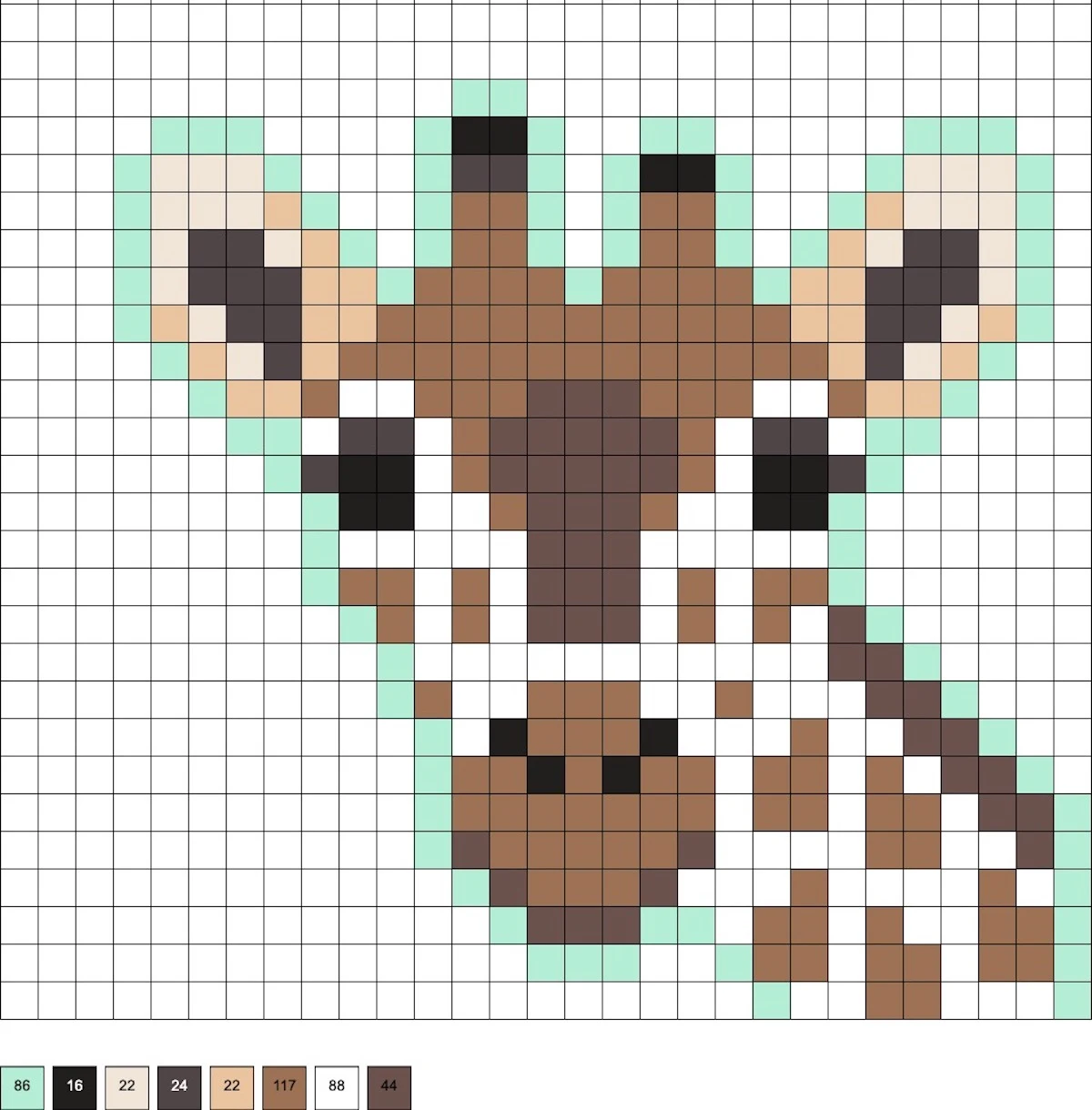 ---
Standing Giraffe
This pattern uses 171 toasted marshmallow, 21 tan, 29 cocoa, 1 black, and 65 brown beads.
---
Goat
This pattern uses 99 cocoa, 8 gray, 20 brown, 7 white, 110 light brown, and 10 light blue beads.
---
Gorilla
This pattern uses 224 black and 228 gray beads.
---
Guinea Pig
This pattern uses 84 light brown, 201 white, 27 black, 68 rust, 15 cranapple, 3 sand, 3 blush, and 13 cocoa beads.
---
Hamster
This pattern uses 65 black, 110 brown, 43 white, and 13 peach beads.
---
Two Horse Heads
This pattern on the left uses 315 honey, 55 gingerbread, 44 red, 6 white, 18 gray, and 10 black beads. The horse on the right uses 149 black, 147 gingerbread, and 70 white beads.
---
Standing Horse
This pattern uses 182 light brown, 2 light pink, 62 black, 1 light blue, and 4 gray beads.
---
Koala Head
This pattern uses 92 black, 146 pewter, 6 black, and 6 blush beads.
---
Little Llama
This pattern uses 162 toasted marshmallow, 4 black, 7 tan, and 4 each of 4 colors to make the blanket on the back.
---
Large Llama
This pattern uses 346 toasted marshmallow, 39 tan, 12 cocoa, 2 flamingo, 33 butterscotch, 24 turquoise, and 26 cherry beads.
---
Hanging Monkey
This pattern uses 82 tan, 171 brown, 3 black, and 15 peach beads.
---
Monkey Head
This pattern uses 121 brown, 174 toasted marshmallow, 44 light brown, 2 white, 6 black, and 4 red beads.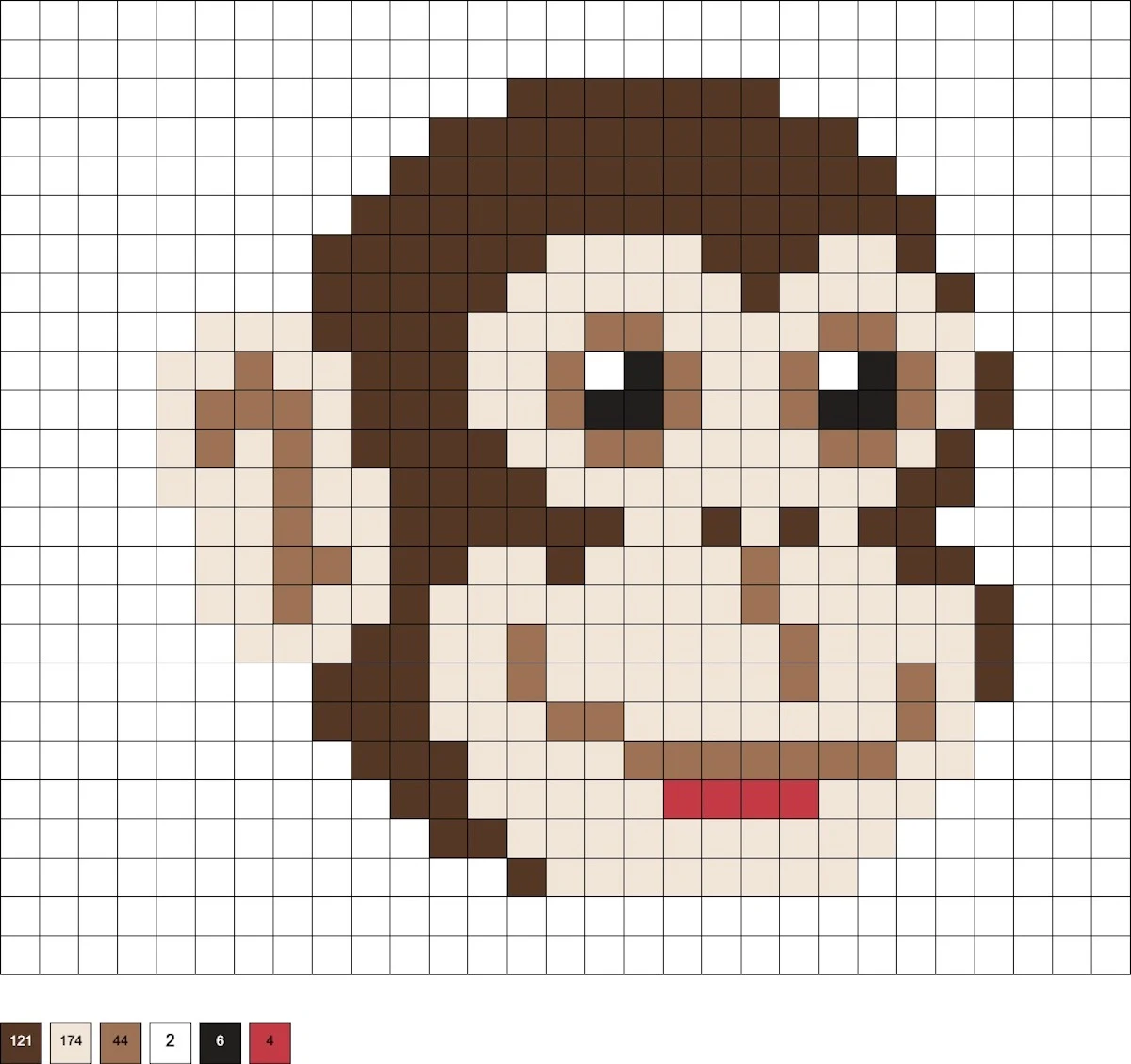 ---
Narwhal
This pattern uses 109 black, 226 robin's egg, 12 light gray, 9 gray, 2 white, and 8 light pink beads.
---
Otter
This pattern uses 84 cocoa, 65 sand, 61 toasted marshmallow, 6 black, and 40 light brown beads.
---
Emperor Penguin
This pattern uses 95 black, 18 orange, 1 blueberry creme, 8 red, 10 yellow, 92 white, 6 light gray, and 6 sand beads.
---
Pink Pig
This pattern uses 247 black, 698 pink, 2 white, and 4 clear beads.
---
Panda with Bamboo
This pattern uses 148 black, 179 white, and 43 shamrock beads.
---
Red Panda
This pattern uses 153 rust, 127 white, 6 tan, 96 cheddar, and 22 black beads.
---
Salamander
This pattern uses 30 pastel blue, 28 cream, 41 dark blue, 11 transparent turquoise, 62 cobalt, 23 bright green, and 2 black beads.
---
Shark
This pattern uses 122 gray, 252 mist, 25 white, and 12 light grey beads.
---
Shark Head
This pattern uses 311 gray, 373 white, 109 black, and 105 light blue beads.
---
Man Swimming in Shark Infested Waters
This pattern uses 147 light gray, 39 peach, 17 cobalt, 380 pastel blue, 42 red, 69 robin's egg, 74 gray, 71 white, and 2 black beads.
---
Round Sloth and Dolphin
Both of these patterns use small round boards.
---
Sloth Head
This pattern uses 85 cocoa, 126 tan, 134 toasted marshmallow, and 86 light brown beads.
---
Sloths Just Hanging Around
The pattern on the left uses 55 dark green, 139 gingerbread, 24 sand, and 6 black beads. The pattern on the right uses 62 bright green, and 80 light brown, 348 brown, and 39 sand beads.
---
Squirrel
This pattern uses 108 cocoa, 72 gingerbread, 50 tan, 21 rust, 3 black, 1 white, and 2 peach beads.
---
Large Squirrel
This pattern uses 309 tan, 91 cranapple, 44 cocoa, 23 white, and 8 peach beads.
---
If you enjoyed these easy animal perler beads, let me know in the comments! I'd also love for you to check out the following posts:
4th of July • Among Us • Baby Yoda • Batman • Bluey • Bob Ross • Butterflies • Care Bears • Christmas • Christmas Trees • Coasters • Dinosaur • Dragon • Easter • Emoji • Fairy & Gnome • Flowers • FNAF • Food • Halloween • Harry Potter • Hearts • Hello Kitty • Kuromi • Letters • Mickey Mouse • Minecraft • Minions • Mother's Day • Mushrooms • Pokemon • Pumpkins • Rainbow • St. Patrick's Day • Sanrio • Santa • Skulls • Sonic • Spiders • Spider Man • Stars • Star Wars • Star Wars Hello Kitty • Stitch • Summer • Super Mario • Superhero • Thanksgiving • Unicorn • Valentine's Day