Celebrate Shark Week with your children by doing one of these easy shark crafts – they'll provide hours of fun and play! Great for all ages.
Have you heard of Shark Week? It's a special week on the Discovery Channel where all of the featured programming is mainly factual based about (you guessed it) sharks. If you don't know anything about these sea murderers, I mean creatures, the shows are pretty amazing.
And truthfully, sharks aren't the violent human killers that we think they are. How do I know? Well, by watching Shark Week of course! Yep, I get sucked into the shows too.
If you haven't seen any Shark Week shows tune into the Discovery Channel, and include your kids. They will be intrigued! Then continue the fun afterward with one of these 13 shark crafts.
You'll have a blast watching the programs and then crafting together. Just scroll down to see all of the great ideas. Happy Shark Week!
Shark Crafts
Do you want to make fun shark jaws to play with? It's so easy to do out of paper plates!
Paper plate shark jaws at The Original Paper Plate Shark Jaws
You can make a huge frenzy of sharks simply by decorating clothespins.
Shark craft at Red & Blonde Tangles
Painting with your feet is fun, especially when you can make sharks out of the footprints!
Footprint sharks at Glued to My Crafts
Show your love of these cool sea creatures with unique shark themed jewelry you can make on a budget.
DIY shark themed jewelry at Dollar Store Crafts
After you make your shark mittens, then you can have an under the sea puppet show.
DIY shark mittens at A Night Owl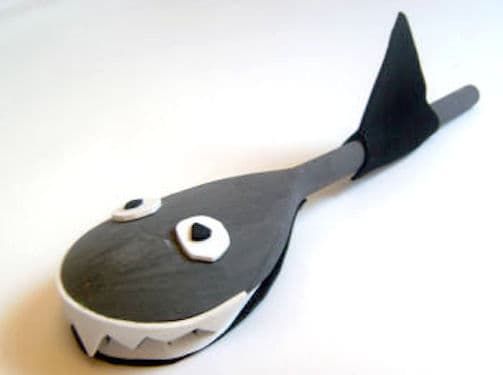 This guy is made from a wooden spoon. His felt fin is so cute!
Wooden spoon shark at Activity Village
This fun shark was made from an old envelope – and there's a whole game that goes with it!
Mr. shark alphabet chomper game at I Heart Crafty Things
Open this paper clothespin shark's mouth to find out what he had for lunch!
Clothespin sharks at Kix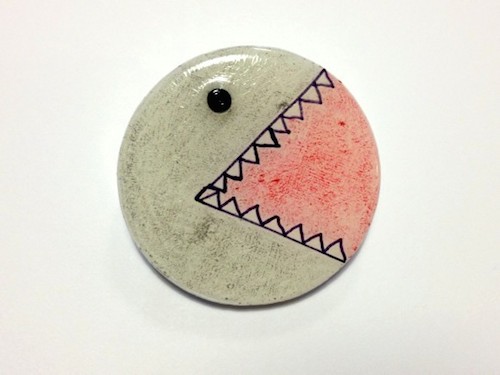 This cute and simple shark pin should be worn every day of Shark Week – and after that, too!
Easy shark pin at Dollar Store Crafts
Two flower pots make the shark body, and your kidlets can decorate as they please.
Flowerpot shark at Freekidscrafts.com
Use plastic toy sharks to make these simple magnets.
Easy toy magnets at The Craftinomicon
Kara's sons made these for Valentine boxes, but they'd be perfect for every day too!
Valentine boxes for boys at The Joys of Boys
Kids can make a shark AND learn the alphabet at the same time. Love this!
Ocean week at Zimmerman Family Day Home
---
Now that you've seen all of the shark crafts, you'll want to check out these 20 science activities for toddlers and preschoolers at Happy Hooligans. Your kids will love them too!