Learn how to make the cutest turkey crafts you've ever seen! These turkey craft ideas are easy and perfect for a kids' Thanksgiving activity. And adults might want to participate too!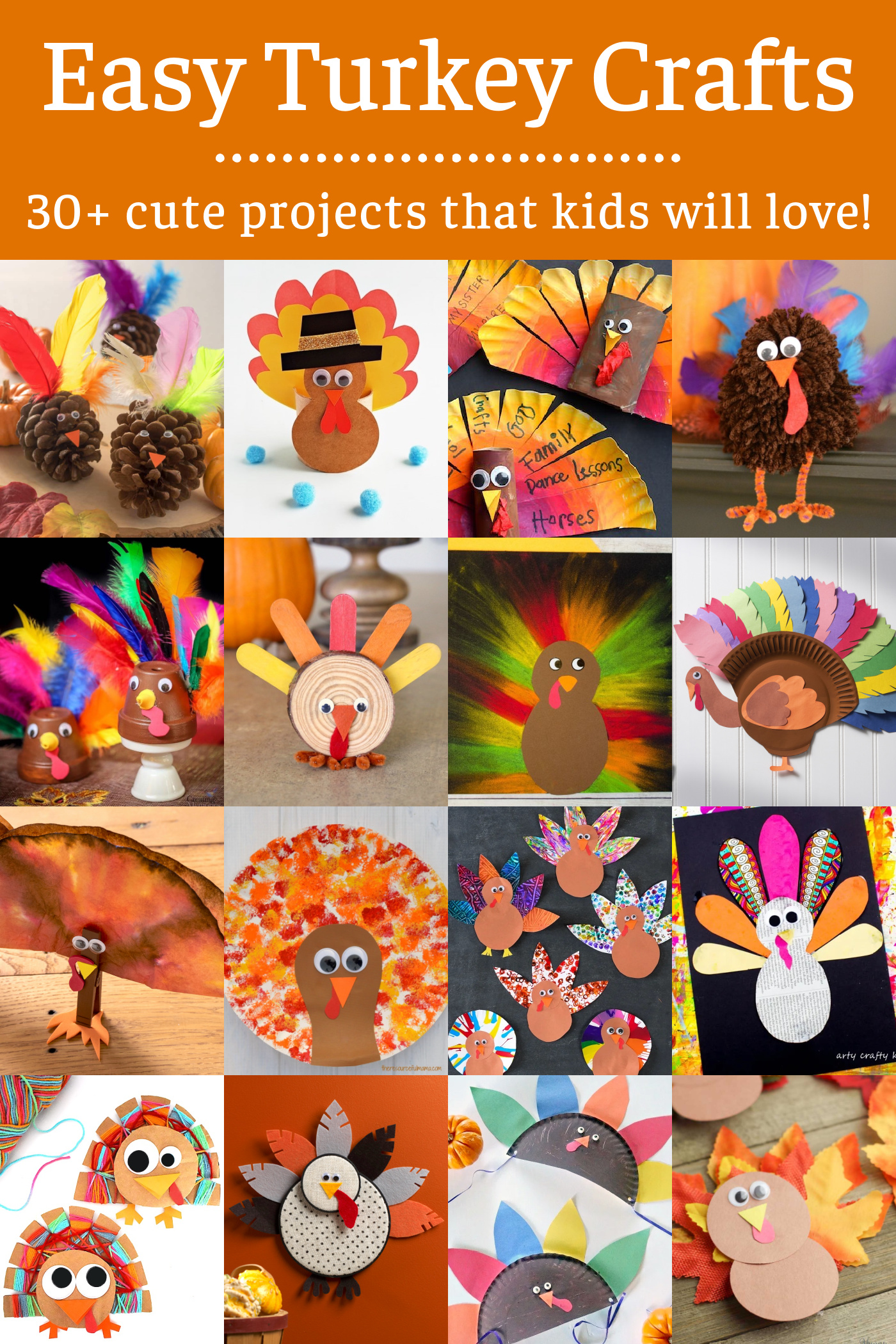 For those who haven't heard the saga of my pine cone turkey Elliott – he was the greatest craft project of my life! Okay maybe not the greatest . . . but definitely one of the longest lasting.
It was second grade. We made these pine cone turkeys as part of art class, but we also made houses for them out of facial tissue boxes. I named him Elliott and saved him for years, and I even added to his house regularly.
He had a bed, chair, and all sorts of items in his kleenex box house . . . I believe he even had a picture of family members I made on the wall. I also distinctly remember a sign over the door with his name!
I guess you could say when it comes to crafts, I commit.
Sometimes maybe too long. I don't remember when Elliott finally went bye bye, but I had him for years. He's the turkey I will always remember. And that's why, today, I'd like to dedicate this collection of turkey crafts to him!
I've shared some kids Thanksgiving crafts and Thanksgiving crafts for toddlers . . . but I haven't done one exclusively for turkeys. I'm ready to share all the ideas with you today, perfect for kids of all ages.
There are great projects for little kids (toddlers and preschoolers) as well as older, elementary aged children. And because they're autumn and also for children, there are a lot of fun colors use in these ideas!
Take a peek and the list below and let me know which are your favorites in the comments. Did you have an Elliott when you were young? I'd love to hear about it! Happy crafting and Happy Thanksgiving!
Turkey Crafts
You're going to love these turkey craft ideas - and so are your kids! These 30+ projects are perfect for Thanksgiving activities.
---
If you enjoyed these turkey craft ideas, I'd love for you to check out these other posts: