Get over 40 patterns for Thanksgiving perler beads! There are a variety of fuse bead patterns including turkeys, leaves, food, pilgrims, and more.
Are you ready to have a Thanksgiving where you completely blow it out at the dessert table? Because I am. Those who know me well know how I feel about pumpkin desserts.
They're an obsession.
I love baking this time of year. The other thing that I'm obsessed with during the holidays? Crafting! Perler beads have been hot at my house this year, and I'm excited to share this related kids Thanksgiving craft with you . . .
Thanksgiving perler beads!
So while you're busy making Thanksgiving decor and prepping food? Sit the littles down with some perler beads. They're affordable and great for all skill levels. Even if your child (or you) has never made anything before.
Below you'll get Thanksgiving-themed patterns like turkeys, pumpkins, pilgrims, and more. It's a fun way to get creative for the holiday, and with no mess. You just need an iron.
Plus, working with perler beads can help kids improve their fine motor skills, hand-eye coordination, and patience.
Perler beads are also known as hama beads (and iron beads, fuse beads, or melty beads).
They're not just for kids either. EVERY time I bring out the beads when the nieces come to my house, the adults join in. Every single time without fail!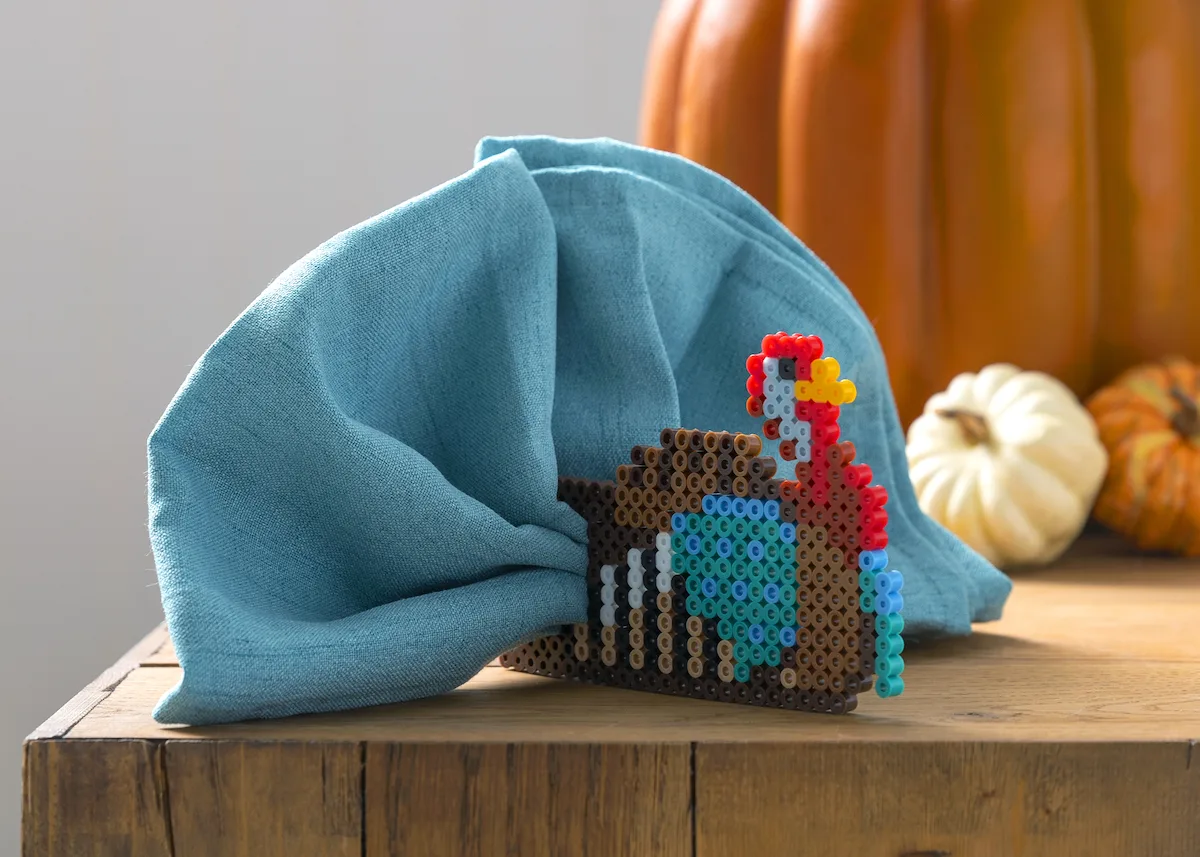 Kids will love making these for holiday decorations or giving them as gifts. Some of the patterns are useful, too – for example, the napkin ring above! There are place card holders and 3D decorations as well.
So – Thanksgiving is all about being thankful for the good things in life and cherishing the love and support of those around us. Crafting with perler beads can be one way to celebrate these feelings!
Jump into the patterns I've provided and tweak them to fit the colors you have on hand. I hope this activity brings you and your kids lots of enjoyment during the Thanksgiving holiday.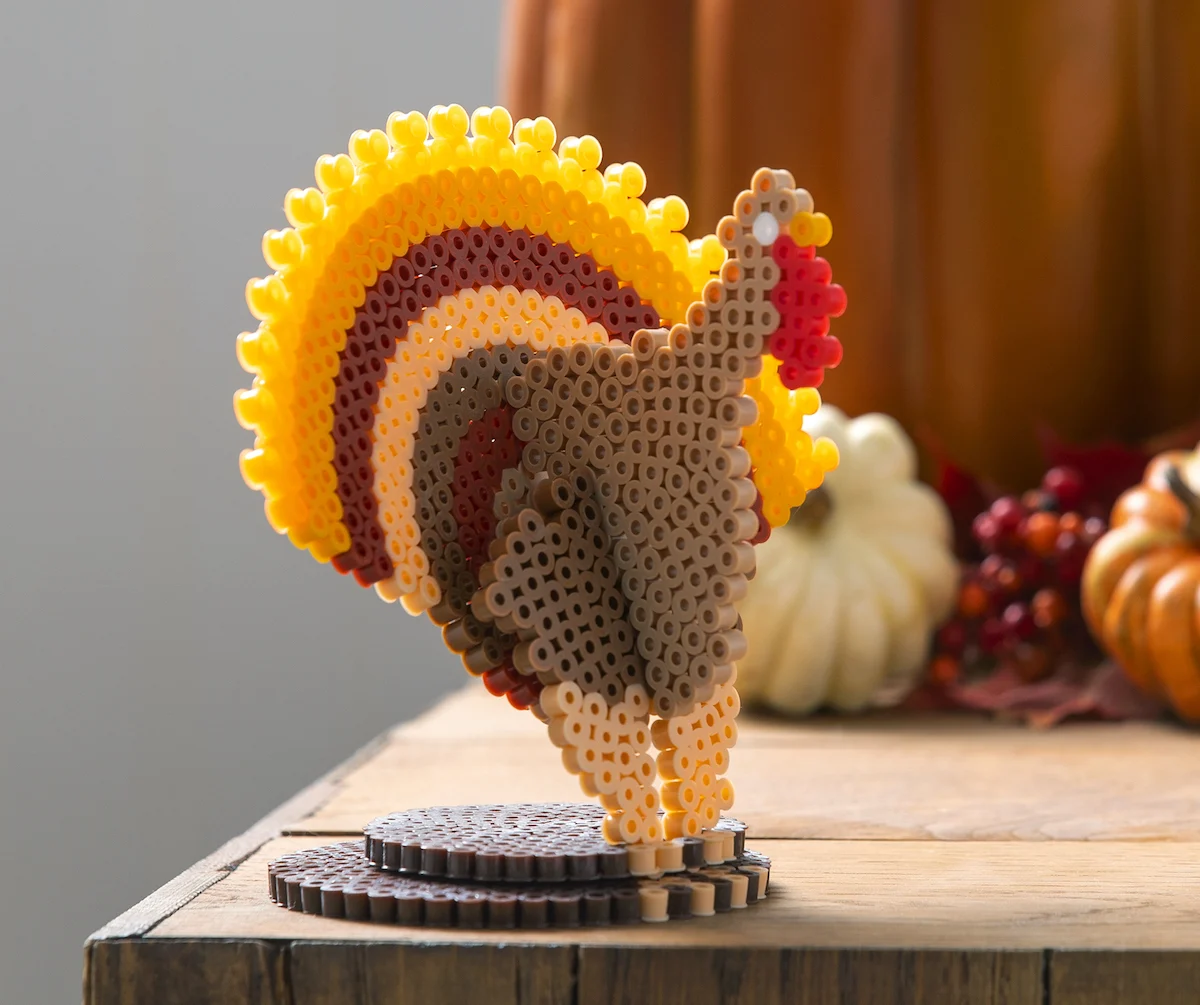 Tips for Using Perler Beads
Before we get into the patterns, I want to review a few basics of using fuse beads to make sure you get the best results (using a rainbow as an example). If you don't want the tips, scroll down to the bottom to get the Thanksgiving perler beads.
Remember that the overall goal is to melt the beads together on both sides while still leaving the holes open. Here's what you'll do.
Use Ironing or Parchment Paper
Place ironing paper or parchment paper over the beads on the pegboard. Be gentle so you don't disturb the beads underneath.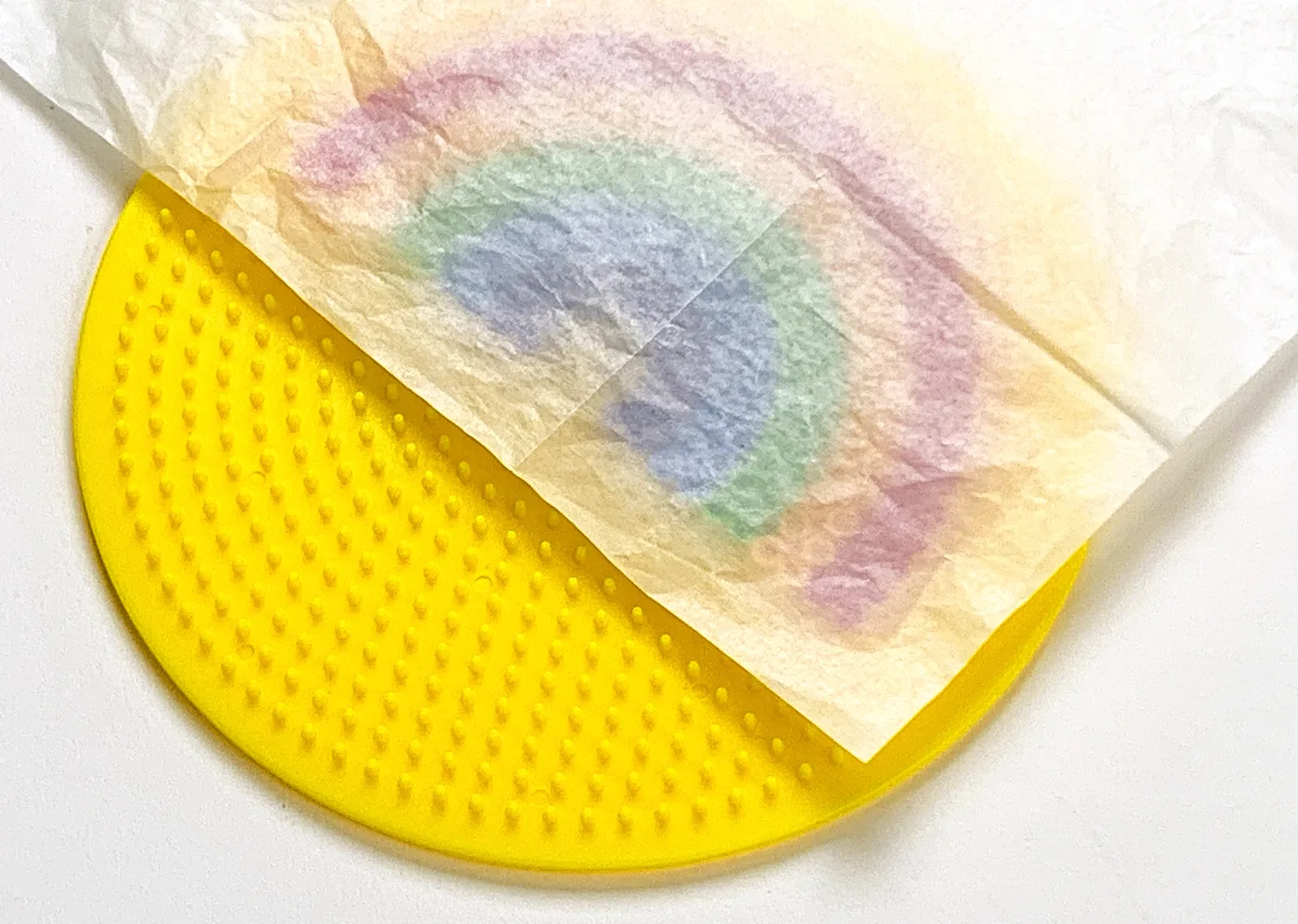 Heat your iron to the medium setting (no steam). In a circular motion, begin to iron the project. Don't press down too hard with the iron.
When ironed properly, the beads will still have an open center. Check and make sure your edges are melted. Let the design cool on the pegboard.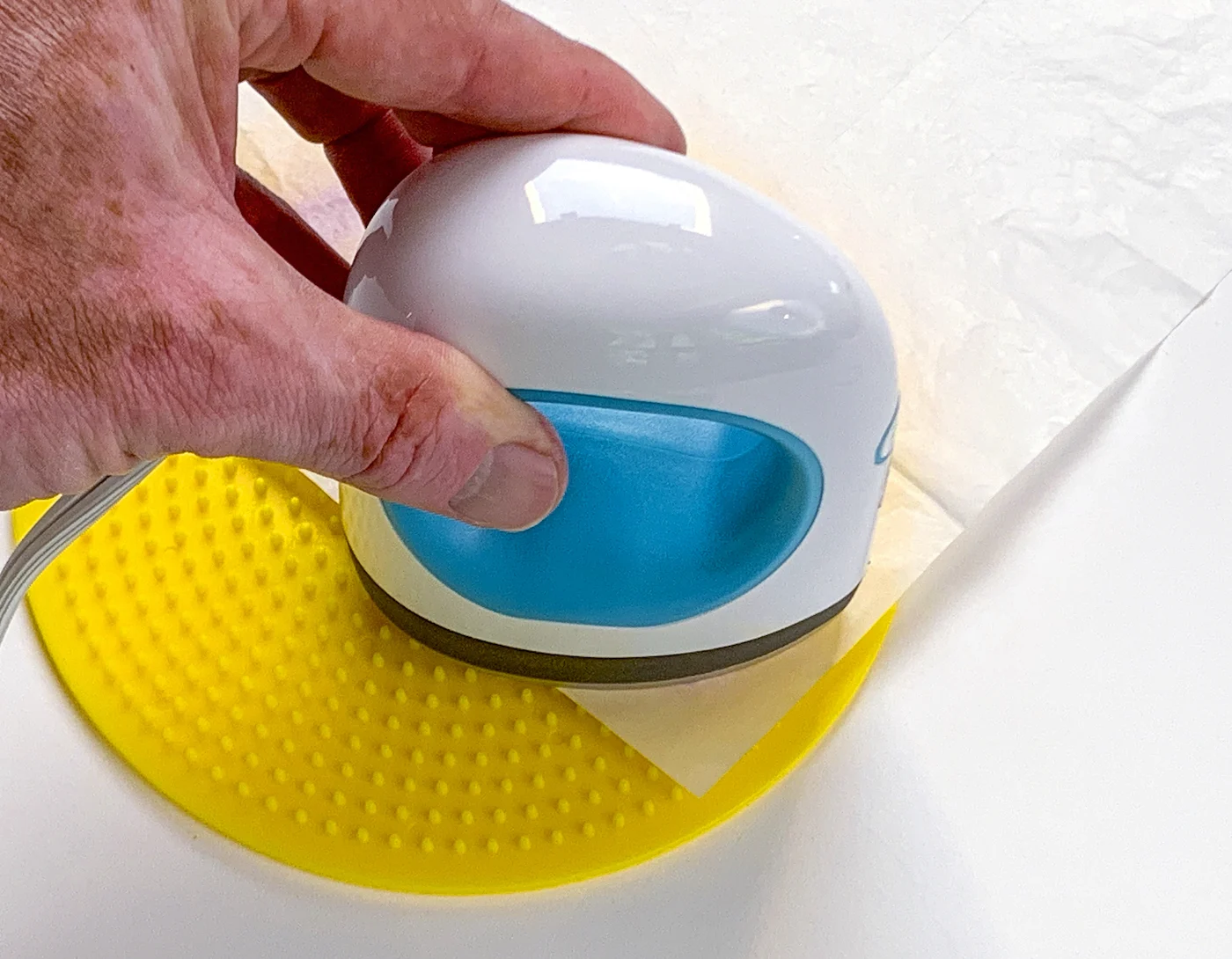 Note: BE CAREFUL about lifting up the paper while you're ironing! If you want to check, carefully peel back paper around the edge of your design and see if all the beads are melted.
If you lift the paper up quickly and there are a lot of unmelted beads, they will easily fall off or go flying and you may be forced to start over. Sometimes the edges need more time so when you check, just check the edges and peel paper back slowly.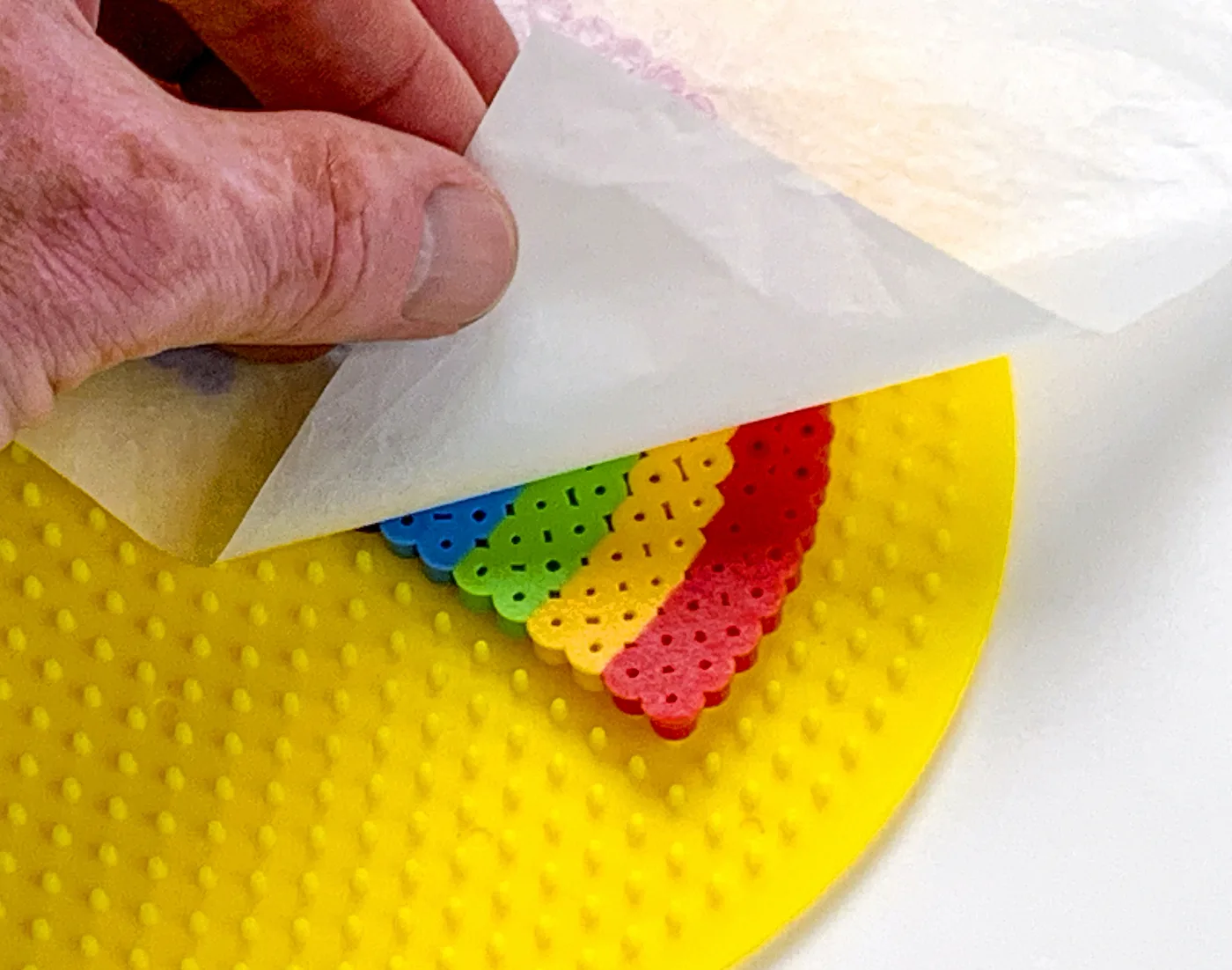 Another Note: some beads melt faster than others (clear melts faster than white, for example). So some holes might be larger than others. It's okay! That's part of the look of the project.
Iron the Other Side
Remove the bead design from the pegboard. Flip it over to the non-melted side and repeat the fusing process.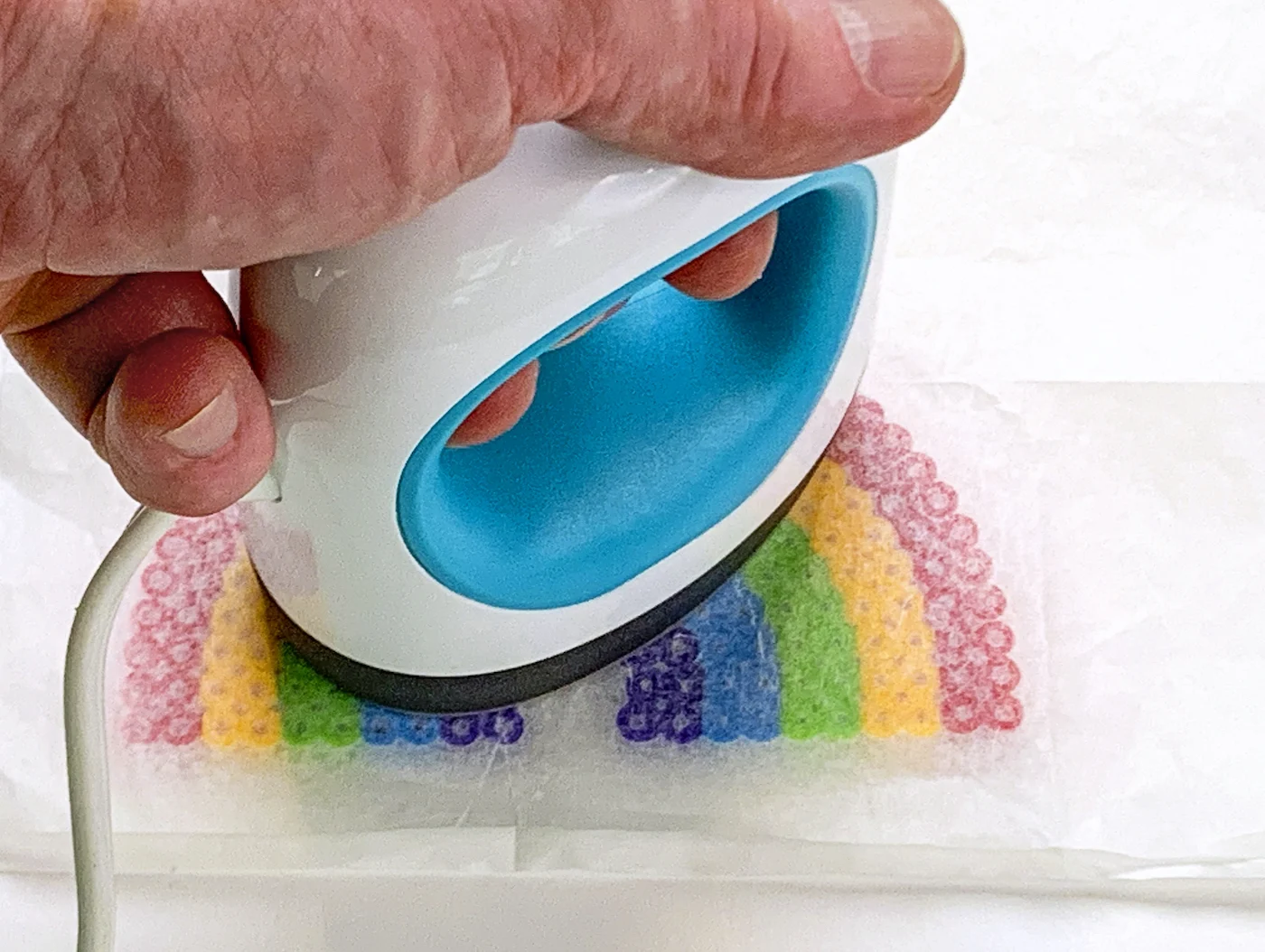 Remove the Paper
Let cool completely and remove the paper again (which is reusable). Some people pull the paper off after they iron the first side, but I just wait until the end and peel off both pieces. It's up to you!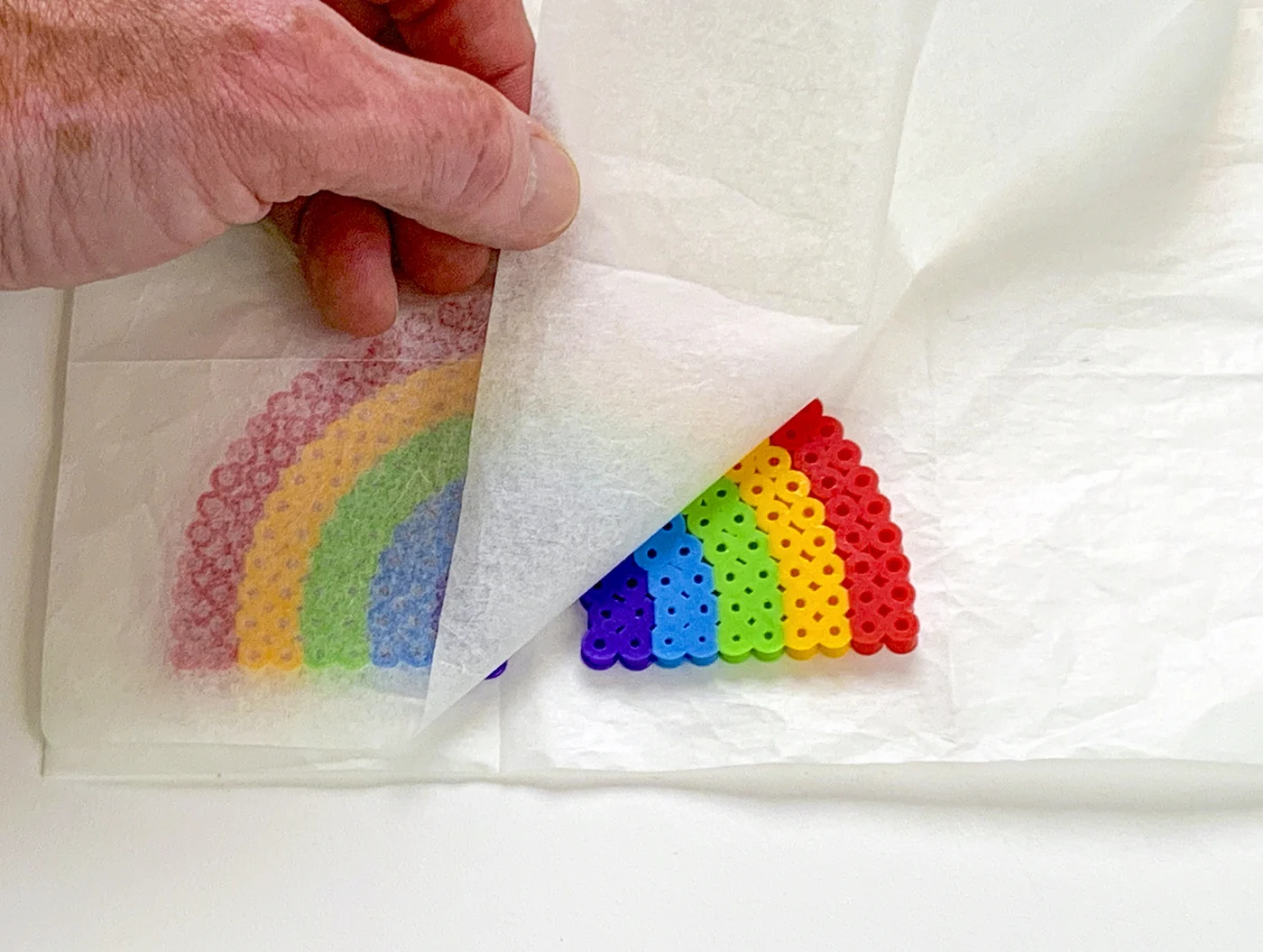 Now if you're ready for the Thanksgiving perler bead designs, here are the patterns.
Thanksgiving Melty Beads
Make sure to check out these notes:
A few of these patterns are larger than a 29 x 29 pegboard, so you'll either need a extra large pegboard (49 x 69 tall) or to put multiple square peg boards together to form a larger "canvas."
In addition to square pegboards, you'll see round and hexagon pegboards. These are fun to have in your arsenal if you plan to do a lot of perler-ing.
You'll see a couple of the pattern backgrounds below aren't white – that's simply to give contrast so you can see where all the white beads should go. You don't need to add the background (but you can if you want to).
Don't stick to my colors necessarily. Customize with your favorite color beads.
I typically start with easier, smaller patterns in my list and then move on to the more advanced ones. You'll see several different versions of themes with increasingly larger patterns; just keep scrolling!
---
Squirrel, Pumpkin, Indian Corn, Leaf, Pie, Turkey, and an Acorn
These minis are classic Thanksgiving symbols and great for first timers.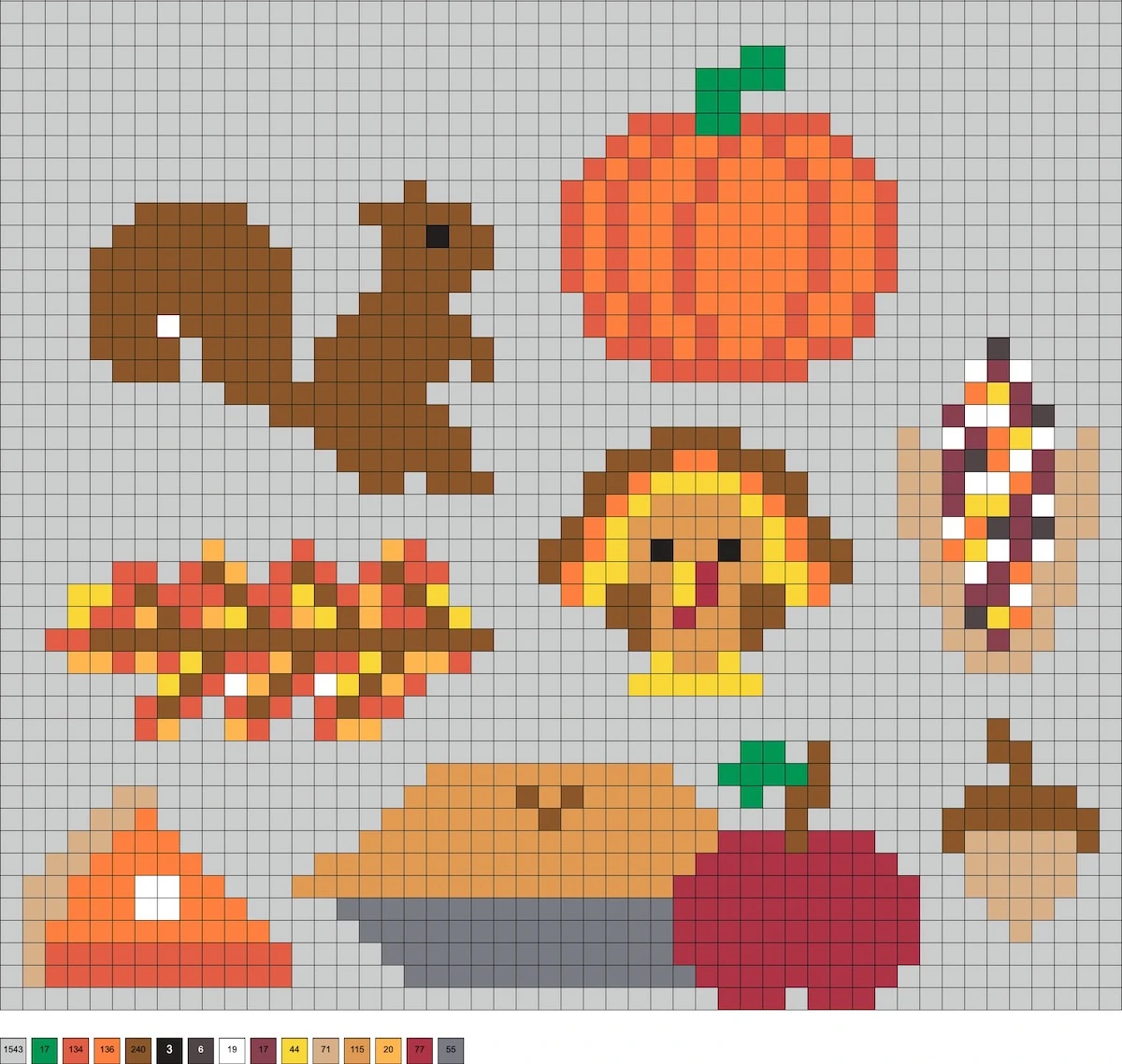 ---
Turkey, Scarecrow, Pumpkin, and Owl
These patterns are more vintage inspired.
---
Two Tiny Turkeys
We love turkeys around here. We've done a coffee filter turkey, paper plate turkey, pine cone turkey . . . you definitely need to try a perler bead turkey!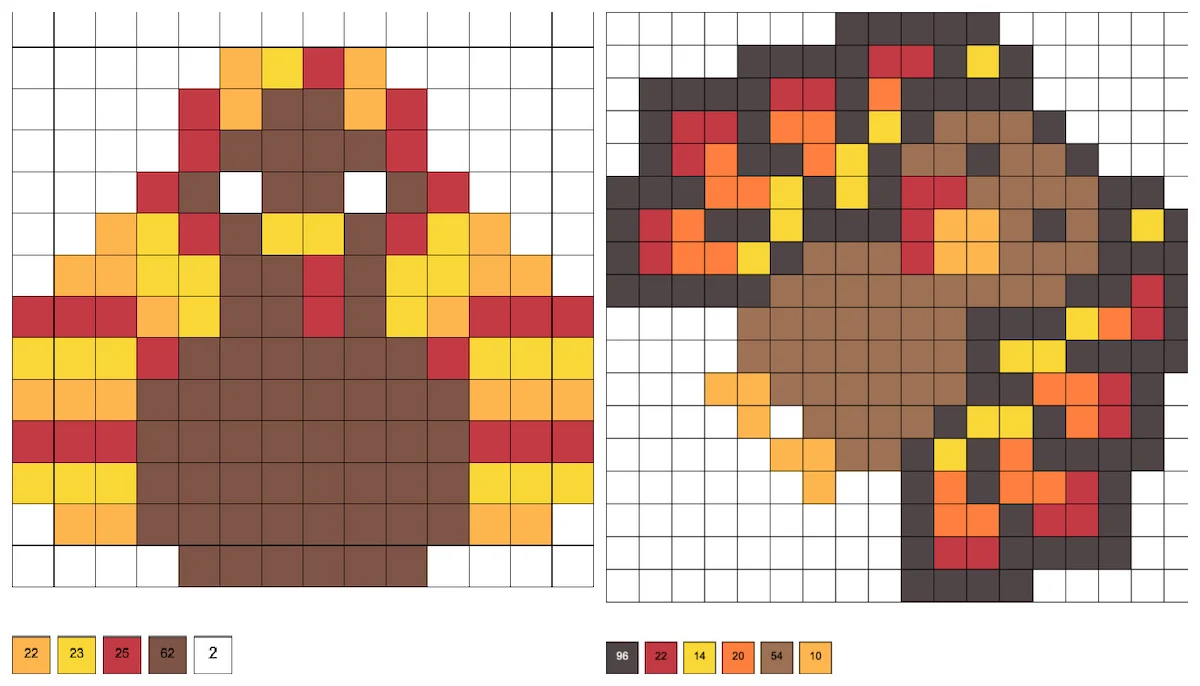 ---
Colorful Leaves
Each leaf uses ten beads for the stem and 24 beads in your favorite shade for colorful portion.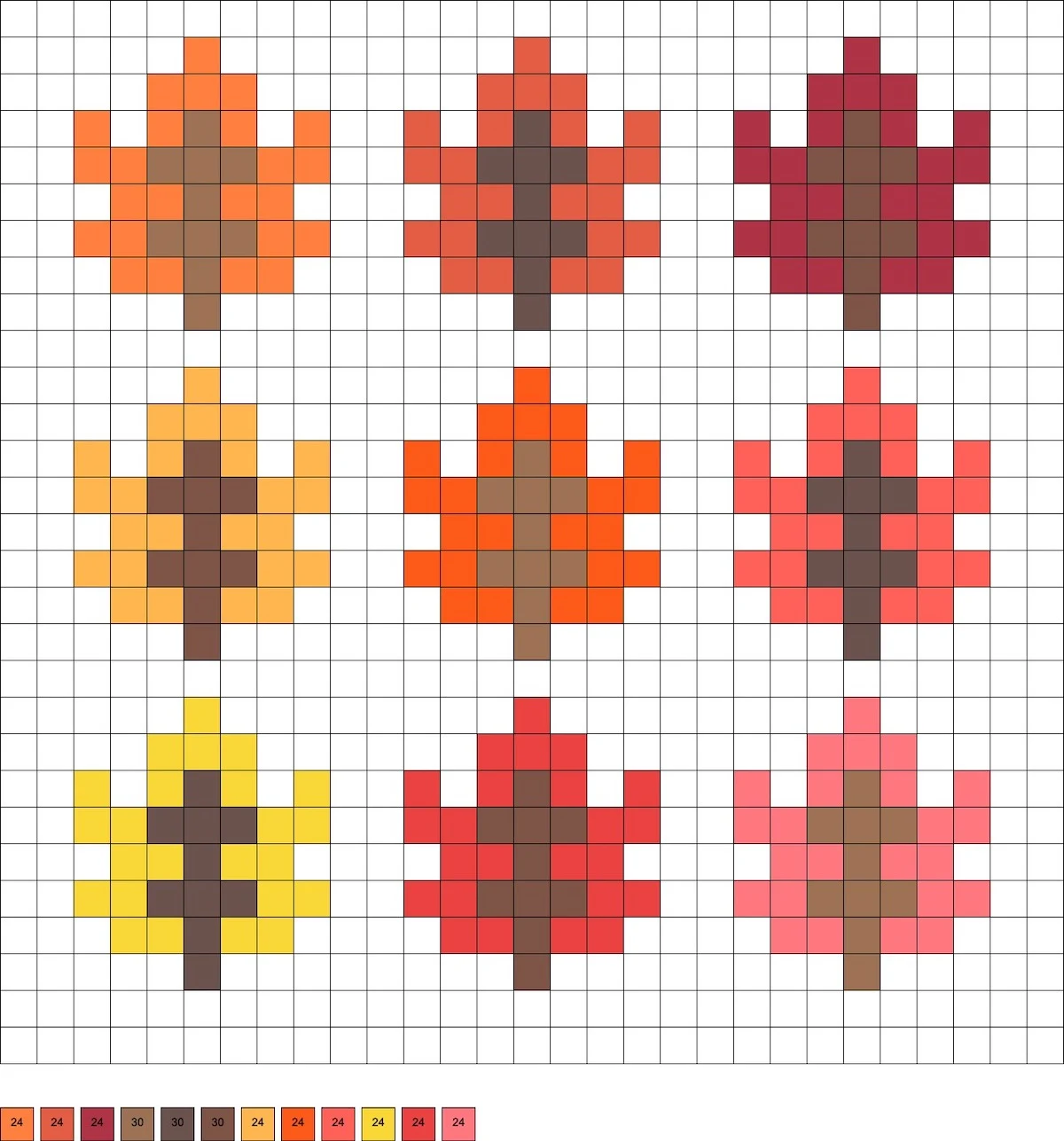 ---
Pilgrim Hat
This pattern uses 240 black, 28 gold, and 38 toasted marshmallow beads.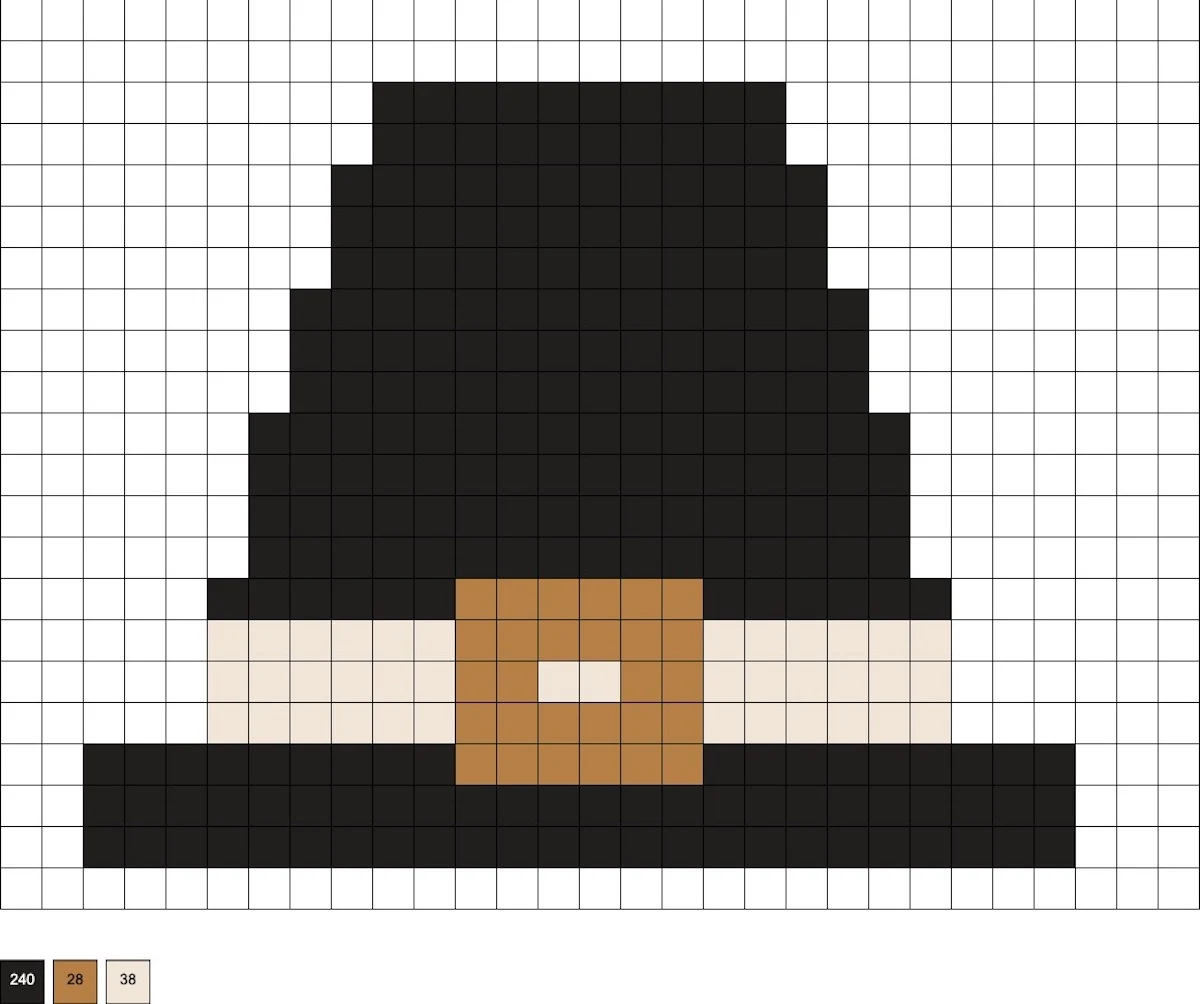 ---
Tiny Pilgrims
These patterns use 28 black, 26 pastel yellow, 44 white, 4 honey, 46 brown, 42 tan, 2 dark blue, and 2 fern beads.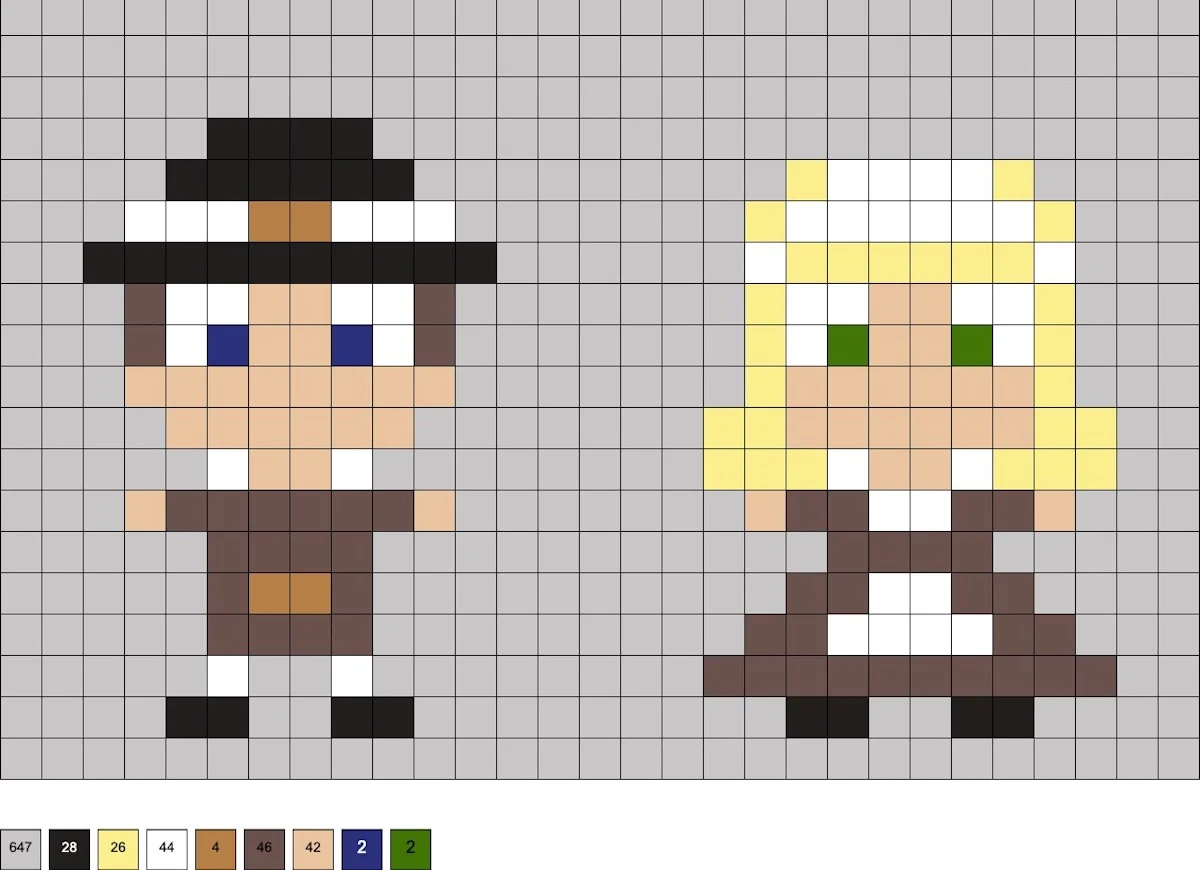 ---
Harvest Standing Turkey
This pattern uses 20 pastel yellow, 8 yellow, 22 cheddar, 41 fawn, 38 orange, 2 black, 52 cherry, and 68 brown beads.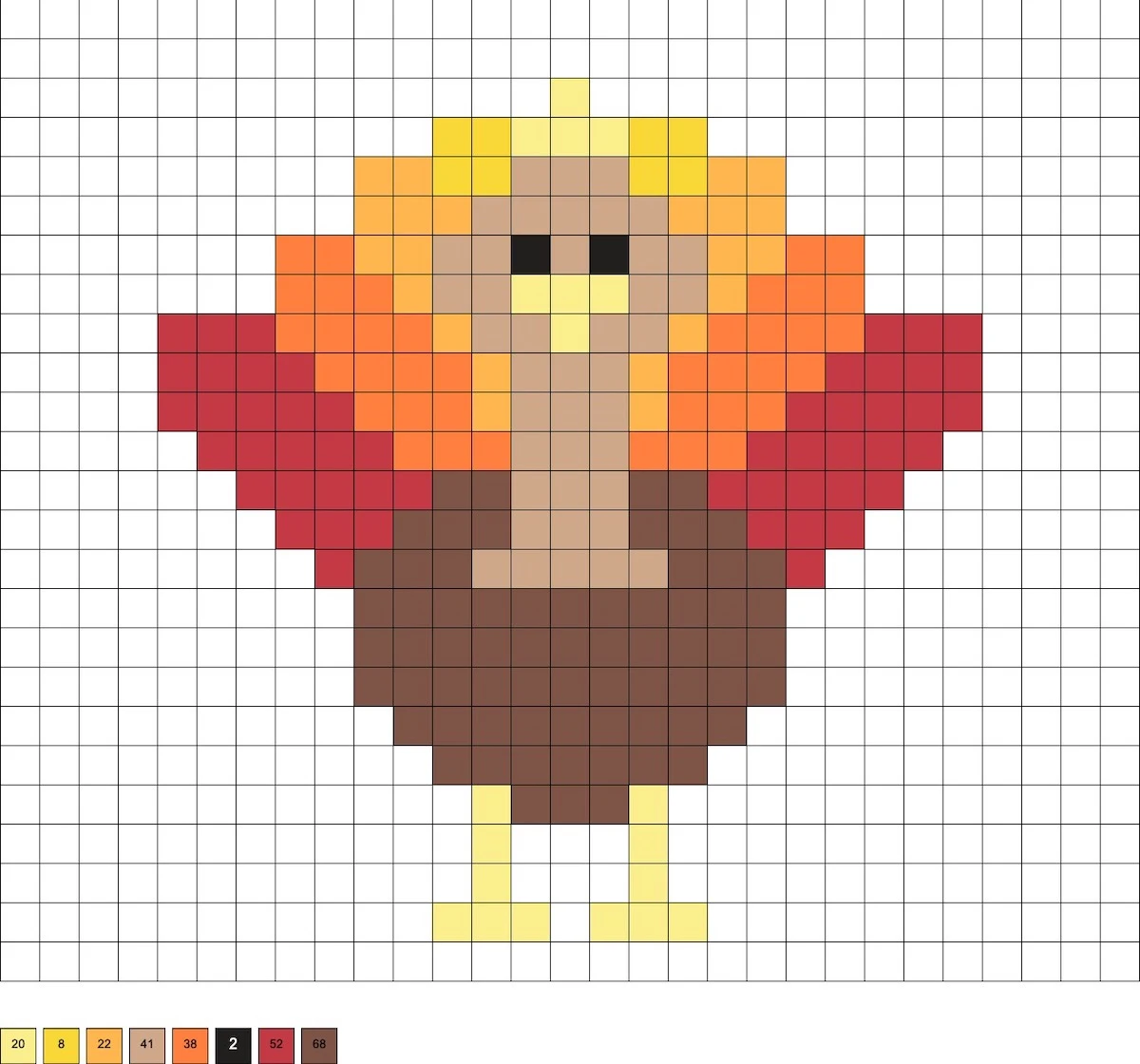 ---
Turkey Table Decor
This pattern uses 10 black, 29 yellow, 30 cranberry, 45 brown, 50 toasted marshmallow, 16 orange, 7 red, and 23 white beads.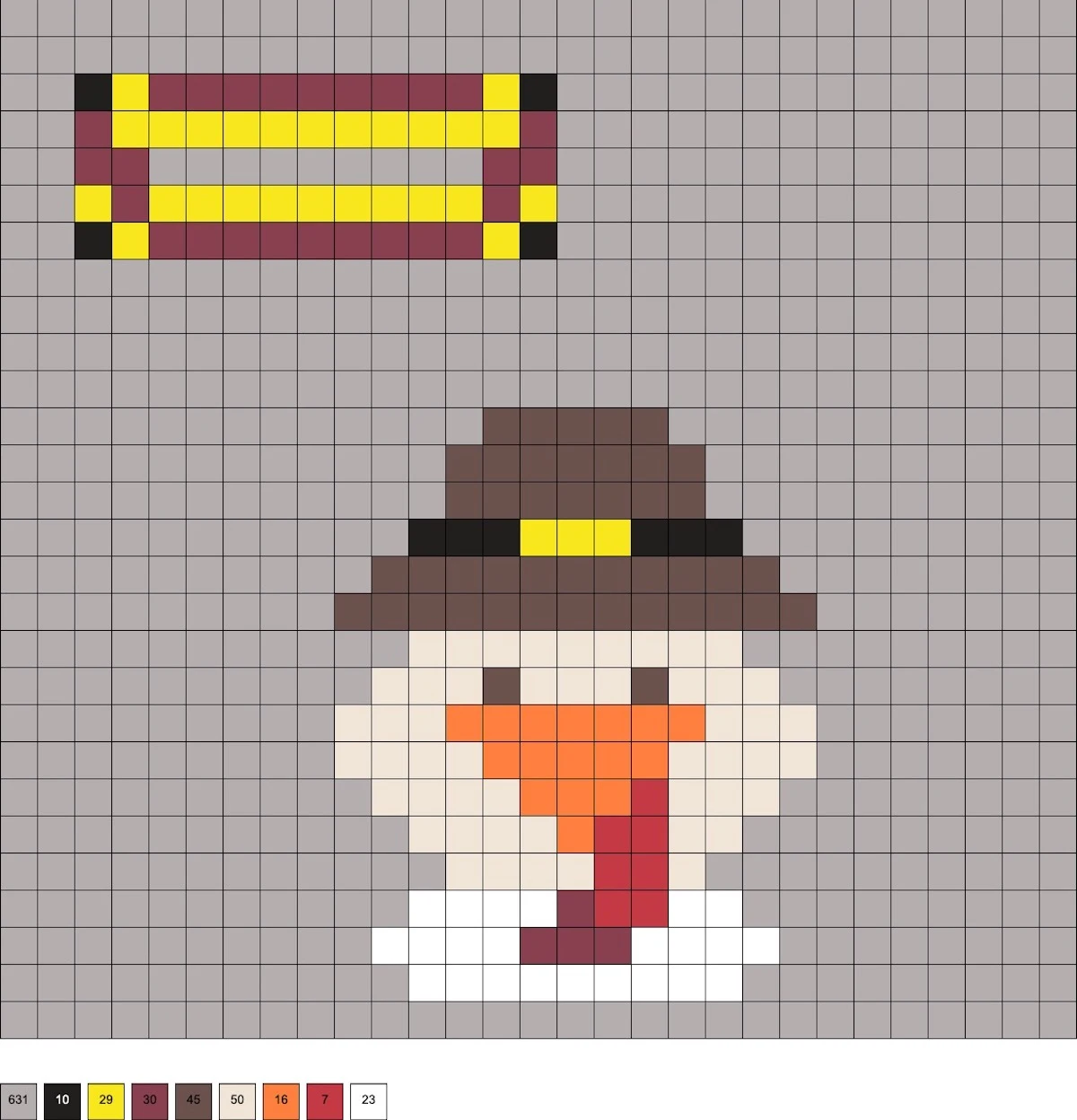 ---
Teepee, Native Man, Child, and Woman
These patterns use small hexagon boards.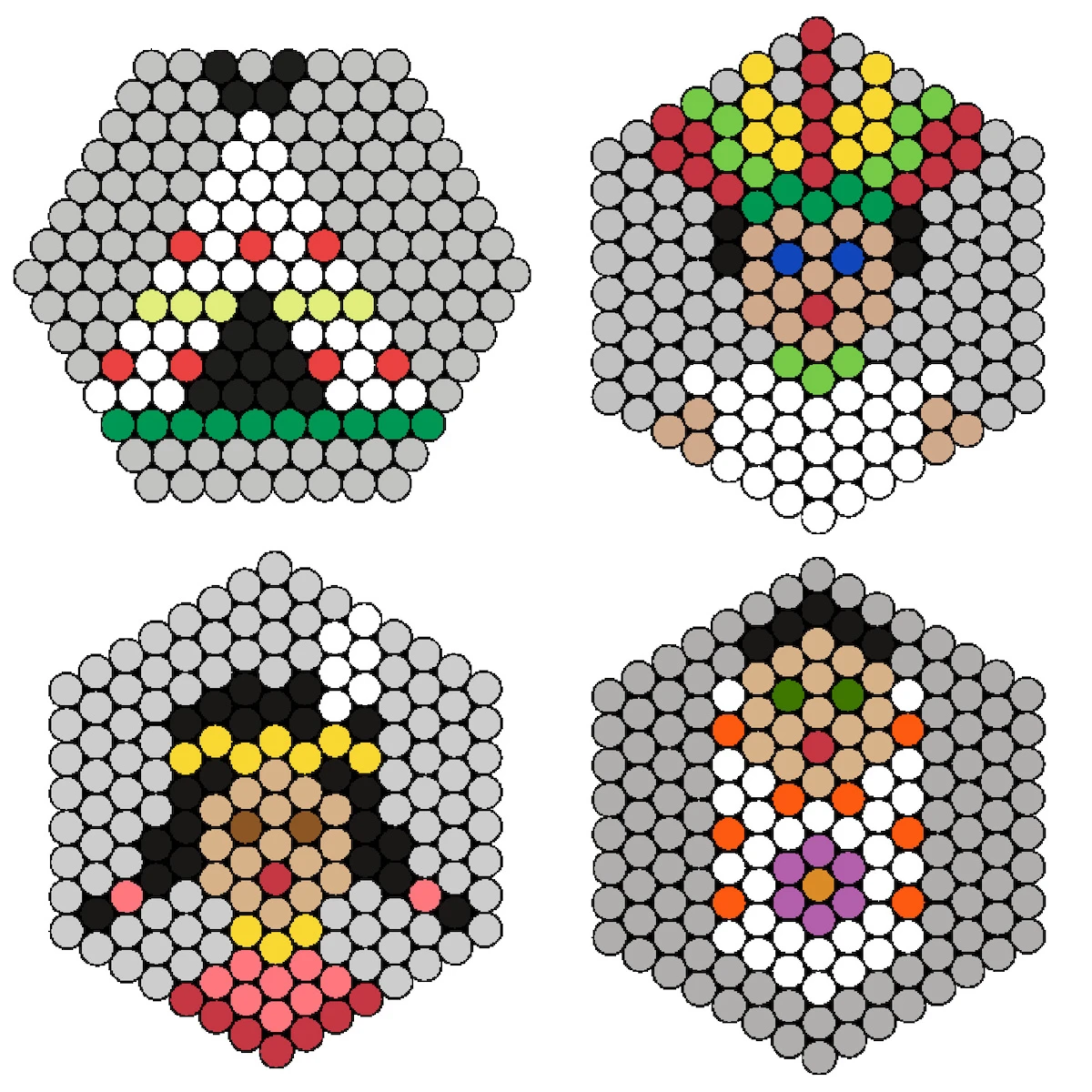 ---
Frisky Fox
This pattern uses 177 orange, 73 white, and 9 black beads. Get more animal perler beads.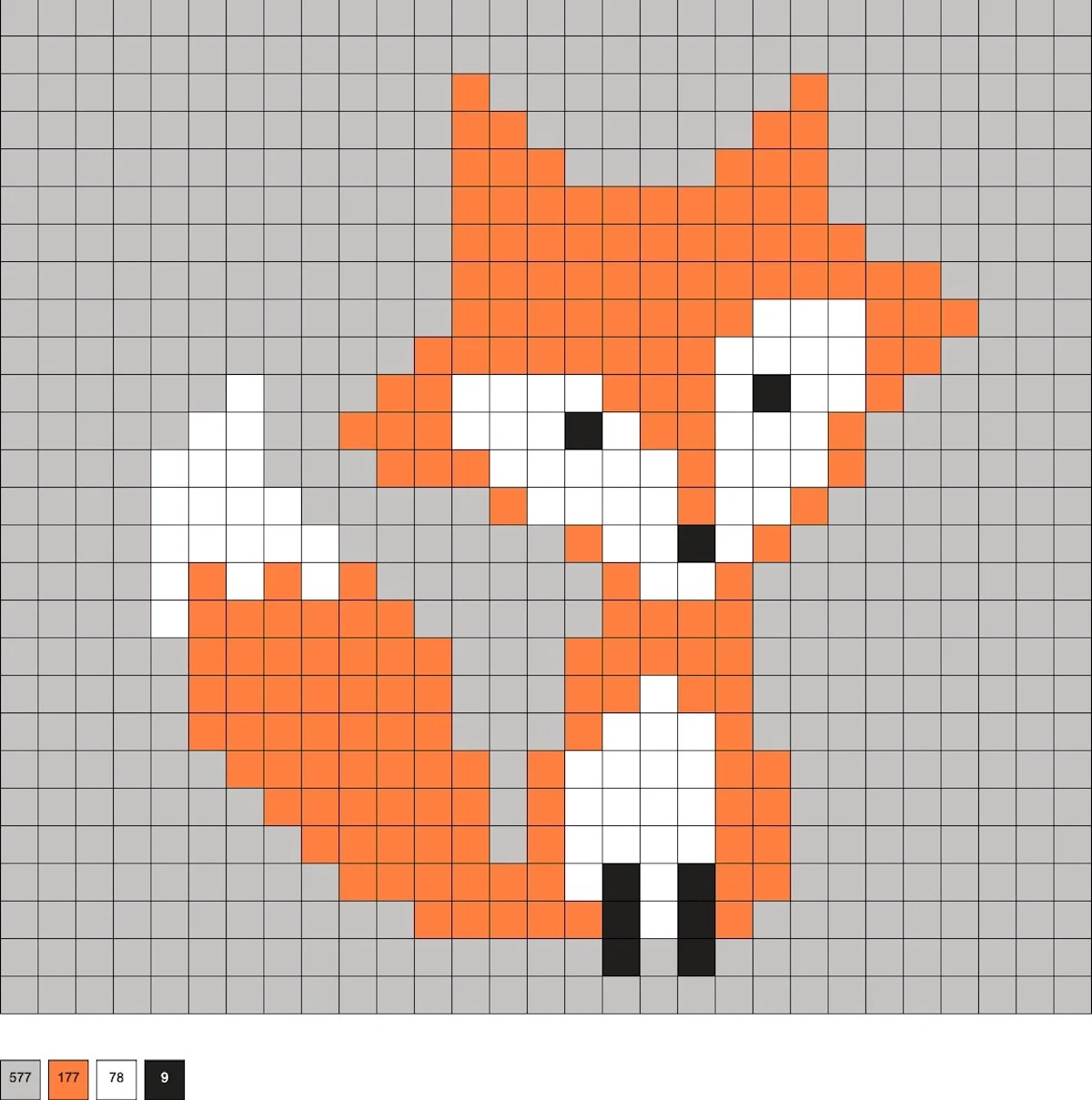 ---
Fruitful Cornucopia
This pretty pattern is a great way to use up colorful beads to represent a variety of fruits and vegetables.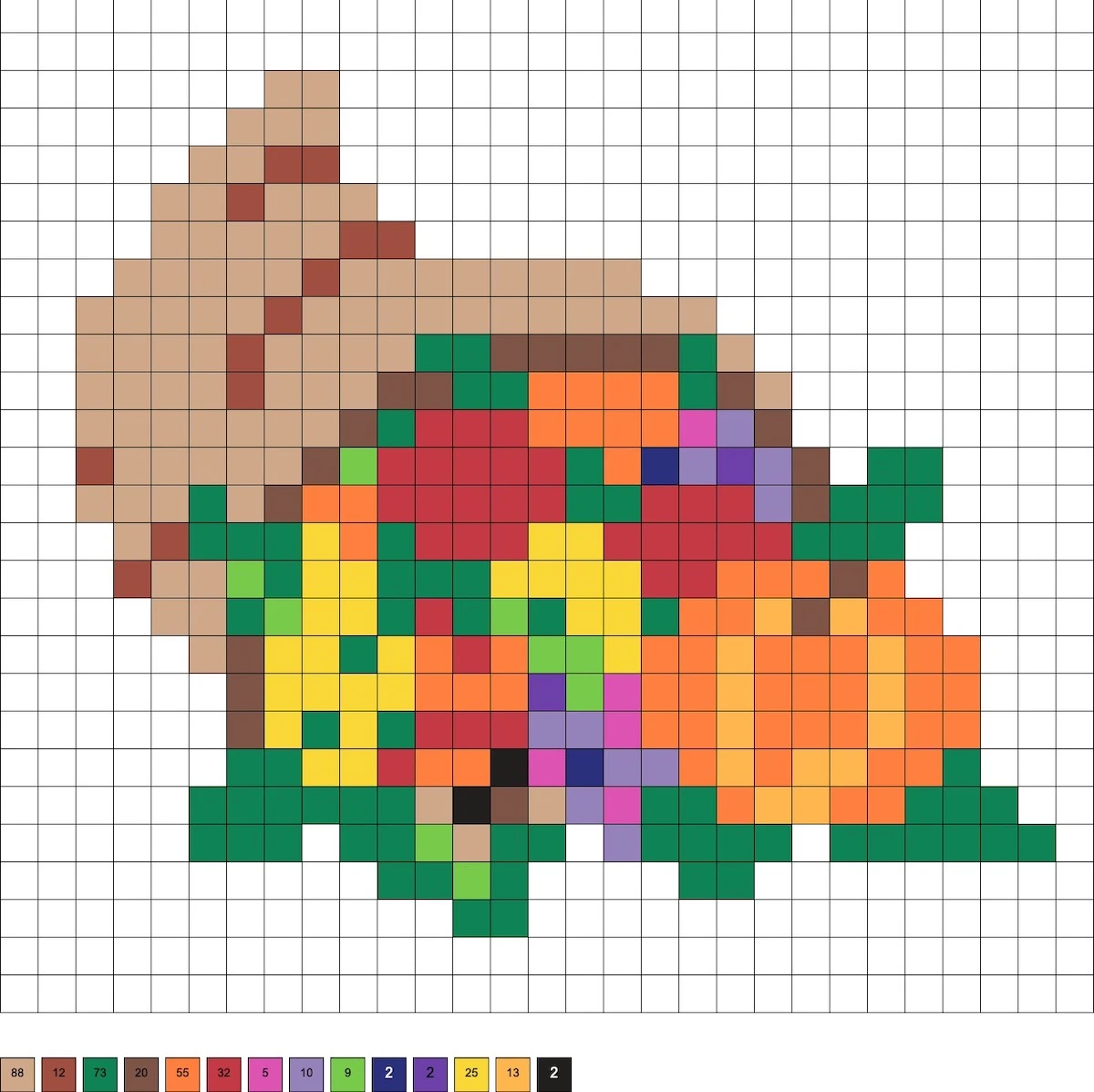 ---
Cooked Turkey
This pattern uses 12 white, 59 light brown, and 173 brown beads.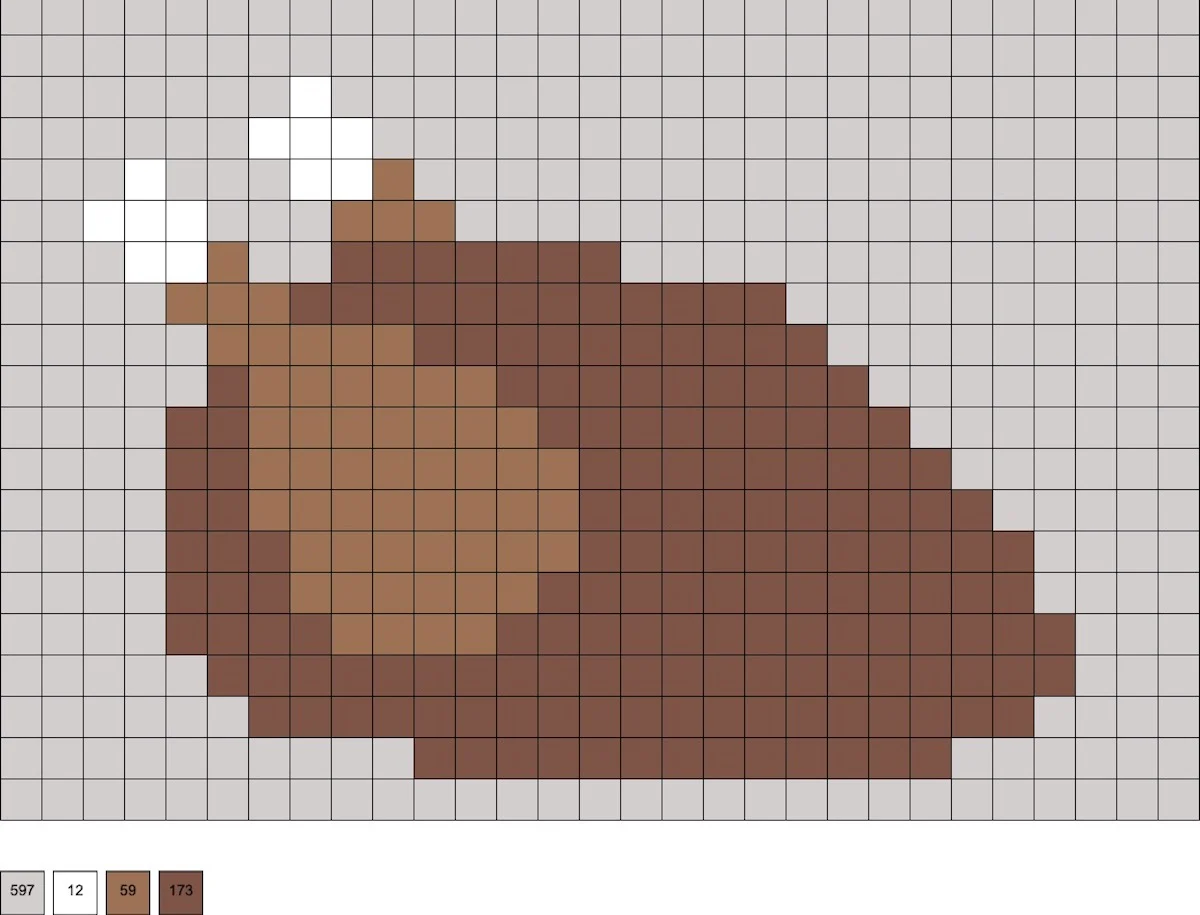 ---
Proud Turkey
This pattern uses 99 tan, 90 spice, 125 sand, 22 yellow, and 1 black bead.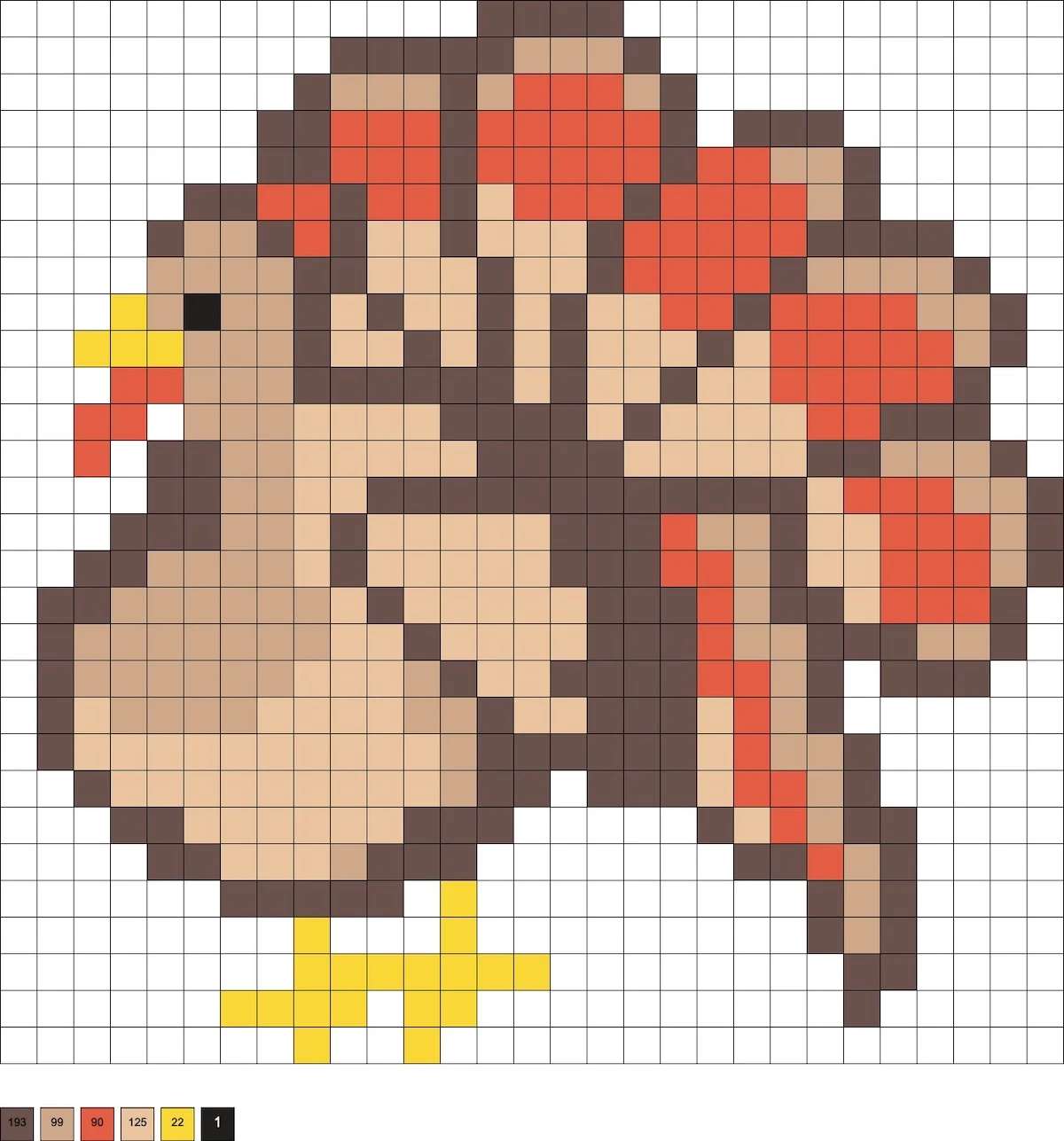 ---
Tree Losing Leaves
I absolutely love this pattern that features a tree with leaves falling on the ground!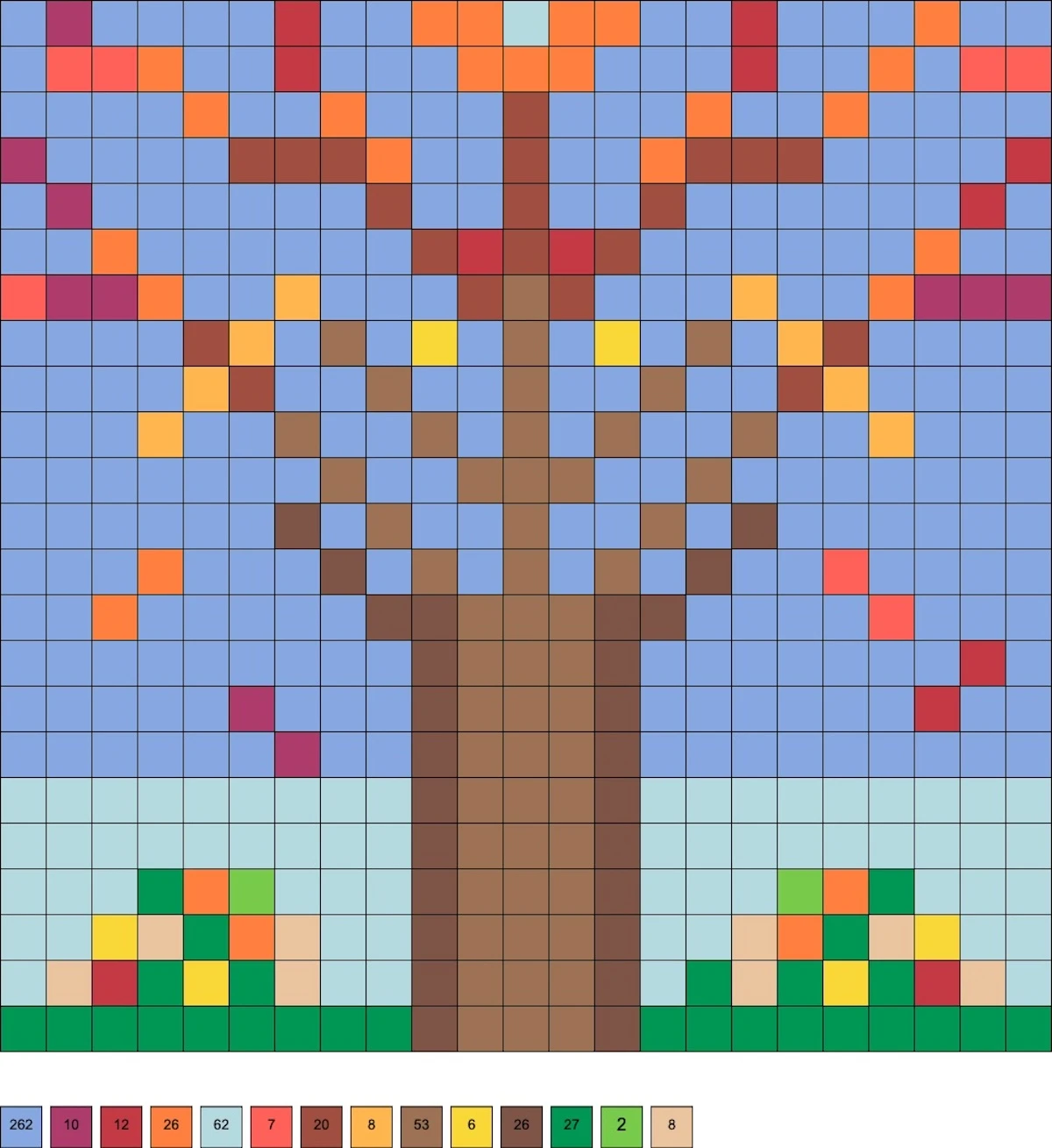 ---
Native Man and Woman
These patterns use large hexagon boards.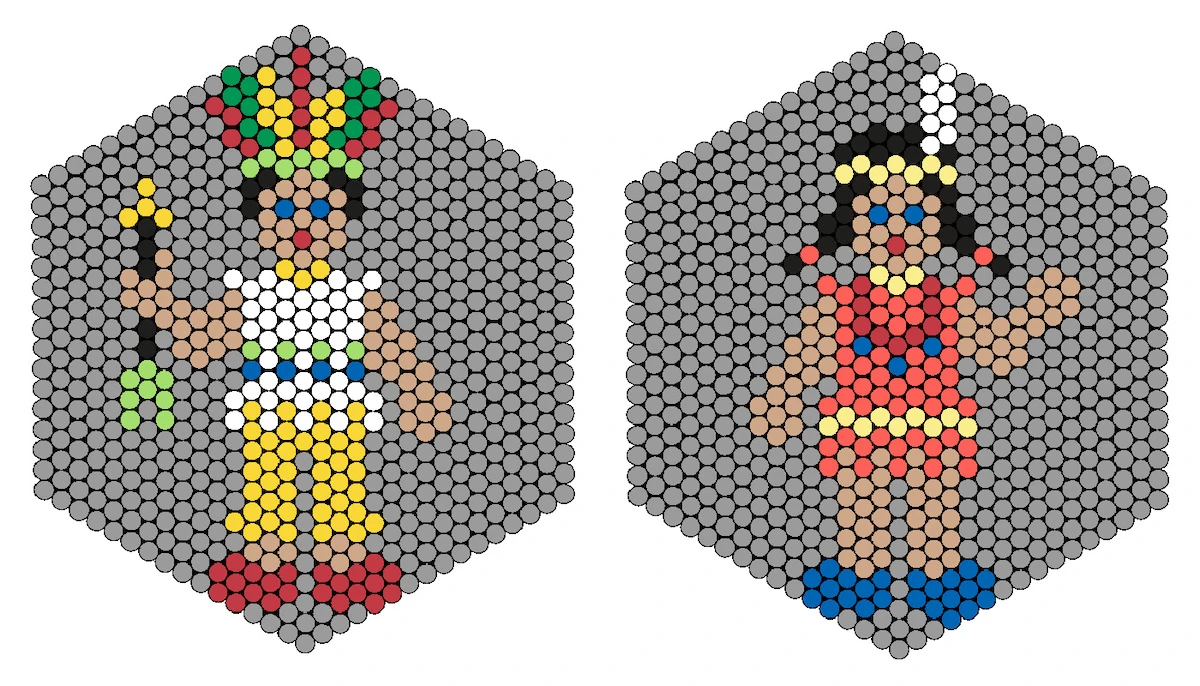 ---
Turkey with Large Feathers
These patterns use 77 red, 73 orange, 58 light blue, 119 light brown, 2 black, 13 cheddar, and 60 kiwi lime beads.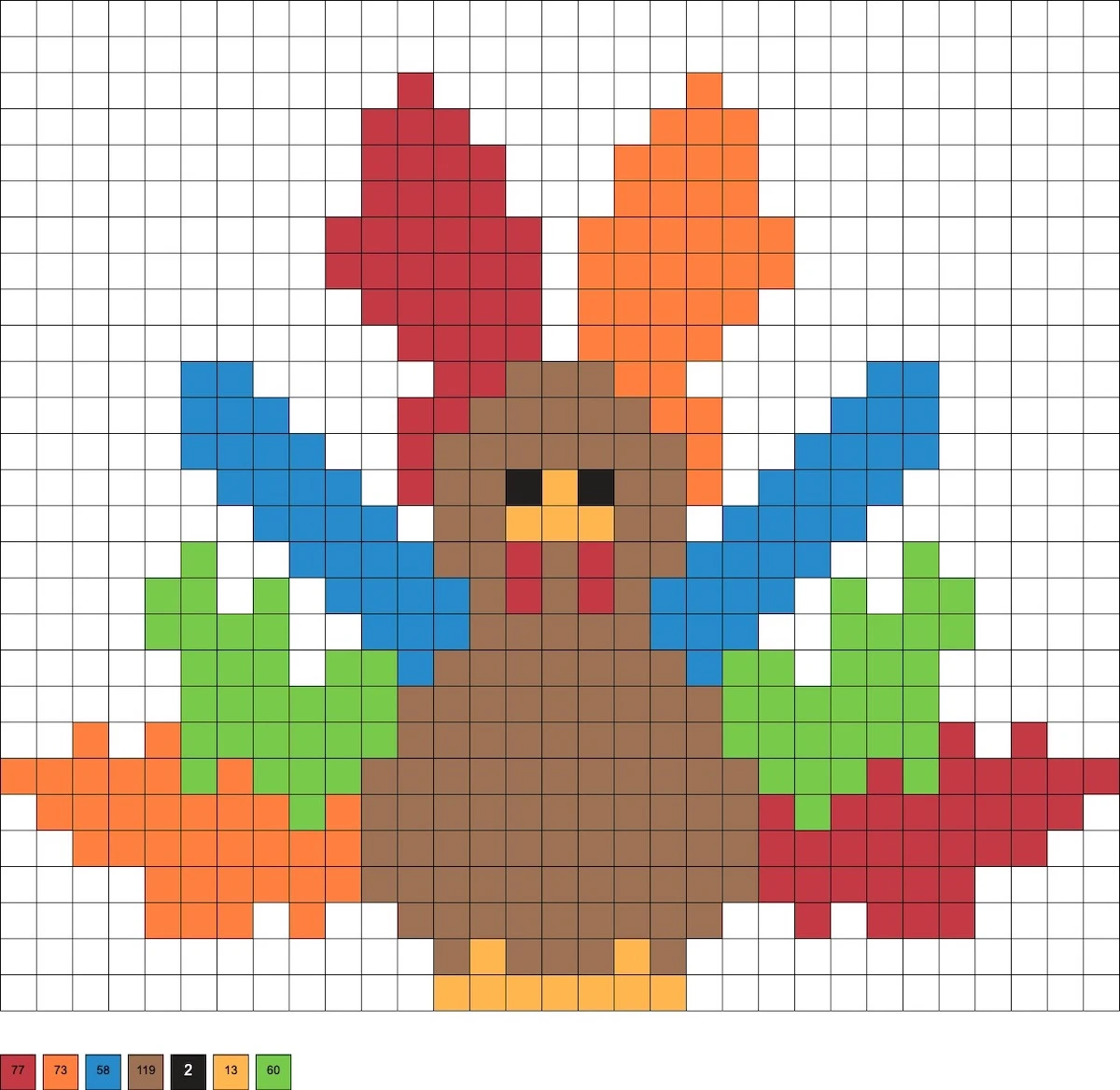 ---
Teepee and Round Turkey
These are different versions of teepee and turkey perler bead patterns on various types of boards.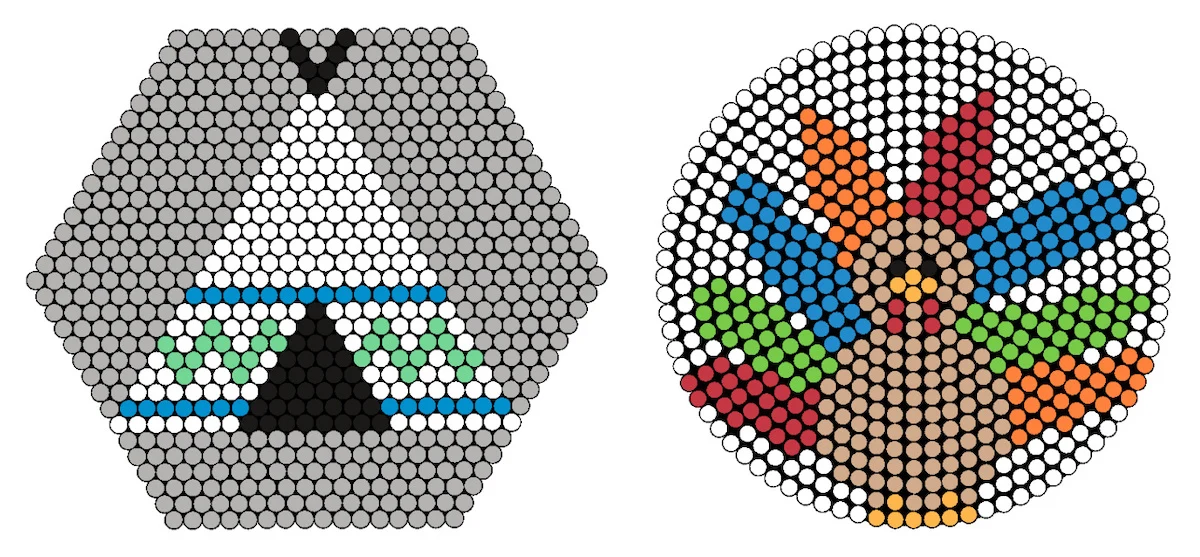 ---
Standing Turkey
You can see a photo of the assembled turkey toward the top of this blog post! You'll make the stand with the two small round circles and then glue them together with the holes aligned.
Make the upper portion of the turkey with the three round boards. Insert the legs into the stand, then the turkey body into the legs. Finish up with the feathers.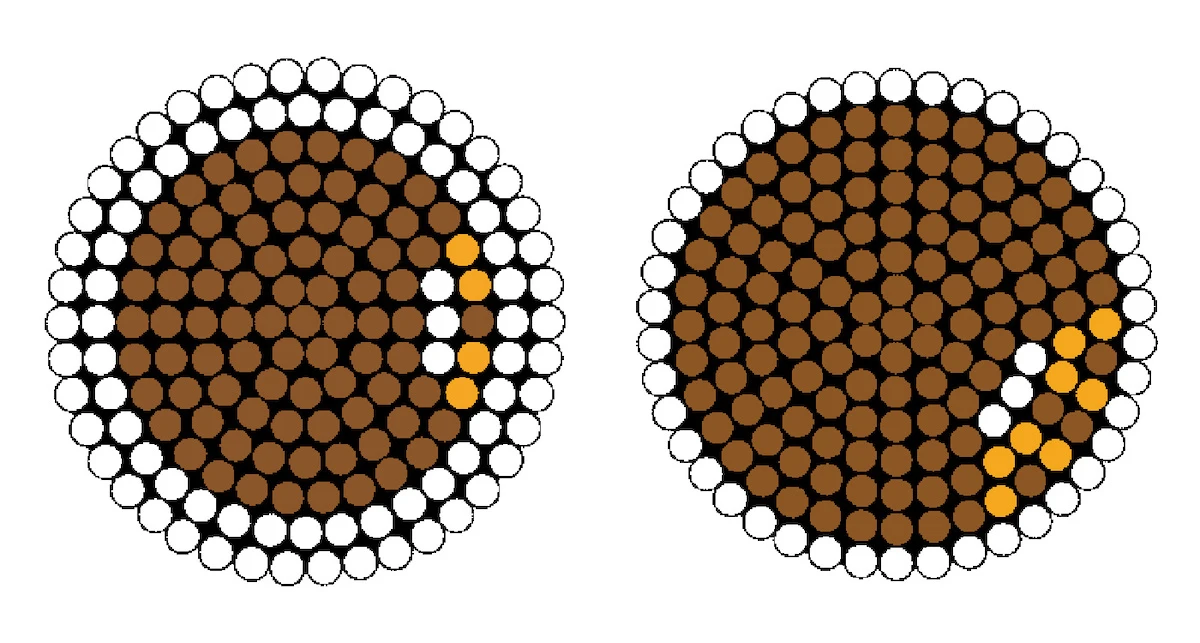 ---
Turkey Napkin Ring
This pattern uses 16 red, 8 blueberry creme, 25 black, 4 cheddar, 17 cherry, 93 brown, 48 light brown, 21 light green, 43 parrot green, 10 white, and 16 sand beads.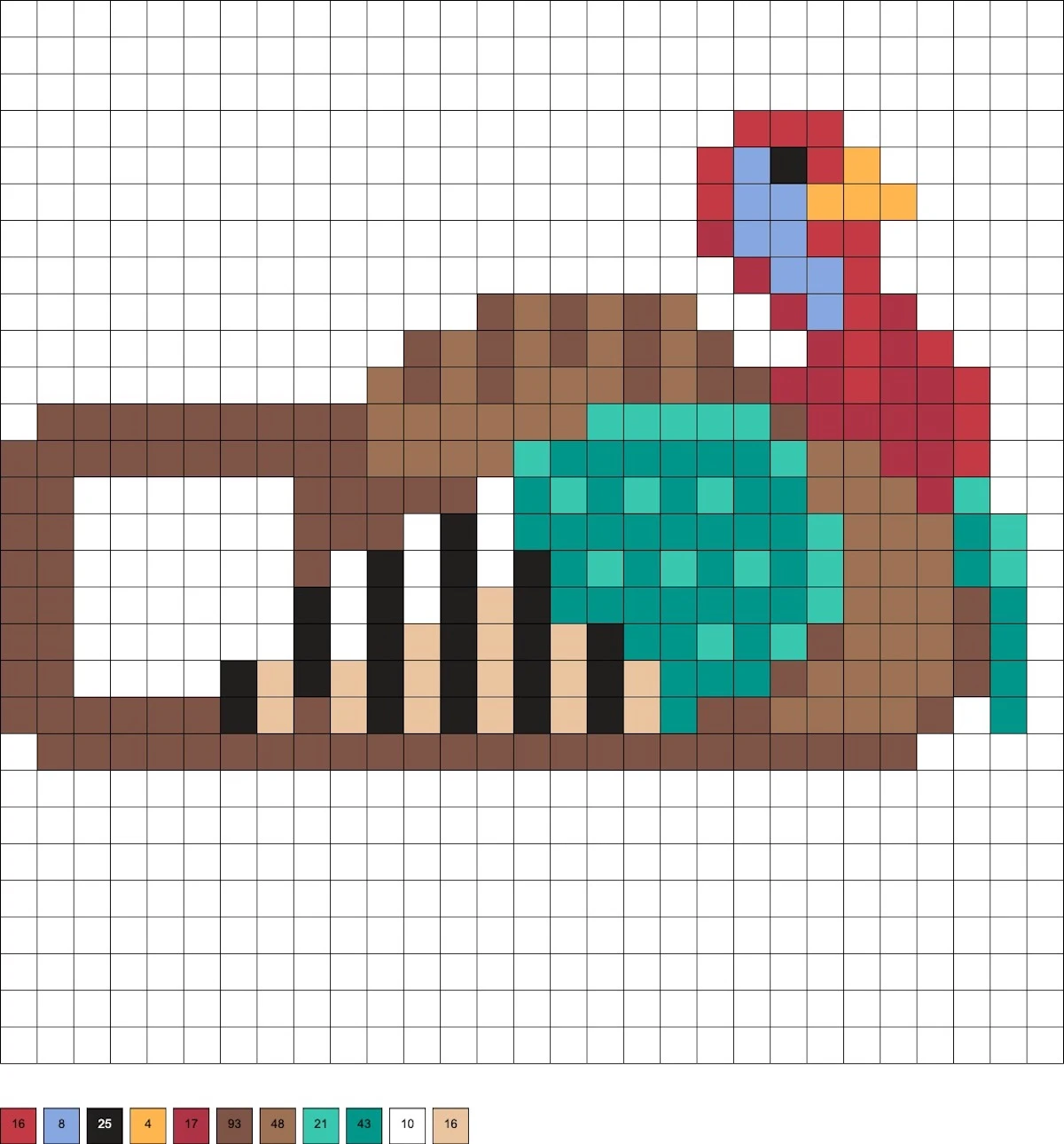 ---
Acorn and Leaves
This pattern uses 108 dark brown, 39 orange (or spice), 65 cheddar, 60 sand, 91 light brown, and 5 black beads.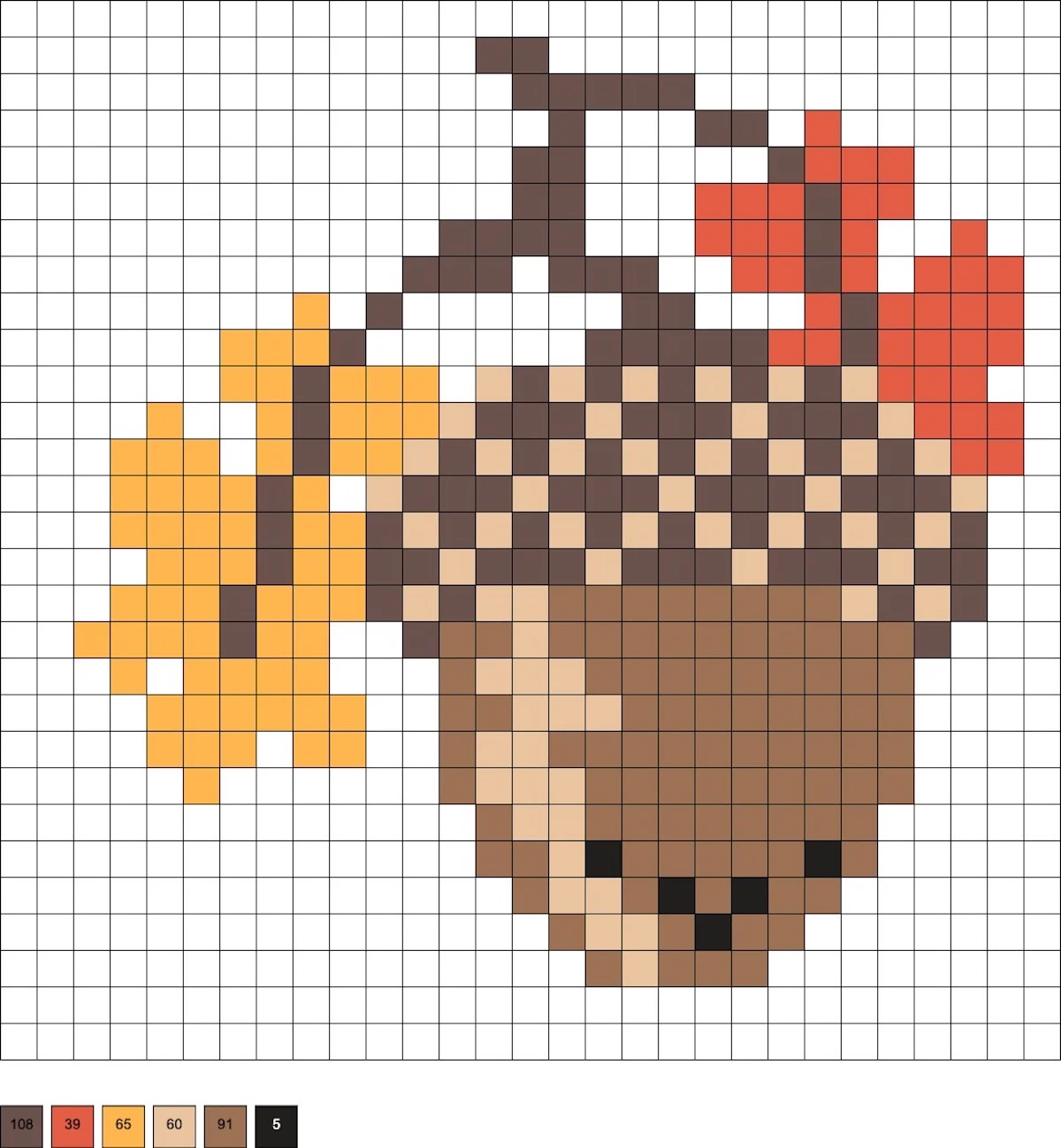 ---
Smiling Squirrel
This pattern uses 328 brown, 180 rust, 38 tan, 255 toasted marshmallow, and 51 dark brown beads.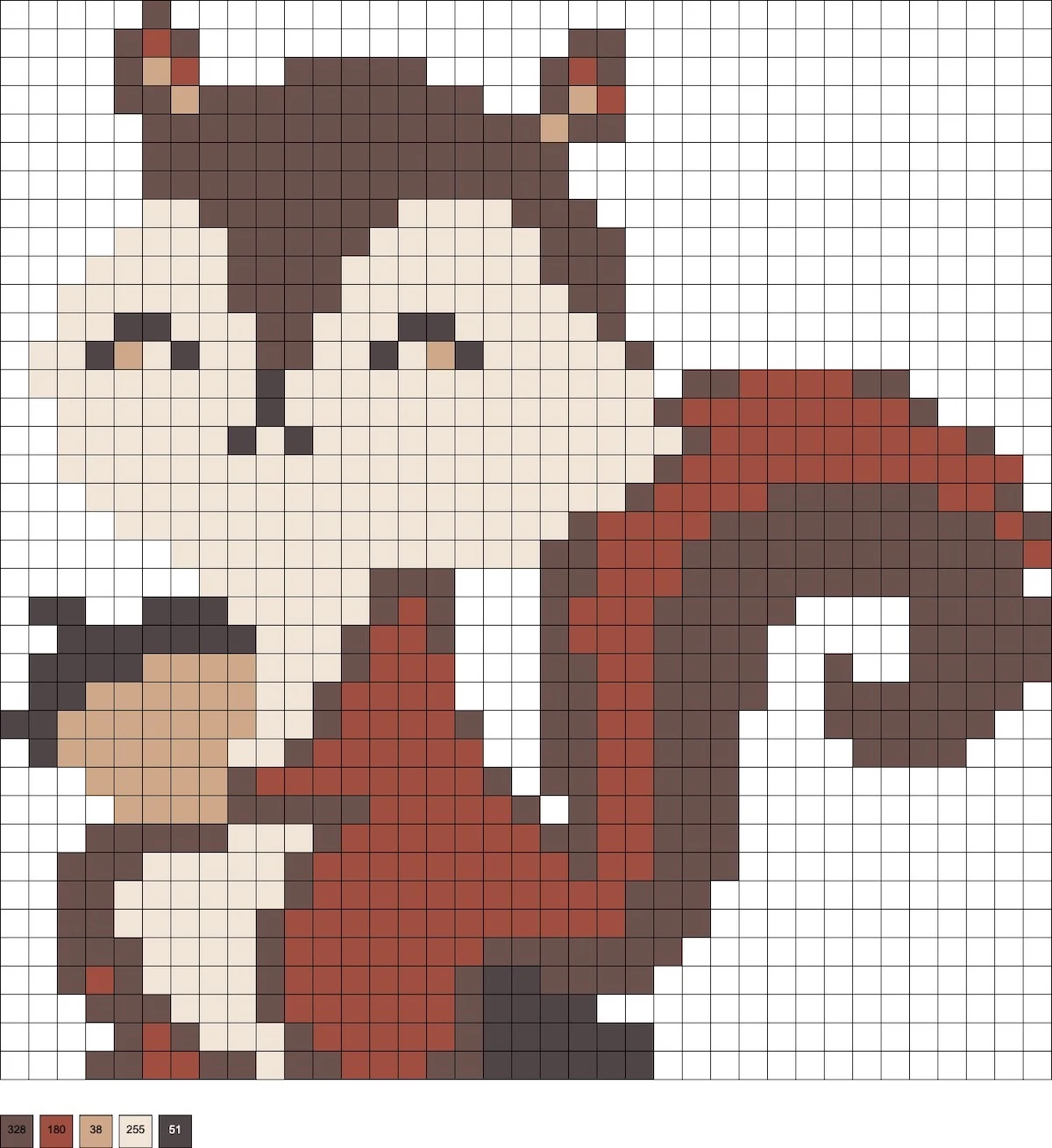 ---
Cute Little Fox
This pattern uses 127 black, 31 spice, 17 pink, 52 tangerine, 100 orange, and 90 white beads.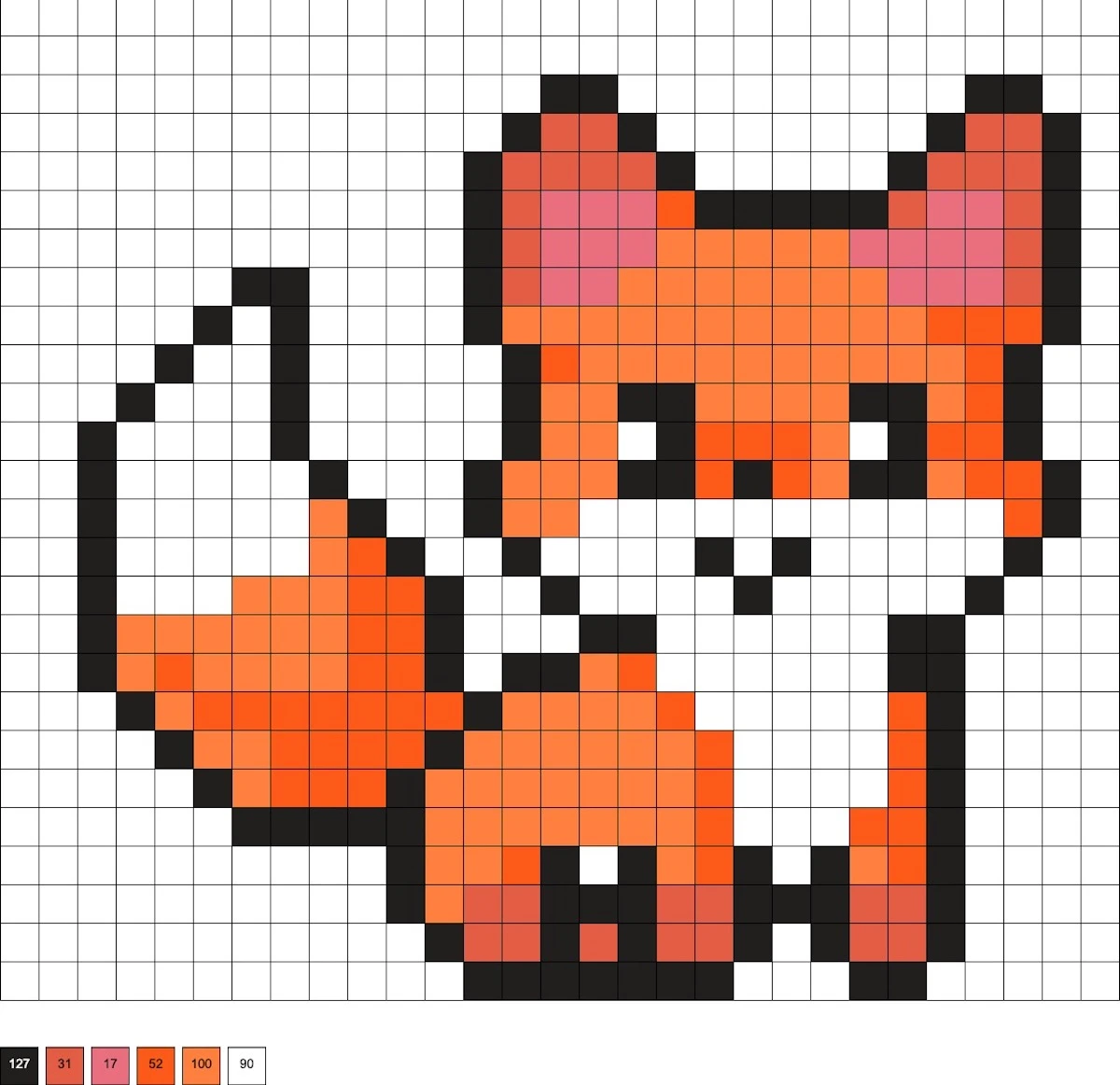 ---
Changing Leaf
This pattern uses 179 brown, 34 tan, 125 spice, and 81 cheddar beads.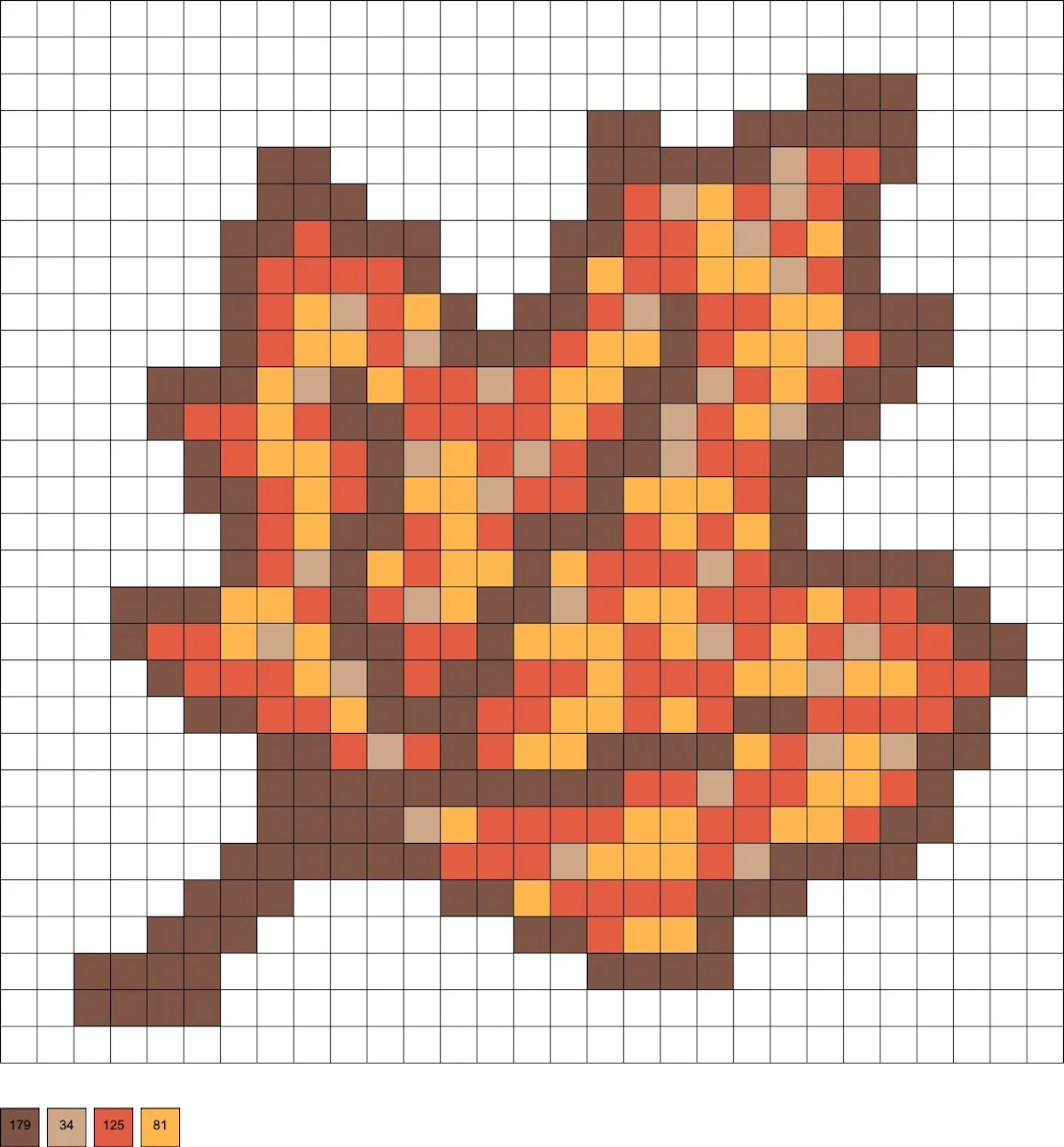 ---
3D Turkey
This pattern uses 20 cheddar, 53 light brown, 48 cherry, 12 white, 2 black, 49 orange, 22 kiwi green, and 7 fawn beads.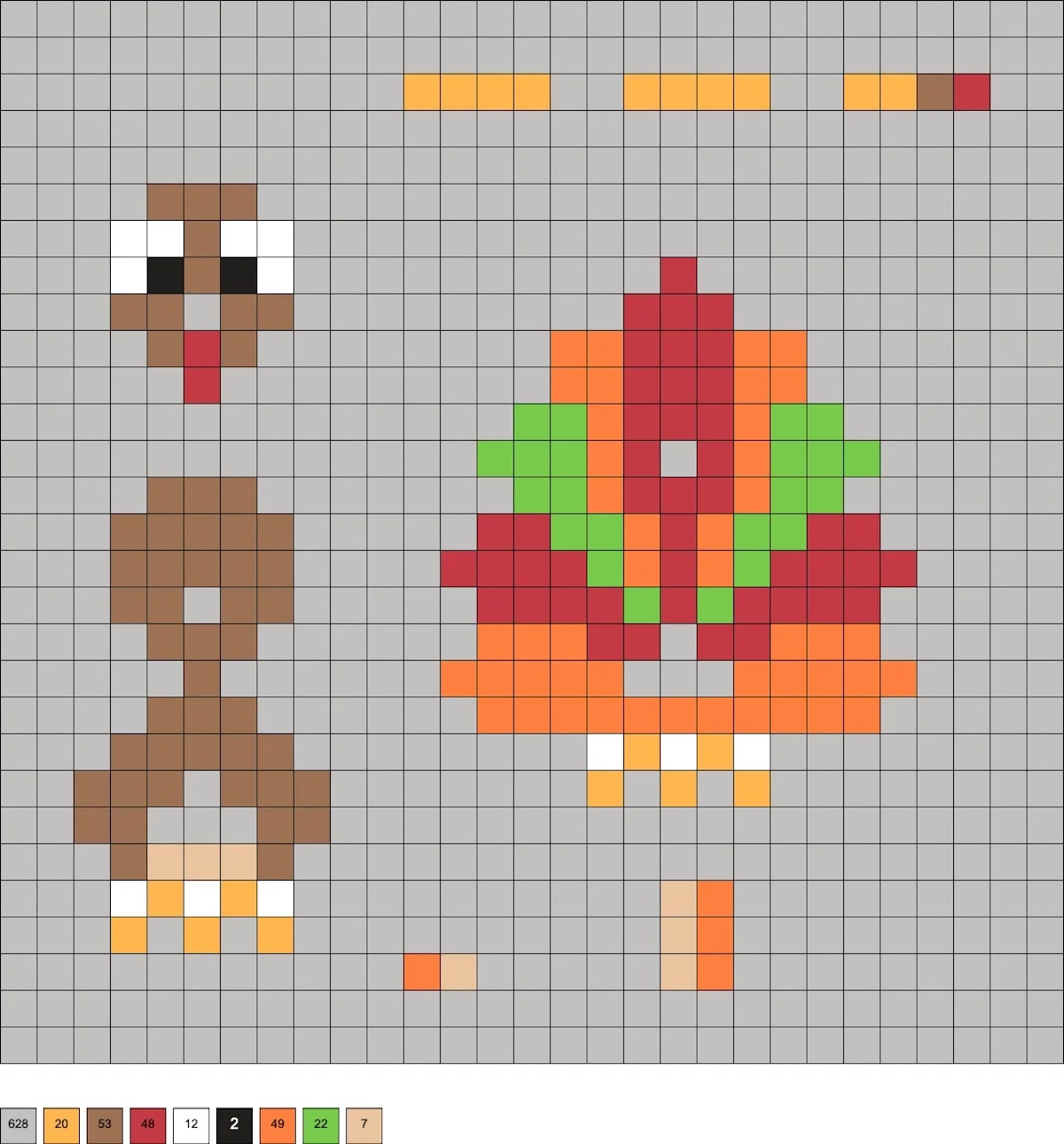 ---
Squirrel and Acorn/Leaf Place Card
The squirrel on the left uses a small, round board. On the right you have a large hexagon board with a leaf, acorn, and the stand. The leaf is inserted into the stand on the side, and the acorn on one edge.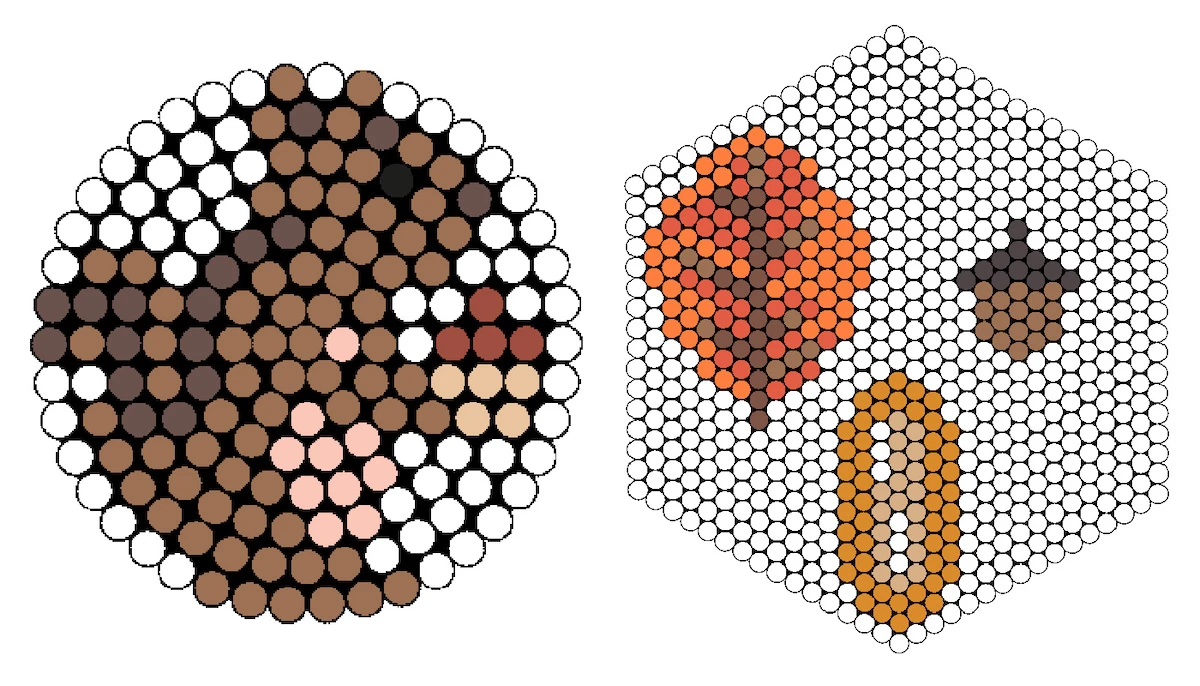 ---
Did you enjoy these Thanksgiving perler bead patterns? Let me know in the comments! I'd love for you to check out these other posts: