You're going to love this recipe for pumpkin sugar cookies with homemade icing on top! They're soft, delicious, and a perfect fall dessert.
I've made SO many pumpkin desserts this year it's kind of awesome. Normally I don't get this far ahead for the holidays, and by December I've not made nearly enough with pumpkin to be happy.
This year, however? I'm on it for once. I've made cheesecake brownies, mousse, creme brulee, and blondies. And those are just my new pumpkin spice recipes!
I've got fall desserts on the brain. As always.
I did realize something though. There was a fall cookie recipe that I hadn't tried yet. An obvious one. Pumpkin sugar cookies! With icing. So easy to make. Soft, rich, and delicious.
I decided it was time to resolve the situation and make the cookies of my dreams. And they truly are! I'm excited to show you how they're made.
But first, a few things.
How to Make Pumpkin Puree
It's so easy to make your own pumpkin puree that can be used in these cookies and hundreds of other pumpkin baking recipes. The type of pumpkin to use is sugar pumpkin or pie pumpkin. They are smaller pumpkins with sweeter flesh.
To make homemade pumpkin puree, remove the seeds from your pumpkin and cut off the skin. Cut into cubes. Either roast or steam the pumpkin until soft, then puree in a food processor or blender. Allow to cool completely before using to make these cookies.
What will I need to complete this recipe?
All purpose flour
Pumpkin pie spice – if you don't have pumpkin spice, you can substitute it with 1/2 T of ground nutmeg, 1/2 T of ground allspice, and 1/2 T of ground cloves.
Pumpkin puree – A homemade pumpkin puree is best, but canned pumpkin puree can also be used. Use pumpkin puree and not pumpkin pie puree.
Eggs – Large sized eggs were used to make these cookies.
Granulated sugar – This can be substituted with brown sugar, or a mixture of 1/2 cup brown sugar and 1/2 cup granulated sugar.
Butter – Salted butter was used to make these cookies, but unsalted butter can also be used. If using unsalted butter, add 1/2 teaspoon salt to the dough.
Vanilla extract – If possible use vanilla extract rather than vanilla essence. Vanilla extract has a much deeper vanilla flavor compared to vanilla essence.
Baking powder
Baking soda
Additional Notes for This Recipe
Mix ingredients until just mixed. This means right when they are combined, stop. If you overmix the dough, you'll end up with flatter, crispier cookies than you'd probably like.
Don't skip chilling the dough. Sometimes it's a drag to wait, but it keeps the cookies from spreading and enhances the flavor. You need to chill the dough for at least 15 minutes and longer is preferable.
Let your pan cool between batches of cookies (it helps to have two pans in rotation). This keeps the cookies from spreading a lot.
I swear by USA Pans. They are my absolutely favorite and cook baked items so evenly.
Cold ingredients should be at room temperature (egg, butter) but don't leave them out too long.
It is important to let the cookies cool a little bit before you frost them, otherwise the frosting will run off the cookies.
You can press down gently on the cookies as soon as they come out of the oven to make a small flat spot that gives you a nice spot for the frosting.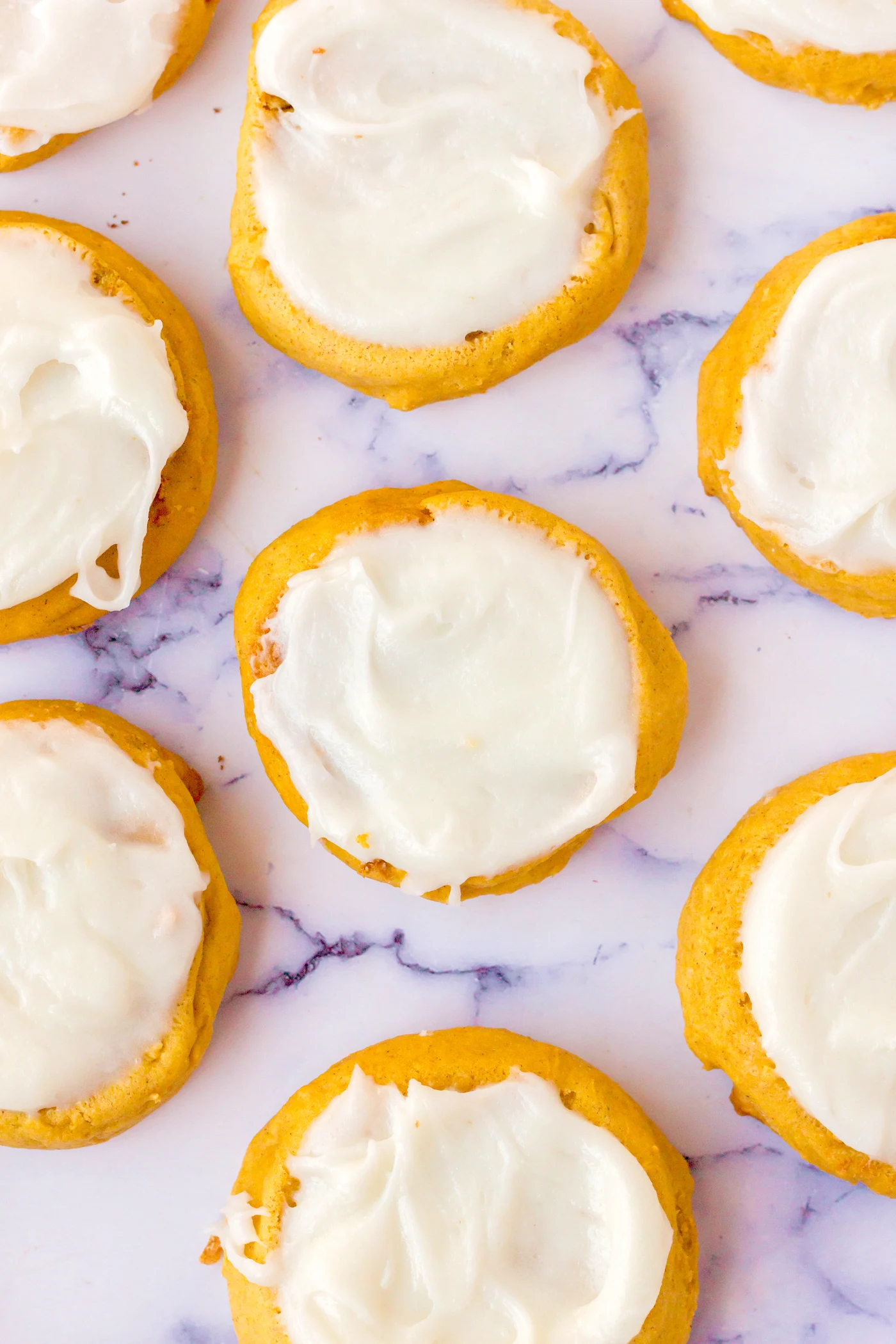 Storage
You can store these cookies in an airtight container or Ziploc bag for up to one week. Freeze in an airtight container in the freezer for up to 3 months.
Get the printable recipe card below.
Yield: 24 cookies
Pumpkin Sugar Cookies
Learn how to make iced pumpkin cookies that everyone will love! This recipe is very easy and quick.
Total Time
1 hour
7 minutes
Ingredients
Cookies
1/2 cup salted butter
2 cups white granulated sugar
2 large eggs
2 tsp vanilla extract
1 15 oz can pumpkin puree
1 tsp baking powder
1 tsp baking soda
1 1/2 T pumpkin spice
3 1/2 cups all-purpose flour
Frosting
1 cup unsalted butter (softened)
8 ounces cream cheese (softened)
2 teaspoons vanilla extract
2 1/2 cups powdered sugar
Instructions
Preheat the oven to 350 degrees F.
Cream together the butter and sugar in a large mixing bowl with an electric mixer, or in a stand mixer with a beater blade.
Add the eggs and vanilla. Whisk the mixture again until smooth and homogenous.
Gently fold in the pumpkin puree until it is fully incorporated with the other wet ingredients.
Add the baking powder, baking soda, pumpkin spice, and flour to the bowl. Beat until just combined and leave in the bowl.
Place the cookie dough in the fridge for 30 minutes.
Make the frosting by whisking together the cream cheese, butter, vanilla extract, and powdered sugar until smooth and homogenous.
Drop 1.5-inch balls of cookie dough on a baking sheet. Bake for 12 minutes or until edges are set and cookies are done in the middle.
Allow the cookies to cool slightly before frosting. Use a knife to apply frosting to the tops of all the cookies. Let set and serve.
Nutrition Information:
Yield:
24
Serving Size:
1 cookie
Amount Per Serving:
Calories:

325
Total Fat:

15g
Saturated Fat:

9g
Trans Fat:

0g
Unsaturated Fat:

5g
Cholesterol:

56mg
Sodium:

142mg
Carbohydrates:

44g
Fiber:

1g
Sugar:

29g
Protein:

3g
---
If you enjoyed this pumpkin cookie recipe, I'd love for you to check out these other recipes celebrating our favorite gourd:
Bagels • Bread • Chocolate Bread • Chocolate Chip Cookies • Cranberry Muffins • Cream Cheese Bars • Cupcakes • Dessert Dip • Donut Holes • Fat Bombs • Fudge • Icebox Cake • Linzer Cookies • Mini Pies • Monkey Bread • Mug Cake • Pancakes • Pecan Bars • Pie Spice • Pudding • Rice Pudding • Seeds • Smoothie • Soup • Trifle • Whoopie Pies