Make delicious and chewy pumpkin blondies filled with chocolate and fall spices! These soft blondie bars are a dessert everyone loves.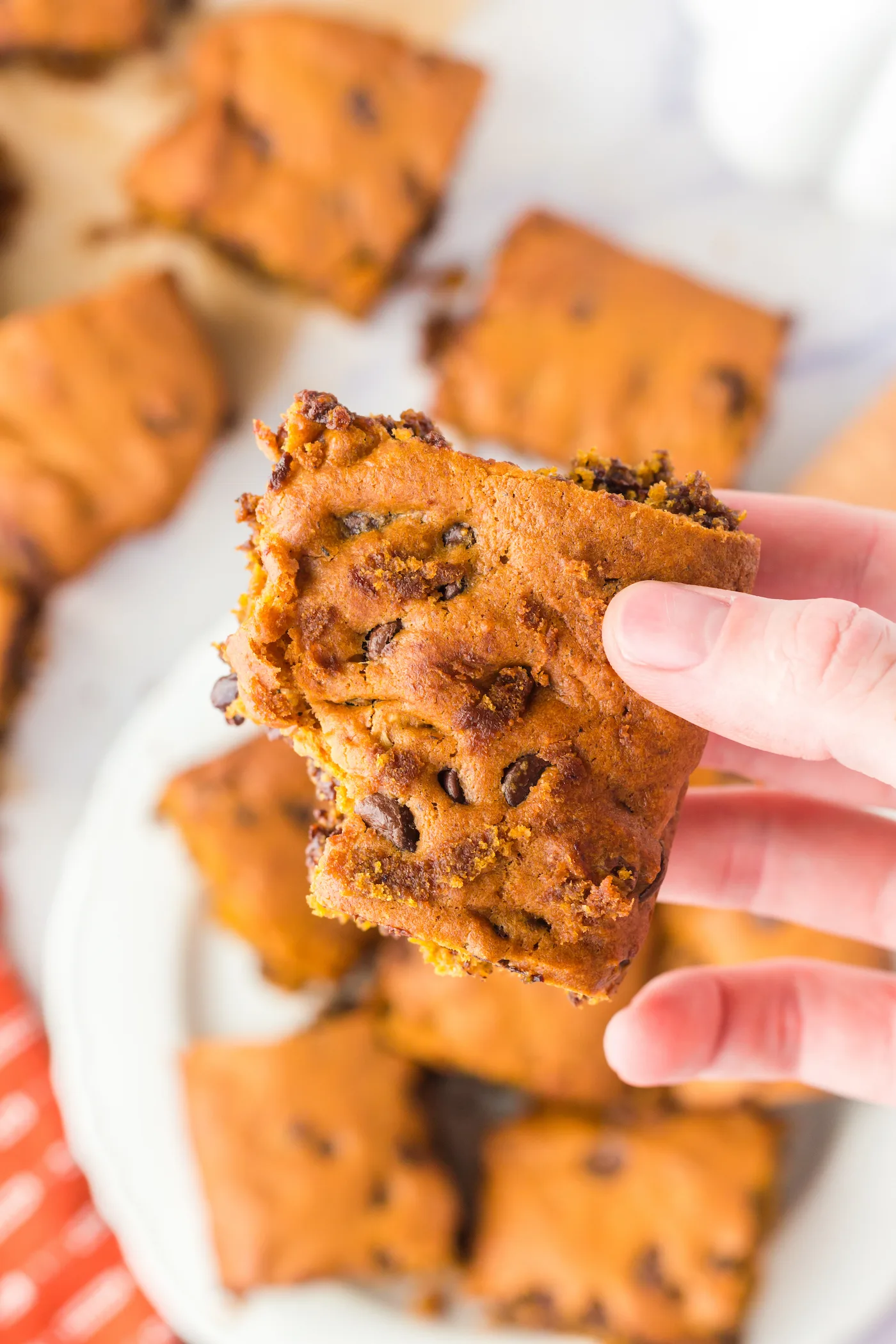 We've made blondies before, using everything from our pantry available. Okay well maybe not everything. The emergency can of cream of chicken soup was not used. Nor was the five year old bag of microwave popcorn.
But a lot of stuff was used, and those blondies were absolutely delicious!
So much so that I decided I want to make them for fall. I've been making a ton of pumpkin recipes lately – pumpkin cheesecake brownies, pumpkin mousse, pumpkin creme brulee, pumpkin sugar cookies, and pumpkin icebox cake.
You can't judge me too harshly though. Pumpkin bread is my favorite dessert, and it doesn't matter what time of year it is. My birthday is in January and I'd much rather a gourd loaf than even a cake!
SO! I'm excited to continue the theme and show you how to make delicious pumpkin blondies. These blondies are soft, but chewy at the same time. They're a rich combination of pumpkin and chocolate, and you're going to love them. So will the whole family!
How are blondies different from brownies?
Both are chewy and more dense than cake. The difference is the ingredients. The blondies don't have cocoa powder, which gives them a lighter taste.
These blondies do have chocolate, but they will still not be as chocolate-y as brownies. That allows more of the pumpkin flavor to make an appearance.
How to Make Pumpkin Puree
It's so easy to make your own pumpkin puree that can be used in these brownies and hundreds of other pumpkin baking recipes. The type of pumpkin to use is sugar pumpkin or pie pumpkin. They are smaller pumpkins with sweeter flesh.
To make homemade pumpkin puree, remove the seeds from your pumpkin and cut off the skin. Cut into cubes. Either roast or steam the pumpkin until soft, then puree in a food processor or blender. Allow to cool completely before using to make these brownies.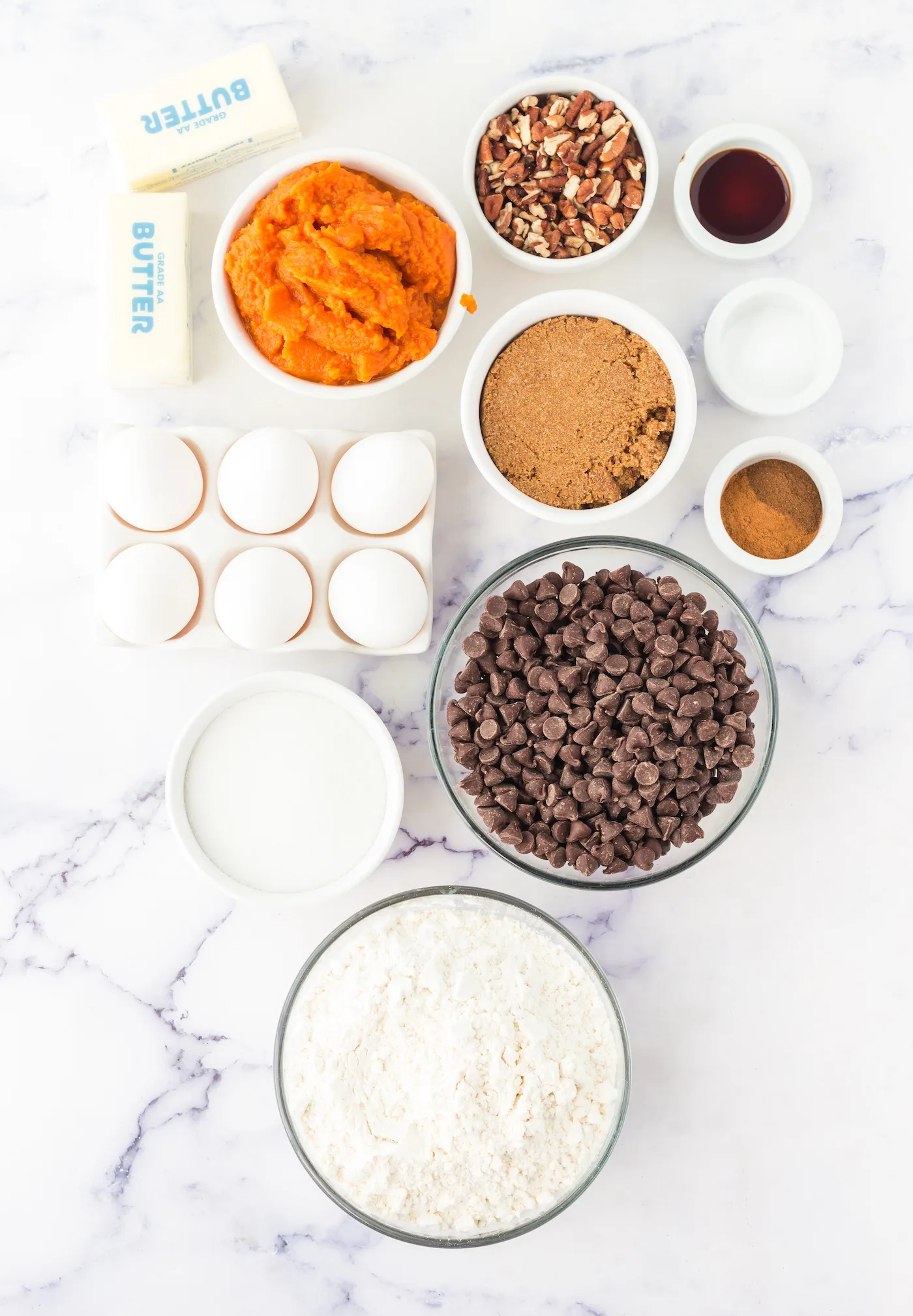 What will I need to complete this recipe?
All purpose flour
Pumpkin pie spice – if you do not have pumpkin spice, you can substitute it with 1/3 tablespoon of ground nutmeg, 1/3 tablespoon of ground allspice, and 1/3 tablespoon of ground cloves.
Baking soda
Ground cinnamon
Butter – Salted butter was used to make these blondies, but unsalted butter can also be used. If using unsalted butter, add 1/2 teaspoon salt to the batter.
Pumpkin puree – A homemade pumpkin puree is best, but canned pumpkin puree can also be used. Use pumpkin puree and not pumpkin pie puree.
Egg – a large sized egg were used to make these blondies.
Granulated sugar – This gives the recipe a little sweet kick.
Brown sugar – This can be substituted with granulated sugar, or a mixture of half and half brown and granulated sugars.
Dark chocolate chips – Use a good quality dark chocolate. This adds an amazing richness to the recipe.
Vanilla extract – If possible use vanilla extract rather than vanilla essence. Vanilla extract has a much deeper vanilla flavor compared to vanilla essence.
Chopped pecans (optional) – I personally don't love nuts in my pumpkin desserts, but if you do, you can add these. Walnuts are also a good pick.
and if you want more chocolate . . .
For an optional chocolate swirl and a richer blondie bar, you can melt 1.75 oz of dark chocolate and lightly fold the chocolate into ¼ of your pumpkin batter, after all your ingredients and toppings have been added. I recommend you use the back of a spatula to lightly fold the chocolate batter back into the main batter. Do not overmix.
Tools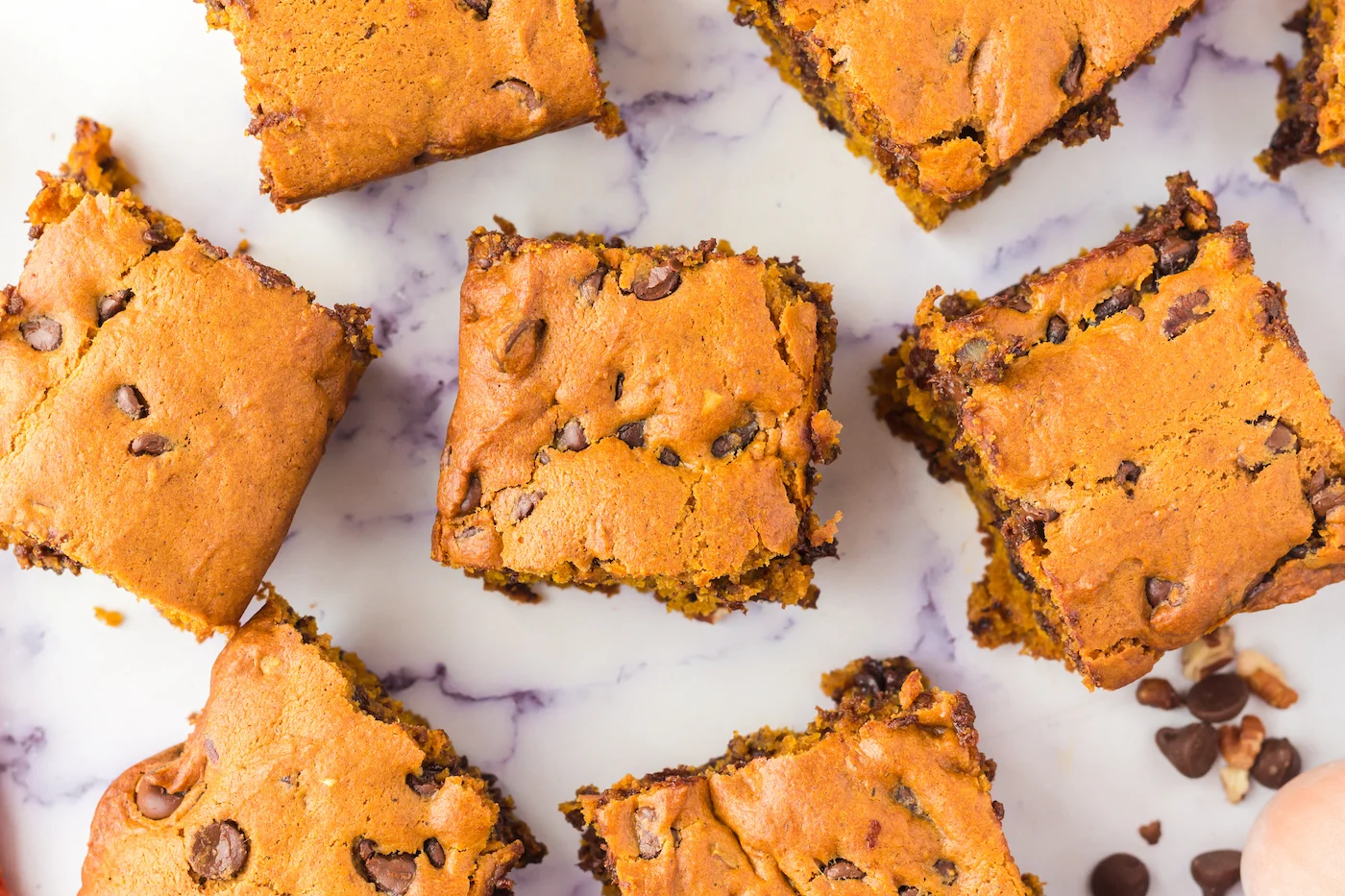 Storage
You can store these blondies in an airtight container for up to 7 days on the counter or in the fridge.
To freeze, wrap the pumpkin blondie bars in plastic wrap, then transfer to an airtight container or freezer bag. You can freeze for up to three months.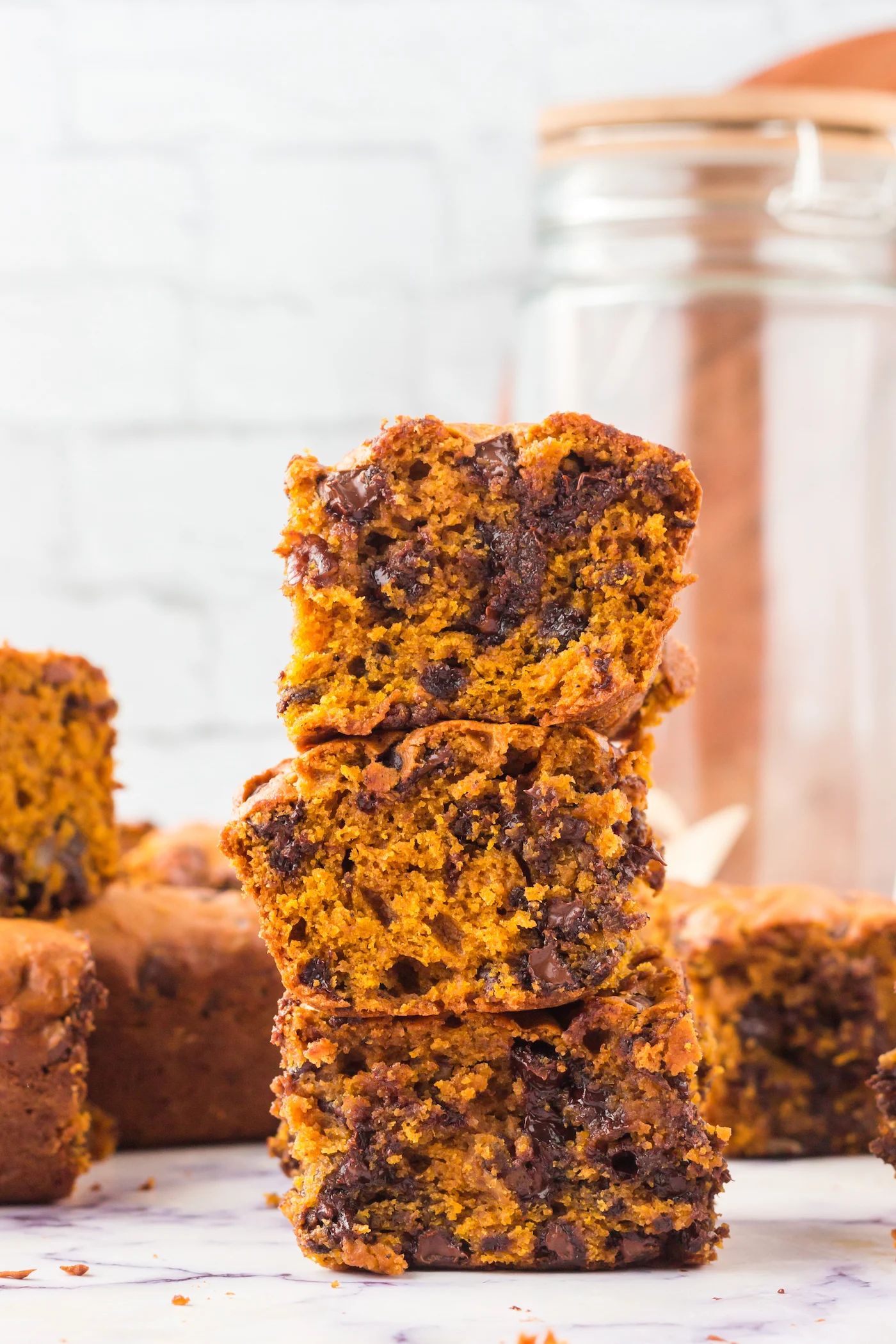 Get the printable recipe for this delicious fall dessert below!
Yield: 15 bars
Pumpkin Blondies
These pumpkin blondie bars are a delicious fall dessert, and the perfect combination of chewy and soft.
Ingredients
2 2/3 cups all-purpose flour
1 1/2 teaspoon baking soda
1 tablespoon pumpkin pie spice
1 teaspoon cinnamon
1 cup (2 sticks) salted butter, room temperature
3/4 cup granulated sugar
3/4 cup dark brown sugar
1 large egg
2 teaspoons vanilla extract
1 15 oz. can of pure pumpkin puree
2 cups dark chocolate chips
3/4 cup chopped pecans (optional)
Instructions
Preheat oven to 350 degrees F. Line a 9x13 inch baking pan with parchment paper. Make sure to cover enough to overhang on the sides for easy removal. Grease with non-stick baking spray.
In a large bowl, melt the butter and whisk it together with the granulated sugar and brown sugar until combined.
Whisk in the egg and vanilla extract. Add in the whole can of pumpkin puree and combine thoroughly.
Whisk in the flour, baking soda, pumpkin pie spice, and cinnamon until no pockets of dry ingredients remain and the batter is just combined.
Gently fold in the chocolate chips and pecans (if you are using).
Once combined, spread batter evenly onto the 9x13 inch baking pan.
Bake for about 35-45 mins at 350 degrees, until the edges start to detach from the sides and/or a toothpick that is inserted in the middle comes out clean. Set it aside and let it cool down completely in the pan.
Remove from the pan by pulling out the parchment paper along with the blondies. Slice into squares.
Notes
Nutritional information doesn't contain the pecans, since this ingredient is optional. Adding the pecans will add another 24 calories per bar.
Nutrition Information:
Yield:
15
Serving Size:
1 bar
Amount Per Serving:
Calories:

301
Total Fat:

8g
Saturated Fat:

5g
Trans Fat:

0g
Unsaturated Fat:

3g
Cholesterol:

16mg
Sodium:

147mg
Carbohydrates:

52g
Fiber:

3g
Sugar:

31g
Protein:

4g
---
If you enjoyed these pumpkin blondie bars, check out these other recipes I also think you'll enjoy: