These delicious no bake pumpkin bars are made with Pumpkin Spice Oreos! You are going to LOVE this creamy dessert – make it in minutes with only four ingredients. Perfect for parties!
You may have tried cream cheese dessert bars before – but have you tried them with Pumpkin Spice Oreos? And have you tried a no bake version? If not, you should try this pumpkin spice recipe.
This delicious fall dessert is going to be one of your favorites! Obviously with my pumpkin dessert obsession (and yours too, I assume) these are perfect for autumn.
These pumpkin bars can be made bite sized for parties – but I won't tell anyone if you eat the whole pan. I would totally get it, because they are that good.
It's the white chocolate chip topping that does it for me, honestly. Well, and the flavored Oreos of course.
Learn how to "no bake" these in minutes. Get this awesome pumpkin recipe below!
You will need two packages of Oreos for this recipe, but you're not going to grind them all up at once. You'll food process some from the crust, then some for the filling, them some for the topping! It's really easy, I promise. Here's what you'll need.
Ingredients
2 packages, Pumpkin Spice Oreo Cookies
3 Tablespoons melted butter
8 ounces cream cheese, softened at room temperature
1 cup white chocolate chips
Tools
Food processor
Parchment paper
Square pan – 9×9 or 8×8
Tips and Thoughts for This Recipe
Two packages of these flavored Oreos have about 40 cookies in them. That's approximately what you'll need if you decide to make this with other types of cookies or Oreos. If you've got a few less cookies, it's fine – just deduct one or two from the middle layer and same from the crushed topping.
If you don't have a food processor, you can use a plastic sandwich bag and rolling pin to crush the cookies. It might take a minute, but you can get the cookies down to pretty small crumbs.
My "secret trick" to press the bars into the pan is to cover my hand with a sandwich bag that is coated with cooking spray. I use my hand to press the bars firmly.
Store these bars in an airtight container in the refrigerator for up to a week.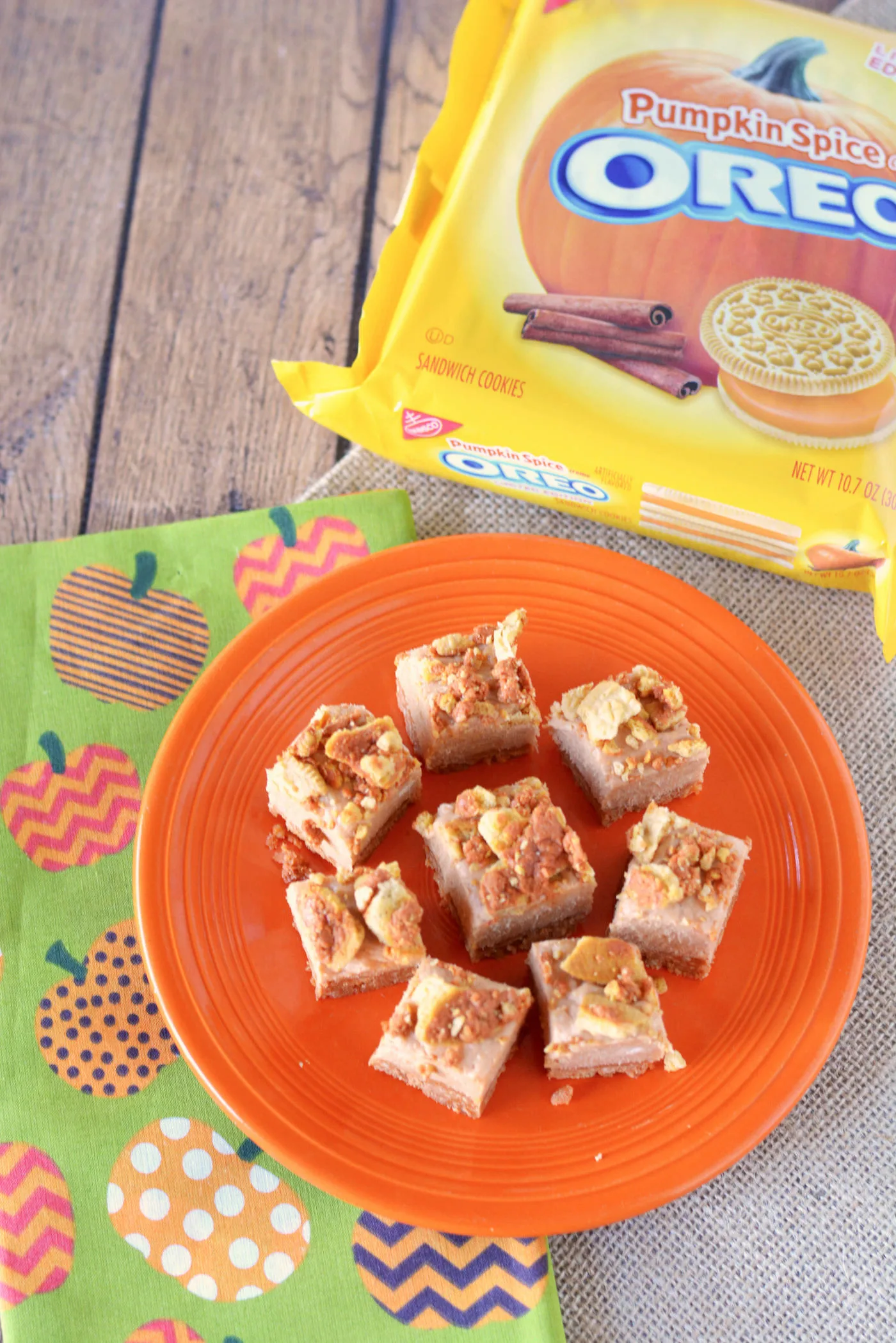 I don't think you have to worry about these pumpkin bars lasting for seven days though. They're pretty irresistible! They're great for a fall celebration, and easy if you need a quick dessert recipe for a party.
If you'd like to try these no bake pumpkin bars, take a peek at the printable recipe below. Plus don't forget to check out our other Oreo desserts like: mocha bars, Fruity Pebbles bars, and blueberry poke cake!
Yield: 12 bars
No Bake Pumpkin Bars
These delicious no bake pumpkin cheesecake bars bars are made with Pumpkin Spice Oreos! This is a very easy autumn dessert.
Chill Time
1 hour
30 minutes
Total Time
1 hour
45 minutes
Ingredients
40 Pumpkin Spice Oreos (2 packages)
3 T butter (melted)
8 oz cream cheese (softened at room temperature)
`1 cup white chocolate chips
Instructions
Line a square baking pan with parchment paper.
Finely crush 24 Oreo cookies using a food processor.
Mix with melted butter and press firmly into the bottom of prepared pan. Place in refrigerator for 30 minutes.
Place white chocolate in a microwave-safe bowl. Place the bowl in the microwave at 30 second intervals. Stir chocolate in between each 30 seconds until there are a few chip pieces left. Stir until those melt.
Crush ten Oreos in the food processor. Add cream cheese and melted white chocolate to the processor and blend to combine.
Spread the filling over the crust using a silicone spatula.
Coarsely crush six Oreos and sprinkle on top of the filling.
Refrigerate for about an hour. Remove and cut into bite size bars.
Nutrition Information:
Yield:
12
Serving Size:
1 bar
Amount Per Serving:
Calories:

197
Total Fat:

15g
Saturated Fat:

9g
Trans Fat:

0g
Unsaturated Fat:

4g
Cholesterol:

30mg
Sodium:

111mg
Carbohydrates:

16g
Fiber:

1g
Sugar:

10g
Protein:

2g
---
What did you think about this tasty dessert? Let me know in the comments! I'd also love for you to check out these other pumpkin treats:
Bagels • Blondies • Bread • Cheesecake Brownies • Chocolate Bread • Chocolate Chip Cookies • Cranberry Muffins • Creme Brulee • Cupcakes • Dessert Dip • Donut Holes • Fat Bombs • Fudge • Icebox Cake • Linzer Cookies • Mini Pies • Monkey Bread • Mousse • Mug Cake • Pancakes • Pecan Bars • Pie Spice • Pudding • Rice Pudding • Seeds • Smoothie • Soup • Sugar Cookies • Trifle • Whoopie Pies