These Fruity Pebbles dessert bars are so delicious, with Oreo cookies and marshmallow! Easy to make because they are no bake. Your kids will love these!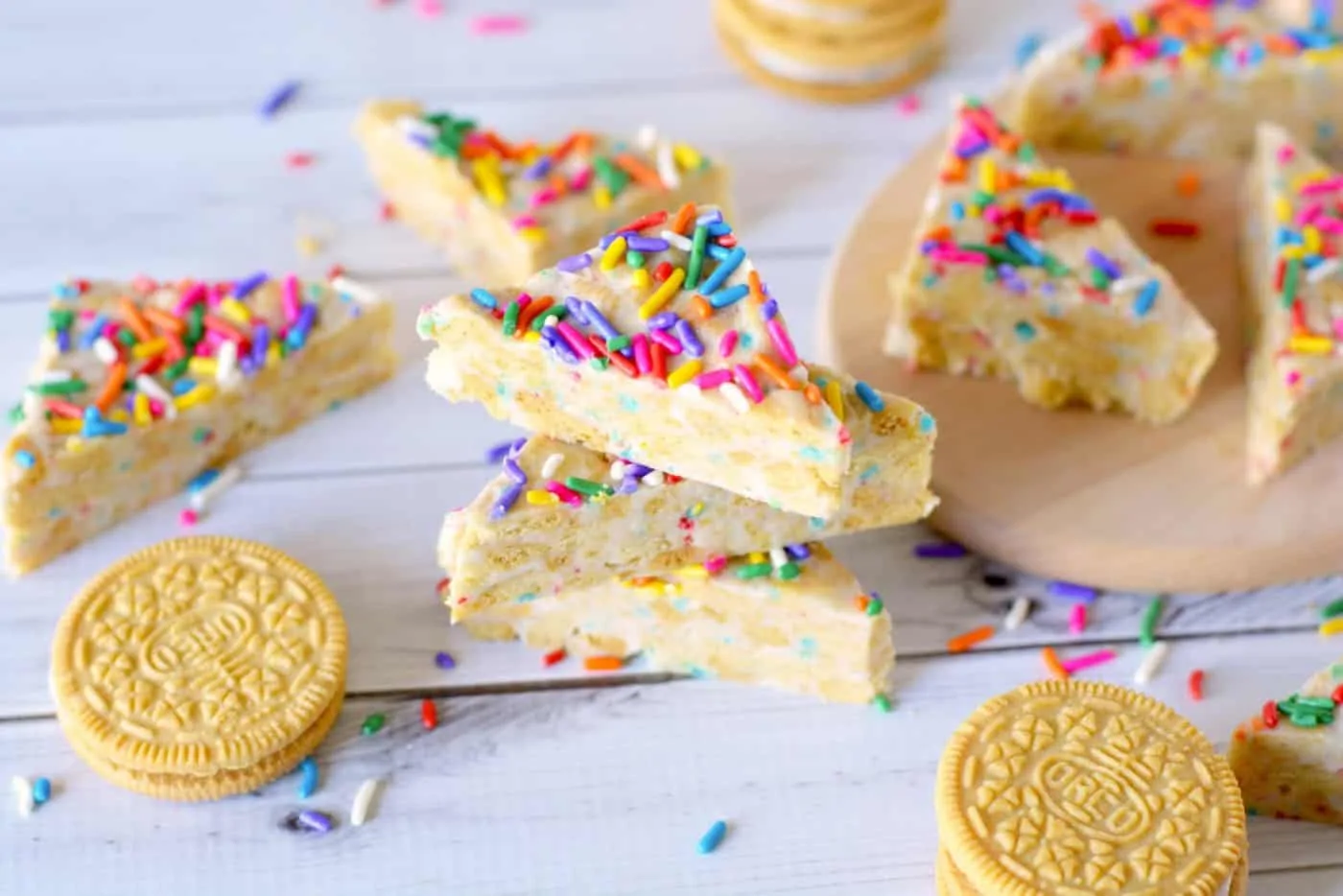 The world of Oreo is pretty amazing. There are all sorts of flavors, which I discovered when making these no bake cinnamon cookie bars.
Well my friends, I have another flavor for you and another Oreo dessert – this time is with the "Fruity Crisp" version.
I don't know what you think when you hear fruity crisp, but basically these are Oreos with Fruity Pebbles cereal in them.
The minute you open the package, that's what it smells like – and the Oreos have an awesome crunch in them – just like the cereal – when you take a bite.
Of course they deserved to be made into a dessert bar recipe . . . and an awesome no bake one at that.
Oh, and if you can't find these Oreos – never fear. Buy a box of the cereal, and some Golden Oreos. You'll blend them together and get the same effect.
These are good. And what I'm saying is, I might never use cereal again in desserts. Here's how you make them.
Ingredients
30 Fruity Crisp Oreos – one package has 21 Oreos, so you'll need 2 packages (and will have some left over to snack on)
10 ounce package mini marshmallows
4 tablespoons butter
rainbow sprinkles
NOTE: If you can't find these specific Oreos, it's okay. Just use the same number of Oreo Golden cookies and 1/2 cup to 3/4 cup of Fruity Pebbles cereal as a substitute.
Other Thoughts on This Recipe:
If you don't have a food processor, you can use a plastic sandwich bag and rolling pin to crush the cookies. It might take a minute, but you can get the cookies down to pretty small crumbs.
It took me 1:40 to microwave the marshmallows, just for a time reference.
My "secret trick" to press the bars into the pan is to cover my hand with a sandwich bag that is coated with cooking spray. I use my hand to press the bars firmly.
Once you're ready to try this dessert, get the printable recipe below.
Yield: 32 triangles
Fruity Pebbles Dessert Bars
This no bake dessert features delicious cereal bits that taste just like Fruity Pebbles! Easy to make and ready in minutes.
Ingredients
30 Fruity Crisp Oreos
10 oz mini marshmallows, 1 package
4 T butter
2 T rainbow sprinkles
Instructions
Generously spray an 8x8 square baking pan with cooking spray. Set aside.
Use a food processor to coarsely chop the cookies. In the end you should have around six cups of Oreos.
In a large bowl, add butter and marshmallows. Microwave on high for 60 seconds. Then continue to microwave at 20 second intervals until all marshmallows are puffy and soft. Stir with a wooden spoon to mix up the butter and marshmallows.
Pour the broken up cookies into the bowl and stir well to evenly coat with the marshmallows.
Press into prepared pan using a sandwich bag.
Add sprinkles to the top and set aside to set up. You can also refrigerate.
To remove from pan, slide a knife or spatula on the side and lift up, the entire brick should pop out of the pan. Cut into triangles.
Notes
One package of Fruity Crisp Oreos has 21 cookies, so you'll need 2 packages (and will have some left over to snack on).
Nutrition Information:
Yield:
32
Serving Size:
1 triangle
Amount Per Serving:
Calories:

189
Total Fat:

11g
Saturated Fat:

2g
Trans Fat:

0g
Unsaturated Fat:

8g
Cholesterol:

4mg
Sodium:

161mg
Carbohydrates:

23g
Fiber:

1g
Sugar:

6g
Protein:

2g
---
I hope you enjoy this Fruity Pebbles dessert – let me know what you think in the comments! Are you ready for other Oreo desserts that are going to blow your mind? Try these: