Easy and delicious! This pudding poke cake recipe is going to be your go-to for summer desserts and family gatherings. You'll use crushed Oreos and real berries for the tasty topping. Customize it with your favorite cake and pudding flavors. The whole family will love it!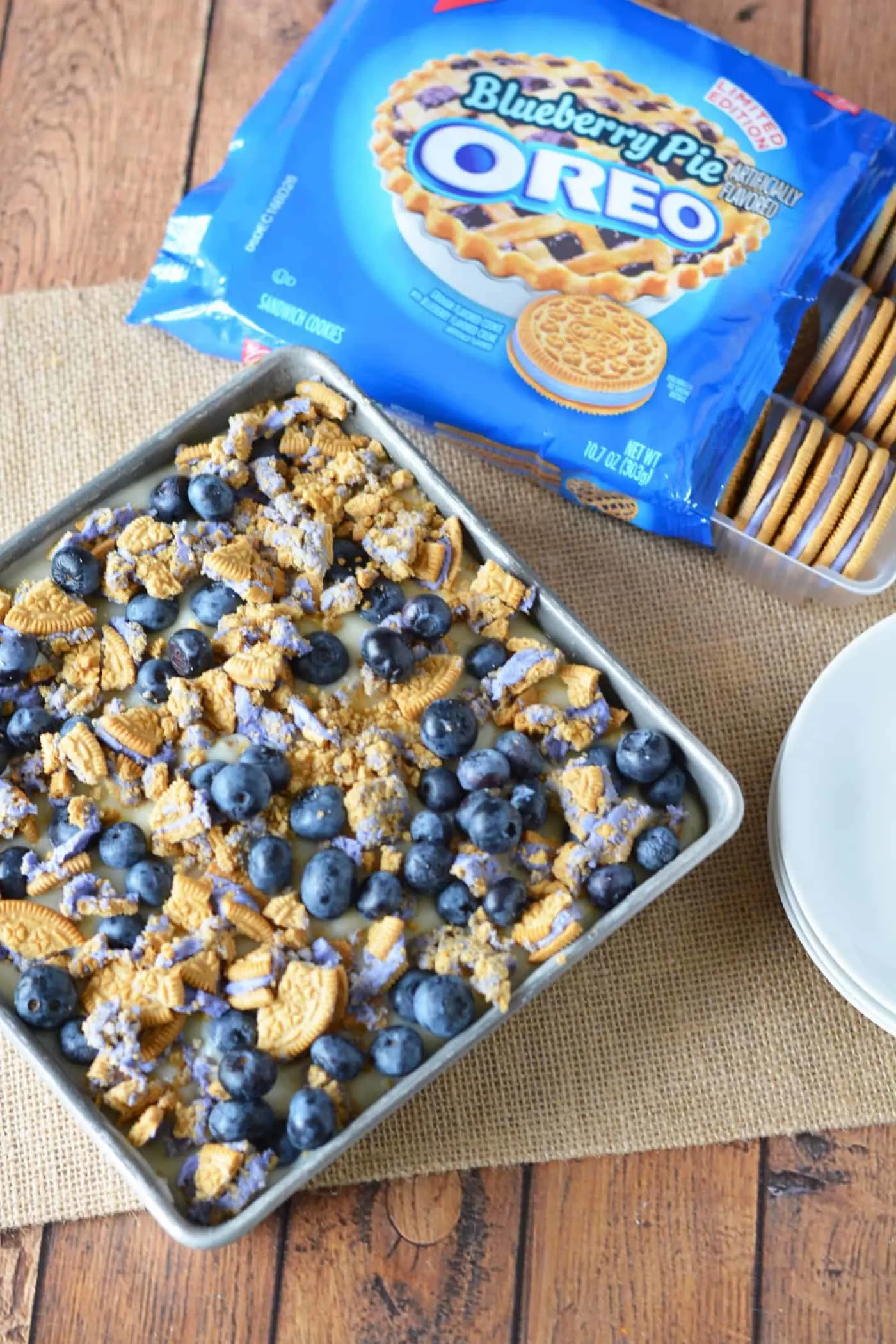 I'm having so much fun with flavored Oreos these days! First there was the Cinnamon roll cookie bars – then there was the Fruity Crisp dessert.
Now we're doing a yummy pudding poke cake recipe with Blueberry Pie Oreos!
Which, when when you open the package, will release the tastiest smell. You'll want to start stuffing the Oreos in your mouth instead of putting them in the cake, but don't do that – it will be worth it to wait.
Poke Cake with Pudding
I absolutely love easy desserts that everyone is guaranteed enjoy, and this is that dessert. A little cake mix, a little pudding, and some cookies . . . the whole family is going to love it. I promise. This is going to be your go-to dessert recipe!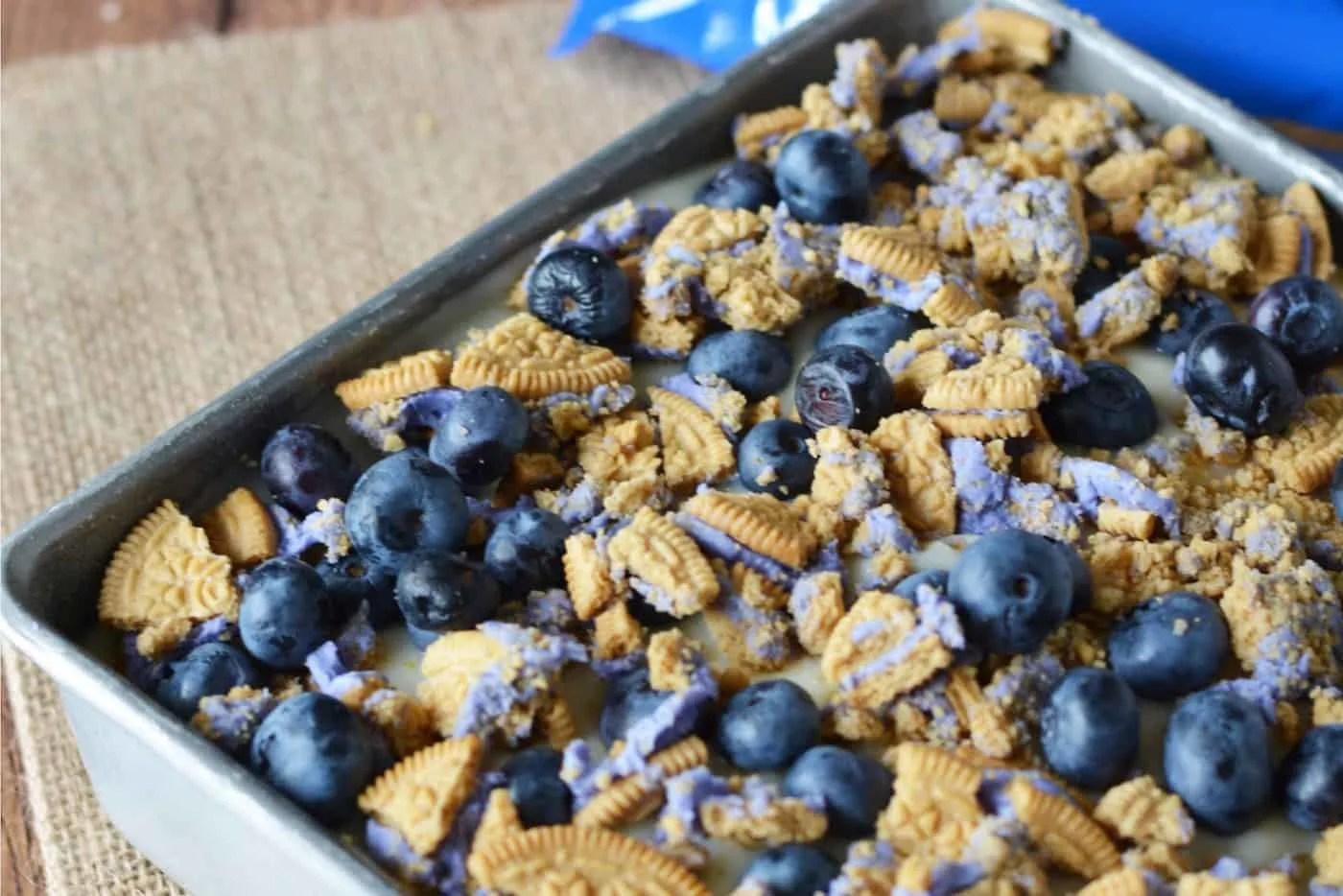 You might have a few questions about this recipe, so I'm going to answer the most commonly asked ones below before diving in.
What is a Poke Cake?
When I first heard the term I thought it was a little strange myself! But it's a cake that you bake and then literally poke holes in with the end of a spoon or spatula.
The idea is that you add Jello or pudding to the top of the baked cake, it seeps into the holes, and then you add frosting or Cool Whip over the top.
The cake is then refrigerated and the Jello or pudding makes it moist and very delicious. You really can't ruin this cake recipe and there are so many different combinations that will tickle your tummy.
It's a perfect dessert to bring to a party because it's really easy and everyone loves it.
And you don't have to worry about your cake baking skills because with the Jello or pudding, it's a guaranteed win.
Can I Use a Different Cake Mix?
Absolutely! You aren't locked into any cake mix (or pudding, for that matter) for this poke cake recipe. Here are some poke cake combinations you should consider:
Chocolate cake with vanilla pudding
White cake with pistachio pudding
Devil's food cake with butterscotch pudding
Banana cake with vanilla pudding
Yellow cake with chocolate pudding
Spice cake with gingerbread pudding (for the holidays!)
It's really all about how creative you want to get. It's hard to find a combination that isn't tasty – trust me.
Can You Use Different Cookies?
Of course. I crumbled Oreos on my dessert because I saw the blueberry flavor and – since blueberry is my fave – I had to try them. They add such a fun summer flair to this poke cake.
Having said that, you can crumble any type of Oreos on the top, or other cookies for that matter. Oreo has so many fun flavors that are always coming and going, so it's my go-to cookie for the top.
---
Are you ready to get the recipe? Read on to find out how to make this yummy pudding cake!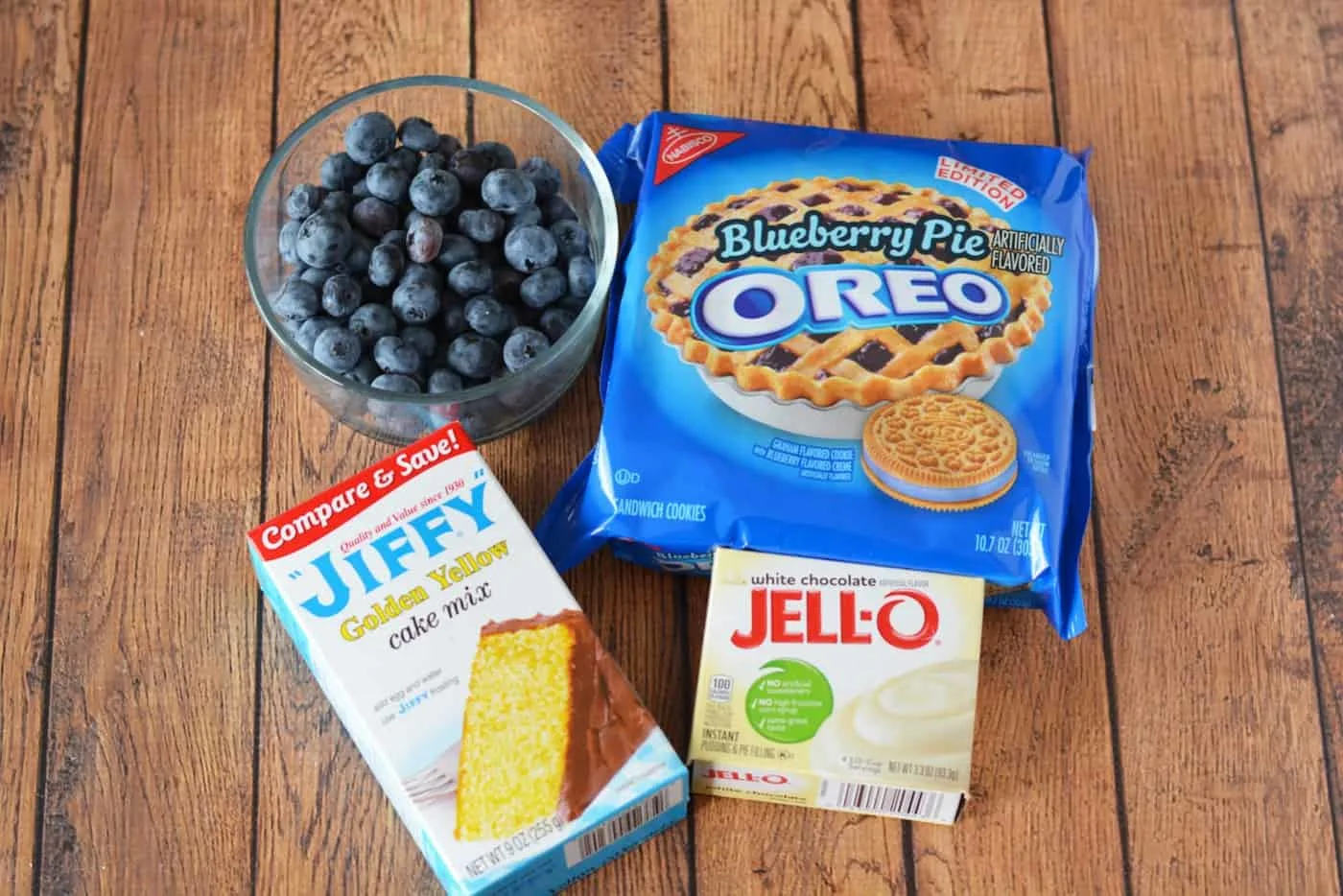 Here's what you're going to need
Ingredients
1 small box Jiffy cake mix (9 oz)
1 egg
8 Blueberry Pie Oreos, coarsely crushed (or the flavor of your choice)
1 small box white chocolate pudding (3.3 oz)
2 cups milk
1 cup fresh blueberries (or other berries)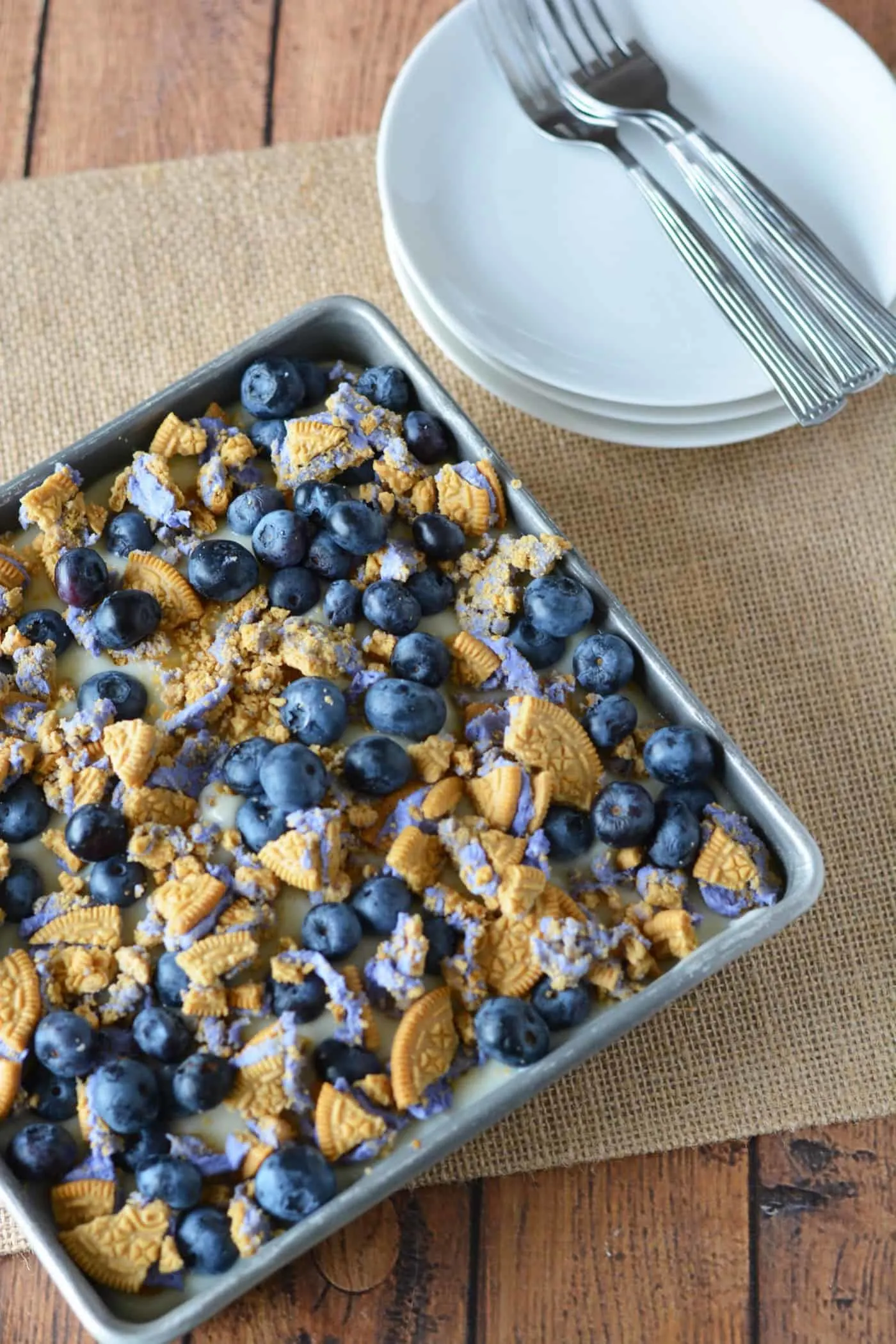 Keep refrigerated until ready to serve. This recipe is absolutely perfect for a family gathering or summer party/picnic. It's a challenge to find someone that doesn't love it. I've tried!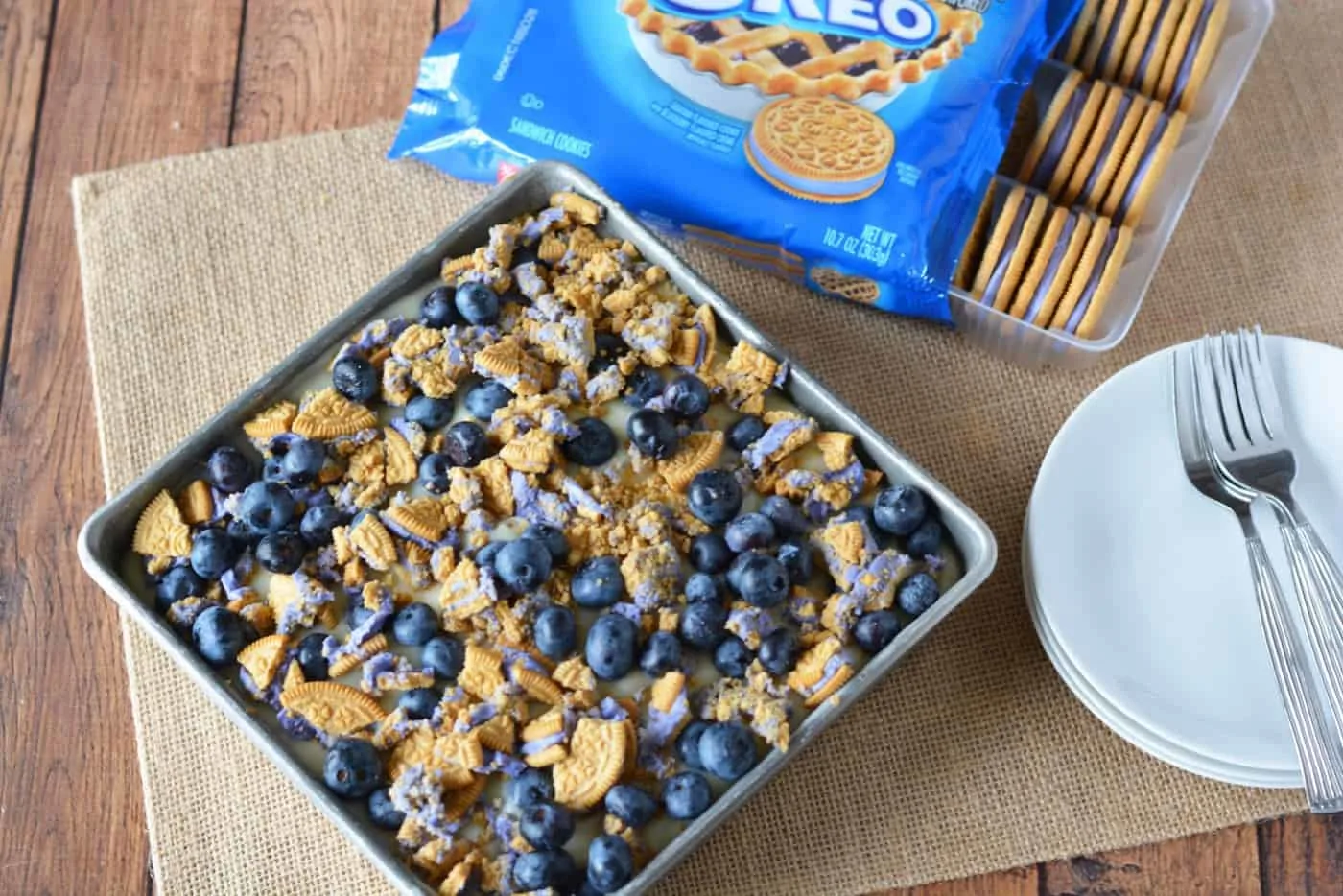 Cut into slices and serve! You can get the printable poke cake recipe here:
Yield: 9 people
Pudding Poke Cake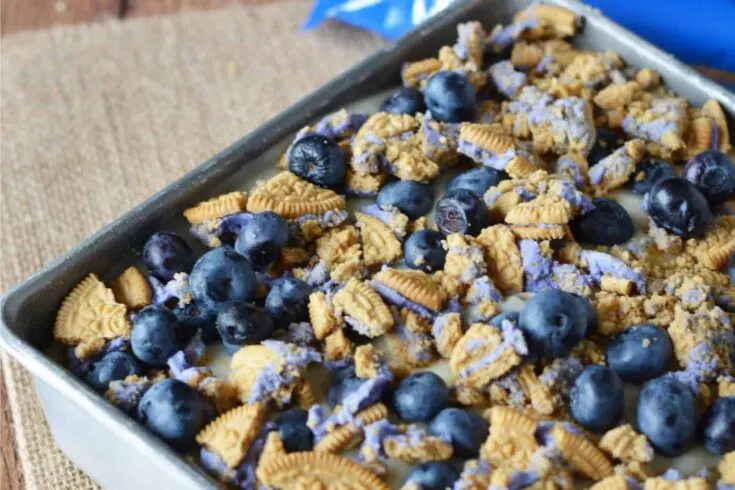 This delicious poke cake with pudding is so easy to make! You'll use crushed Oreos and real berries for the tasty topping. The whole family will love it.
Total Time
1 hour
45 minutes
Ingredients
9 oz Jiffy cake mix (1 box)
1 egg
1/2 cup cold water
8 Oreos (coarsely crushed)
3.3 oz white chocolate pudding mix
2 cups milk
1 cup blueberries (optional)
Instructions
Preheat oven to 350F. Grease the inside of a 9x9 square baking pan with cooking spray or butter.
Bake cake according to package directions. Remove from oven and let set for about 10 minutes.
Poke holes into cake with the handle of a wooden spoon.
Mix pudding and milk; let set for 2 minutes. Pour into holes of the cake. Place the remaining pudding as well as the cake (covered) into the refrigerator for about an hour.
Remove from refrigerator and top with remaining pudding mix. Sprinkle with half of the blueberries and the crushed Oreos. Add remaining blueberries.
Cut into slices and serve. Refrigerate while not serving.
Nutrition Information:
Yield:
9
Serving Size:
1 piece
Amount Per Serving:
Calories:

237
Total Fat:

5g
Saturated Fat:

2g
Trans Fat:

0g
Unsaturated Fat:

1g
Cholesterol:

25mg
Sodium:

465mg
Carbohydrates:

45g
Fiber:

1g
Sugar:

28g
Protein:

4g
---
If you enjoyed this recipe, these strawberry cake mix brownies also use Oreos. You should also check out these other recipe posts: