This berry creme brulee recipe is creamy and delicious, with rich custard on the bottom and hard caramel on top. The berries on top make it perfect for summer!
I'll never forget the first time I had creme brulee. It was at a fancy restaurant on Eastlake Ave in Seattle, and I hesitated to even order it.
Creme brulee never seemed like something I would like, because I don't tend to gravitate toward cream desserts. I'm all about the chocolate!
I figured it was time to go outside the box and try creme brulee . . . after all I was in my 20s and I was adventurous (haha).
It was brought to the table, set on fire, and I've not looked back since. If you want to recreate that experience for yourself at home, this creme brulee is for you!
It includes fresh berries to make it a perfect fruit dessert for summer. It would also be a great spring or Easter dessert as well. You don't have to set it on fire if you don't want to . . . but isn't that part of the fun? Enjoy the recipe below.
Creme Brulee Tips
Before beginning, here are some things you should always remember.
Use High Quality Ingredients
Heavy whipping cream needs to be used because anything lower fat won't set the way you want it to, and be less creamy. Don't skimp on any ingredients, as this recipe doesn't have very many in the first place. Quality does matter here.
Whip the Egg Yolks and Sugar Long Enough
You need to whip air into the yolks and also help the sugar dissolve. The reason for this is so that the final product has a thick, silky texture. It might take a few minutes to whip the yolks, so make sure you do it until they are pale, fluffy, and they thicken.
Slowly Pour the Cream Into the Eggs
If you pour the scalded cream into the eggs too fast? You're going to make scrambled eggs. So what you'll do is take a small ladle or spoon and add the cream very slowly with one hand with whipping with the other. Once you do that a few times, you can drizzle directly from the sauce pan.
Use Ramekins
You can use almost any kind of ramekin to make creme brulee, but I've found that ramekins shorter than 1.5" cook more evenly.
This dessert can be made up to 48 hours in advance. Just keep the ramekins covered in the fridge and then continue with the final step when you're ready to serve.
Use a Water Bath
When you bake the ramekins, you'll put them in a water bath. This provides insulation from direct heat, which can crack the ramekins, and keeps the baking more even.
Gently Torch the Sugar
The key to an even brulee is to hold the torch a few inches away from the top of the brulee and move it in a circular motion around the ramekin. You're not trying to burn the brulee, but just to melt and toast the sugar.
---
Here's what you're going to need for this berry creme brulee:
Ingredients
2 cups heavy cream
1 vanilla bean
1/3 cup sugar + 1 tablespoon for each ramekin
4 egg yolks
2 cups hot water
Fresh berries
Tools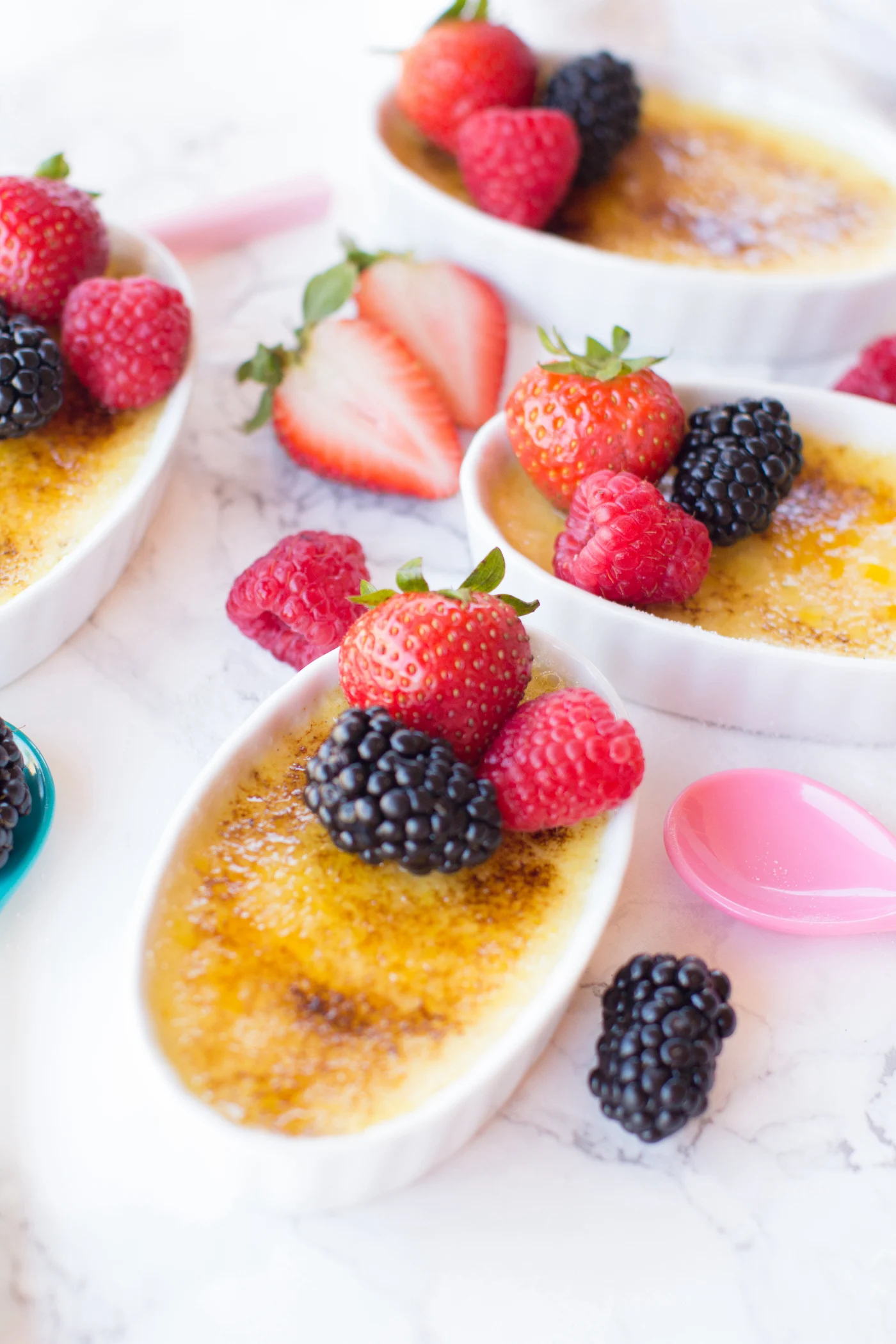 This is going to be amazing for summer – trust me. I dare you to make it and tell me you don't love it!
Get the printable recipe card for this dessert below.
Yield: 4 servings
Berry Creme Brulee
This creme brulee recipe is creamy and delicious, with rich custard on the bottom and hard caramel on top. The berries on top make it perfect for summer!
Total Time
6 hours
13 minutes
Ingredients
2 cups heavy cream
1 vanilla bean
1/3 cup granulated sugar
8 T granulated sugar (one for each ramekin)
4 egg yolk(s)
2 cups hot water
1 1/2 cups fresh berries
Instructions
Preheat the oven to 325F..
Pour heavy cream into a small saucepan. Slice the vanilla bean open and scrape out all the seeds. Add the seeds and the vanilla bean to the cream.
Add the heavy cream to a small saucepan set over medium heat. Heat just until the cream begins to steam, but make sure it doesn't boil. Once you see small bubbles around the edge of the cream, it's ready.
In a large bowl, whisk together the egg yolks and 1 cup of the sugar. Whisk until the egg yolks are pale yellow, about 2 minutes.
Slowly whisk in the hot cream, stirring constantly, so the eggs don't scramble. Be sure and discard the vanilla bean. Whisk until well combined.
Use a ladle to pour the mixture into 4 ramekins. Place in a 9 x 13 cake pan and fill halfway with hot water.
Bake for 30-45 minutes (baking time will also depend on the size of ramekin). Bake until the centers are set but still slightly jiggly.
Remove from the oven and allow the creme brulee to cool to room temperature. Then, transfer them to the fridge to chill for at least 4 hours.
To serve, sprinkle 1-2 teaspoons of granulated sugar over the creme brulee and toast the top with a kitchen torch. Hold torch a few inches away.
Top with fresh berries. Return to refrigerator and chill for another 30 minutes before serving.
Notes
You would easily be able to divide this between 6 ramekins for a smaller dessert. You'll need to recalculate nutritional information if you do that.
Nutrition Information:
Yield:
4
Serving Size:
1 serving
Amount Per Serving:
Calories:

645
Total Fat:

48g
Saturated Fat:

29g
Trans Fat:

1g
Unsaturated Fat:

16g
Cholesterol:

319mg
Sodium:

46mg
Carbohydrates:

51g
Fiber:

2g
Sugar:

48g
Protein:

7g
---
If you like this summer dessert recipe, you'll love these other options: