Get a free printable Halloween treat box, perfect for holding candies! You can give these as gifts at school or pass out for party favors.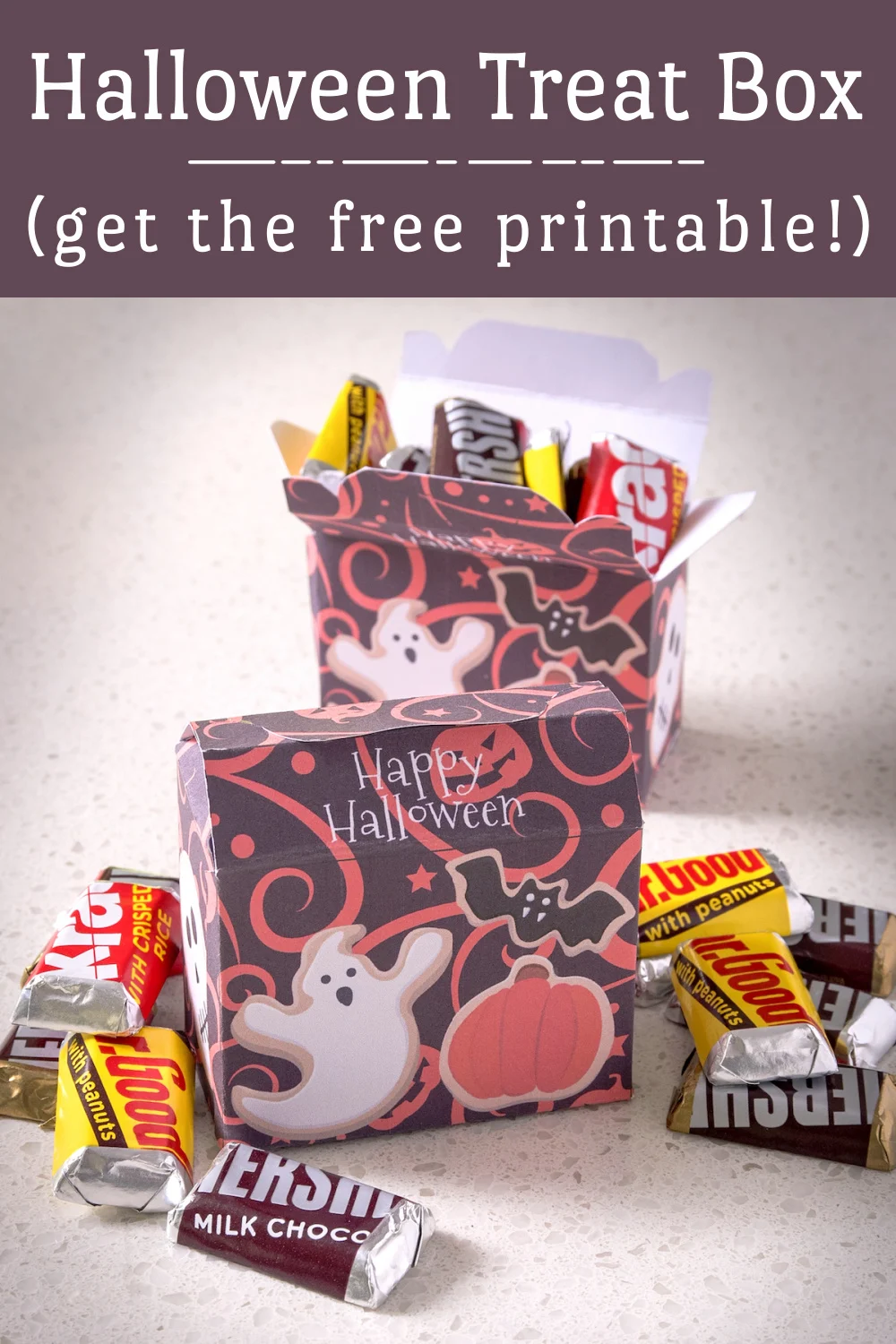 I'm a completely remote worker now, which is great . . . however, there are some things that I miss about an office. The free coffee. The water cooler conversations. The birthday cake once month in the breakroom. You know – the things that really matter (besides doing a good job, of course! Haha).
Something I always enjoyed as well was passing out candy at holidays. I was "your girl" when it came to having snacks at the office just generally speaking. Treats make people happy! Plus there's nothing like a good snack drawer conversation.
I always had fun giving out treats to my coworkers, and Halloween was no exception. But I never wanted to give them something in just a plastic bag. My thing is, why not "spice it up a bit" and give out goodies in a Halloween treat box?
And then offer said Halloween printable to everyone? For free! So that's what I'm doing!
If you choose to print these off, you're going to need the following supplies:
PAPER – For boxes I like to use cardstock sheets, also called brochure paper on occasion. I like to print on smooth white thicker paper, about 65 – 80 lb. I want my printables to feel more substantial and nice. Also you're going to want it to hold candy when assembled. You'll definitely need thicker paper for this Halloween treat box.
PAPER CUTTER – My Fiskars SureCut Deluxe Paper Trimmer is also Amazon's Choice with 4.8/5 stars, if that means anything. I absolutely love it and use it for everything. I always have replacement blades too.
SCISSORS – I use Fiskar Titanium, no exceptions. I'm addicted to these scissors and won't let anyone else use them. They DO cut better than other scissors, in my opinion. I've been using the same green-handled ones for years and they are still unbelievably sharp!
DETAIL SCISSORS – I like my Fiskars micro-tip scissors for getting around those tiny detailed areas. They are super sharp at the end . . be careful!
GLUE DOTS – Great for assembling printable likes these, without wrinkling the paper. You'll use them on each flap.
You can also forgo the scissors or paper cutter for a craft knife and mat. I will leave that up to you. Are you ready to grab your freebie?
DOWNLOAD THE FREE PRINTABLE HERE* Please note they are for personal use only – but other than that, print away and have fun! *Click the link, then click the Download box at the top right to download. Give it a minute to process and open. You do not need to sign up for an account.
I recommend printing on your highest settings so you can get as much color as possible out of your Halloween printable.
Once you print out the candy box, you're going to use your tools to cut out the printable. Then you can use the ruler to help fold the box on the lines:
After that, you'll use Glue Dots to assemble.
You can also use a glue stick, but you'll have to hold the flaps together until they stay.
Be sure to add the candy to the Halloween treat box before closing it up. You are ready to gift! I'd love to know who you're going to give your boxes to in the comments!
---
If you enjoyed this Halloween printable, I'd love for you to check out these other fun ones: