This pumpkin fudge recipe is one of my favorite fall desserts! Learn how to make it here, including tips for successful fudge every time.
You can add the hazelnuts or leave them out – it's up to you. Either way, this fudge recipe is amazingly tasty.
Thanksgiving is nearly here! We are in the thick of Pumpkin Dessert Season, and while savory sides and sweet pies tend to get most of the attention, another delicious way to use pumpkin spice is to make pumpkin fudge!
Making Fudge
This is a little bit of a twist on the regular fudge recipe your grandma probably made – there's the addition of some Kosher salt and roasted, chopped hazelnuts to elevate it into something a little more modern and special.
Before we dive into this pumpkin recipe, I want to share my best tips for fudge success!
Tips for Successful Fudge
Try not to stir the fudge after the initial boiling. Sugar crystals stick to the side of the pan, and if you stir them in, it can cause your fudge to be grainy.
To prevent/reduce the amount of sugar crystals on the sides of the pan, brush the sides of the pan with a brush dipped in water before adding your ingredients.
It's worth making this with a candy thermometer, but if you don't have one, keep a very close eye on your boiling sugar and ensure that you work quickly once you reach the "soft ball" stage.
Check if the fudge has reached the soft ball stage by dropping a spoonful of the sugar syrup into cold water. It should form a soft, flexible ball – and then you know it's ready.
To beat fudge, stir it quickly with a wooden spoon until it becomes thicker and loses its gloss. This can take between 5 – 15 minutes. I'll be honest . . . I lose my patience.
But if you beat the fudge for the appropriate amount of time, it will be smoother. Some people do it with their hand and a spoon, and others use an electric mixer.
If your fudge doesn't set properly, you can reheat it. You will need to add in 1 to 1 1/2 cups of water and get it to the soft ball stage again.
---
This pumpkin fudge recipe makes a wonderful hostess gift, teachers holiday present, or something to share with your work colleagues on the Wednesday before Turkey Day. First, here's what you're going to need.
Ingredients
2 cups granulated white sugar
1 cup packed light brown sugar
1/2 teaspoon Kosher salt
1 1/2 sticks of quality butter
2/3 cup evaporated milk
1/2 cup 100% pumpkin puree (canned or homemade)
1 1/2 T pumpkin pie spice
2 cups high-quality white chocolate chips
1 jar (7 oz.) marshmallow creme
1 cup chopped and toasted hazelnuts
Here are some additional tips that I think will be helpful to make your fudge successful:
Pick a Large Pan. Your ingredients will boil and expand, possibly two to three times their size. You should make sure to have a pan that will hold everything, and has tall sides preferably.
Check Consistency. If you are new to fudge making, you should use a thermometer. You can also test it by filling a glass with cold water and dropping some of the fudge mixture into it. If the pieces are soft and moldable it's good. If they dissolve, go longer. If the sugar forms crystals, you've gone too long.
Remove from Heat. You don't want the mixture just sitting there on the burner while you do other things once it has reached temperature. It will start to burn, so remove from heat immediately.
Line the Pan. Use either wax paper or foil so that you can easily remove the fudge from the pan.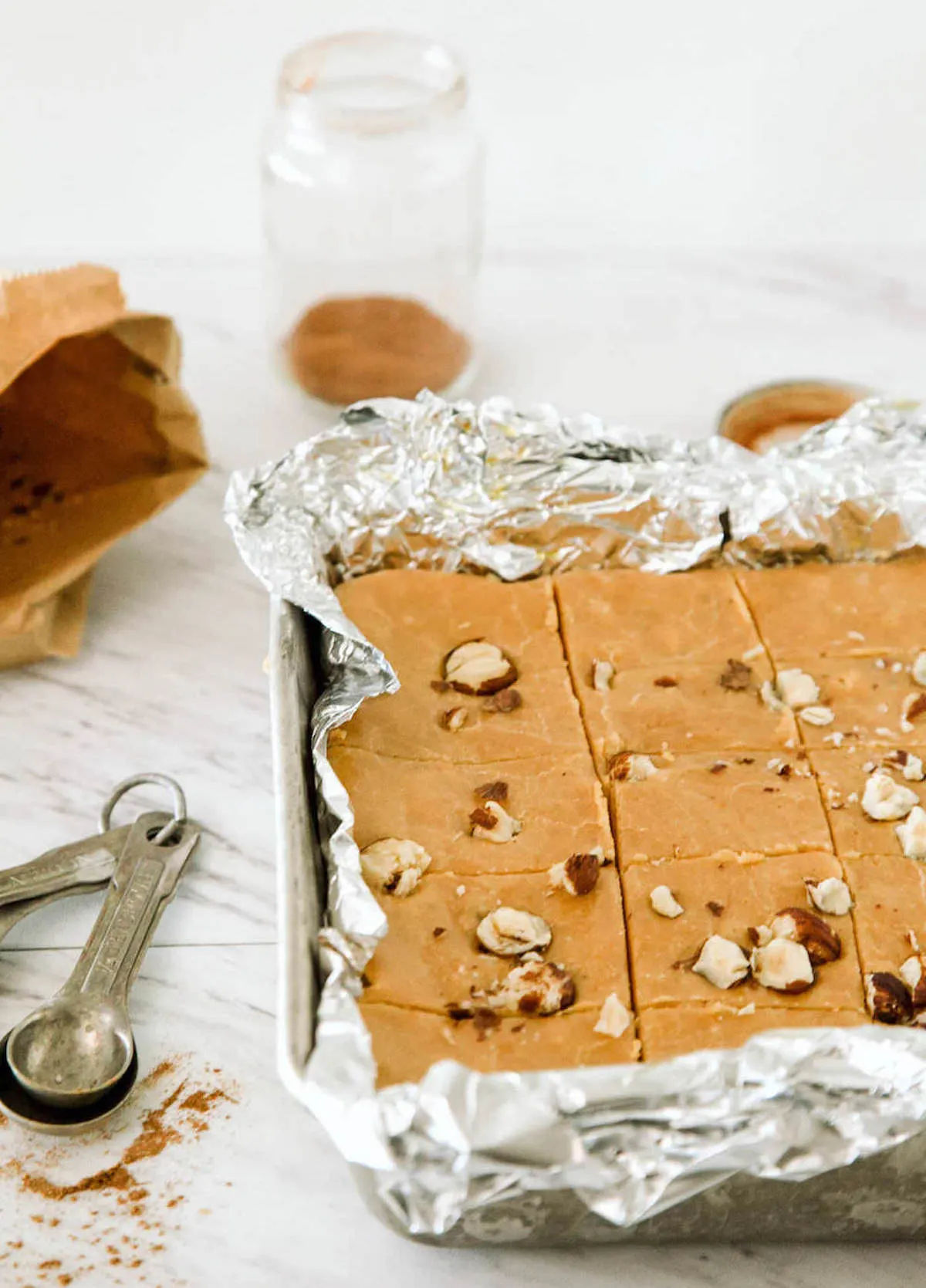 Get the printable recipe for this delicious fudge below!
Yield: 20 pieces
Pumpkin Fudge
While sweet pies tend to get most of the attention during pumpkin season, another delicious way to use this ingredient is to make pumpkin fudge!
Ingredients
2 cups granulated sugar
1 cup light brown sugar (packed)
½ teaspoon Kosher salt
1 ½ sticks butter, high quality
⅔ cup evaporated milk
½ cup 100% pumpkin puree
1 ½ T pumpkin pie spice
2 cups white chocolate chips, high quality
7 oz marshmallow creme
1 cup hazelnuts, chopped and toasted
Instructions
Line an 8x8 baking pan with foil, then grease with baking spray.
Combine sugar, brown sugar, evaporated milk, pumpkin, butter, salt, and spice in a medium saucepan.
Bring sugar mixture to a rolling boil, stirring constantly. Boil, stirring constantly, for 12-14 minutes or until candy thermometer reaches 236°. When the mixture has reached the 'soft ball' stage, take it off the heat.
Let cool for about 10 - 15 minutes and stir in the chocolate chips, marshmallow cream, and three-fourths of the hazelnuts.
It's at this time that you can beat the fudge with a spoon and your hand or an electric mixer.
Immediately pour into the prepared pan. Top with remaining hazelnuts.
Let the pan stand on a wire rack until completely cooled, then refrigerate tightly-covered.
To serve, lift from the pan; remove the foil and cut into ¾ inch squares.
Nutrition Information:
Yield:
20
Serving Size:
1 piece
Amount Per Serving:
Calories:

347
Total Fat:

17g
Saturated Fat:

8g
Trans Fat:

0g
Unsaturated Fat:

7g
Cholesterol:

24mg
Sodium:

121mg
Carbohydrates:

50g
Fiber:

1g
Sugar:

46g
Protein:

3g
---
Love pumpkin? We've got lots of pumpkin recipes! Try these on for size:
Bagels • Blondies • Bread • Cheesecake Brownies • Chocolate Bread • Chocolate Chip Cookies • Cranberry Muffins • Cream Cheese Bars • Creme Brulee • Dessert Dip • Donut Holes • Fat Bombs • Icebox Cake • Linzer Cookies • Mini Pies • Monkey Bread • Mousse • Mug Cake • Pancakes • Pecan Bars • Pudding • Rice Pudding • Seeds • Smoothie • Soup • Sugar Cookies • Trifle • Whoopie Pies