If you're looking for a healthy side, this sauteed kale and chickpeas is delicious! High fiber and perfect for a paleo eating plan.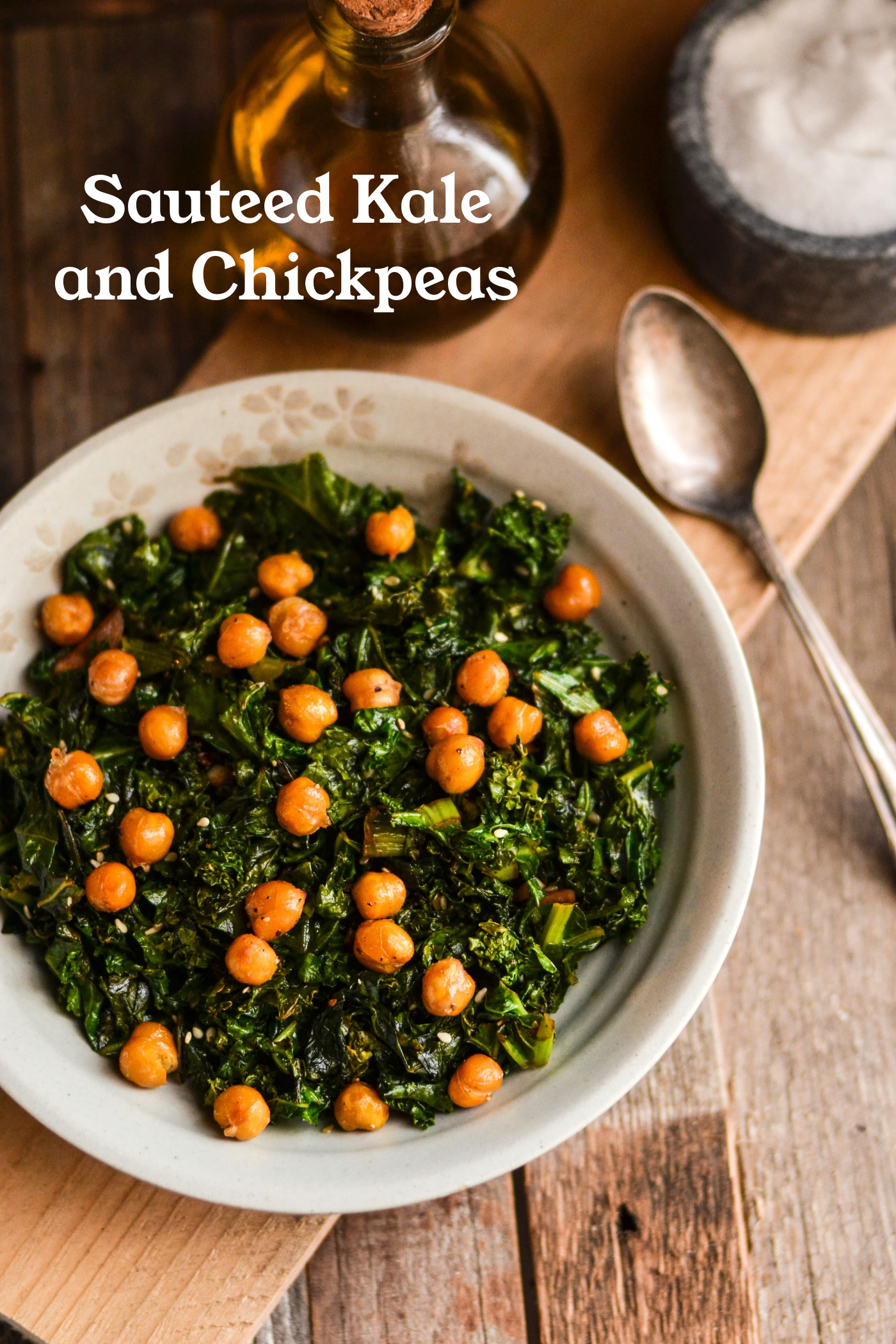 I recently wrote about my struggle with adrenal fatigue, and let me tell you one of the staples of the new diet I'm on: KALE. Kale here, kale there, kale everywhere!
You can find kale in our healthy chicken kale salad or our kale and beet salad. I eat kale all the time. It's lucky that I like kale so much, including sautéed kale, which is the hallmark of this delicious dish.
If you've never tried kale and chickpeas before, you're in for a real treat. I love the textures and flavors that both bring to the table.
I'm going to be honest: even though I love kale, I really wouldn't be interested in eating it cooked on its own. However, the chickpeas completely change the game.
Throw some roasted chickpeas into cooked kale and you've got a side that's perfect for eating as part of your adrenal fatigue diet, and could even be considered paleo (depending on your opinion of chickpeas).
The point is that sometimes straight up veggies get boring, and this sautéed kale with chickpeas is a way to make life – and eating your greens – interesting. Learn how to make this particular kale recipe below.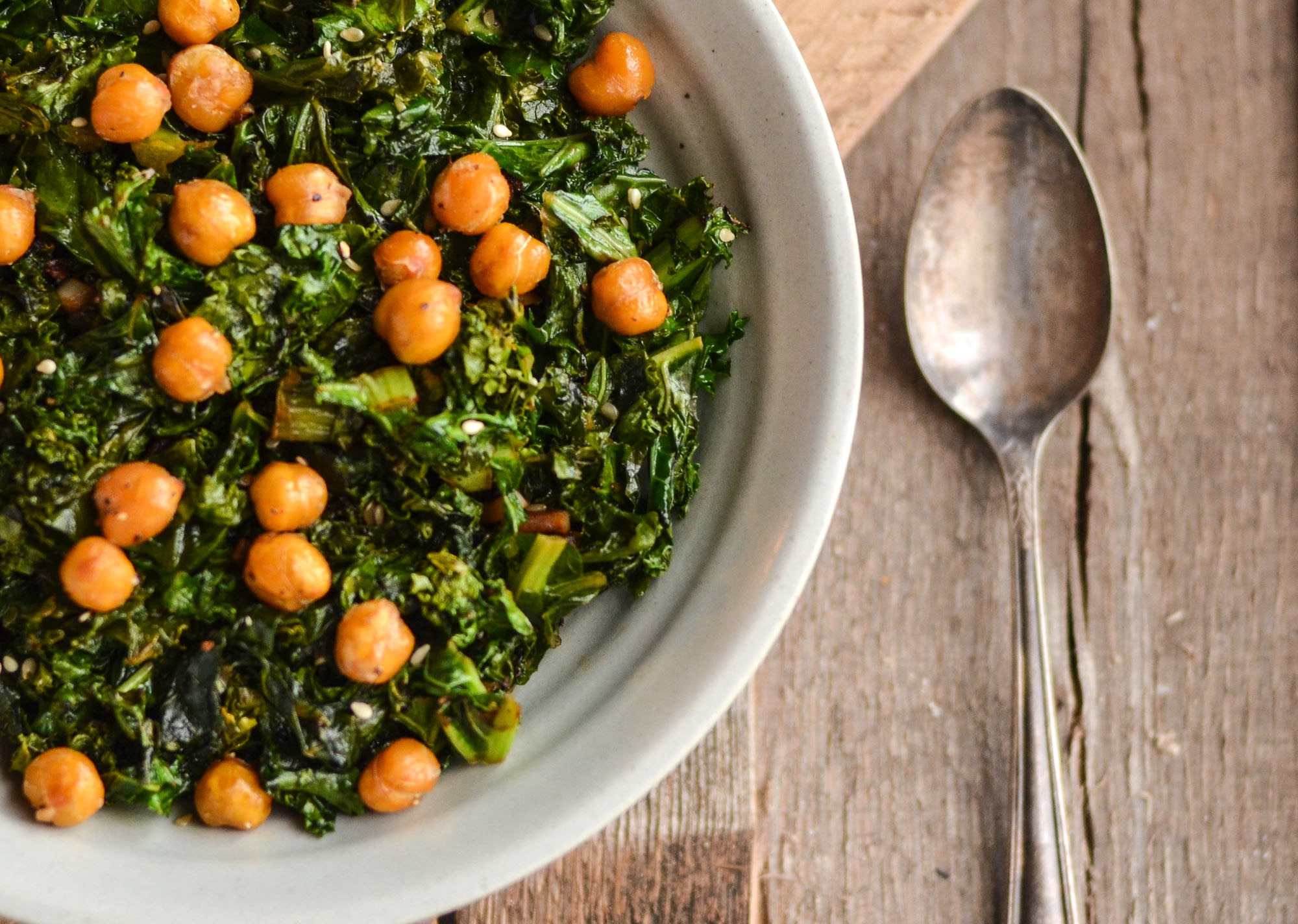 Total Prep Time: 10 minutes
Cook Time: 25 minutes
Servings: 2
A bunch of kale, chopped
2 tsp olive oil + 1 tbsp. olive oil
2 cloves of garlic, thinly sliced
1/2 tsp of sesame seeds
1/2 tsp of paprika
Couple of tablespoons of chicken stock or vegetable broth or water
Salt and freshly cracked black pepper to taste
1 can of garbanzo beans or 1 cup cooked garbanzo beans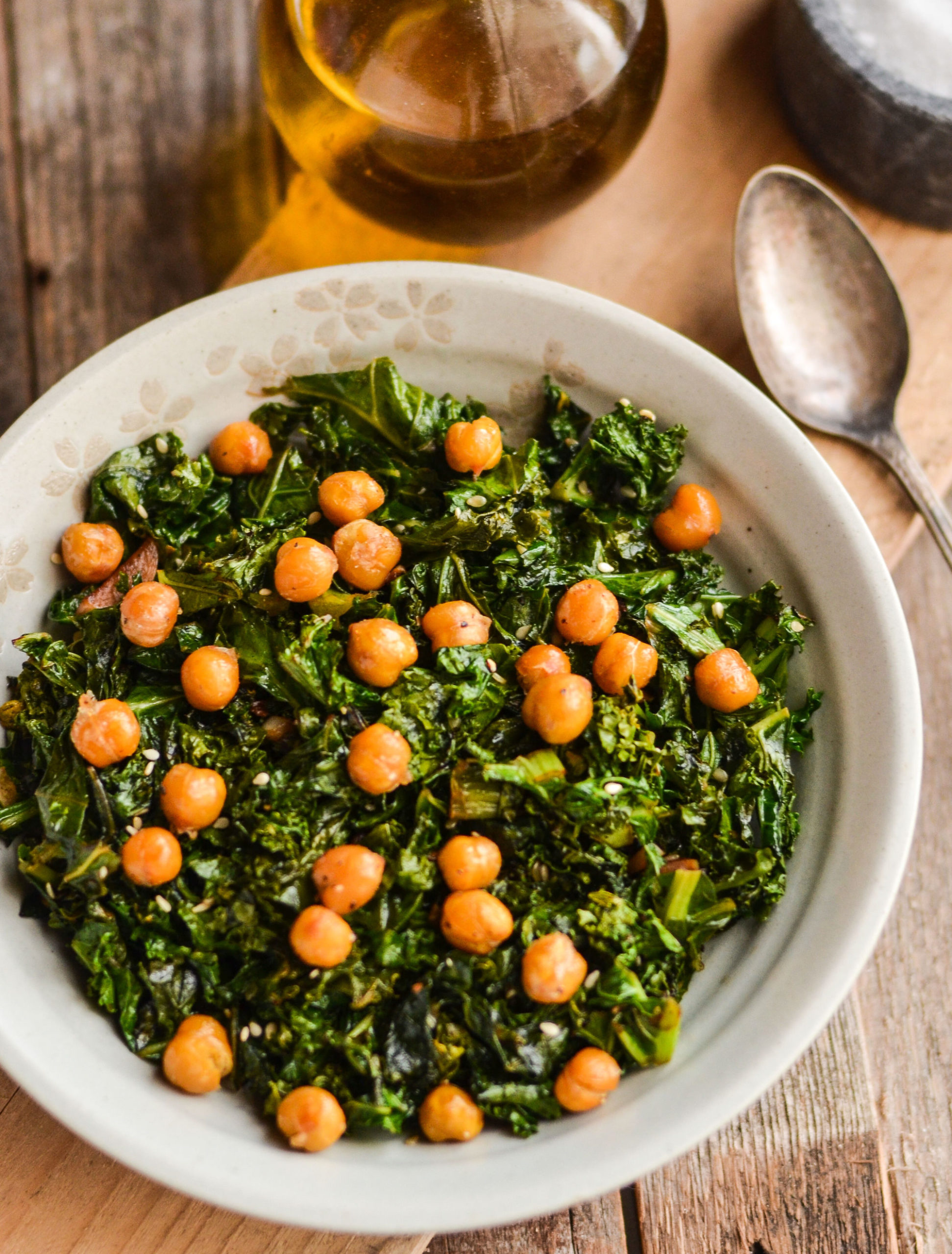 You'll love this tasty kale with the crunch of the chickpeas! Get hte printable recipe card below.
Yield: 2 servings
Kale and Chickpeas
If you're looking for a healthy side, this sauteed kale with roasted chickpeas is delicious! Perfect for my adrenal fatigue eating plan.
Ingredients
15 oz garbanzo beans (1 can or 1 cup cooked)
1 bunch kale (chopped)
1 T olive oil
2 teaspoon olive oil
2 cloves garlic (thinly sliced)
1/2 teaspoon paprika
2 T chicken stock (can also use vegetable stock or water)
Salt and freshly ground black pepper to taste
1/2 teaspoon sesame seeds (optional)
Instructions
Preheat oven to 400°F. Grease a cookie sheet or cover with parchment paper and keep aside.
Drain and rinse the garbanzo beans if using from a can. Get rid of as much moisture as possible and transfer to the greased cookie sheet.
Drizzle 1T of olive oil on top of the beans and season with salt and freshly cracked black pepper. Toss to mix. Roast in the oven for about 25 minutes. Halfway through, toss again once.
While the chickpeas are roasting, cut the kale into thin strips and chop the stems into no more than 1/4 inch thick pieces.
Slice the garlic thinly or mince, depending on preference.
Heat the remaining oil in a skillet on medium high heat and start cooking the kale and garlic together. Keep cooking till the kale starts wilting and then season with salt, freshly cracked black pepper and paprika.
Stir for a couple of minutes and add the chicken stock (or vegetable stock or water). Cook till the kale softens and the moisture evaporates.
Add handfuls of roasted chickpeas to the cooked kale and serve.
Notes
Nutritional information can vary greatly depending on how many chickpeas you add and whether you use oil to cook the kale. There are opportunities for calorie reduction for sure!
Nutrition Information:
Yield:
2
Serving Size:
1 serving
Amount Per Serving:
Calories:

489
Total Fat:

17g
Saturated Fat:

2g
Trans Fat:

0g
Unsaturated Fat:

14g
Cholesterol:

0mg
Sodium:

209mg
Carbohydrates:

66g
Fiber:

19g
Sugar:

12g
Protein:

21g
---
If you enjoy this sauteed kale recipe, check out these other delicious recipes on the blog: