Make a delicious apple-peach crisp recipe in under an hour. Serve with ice cream or on its own – either way, it's delicious!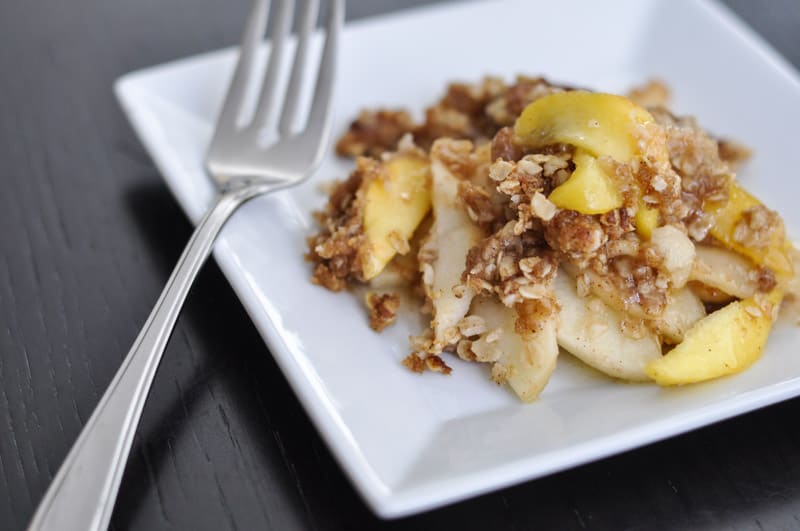 Hello new friends! My name is Tara, and I blog at Suburble – my own little haunt on the internet where I like to make messes and sarcastic comments.
I'm thrilled to be blogging here at DIY Candy today. And I'm doubly thrilled to be sharing this end of summer dessert recipe with you.
It's a good 'un.
Where I live – on the West Coast of Canada – the autumn brings bounties of delicious fruit. Apples, peaches, nectarines, pears . . . they all appear in our produce markets from the Okanagan Valley.
And when the weather starts to lose its heat, and scarves and sweaters become the thing du jour, it's time to start baking. An apple-peach crisp is a delicious way to warm up on autumn day. It will also be a good fall apple recipe too . . .
Or eat it earlier in the year. It's a great spring and Easter dessert. Nobody's going to judge you. Especially not me.
Apple Peach Crisp Recipe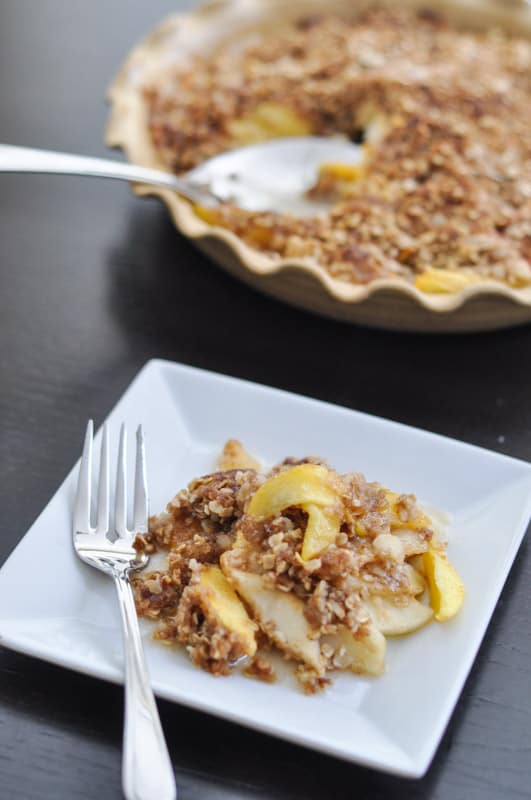 I like a lot of "crisp" when it comes to this recipe. I find that it adds a lot of flavour and crunch. Plus, I'm a sucker for oatmeal. Whether it's cookies or crust, I love the taste of toasted oats.
The recipe will make more topping that you probably need, but I'll leave that up to you. I like to be sure that the entire dish of apples and peaches are completely covered. Like a pie crust, only MUCH easier.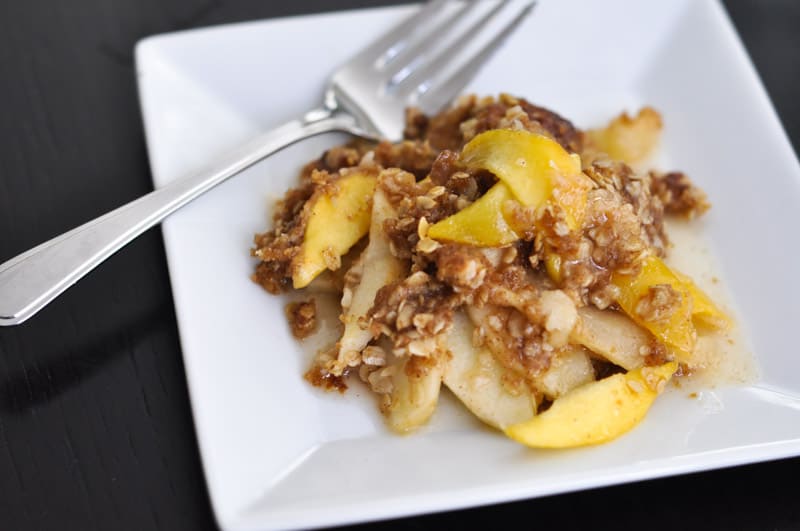 A little tip, too: after you've baked the crisp for about 30 minutes, throw on the broiler for about 2 minutes (or less – watch it carefully).
This will ensure that your crisp has a nice crunchy top, and will also caramelize the brown sugar. It makes it extra-delicious, I promise you.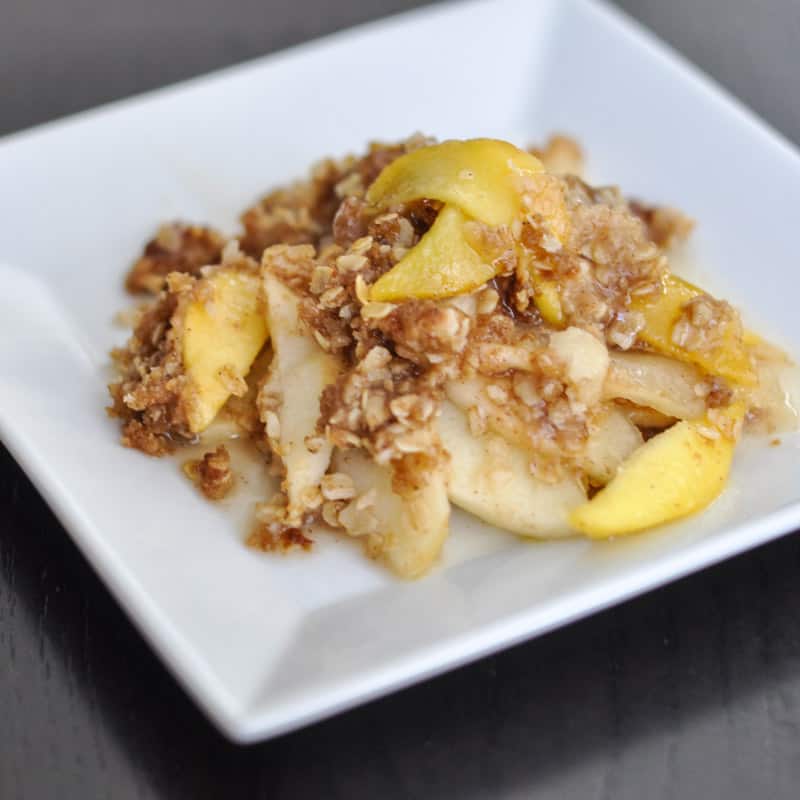 Try it. Tell me what you think. And feel free to sneak other fruits in there, too. Pears would be lovely. Or apricots!
This dish didn't last 20 minutes in the house after it had been taken out of the oven. Can you imagine what would happen if you added vanilla ice cream to this crisp recipe?
Yield: 8 servings
Apple Peach Crisp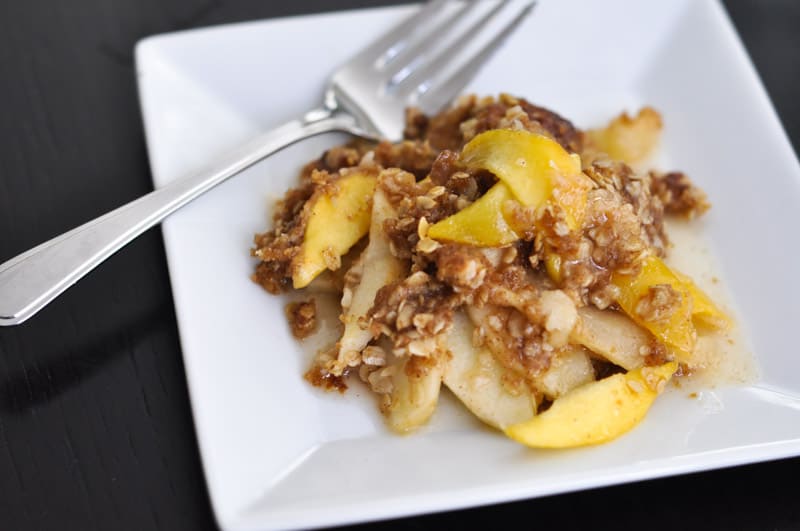 Make a delicious apple-peach crisp recipe in under an hour. Serve with ice cream or on its own - either way, it's delicious!
Ingredients
3 cups apple(s), (peeled and sliced)
3 cups peaches, (peeled and sliced)
½ cup butter
½ cup all-purpose flour
¼ cup granulated sugar
1 cup brown sugar
1 cup quick oats
2 teaspoon cinnamon
Instructions
Preheat oven to 375 degrees; grease a pie dish or a 11 x 7 glass dish.
Toss apples and peaches together in a bowl with the granulated sugar and put in baking dish.
Combine all remaining dry ingredients in a bowl.
Using a pastry cutter or two knives, cut in the butter until the mixture is made up of pea-sized lumps.
Sprinkle the oatmeal mixture generously over the apples and peaches.
Bake in oven for 30 minutes; for last two minutes, switch the oven to broil to crisp up the top.
Serve on its own or with ice cream!
Nutrition Information:
Yield:
8
Serving Size:
1 serving
Amount Per Serving:
Calories:

319
Total Fat:

12g
Saturated Fat:

7g
Trans Fat:

0g
Unsaturated Fat:

4g
Cholesterol:

31mg
Sodium:

121mg
Carbohydrates:

52g
Fiber:

3g
Sugar:

38g
Protein:

3g
Visit me at Suburble – the place where I make stuff. There I'll be asking you if I should haul this or that off of the side of the road . . . or I'm probably wielding a sledgehammer or a glue gun. I'd also love for you to check out these other delicious recipes: