Make this delicious chicken lo mein recipe in about 15 minutes! This tasty Asian dish will make the whole family happy. So easy!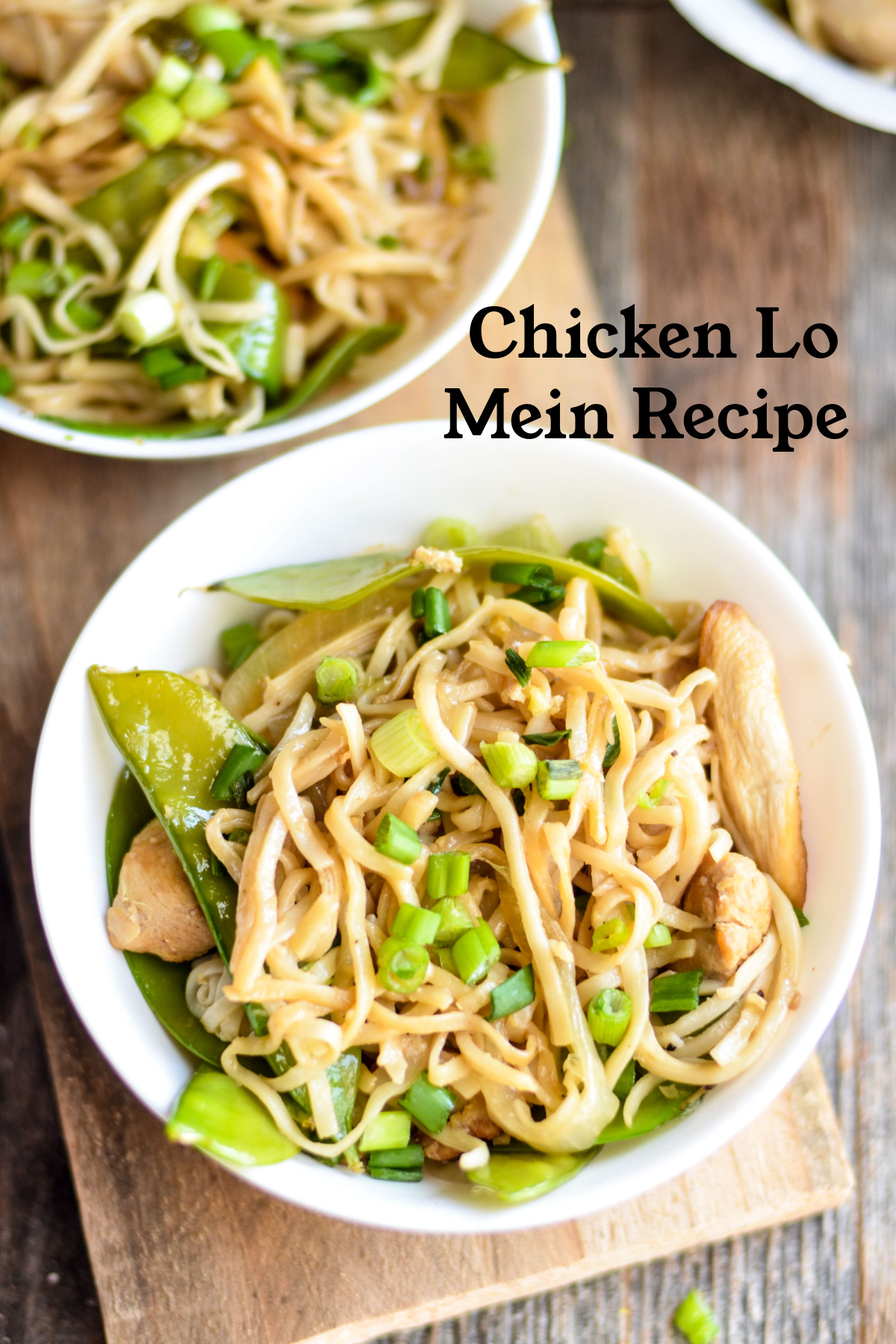 I'm so excited about this awesome lo mein! I'm absolutely obsessed with noodle dishes lately. But because it's the new year, I've got to have a dish that includes not just noodles – but chicken for protein and then vegetables.
But it also has to taste delicious. I know . . . lots of requirements. Basically I want it to be as close to authentic Chinese restaurant style as possible!
Luckily this chicken lo mein meets all those requirements. This is an easy recipe as well. It's perfect for 3 – 4 people . . . . or two if you are starving. It's great for lunch but also for dinner. And it's quick to make.
This chicken with snow peas pairs well with our Chinese vegetable soup. It tastes amazing as leftovers, too. To start, here's what you're going to need to make it. Get the full recipe at the bottom of the post.
---
Ingredients
1 package lo mein noodles (check the grocery stores Asian or international section)
2 chicken breasts, thinly sliced
1 yellow onion, thinly sliced
2 tsp of grated ginger
2 fat cloves of garlic, sliced
A bunch of green onions, chopped
4 to 5 handfuls snow peas
3 T soy sauce (or low sodium soy sauce)
1 T + 1 T of sesame oil, divided
3/4 cup of chicken stock or chicken broth
2 tsp of cornstarch
Salt and freshly cracked black pepper to taste
Tips and Thoughts on This Recipe:
I recommend using a wok pan if you cook stir fry regularly. A wok pan generally requires less oil and contains splatter. It also provides a slant so you can easily move the ingredients around to fry them without kicking them out of the pan.
Feel free to substitute chicken thighs for the breasts, but that changes the nutritional info.
Have fun with the veggies! You don't have to limit yourself to snow peas. Add red bell peppers, shredded carrots, broccoli, zucchini, bok choy . . . whatever floats your boat.
I've been asked if oyster sauce or hoisin sauce can be used in place of or along with the soy sauce mixture. Absolutely! I'd still use the 3/4 cup chicken stock.
This recipe is gluten free IF you use gluten free lo mein noodles and gluten free soy sauce. You will have to read the ingredients and make sure that they are (or that it's noted on the label).
I think you're ready going to enjoy this dish!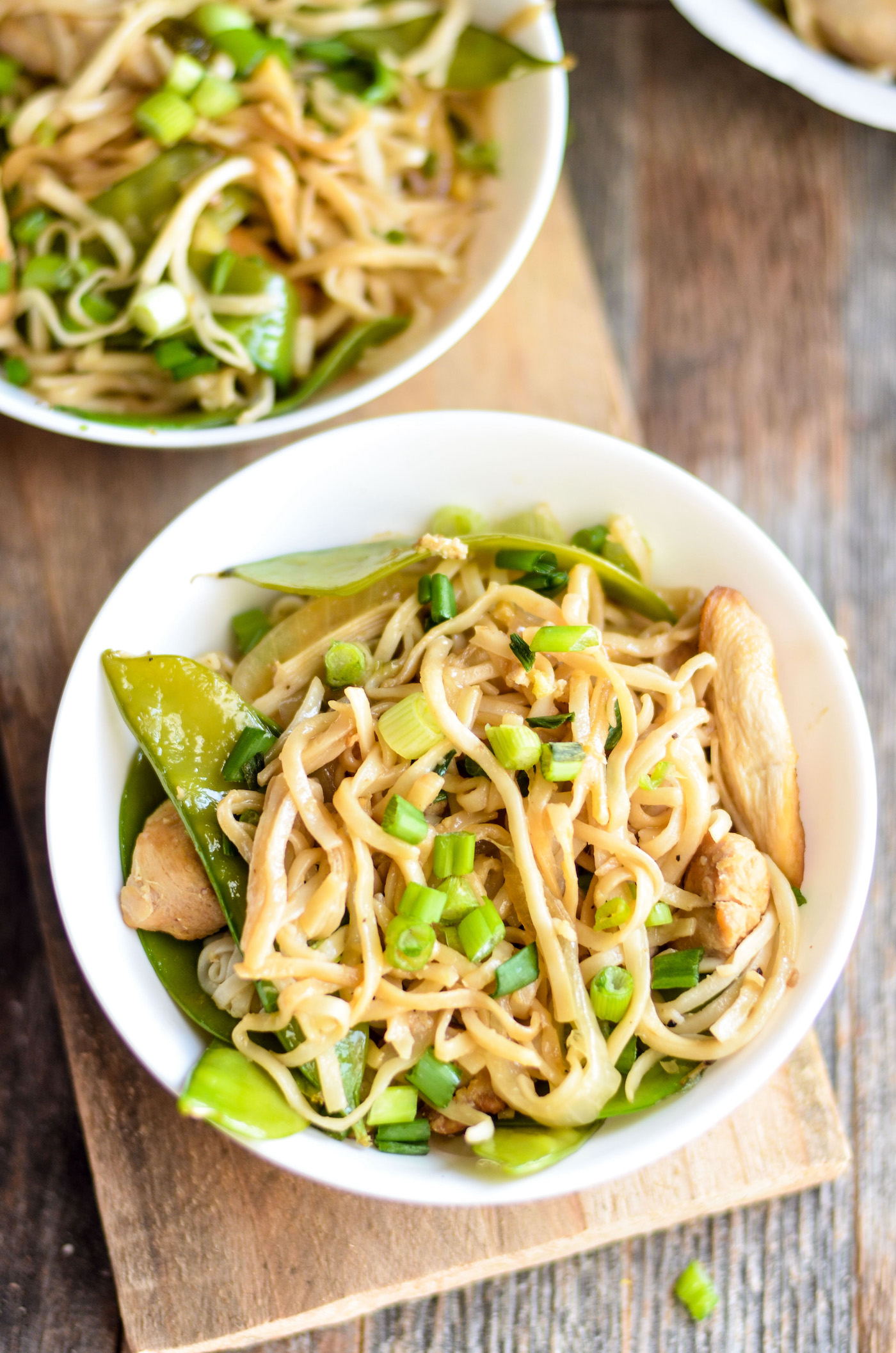 Get the printable recipe for this delicious dish below.
Yield: 4 servings
Chicken Lo Mein
Make this easy chicken lo mein recipe with snow peas in about 15 minutes! This tasty Asian dish will make the whole family happy. So easy!
Ingredients
12 oz lo mein noodles, 1 package
1 lb chicken breasts, thinly sliced
1 yellow onion, thinly sliced
2 tsp fresh ginger (grated)
2 cloves garlic (sliced)
4 to 5 handfuls snow peas
3 T soy sauce
2 T sesame oil (divided)
3/4 cup chicken stock
2 tsp cornstarch
1 bunch green onions (chopped)
1 pinch salt and freshly ground black pepper to taste
Instructions
Cook the lo mein according to package instructions.
In a small bowl, whisk together the soy sauce, chicken stock, and cornstarch until combined. Set aside.
Heat 1 T sesame oil in a pan over medium high heat. Add chicken and cook until done all the way through. Set aside.
In the same pan, heat the remaining 1 T of oil, and fry the grated ginger and sliced garlic until fragrant. Add the onions slices and fry until translucent.
Add back the chicken along with the snow peas and the lo mein sauce mix; bring to a boil then reduce the heat. Season with salt and freshly cracked black pepper.
Stir in the cooked noodles and toss to mix.
Add the green onions and take it off the heat. Serve immediately.
Nutrition Information:
Yield:
4
Serving Size:
1 serving
Amount Per Serving:
Calories:

422
Total Fat:

14g
Saturated Fat:

3g
Trans Fat:

0g
Unsaturated Fat:

10g
Cholesterol:

98mg
Sodium:

1196mg
Carbohydrates:

29g
Fiber:

4g
Sugar:

7g
Protein:

44g
---
Do you love this chicken lo mein recipe? Check out these other Asian inspired recipes from myself and my friends!