You can make this delicious candy cane fudge recipe in just a few minutes – it's only four steps!
Even the kids can help, and the entire family will love it. Makes a great gift idea for neighbors, hostesses, co-workers, and more.
I'm going to be honest – I'm not the biggest fan of candy canes by themselves.
However, I will make an exception when candy canes are put in things.
Things like this easy fudge! Let me tell you everything about this candy cane fudge recipe.
First of all, I already said it was easy – and I truly mean that. "Easy" means you are mixing a few ingredients and no baking (just a little microwaving). Second, the base is perfect for customizing.
With the white chocolate chips and condensed milk . . . you just need to add something else on top to make it your own (think Oreos, Fruity Pebbles, dried fruit, etc). And third – it's just tasty. Try it . . . you'll see.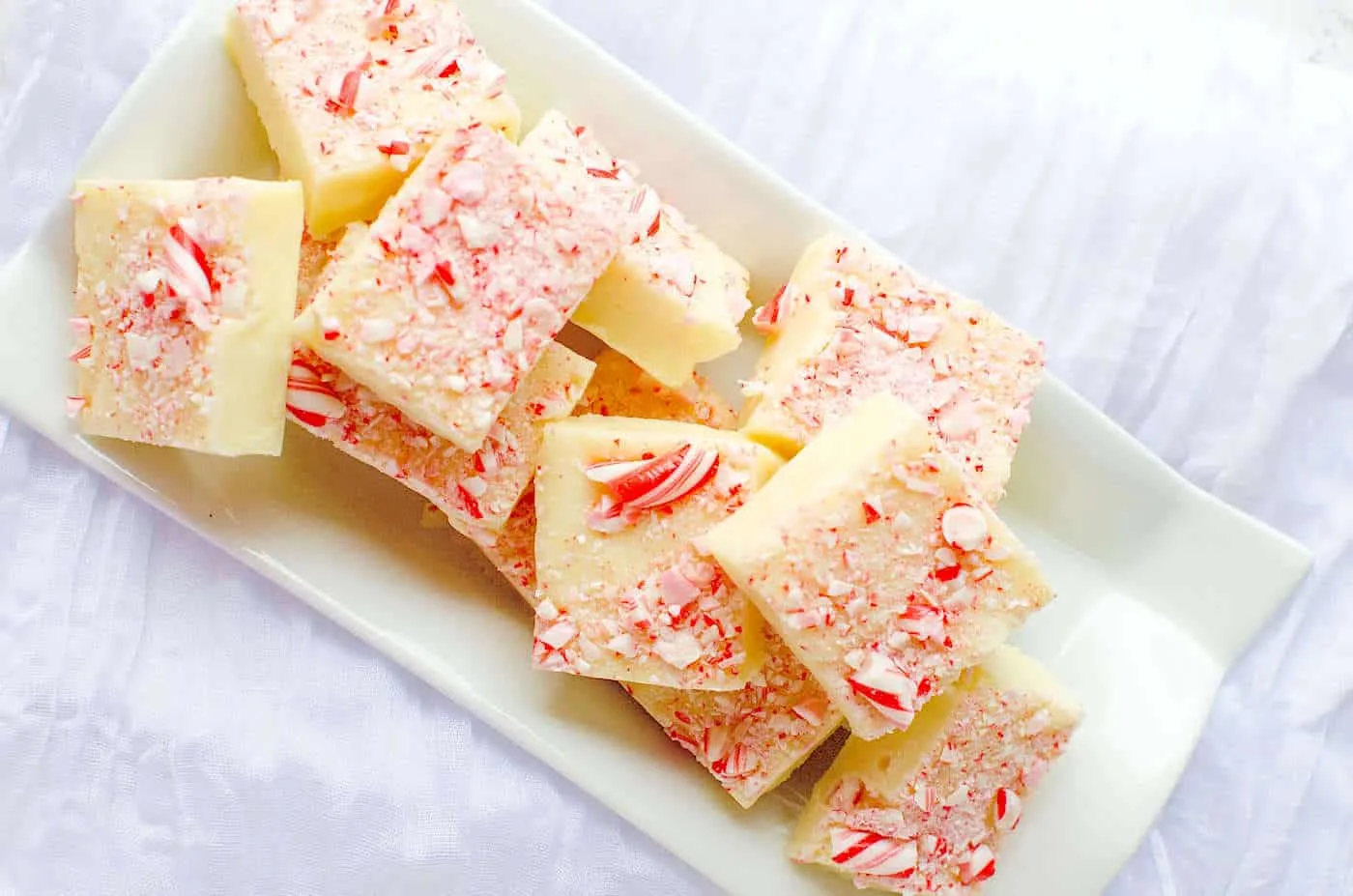 Ingredients
Tips and Thoughts on This Recipe
Instead of foil, you can also use parchment paper to line the pan. Place two pieces in the pan, like a cross, so you can easily remove the fudge.
You can use vanilla baking chips in place of the white chocolate. Technically you can use regular chocolate chips too, if you like!
Everyone's peppermint tolerance is a bit different. I personally like a bit more subtle mint. If you'd like to cut the peppermint extract in half or even omit, you can do that.
I used a meat tenderizer to break up my candy canes. You can also put the canes in a plastic bag and roll them with a rolling pin or crush with a glass. Another option is a hammer (put a dish towel over the top).
Crush the candy canes to the consistency you prefer. I like to leave a few big pieces and then crush other pieces into a powder.
To serve, you can lift the entire block of fudge out of the dish by using the foil or the parchment sides. Peel back the sides and cut into squares.
You know what this fudge recipe is great for? Cookie exchanges! People always like the guy or gal who brings a little something different, and it's perfect for Christmas gifting.
Get the printable fudge recipe below. And once you make it, let me know what you think in the comments!
Yield: 12 pieces
Candy Cane Fudge
If you want an easy fudge recipe, try this delicious candy cane version! This is a perfect no bake Christmas treat and great for edible gifting.
Total Time
2 hours
20 minutes
Ingredients
3 cups white chocolate chips
14 oz sweetened condensed milk
4 candy canes
1/2 teaspoon peppermint extract
Instructions
Line an 8 inch square baking pan with aluminum foil, and grease the foil.
In a heat safe bowl, melt the chocolate chips in 30 second increments in the microwave.
While you're waiting, crush the candy canes.
When the contents are completely smooth, stir in the can of sweetened condensed milk and mix completely.
Immediately pour into the lined dish.
Sprinkle on top of the fudge mixture.
Refrigerate until completely set, about an hour or two. Remove the fudge from the pan and cut into squares.
Nutrition Information:
Yield:
12
Serving Size:
1 piece
Amount Per Serving:
Calories:

388
Total Fat:

17g
Saturated Fat:

11g
Trans Fat:

0g
Unsaturated Fat:

5g
Cholesterol:

24mg
Sodium:

96mg
Carbohydrates:

54g
Fiber:

0g
Sugar:

52g
Protein:

6g
---
If you are looking for additional holiday fudge recipes or desserts, check out these other posts: