These chocolate zucchini cupcakes are the best you've ever had! They're moist and delicious, and the peanut butter icing pairs perfectly with the flavor.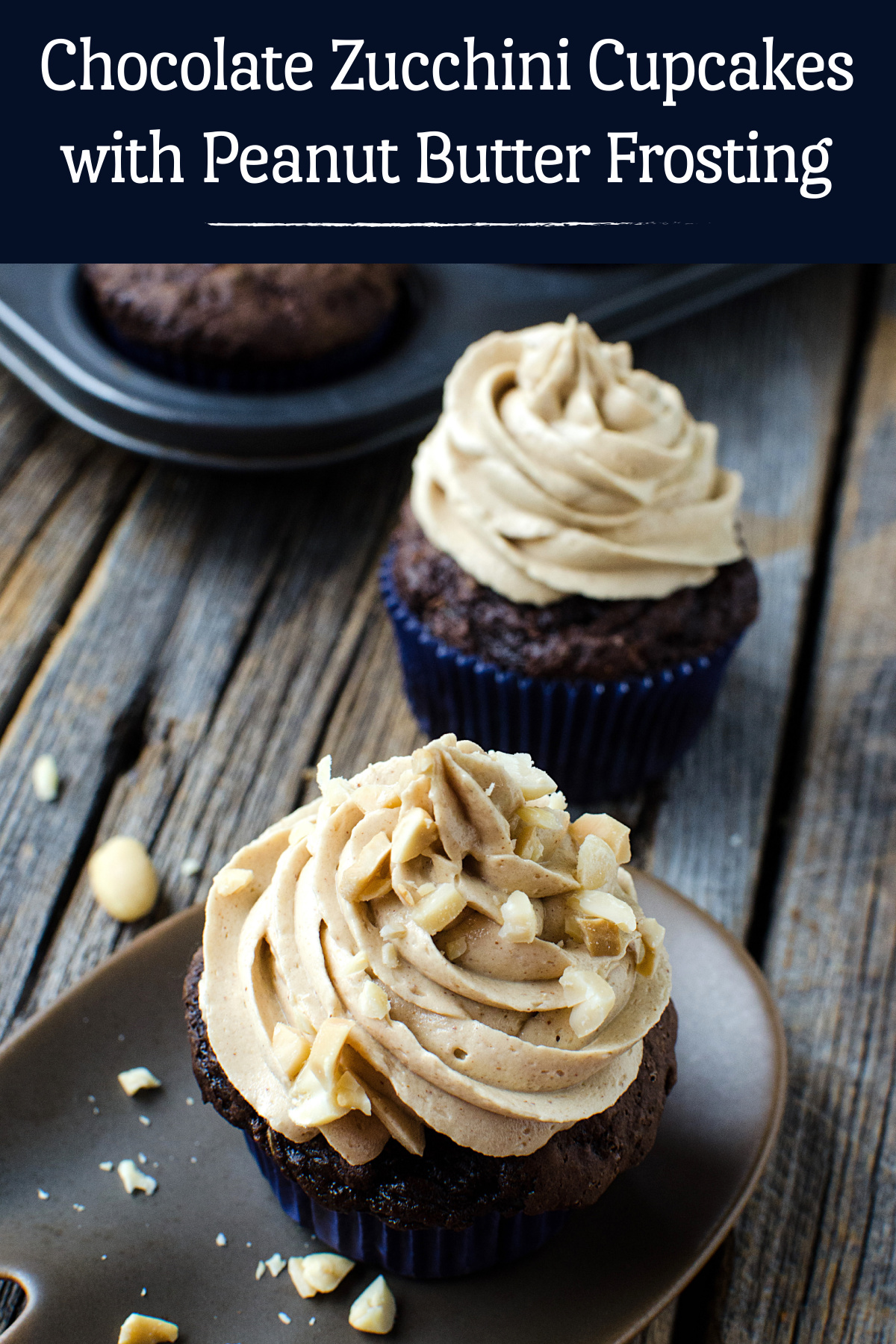 I'm so excited to share this recipe for chocolate zucchini cupcakes. I've had it in my pocket for a long time . . . and now's the time!
I'm seeing big, beautiful zucchini at the grocery store that are perfect for baking.
And if you've never had zucchini in your baked goods, you're missing out – because the zucchini adds moistness to this cupcake recipe beyond the standard.
It also adds fiber (and all the other health benefits that zucchini provides). I guess what I'm saying is if you make these, there's a lot of benefits. Could you have one for lunch and say you ate a vegetable?
Zucchini Cupcakes Using Cake Mix
I feel that the two special ingredients in these chocolate zucchini cupcakes (beyond the zucchini itself) are the pudding and the small amount of coffee (which brings out the flavor of the chocolate quite nicely).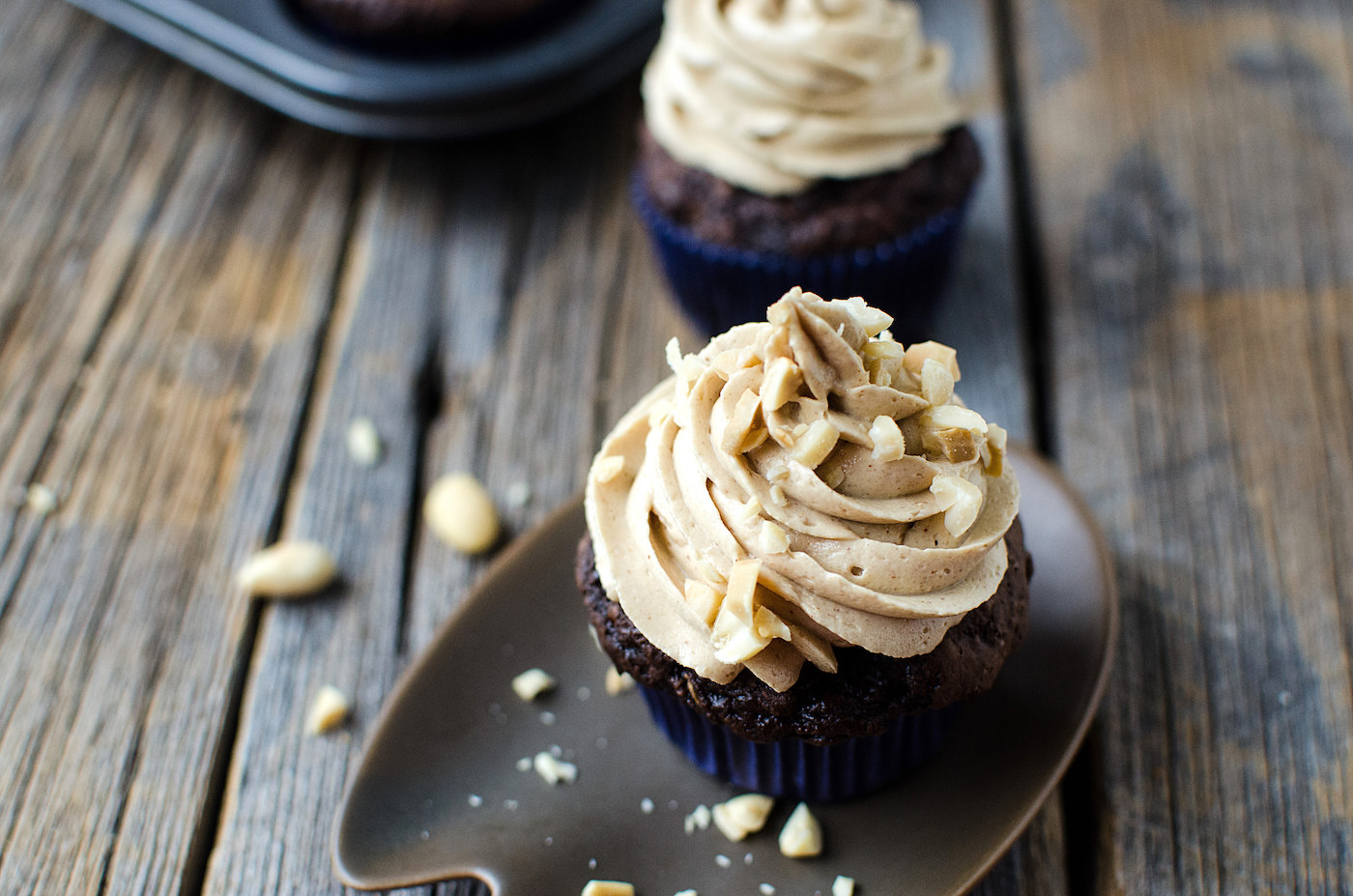 The cake mix also makes for a nice shortcut. Of course then there's the peanut butter frosting, which is literally the amazing "icing on the cupcake."
I challenge you to try these and tell me they aren't the best zucchini cupcakes you've ever had!
One bite of this cupcake recipe and you'll be sold. they are moist . . . chocolate-y . . . and peanut butter-y. They're my favorite cupcake ever!
Will I be able to taste the zucchini?
That's a question I often get. And the answer is NO. At least I can't. A zucchini is 94% water. And the chocolate and the peanut butter are plenty overpowering in the best way.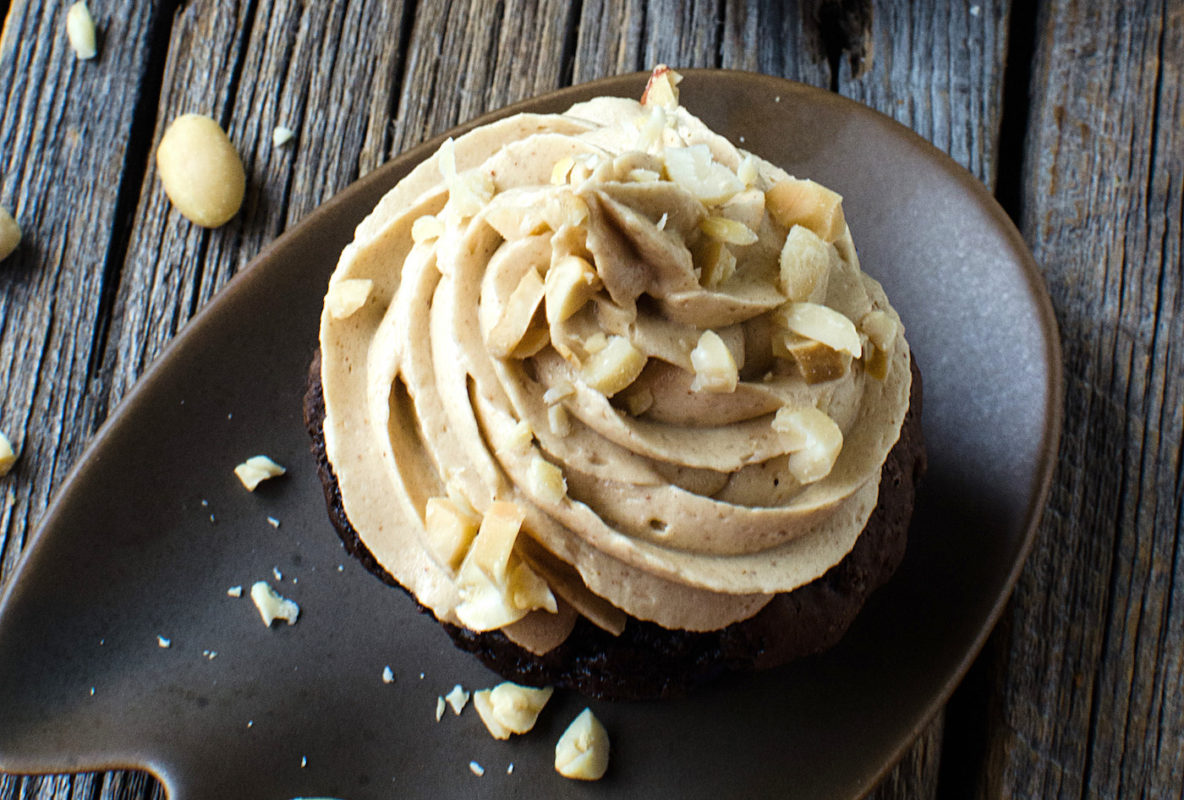 Recipe Notes You Might be Interested In
Flour is the main dry ingredient in these cupcakes. Make sure to measure using the scoop-and-level method, as adding too much flour can result in dry cupcakes.
The combination of butter and peanut butter in the frosting adds the perfect amount of tang without making the frosting too soft – I highly recommend using both!
Powdered sugar gives the icing structure. If your icing is too soft or runny, add more powdered sugar. If it's too stiff, feel free to add a tablespoon of milk.
---
Are you ready to make this tasty dessert recipe? Check it out below!
Yield: 12 medium cupcakes
Chocolate Zucchini Cupcakes
These chocolate zucchini cupcakes are the best you've ever had! They're moist and delicious, and the peanut butter icing pairs perfectly with the flavor.
Total Time
1 hour
20 minutes
Ingredients
Zucchini Cupcakes
1 box chocolate cake mix
1 box instant chocolate pudding
2 cups shredded zucchini
4 eggs
2 teaspoon cinnamon
1 T instant coffee
3/4 cup vegetable oil
Peanut Butter Icing
1 1/4 cups peanut butter (smooth, room temperature)
1 ¼ cup confectioners sugar
½ cup butter (room temperature)
1 teaspoon vanilla extract
Instructions
Make the Cupcakes
Preheat oven to 350ºF. Press the zucchini in paper towels to get out excess water - make sure it's not soggy.
In a large bowl, mix together all ingredients listed for the cake. Mix until dry mix is incorporated just into the moist/wet ingredients.
Spoon out into lined cupcake tins to 2/3 full.
Bake for approximately 30 – 35 minutes or until an inserted toothpick comes out clean.
Remove from oven and let cool completely on a wire rack before adding frosting.
Make the Icing
In a large bowl, mix together the peanut butter and butter. Mix well with a mixer until you see the ingredients incorporated very well and the frosting has become lighter in color.
Gradually add the confectioner's sugar, in about ¼ cup intervals. As the icing gets thicker, add the vanilla.
Continue to add the confectioner's sugar until it's completely incorporated.
Frost the cupcakes (the dessert decorator is amazing) and serve immediately, or make ahead and refrigerate iced cupcakes until ready to serve.
Notes
Mix all ingredients until just combined; don't overbeat because the gluten in the flour can form elastic gluten strands This results in a more dense, chewy texture.
Nutrition information is for 12 cupcakes - this recipe also makes 6 large cupcakes, but you'll have to calculate that separately.
Store these in an airtight container for up to three days.
Nutrition Information:
Yield:
12
Serving Size:
1 cupcake
Amount Per Serving:
Calories:

444
Total Fat:

37g
Saturated Fat:

9g
Trans Fat:

1g
Unsaturated Fat:

24g
Cholesterol:

83mg
Sodium:

266mg
Carbohydrates:

23g
Fiber:

2g
Sugar:

15g
Protein:

9g
---
What do you think about this zucchini cupcakes recipe? I'd love to hear in the comments! I'd also love for you to check out these other tasty desserts: