Learn how to make jam filled cupcakes! You can use any flavor of jam to fill the moist vanilla base. Top with rich buttercream frosting.
"The more things change, the more they stay the same" is probably a quote you've heard before at some point in your life.
I never really knew what it meant, but then I thought about it for a minute and it became clear to me. Specifically in the arena of desserts.
Laugh if you will, but I was making this recipe for jam filled cupcakes and I realized that the saying was very, very true!
And here's how it relates.
When I was a twenty-something, making desserts with jam was not even on my radar screen. I was all about richness, like chocolate and cheesecake. If you were to suggest that I make a light cupcake filled with jelly? No thank you.
But I've changed. What has stayed the same? I still LOVE treats. Just as much as I ever did. But the change has been in my tastes.
Now I absolutely LOVE the combination of sweet, homemade jam and light and fluffy cake. That's exactly what you'll get with these jam cupcakes!
These easy-to-make cupcakes are a delightful treat, perfect for any occasion. Soft, fluffy vanilla cupcakes are filled with a generous amount of jam, creating a burst of fruity goodness in every bite.
They are then topped with a creamy buttercream frosting and finished with a sprinkle of sparkling gold sugar crystals. Not only are these treats visually stunning, but also deliciously indulgent!
Serve them at your next party or enjoy them as a sweet afternoon treat with a cup of tea.
Tips for Making Delicious Cupcakes
Before you dive into this recipe, I've got some tips for you on making the best (and tastiest) cupcakes. If you're interested, check them out. Otherwise scroll to the bottom.
Use Quality Ingredients
Use high-quality, fresh ingredients for the best flavor and texture. You'll for sure want to get fresh eggs, good quality butter, and pure vanilla extract (instead of imitation).
Measure Precisely
Flour is the main dry ingredient in this recipe. Measure using the scoop-and-level method, as adding too much flour can result in dry cupcakes. You can also weigh the flour.
Bring Cold Ingredients to Room Temp
Bring ingredients like butter, eggs, and milk to room temperature before mixing. They will incorporate better, resulting in smoother batter and fluffier cupcakes. They don't need to be warm; slightly cool to room temp is fine.
Avoid Overmixing
Mix the batter just until ingredients are combined, or the dry disappears into the wet. Overmixing can result in dense baked goods that are too firm.
Don't Overfill the Liners
Fill liners about two-thirds full with batter. This prevents overflow and allows room for the cupcakes to rise.
Watch While Baking
Follow the suggested baking time, but also keep a close eye on your cupcakes. They're done when a toothpick inserted into the center comes out clean or with a few moist crumbs attached.
Transfer Immediately After Baking
Transfer to a wire cooling rack immediately after taking them out of the oven. This prevents condensation from forming on the bottom, which can make the cupcakes soggy.
Cool Before Frosting
Ensure they are completely cool before frosting. Warm cupcakes can cause the frosting to melt or slide off when applied.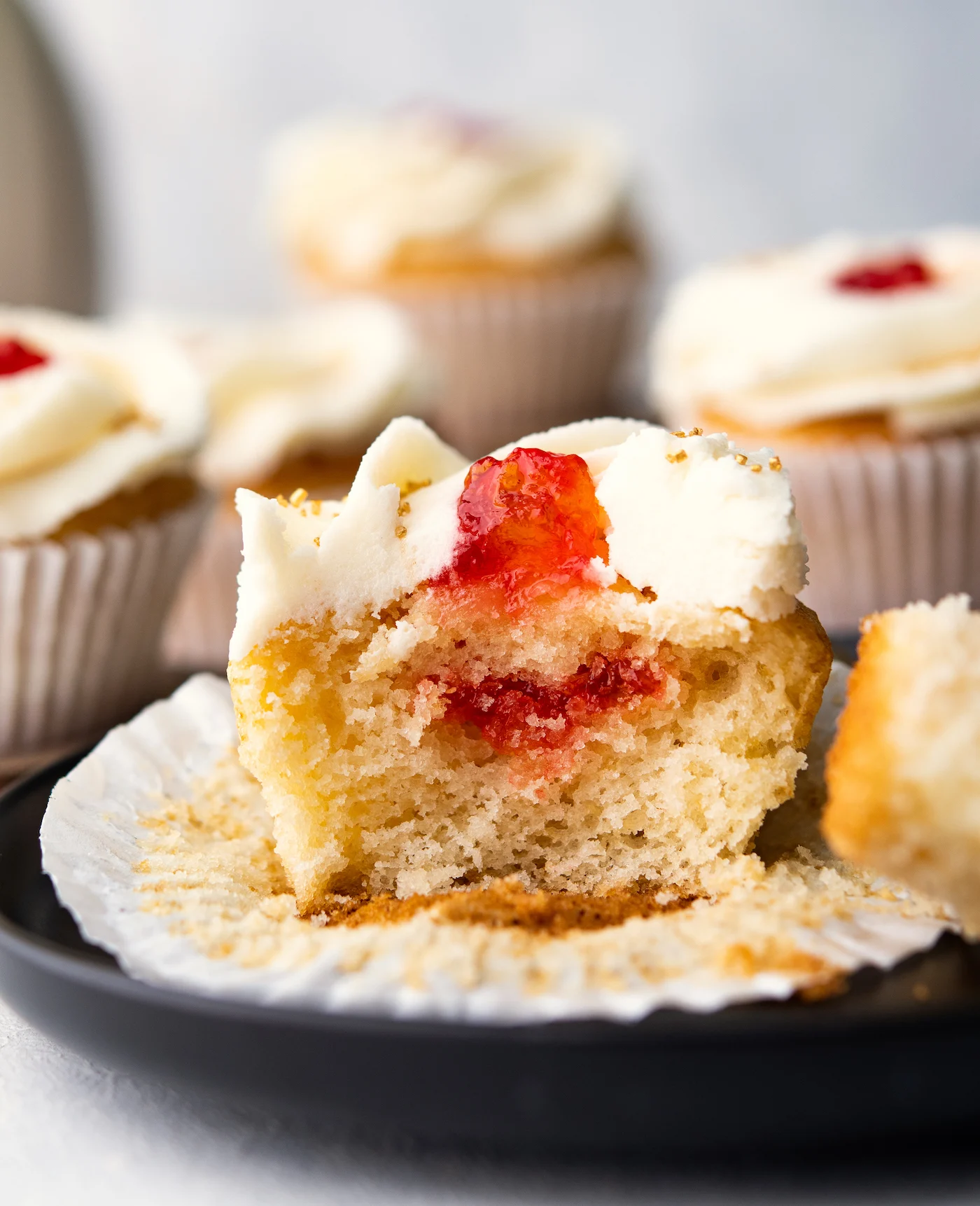 Remember, practicing and experimenting will help you perfect your baking skills over time. Have fun and enjoy the process of creating delicious baked goods! Here's what you're going to need for this jam cupcake recipe.
Cupcakes
All-purpose flour – 1 1/2 cups (175 grams)
Baking powder – 1 1/2 tsp
Salt – 1/4 tsp
Oil – 1/4 cup (75 ml) (canola or any other flavorless oil)
Granulated sugar – 1 cup (200 grams)
Vanilla extract – 1 tsp
Eggs – 1 large
Milk – 1/2 cup (125 ml)
Buttercream Frosting
Unsalted butter, room temp – 1 cup (226 grams)
Powdered sugar – 4 cups (500 grams)
Any jam – 1/4 cup
Gold sugar crystals
You can use any type of jam for the filling, such as strawberry, raspberry, or apricot. Make sure to fill the cupcakes generously with the jam to get that burst of flavor in every bite.
You can beat in 1-2 Tablespoons of fresh cream in the frosting if it's too thick. You can even add 1 tsp of vanilla extract to frosting for an added flavor.
Gold sugar crystals are what I chose for the top but choose any color sprinkles to go with your jam. You can also add some fresh berries for added flavor and color.
These cupcakes will stay fresh for 2-3 days when stored in an airtight container in the refrigerator. You can also store the extra frosting in the fridge for 4-5 days; allow it to come to room temperature before using it again.
You can also freeze them for up to three months. Store in a rigid container, then bring out and let rise to room temperature after freezing.
Get the printable recipe for these cupcakes below:
Yield: 12 cupcakes
Jam Filled Cupcakes
This jam cupcakes recipe is very easy and perfect for an occasion! Use your favorite flavor of jam to fill them.
Ingredients
Cupcakes
1 1/2 cups all-purpose flour
1 1/2 teaspoons baking powder
1/4 teaspoon salt
1/4 oil (canola or any other flavorless oil)
1 cup granulated sugar
1 teaspoon vanilla extract
1 large egg
1/2 cup milk
Frosting
1 cup unsalted butter, room temp
4 cups powdered sugar
1/4 cup strawberry jam
Gold sugar crystals
Instructions
Make the Cupcakes
Preheat the oven to 350 F and line your baking tray with cupcake liners and keep aside.
In a large mixing bowl, combine flour, baking powder, and salt and mix until well incorporated.
In another bowl add oil, sugar, and vanilla extract and mix well.
Now, add the egg and milk to the wet mixture and mix until combined.
Add the flour mixture to the wet mixture in batches and beat using electric hand mixer on low until just combined.
Scoop out the batter using an ice cream scoop, and fill your liners till 3/4 full.
Bake in a preheated oven for 22-25 minutes or till a toothpick inserted in the middle comes out clean. Let the cupcakes cool for 5 minutes in the baking tray before transferring them to a wire rack to cool completely.
Once the cupcakes are completely cooled, using the back of a piping nozzle, make a cut at the centre to create a well and remove that part (don't throw it away).
Fill it with jam generously, and close it using the cut-out part.
Make the Frosting
In a bowl of a stand mixer or using a hand mixer, cream the butter until it's light and creamy. Add powdered sugar (in batches) and beat until you get a smooth and fluffy consistency (5-6 min).
Fill a piping bag with the prepared frosting and attach a star-tip (or any other) nozzle. Pipe the swirls of frosting on top of the cupcake along the edges, keeping the center empty.
Add a little bit of jam in the centre again using a piping bag or small spoon. Sprinkle some gold sugar crystals on top if desired.
Nutrition Information:
Yield:
12
Serving Size:
1 cupcake
Amount Per Serving:
Calories:

434
Total Fat:

16g
Saturated Fat:

10g
Trans Fat:

0g
Unsaturated Fat:

6g
Cholesterol:

57mg
Sodium:

121mg
Carbohydrates:

71g
Fiber:

0g
Sugar:

57g
Protein:

3g
---
If you enjoyed this recipe, let me know in the comments! I'd also love for you to check out these other cupcake posts:
Autumn Owls • Cadbury Mini Egg • Candy Corn • Carrot Cake • Chocolate Buttercream • Chocolate Cherry • Chocolate Zucchini • Christmas Tree • Christmas Wreath • Cookie Monster • Gingerbread • Grinch • Honey • Hot Cocoa • Matcha • Pumpkin • Snickers • Strawberry Nutella