Unleash your holiday creativity with Christmas perler beads! You'll love these patterns including Santa, reindeer, wreaths, angels, elves, the Grinch, and more.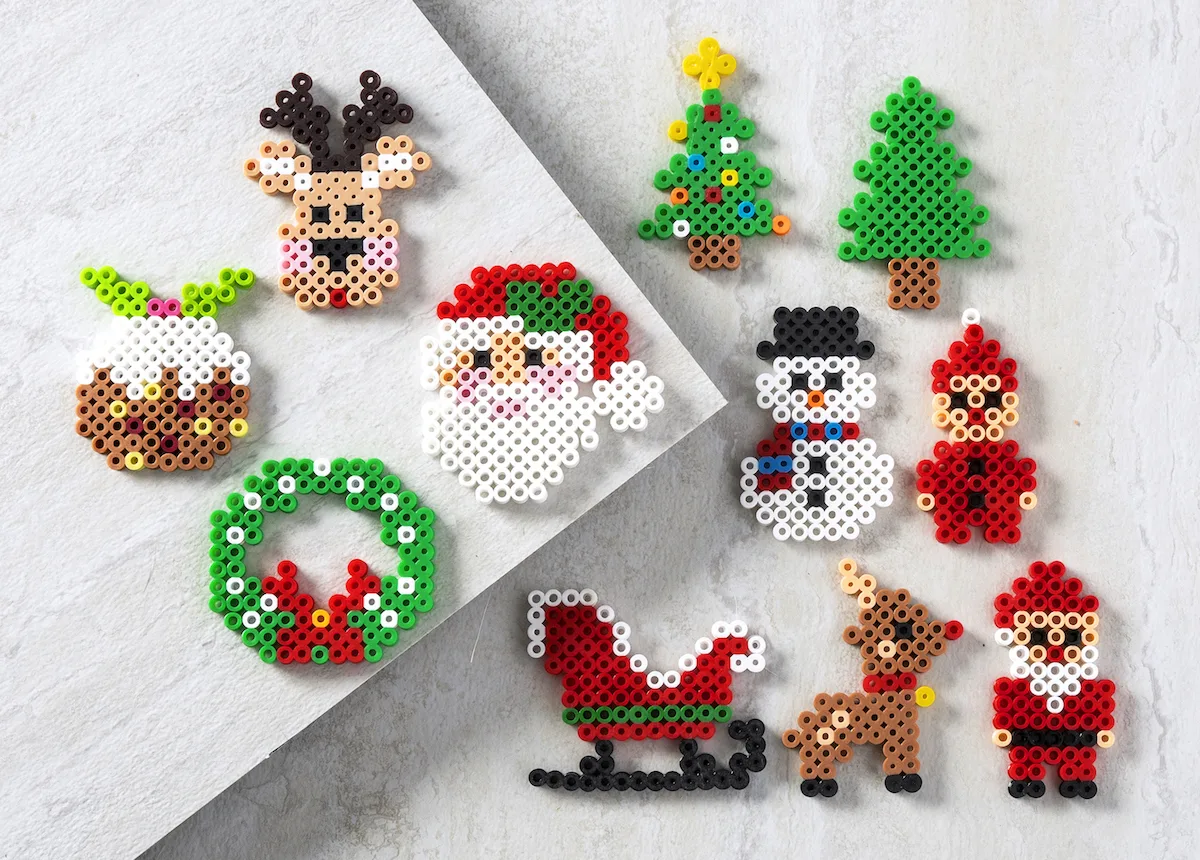 Do you hear the sound of jingle bells? Do you feel that air . . . just filled with cheer? Yep, it's the Christmas season. And that means it's time to do all the Christmas crafts.
I'm excited to share one of my favorite Christmas kids crafts with you today: Christmas perler beads! Well, I use the term "kids craft" loosely. Because the fact is, adults love perler beads too.
They are recommended for ages six and up, and my ten year old niece loves them. All children seem to dig perler beads (also known as hama beads, fuse beads, or melty beads).
As you can imagine, my niece isn't just doing this alone when she's visiting. I'm right next to her, making designs with the beads and ironing away! I love them just as much as she does, if not more 😮
But, back to the holiday designs.
I've got over 75+ Christmas perler bead patterns below, including Santa and all his friends, reindeer, candy canes, gingerbread houses, Christmas trees, Christmas ornaments, the nativity . . . and even Buddy the Elf and the Grinch!
Some of the patterns are smaller and great for younger children to play with or use in other projects. But there are also larger, multiboard patterns for those who enjoy a fun challenge!
Basically no matter which pattern you choose, they're all injected with a good bit of holiday spirit. What I'm saying is that when you try these, you're going to feel the Christmas magic flowing! I promise.
If you're currently caught up in the hustle and bustle of the season, take a step away. Grab some perler beads, put on your favorite holiday tunes, and let out your festive (and also creative) spirit.
Remember, Christmas perler beads aren't just colorful little bits of plastic – they're a gateway to joy, creativity, and the true spirit of the season. I'm really excited for you to check these out!
Tips for Using Perler Beads
Before we get into the patterns, I want to review a few basics of using fuse beads to make sure you get the best results. If you don't want the tips, scroll down to the bottom to get the Christmas perler bead patterns.
Remember that the overall goal is to melt the beads together on both sides while still leaving the holes open. Here's how you get the best results (with a Christmas tree as an example).
Use Ironing or Parchment Paper
Place ironing paper or parchment paper over the beads on the pegboard. Be gentle so you don't disturb the beads underneath.
Heat your iron to the medium or medium hot setting (no steam). In a circular motion, begin to iron the project. Don't press down too hard with the iron. I use small, circular strokes.
When ironed properly, the beads will still have an open center. Check and make sure your edges are melted. Let the design cool on the pegboard.
Note: BE CAREFUL about lifting up the paper while you're ironing! If you want to check, carefully peel back paper around the edge of your design and see if all the beads are melted.
If you lift the paper up quickly and there are a lot of unmelted beads, they will easily fall off or go flying and you may be forced to start over. Sometimes the edges need more time so when you check, just check the edges and peel paper back slowly.
Another Note: some beads melt faster than others (clear melts faster than white, for example). So some holes might be larger than others. It's okay! That's part of the look of the project.
Iron the Other Side
Remove the bead design from the pegboard. Flip it over to the non-melted side and repeat the fusing process.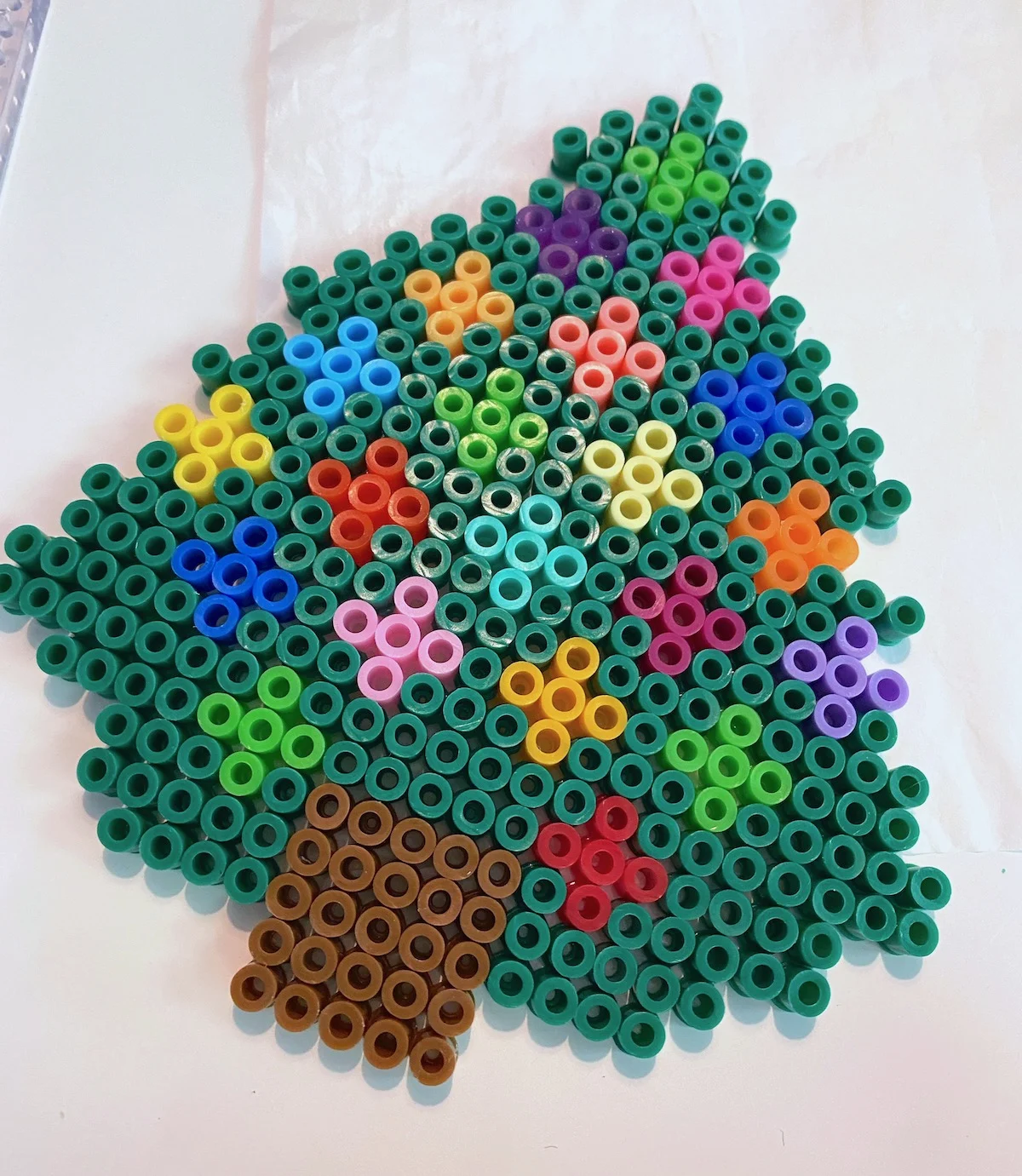 Remove the Paper
Let cool completely and remove the paper again (which is reusable). Some people pull the paper off after they iron the first side, but I just wait until the end and peel off both pieces. It's up to you!
---
Christmas Hama Beads
Make sure to check out these notes:
A few of these patterns are larger than a 29 x 29 pegboard, so you'll either need a extra large pegboard (49 x 69 tall) or to put multiple square peg boards together to form a larger "canvas."
Some of these patterns also use either small star pegboards, large heart pegboards, or hexagon pegboards, which you'll definitely want in your arsenal just generally speaking.
You'll see a couple of the pattern backgrounds below aren't white – that's simply to give contrast so you can see where all the white beads should go. You don't need to add the background (but you can if you want to).
Clear looks gray on the grid, so make sure to check the notes for the correct type of beads.
I start with more simple patterns, so if you want the more difficult patterns then keep scrolling.
Mini Holiday Characters
Let's start off with something easy! Get patterns for a reindeer, Santa, elf, Christmas tree, snowman, and an evergreen tree.
---
Down the Chimney
Get patterns for Santa, a Christmas stocking, a wreath, and a package wrapped with a bow.
---
The Nutcracker Suite
I'm obsessed with nutcrackers! You'll get a cute nutcracker, Christmas wreath, and plum pudding.
---
Mini Ornaments
Use these designs to create cute Christmas ornaments! Just tie string through a hole or two at the top.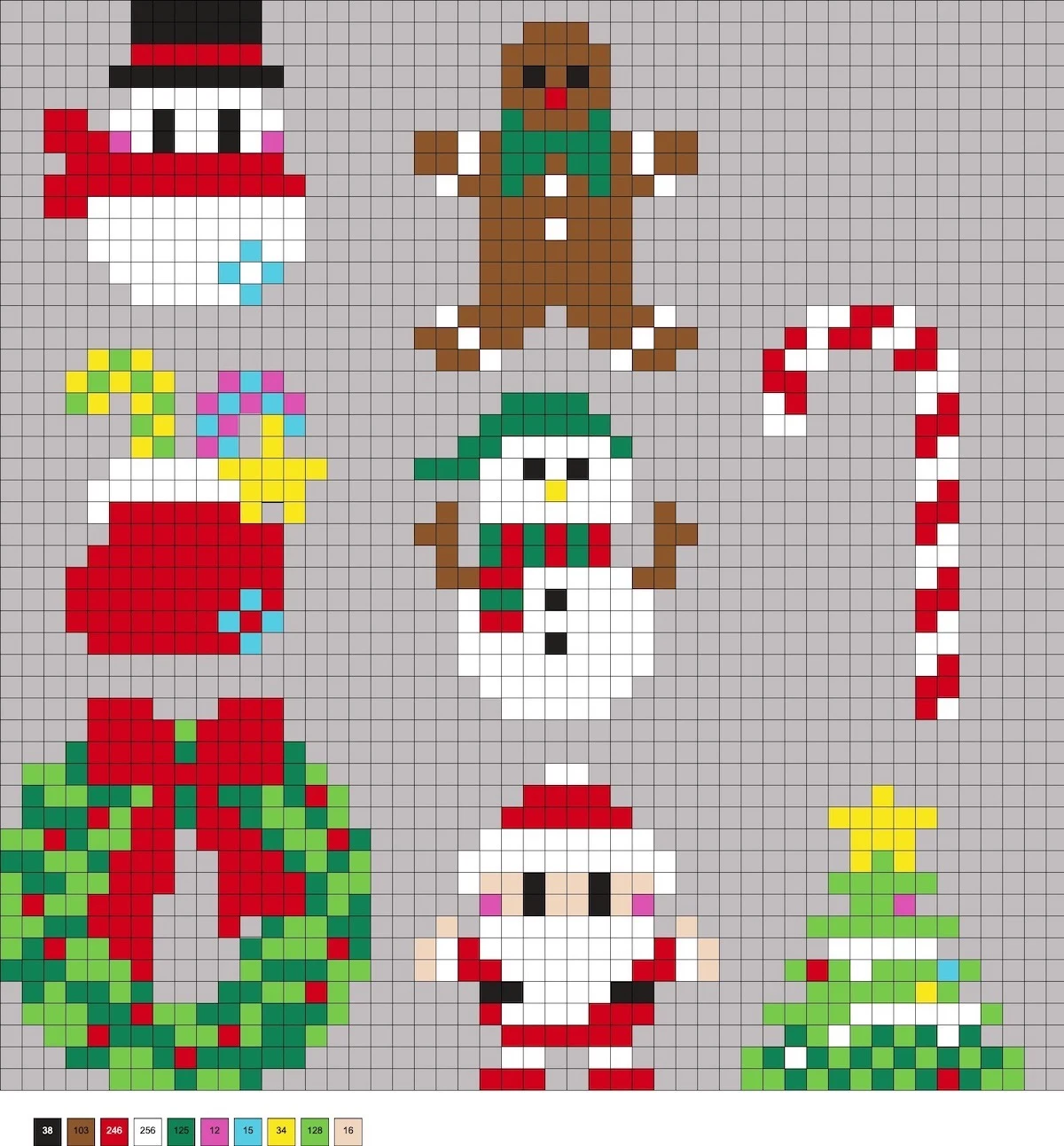 ---
Christmas Bell and the Gingerbread Man
The bell uses 84 red, 25 clear, 52 gold, and 22 dark green beads. The clear beads keep the bow together! The gingerbread man uses 76 honey, 6 dark brown, 12 red, 10 white, 2 pink, and 2 kiwi green beads.
---
Small Holly and Christmas Ball Ornament
Both of these patterns use small pegboards.
---
Gingerbread Men
These patterns uses 40 red, 77 white, 137 cocoa, 295 brown, 24 black, and 16 dark green beads.
---
Sweet Angel
This pattern uses 44 gold, 67 rust, 233 white, 70 peach, 44 clear blue, 2 light blue, 1 red, and 19 pastel lavender beads.
---
A Christmas Story Leg Lamp
This pattern uses 100 black, 59 yellow, 4 toasted marshmallow, and 30 sand beads.
---
Buddy the Elf
This pattern uses 88 dark green, 8 red, 73 yellow, 27 gingerbread, 42 sand, 27 white, 43 black, and 84 bright green beads.
---
Small Snow Globe, Christmas Light, and Penguin
These cute patterns are a great way to get rid of extra beads! You can make the Christmas lights in all sorts of colors.
---
Small Gingerbread House
This pattern uses 205 pastel blue, 160 white, 37 bright green, 25 red, 168 brown, 16 cotton candy, and 10 light brown beads.
---
Christmas Bells with Holly
This pattern uses 122 black, 52 bright green, 10 white, 25 red, and 75 yellow beads.
---
Winter Windows
These patterns use 292 cherry, 105 light blue, 77 sky, 105 dark blue, 140 white, 18 black, 5 yellow, 13 cocoa, 39 dark green, 3 orange, 44 gingerbread, and 11 grape beads.
---
This pattern uses 172 red, 62 white, 12 brown, 50 toasted marshmallow, 2 light blue, 2 blush, and 4 black beads.
---
Rudolph the Red Nosed Reindeer
This pattern uses 131 black, 99 sand, 147 light brown, and 4 red beads.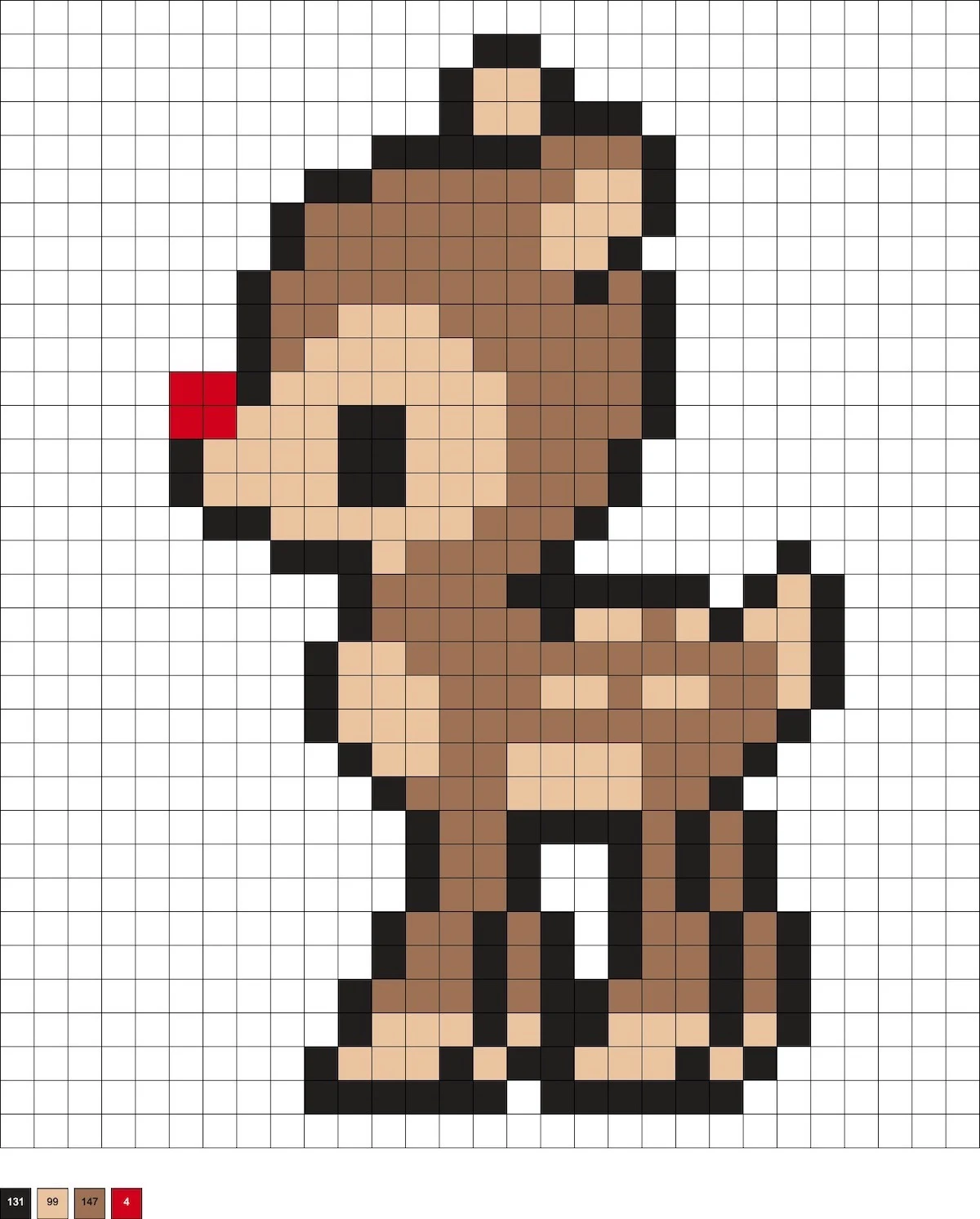 ---
Snowglobe Buffalo Plaid Ornament
This pattern uses 14 gold, 84 mist, 85 lagoon, 80 white, 83 caribbean, 75 charcoal, 87 clear, 19 pastel green, 3 gingerbread, and 22 salmon beads.
---
3D Gingerbread House
This pattern uses 215 white, 219 honey, 58 mint, 51 salmon, and 48 lagoon beads. Once you're done, you'll snap all the sides together and put the roof on top to form the house.
---
Snowman with a Winter Tree
This pattern uses 238 white, 70 pastel lavender, 42 dark green, 22 purple, 6 black, 3 orange, and 42 lagoon beads.
---
Candy Canes and Holly
This pattern uses 605 mint, 103 red, 84 white, and 49 shamrock beads. Note: you can also make the candy canes and holly leaves without the background, then glue them onto another project.
---
Santa Head
This pattern uses 59 red, 244 white, 85 gray, 36 flesh, and 2 black beads.
---
Mrs. Claus
This pattern uses 86 red, 18 bright green, 67 white, 111 gray, 113 toasted marshmallow, 3 black, and 9 blush beads.
---
Candy Cane with a Bow
This pattern uses 69 red, 69 white, 90 black, and 113 carribean sea beads.
---
Pretty Poinsettia
This pattern uses 116 cherry, 86 red, 26 clear (gray below), 7 yellow, 31 dark green, and 12 pastel green beads.
---
Standing Reindeer with a Santa Hat
This reindeer comes with a cute Santa hat and a stand! The pattern uses 42 red, 25 cheddar, 46 white, 18 shamrock, 155 light brown, 40 brown, and 10 black beads.
---
Mr. Grinch
The pattern on the left uses 212 black, 108 red, 78 white, 207 kiwi lime, 24 yellow, and 4 fern beads. The pattern on the right uses 103 kiwi lime, 52 shamrock, 75 black, and 16 yellow beads.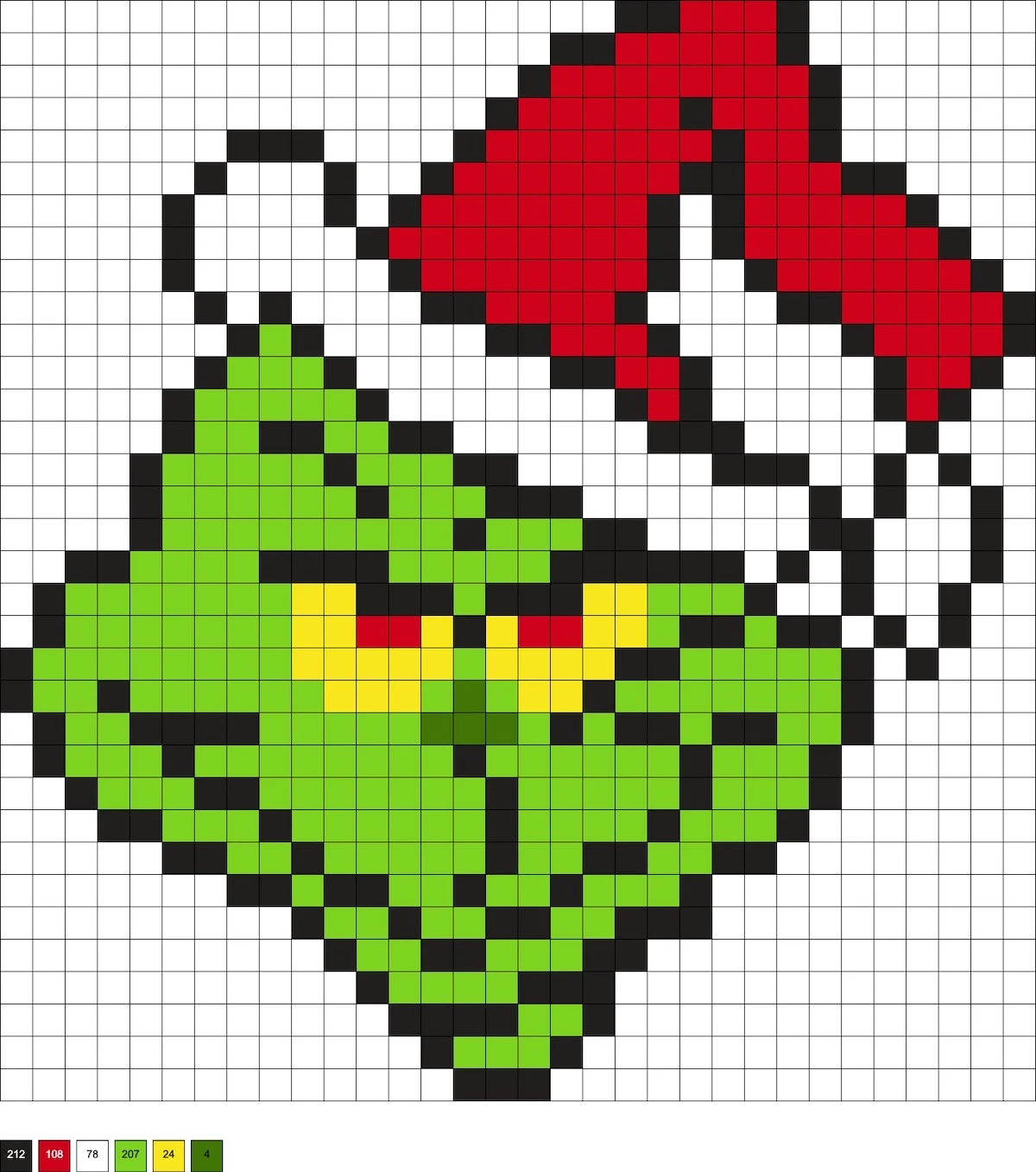 ---
Ugly Sweaters
The pattern on the left uses 259 pastel blue, 411 dark blue, 34 mist, 40 silver, 158 light blue, 72 red, 25 white, 5 parrot green, 17 light green, 30 light lavender, and 19 salmon beads. The pattern on the right uses 82 white, 148 parrot green, 18 light green, and 14 blush beads.
---
Christmas Front Door and Light Post
This pattern uses 109 black, 118 clear, 200 cherry, 1 yellow, 3 white, 17 shamrock, 11 pastel green, and 34 cotton candy beads.
---
Crackling Fireplace
This pattern uses 523 robin's egg, 29 pastel yellow, 42 shamrock, 2 red, 3 cheddar, 8 white, 25 orange, 9 light brown, 120 rust, and 80 black beads.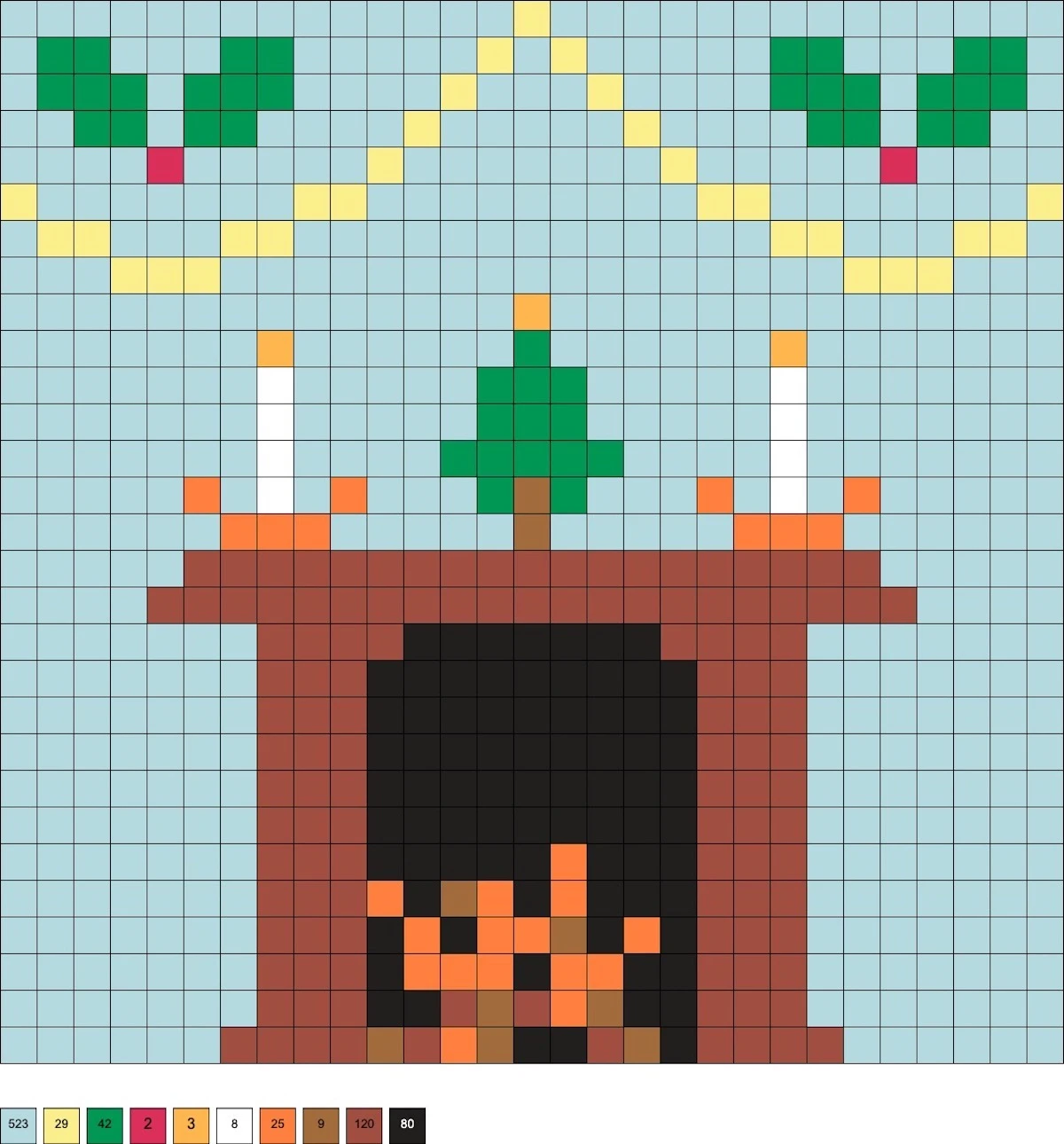 ---
Two Happy Snowmen
The pattern on the left uses 85 black, 15 red, 15 honey, 158 white, 16 brown, 8 orange, 53 pastel green, and 8 shamrock beads. The pattern on the right uses 45 black, 19 red, 3 kiwi lime, 173 white, 1 orange, 33 bright green, and 7 robin's egg beads.
---
Christmas Tree with Presents
This pattern uses 61 cheddar, 2 clear, 204 dark green, 41 white, 12 grape, 27 salmon, 21 raspberry, and 19 light blue beads.
---
Nutcracker and Santa Star
The nutcracker uses a large hexagon board, while the Santa uses a small star (this makes a cute ornament!).
---
Wreath with Buffalo Plaid Ribbon
This pattern uses 121 flamingo, 57 red, 57 white, 25 cherry, 80 shamrock, and 51 pastel green beads.
---
Three Wise Men
These patterns use 108 tomato, 86 gold, 100 sky, 100 tan, 50 black, 42 gray, 30 orange, 94 pastel lavender, 120 dark blue, 54 cream, 96 blush, 34 spice, 36 white, 108 mulberry, and 134 pastel blue beads.
---
Penguins with Scarves and Hats
The penguin on the left uses 65 dark green, 22 pastel green, 176 white, 74 black, 8 light blue, 70 red, 24 yellow, and 10 light gray beads. The penguin on the right uses 78 shamrock, 83 bright green, 434 white, 71 cherry, 98 white, 91 red, and 68 orange beads.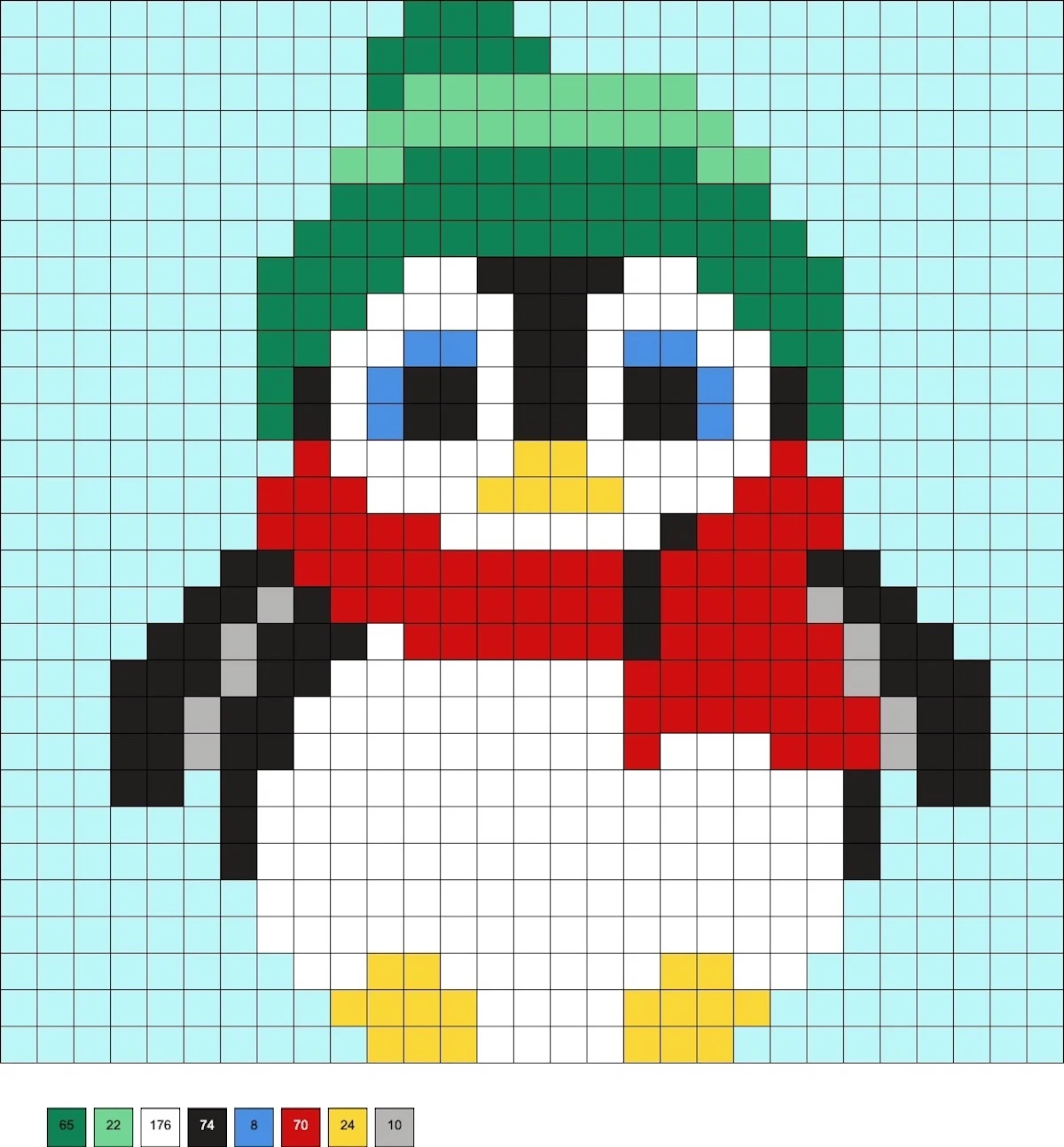 ---
Heart Angel with Halo and Heart Wreath with a Bell
Both of these patterns use heart hexagon boards.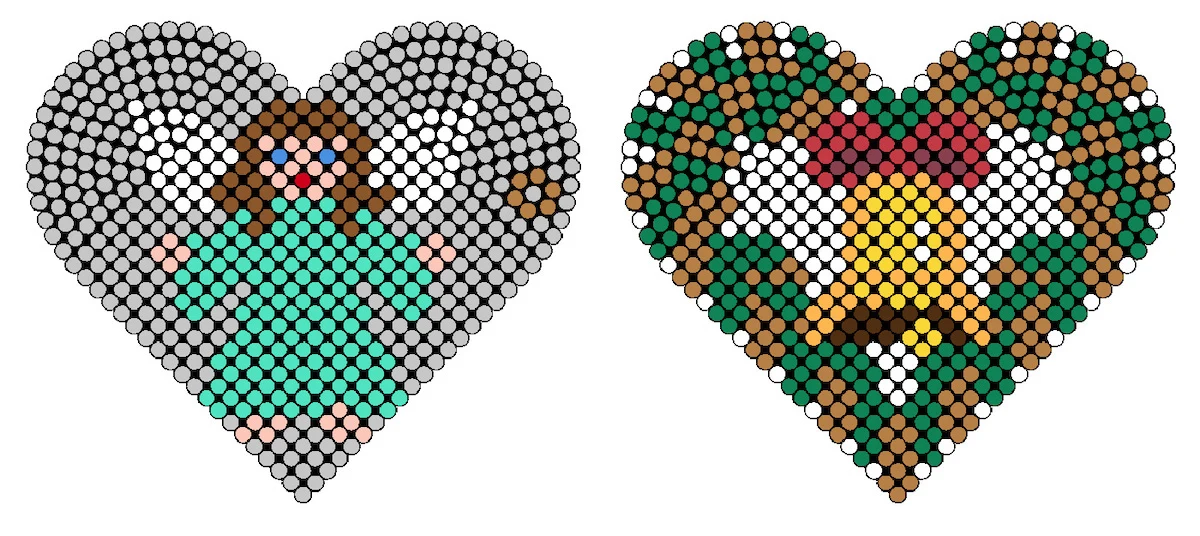 ---
Santa with a Sack of Gifts
This cute Santa uses a 29 bead square tile, and you can make the stand separately. The pattern uses 171 red, 2 green, 142 white, 36 flesh, 52 black, and 30 blue. The stand uses 116 black beads (or whatever color you like).
---
Candle with Greenery
This pattern uses 12 cheddar, 4 orange, 6 yellow, 4 dark gray, 13 pastel yellow, 53 white, 145 dark green, and 11 red beads.
---
Bright Wreath with a Pink Bow
This pattern uses 96 blush, 71 bright green, 103 dark green, 48 salmon, and 57 sherbert beads.
---
Christmas Elf
This pattern uses 72 salmon, 65 red, 69 cherry, 146 white, 19 toasted marshmallow, 27 black, 99 light gray, 54 gray, and 7 light blue beads.
---
Angel with a Large Halo
This pattern uses 28 gold, 42 gingerbread, 52 peach, 54 white, 2 dark blue, 1 spice, 184 light blue, and 15 clear beads (you can also use glitter).
---
Christmas Bears with Stands
These two bears are dimensional, and they both have a stand! To make the stand for the bear in the wreath, grab 28 matching green beads and make a stand identical to the brown one on the left.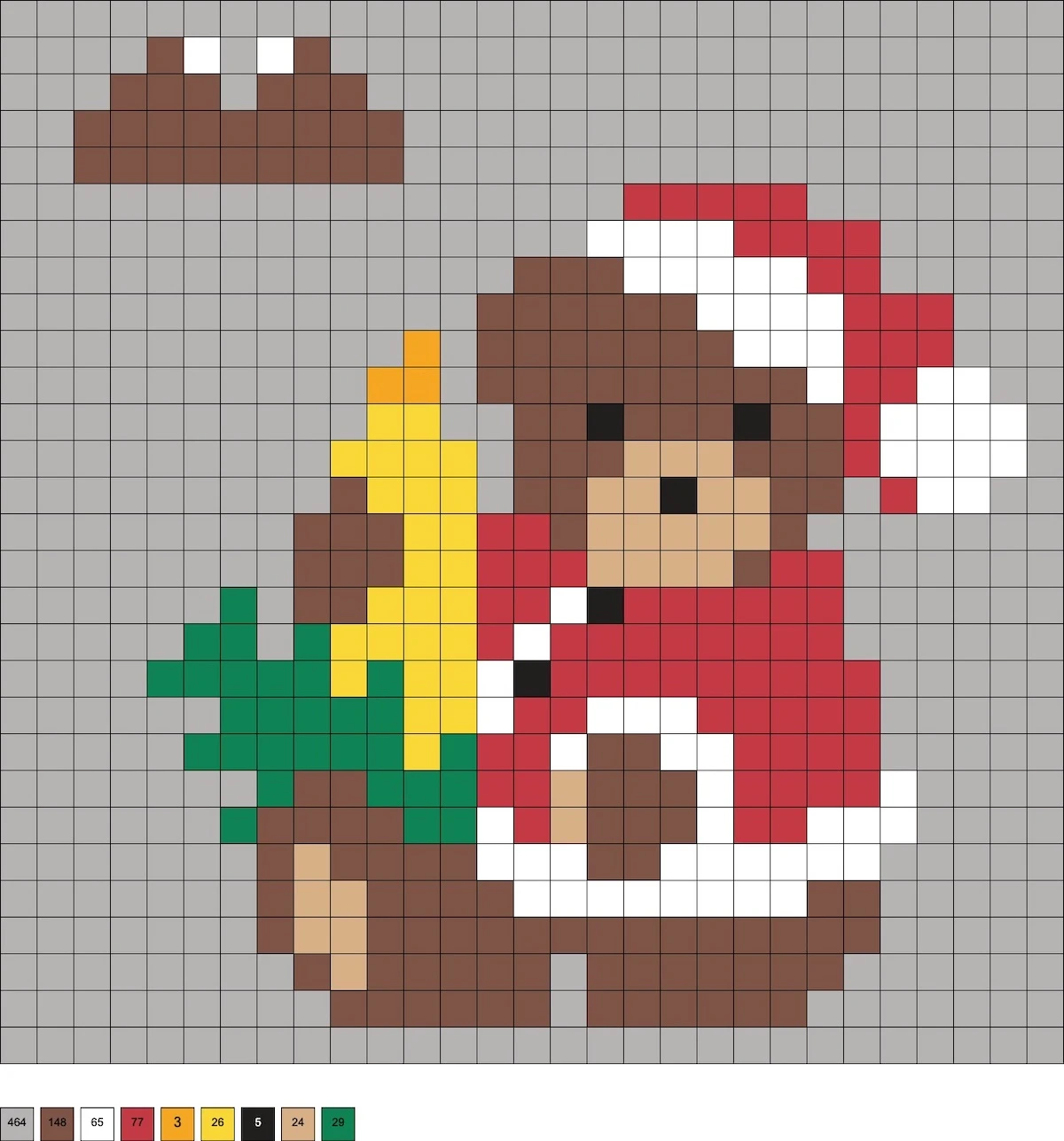 ---
Winter Scene Ornament
This pattern uses 53 black, 34 cheddar, 212 cobalt, 76 pastel blue, 36 red, and 166 white beads.
---
Christmas Coffee and Donuts
On a holiday morning, there's nothing like a cup of coffee and a sprinkle donut!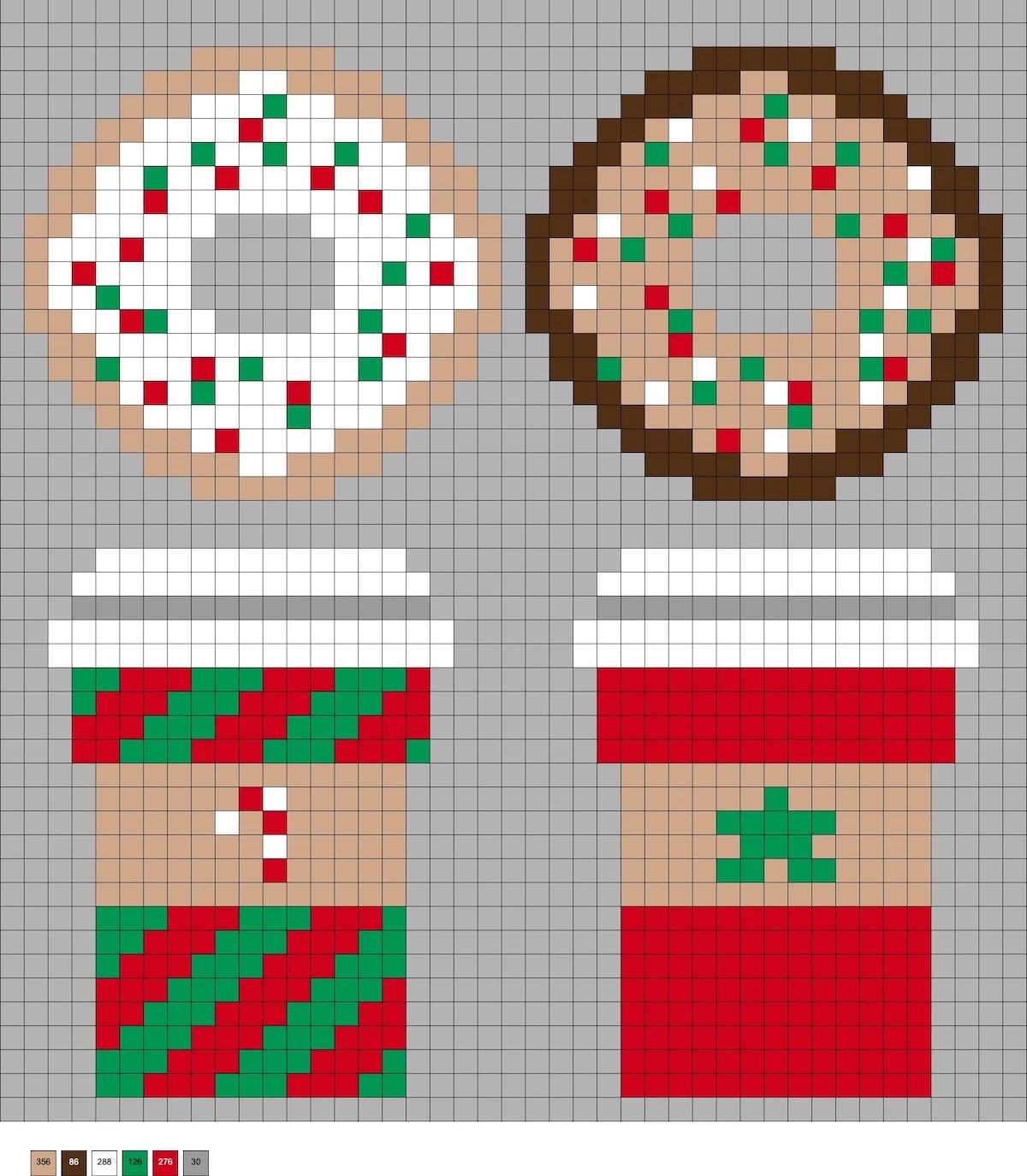 ---
Tree Branch with Ornaments and Scandinavian Christmas Wreath
Both of these patterns use large hexagon boards.
---
Skating Mouse
This pattern uses 160 dark gray, 70 peach, 83 clear, 124 black, 252 red, and 64 black beads.
---
Santa in a Sled and Santa on a Reindeer
Both of these patterns use large hexagon boards.
---
Nutcracker with Drums and Nutcracker with Present
The nutcracker on the left uses 111 black, 28 cheddar (or gold), 55 white, 55 peach, 99 cobalt, 6 blush, 22 silver, 22 cranapple, and 50 cherry beads. The nutcracker on the right uses 132 black, 88 cheddar (or gold), 52 white, 53 peach, 16 cobalt, 6 blush, 53 dark green, and 48 cranapple beads.
---
Nativity Scene
You'll get several shepherds, animals, a wise man, a manger, and baby Jesus.
---
Santa in a Sleigh with Presents and a Tree
This pattern uses 107 forest, 142 white, 101 cherry, 281 black, 24 sand, 2 light blue, and 515 red beads. Then you're going to use random colors to make up the packages!
---
If you enjoyed these Christmas perler bead patterns, I'd love for you to check out these other ideas for various holidays!
4th of July • Among Us • Animal • Baby Yoda • Batman • Birds • Bluey • Bob Ross • Butterflies • Care Bears • Cat • Coasters • Dinosaur • Dog • Dragon • Easter • Emoji • Fairy & Gnome • Flowers • FNAF • Food • Frog • Halloween • Harry Potter • Hearts • Hello Kitty • Kuromi • Letters • Mickey Mouse • Minecraft • Minions • Mother's Day • Mushrooms • Panda • Pokemon • Pumpkins • Rainbow • St. Patrick's Day • Sanrio • Skulls • Sonic • Spiders • Spider Man • Stars • Star Wars • Star Wars Hello Kitty • Stitch • Summer • Super Mario • Superhero • Thanksgiving • Unicorn • Valentine's Day