Get creative as a family this autumn with these 30 fun fall crafts for kids! Your children are sure to love several of the projects here. Scroll down to see them!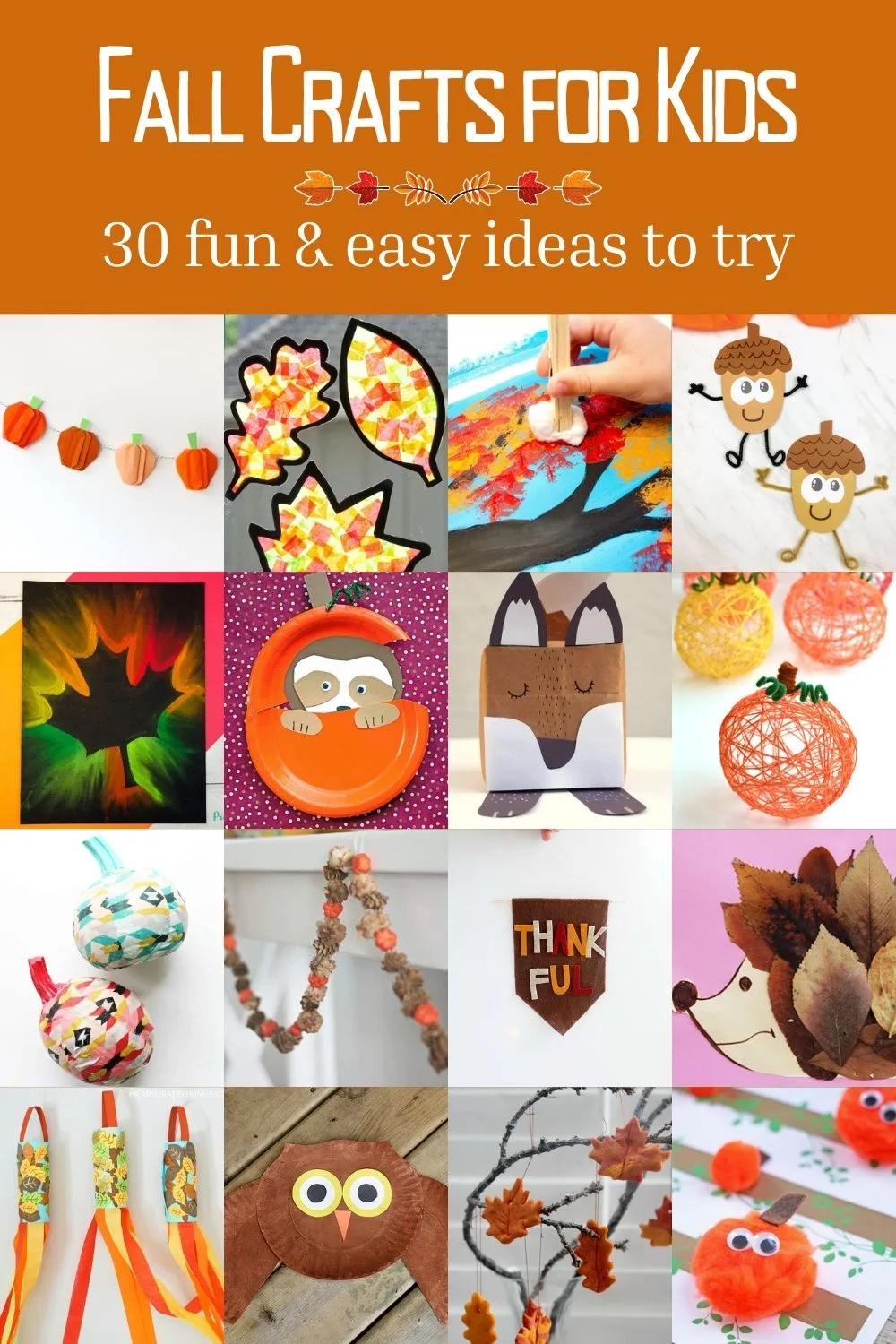 Kids are back in school, but that doesn't mean that you can't keep crafting at home. You're also going to need something for them to do during those fall breaks or cool weekend days that are coming up. So how about some fun fall craft ideas?
Simple Autumn Crafts for Kids
The most fun autumn crafts for kids, in my humble opinion, are the easy crafts that are a play off of everyday decorations or ideas – but they use fall colors.
For example, decorating mason jars but with orange, red, and brown tissue paper. Or a paper plate wreath with leaves cut out of construction paper.
When considering what fall crafts for kids you want to make, you can look up a variety of your favorite creative ideas for littles and just convert them to the season by selecting the right palette and materials.
One thing I love about crafting with children is that 9 times out of 10 you can throw a variety of supplies in front of them and they'll start gluing and cutting and making it work.
As adults, we tend to overthink things. Let your littles be creative and don't try to control what they're doing, even though it's tempting!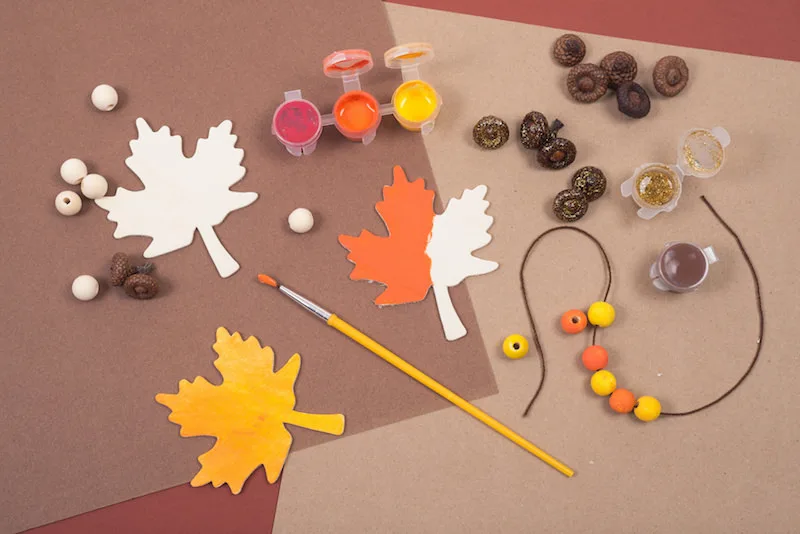 My Favorite Materials
If you're wondering what supplies to buy, let me give you a few suggestions. Of course there's scrapbook paper and paint in fall colors . . . but what else could you get? Here are some of my favorites:
Feathers
Tissue paper
Felt – I really like the sparkly and/or adhesive felt!
Cork (especially wine corks for stamps)
Foil (which you can paint)
Pom poms – I love the assortment bags at Michaels with the fall colors
I really love fall crafts for kids specifically because I love orange, so the various shades of the season inspire me. Pick your favorite color(s) of autumn and let it inspire you when you purchase supplies.
Where to Buy Supplies
Obviously craft stores are going to be your best bet for purchasing fall craft supplies, but I want you to consider two other options. First, check online because you can find some smokin' deals. My favorite sites are Oriental Trading Company, eBay, and even Wish.
eBay and Wish are similar in that they are both like thrift stores and you have to sort through everything to find the good stuff. Wish is especially like an online junk yard, but I find supplies I really like on occasion, so it's worth searching.
Besides shopping online, let's not forget the biggest source of fall craft supplies: nature! I love using leaves, acorns, twigs, etc. in all of my autumn projects, and kids love them too. And of course the best part is that they are free.
---
Are you ready to see the ideas? Here they are!
Fall Crafts for Kids
Celebrate the fall season with these 30 fun fall crafts for kids. There are animals, leaves, trees, and some no-carve pumpkin decorating ideas on this list! You are sure to find a few fun ideas to try.
---
Now that you've checked out these autumn crafts for kids, I think you'll like the following ideas: