Learn how to make unique Halloween apothecary jars in three simple steps! These use plastic animals and paint. SO easy and perfect for holiday decor.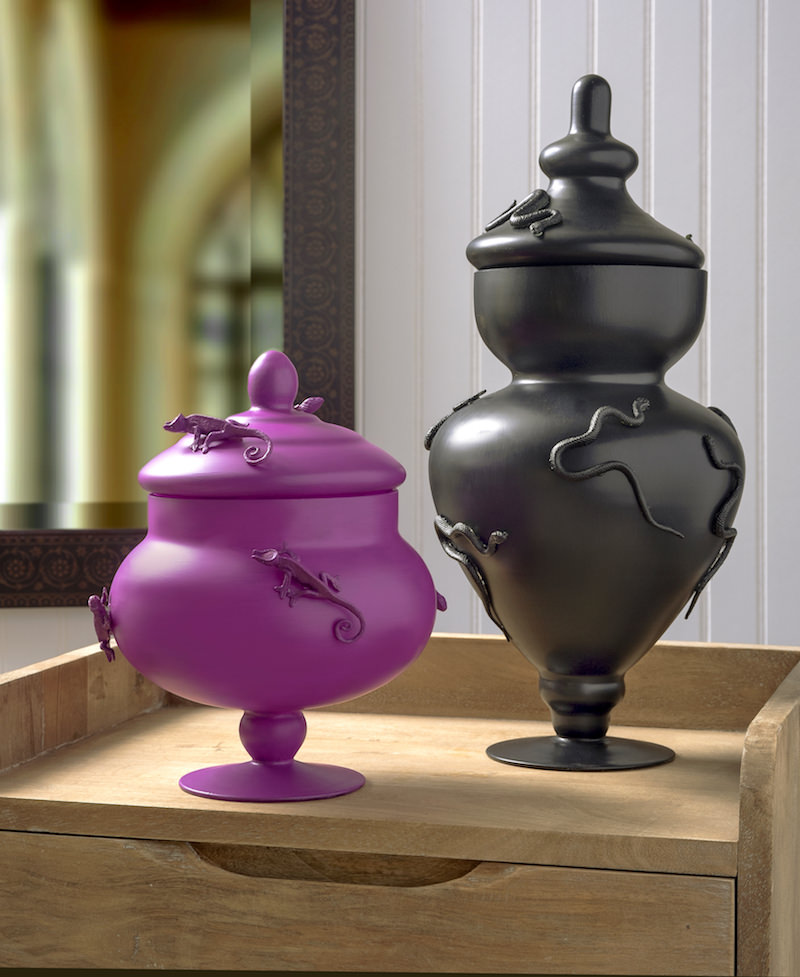 I'm a huge fan of monochromatic decor for the holidays. You can see that in my spooky skull display, Dollar Tree skulls, and simple Halloween doormat.
Sure, I've been known to get wild with my DIY Halloween decor. I love glitter and bright colors when the time is right. I guess it depends on the year? Some years I'm more glitzy than others, but this is solid color year for me. And with that thought, I made these Halloween apothecary jars.
Apothecary Jars for Halloween
The best part of these apothecary jars is that they can be made in three simple steps:
Paint the plastic animals
Paint the glass jars
Glue the animals to the jar
Yep, it's that easy! There are a few things you'll want to know about this project, so keep reading if you want the details for success. Otherwise, you can scroll to the bottom for the supplies list and tutorial!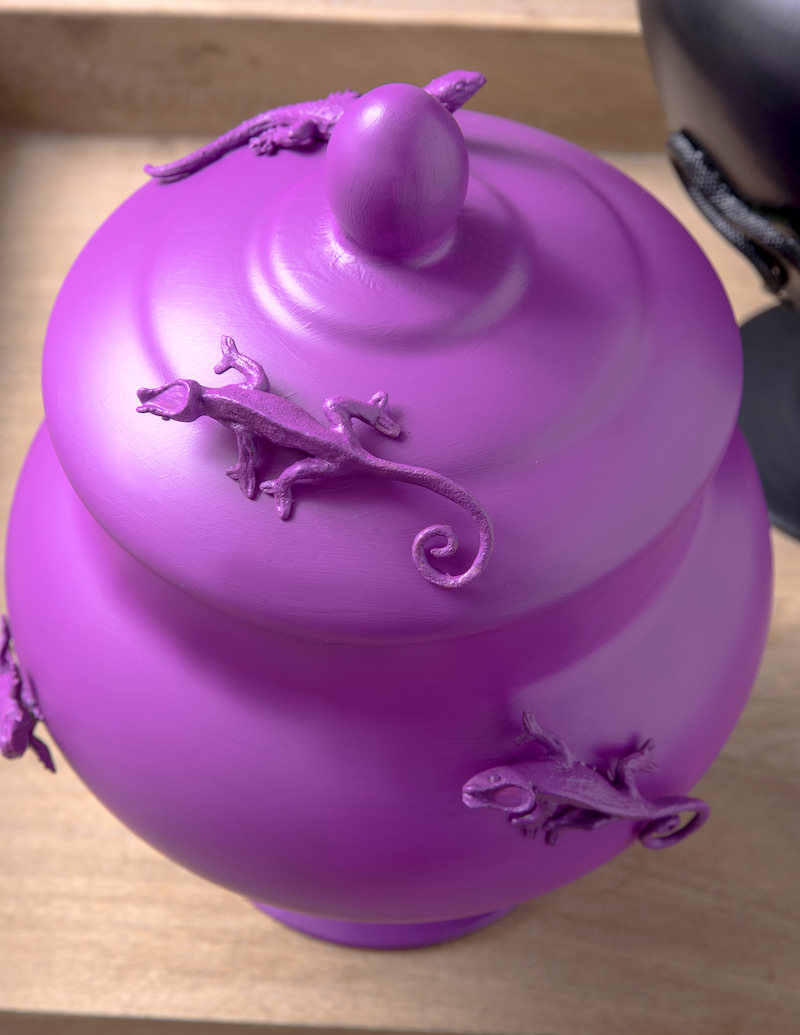 Preparing the Glass
With any project where I'm painting on glass, I always prepare the glass before starting. The reason is because oils from handling get onto the glass and prevent the paint from adhering properly.
I thought preparing glass was a waste of time until the year I made Christmas ornaments (by swirling paint around the inside) and didn't clean them. I ended up with huge blotches of paint missing in areas where the paint refused to adhere. If I would've just swirled rubbing alcohol in them first and let them dry I could've avoided the situation!
With surfaces as large as these Halloween apothecary jars, I used rubbing alcohol and cotton balls to clean the glass. It's just easier for me. Of course, you can clean the glass with warm water and mild soap. Just make sure it's completely dry before painting.
Painting Plastic Animals
You don't need to wash your plastic animals before painting, however, I do recommend that you use a multisurface paint. While multisurface paint isn't made for plastic, it adheres to the plastic animals I purchased at the craft store.
It's easiest to paint the animal in four parts – back top, back bottom, front top, front bottom. I found that when I didn't let the paint on the animals dry properly, it stuck to my fingers and came right off. When I painted them in four parts and let them dry, I experienced success.
Why paint the bottoms? Because the bottoms can be seen depending on the angle (especially with the lizards), and the paint helped the creepy crawlies adhere to the jars with hot glue. I explain that in the section below.
I did have to give the snakes and lizards several coats of paint. The black covered better than the plum. I found a small brush worked best for painting, and once I got a good basecoat down, it was easy from there.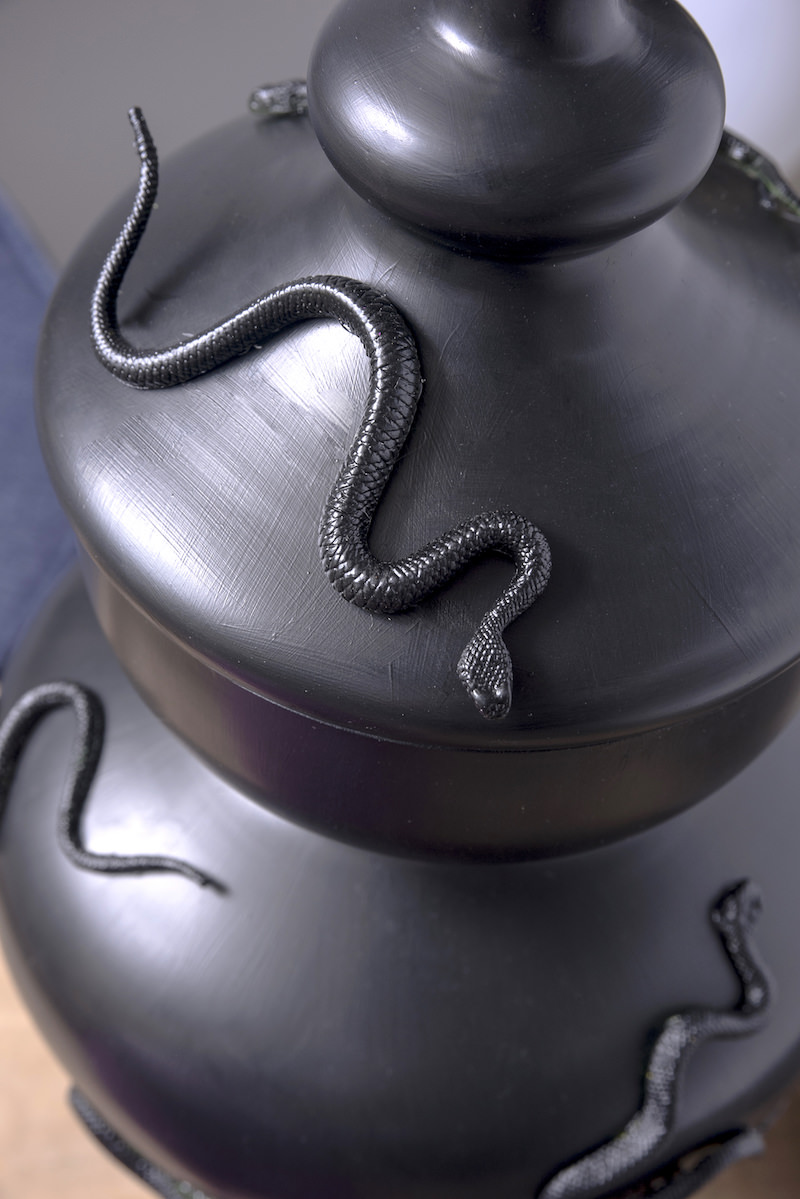 Glue for the Jars
I used a hot glue gun to attach my snakes and lizards and that worked well – but ONLY when the bottoms of the animals were painted. I had two snakes that were already black that I didn't need to paint, but they wouldn't stay down with hot glue.
If you find your animals in the right color and don't end up needing to paint them, you're probably going to need a stronger glue like E-6000 to keep them down.
In that case, you'll have to apply them with the glue and then stencil tape them down to keep them in place. When they are dry, you can remove the tape.
Having said all that, I found it way easier to just paint the bottoms of my animals for my Halloween apothecary jars. I have a patience problem and I didn't want to be taping animals down. I'll leave that up to you.
Are you ready to dive into the project instructions so that you can have amazingly simple Halloween decor like mine? Let's roll!
Halloween Apothecary Jars
Gather These Supplies
Glass apothecary jars in various sizes – mine are from Michaels
Glass paint or multisurface paint – I used Martha Stewart Satin in Plum and Beetle Black
Plastic animals – lizards, bugs, or snakes – in the kids' crafting section at Michaels
Paintbrushes
Hot glue gun with glue sticks
E-6000 (optional)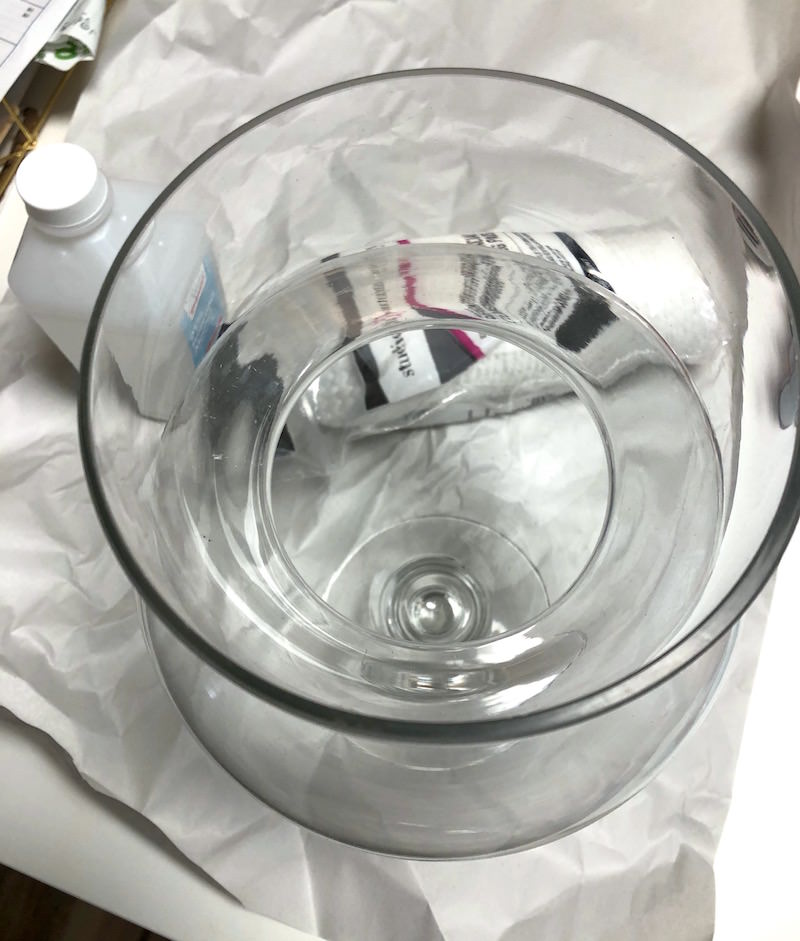 Before you get started, make sure the glass is completely clean. You can use rubbing alcohol or mild soap and warm water. Make sure it's dry before painting.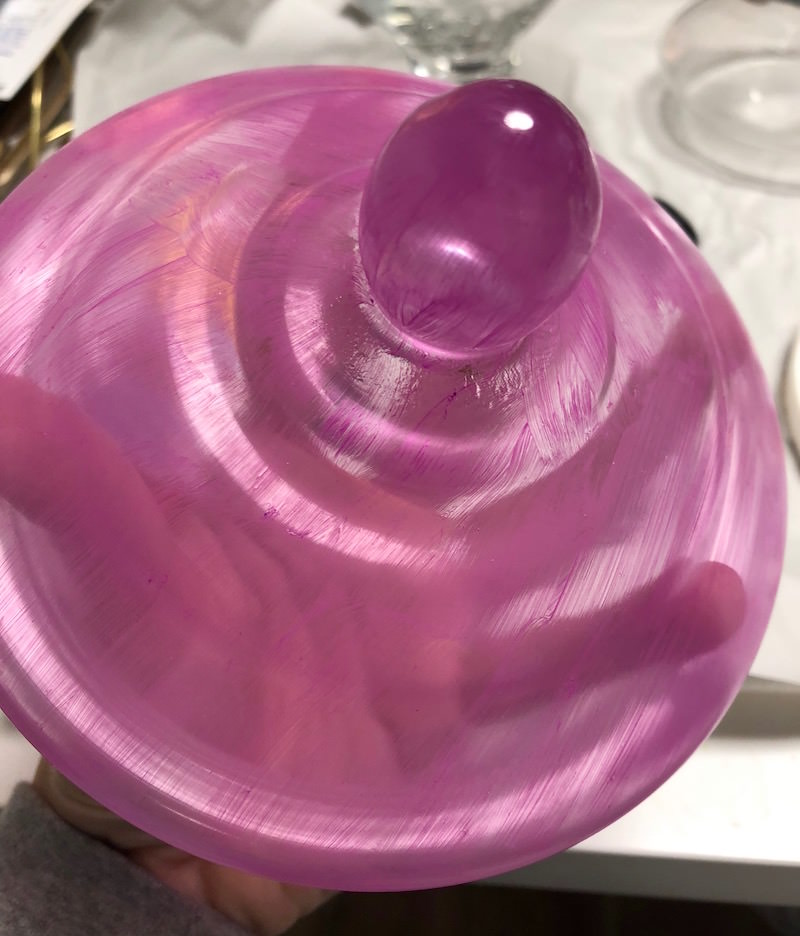 Give your glass one single basecoat of paint and let dry. I used a soft bristled brush to minimize brush strokes, though you will see some in the finished project.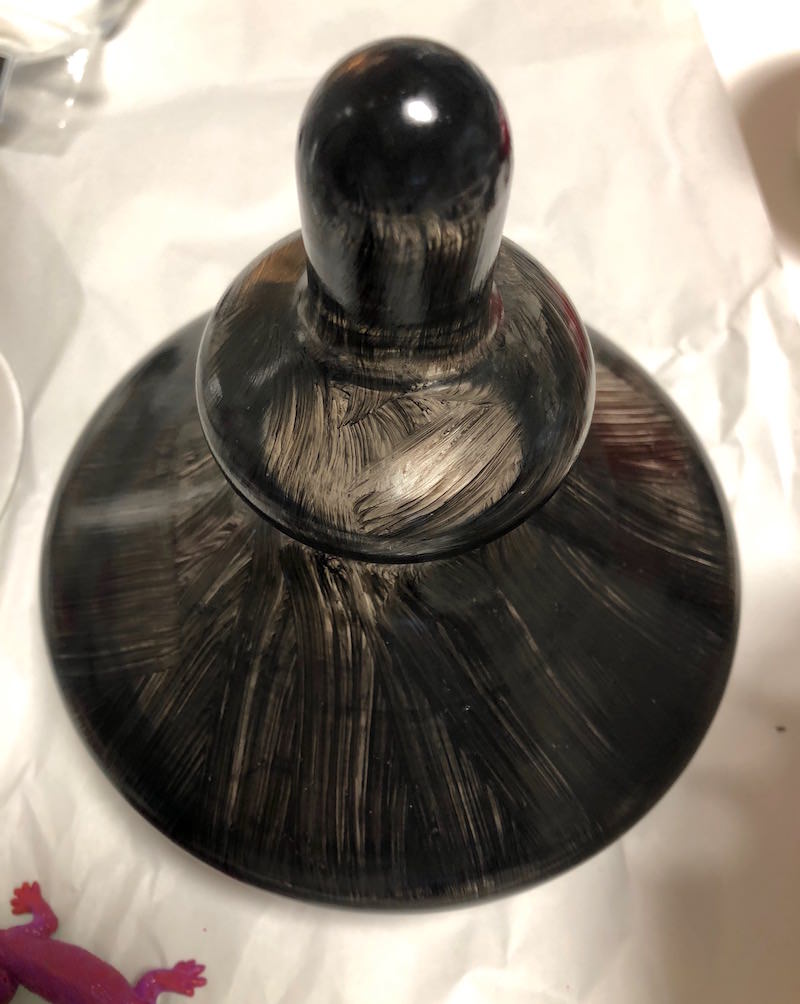 The brush strokes are going to look kinda bad at first, but don't worry – the first layer is not indicative of how your finished jar is going to look. Just make sure you don't have any globs and keep going!
Paint one layer on the bases and lids and let dry. After that layer has dried, repeat the painting until you feel your jar is covered. Make sure not to get impatient and let the jars FULLY dry before painting or you'll take off what you painted!
The black took about three coats and the plum took about five coats. Painting doesn't take much time – it's really the drying time that is your longest wait, so make sure you have something else to do while you're waiting.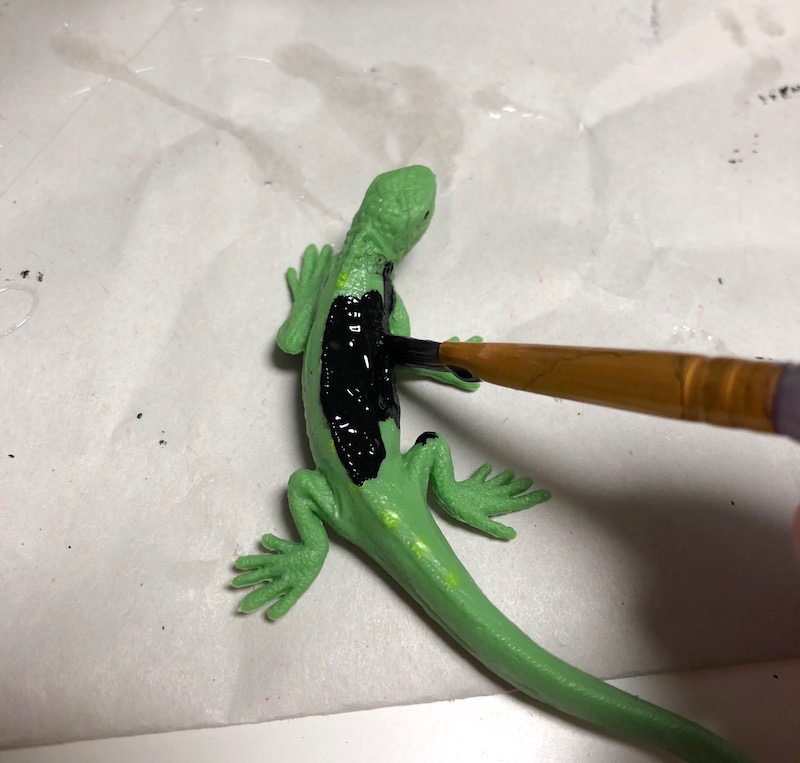 One thing you can do is paint your plastic animals while you wait. Make sure to completely paint them, including the tails.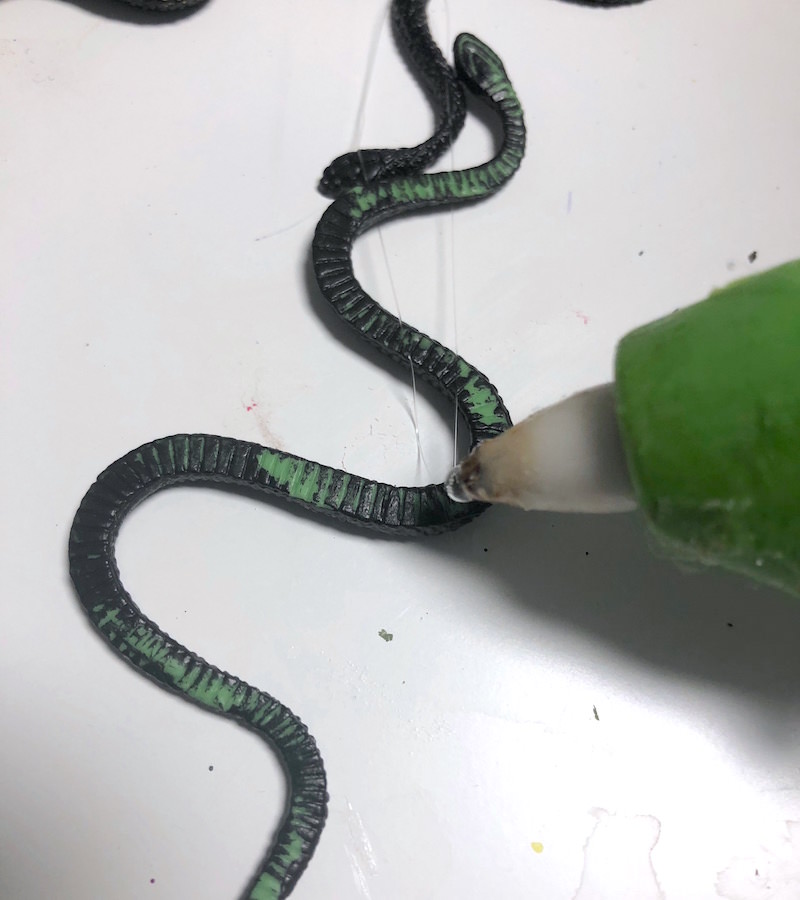 As I said above, you'll want to make sure there is some paint on the bottom to help secure the plastic animal to your container! Add some hot glue . . .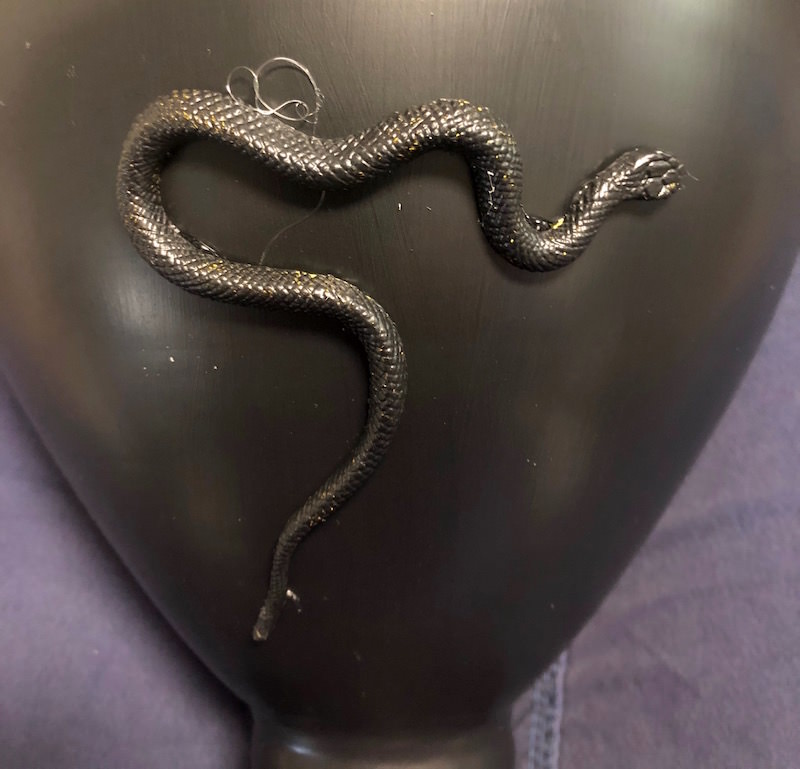 . . . and working quickly, attach your snakes to the container in the shape you like. I placed the apothecary jars in my lap while I did this so I could make sure that I didn't push the jar over. Don't worry about the strings of hot glue; we'll address those.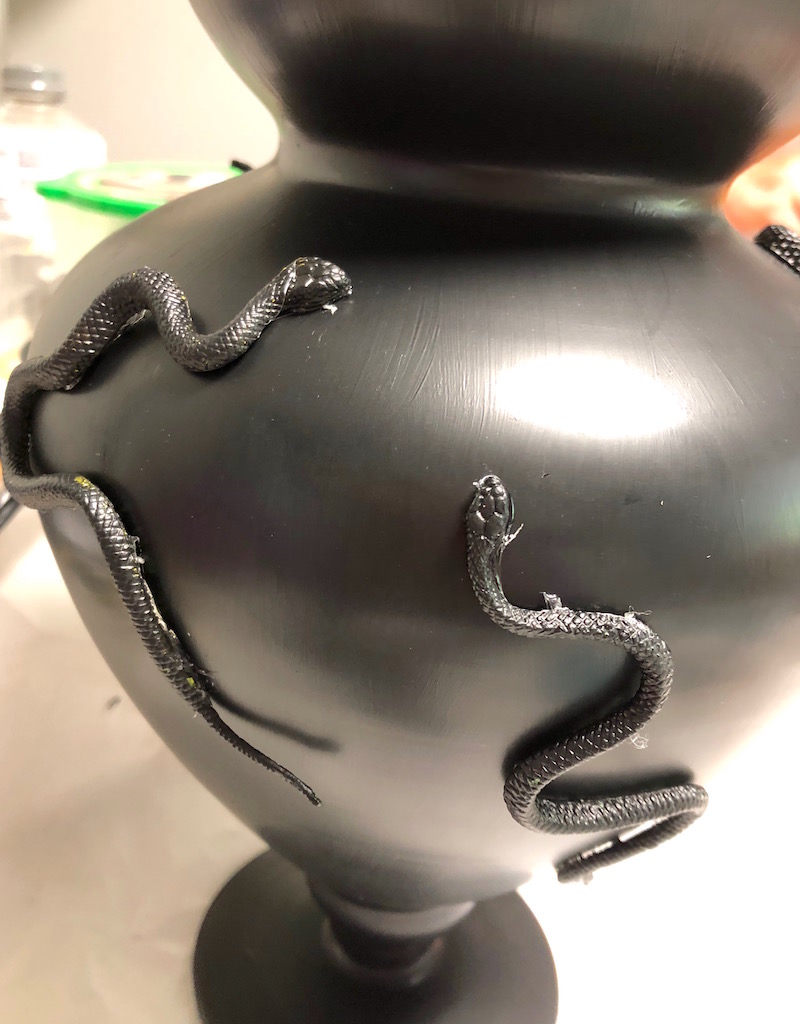 Get all of your plastic animals glued down to your Halloween apothecary jars – on the jars and then on the lids. I used two animals per lid. I let the hot glue cool for several minutes.
THEN I used a hair dryer to remove the hot glue strings! All you have to do is put a hair dryer on high and hold it close to the strings. They kind of melt away. You can also use tweezers to help grab them.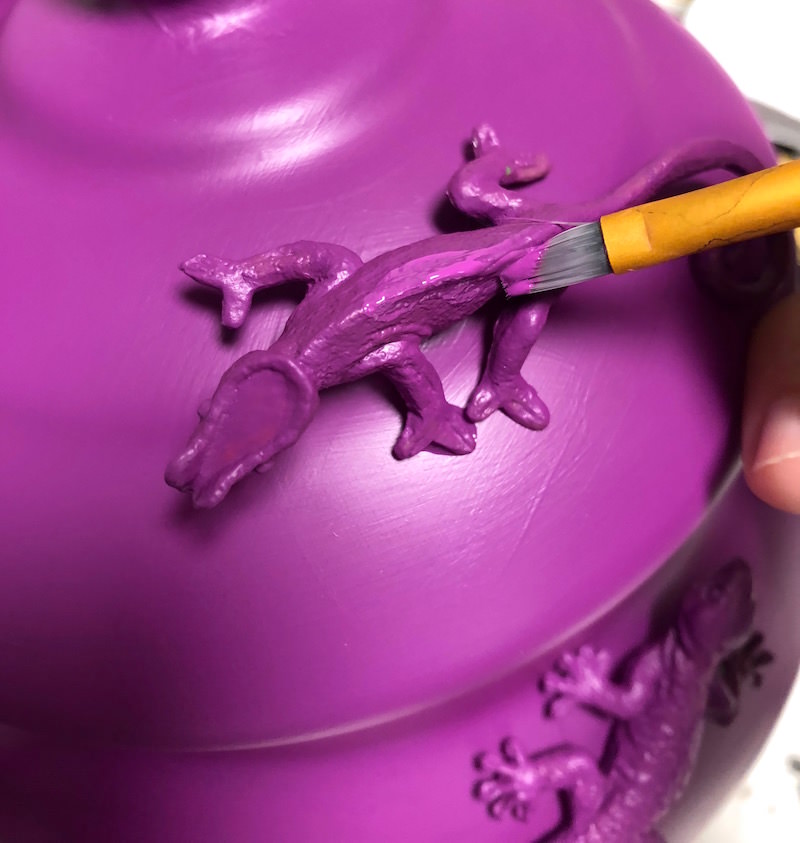 I finished up my Halloween apothecary jars by making sure that I touched up the paint on the plastic animals (anything I missed!) including covering up any hot glue that may have eked out the sides. Painting it to match the jars will make it unnoticeable.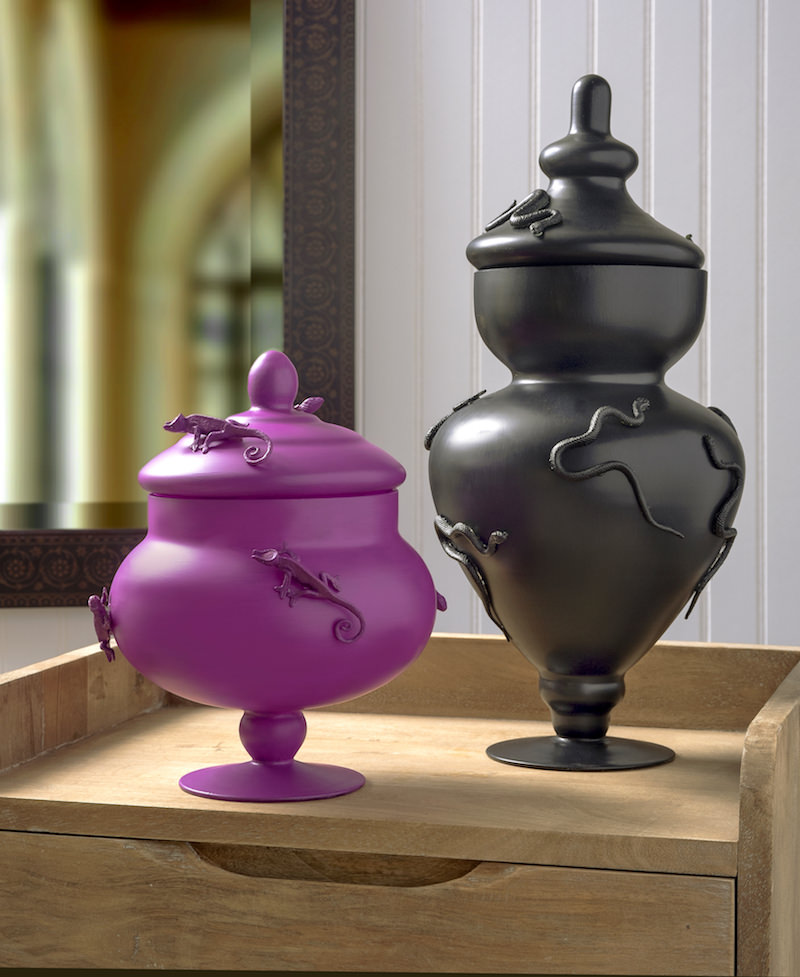 You only have one more mission once the paint is dry – fill these suckers with candy! Candy eyeballs or gummy worms are perfect for these spooky jars. They add such a perfect touch to my Halloween decor. I kind of love them. Let me know what you think in the comments!
Yield: 2 jars
Halloween Apothecary Jars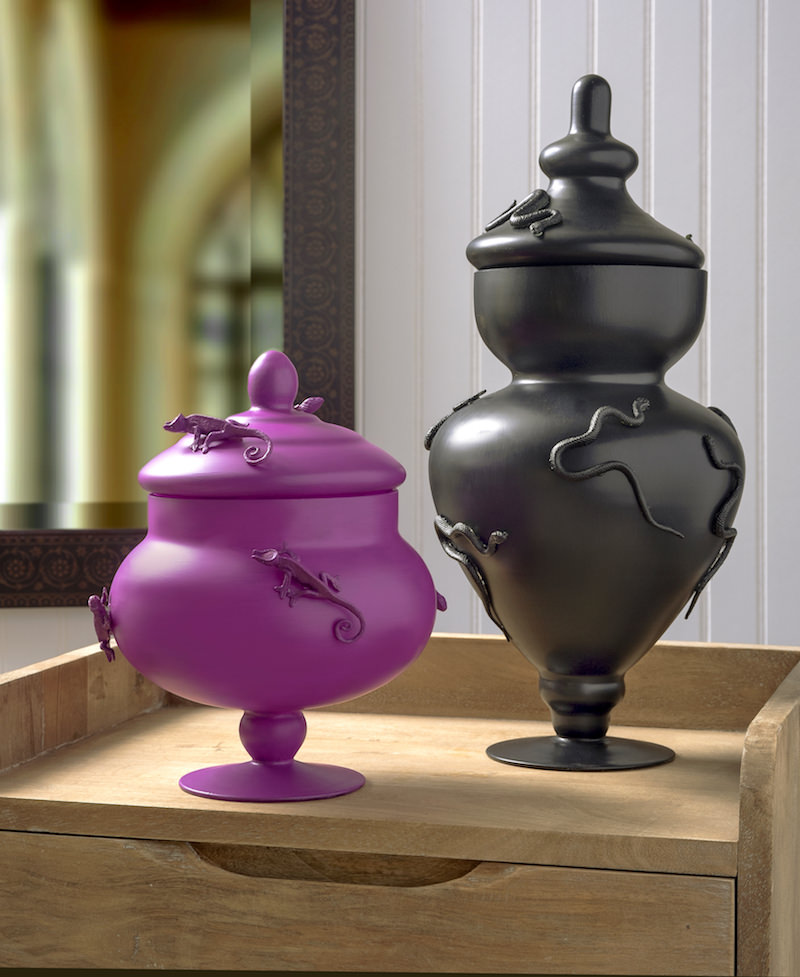 Learn how to make creepy critter apothecary jars for Halloween! Easy enough for even a beginning crafter.
Active Time
1 hour
30 minutes
Total Time
1 hour
40 minutes
Materials
Glass apothecary jars in various sizes
Glass paint or multisurface paint
Plastic animals – lizards, bugs, or snakes
E-6000 (optional)
Tools
Paintbrushes
Hot glue gun
Instructions
Before getting started, clean the glass with rubbing alcohol or mild soap and water to remove oils and fingerprints.
Give the glass one single basecoat of paint and let dry. Paint one layer on the bases and lids and let dry.
After that layer has dried, repeat the painting until you feel the jar is covered. Make sure to let the layers fully dry between painting.
Paint the plastic animals with coordinating colors and let dry.
Once everything is dry, use hot glue to attach the animals in various points on the jar. You can also use E-6000 if you find the animals aren't sticking.
Let everything dry before filling with Halloween treats.
---
If you're into Halloween decorating projects like my apothecary jars, I think you're going to like these other projects: