If you love spooky and lacy, take a peek at this collection of vintage Halloween decor projects. This is one of my favorite holiday themes!
There's something about vintage Halloween decor that makes it extra spooky, don't you think? Vintage images and lace make me think an apparition can appear at any moment!
I love all themes of Halloween decor, but I really love the vintage style this year. I think that is where my Halloween DIY projects will be focused! If you are on the same page is I am, take a gander at this collection to get inspired.
Vintage Halloween Decorations
I've pulled together a collection of 15 vintage inspired Halloween crafts to get you started. The only question is, where to begin first. I'm eyeballing some lace votives . . . which is your favorite?
(check out all of our DIY Halloween ideas here!)
At first I thought the images in these candlesticks were an illusion, but when I looked at the tutorial I realized how they were made is amazing!
Spooky crystal ball Halloween candlesticks at Flamingo Toes
You can make your own lacy spiderwebs for your doorways using doilies!
Doily spiderweb corbels at My So Called Crafty Life
David shows you how to make decorative Halloween blocks using your favorite vintage graphics.
Vintage Halloween blocks at Mod Podge Rocks
Learn how to make test tube invitations that are perfect for your Halloween holiday shindig.
DIY scroll test tube invitations at Sugar & Cloth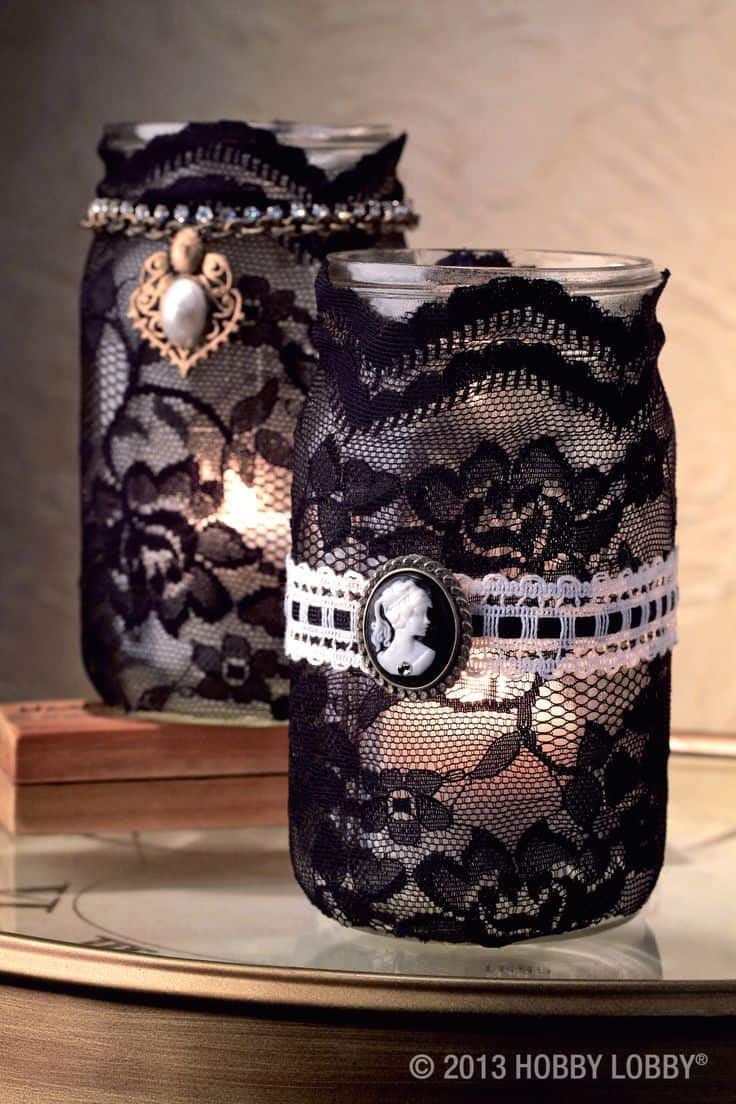 Use lace and spray on adhesive to turn mason jars into Halloween candle holders.
Anything glows at Hobby Lobby
I love all of the happy little punkins on the inside of this diorama pumpkin decoupaged with vintage book pages.
Vintage inspired diorama pumpkin at Plaid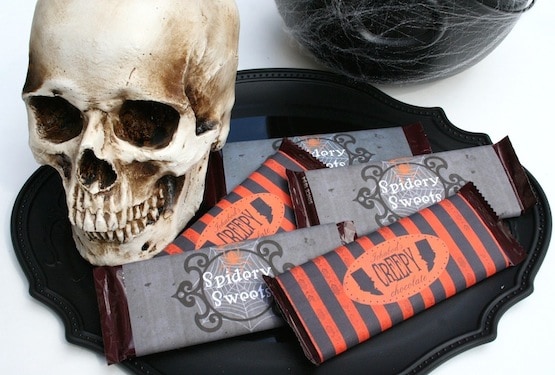 These free printable labels feature vintage inspired graphics, and cover a chocolate candy bar perfectly.
Click here to download these Halloween candy wrapper labels
These double surprise mugs have special glow in the dark action, along with spooky graphics inside.
Double surprise Halloween cider mugs at Fabric Paper Glue
I used a simple wood form and wood circles along with vintage papers to make this unique wreath.
Easy vintage skeleton wreath at Mod Podge Rocks
Pick your favorite vintage Halloween images to make this cute chalkboard Halloween countdown.
Countdown to Halloween plaque at Plaid
You can use any recycled jars for these poison bottles – and Des will show you how to make them creepy.
DIY Halloween poison bottles at The 36th Avenue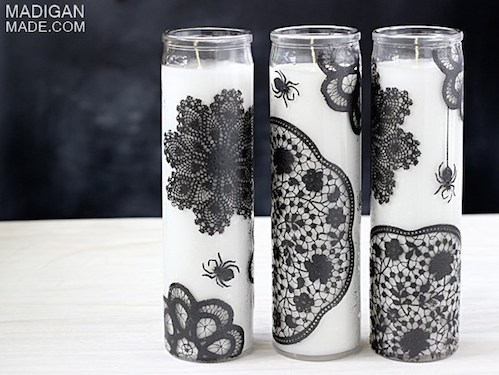 These doily candles are very easy to create with adhesive stencils and craft paint.
Simply wicked DIY painted candles at Rosyscription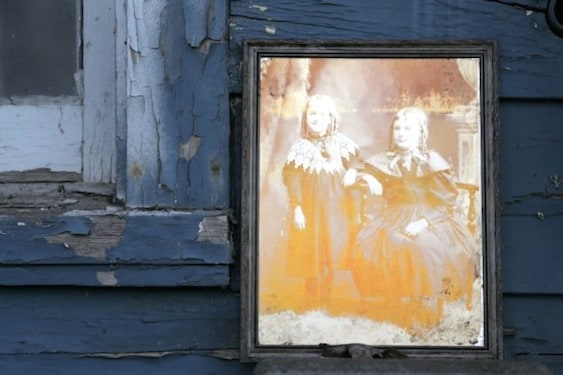 Daguerrotypes were the first type of photography – and this faux project made using a dollar store mirror is perfect Halloween decor.
DIY faux daguerrotype at Dollar Store Crafts
This cabinet of curiosities can house all of your creepiest Halloween decor.
Cabinet of curiosities at Atta Girl Says
If you want to personalize this spooky frame, you can dig up vintage family photos of your own.
Spooky Halloween family photos frame at Flamingo Toes
---
If you love this vintage Halloween decor, you might also love these other posts – please check them out: