Use vintage valentines, a few supplies, and a pink form to make this unique valentine wreath in 15 minutes. Easy enough for kids and adults!
Skills Required: None. Even if you've never crafted before, you can easily make this. You'll just use a hot glue gun.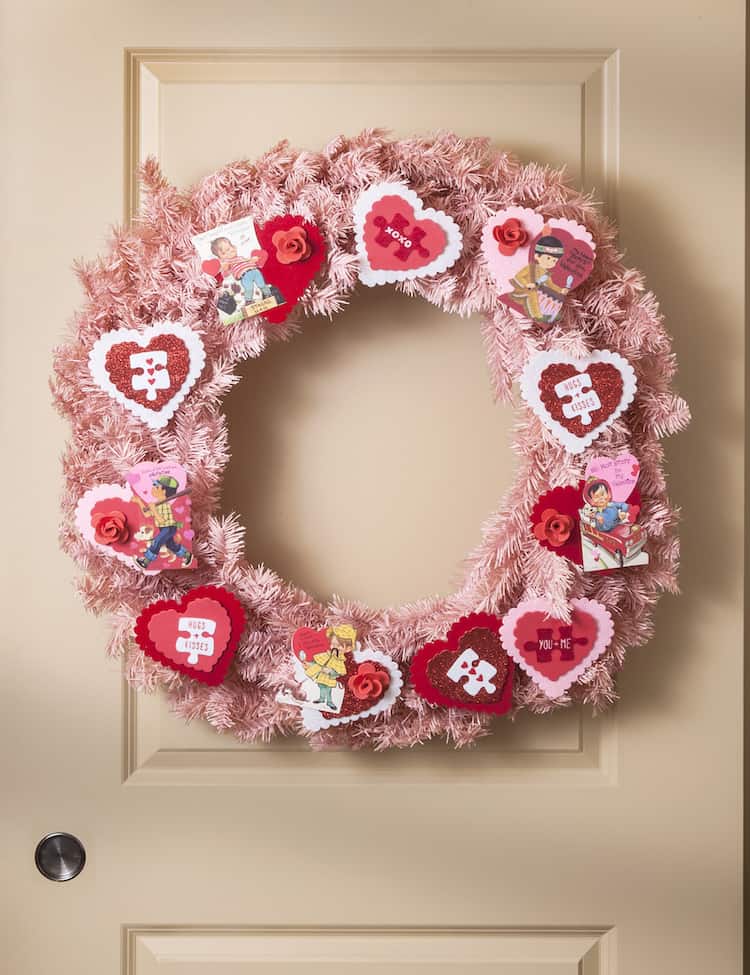 It's always fascinating to get one item to decorate and see what a bunch of individuals come up with – don't you think? Well, I'm participating in a Valentine's Day Wreath blog hop . . . and I'm so excited to share with you my 15 minute vintage valentine wreath!
Me and a few other bloggers/designers got an AMAZING pink wreath base and were challenged to decorate it any way we like – so I chose to go with vintage valentines, felt/foam hearts, and a lot of hot glue. I will show you how quick it was to make!
One more thing: you know when a project is in your mind and it goes down perfectly on paper? That happened here. I'm just as pleased with it in real life as I was in my head. Don't you love that?
DIY Valentine Wreath
Gather These Supplies
Vintage valentines – I purchased mine from eBay
Felt hearts, glitter hearts, puzzle pieces, roses, etc – (from Hobby Lobby)
Hot glue gun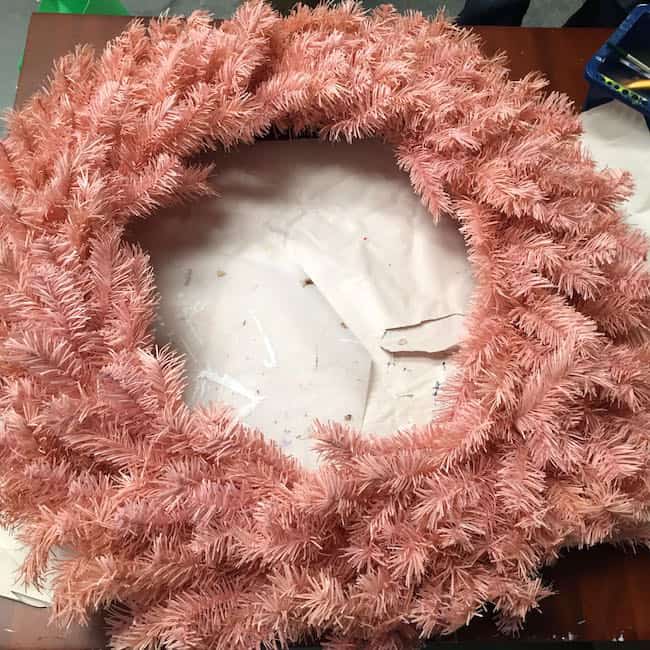 There's nothing like pulling a 36″ wreath out of a box! Especially when it's pink. I love pink wreaths.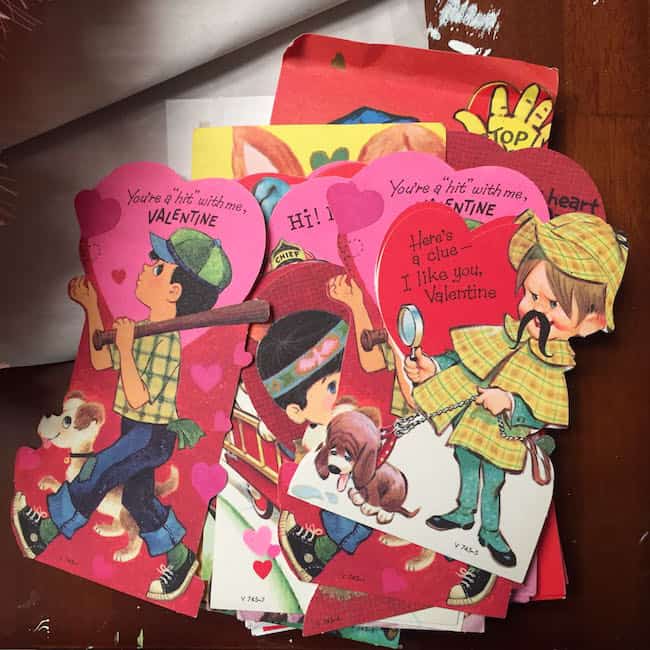 I knew that I wanted to have a vintage feel to my valentine wreath, so I ordered several vintage valentines on eBay. They were inexpensive.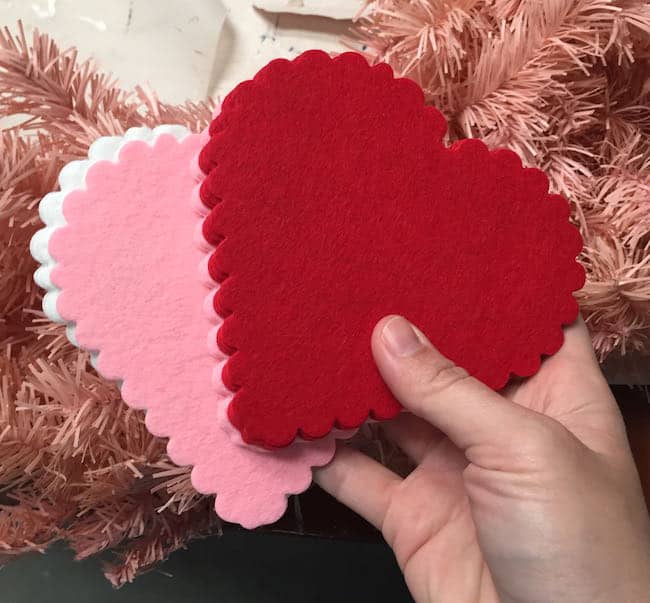 I started with some large felt hearts . . .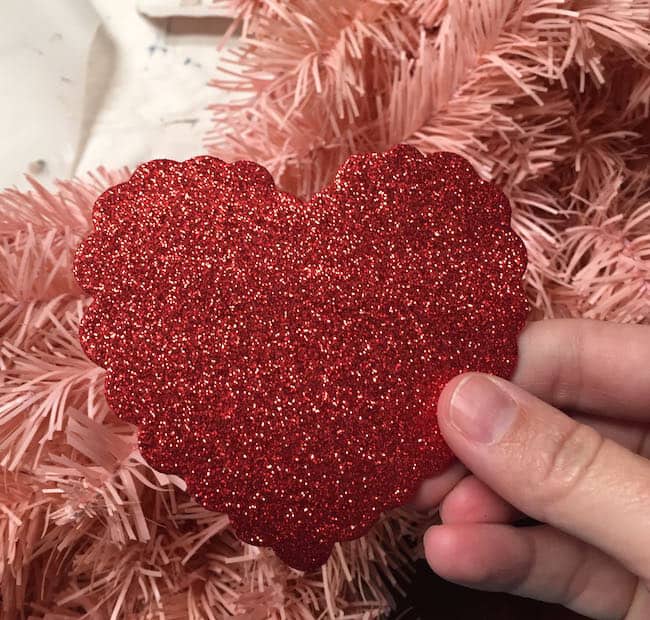 . . . and then I had the glittered ones as well.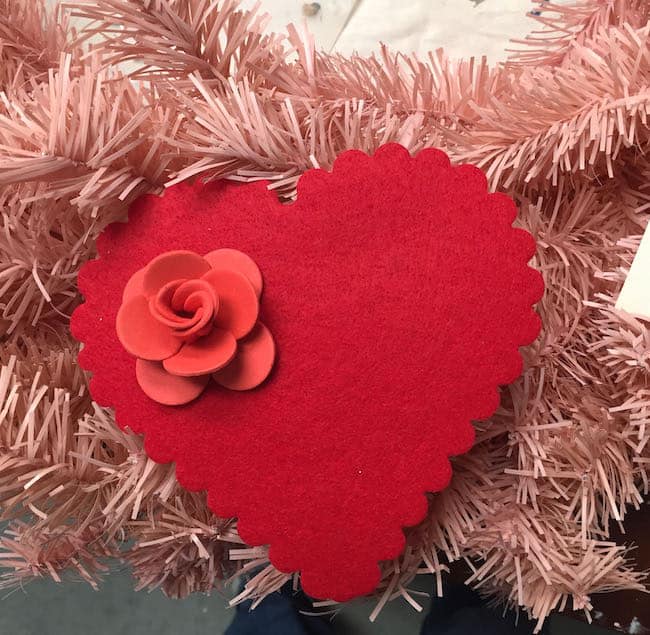 I figured out what I wanted to do with my wreath by experimenting, and that was layering. After putting a few flowers onto hearts and then standing back a bit, I realized I wanted to layer felt, vintage valentines, and flowers!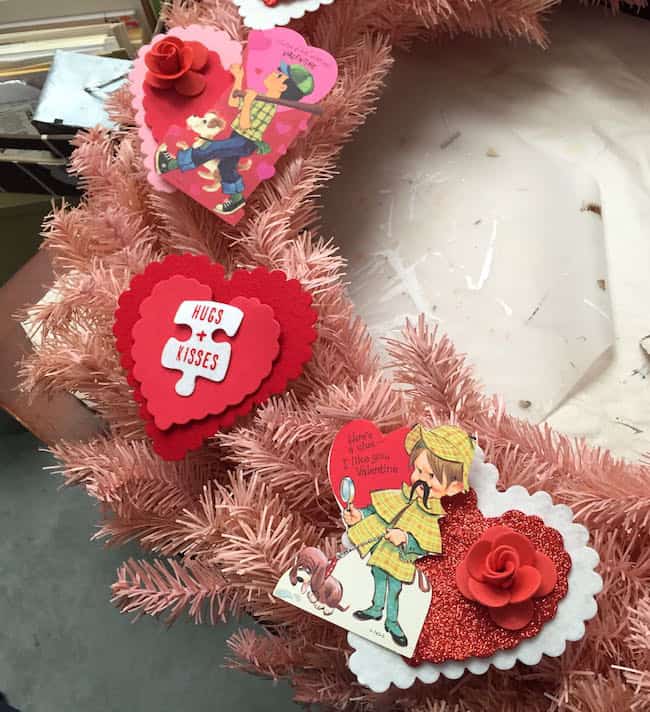 I also had some cute puzzle pieces to add to my valentine wreath too. I layered and worked my way around the wreath. Then I stood back and switched out some hearts and colors to float my boat.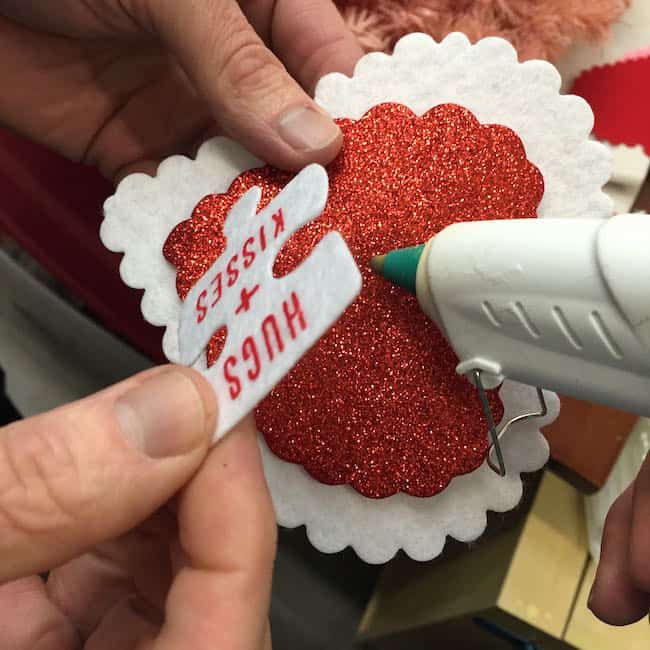 Once I had everything in the right place, I secured all of my hearts, valentines, flowers, and other embellishments down with my hot glue gun.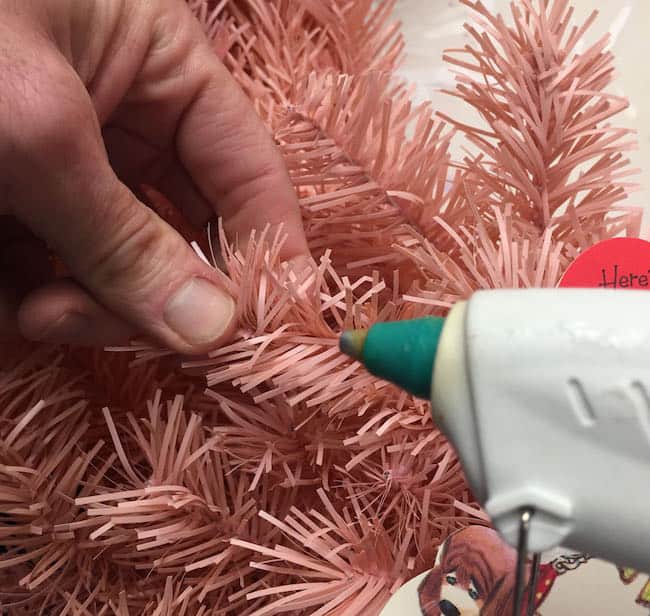 Then to adhere them to the wreath, I bent a branch a little bit and hot glued right to it.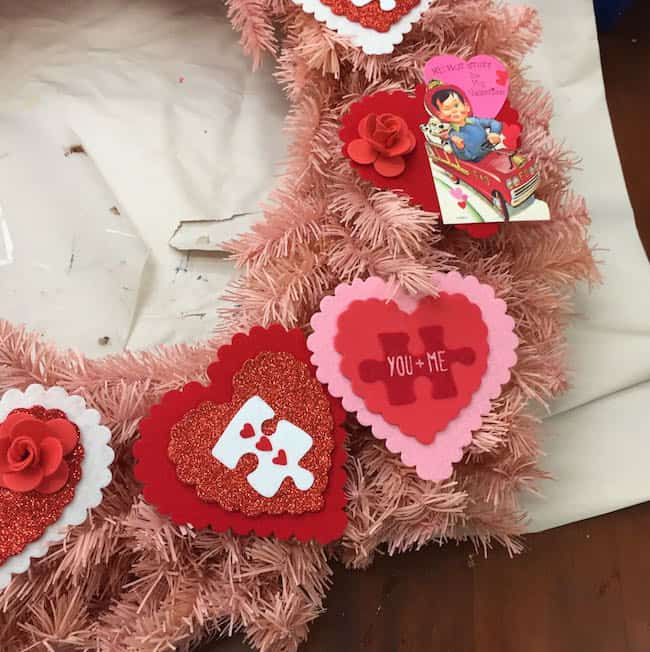 I repeated all the way around the wreath until my hot gluing was complete! This was seriously easy and only took about 15 minutes – can you imagine what it would have taken had I been a little bit more decisive?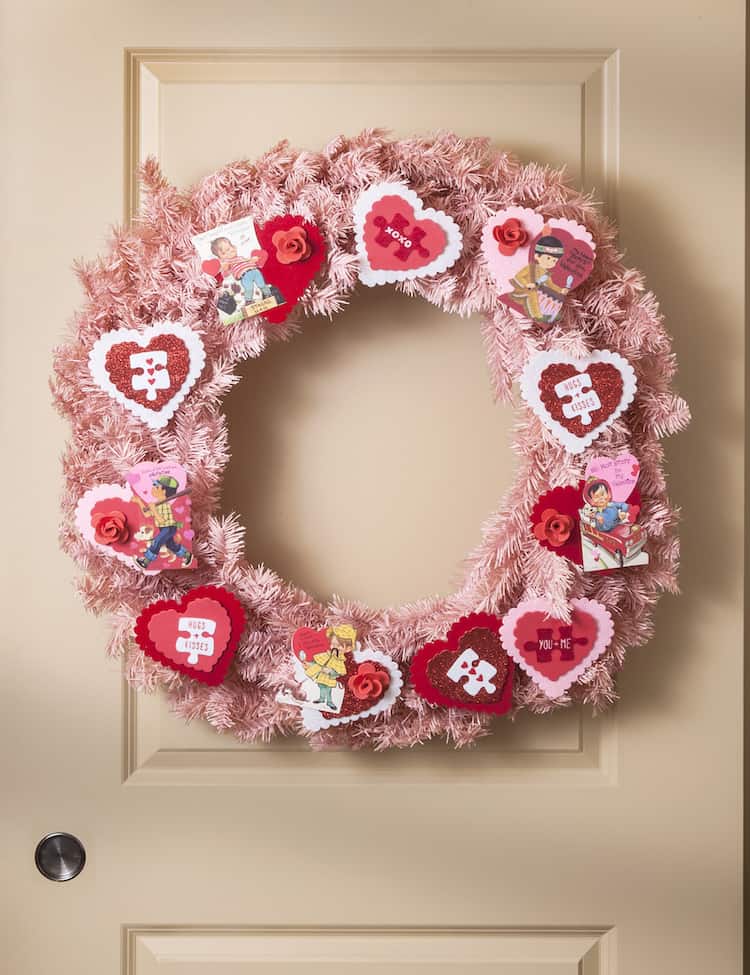 Here's my valentine wreath again, and a few closer looks: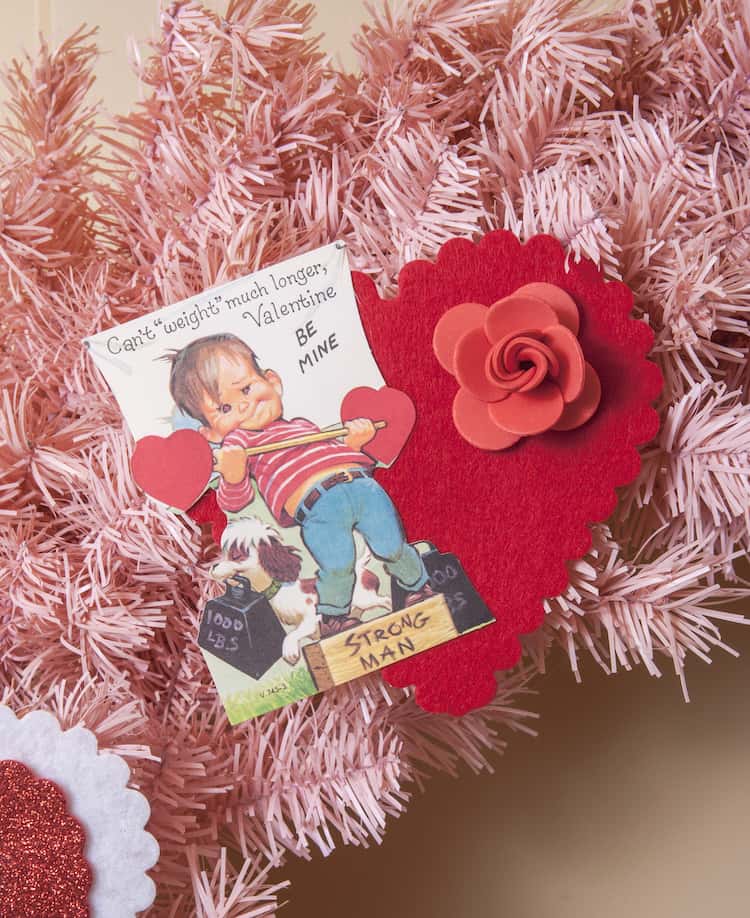 This is the perfect Valentine's Day wreath for me – easy and quick! If you'd like to visit the other bloggers in the hop, check them out here:
MONDAY – Jennifer Perkins
TUESDAY – Kathy Cano Murillo
WEDNESDAY – moi!
THURSDAY – Jenny Heid & Aaron Nieradka
FRIDAY – Vickie Howell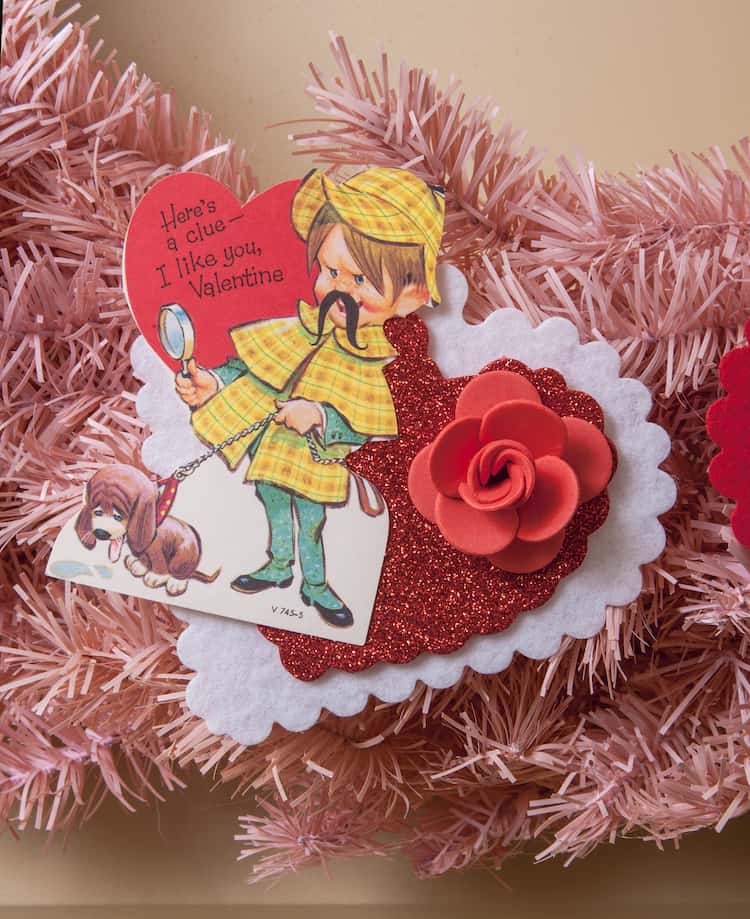 Get the printable how to card for this project below.
Yield: 1 wreath
Valentine Wreath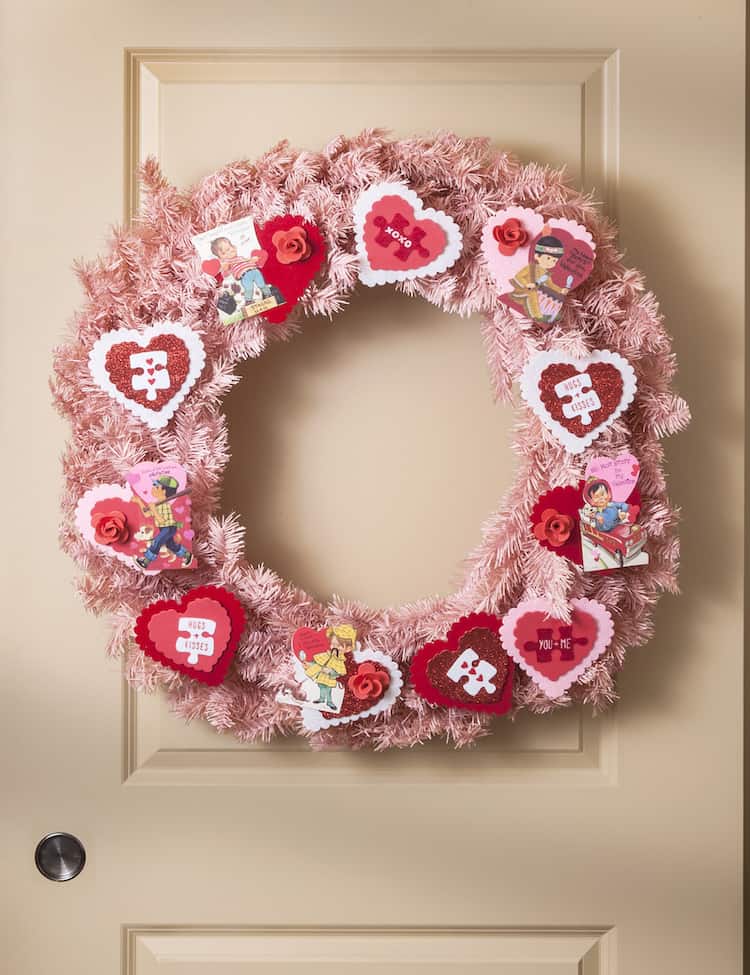 Learn how to make a Valentine's Day wreath in a few easy steps! This is perfectly pretty for the holiday.
Materials
Pink wreath - 36"
Vintage valentines
Felt hearts, glitter hearts, puzzle pieces, roses
Instructions
Lay the pink wreath out on your work surface and plan your design. Lay the valentines and hearts out for placement.
Attach all layers of hearts and embellishments using a hot glue gun.
Attach all embellishments to the wreath using a hot glue gun. Let cool completely before hanging.
Notes
Costs vary greatly for this project; I used a Treetopia wreath but you can use a wreath from anywhere - you can even spray paint a wreath pink.
---
If you enjoyed this DIY wreath, I'd love for you to let me know in the comments! I'd also love for you to check out these other Valentine's Day ideas: