Decorate your home in style with one of these easy and pretty DIY wreaths! Get ideas for both seasonal wreaths and ones you can keep up all year.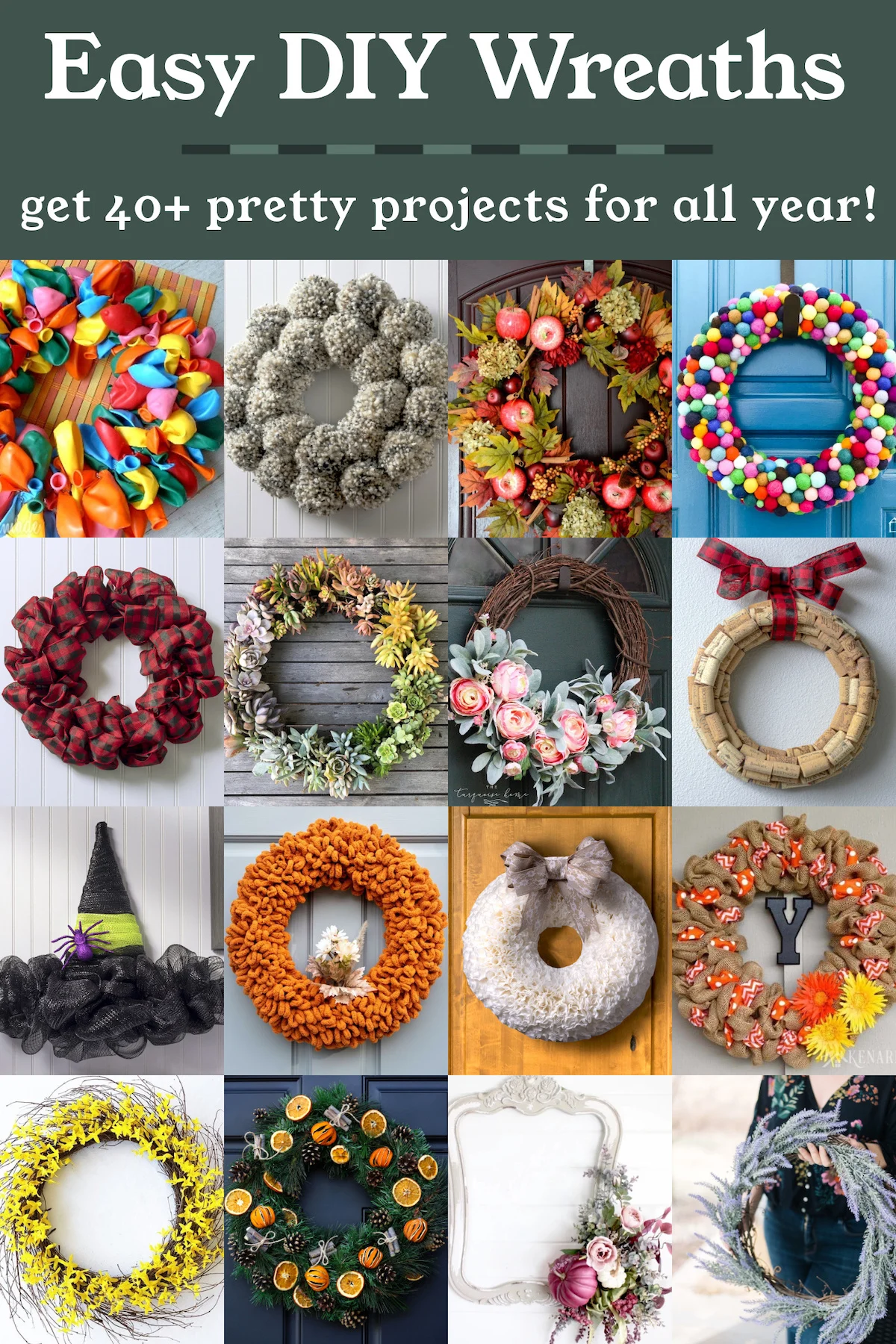 If you'd have asked me when I was young if I would love making wreaths, I would've laughed. I've been a crafter my whole life, but I always liked making fashion, accessory, and gift-y handmade items the most.
I thought DIY home decor was for old people.
Then one day you realize a few things. That you're old yourself (age is just a number, right?), that you live in a home (whether owned or rented), and that you need to spruce up your place.
Suddenly, wreath making becomes a viable hobby. And I'll admit that I was intimidated. You see a beautiful wreath and you think, gosh, the hours that must've gone into that.
And sure, some wreaths do take hours and hours to make. But the truth is – some don't, and they still look amazing. And today I'm going to show you a collection of DIY wreaths that fits the bill! Inexpensive. Easy. Stunning.
And every wreath on this list is totally attainable. Because if I can make it? So can you. I promise.
Making a Wreath
I'm not the only person to be intimidated by wreath making. A lot of people feel this. But I'm about to take the mystery out of it for you! Like anything else, there's a process.
How do you make a homemade wreath?
I'm so glad you asked! You're going to choose a form first. Then you'll choose material to attach to the form (greenery, ribbon, deco mesh, etc) if it isn't already. Finally, you'll accent with the embellishments if your choice.
Is it cheaper to make or buy a wreath?
Cheaper to make, but like anything else, you have to plan for it. Shop sales (especially after holidays), use coupons, and be a fan of dollar store materials. Obviously you can use recyclables and natural materials as well.
Types of Wreath Forms
Since the first thing you're going to do is choose a form, I'm going to explain wreath forms to you.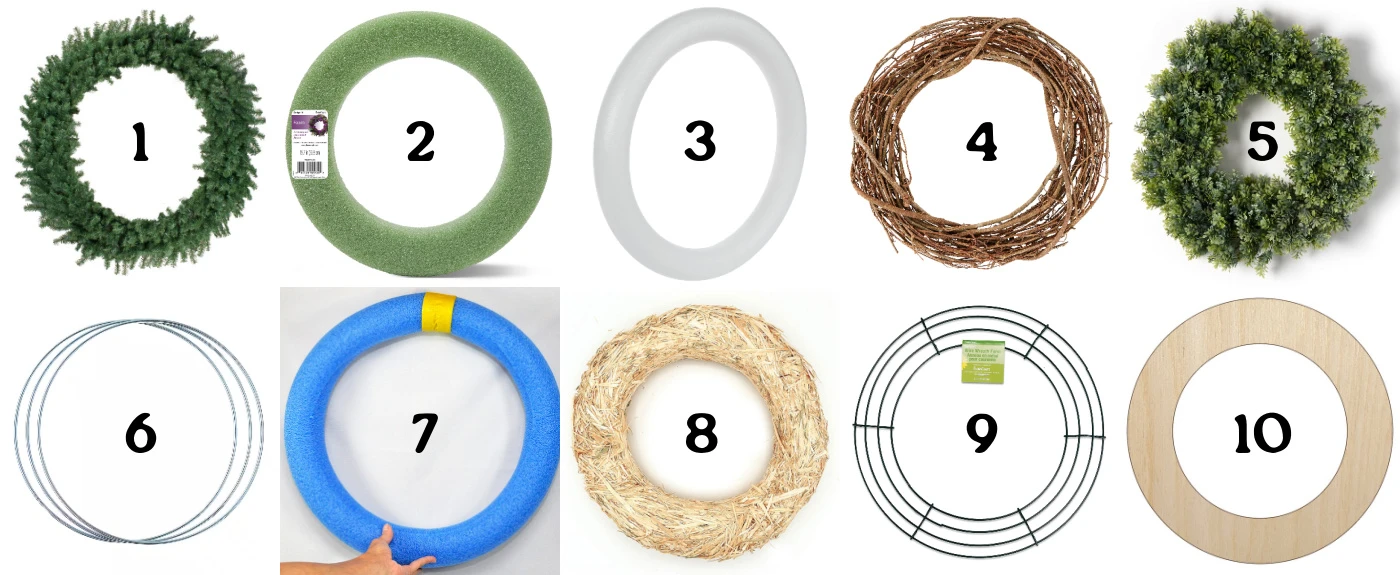 Artificial – you know the basic, faux evergreen wreath? Think "Christmas wreath." That's exactly what these are. They are fake version of real greenery, and come in a variety of sizes (and colors!). You can even get some with lights already attached.
Craft foam – This is a very lightweight foam wreath form that can come rounded or with squared edges all the way around. The crunchy cell structure is great for holding artificial flower stems, heavy-stemmed naturals (like branches and twigs) and floral picks
Extruded foam – this form is foam as well, but it is way more dense and very smooth. It's way easier to paint or decoupage compared to the crunchy craft foam above.
Grapevine – Grapevine is just what is sounds like. This is the vine that grows grapes, and it can be cut down and woven into a long lasting wreath base. Grapevine gives you a lot of attachment points, which is nice.
Greenery – these wreaths can look exactly the same as the artificial, but they are made of real, dried greenery. Boxwood is a great example! You can make your own boxwood wreath, but you can also buy it as a base already done and then add on.
Metal hoop/ring – These huge rings (24″ to 48″ inches and bigger) are great for attaching greenery with wire, as well as ribbon, string, and lace.
Pool noodle – this is just what you think. You'll purchase a pool noodle, form a circle, and duct tape it. Boom, you just made a wreath form great for wrapped ribbon and more.
Straw – these are created from real straw, and are great for indoor/outdoor. The style is perfect for farmhouse as well as harvest decorating.
Wire – a wire wreath form is my go-to for deco mesh wreaths! I love that that they come in a ton of different shapes.
Wood – flat wood wreath forms aren't common, but they're definitely available at the craft store. You can paint and decoupage them, plus glue anything in the world to them.
There are other items you can use (cardboard or a picture frame for example), so feel free to get creative. Anything can be a wreath if you really want it to be, right?
The style you choose is up to you.
May I suggest that until you get comfortable, let the project dictate what you use. Try one or more of these DIY wreaths and use the suggested base (and materials!). In time you'll be able to expand out on your own and get creative!
I have two notes when shopping for wreath forms.
First, there are really good faux natural materials out there these days! If you want to verify if your wreath is natural or fake, be sure to read the label or online listing.
Second, not all wreath forms are suitable for indoor AND outdoor use. Again, make sure to read the label to find out. If you have any concerns or hesitations, keep your creation under a covered porch or patio.
Tools You'll Need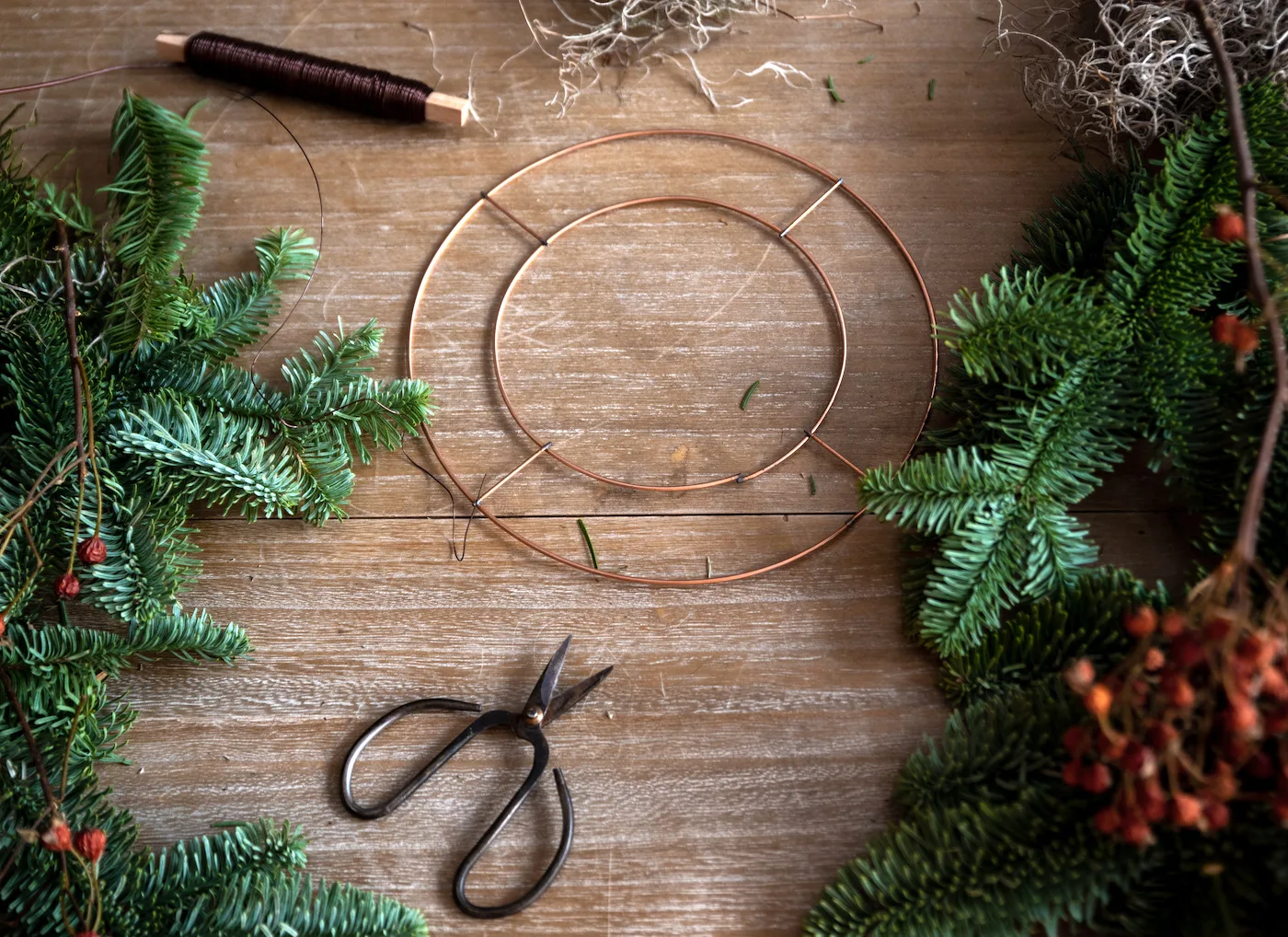 There aren't a ton of tools required for homemade wreaths, but here are the basics I keep in the tool chest. Anything else you need will likely be project specific.
Strong scissors or gardening shears
Floral wire (in various gauges)
Wire cutters
Floral tape
Straight pins
Craft glue and/or hot glue gun
Needle-nose pliers
---
Are you ready to get the list of DIY wreaths? Take a peek at the list below! Then let me know your favorite in the comments!
DIY Wreaths
Making a wreath is easier than you think! Get over 40 ideas for wreath making, including seasonal, Christmas, and those that you can keep up all year.
---
If you've made a wreath that is easy and looks great all year, let me know about it! I'd love to hear in the comments. Also please check out these other posts: