Learn how to make a simple pom pom Christmas wreath using a few skeins of yarn – then add your own holiday themed decor in the center.
Skills Required: Beginner. This is a great craft idea for newbie crafters. You'll be using a pom pom maker to create your poms – then painting a wood shape with some various paints and adding to the front. It's pretty simple!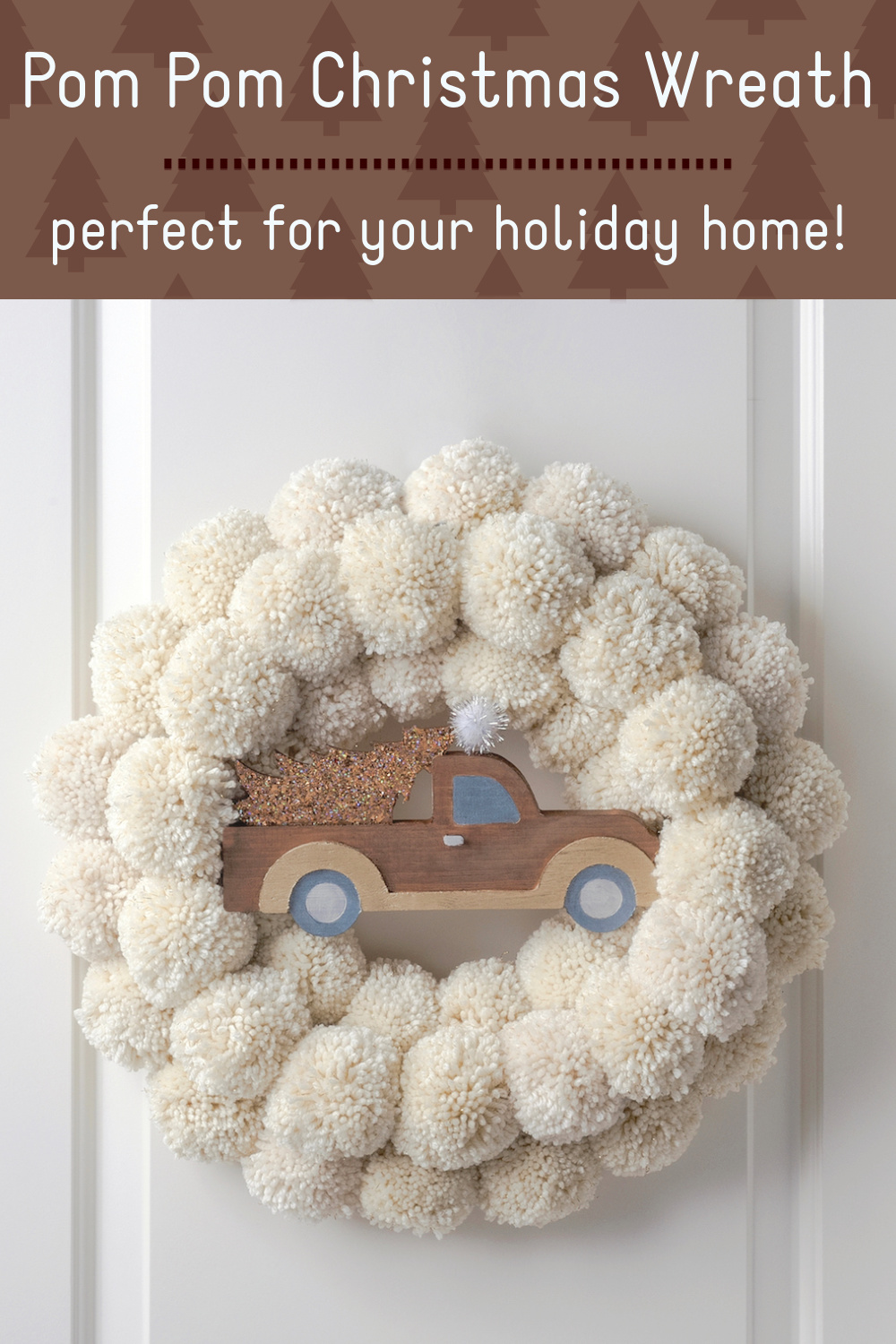 I'll fully admit it – I'm on a big pom pom craft kick lately. I don't know if you've ever experienced the glory that is making a cute pom pom, but it's really fun. Not only that, but they are extremely easy to make for beginners. That's why I'm excited to share this pom pom Christmas wreath with you today!
You're going to love it for a variety of reasons. You can customize the size – the yarn color – the wood shape that goes in the center. If there ever was a wreath you could make your own, it's this one.
Pom Pom Wreath for Christmas
This Christmas wreath is made in four easy steps. You're going to make the poms, then you'll glue them to the wreath. Then you'll paint the wood shape, and finally attach it to your finished wreath. It's a relatively simple process!
Before we jump into the tutorial, I wanted to share a few frequently asked questions about this project with you. If you want some tips, read these . . . if not, scroll down to the tutorial.
How do you make a Christmas wreath with pom poms?
Purchase a foam wreath form, make pom poms, and hot glue them to the form. Then add embellishments of your choice. You don't want to use a wire wreath form because you won't easily be able to attach the poms. Your best bet is a round wreath form made of foam.
How many pom poms do you need for a wreath?
I used 45 on this wreath! With the pom pom maker I used, I produced 2 1/2 inch poms. If you use a different sized tool (or wreath form), you are going to use a different number. This is an estimate for a good place to start though.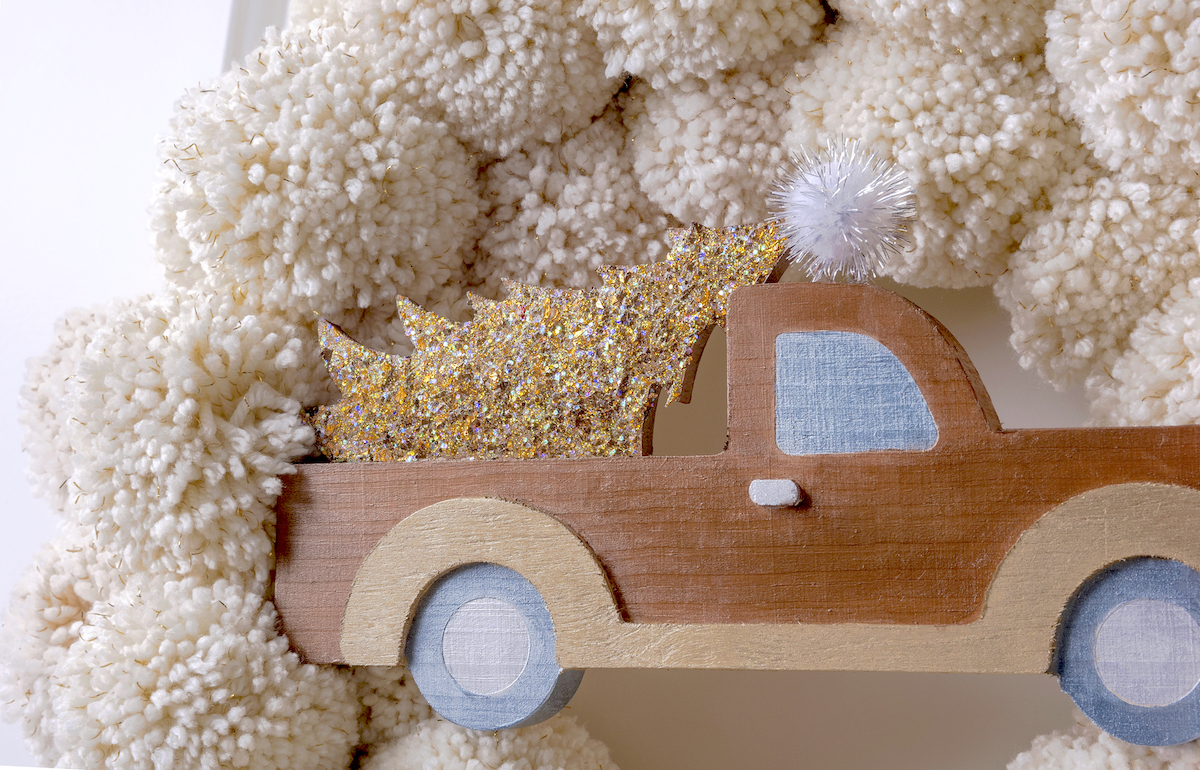 How do you make a pompom?
There are several ways to make a pom pom, but I find these two to be the easiest, especially for this wreath. Which is my favorite? Definitely the tool. Read on.
Pom Pom Maker
A pom pom maker is a special tool with folding pieces that allows you to make big, full, pretty poms in a predictable size. Meaning, all your poms will look exactly the same in terms of fullness and size. I really love the maker for this reason. You can also experiment with different colors more easily!
Pom Poms with a Fork
If you've no desire to purchase a pom pom making tool, you can always use a fork! There's a great video that shows you how to do it here.
You will essentially hold the end of the yarn and then wrap it around the fork many times. Then you'll cinch in the center and cut. It is somewhat fussy and the poms are small, but it's also free.
---
Are you ready to learn how to make this Christmas wreath? Continue reading below!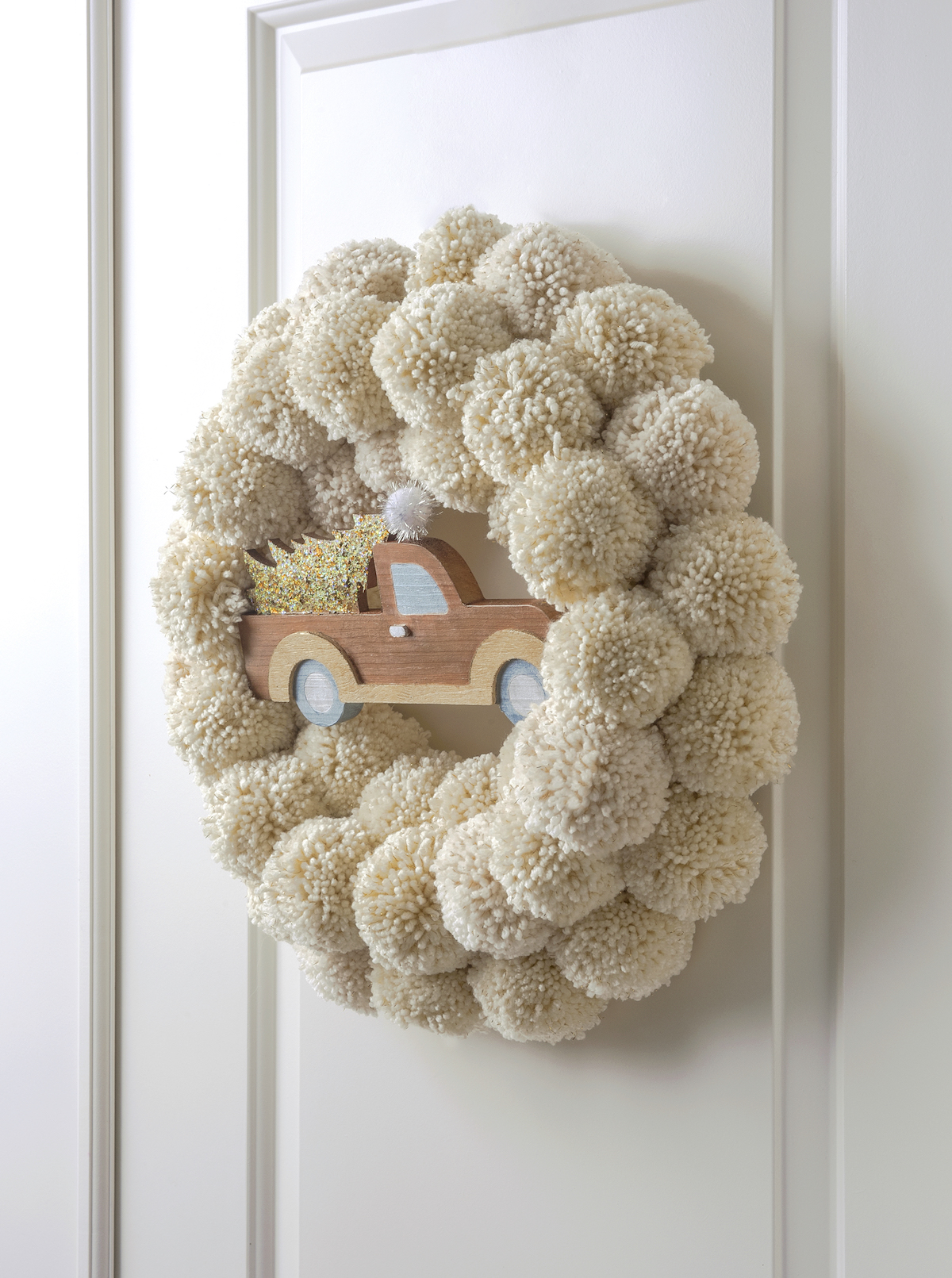 Gather These Supplies
Foam wreath form – 12″
Yarn – four large skeins
Wood shape
Acrylic paint – variety of metallic colors
Paintbrush
Scissors
Hot glue gun and glue sticks
It's really hard to estimate how much yarn you'll need for this project. That's because different yarns have different thicknesses, which affects how much you need for the pom pom maker. Plus the size of your wreath form matters.
I recommend purchasing 4 – 5 of the larger skeins that are ~350 yards. Keep your receipt, and then bring back what you don't need if you don't end up using it all. This ensures you have enough.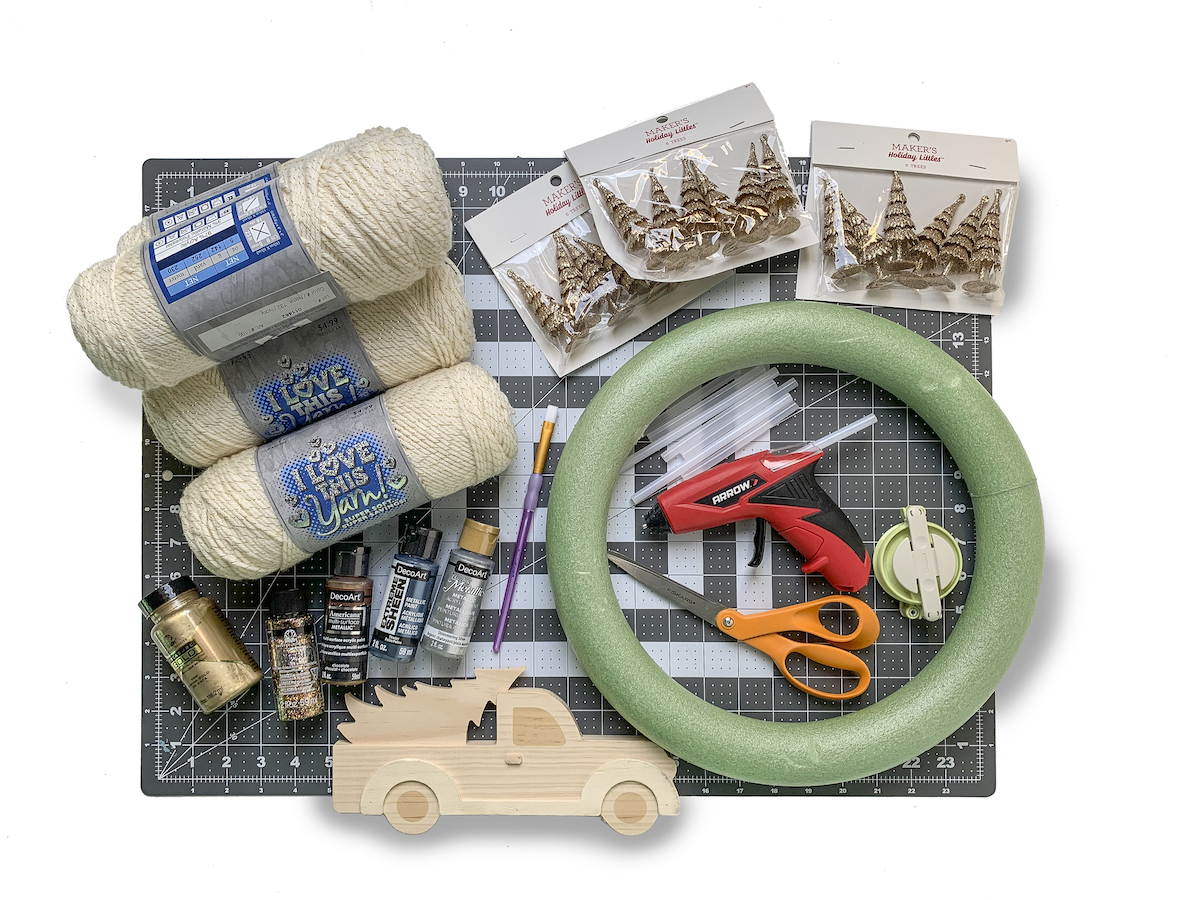 Make the Pom Poms
The pom pom maker is going to be the key to your success with this project! You'll use the 2 1/2 inch one if you want to make poms like mine.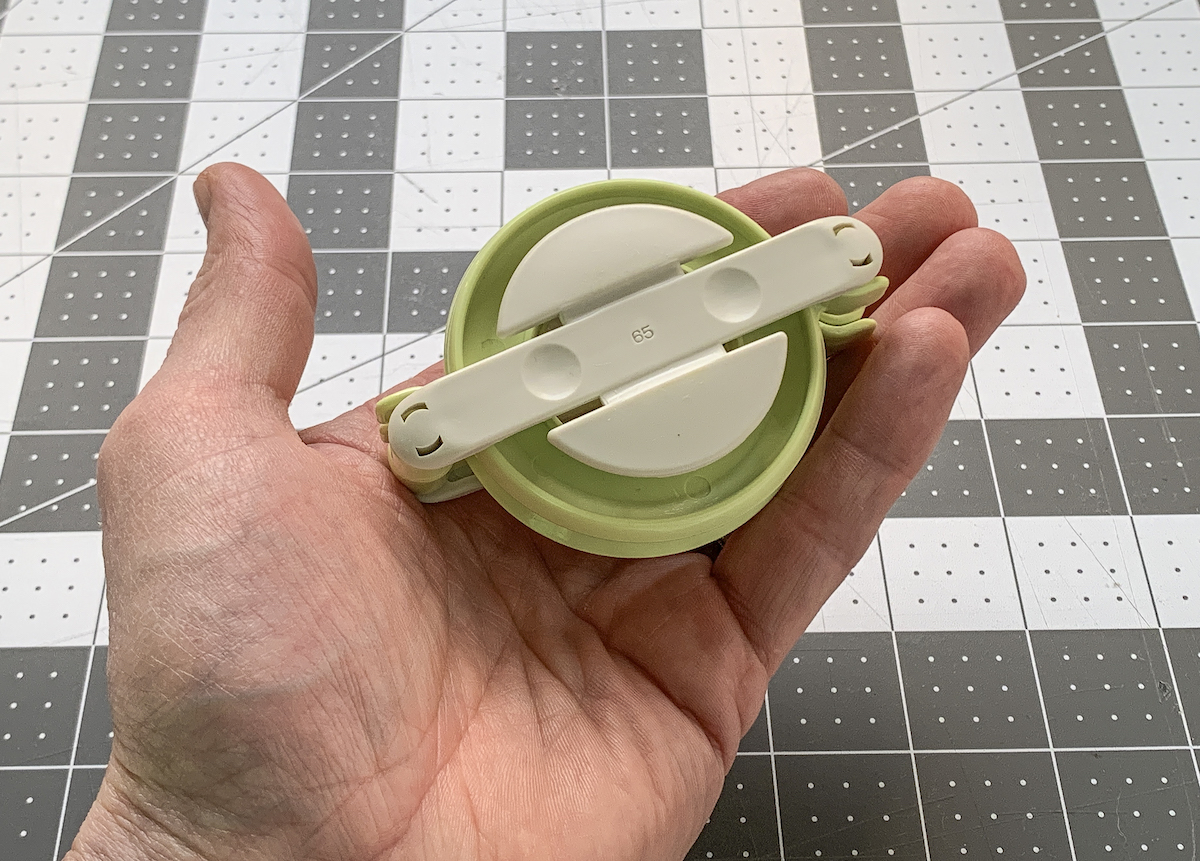 To use this tool, you're going to open one side of it (both pieces) and begin wrapping the yarn as shown (while holding one one of the yarn).
You're going to keep wrapping the yarn until you have completely filled one side of the tool, including filling the "U" shape with yarn.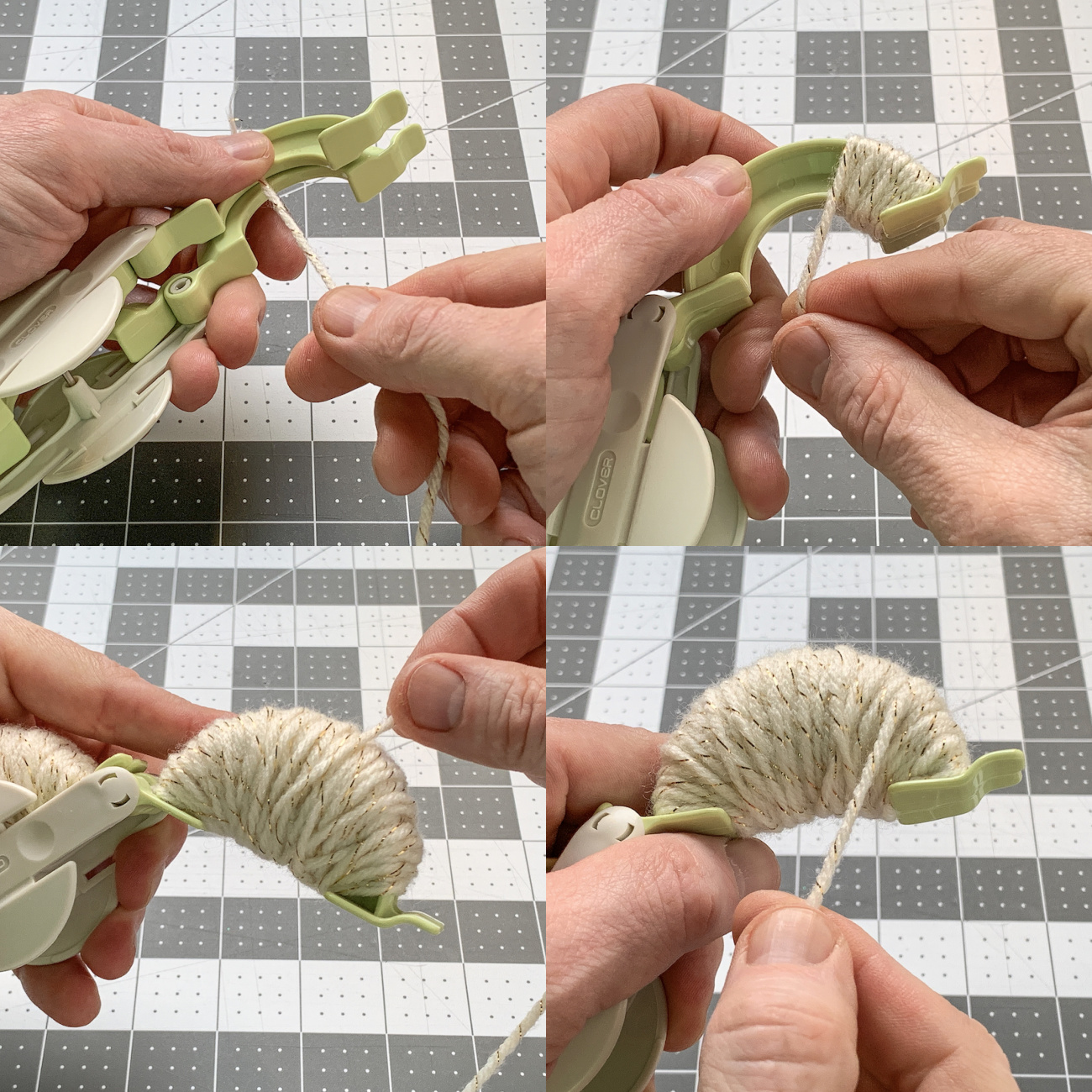 When you are finished wrapping one side, close it and feed the yarn over to the other side as shown below. You're going to undo the other side of the pom pom maker, and wrap the yarn just as you did. Then you will close the tool.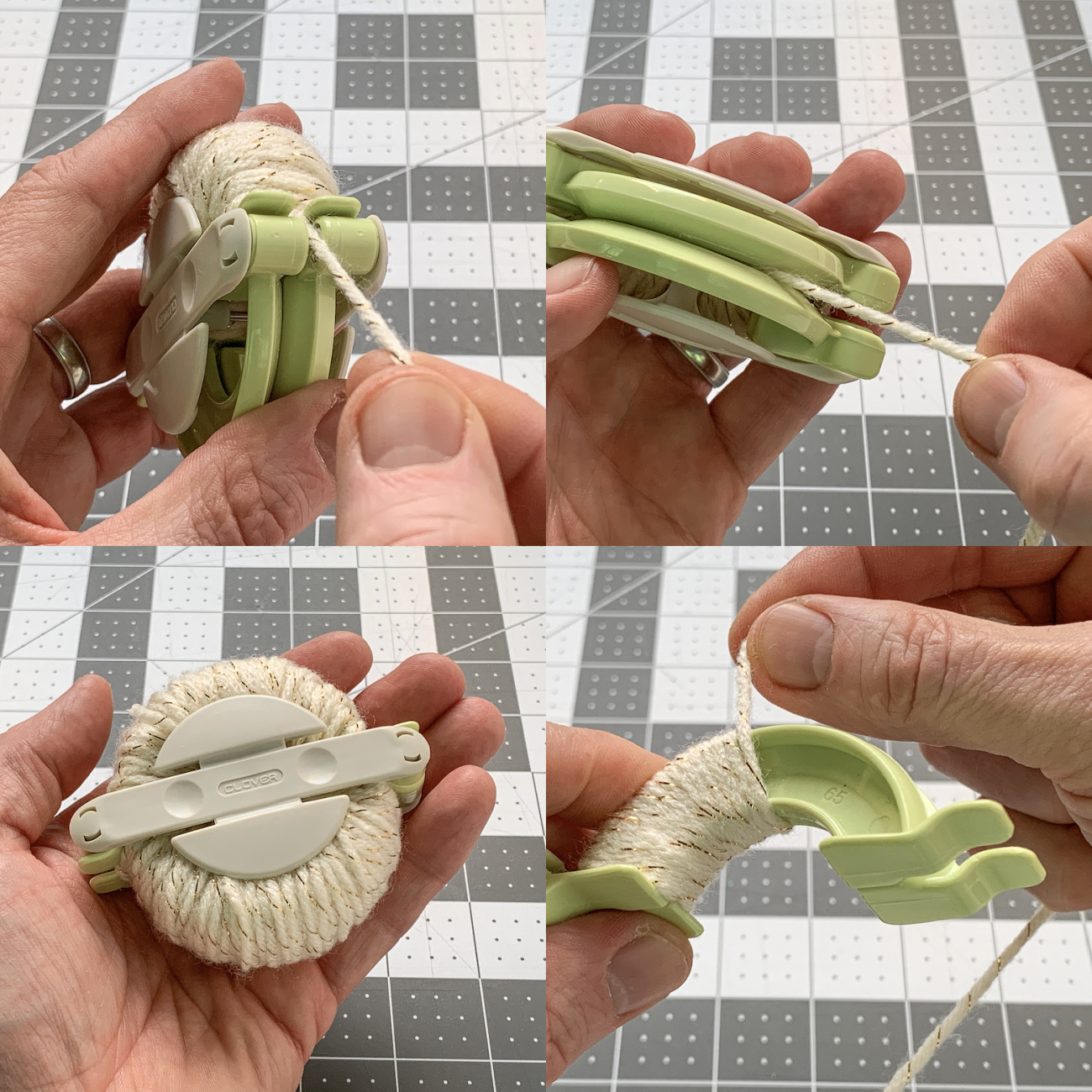 Use the scissors to cut the yarn on each side of the pom pom maker, while still keeping it closed.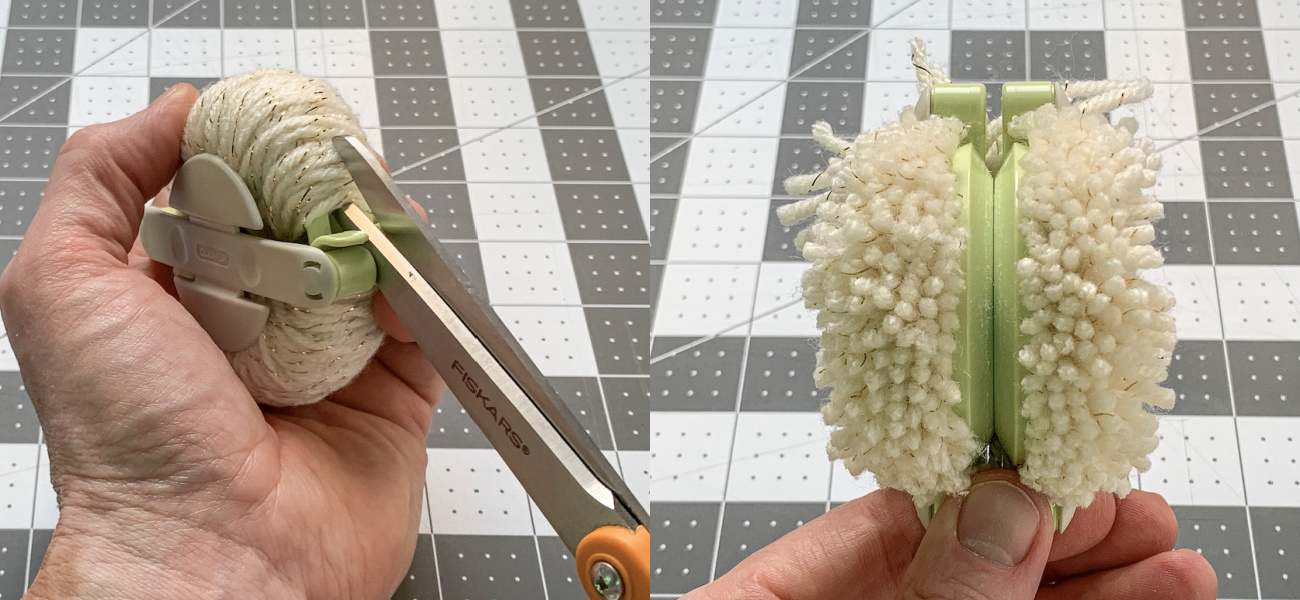 Cut a scrap piece of yarn, and tie it around the center of the tool tightly. You're going to make a knot by double tying. You want to make sure it's tight enough so that when you remove the pom pom, it doesn't come apart. You don't need to pull so tight that you break the yarn, but you do need to make it snug.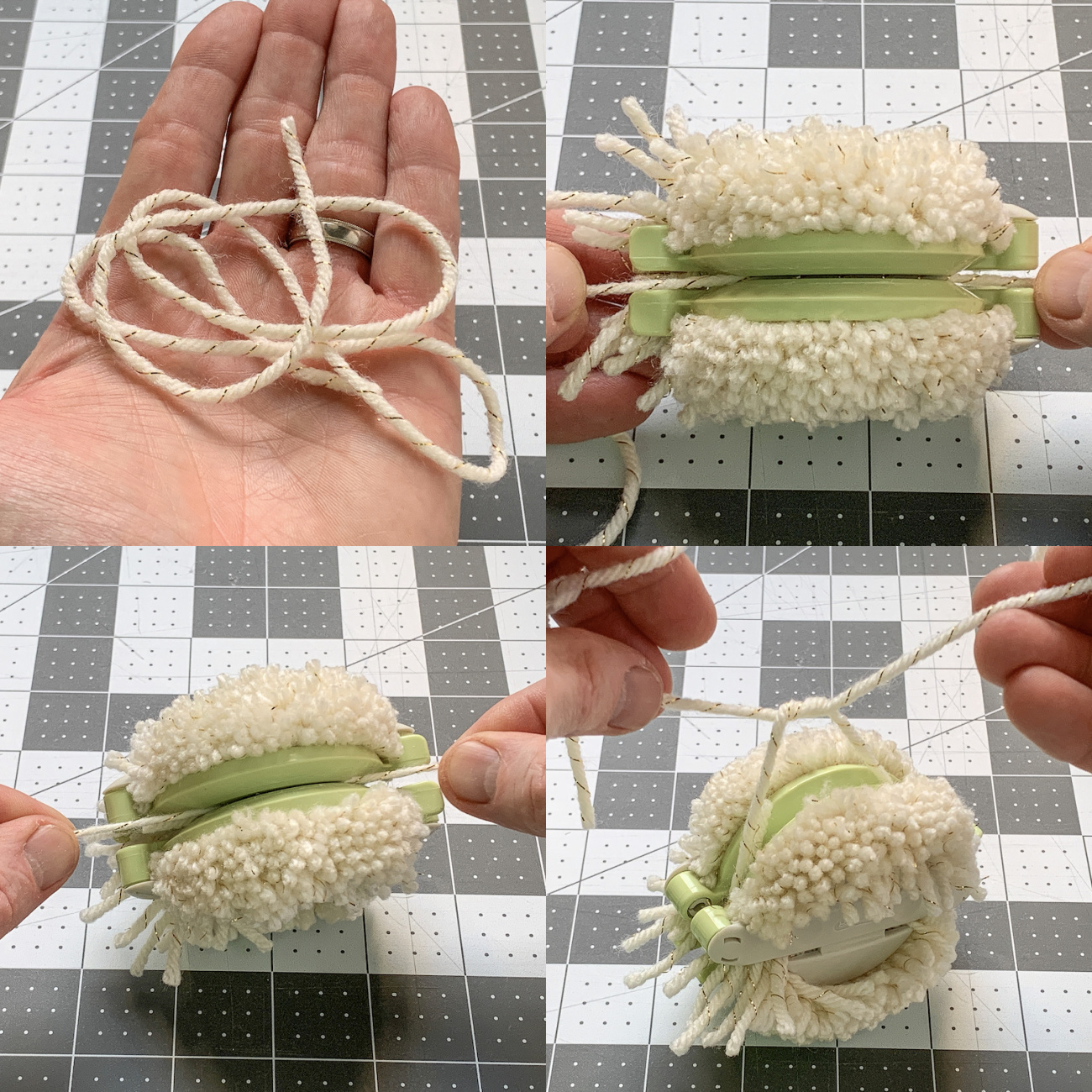 Once you're done, open the pom pom maker and remove your newly formed pom!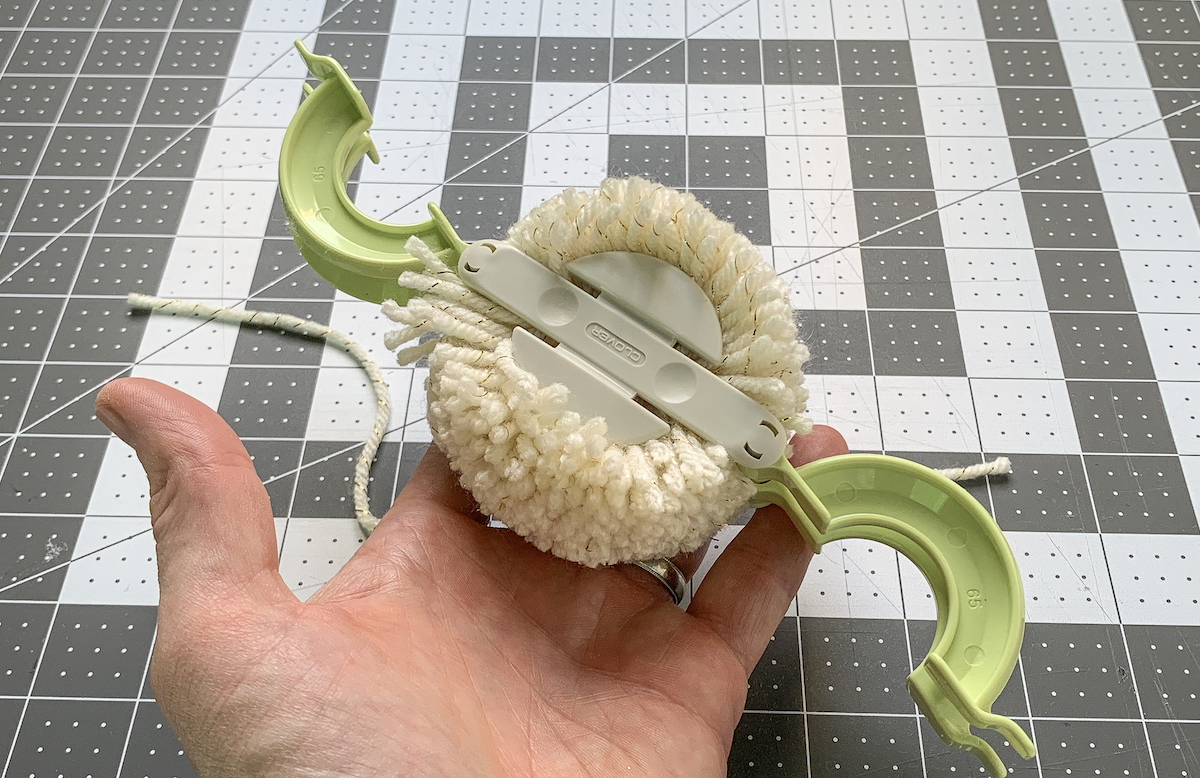 The pompom will come out very shaggy, so you'll want to trim it up with the scissors, plus the excess yarn from tying.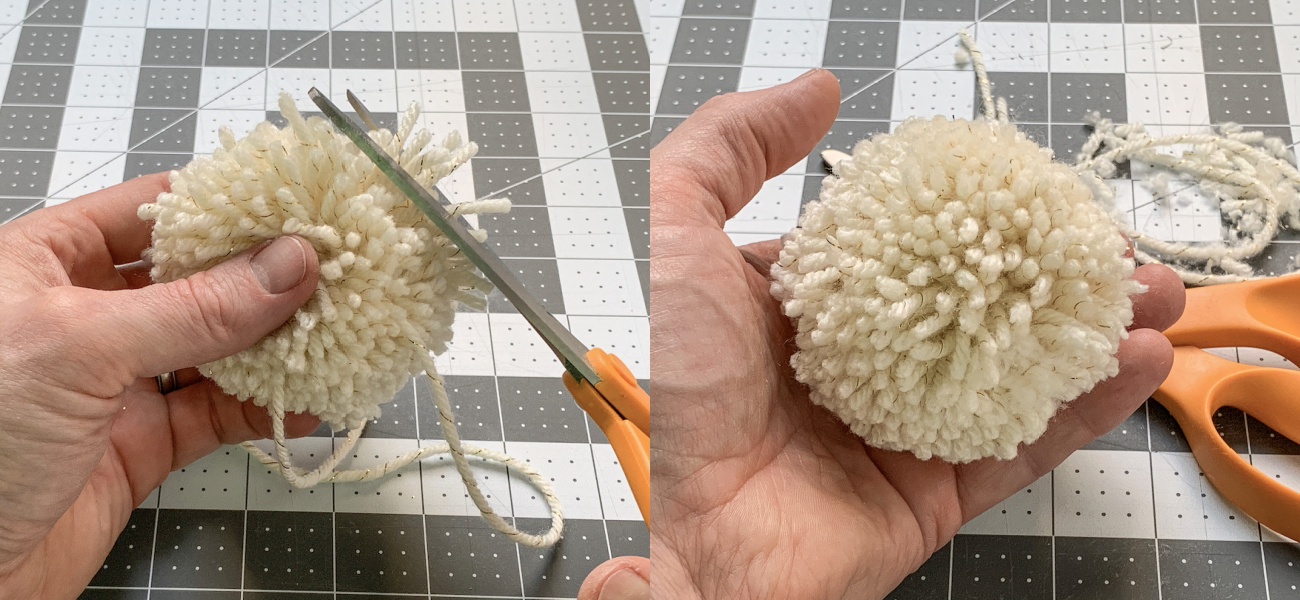 You have one finished yarn pom in your hand! Now you'll need to make a few more but . . . you've got this. Just put on a good movie. Or three.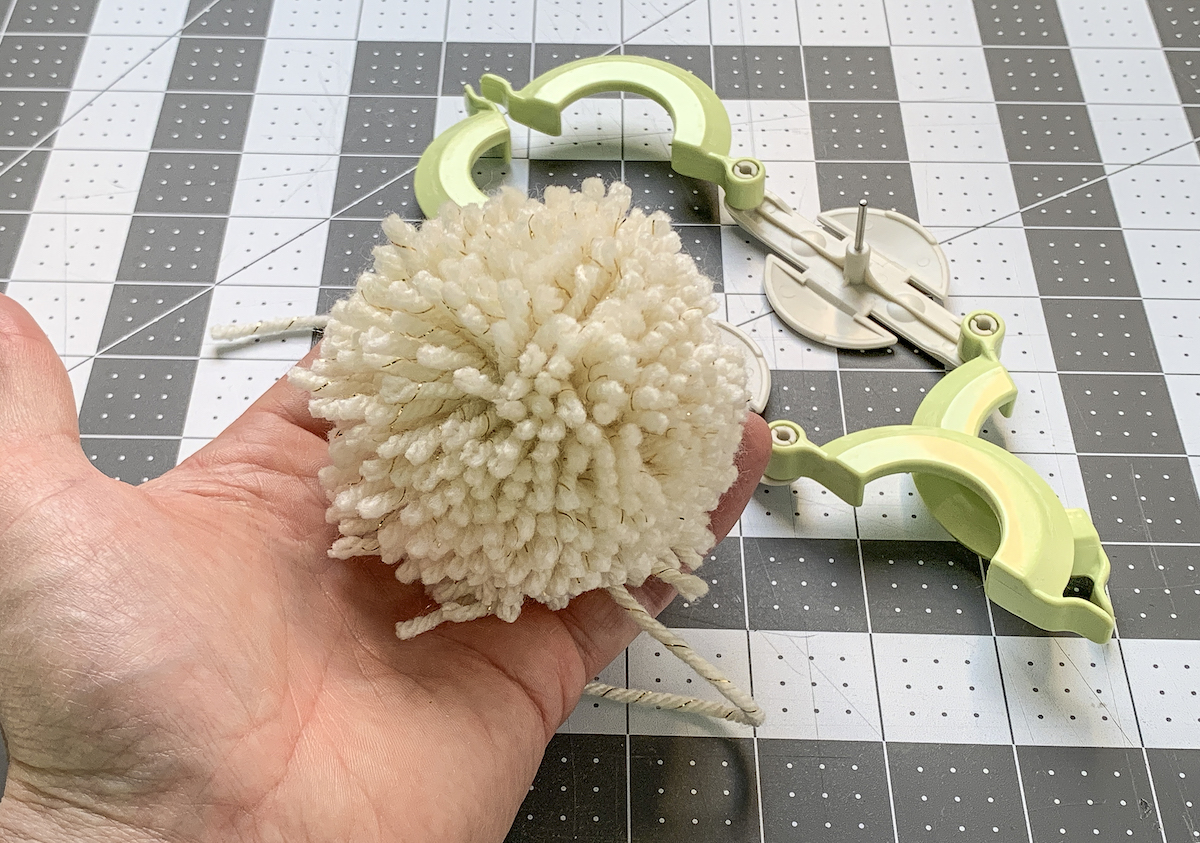 Attach the Poms
After all the yarn poms poms are made for your wreath – this is where the real fun begins! You're going to hot glue them to your wreath form. Spread the yarn out on one pom pom with your fingers and place some glue down on the yarn.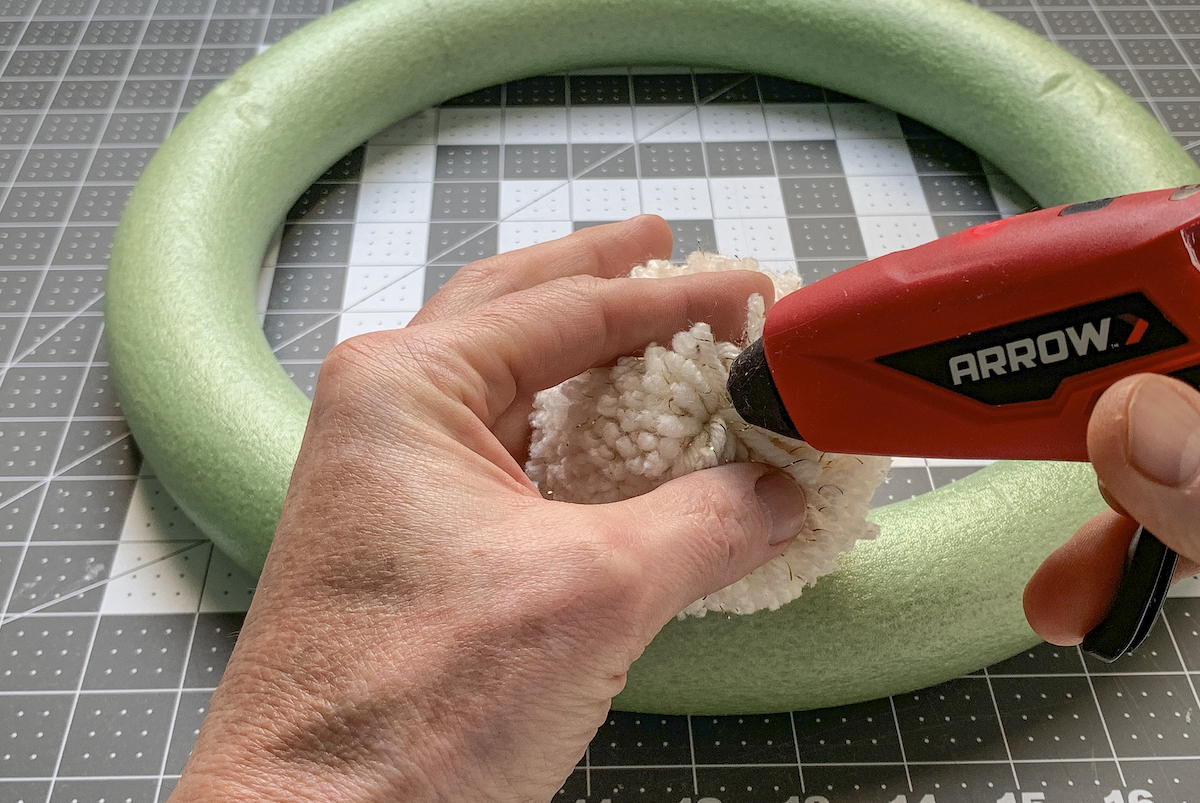 You will make three layers of pom poms, so start with the ring on the outside. Press the yarn down onto the wreath form and hold in place until it sets (a few seconds).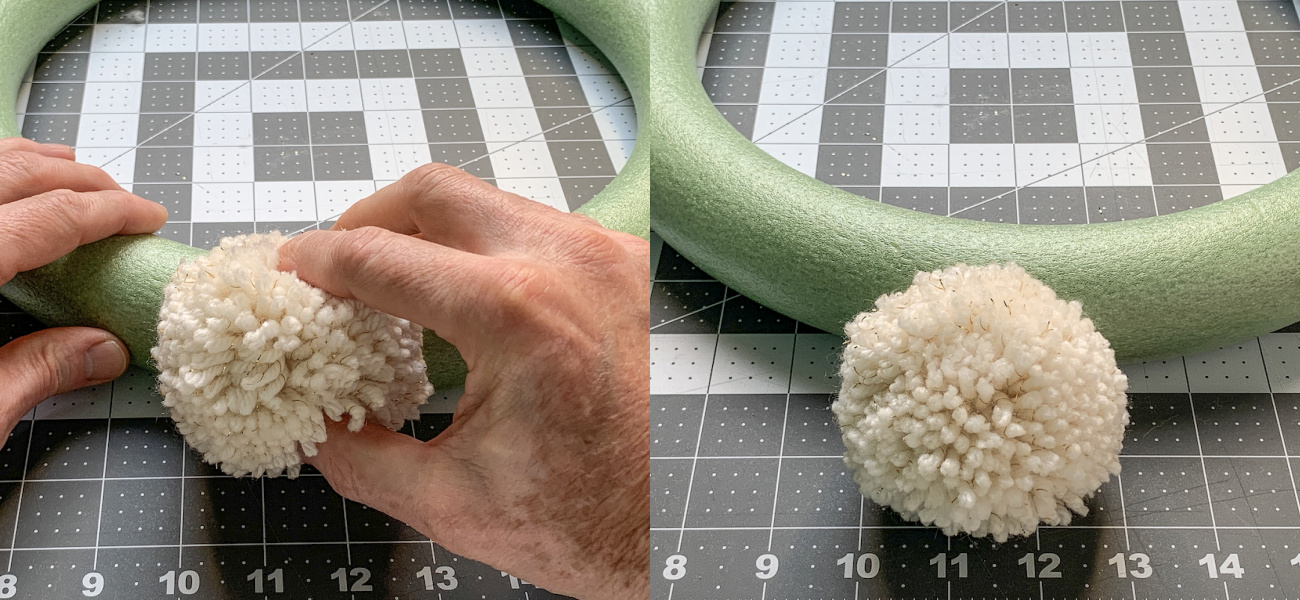 Continue gluing the pompoms around the ring as shown below.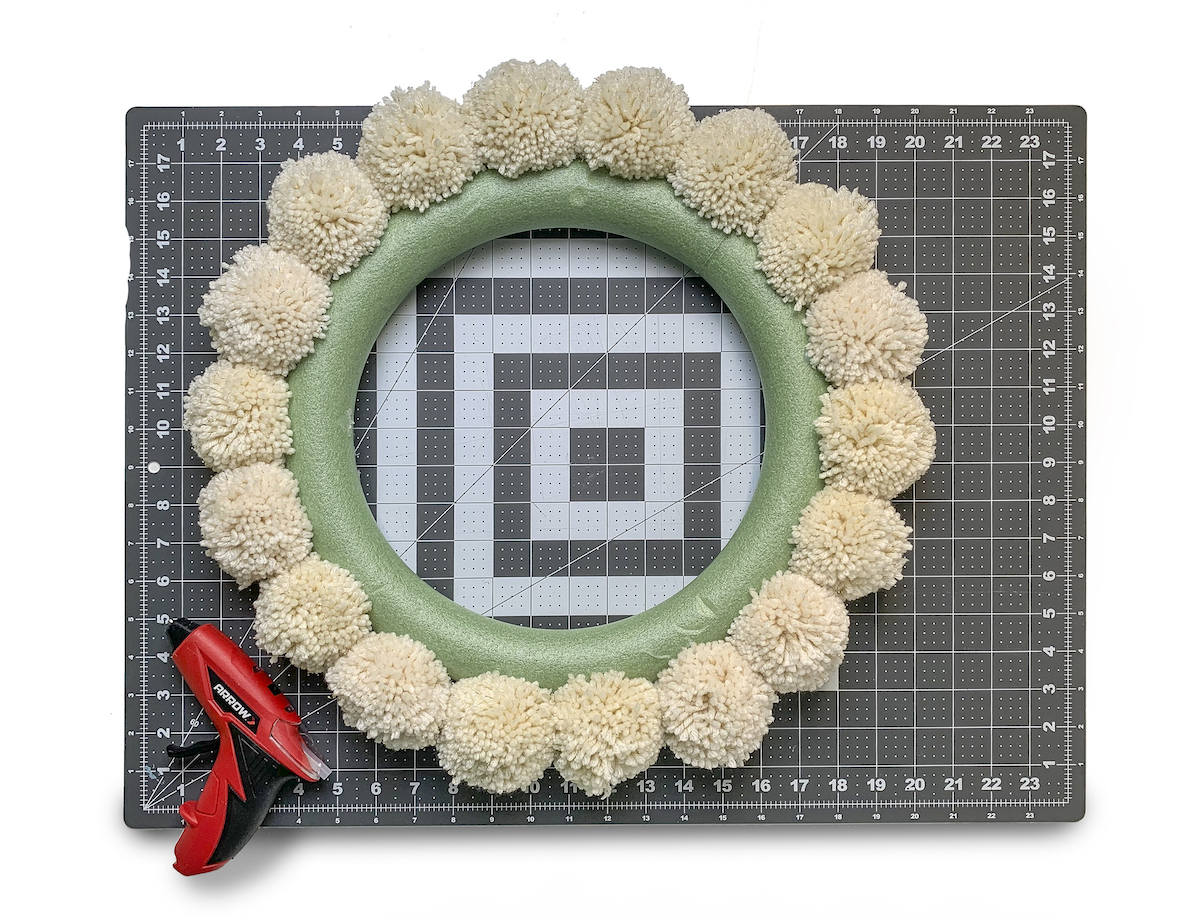 You will repeat hot gluing, this time on the inside of the ring. You don't have to shove the pom poms down very far – just keep them toward the inside.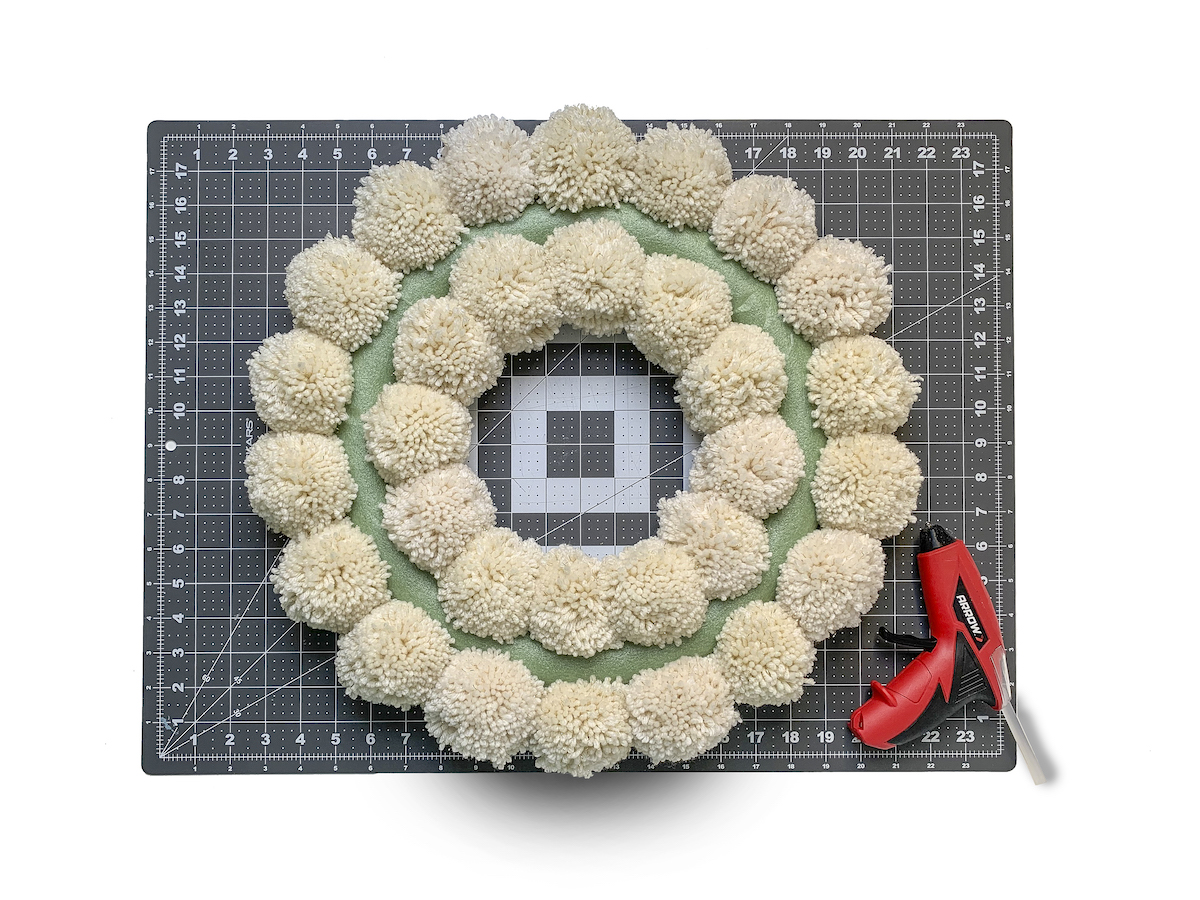 Finish your pompom wreath by adding a ring of poms around the front facing portion of the form, again with hot glue.
This is how your pom pom wreath DIY will look when fully complete. Now it's time to add any embellishments!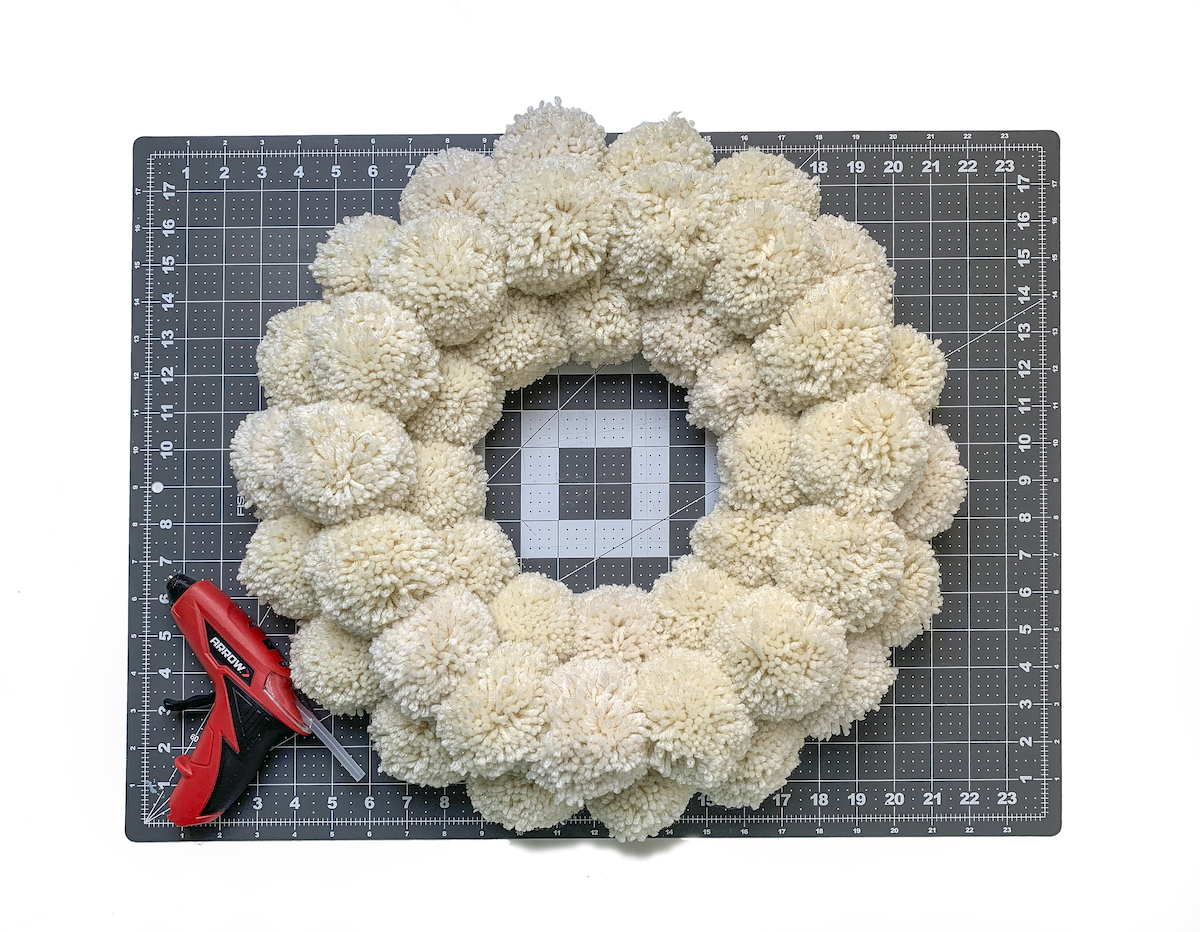 Paint Your Embellishments
There are a variety of things that you can add to your wreath: wood shapes like my Christmas truck, paper mache houses, bottle brush trees . . . there are no rules to what you can or can't do.
You also need to decide on paint colors, and you have a lot of options there too! Since my wreath was neutral (in terms of the yarn), I decided to go with metallics for the truck shape.
I also feel that this color palette can stay up for winter decorating. While it certainly has a Christmas feel, it's not the standard red and green!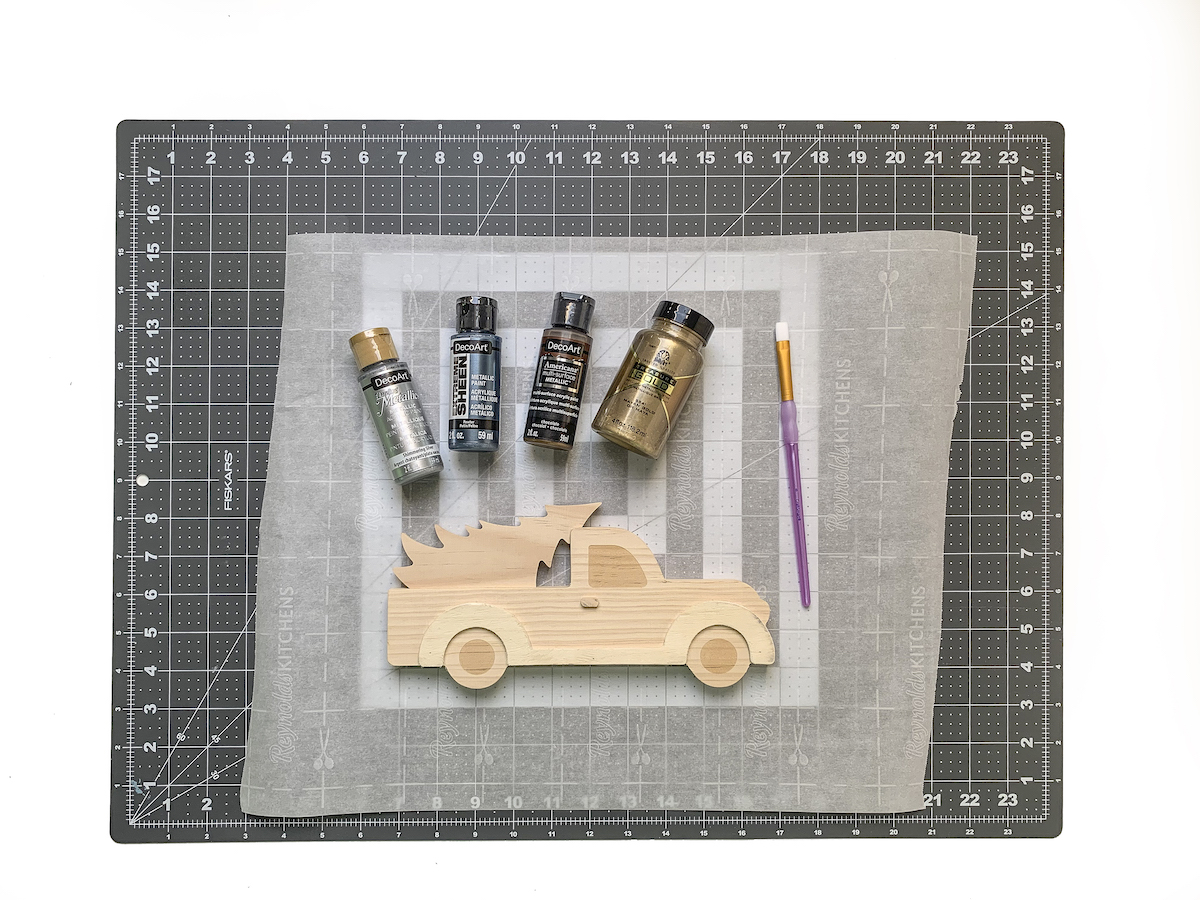 The inside hubcaps of the truck were painted silver, along with the handle – and the wheels were painted metallic black.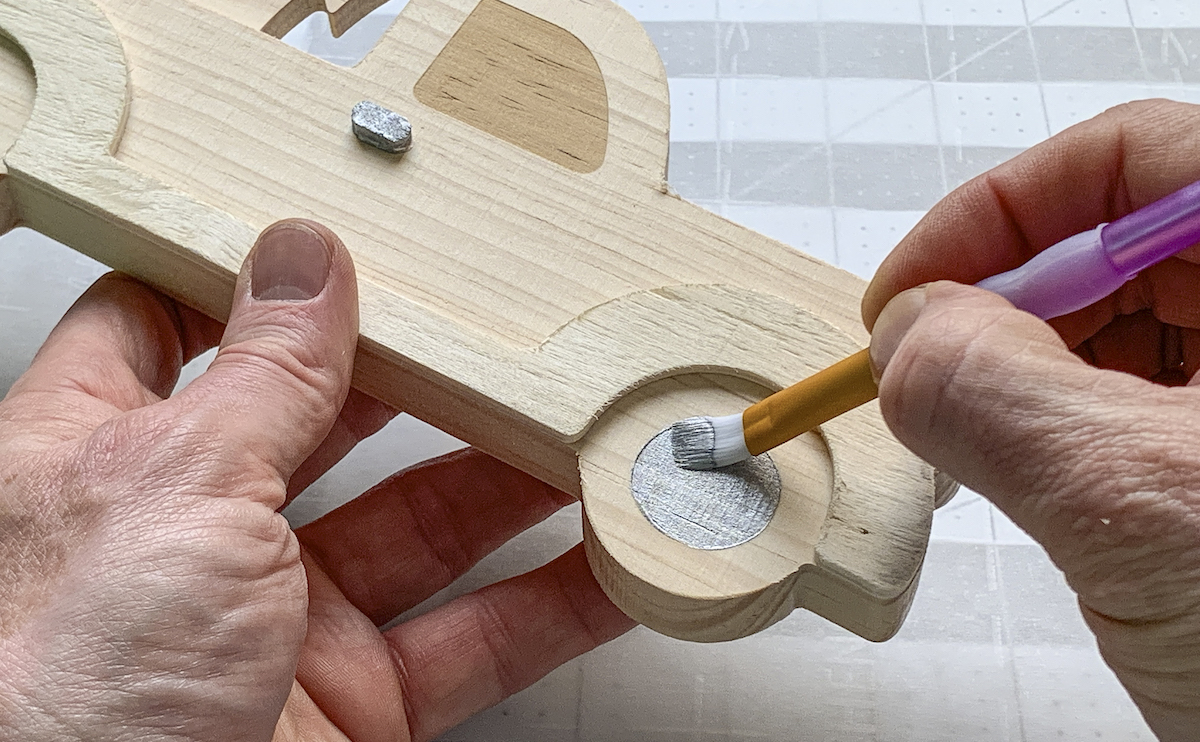 The fender flares were painted gold and the truck itself, bronze. The tree was basecoated bronze as well.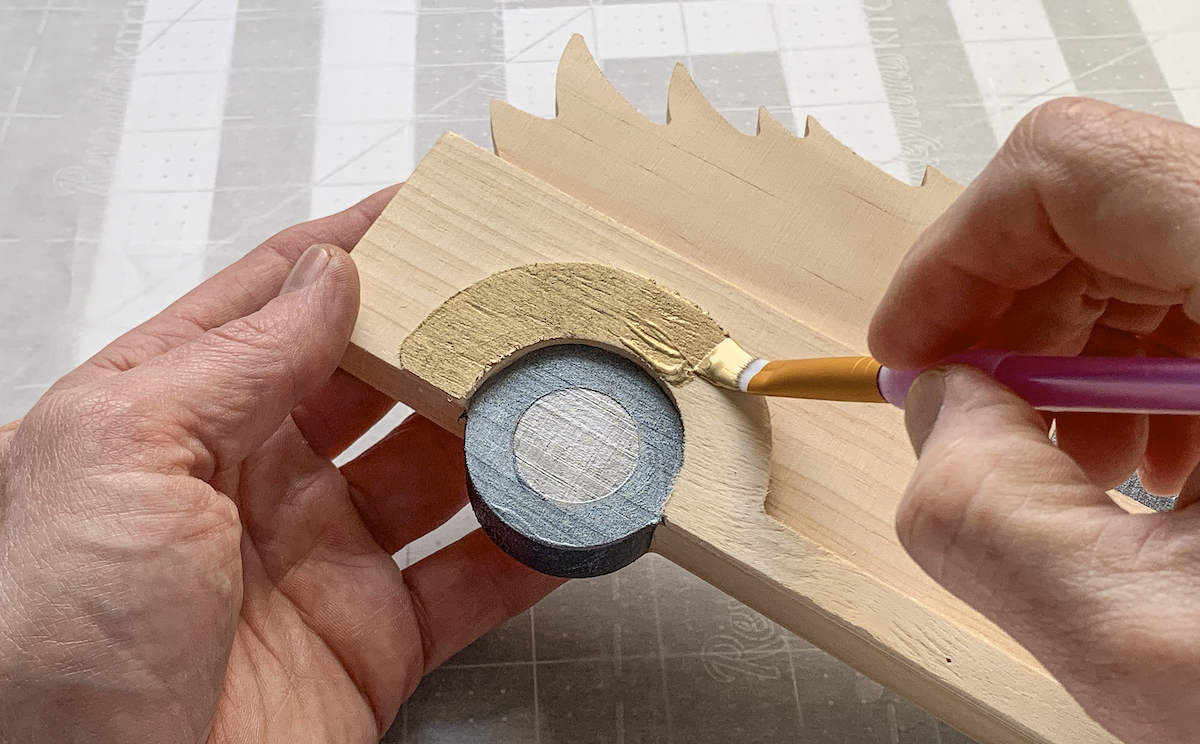 I did choose to do something a little bit special with the tree! Since I don't use a ton of glitter in my daily life, I like to use the holidays as an excuse to bust it out. I chose to paint Giltterific paint onto the tree with a foam spouncer.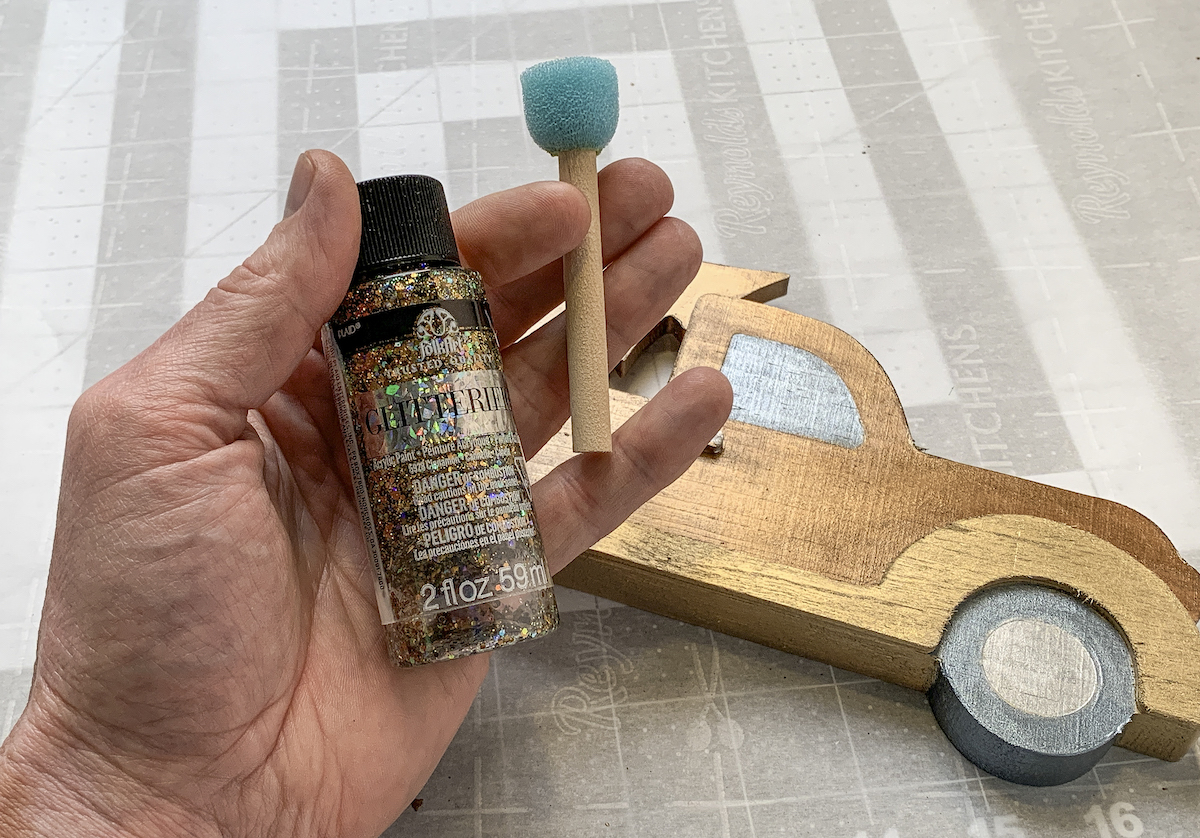 This particular medium features glitter in a clear base, so it's best to spounce it on. LOOK AT THAT SPAHKLE!
But seriously, however you embellish this wreath is up to you. Have fun with it!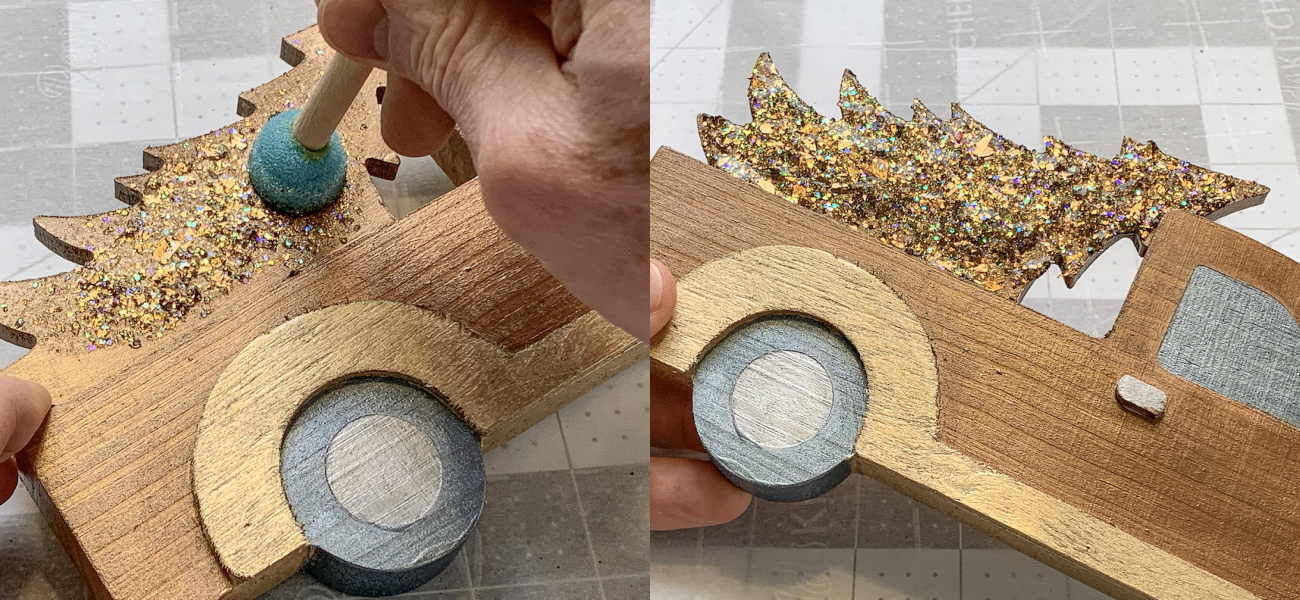 Attach the Wood Shape and Hang
To finish your pom pom Christmas wreath, you are going to do two things: attach the wood shape to the wreath with hot glue, and attach a hanger on the back with yarn and glue.
There are several ways to hang a wreath, but since this is not too heavy, the yarn worked for me. You might need to use a strong glue if you find your wreath has some weight to it.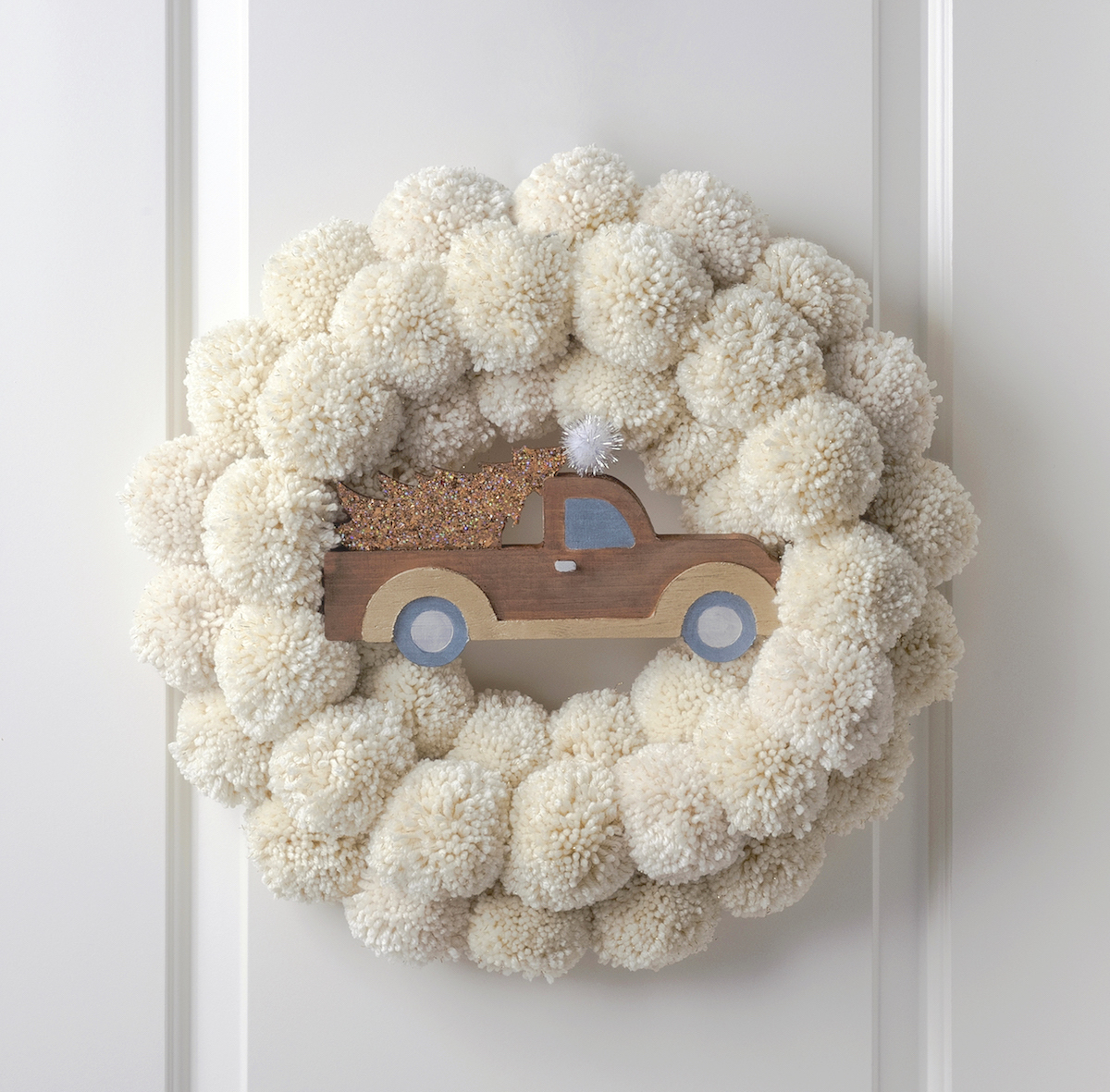 I'm really happy how it turned out, and how easy the process was! Hang it on a wall, interior door, or front door (if covered).
I'd love to know if you've ever tried to make a Christmas wreath like this one before. Leave me a note in the comments!
Yield: 1 wreath
Pom Pom Christmas Wreath
Learn how to make pom pom wreath for Christmas! This is really pretty and perfect for beginning crafters who want to decorate for the holidays.
Total Time
10 hours
15 minutes
Materials
Foam wreath form - 12"
Yarn - four large skeins
Wood shape
Acrylic paint - variety of metallic colors
Tools
Pom pom maker
Paintbrush
Scissors
Hot glue gun and glue sticks
Instructions
Make 40 - 50 pom poms using a pom pom maker. Trim with scissors to finish your poms.
Hot glue the pom poms around the wreath form in three rings. Start outside, then do the inside, then do the front.
Paint wood or other surfaces using acrylic paint. Then add other embellishments like glitter. Let dry.
Attach your wood surface to the wreath using hot glue.
Cut a small length of yarn and glue it to the back. Let cool. Hang using a Command strip.
---
And now that you are an expert making pompoms, I'd love for you to check out these other wreath and Christmas decorating ideas: