This DIY fall wreath was made using Dollar Tree supplies! You can make this autumn wreath for $5, and it will look great in your decor.
Skills Required: None. This Dollar Tree wreath DIY is really easy! You'll be cutting, wrapping, and inserting leaves. It doesn't take too long to make, either.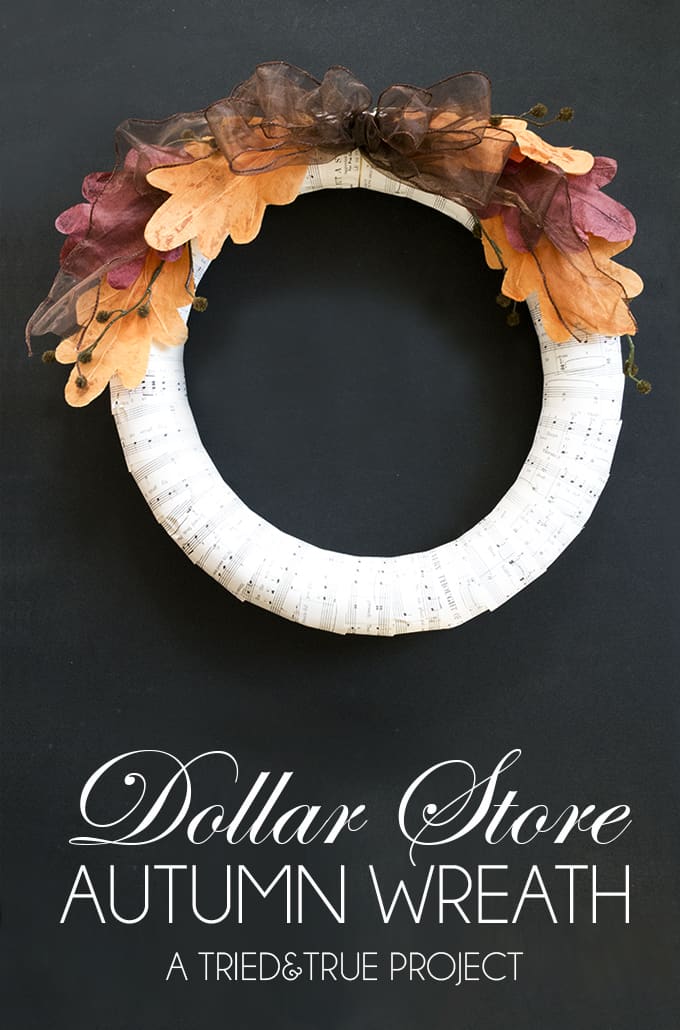 Hi everyone, it's Vanessa from Tried & True. Even though it's barely the end of August, I can't help but long for the cool crisp days of autumn! If you love fall wreaths, then you probably know how expensive it can get changing them out for each season.
Dollar Tree Fall Wreath
I'm here to show you a super easy and inexpensive DIY Fall Wreath using Dollar Tree supplies that is perfect for the coming months and can easily be changed out to match other holidays. Yay for dollar store crafts and autumn decor!
I bought most of my supplies at Dollar Tree, but by all means, feel free to substitute with thrifted items or things you have around the house. I calculated my out-of-pocket costs to be about $5 (also used supplies I already had) but I'm sure you can make this for even cheaper.
Also, I had a ton of supplies left over so with another pool noodle, could have easily made a couple more wreaths. For this price, you can make one for everyone on the block! Your neighbors are going to love you.
Gather These Materials
Pool Noodle
Duct Tape
Printed Paper (I used thrifted sheet music)
Double-Sided Tape
Fake Greenery
Wire Ribbon
Bowdabra (optional)
Scissors
Create and Cover the Wreath
Step One. Bend pool noodle until the ends meet and secure with a good amount of duct tape. Cut 2″ strips out of your printed material and wrap around the wreath with a piece of double-sided tape. Continue applying the strips until the entire wreath is filled.
I used sheet music in my example but you can use book pages, construction paper, or even decorative scrapbook paper. I say use up what you have first before going out to buy something new!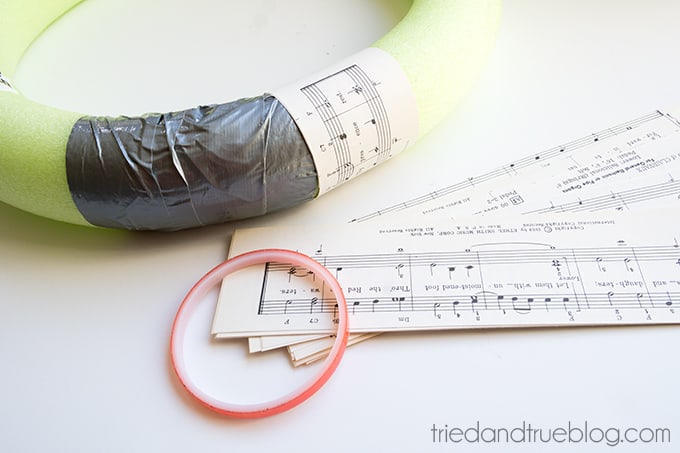 Decorate with Leaves
Step Two. Now that the entire wreath is covered, let's start decorating! Take your paper leaves and start inserting them under the paper strips. I like my wreaths to be super simple so I only used six of the paper leaves on top. Feel free to cover the entire form if you like a more substantial wreath.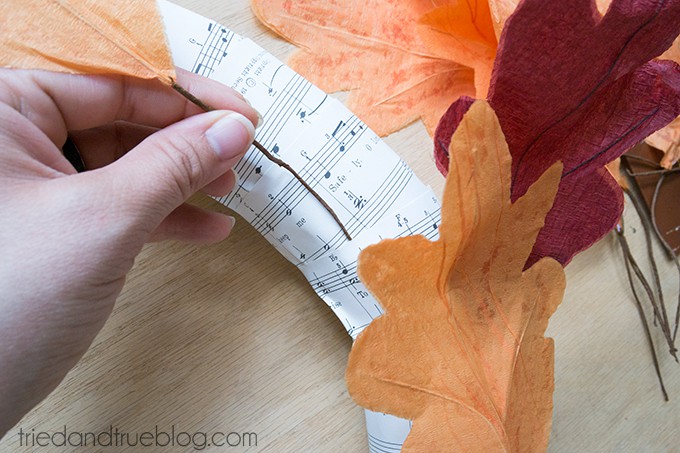 Add Embellishments
Step Three. Add additional embellishments where you see fit.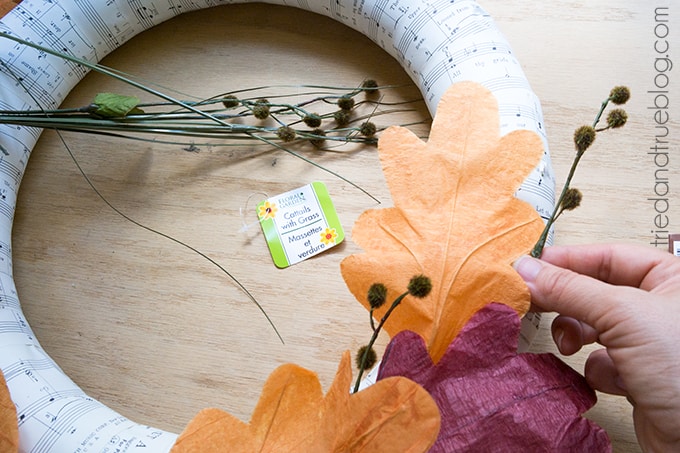 Step Four. You're going to have to bend the wire back if you want your leaves going in opposite directions like mine.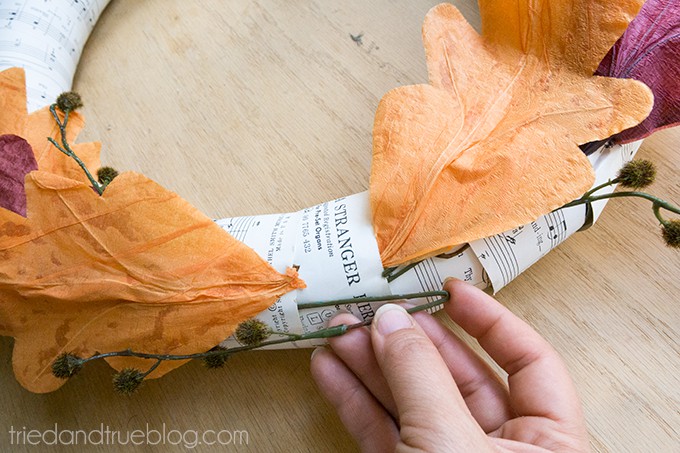 Step Five. I used a Bowdabra to make my bow but it was so easy, you could probably just do it by hand. Or just buy a bow. Or skip it all together and add a few small decorative gourds or scarecrow. Totally up to you!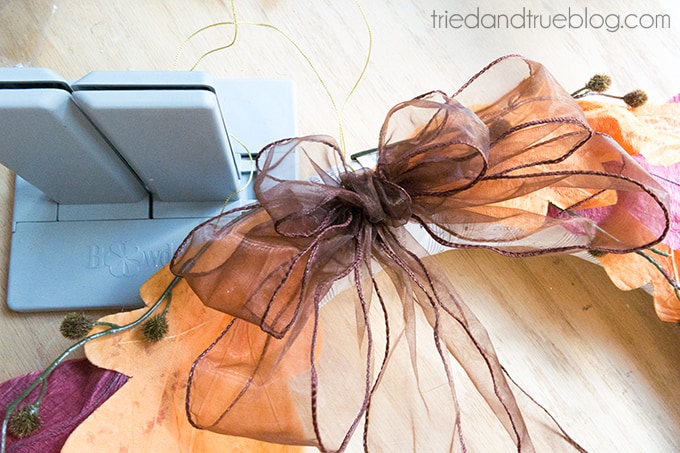 And that's it!
None of the supplies are attached permanently so you can always remove all thefFall embellishments and substitute them with Halloween items or Christmas ornaments. Not bad for just a pool noodle and some sheet music, huh?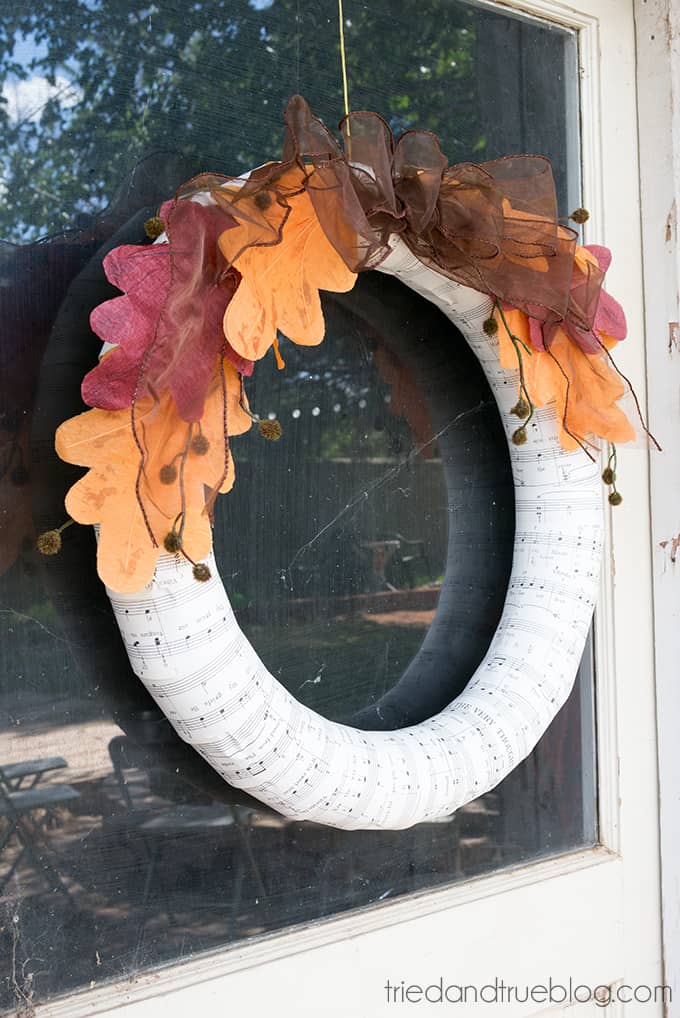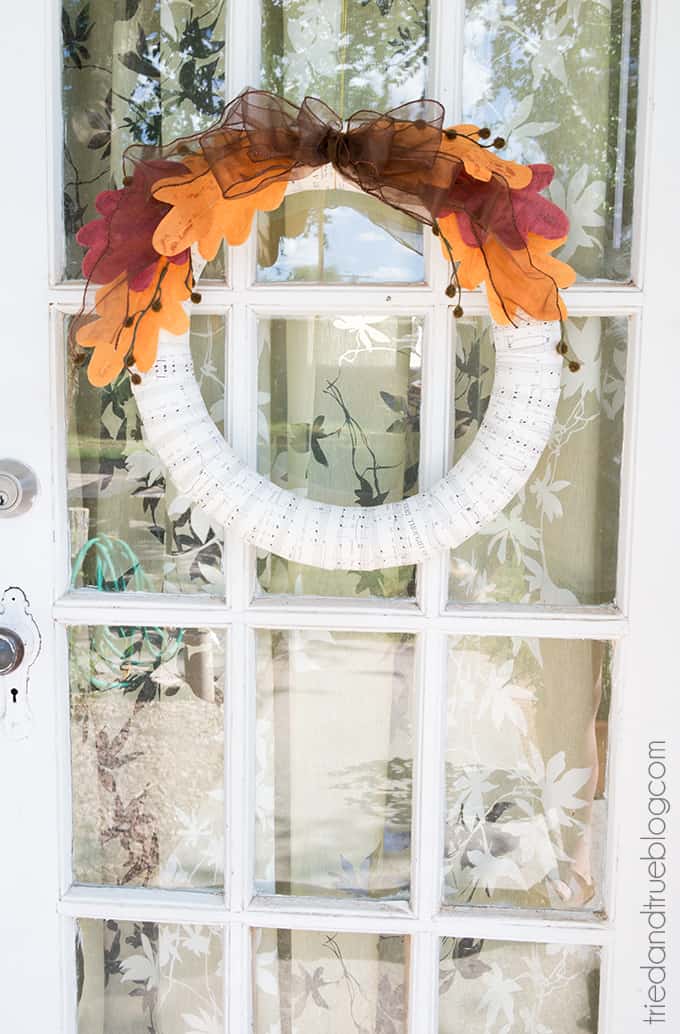 If you liked this Dollar Tree fall wreath tutorial, you're definitely going to love all the other wreaths I've made on my blog, Tried & True, including the Animal Eyes Halloween Wreath, Acorn Fall Wreath, and the super quick 10 Minute Scarf Wreath!
Yield: 1 wreath
DIY Fall Wreath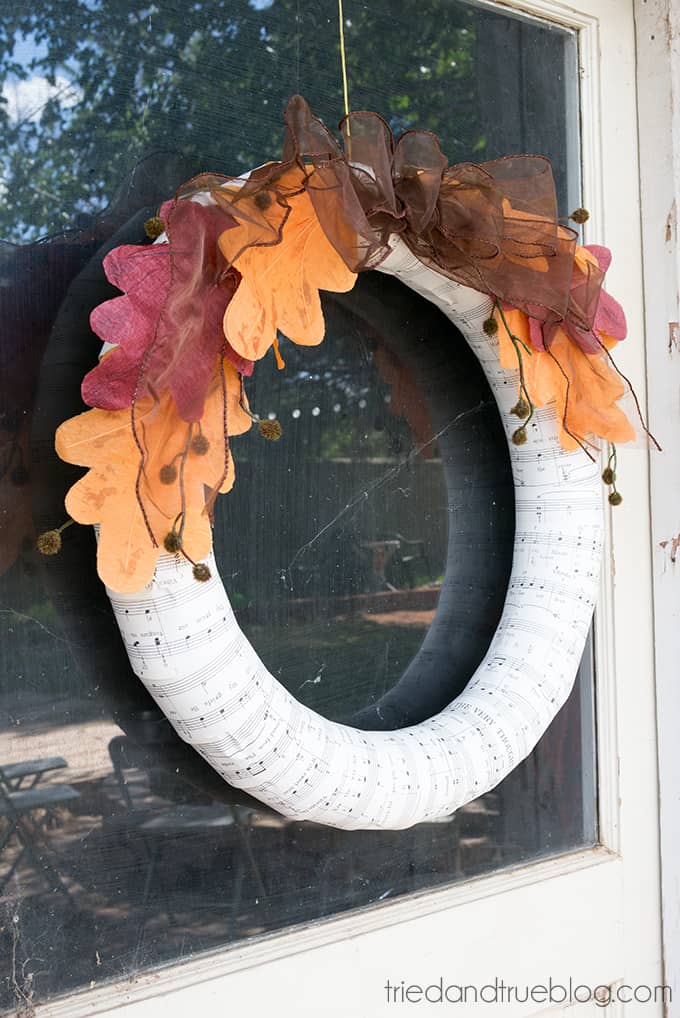 Learn how to make this Dollar Tree wreath DIY for autumn! It's very easy and perfect for your fall decorating.
Total Time
1 hour
15 minutes
Materials
Pool Noodle
Duct Tape
Sheet Music
Double-Sided Tape
Paper or Fabric Leaves
Fake Greenery
Wire Ribbon
Tools
Bowdabra (optional)
Scissors
Instructions
Bend a pool noodle until the ends meet and tape together with duct tape.
Cut 2" wide strips of sheet music, long enough to wrap around the wreath. Cut several of them.
Use the double stick tape to wrap the pieces of sheet music around the wreath form, overlapping slightly as you go. Continue all the way around the wreath.
Insert the paper leaves and other embellishments under the sheet music strips.
Make a bow and attach to the top, if desired. Hang.
---
Did you love this fall craft? I'd also love for you to check out these other simple handmade fall decor ideas: