This collection of 35+ DIY fall wreaths is definitely going to inspire you! Most of these autumn wreaths are inexpensive if you don't have a lot to spend.
Skills Required: Beginner to Intermediate. Most of these fall wreath ideas are very easy and involve basic techniques such as wrapping and painting. A few involve some sewing or have additional steps, but none of these autumn wreaths are hard to make.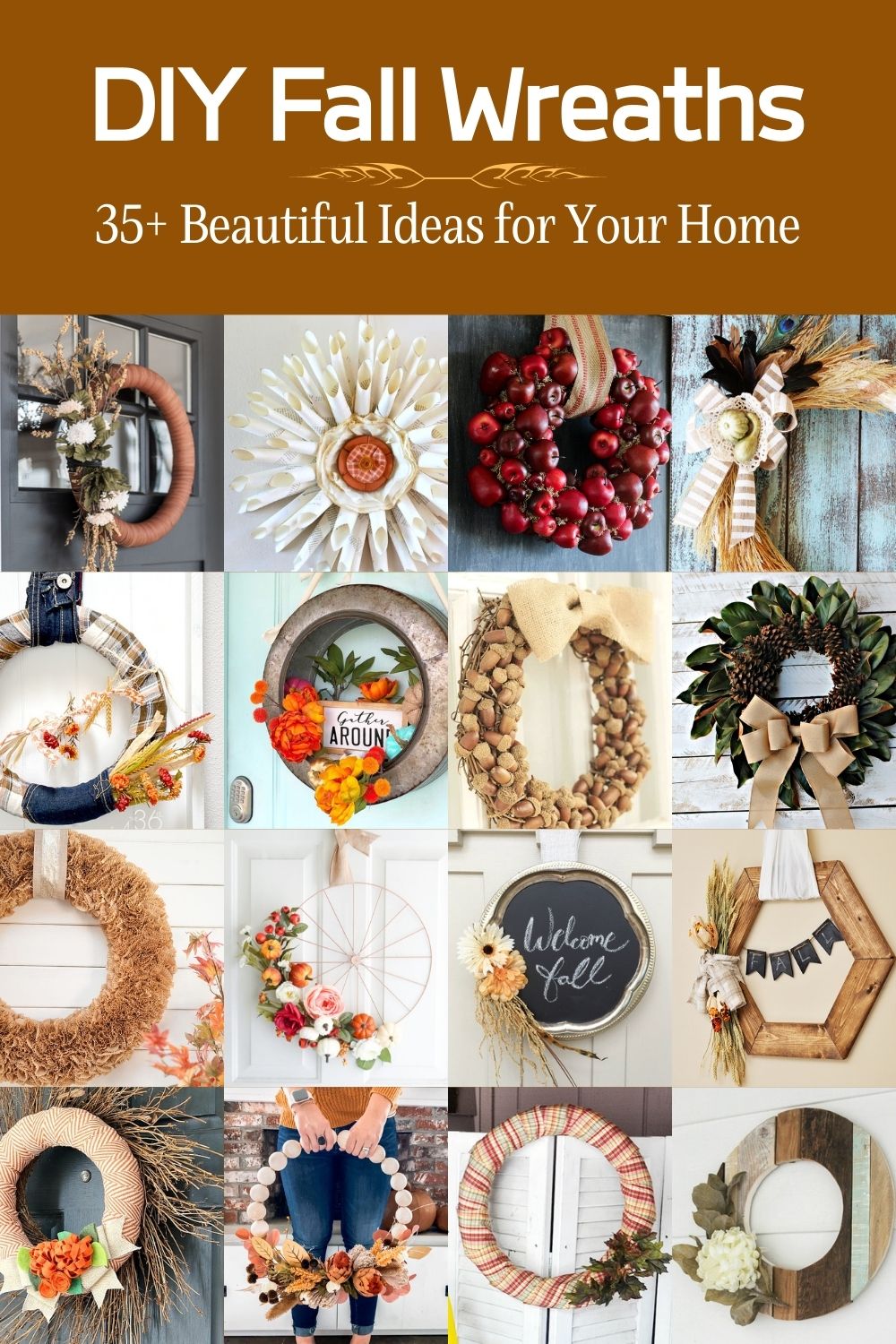 I moved into my house around late August, and was just too overwhelmed to be thinking about fall decorations or autumn wreaths. But the truth is, I'm just a BIG fan of autumn . . . and now that I have an orange door, it's time to think about DIY fall wreaths.
DIY Wreaths
Before we jump into the autumn wreaths, I wanted to give you a few tips and tricks I've learned from making a LOT of wreaths (for various holidays) over the course of time! I'm sharing them because I think they're going to help you, too.
The Easiest Way to Make a Wreath
If you have no idea where to start, some of the best fall wreath ideas I've ever seen are simply a garland from the dollar store wrapped around an extruded wreath form (see below). You can purchase leaf garlands, tack them to one end, and start wrapping.
Of course the autumn wreaths below get a little more involved, but if you get stuck and feel like you can't start, just grab a wreath form and start wrapping. That technique applies to any holiday.
Forms to Use for DIY Fall Wreaths

My favorite wreath forms to use for DIY fall wreaths are:
Wire wreath forms – these are perfect for wrapping garland around, or attaching deco mesh. You can also use them to attach craft picks . . . for example, a bunch of leaves with wire at the end. The nice part about wire is that you can space stuff out and secure it with floral wire right where you want it.
Straw wreath forms – I love a fall wreath form during fall because it goes well with autumn colors and burlap . . . you can hot glue embellishments to it easily, and stick wire picks in it easily as well.
Extruded foam wreath forms – these are made of dense craft foam and are perfect for painting, covering with fabric, or Mod Podging.
In addition, I like making my own wreath forms for my autumn wreaths using . . . . pool noodles! You can stock up on them from the dollar store during the summer and have enough to last you for quite awhile.
Pool Noodle Wreath Form
If you've never made a pool noodle wreath form before, it's really easy. You'll simply cut a pool noodle down to the size you like, and tape together the ends using Duck Tape. What I love about this method: it's inexpensive and you can make a wreath any size you like!
DIY Fall Wreath Ideas
These 35+ DIY fall wreaths will make everyone feel welcome and at home. They range from bright and colorful to muted and textured. You are sure to find some that you love for fall!
---
After you're done enjoying these fall wreath ideas, you'll want to make all the wreaths – so check these out: