This collection of 14 DIY fall wreaths is definitely going to inspire you! Most of these autumn wreaths are inexpensive if you don't have a lot to spend.
Skills Required: Beginner to Intermediate. Most of these fall wreath ideas are very easy and involve basic techniques such as wrapping and painting. A few involve some sewing or have additional steps, but none of these autumn wreaths are hard to make.
I moved into my house around late August, and was just too overwhelmed to be thinking about fall decorations or autumn wreaths. But the truth is, I'm just a BIG fan of autumn . . . and now that I have an orange door, it's time to think about DIY fall wreaths.
DIY Fall Wreaths
Before we jump into the autumn wreaths, I wanted to give you a few tips and tricks I've learned from making a LOT of wreaths (for various holidays) over the course of time! I'm sharing them because I think they're going to help you, too.
The Easiest Way to Make a Fall Wreath
If you have no idea where to start, some of the best fall wreath ideas I've ever seen are simply a garland from the dollar store wrapped around an extruded wreath form (see below). You can purchase leaf garlands, tack them to one end, and start wrapping.
Of course the autumn wreaths below get a little more involved, but if you get stuck and feel like you can't start, just grab a wreath form and start wrapping. That technique applies to any holiday.
Forms to Use for DIY Fall Wreaths

My favorite wreath forms to use for DIY fall wreaths are:
Wire wreath forms – these are perfect for wrapping garland around, or attaching deco mesh. You can also use them to attach craft picks . . . for example, a bunch of leaves with wire at the end. The nice part about wire is that you can space stuff out and secure it with floral wire right where you want it.
Straw wreath forms – I love a fall wreath form during fall because it goes well with autumn colors and burlap . . . you can hot glue embellishments to it easily, and stick wire picks in it easily as well.
Extruded foam wreath forms – these are made of dense craft foam and are perfect for painting, covering with fabric, or Mod Podging.
In addition, I like making my own wreath forms for my autumn wreaths using . . . . pool noodles! You can stock up on them from the dollar store during the summer and have enough to last you for quite awhile.
Pool Noodle Wreath Form
If you've never made a pool noodle wreath form before, it's really easy. You'll simply cut a pool noodle down to the size you like, and tape together the ends using Duck Tape. What I love about this method: it's inexpensive and you can make a wreath any size you like!
DIY Fall Wreath Ideas
Are you ready for the autumn wreaths?? This collection of 14 DIY fall wreaths is definitely going to inspire you – and there are several on a budget, if you don't have a lot of money to spend. A lot use dollar store and natural materials as well. Check out my picks!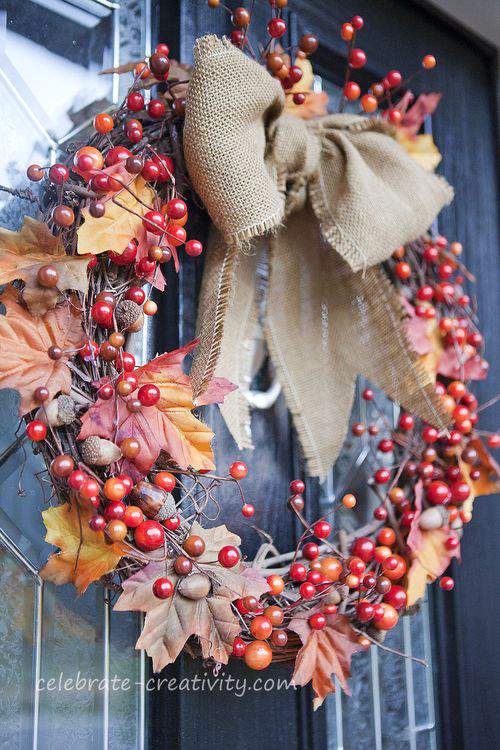 Grapevine is another great surface for DIY fall wreaths! This amazing wreath was put together with simple budget items from the craft store and cost under $20.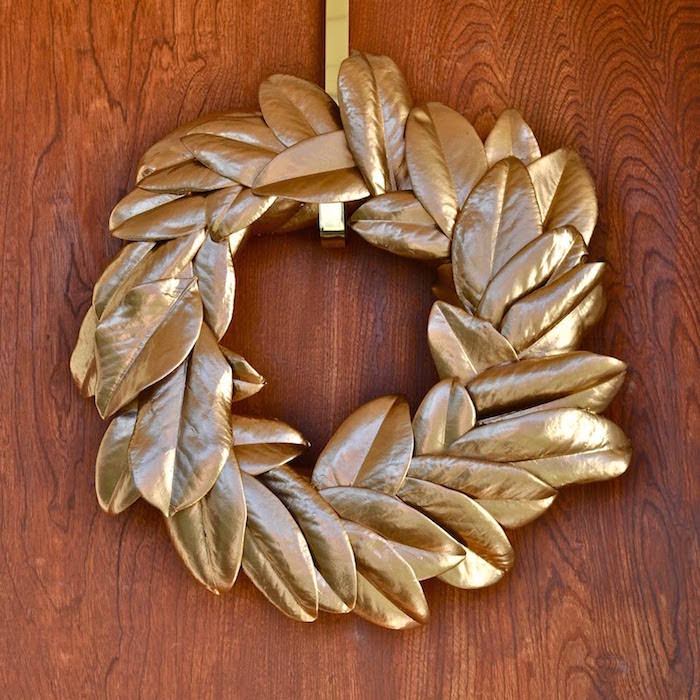 Use spray paint and real (or fake) leaves to make this simple yet beautiful wreath. You know what would look amazing with autumn wreaths that use leaves like this one? Color shift paint!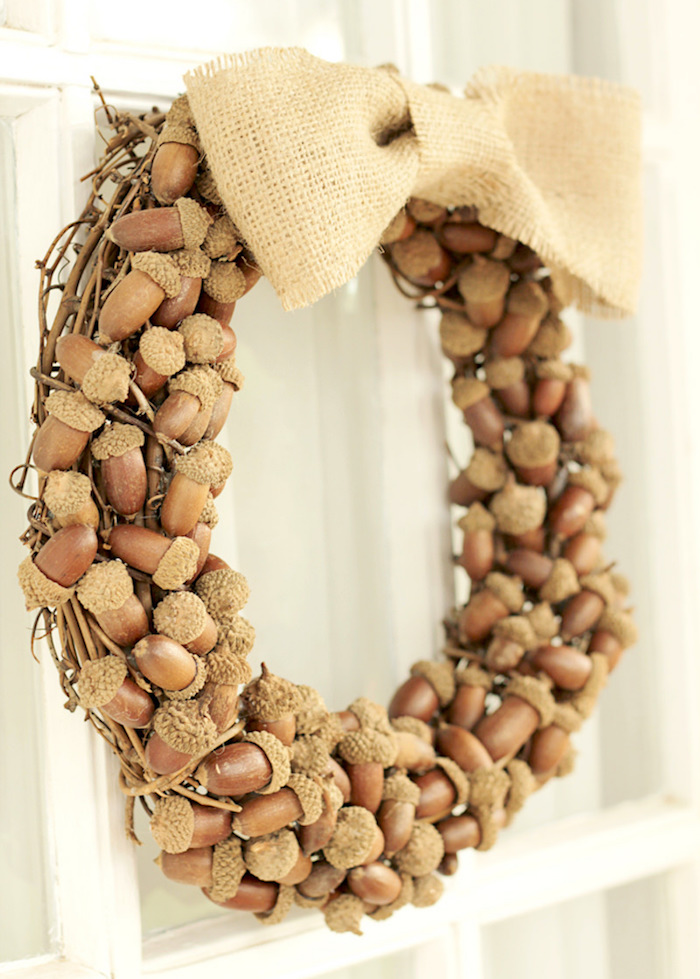 The nice thing about this wreath is that these are faux acorns that look real – so you won't have to spend hours collecting. However, if you do decide to go for real, learn how to dry acorns here.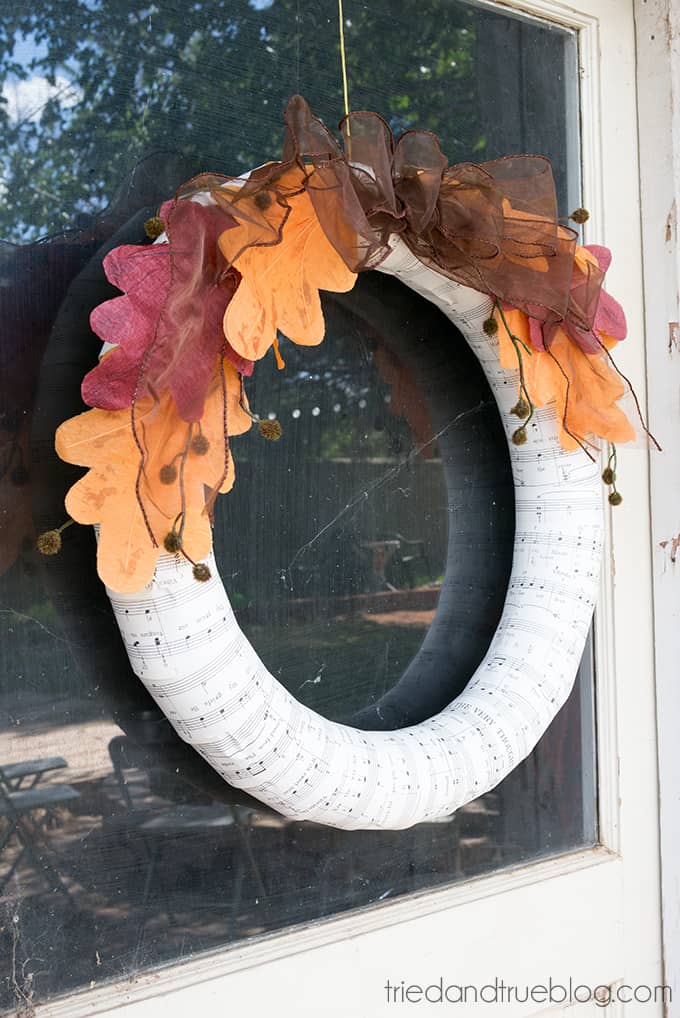 Remember at the beginning of this post when I told you how to make a pool noodle wreath? You can make a ton of these DIY fall wreaths using supplies from the dollar store – oh, and thrifted sheet music (which you can also print off the internet).
This is one of the coolest fall wreath ideas I've ever seen – those leaves are recycled soda cans!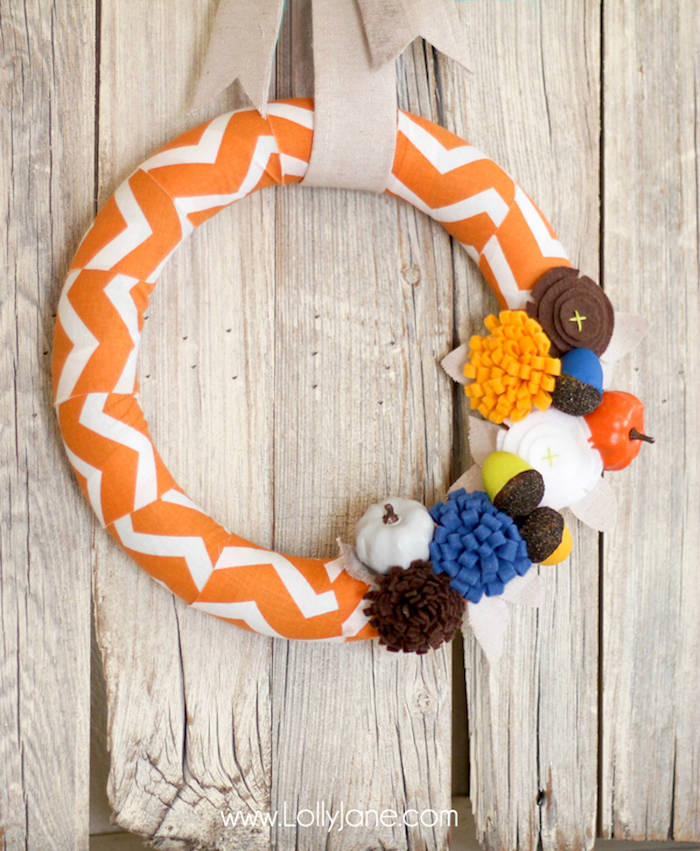 Use bits of felt and fabric with a hot glue gun to make this colorful wreath. I also love that you get to paint the accents the colors of your choice!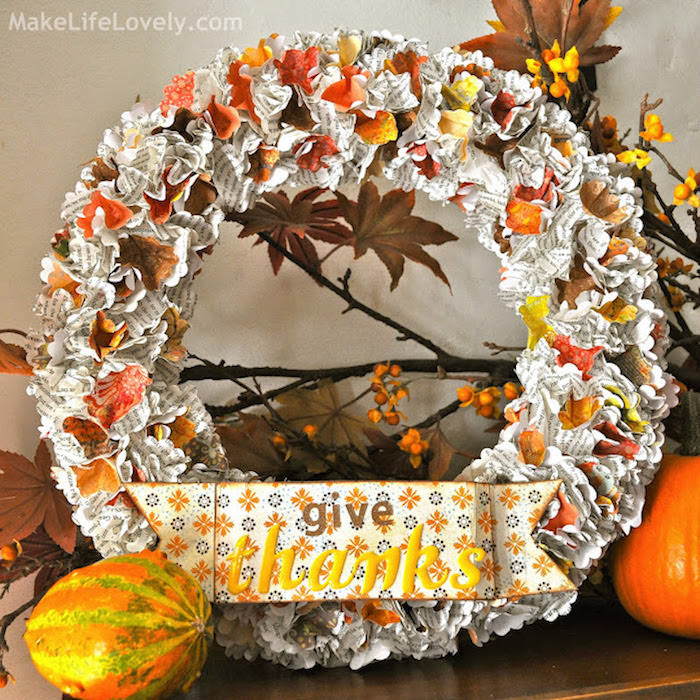 This wreath is perfect for those who are just starting out with crafting – and you can use up those paper scraps. It takes some time to make, but it's really easy!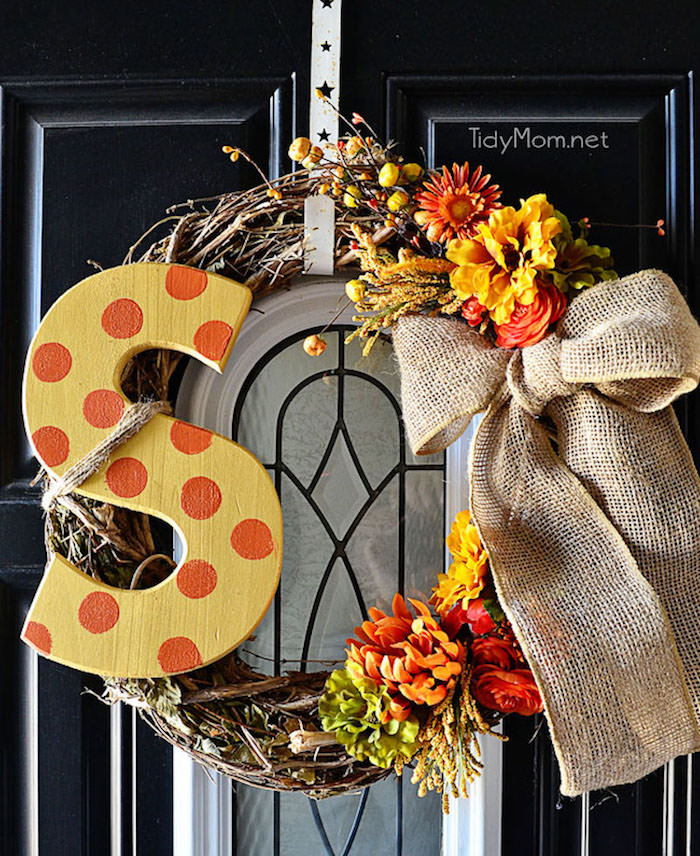 This fall wreath comes together in less than 15 minutes – just grab a painted letter and some assorted fall florals. The rest is just using a glue gun.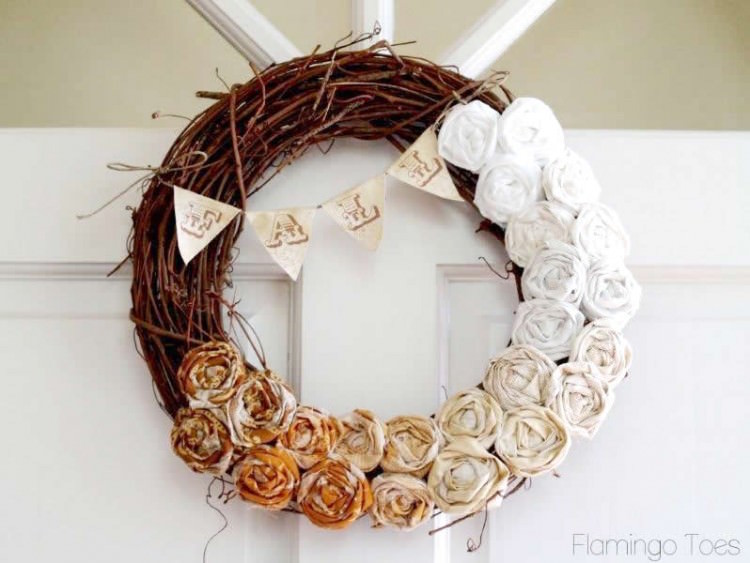 Get stunning results by creating a bunch of ombre rosettes using graduated colors of fabric. If you can tear strips of fabric, you can make this.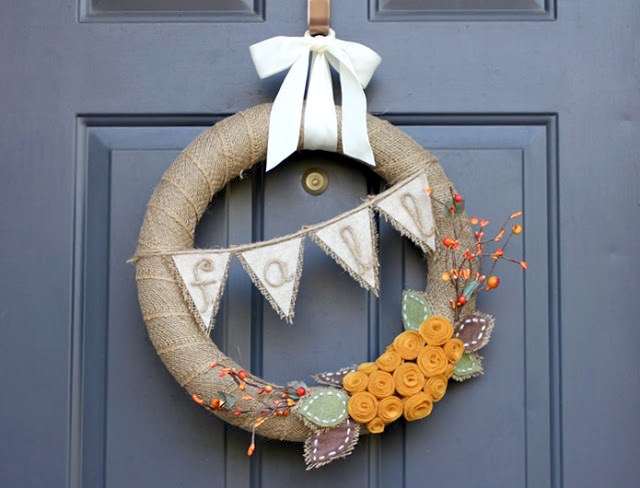 Burlap (which always reminds me of fall) and that cute little bunting make this wreath complete. The bunting was made with little felt pieces and twine.
This is yet another DIY fall wreath made with a pool noodle! This time you'll use fabric strips and a sprig of artificial garland. So easy and inexpensive.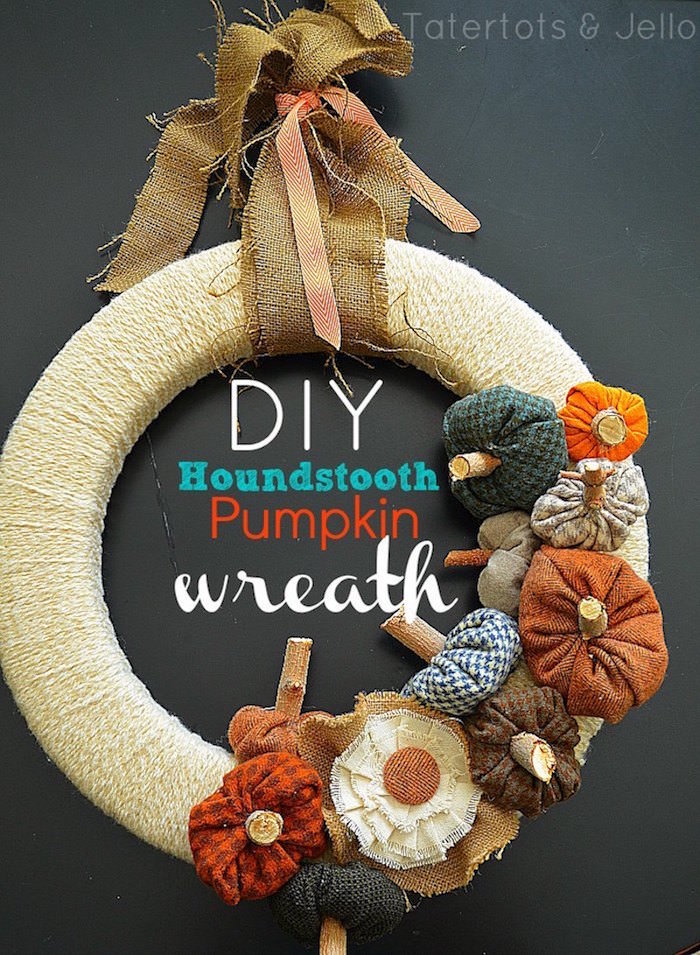 This is another one that goes on my list of favorite fall wreath ideas! This wreath incorporates the cutest houndstooth pumpkins ever, which are easy to make with fabric scraps.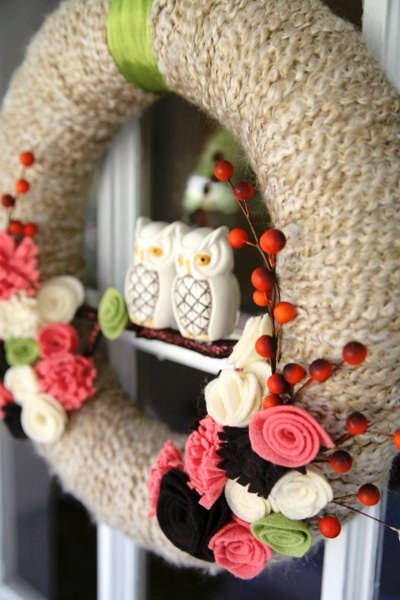 I love the yarn, bright pops of color and teenie owls on this festive wreath. I love that Ashley glittered the branch with Mod Podge to finish it off so nicely.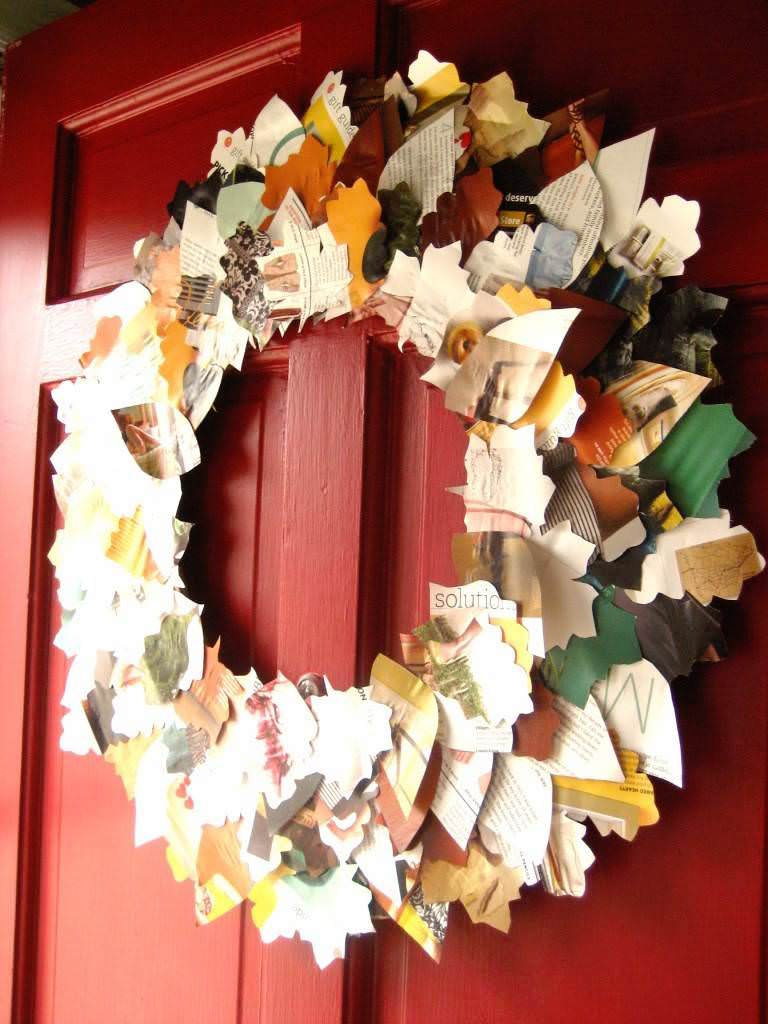 If you want to make a DIY fall wreath with what you already have on hand, this one using magazines is perfect.
---
After you're done enjoying these fall wreath ideas, you'll want to get ready for the next season – so check these out: