You can make a beautiful Christmas wreath in five minutes – no exaggeration! Perfect for someone with no crafting skills to add to their holiday decor.
Scroll down to the bottom of the post to see a video of the process in action! I wanted you to see how easy it was firsthand.
Skills Required: None. You don't need any prior crafting experience to make one of these wreaths. The process will be to wrap a garland and then cut floral wire and twist it. You can do this!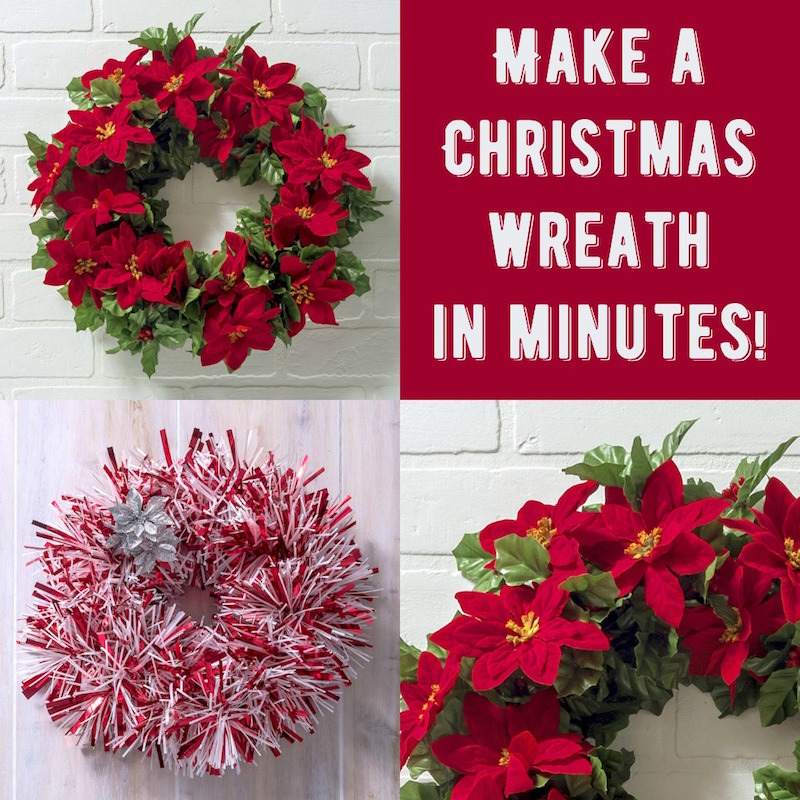 One of my favorite crafts to make for the holidays is a DIY wreath. I find that wreaths are pretty simple to make and always make a big impact. I've tried mesh wreaths, pine cone wreaths, and even a felt scrap wreath.  I love that you can use them anywhere – a front door, an inside wall, or a mantel!
I've seen those big, beautiful wreaths that look like Martha Stewart beamed into someone's home and made it herself (and it took all day). I certainly love those and they are gorgeous. But they can also be intimidating if you've never made a Christmas wreath before.
Since there are a lot of ways to make a homemade wreath, I feel confident that this idea is going to make your holiday season. This is a Christmas wreath that you can make in five minutes. It's simple, but it makes an impact.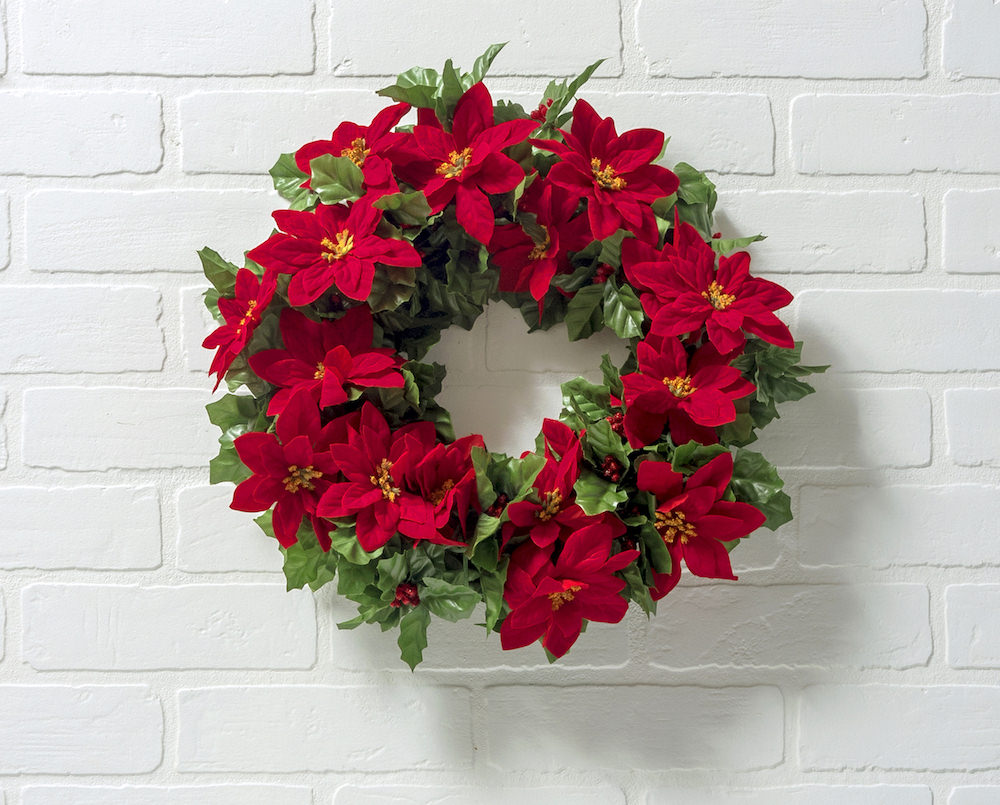 And I'm not exaggerating about the time! It will probably take you even less than five minutes to make once you get the hang of it. Anyone can do it.
That means you can't use the excuse of, "I'm just not crafty." Because the good news is that you don't have to be to make this. No skills are required! You're just going to be wrapping a garland around a wire form. Generally speaking.
Budget Friendly
I purchased the wreath form for $3.69 and the garland for $4. I already had the floral wire, so that brings my total cost to $8-ish. If you go to Dollar Tree, it would be even cheaper. Pretty inexpensive for the results!
This is a great craft to do with friends, because you can buy wire wreath forms in bulk online (and get a great price), plus you can share the floral wire.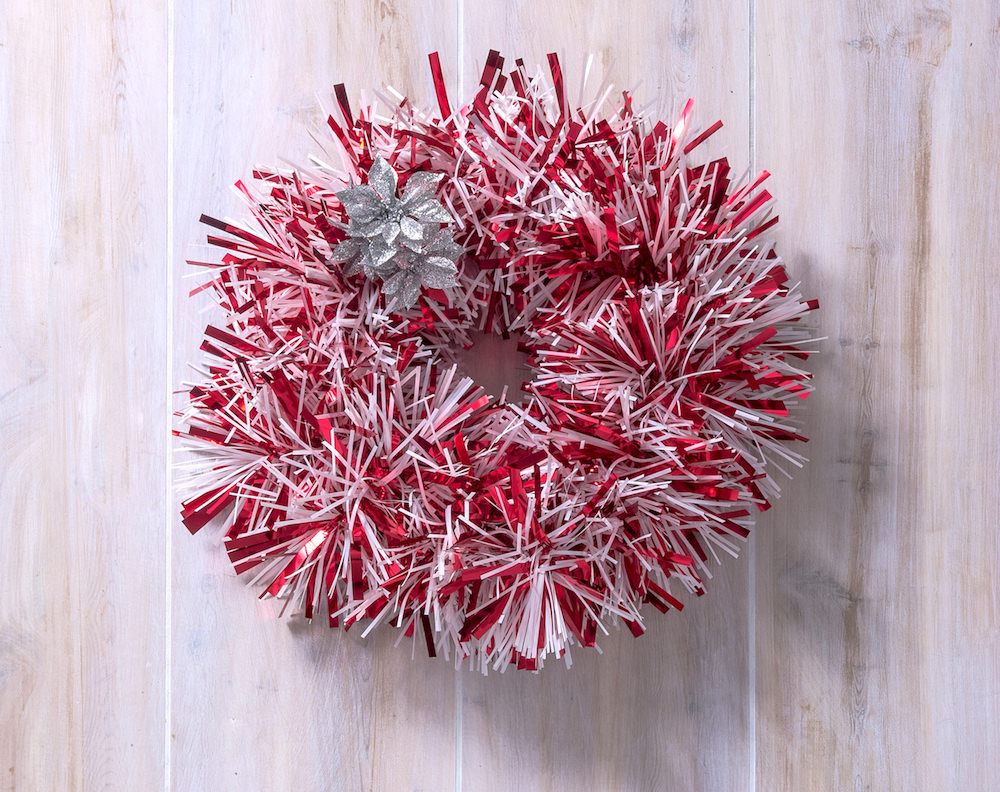 Where to Buy Garland
The question I get most asked about this project is where to purchase garland. I bought mine from Michaels, but I know that Dollar Tree sells garland too (if you are looking for a budget option).
Craft stores will have garland, as well as big box retailers and home improvement centers. Look for sales and coupons on apps, because I don't see the point in paying full price since there is always a sale somewhere on a Christmas garland.
You'll want at least 12 feet of garland (which is what I used) for a 10 – 12 inch wreath form. I also recommend that the garland be quite full so that your wreath doesn't look wimpy. The type of garland you get is up to you. I did a more traditional look with poinsettias and then a "blingy" wreath with sparkly garland for this project.
Can I Use a Pre-lit Garland?
Of course! It may take a little longer to wrap since you'll need to make sure that the cord is in a specific place so you can access it. I suggest using a piece of tape during the wrapping process so that it doesn't slide around.
Are you ready to dive into the homemade wreaths? Keep reading!
How to Make a Christmas Wreath from Scratch
Gather These Supplies
Wire wreath form – mine is 12″
Christmas garland of your choice
Floral wire
Wire cutters
Faux flowers or accents (optional)
Expert tip: save the twist ties from your bread bags – use those in place of the floral wire and wire cutters to attach your garland.
Instructions:
1. Flip your wreath form over to the back side and place your garland below it.
2. Cut a piece of floral wire about six inches long with your wire cutters.
3. Attach one end of the Christmas garland to your wreath form and twist the wire around to secure.
4. Wrap your garland several times around the wreath form until it's fully covered.
5. Cut another piece of wire and secure the other end. Fluff the garland to completely cover the wreath form.
6. Add faux flowers if you desire – this is completely optional.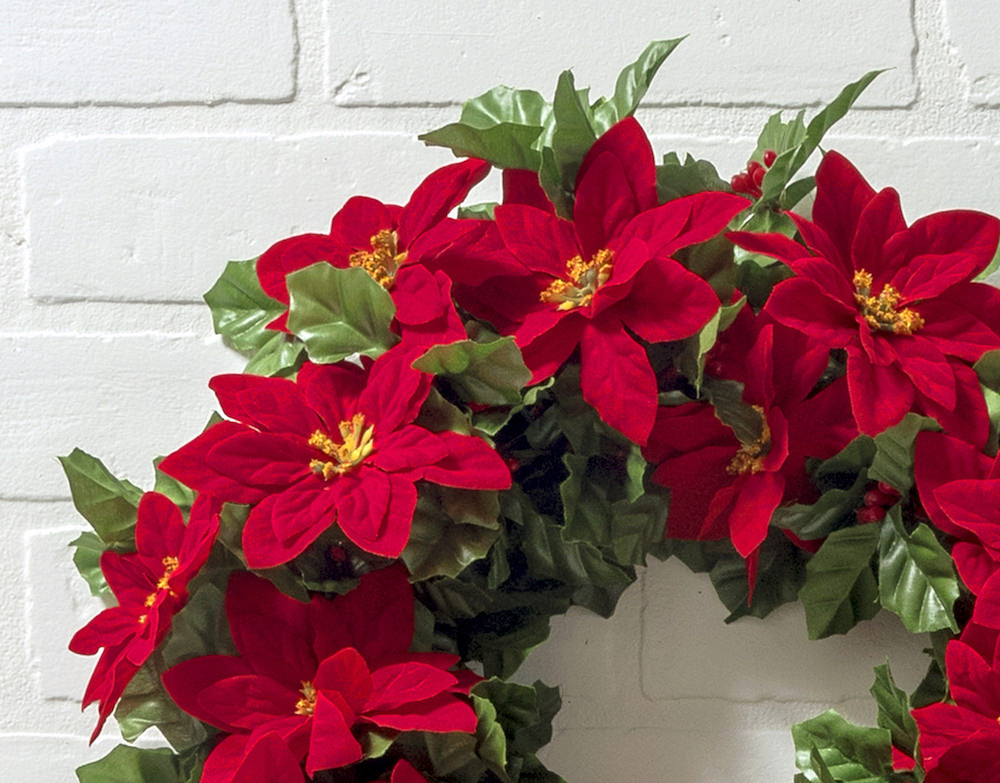 To see a demonstration of how this wreath is made, check out the video below! Just press "PLAY" in the center of the video:
In addition to the "blingy" version featured in the video, I made a second version featuring a more traditional garland with poinsettias. I feel like that version would be perfect with farmhouse or rustic decor.
Having said that, there's no limit to the number or type of Christmas wreaths you can make! Or what you can add to embellish the wreath. Check out the details of these faux flowers: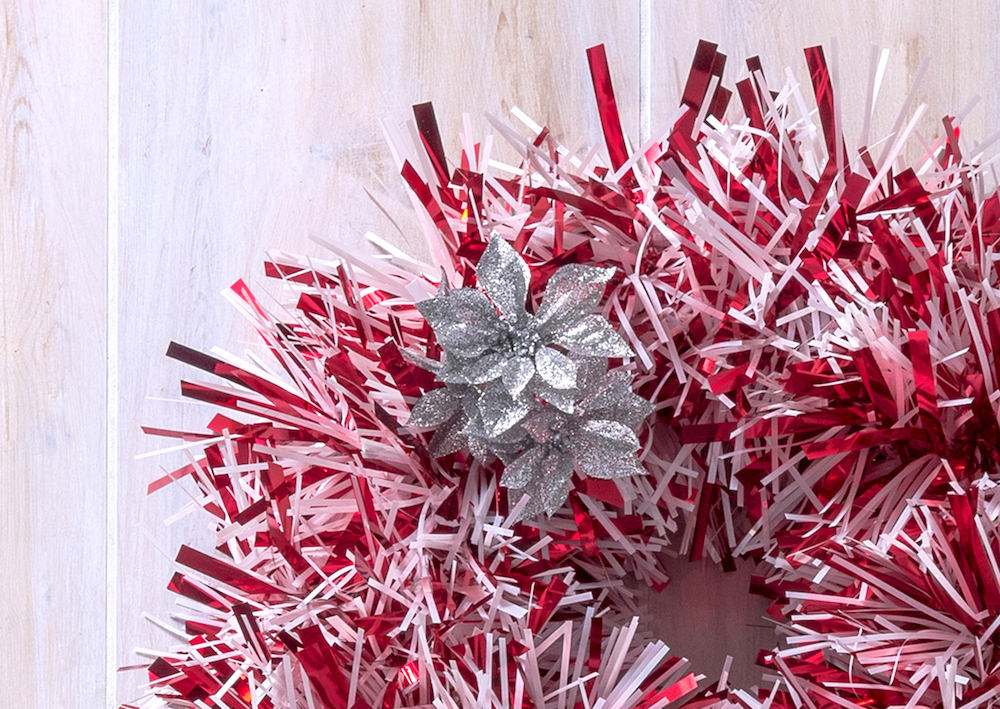 A homemade Christmas wreath is so easy to make; you'll want to create a bunch to decorate your entire home!
Let me know if you try this DIY wreath project in the comments!