These pumpkin carving ideas are unlike anything you've ever seen. Get inspired to go big this Halloween with these amazing pumpkin carvings!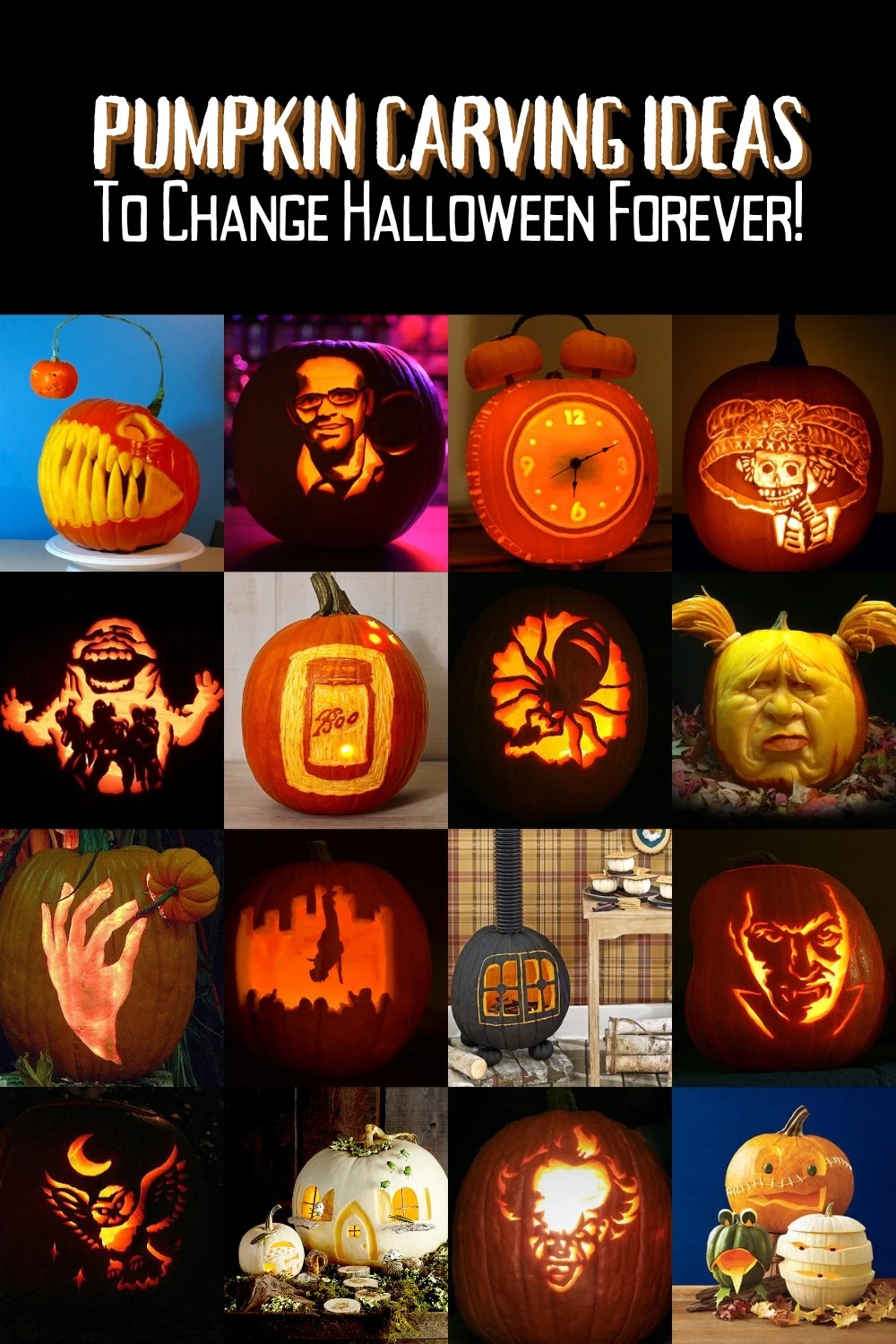 If there's one tradition we participated in every single year when I was little, it was pumpkin carving. I have four brothers, and let's face it – they loved getting their hands dirty! I didn't love the smell, but I always loved the finished result . . . I just can't resist a carved pumpkin with an amazing design.
A standard jack-o-lantern was the best I ever did, but now that I'm older I'd like to try something a little more detailed and impressive. If you want to be inspired too, I've put together a collection of 16 amazing pumpkin carvings.
Cool Pumpkin Carving Ideas
Before we dive into the pumpkin carvings, I want to give you some important pumpkin carving tips that might help you. These are things I've learned over my years of carving pumpkins, and I think they might help you too (and of course, leave your tips in the comments!).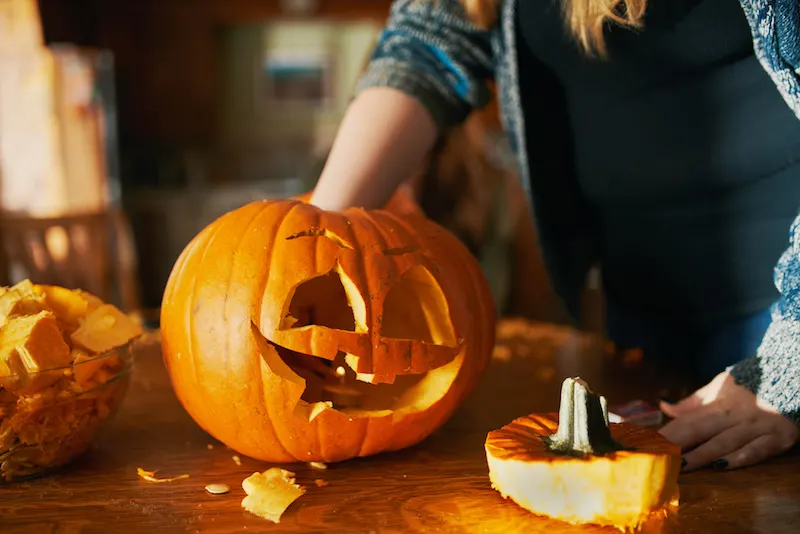 Tips for Pumpkin Carving
Pick a pumpkin with the right shape. The most important things to note are that the bottom is flat (for no rolling), there are no bruises, and the stem is sturdy so it doesn't break off.
Cut the lid at an angle or cut through the back. You probably already know this one, but if you cut straight up and down, the lid is probably going to go straight down in (especially as it dries). Also consider cutting the pumpkin from the back. This maintains the structural integrity of the pumpkin a bit better, especially as you are carving.
Just buy a pumpkin scoop. If you plan to carve pumpkins every year, invest in a special scoop. Using a regular spoon is a pain and ice cream scoops are bulky (at least mine is). The pumpkin scoop is specially designed to be lightweight and it works really well.
Get intricate with special tools. The really detailed pumpkin carvings – like the ones you see below – use special tools. The kits in the link offer sculpting tools, loop tools, scrapers, and saws of different sizes.
Start easy and work your way up. Don't try to carve something too detailed out of the gate. I recommend searching for free pumpkin stencils online or purchasing a book. I like the stencils of medium difficulty.
Work quickly once you start carving. If you carve something detailed, spritz the pumpkin with water as you work to keep it workable. This is what the professionals do when they are carving for several hours.
Don't throw away scraps. You can use these for various 3-D elements on the outside of the pumpkin – hair bows, hands, tongues, and more!
Keep your pumpkin cool. Use LED lights and put it in a cool area each night (if you can). Exposing a pumpkin to warmth you can cause it to spoil more quickly. That would be a shame after spending so much time carving.
Amazing Pumpkin Carvings
Are you ready for the pumpkin carving ideas? These are so unique that they are sure to blow your mind. Which one will you try this year? Scroll down to see the pumpkin carvings, then let me know!
Pumpkin Carving Ideas
These pumpkin carving ideas are unlike anything you've ever seen. Get inspired to go big this Halloween with these amazing pumpkin carvings!
---
Are you ready to jump into some of these pumpkin ideas? You're going to need some carving tips – I'd love it if you'd check out my video below:
Thinking about carving a pumpkin and just don't want to get messy? Here are fun ways to decorate a pumpkin! I'd also love for you to check out these other ideas: