Discover the magic of dragon perler beads! Dive into twenty designs and patterns that will bring these mythical creatures to life.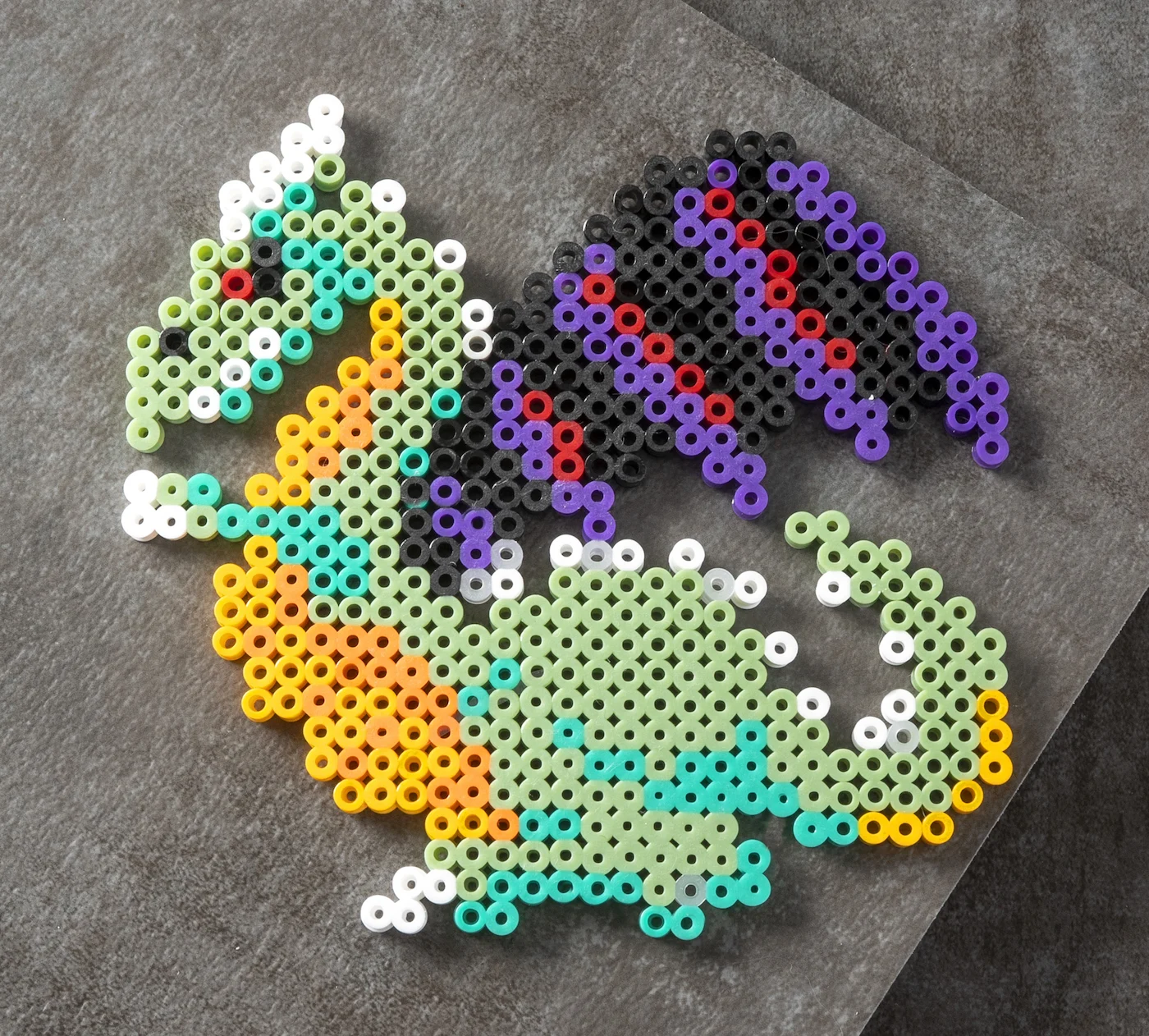 My first interaction with dragons was in 1984 with the movie "The Neverending Story." If you've ever seen this movie, then you're well aware of Falkor the white luckdragon. Like me, he's probably one of your favorite characters!
He's wise, optimistic, friendly, and all of the things you'd want in a dragon mentor. He never gives up, never loses hope. Who better to have an adventure with?
"Never give up and good luck will find you."

Falkor, The Neverending Story
Dragons are also featured in one of my favorite books of all time, The Hobbit. Smaug the dragon on top of the treasure of Erebor which caused his underbelly to be crusted with gems and fragments of gold.
And who doesn't like a blinged out dragon? What's better than a regular dragon, I say? One covered in drip, of course!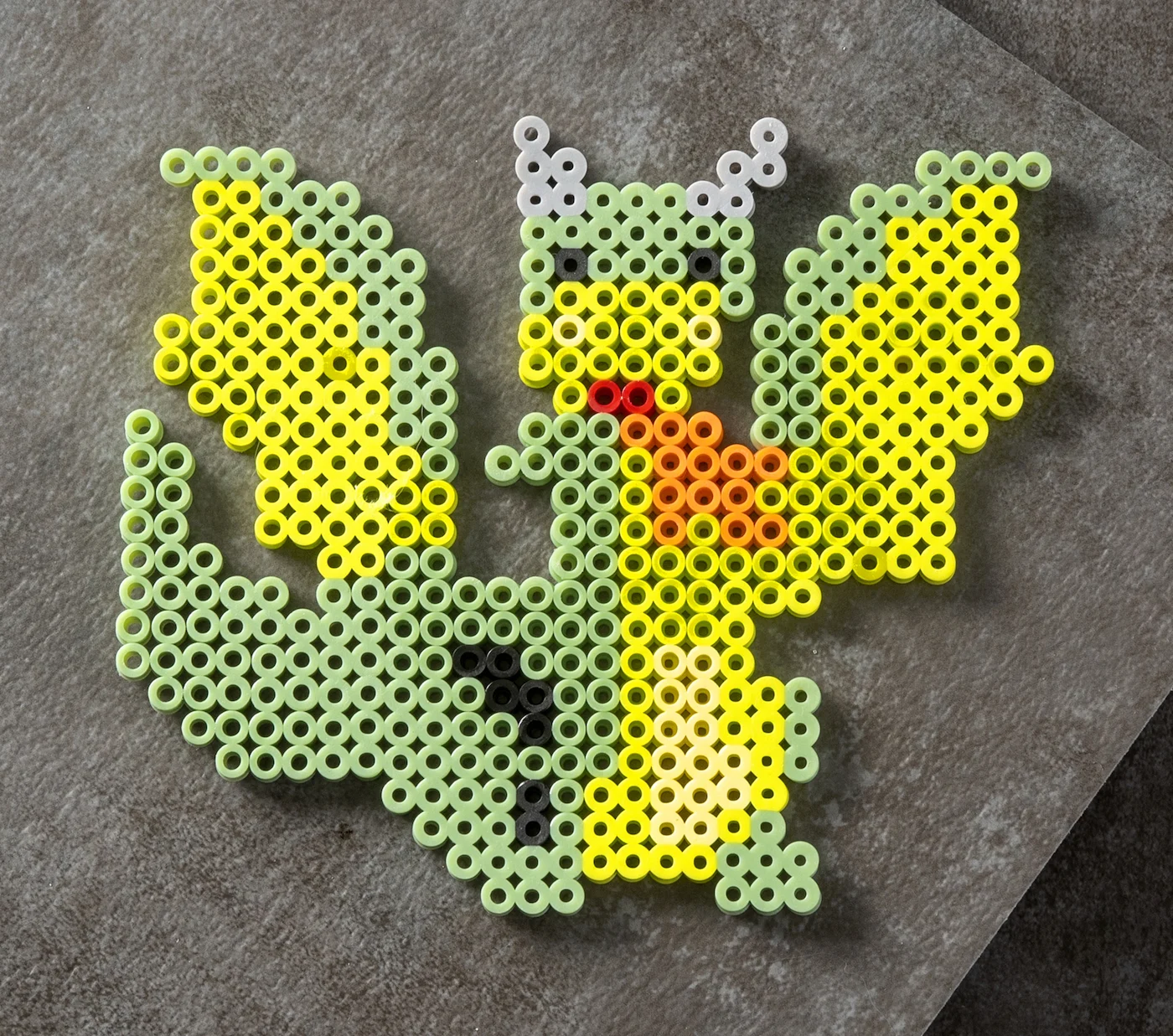 If you're here that means you probably like dragons too, and you're ready to check out these dragon perler beads. As well as the 20+ patterns I've got for you today!
You might be looking for a small and cute dragon, or maybe something large and fire breathing. Either way, I've got you covered. There are patterns in this collection ranging from very simple to requiring multiple boards.
Plus if there's a pattern you'd like for us to make, just let me know in the comments! My niece and I love making new creations all the time.
Perler beads are recommended for ages six and up, so this is a very fun craft to try with your elementary age kids. If you're ready to use perler beads (also known as hama beads, fuse beads, or melty beads), you're going to love this collection of patterns.
And let's be honest – the adults are going to love these patterns too. If you've never tried perler beads, they're so fun and relaxing. And they're much less messy than paint, for example.
Tips for Using Perler Beads
Before we get into the patterns, I want to review a few basics of using fuse beads to make sure you get the best results. If you don't want the tips, scroll down to the bottom to get the dragon hama beads.
Remember that the overall goal is to melt the beads together on both sides while still leaving the holes open. Here's how you get the best results (with Baby Yoda as an example).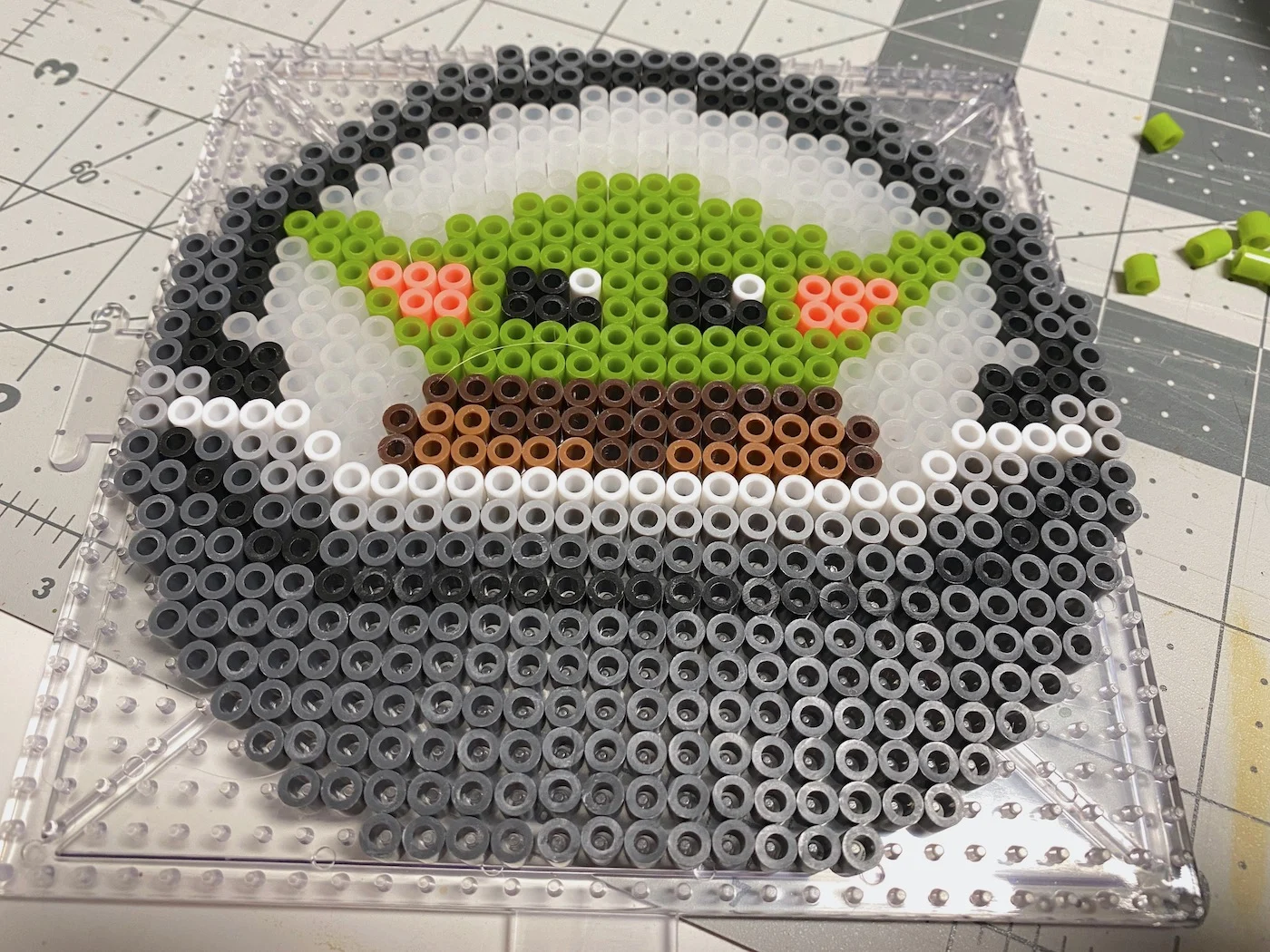 Use Ironing or Parchment Paper
Place ironing paper or parchment paper over the beads on the pegboard. Be gentle so you don't disturb the beads underneath.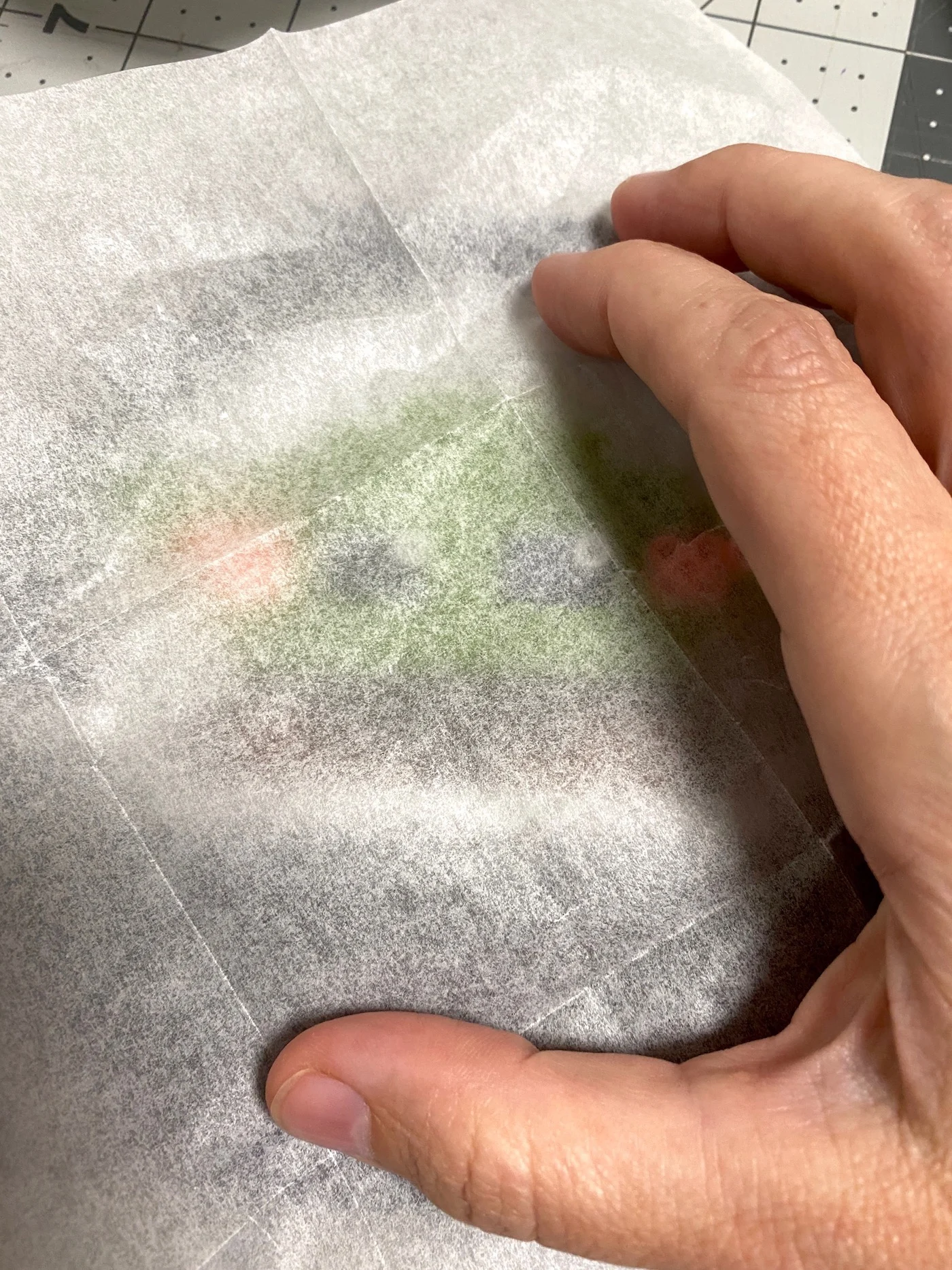 Heat your iron to the medium setting (no steam). In a circular motion, begin to iron the project. Don't press down too hard with the iron. When ironed properly, the beads will still have an open center. Check and make sure your edges are melted. Let the design cool on the pegboard.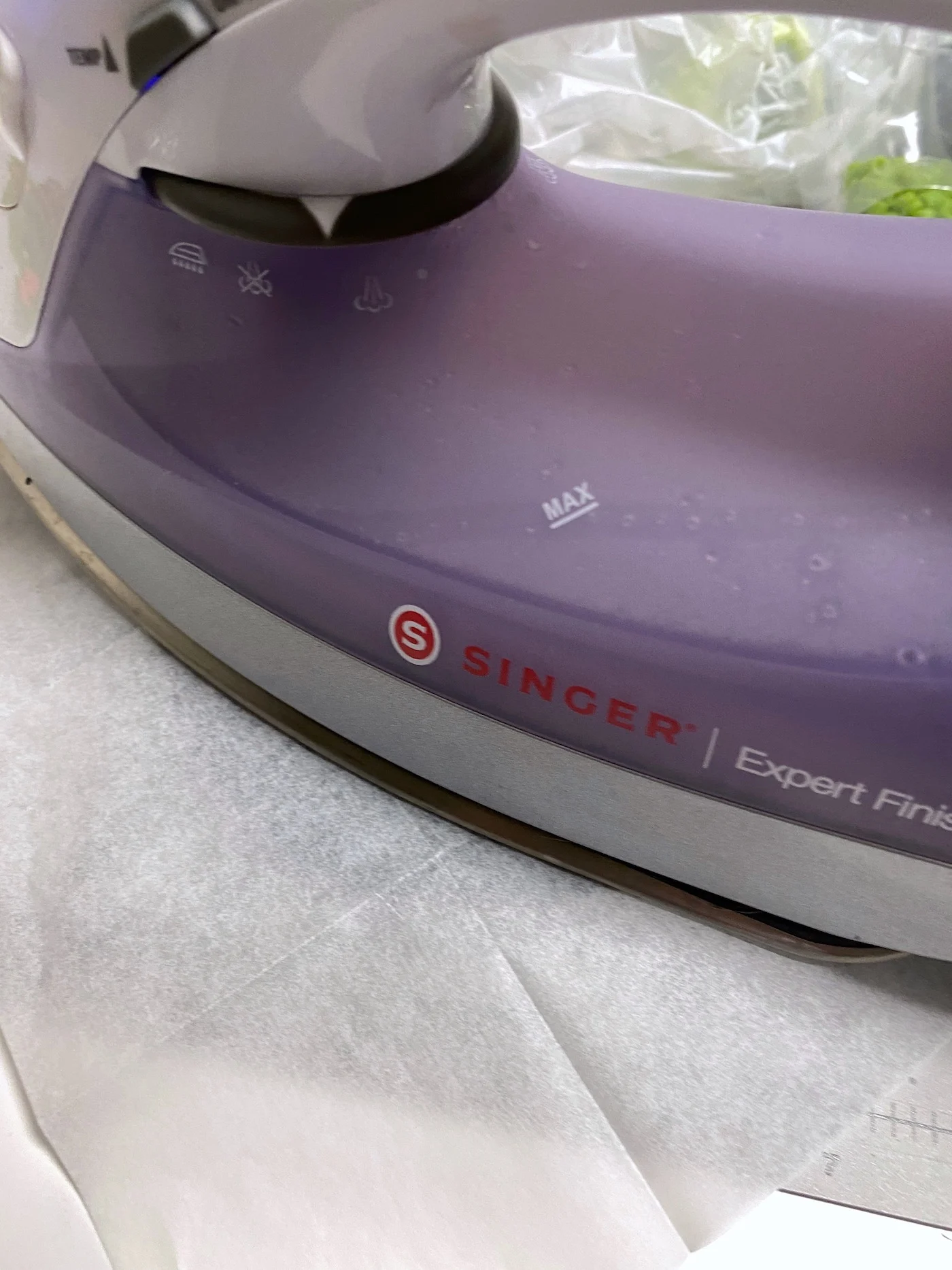 Note: BE CAREFUL about lifting up the paper while you're ironing! If you want to check, carefully peel back paper around the edge of your design and see if all the beads are melted.
If you lift the paper up quickly and there are a lot of unmelted beads, they will easily fall off or go flying and you may be forced to start over. Sometimes the edges need more time so when you check, just check the edges and peel paper back slowly.
Another Note: some beads melt faster than others (clear melts faster than white, for example). So some holes might be larger than others. It's okay! That's part of the look of the project.
Iron the Other Side
Remove the bead design from the pegboard. Flip it over to the non-melted side and repeat the fusing process.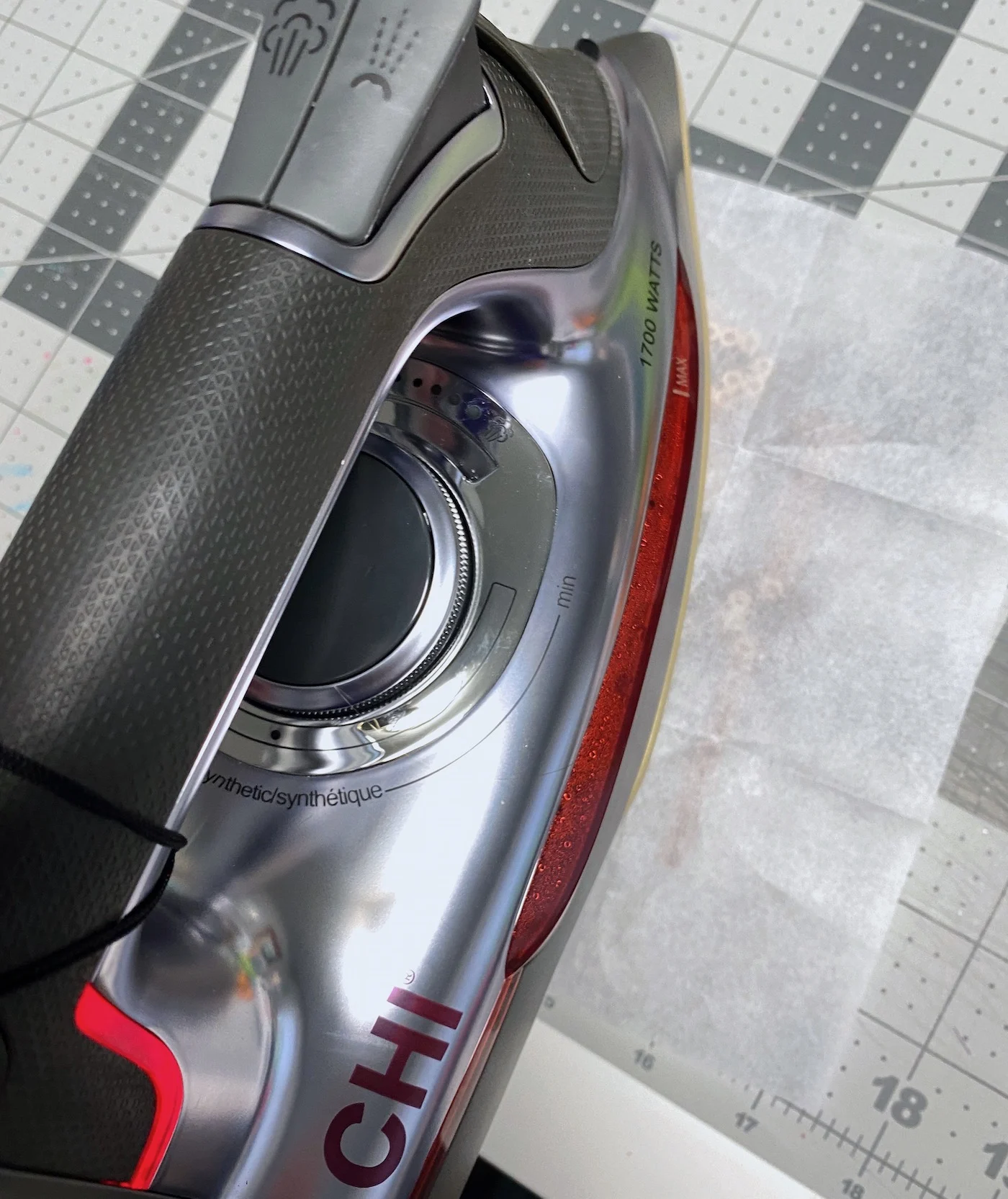 Remove the Paper
Let cool completely and remove the paper again (which is reusable). Some people pull the paper off after they iron the first side, but I just wait until the end and peel off both pieces. It's up to you!
---
Dragon Hama Beads
Make sure to check out these notes:
A few of these patterns are larger than a 29 x 29 pegboard, so you'll either need a extra large pegboard (49 x 69 tall) or to put multiple square peg boards together to form a larger "canvas."
Some of these patterns also use either star pegboards or hexagon pegboards, which you'll definitely want in your arsenal just generally speaking.
You'll see a couple of the pattern backgrounds below aren't white – that's simply to give contrast so you can see where all the white beads should go. You don't need to add the background (but you can if you want to).
Let's jump in!
Small Flying Dragon
This pattern uses 7 white, 68 dark green, 33 sherbert, and 3 black beads.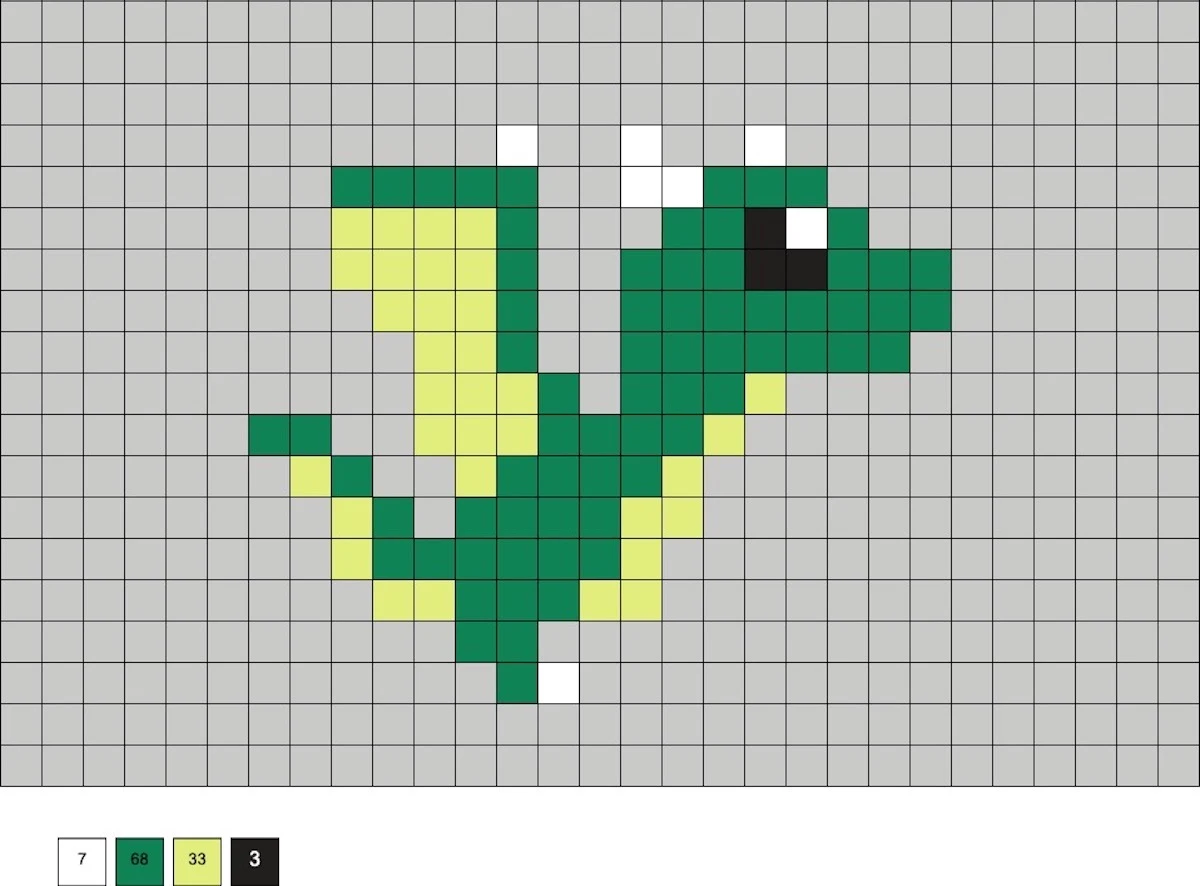 ---
Breathing Fire One
This pattern uses 35 sour apple, 122 bright green, 1 black, and 18 orange beads.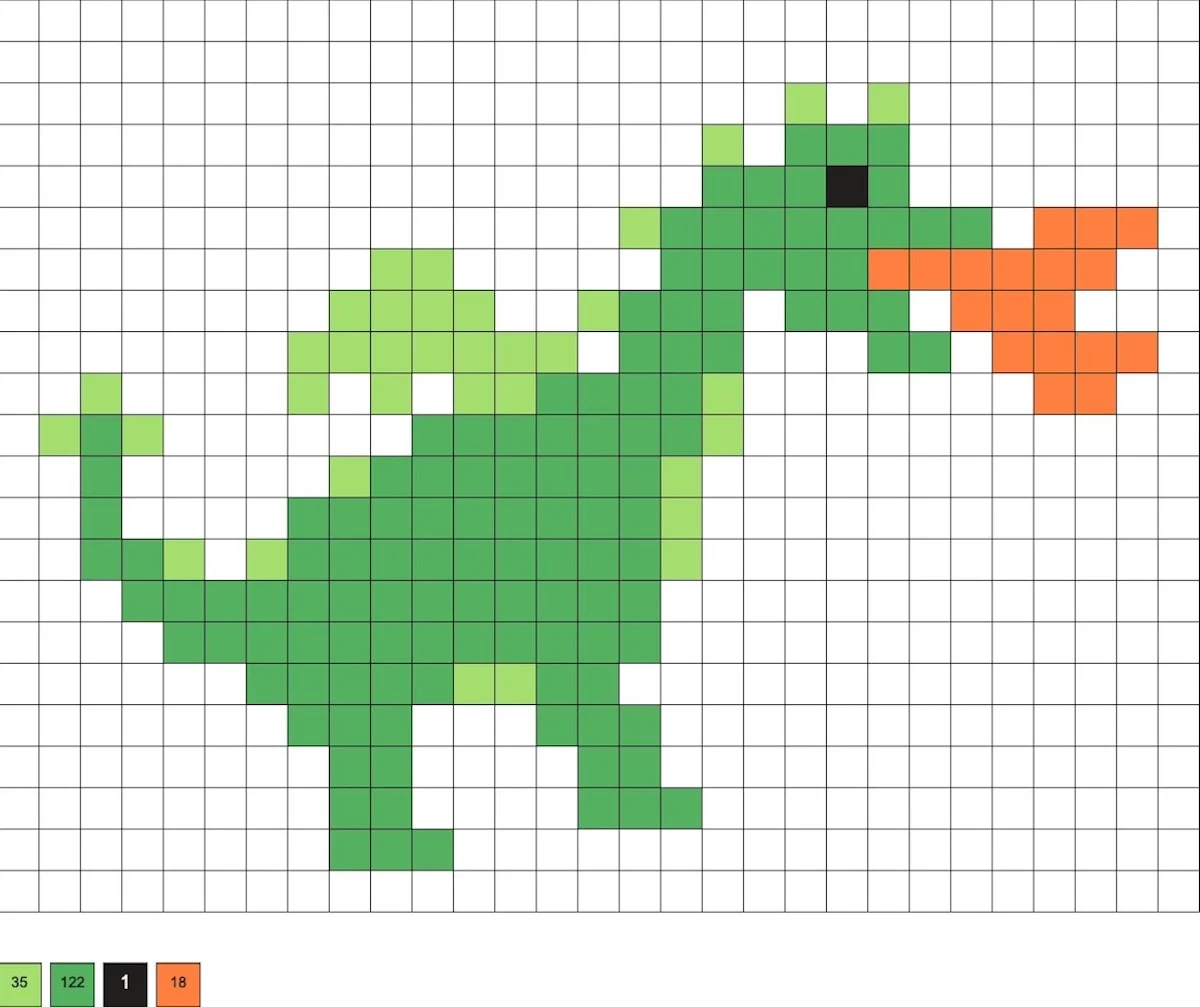 ---
Breathing Fire Two
This pattern uses 10 light gray, 202 bright green, 178 sour apple, 9 black, 16 pastel yellow, 2 red, and 13 orange beads.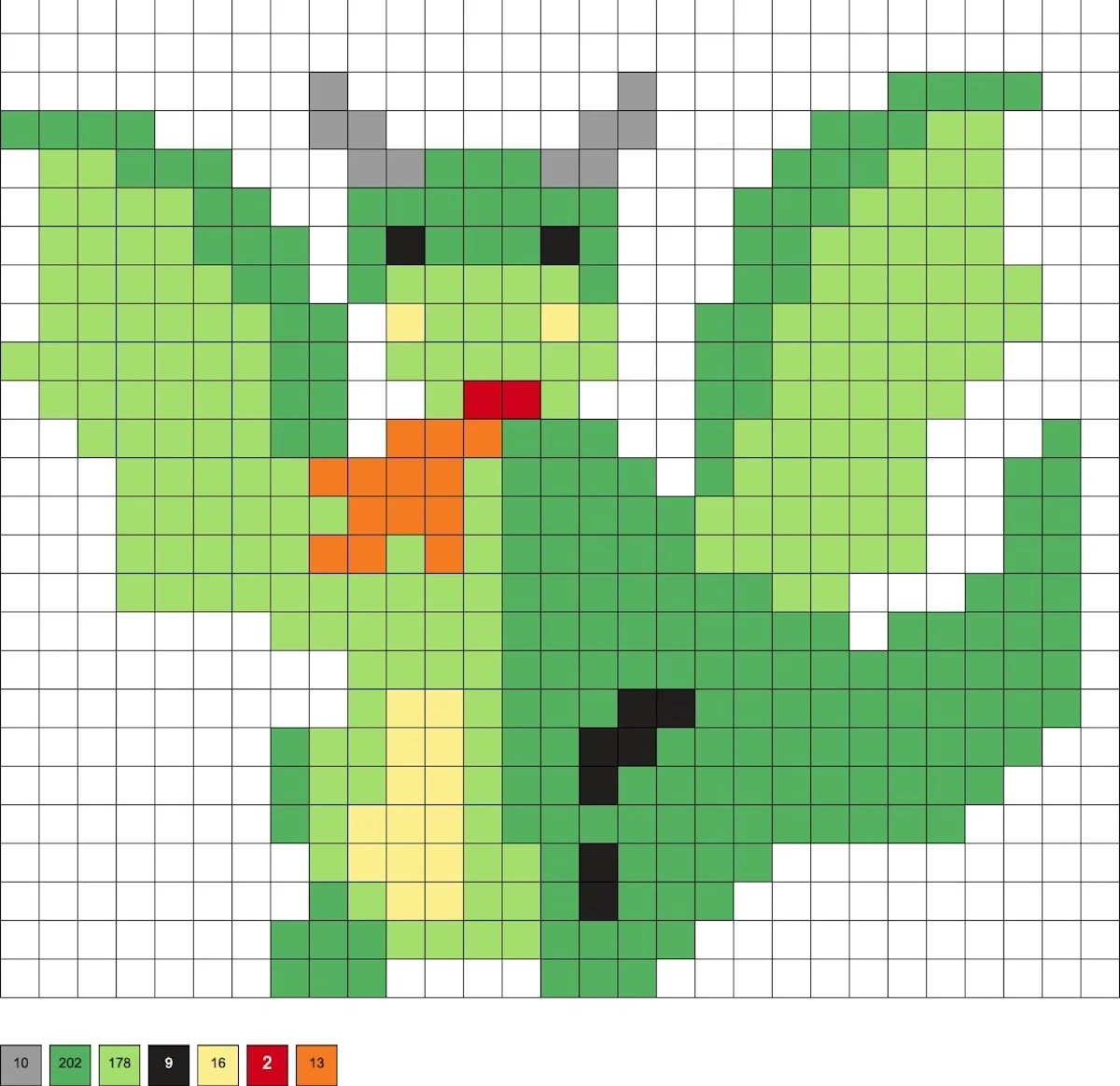 ---
Dragon Head
This pattern uses 18 toasted marshmallow, 120 dark green, 42 tomato, 28 orange, 31 kiwi lime, and 8 black beads.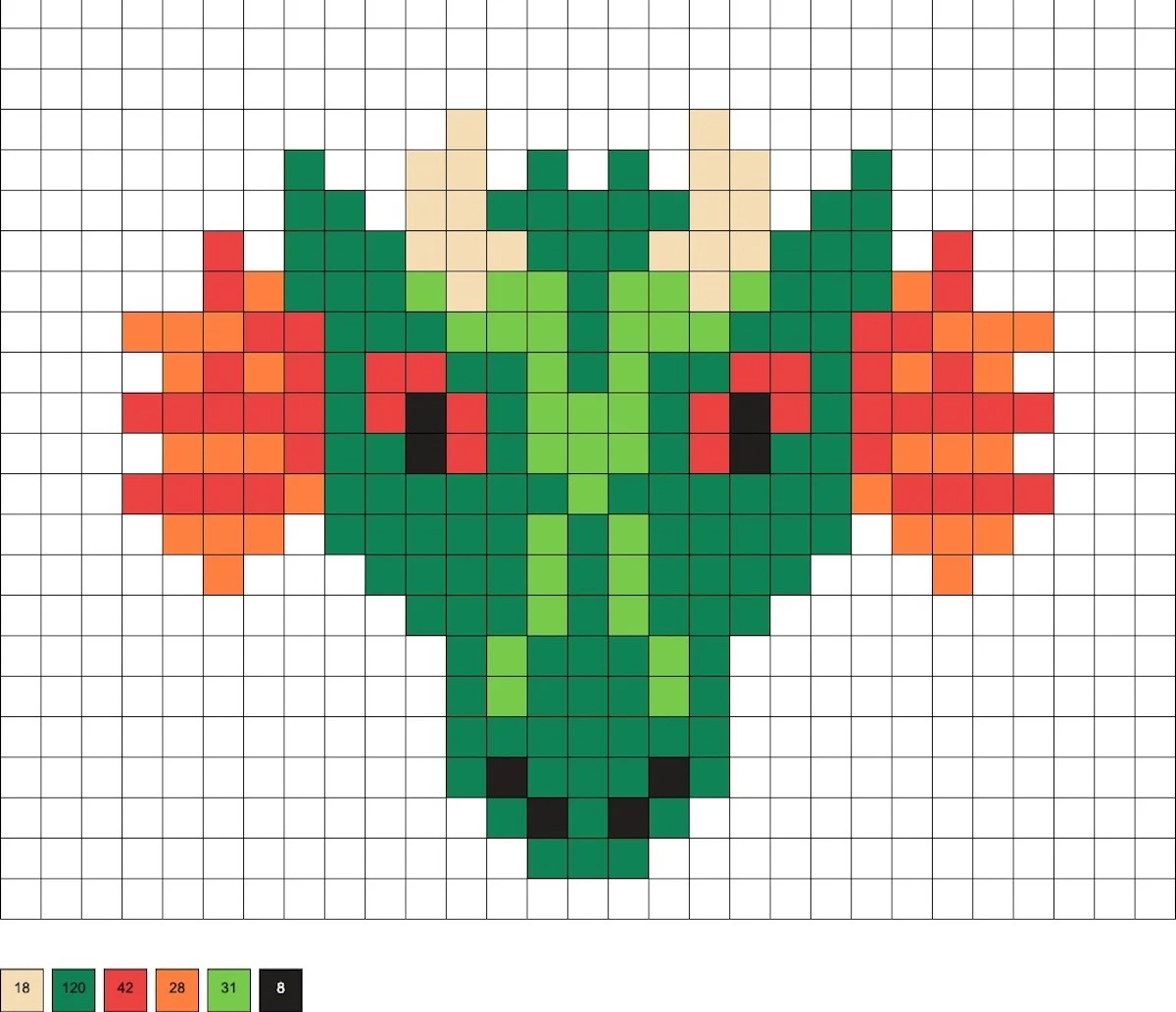 ---
Dragons with a Heart
This pattern uses 83 black, 81 dark green, 35 purple, 35 pastel green, 1 orange, 1 sherbert, and 27 red beads.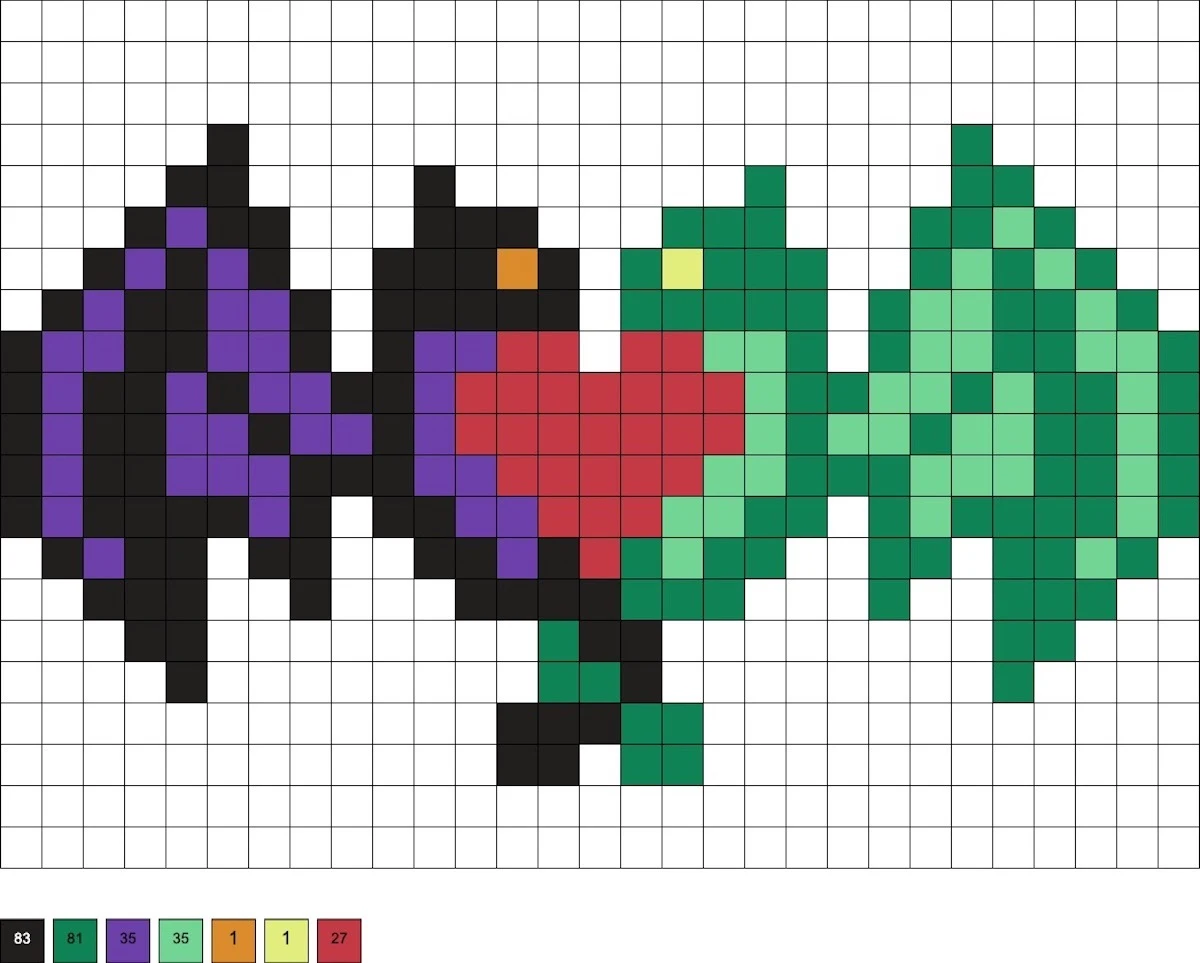 ---
Night Fury Head
This pattern uses 247 black, 22 fern, 2 white, 2 robin's egg, 15 hot coral, and 3 flamingo beads.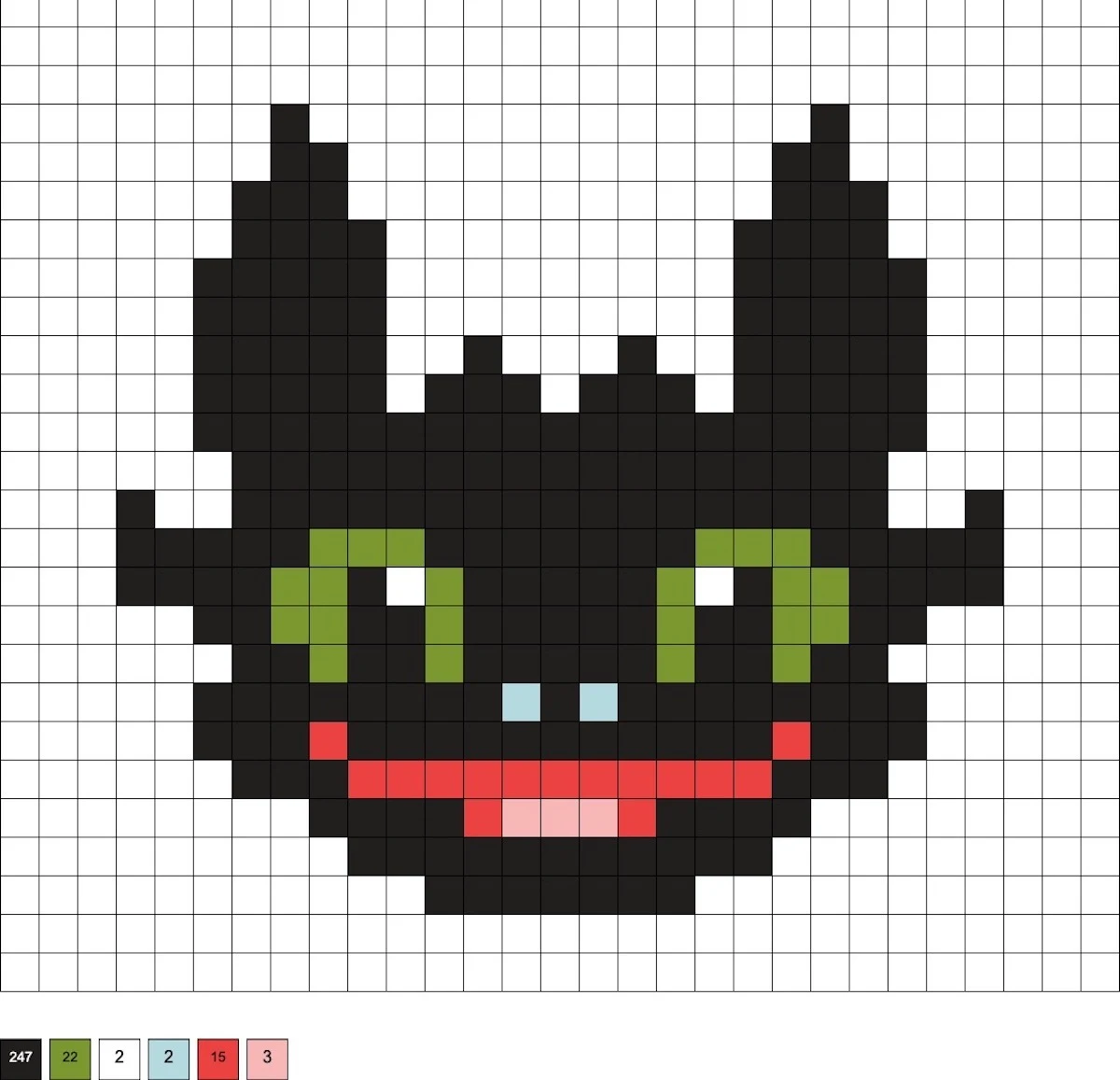 ---
Taking Flight
The dragon on the left uses a large hexagon board; the dragon on the right uses a small star board.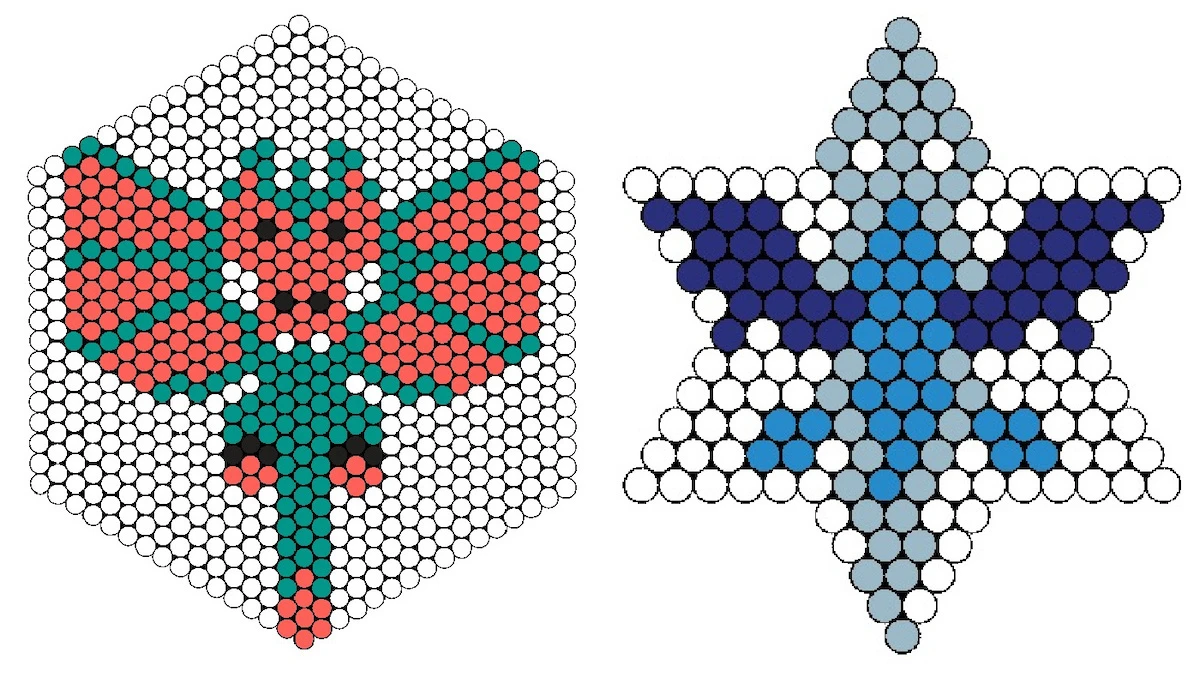 ---
Cute Green Dragon
This pattern uses 217 shamrock, 117 pastel green, 147 kiwi lime, 2 white, 6 black, and 4 blush beads.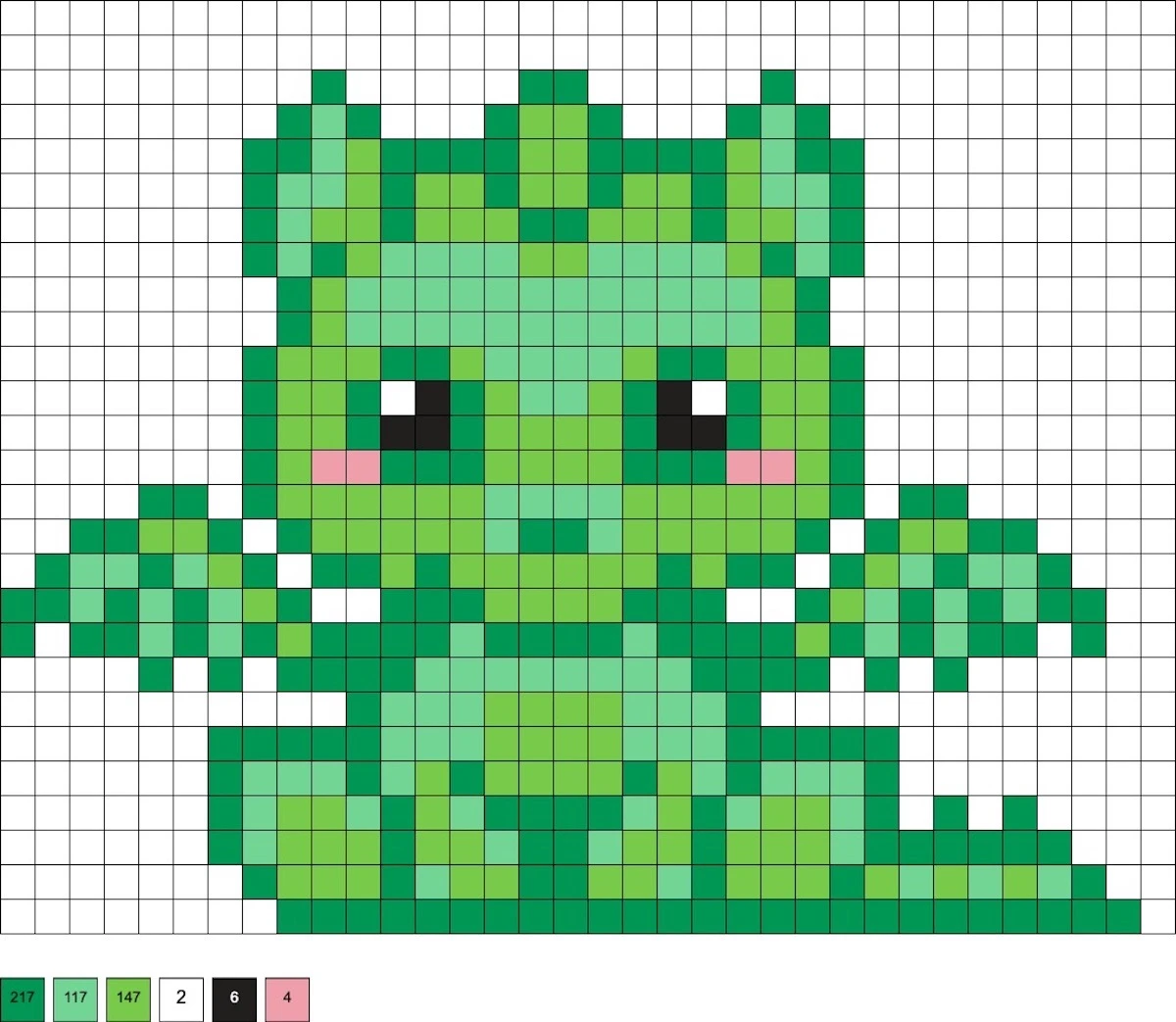 ---
Happy Blue Dragon
This pattern uses 147 midnight, 17 robin's egg, 48 pastel blue, 212 cobalt, 94 dark blue, 67 mist, and 29 sky beads.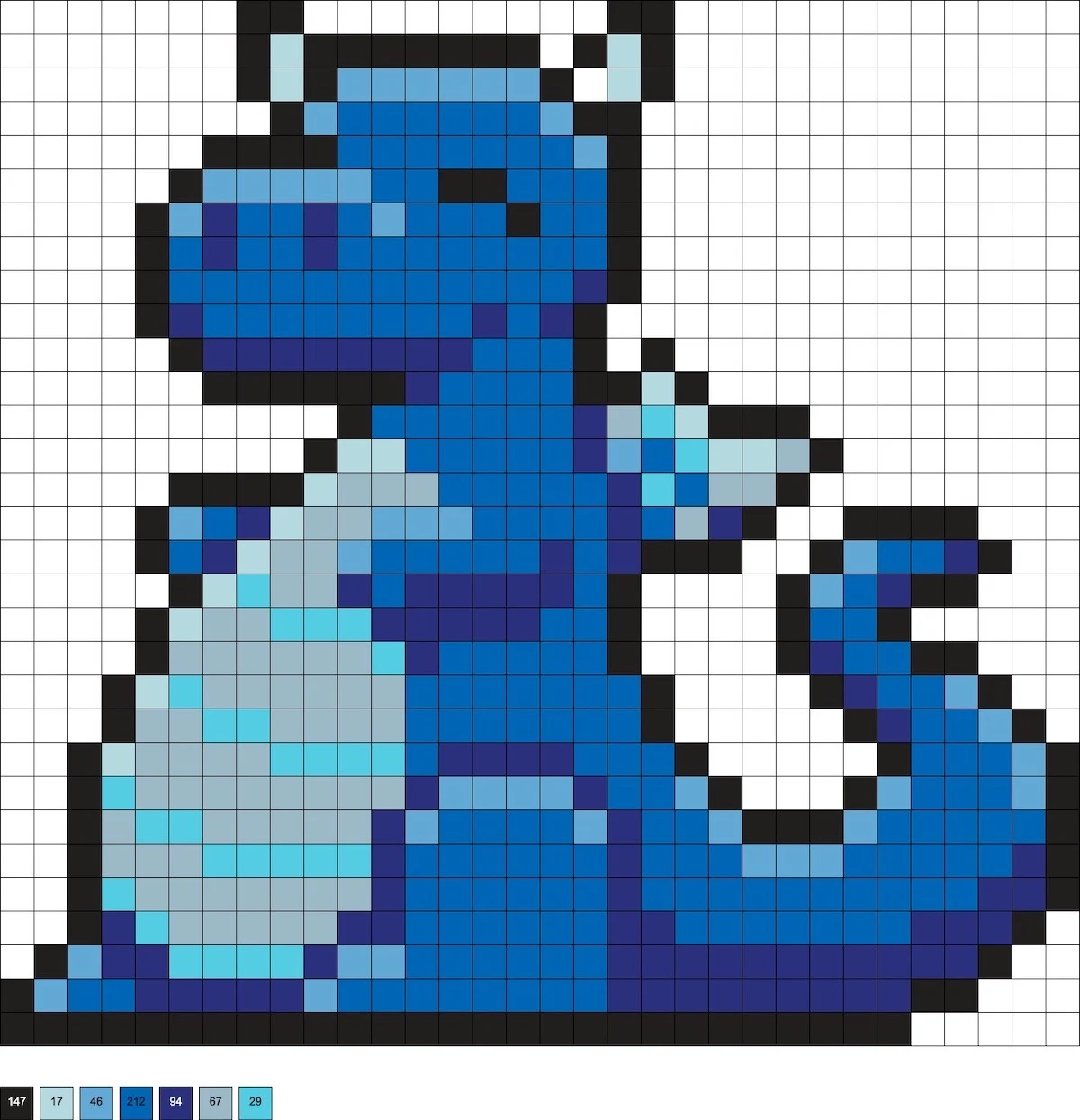 ---
Orange Dragon
This pattern uses 143 black, 108 tangerine, 89 tomato, 33 yellow, 55 brown, 79 light blue, and 16 white beads.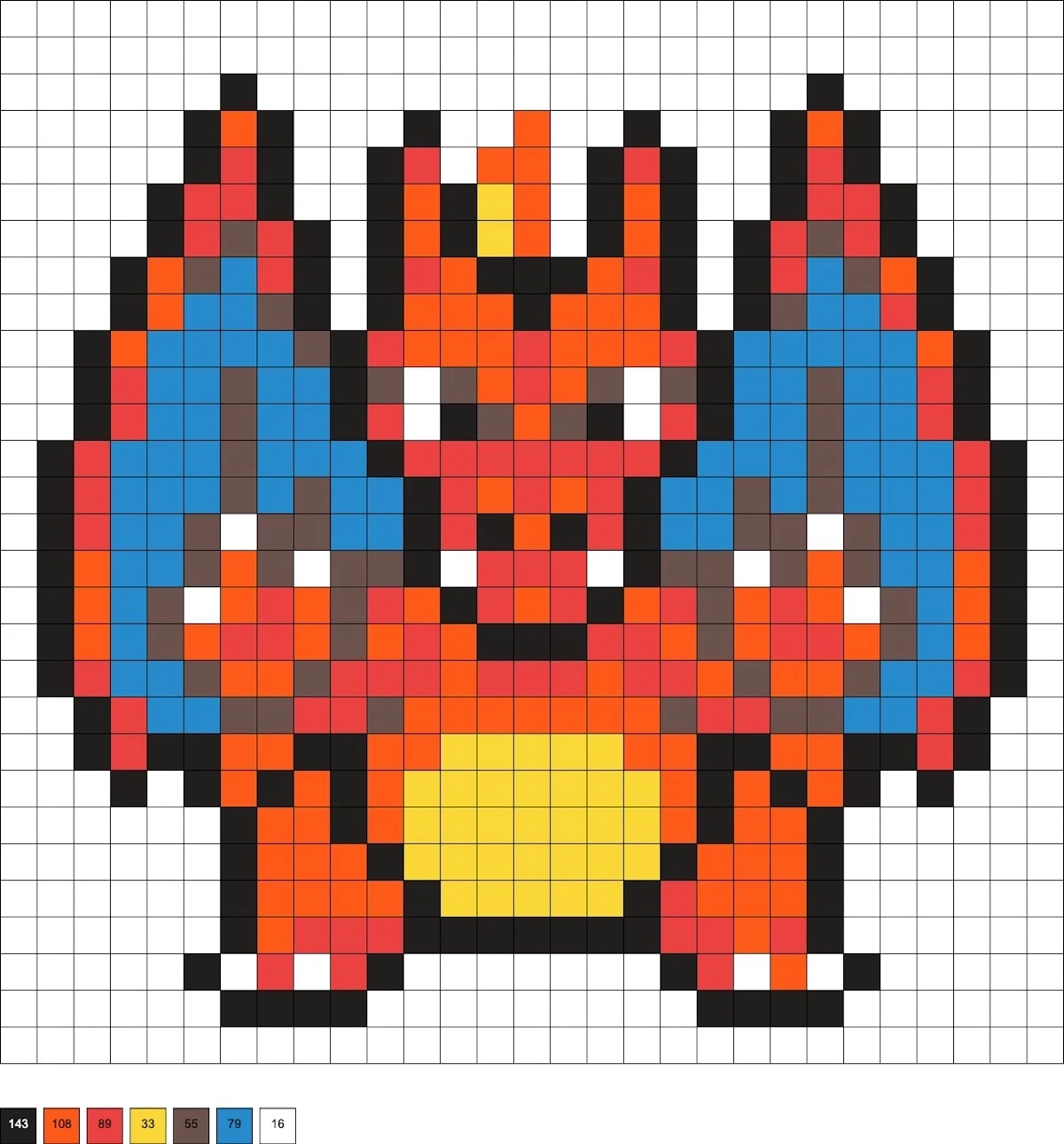 ---
How to Train Your Dragon Night Fury
This pattern uses 475 black, 817 dark gray, 39 kiwi lime, 4 white, and 4 gray beads.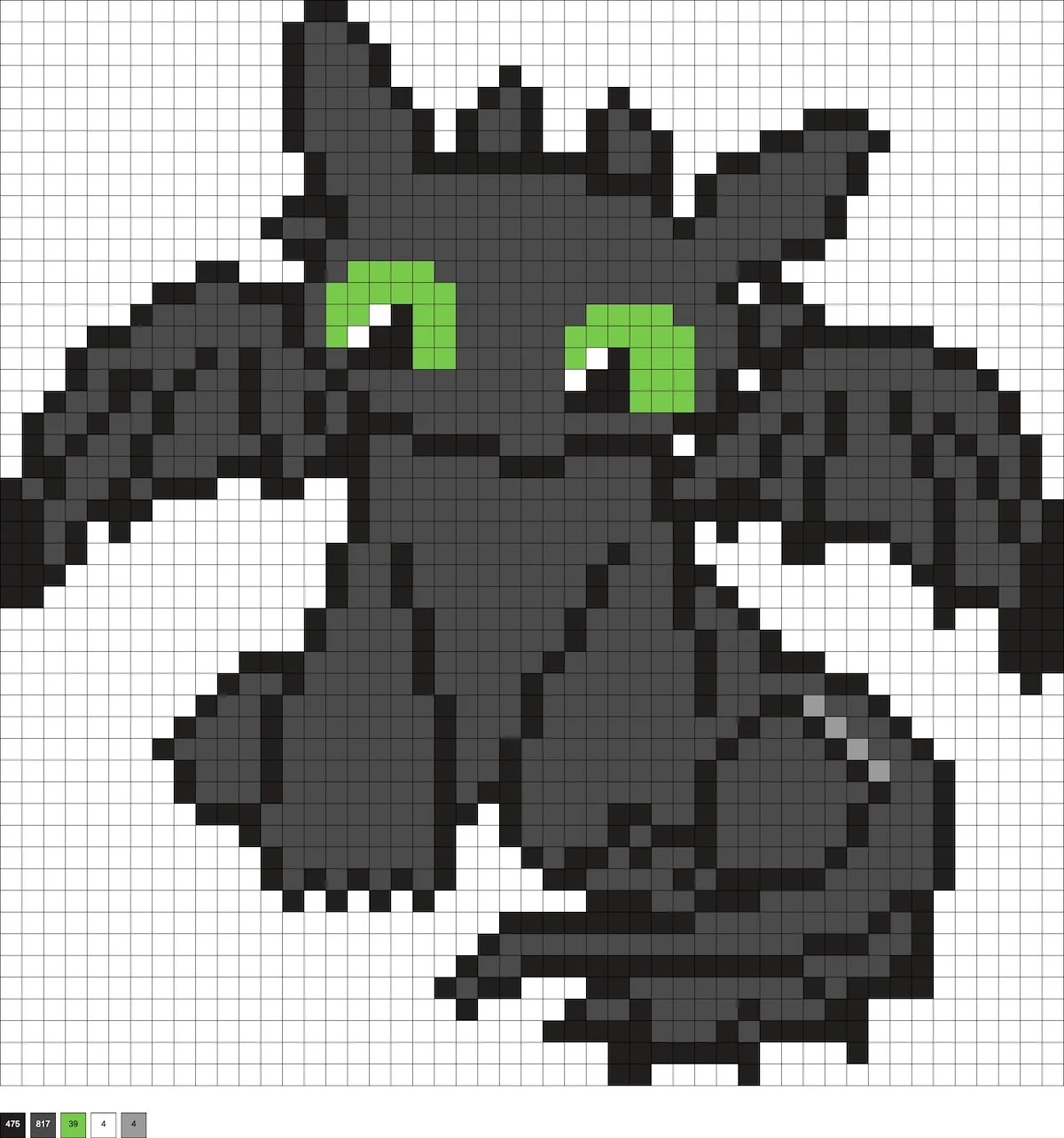 ---
Cute Purple Dragon
This pattern uses 154 purple, 63 plum, 137 grape, 186 pastel lavender, 202 light lavender, 2 white, and 8 black beads.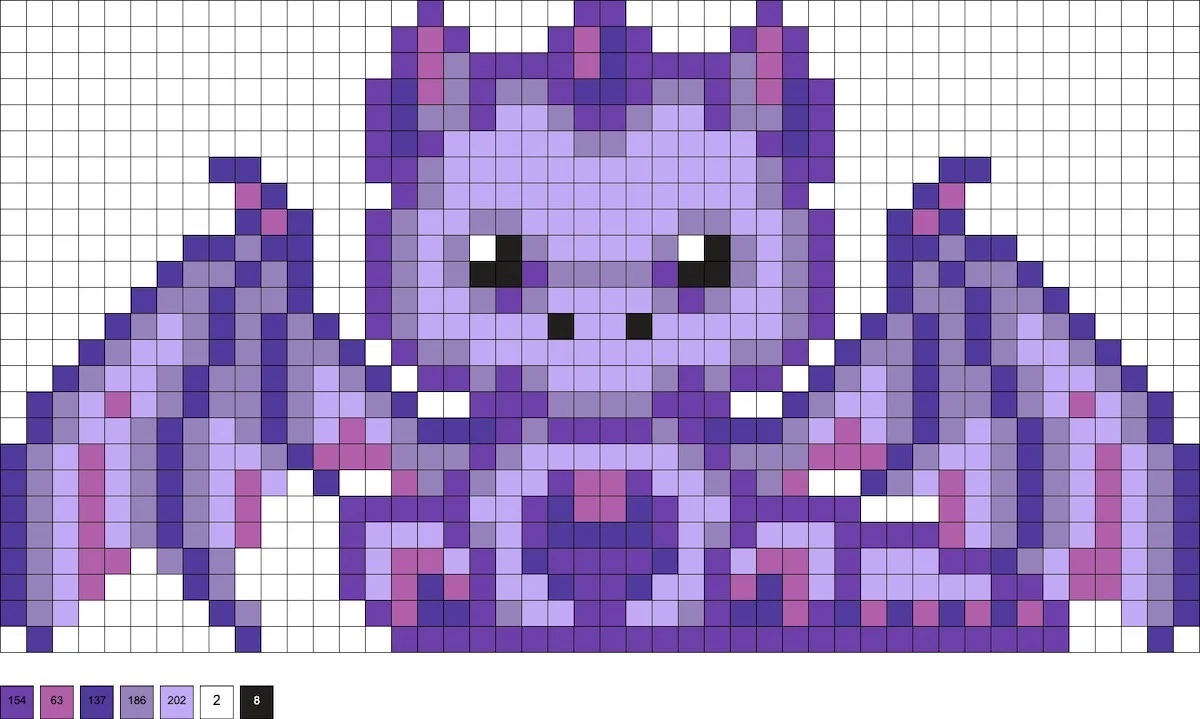 ---
Chinese Dragon
This pattern uses 69 orange, 88 red, 101 white, 106 gray, 72 sky, 20 yellow, and 23 black beads.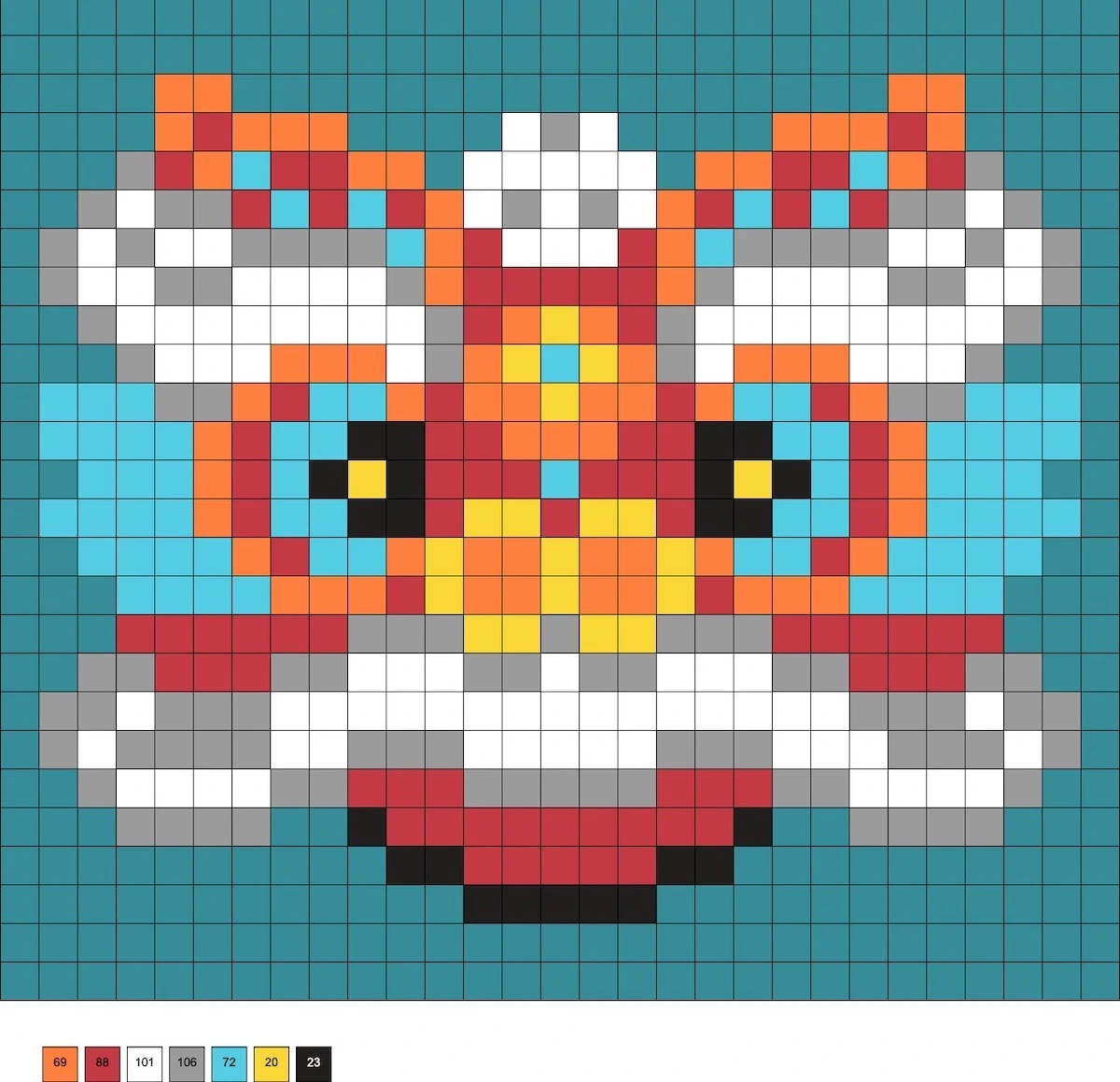 ---
Large Pink Dragon
This pattern uses 354 black, 116 blush, and 591 hot coral beads.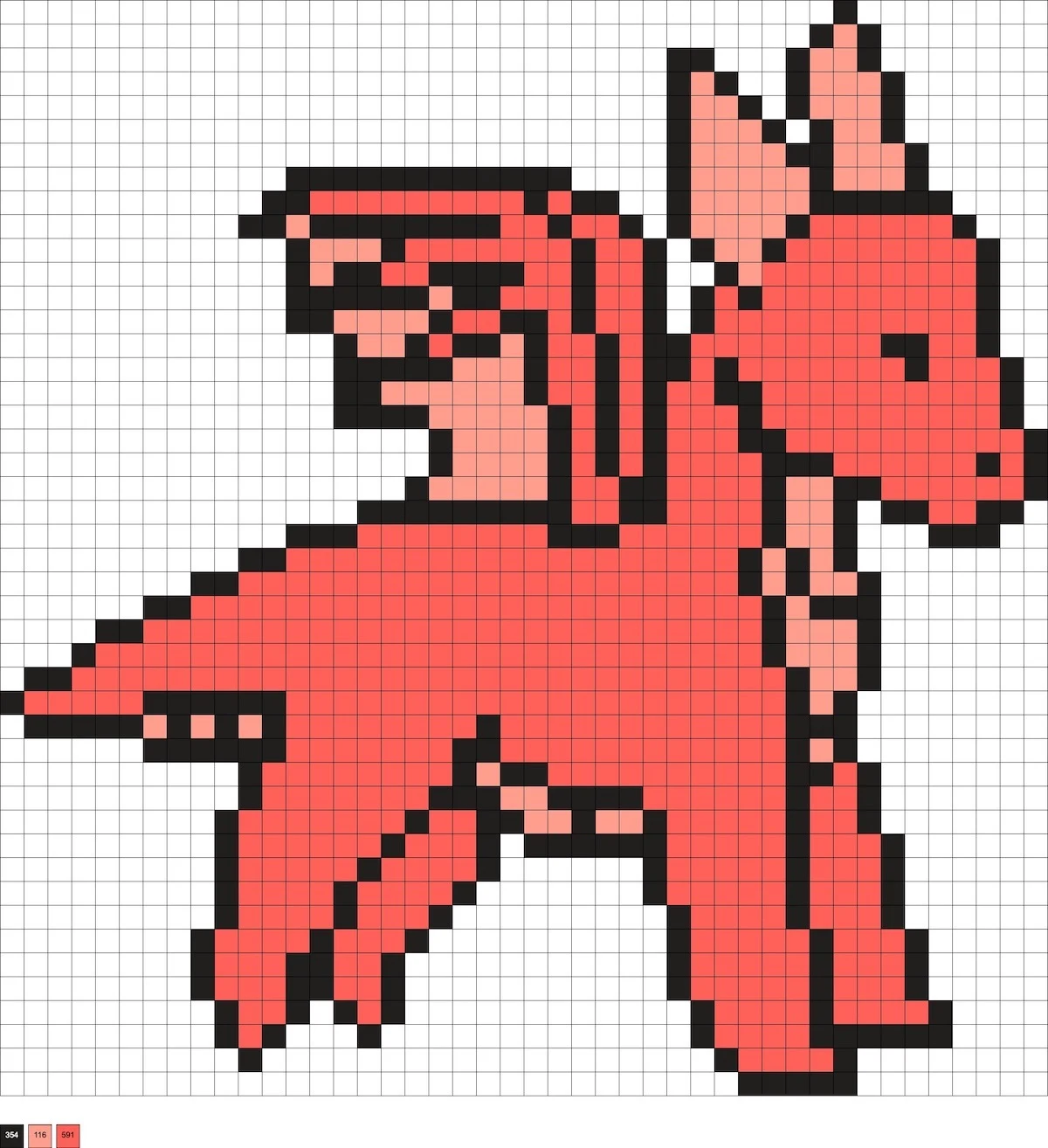 ---
Scaly Lizard
This pattern uses 33 white, 85 black, 62 purple, 52 shamrock, 171 pastel green, 15 red, 42 yellow, and 23 orange beads.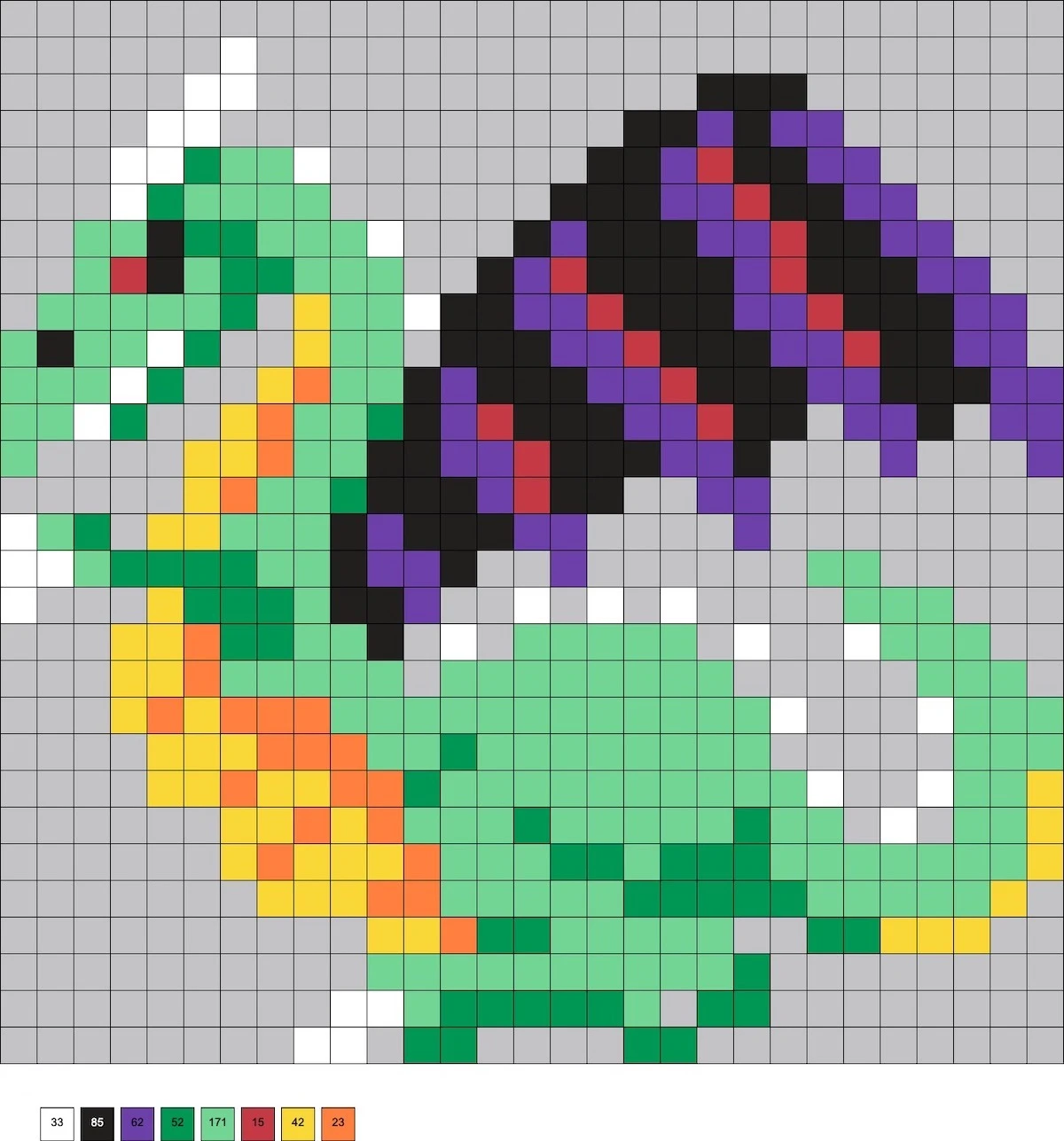 ---
Mythical Scales
This pattern uses 96 peach, 94 blush, 103 robin's egg, 24 tangerine, 128 pastel blue, 38 white, 1 black, and 1 gold bead.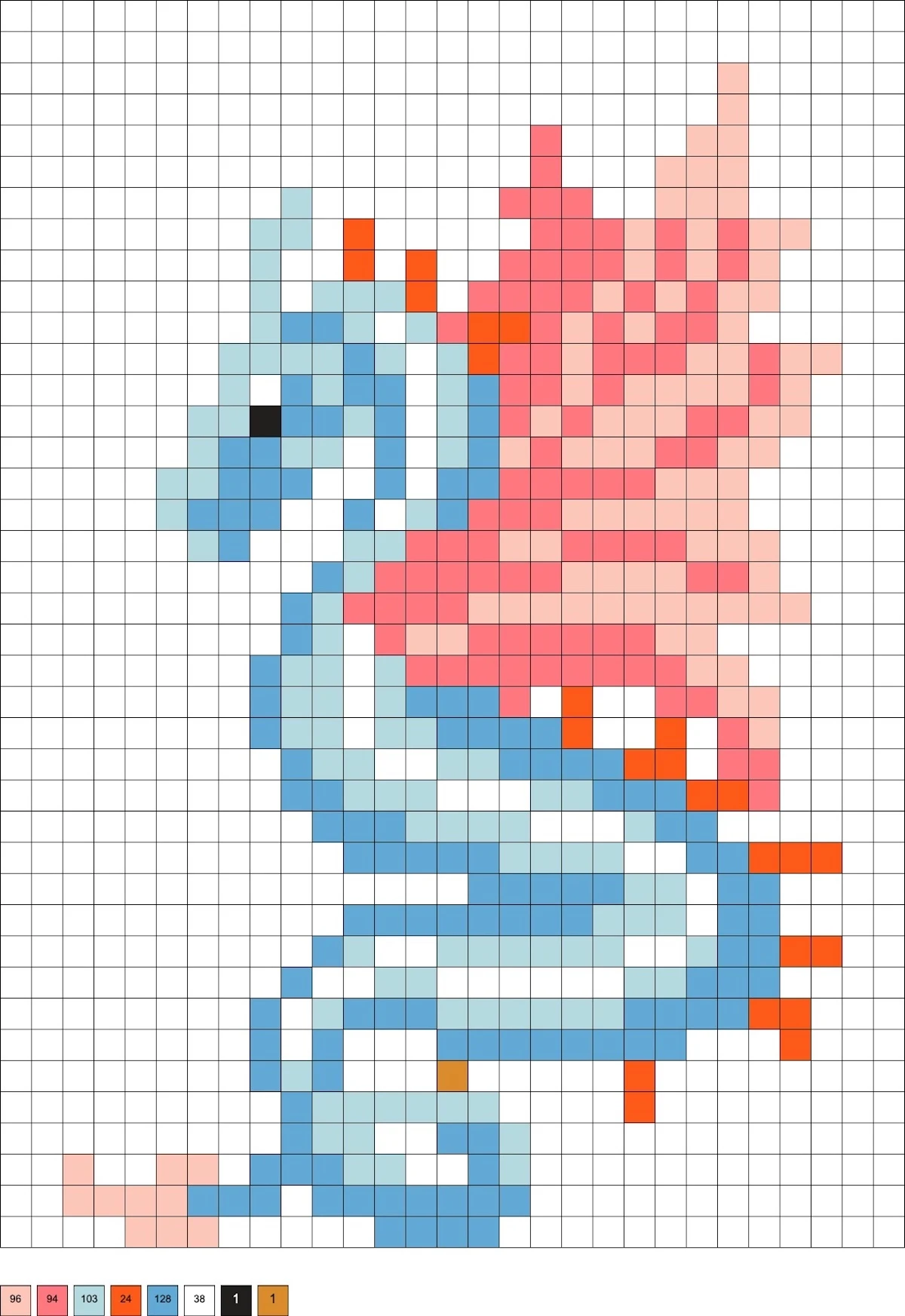 ---
Green Dragon Head
This pattern uses 39 light brown, 14 gingerbread, 21 dark gray, 15 rust, 237 shamrock, 199 kiwi lime, 21 pastel green, 4 black, 1 gray, and 1 purple bead.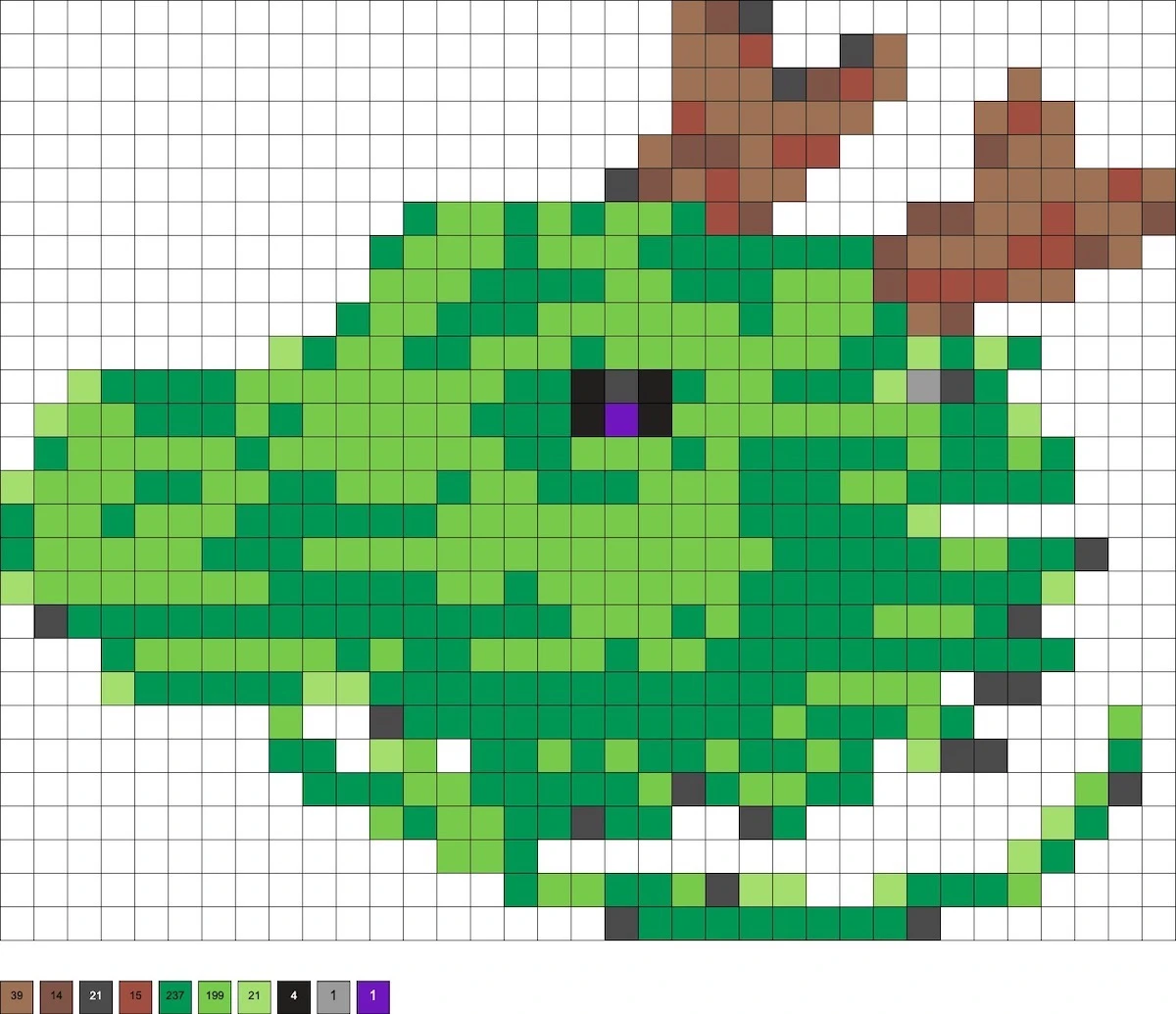 ---
Green Flying Dragon
This pattern uses 452 black, 267 dark green, 205 bright green, 71 sour apple, and 2 red beads.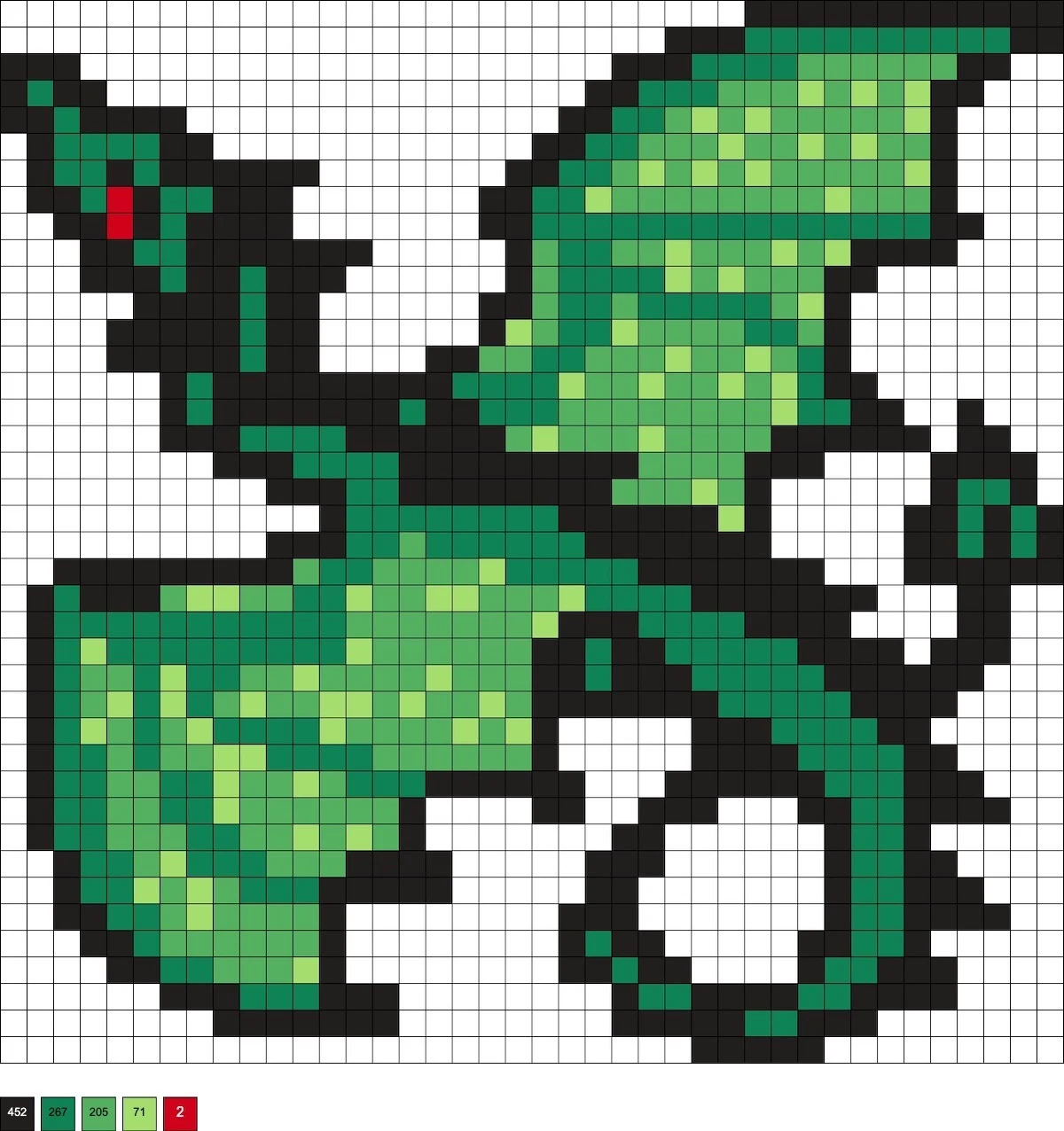 ---
Blue Dragon with Spread Wings
This pattern uses 580 midnight, 198 mint, 42 pastel blue, 568 cobalt, and 170 white beads.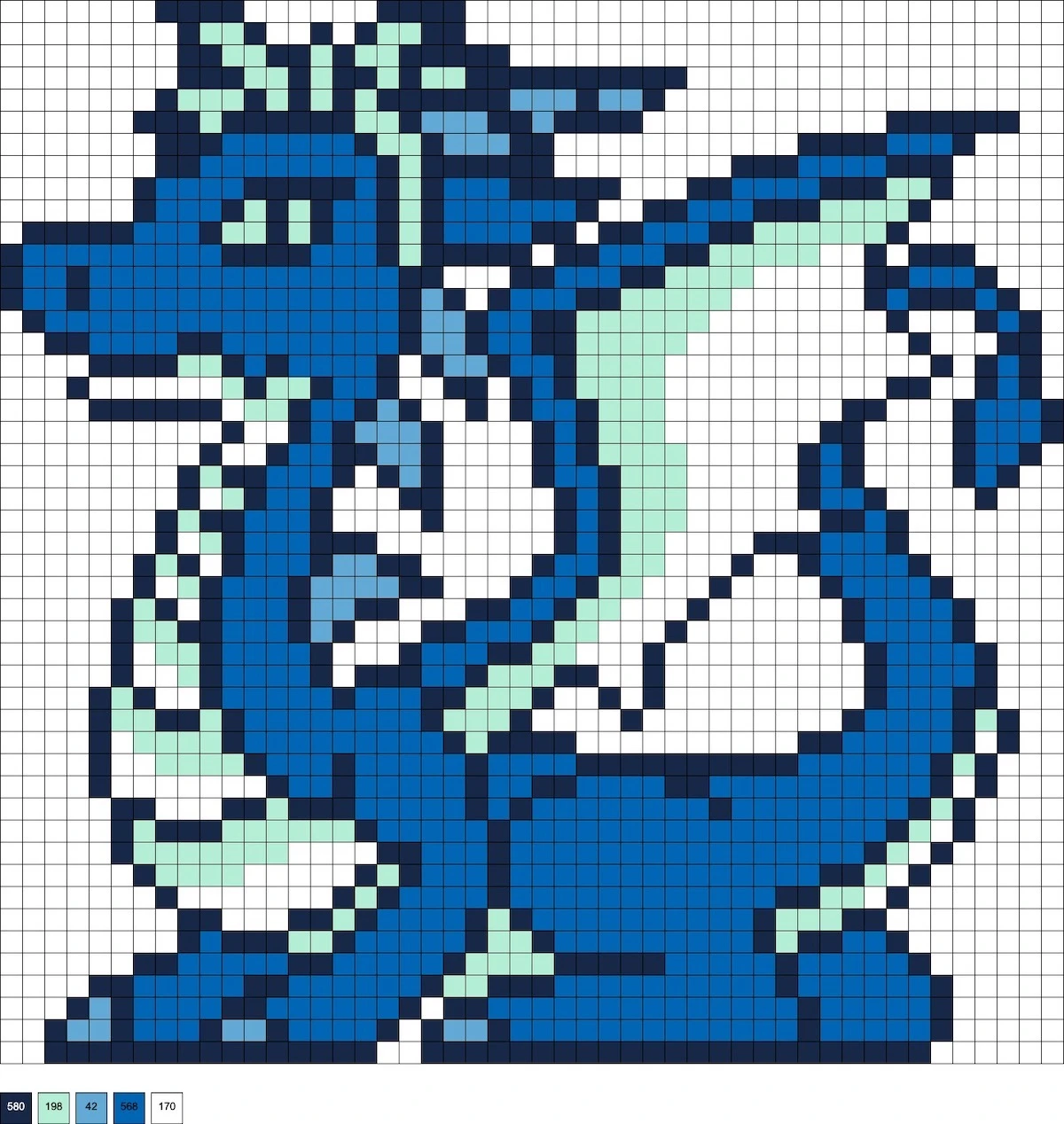 ---
If you've enjoyed these dragon perler beads, let me know in the comments! I'd also love for you to check out these other posts: