Add a touch of magic to your Halloween crafting with these Hocus Pocus crafts. You'll conjure up the 3 Sanderson sisters, the spellbook and so much more!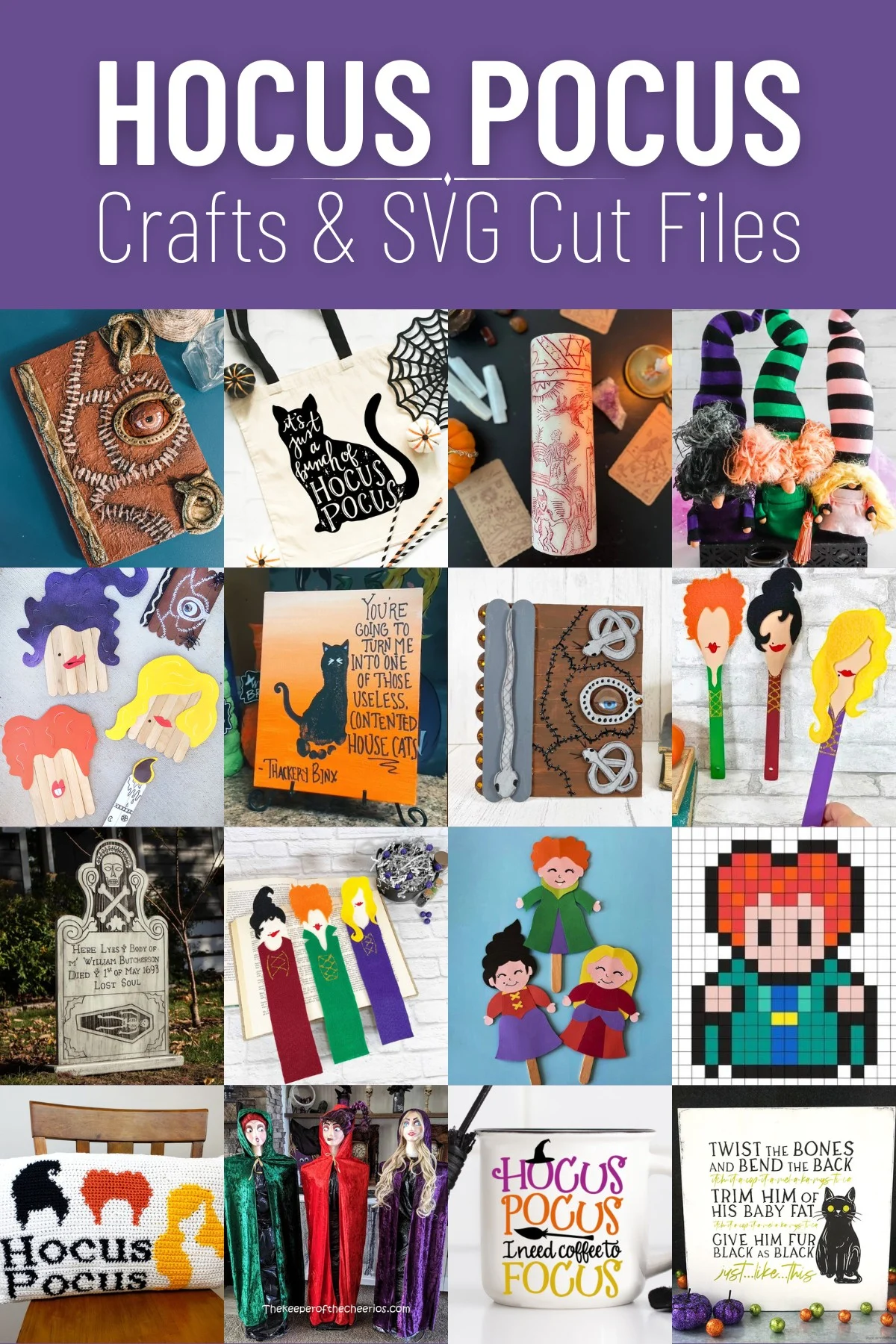 Released in 1993, the movie Hocus Pocus is known for its humorous and whimsical take on witchcraft, as well as its memorable performances by the cast.
Although it received mixed reviews when first released, it has become a cult classic and a must-watch part of Halloween movie marathons. The movie is so popular, that they created a sequel 29 years later—Hocus Pocus 2.
Is the movie Hocus Pocus a regular part of your Halloween celebration? Did you squeal with delight when you heard about the sequel? Then you may be a big enough fan to create ALL of these amazing Hocus Pocus crafts I've found for you!
Fun facts about Hocus Pocus
Before we get to the magical crafts, here are some fun facts you may not know about the movie franchise:
The original title of the movie was "Halloween House" and it was a much darker, scarier plot.
Jennifer Lopez auditioned for the part of Sarah Sanderson.
The fountain in the movie is the same one that is in the beginning of the show Friends. It isn't actually in NYC, but rather in Burbank, California at the Warner Bros. Studio
Rosie O'Donnell turned down the part of Mary Sanderson because she didn't want to play a witch.
The song "Come Little Children" that Sarah sings in the movie was written by the same man who wrote the love theme for Titanic, "My Heart Will Go On." Oh, and Sarah Jessica Parker really did sing the song!
It took 9 black cats and a robot to portray Binx in his cat form.
They had to create a new wardrobe for the Sanderson sisters in Hocus Pocus 2. The original outfits had deteriorated over the years.
Want more fun facts about the movies? Take a look at this People article, and this list on LifeSavvy.
Let's get back to the magical list of Hocus Pocus crafts I promised you! You'll be able to recreate all of your favorite characters, including the witches Winifred, Mary and Sarah Sanderson; Thackery Binx; and Binx in his cat form.
You'll also make some other memorable items from the movie, including Winifred's spellbook (Manual of Witchcraft and Alchemy), and the black flame candle.
Scroll down now to get craft ideas for both adults and children along with some FREE cutting machine files to use in your crafting..
Hocus Pocus Crafts
Here are my favorite Hocus Pocus crafts followed by free SVG cutting files for your Cricut or Silhouette.
---
Did you enjoy these Hocus Pocus crafts? I'd love it if you could share this post using the buttons below. Then check out these other popular Halloween crafts: