Deco mesh wreaths are one of the easiest ways to create unique decor for your home! You'll use these Halloween wreaths year after year.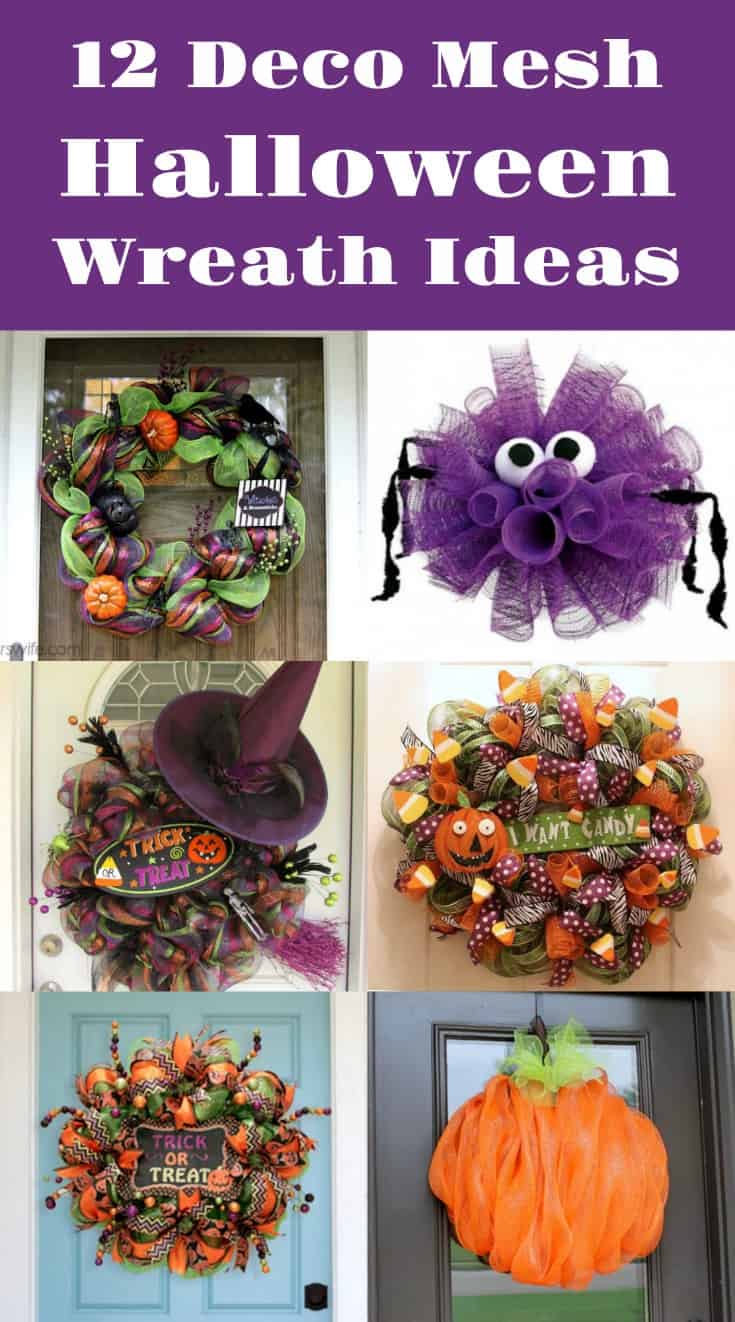 Deco mesh is a great way to create Halloween décor for your home. If you've never used it, it's easy to bend and shape into bows or wreaths, and it comes in so many colors, you can put together whatever masterpiece you imagine!
Deco mesh wreaths are particularly popular during the holidays, and so we've put together a list of DIY deco mesh Halloween projects you may want to tackle.
We've got a few simple ideas to more complicated (and even threw in a topiary for good measure!). Pick your favorite from the list below.
Deco Mesh Wreaths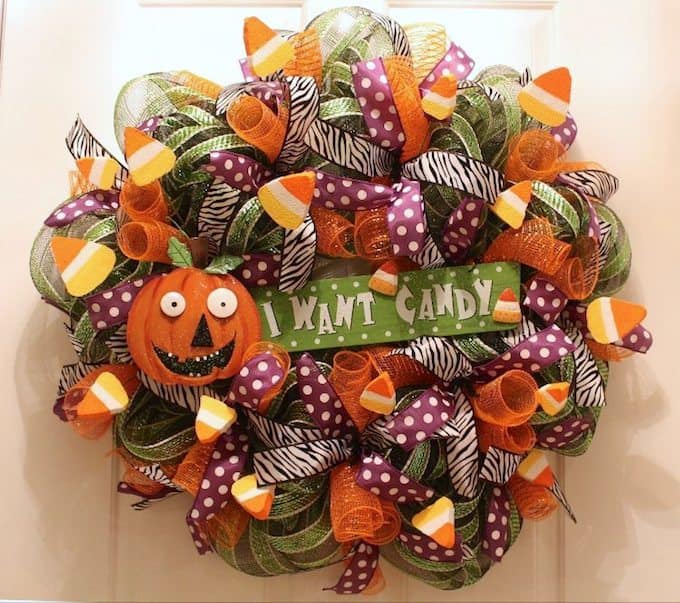 This festive Halloween Mesh Wreath from DIY Inspired offers an inexpensive way to dress up your front door this season. Incorporating ribbon patterns into deco mesh wreaths is a fun idea!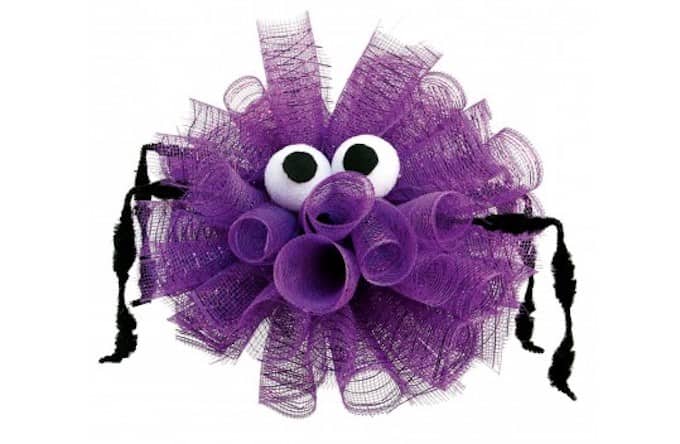 Bring some spooky fun to your front porch with this Deco Mesh Spider craft from AC Moore. The funky purple spider is perfect for welcoming trick-or-treaters to your door on Halloween night.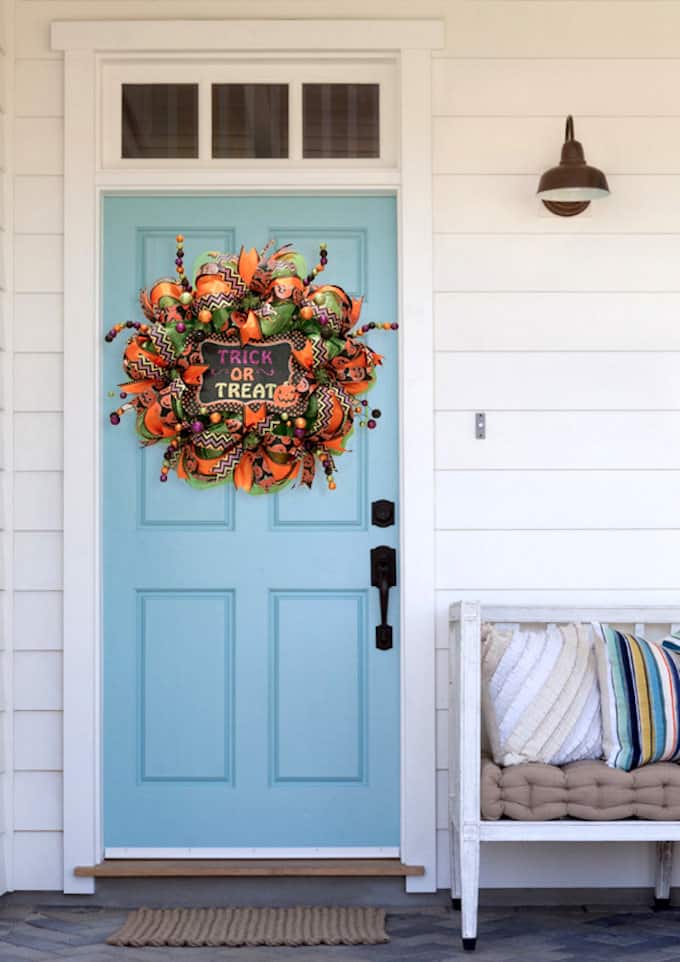 Look at how this DIY Halloween Deco Mesh Wreath from Lolly Jane pops from the colorful front door. I just love all the sparkly accents on this wreath.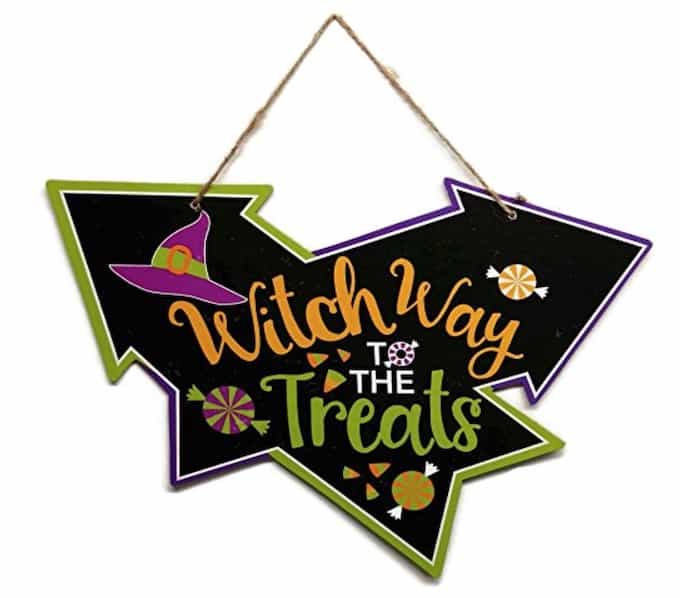 The wreath above had a sign – here are some cute Halloween signs you can use for your project!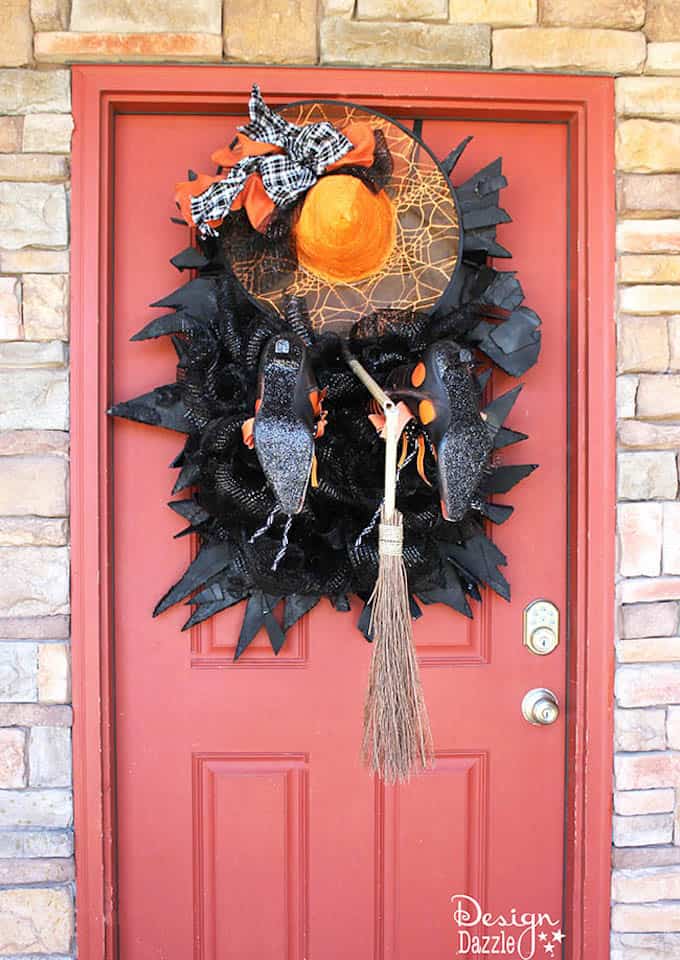 Now this Crashing Witch Door decoration from Design Dazzle takes some work, but it's worth it. Look how cute it is! It makes me think of the Wicked Witch from The Wizard of Oz when I see it. I could see this design winning some neighborhood Halloween decorating contests.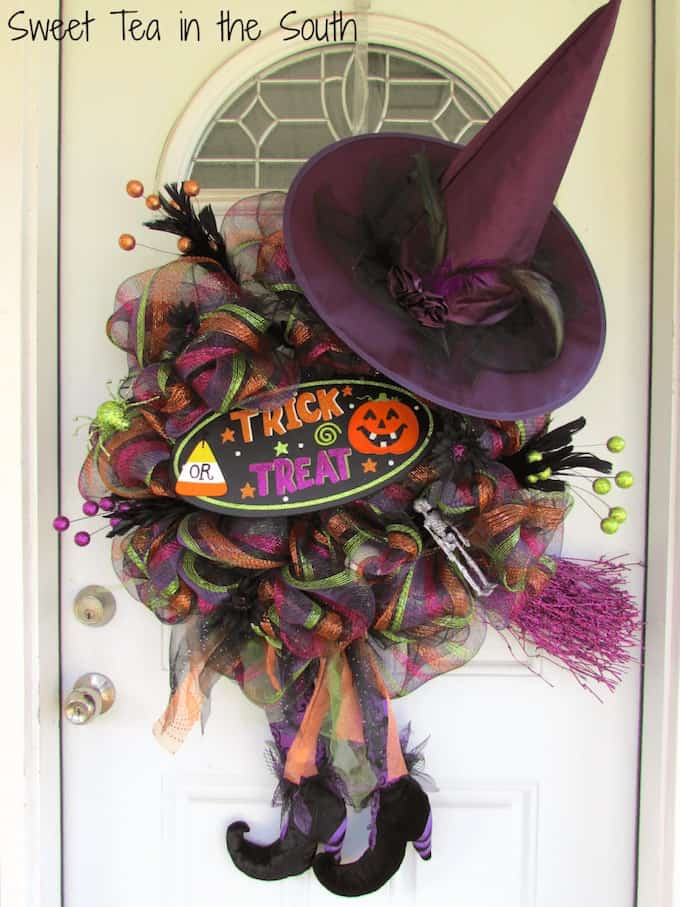 The Halloween Deco Mesh Wreath from Sweet Tea in the South offers a little bit of everything for the season. Witch hat and legs, skeletons, eyeballs . . . this décor project has it all.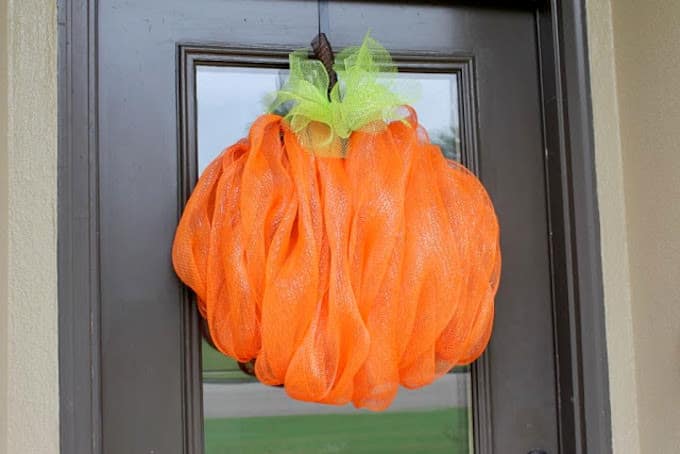 If you like simple Halloween wreaths, you're going to love this Deco Mesh Pumpkin tutorial from Miss Kopy Kat. Just a cute, bright pumpkin to hang on your door for Halloween – it could actually be a great fall décor piece for the entire season!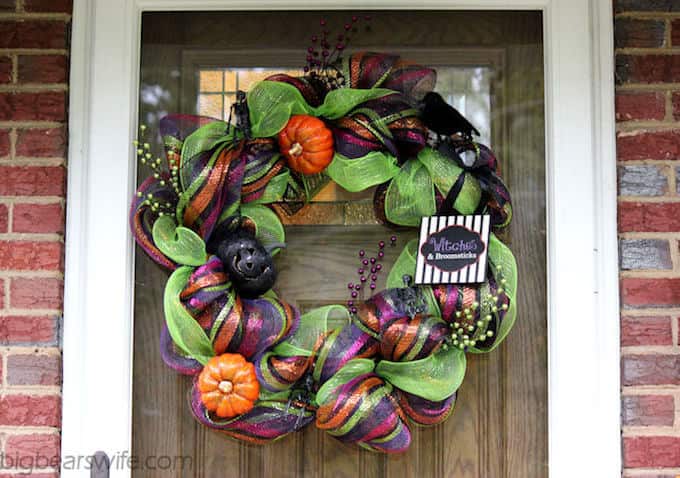 The subtle accessories of this Halloween Deco Mesh Wreath from Big Bear's Wife are really cute! Since they aren't as large as others I've seen, they let the colors of the mesh stand out more. I love how the colors look swirled!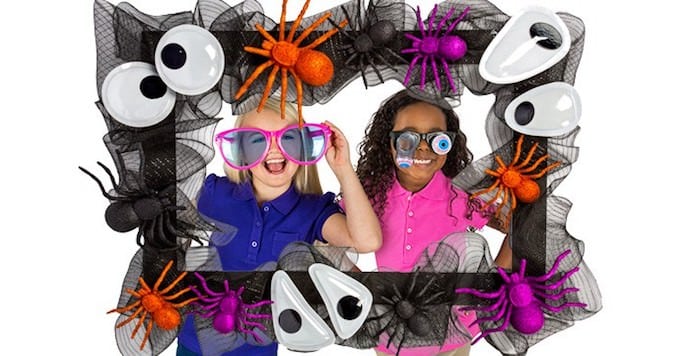 Now this one is a little different. The Halloween Deco Mesh Photo Frame from I Don't Have Time for That makes a great accessory for selfies at your next Halloween party. Though, you could always put a board behind it and hand some scary wall art in the frame, or just hang it as a wreath.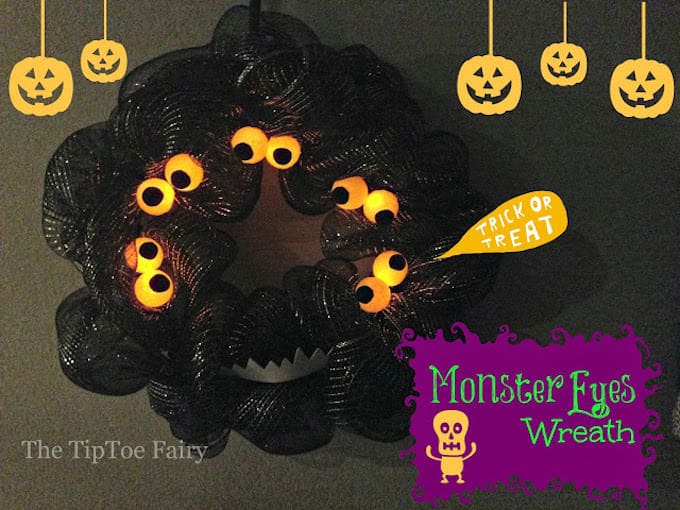 Whooooo goes there?! The Halloween Monster Eyes Wreath from The Tip Toe Fairy glows in the dark, illuminating your front door in a spooky light at night. This takes Halloween festivity to another level, if you ask me!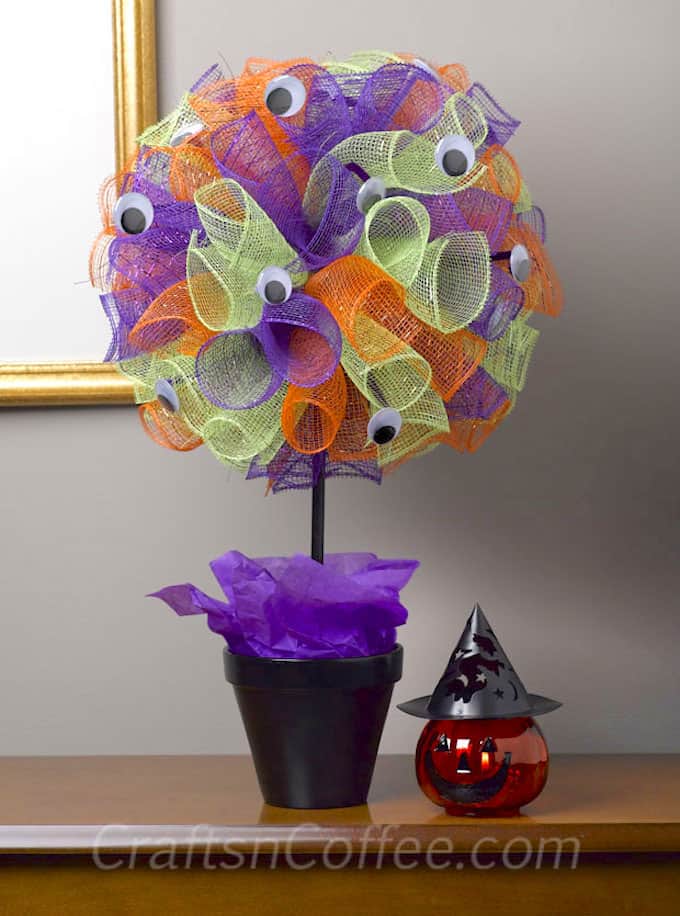 Because we all need a little indoor Halloween décor, this Halloween Deco Mesh Topiary from Crafts N Coffee makes a great centerpiece for any surface in your home. I could see this sitting on a table in the foyer, just inside the door so your visitors see it as they come in.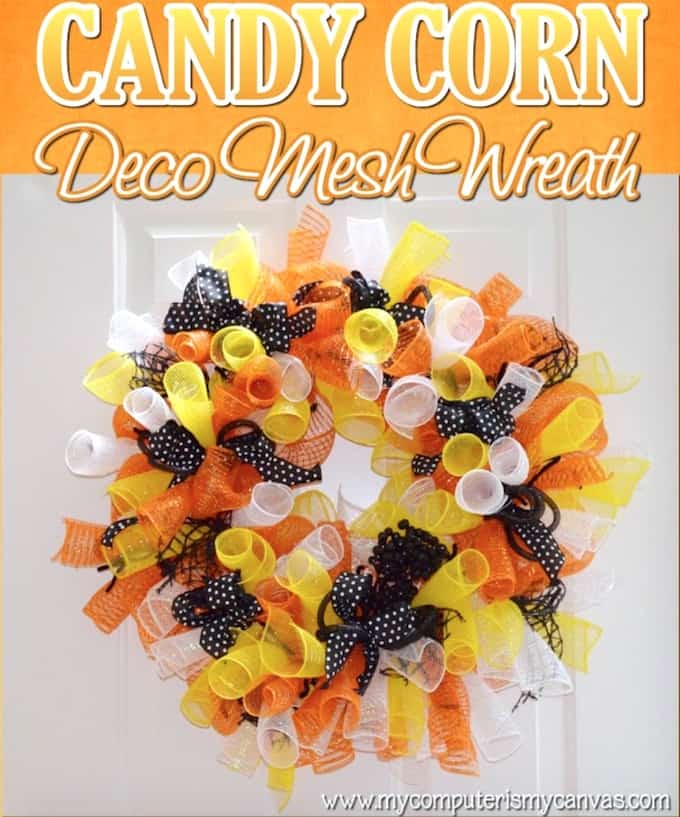 Let's change the pace a little here. Aside from monsters and witches, you can also do a Candy Corn Deco Mesh Wreath like the one at My Computer is My Canvas for Halloween. This cute and colorful wreath could actually double as your fall wreath.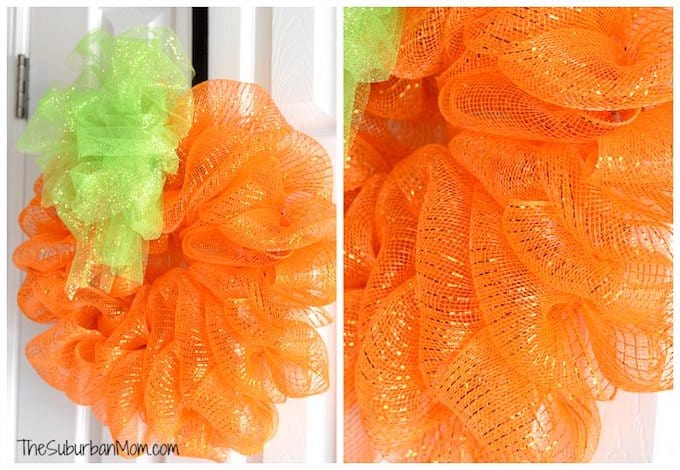 Here's another simple yet cute Halloween Pumpkin Wreath from The Suburban Mom. You could leave this as is or dress it up with Halloween accessories or a sign like other projects have.
Hopefully one of these deco mesh wreaths will inspire you to create some holiday décor of your own! Let us know about your favorite Halloween wreaths in the comments.
---
If you're interested in some other Halloween craft ideas, check out a few on the blog. Just click your favorite from the list below: